POV Holder:
Steve
Next POV
July 3rd
POV Used
Yes
POV Ceremony
June 28th
HOH Winner Team 1:
James
HOH Winner Team 2:
Jason
Nominations 1 :
Steve, Jackie
Nominations 2:
Becky, Johnny mac
Battle of the Block Winner
Becky and Johnny Mac
Next HOH/ Next BOB
July 2nd / ?
Original Nominations:
Becky, Johnny, Steve, Jackie
Current Nominations:
Jace, Jackie
Have Nots
Austin, Da'Vonne, Liz, Vanessa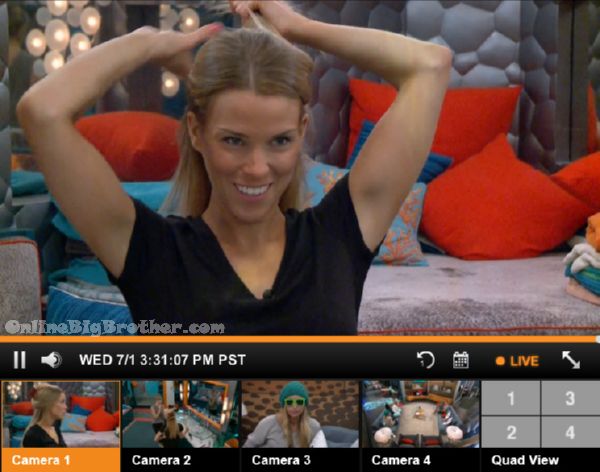 3:30pm Indoor lockdown
Day says they are having a prom tonight.
3:31pm Bathroom Meg and Shelli
Talking about Audrey shutting herself off to everyone else. Shelli says it's still good for them all to approach her and tell her it's just a game.
Meg – We all don't play the game 24/7
Shelli says she told Audrey to just take the day off from the game she played it too fast too hard.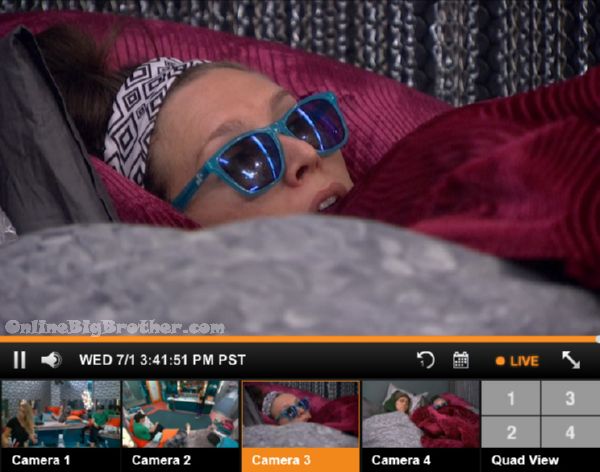 3:41pm Jace and Audrey
Audrey – we can't be seen together
Jace – why
Audrey explains that the word is they are trying to flip the bus.
Jace – You don't want to flip the house
Audrey – I can't campaign for you
JAce – I have a last minute plan, I have 7 people that might vote for me.. I have people .. they have agreed to meet..
Jace adds it'll be in a secret place at 5am and she'll come.
Audrey – I'm super onboard… If Clay is in it it's not working
Jace – Dammit .. then I don't have a plan.. f****
Audrey thought about pitching something to james she doesn't know if it will work
Jace – I really am sorry for the mean things I said.
(At one point Jace says he was up until 9 figuring his plan out)
Asks again about Clay. Audrey says no. Jace says doesn't have Becky and doesn't think he can get her.
Audrey – Who told you about the song
Jace honestly doesn't know
Audrey – I think I know who it was
Jace – I heard James hummming it
Jace brings up her alliance knew what she was playing since day 2.
Audrey asks why did Jeff want to blow up her game.
Jace doesn't know.
Audrey – "So Jeff heard a rumour that I said Him and Meg were going to go against the group upstairs" (Group upstairs is James, Meg, Jackie, Clay, Shelli, Audrey, Jason)
Jace finds out that it was Clay feeding Audrey information about Jace. Jace says Clay's been playing the whole time.
Audrey says everything Clay is trying to make her feel bad for spinning "All this stuff" he was part of it.
Jace leaves, Shelli comes in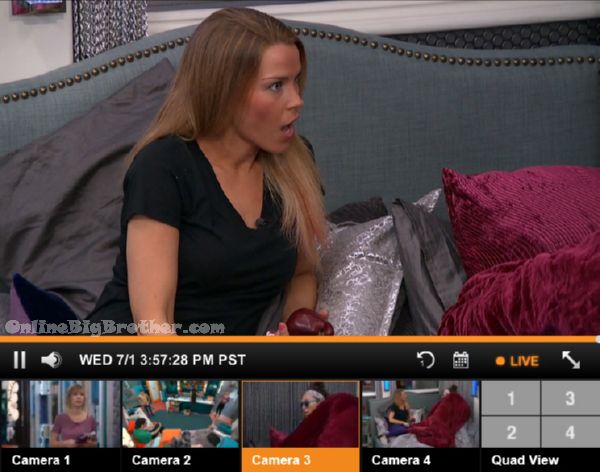 Audrey asks if Jeff was the one that start trying to exploit her
Shelli doesn't know. Audrey goes on to tell her about what JAce said about Jeff. (Very hard to hear her talk let alone follow the madness)
Shelli – I have no idea .. I was not out there Audrey
Audrey adds that Jeff told Jace about the Song
Shelli – Are you serious
Audrey thinks Jeff started the rumour about him and Meg.
Shelli – What! Jeff made up a rumour about himself and Meg.. Audrey I'm so done.. I can't… I can't.. I Can't even.. there's so much he said she said I don't even care to figure it out . I'm just ready for a new piece of Drama
Audrey – I Think Clay knew about all this
Audrey says not one thing is true that she's being blamed on
She never told Clay Shelli didn't trust him, she never started the girl alliance, she never mentioned the black alliance.
Shelli – You did tell me that Day didn't trust me
Shelli says Audrey has told enough people that she didn't trust DAY and Jason and somehow that got back to them. She is certain this is how it all started. DAY and Jason are now against Audrey because they knows Audrey's after them.
Shelli says Clay's distrust with Audrey didn't start until yesterday.
Shelli – I'm nervous.. this house is full of alliances that are not aligned it's really ridiculous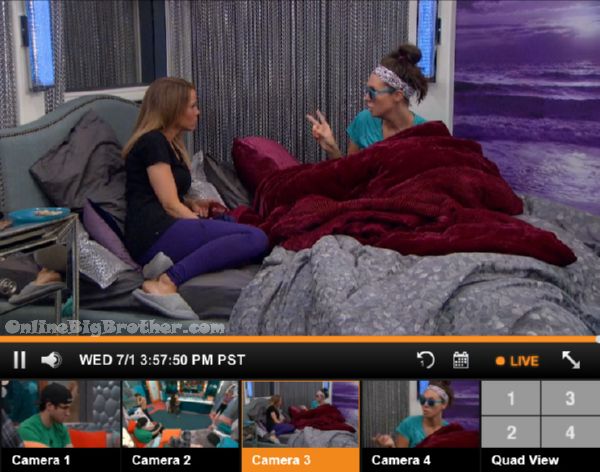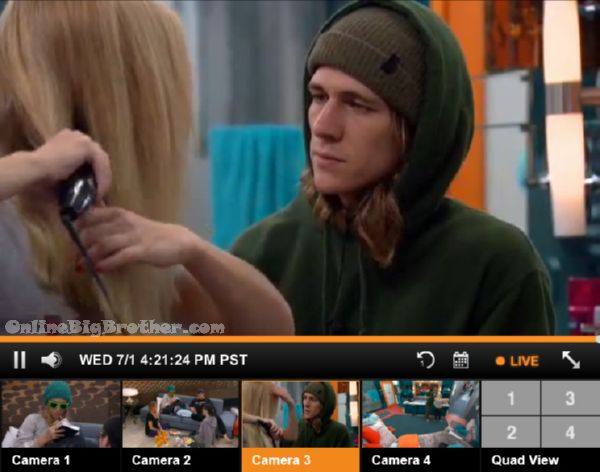 4:30pm LIz and JAce
JAce you know I didn't seal my fate they were planning to backdoor me day three.. you picked the wrong person to be friends with
Lzi – wow that's horrible what tricks do you have up your sleeve
Liz is glad to get food tonight the slop has been rough
Austin says he's waking them all up around 4 or 5 am to have a meeting it's his last chance he's not sure if it is going to work.
Jace is pissed most of the house were playing him since early in the game.
Jace – there's this little part of me just wants to fight every dude in this house
Jace tells her why he was targeted.
Jace – James is a giant pu$$y he wasn't man enough to go up against me.
Jace – All I would wish is if I got a chance to play in the veto I would have won
Liz are you going to blow up anybody else the alliance
Jace – oh ya
Liz – Good
Austin rolls in. Jace tells him that Audrey doesn't think Clay will vote for him. He's going to try and pull the meeting tonight he's not going to give up.
Feeds cut when they comes back Jace is talking to Clay telling him there's a meeting really late tonight. Stresses it's going to be good for clay just hear him out.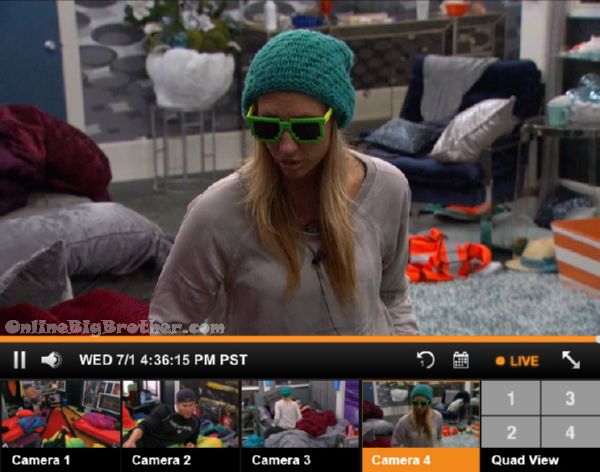 4:34pm Audrey and Vanessa
Audrey trying to find out if it was Jeff telling her things to turn her against Audrey.
Vanessa says talk to john he was in the room
Audrey – John won't talk to me
Vanessa thinks Audrey's game isn't over says she can bounce back
Audrey – Multiple people have come to me and say they can't been seen with me
Vanessa says things change on a dime in the house Audrey never did anything HORRIBLE.
Audrey is worried there's going to be a repeat of last season because of of the hierarchy in the house.
Vanessa tells her to chill after the HOH the house will reshuffle. Does tells her to fight for the HOH she needs to win it.
Audrey feels like the house is understanding that her going hope next week is a easy week for everyone.
Audrey asks her if JAce stays will it help her.
Vanessa says it could be in her best interest Jace stays but she can't stick her neck out there to save him.
Audrey asks if last seasons where this crazy.
Vanessa remembers crazy times with Devin and Zach, Says she never watched the live feeds she should ask Steve or Jason.
Audrey is worried people will nominate her and throw Battle of the block.
Vanessa says when people try that it fails 50 percent of the time.
Feeds flip..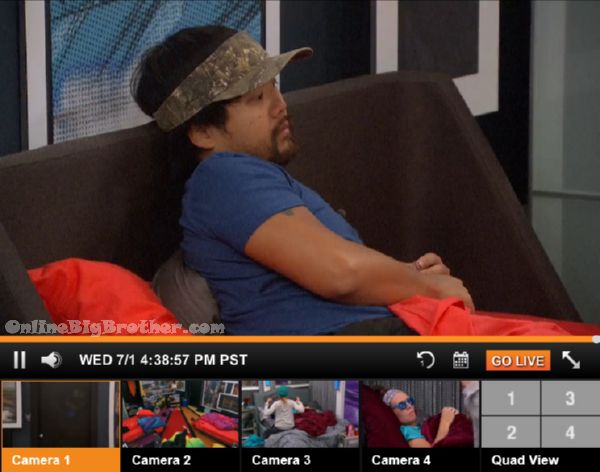 4:35pm Bedroom Jeff, James and Clay
Jeff – I don't care two shits.. I bet you thought you were going all the way bro now you're going home
JAce – I didn't think I was going to get BAckdoored by someone I trusted
Jeff – Dude I wasn't our friend in the game dude if you want to talk shit go talk shit to your friends that sold you out dude that's not my problem
Jeff says he's not going to trust anyone that Jace puts his loyalty in
Jace – I put loyalty with James dude you going to trust him
Jeff – Dude I never gave you any of my trust Dude.. dude… You're coming after me aggressive dude.. dude.. I'm tired of your negativity brah..
Jace – I'm not being aggressive
Jeff – Sit in bed like a little b1tch and mope around dude
Jeff leaves.
Clay says it's not worth getting riled up be the better man, "Those conversations go no where makes him angry makes you angry"
James asks JAce if he had a good experience while being here.
Jace says it sucks the people he put his trust in were lying to his face including James.
Jace – You did me dirty
James – I do agree with you
Jace- you screwed me over bro.. you got some of my friends against me.. I thought Clay was my friend but he was lying to my face the whole time.. Ive been looking like the doofus of America.
Jace – you better hope I don't stay and you better hope I don't get sequestered because if I stay you're f****d .. The difference is I will be a man and put you on the block
James says that won't be smart, "I might be 5' 4" 150 but I come with a wrath "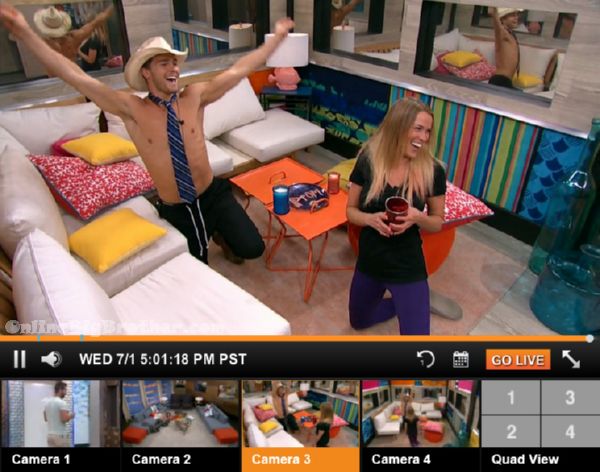 5:00pm Clay asks Shelli out to the prom
Shelli – how can I say no to that
Clay asks Shelli out to the prom. "How can I say no to that" #BB17 @DawgsBigBrother pic.twitter.com/SEcxxDf1fD

— OnlineBigBrother.com (@bigbspoilers) July 2, 2015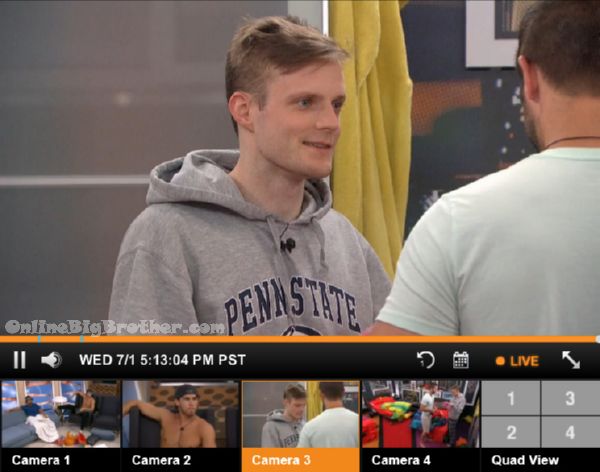 5:13pm Jeff and JohnnyMac
Jeff telling him that James is trustworthy
Jeff – The only person I don't trust is Austin I dn't trust him at all
JohnnyMac – we're on the same page
Live Feed subscription gives you CBS All Access thousands of archived shows. Live Shows like Big Brother, all the Big Brother Seasons, and 24/7 coverage of what is happening inside the Big Brother House. Plus there's flashback that lets you go back to any second of the feeds and rewatch what happened. Simon and Dawg will index the season just watch the parts worth watching.
All this for $5.99 a month try it out 1 week free. Support our efforts and get your feeds via a link on this site. Live feed subscription Sign up

[polldaddy poll=8954355]