POV Holder:
?
Next POV
?
POV Used
?
POV Ceremony
?
HOH Winner Team 1:
James
HOH Winner Team 2:
Jason
Nominations 1 :
Steve, Jackie
Nominations 2:
Becky, Johnny mac
Battle of the Block Winner
Becky and Johnny Mac
Next HOH/ Next BOB
July 2nd / ?
Original Nominations:
Becky, Johnny, Steve, Jackie
Current Nominations:
Steve, Jackie
Have Nots
Austin, Da'Vonne, Liz, Vanessa

1:40am HOH room – Audrey, James, DaVonne, Meg, Jeff and Jason are talking. James says that he's nervous about all the nomination stuff. Jeff asks really?! Everything went perfect. From a logical stand point .. the only people that aren't going to be okay with it are.. obviously Austin and obviously Liz. John is going to vote with us. Obviously me and Clay. Becky is close with Jackie which I didn't know about until today. Really we have all the votes. DaVonne asks how many people are voting? Jason says this week there are 13 votes. They talk about Vanessa. Jason says the feeds just turned on… I know people that would die and bleed to be in this game so when I see someone that isn't grateful to be in this game its almost like spitting on the game. Jeff talks about today in the backyard there were 3 quick comments from Austin that made me mad. I'm just going to drop it because its not worth it. DaVonne says and he was your friend. Jeff says he doesn't want to be my friend. James says I think we have a lot of good people. Jason says I think we have a lot of good random people that have different strengths and weaknesses. James and Jeff play with the HOH lights. Big Brother tells them the lights must remain on during the day. Jason says calm down. Jeff leaves. James says we have way bigger targets than Jackie.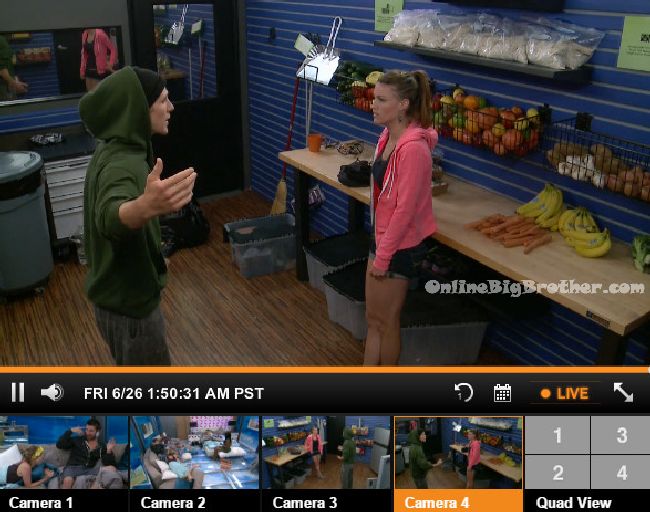 1:50am In the Storage room –
Jace tells Becky that she shhhh's him everyday and its really getting to me. You're the only one that does it to me and its really bothering me. Becky says I'm glad you're coming to me because I didn't realize it. You're completely right .. one of the things I do which I need to turn off is being a manager. It's not my right to do and I'm trying to change it. It's a weakness in myself. Jace says for the last 3 days I've been asking all the girls what your problem is with me. I know we're the complete opposite. It would be cool to go far in the game with you. Becky says I have an issue with being bossy and I am trying to turn it off. Jace says I will try to tone it down a bit, its just my personality. I don't have anything against you, except for that. You're awesome and I like you. Becky says I will do my best to not shhhh you. They agree to tell each other right away if something bothers then next time.
Click here
to ensure your live feed subscription supports OnlineBigBrother.com at no extra cost to you.
2am – 2:15am Jace heads into the havenot room and talks to Vanessa about the conversation with Becky. He says I feel way better about it now. Jace says I know I was put here for a reason.. it might not have been to win but I'm here for a reason. You don't have to be like Dan Geesling from season 14. Have you watched that season? Vanessa says yeah. I don't want to taint my experience by negative feelings. I'm definitely not quitting. I'm not a quitter. I just had sad feelings.. and not having your support system when you're down is hard. Jace comments on the type of data they get from this …they've been doing it for 17 years. Jace says some of the questions they asked us are crazy like how many people have you slept with? Have you ever had a threesome? We'll probably get in trouble for talking about this..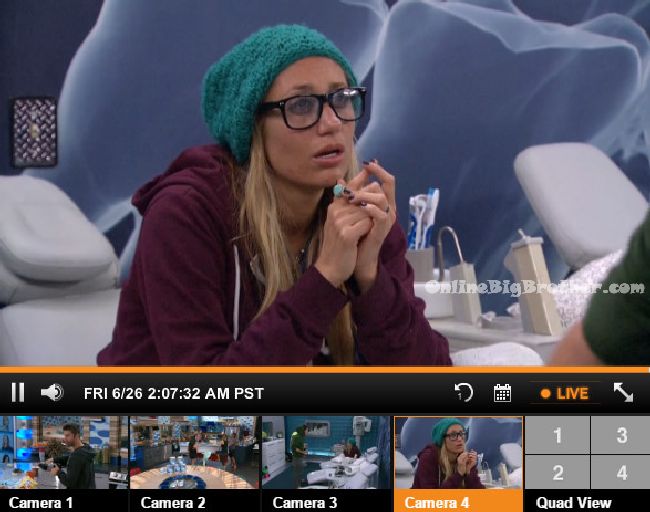 2:15am Cabana Room – Audrey, Shelli and Clay are talking about the difference between sympathy and empathy. Clay says that when Audrey told her story he really felt for her and how hard it must have been. The conversation turns to talking about astrological signs. Audrey knows about it. Clay asks how do you know all this? Audrey says because I'm a genius.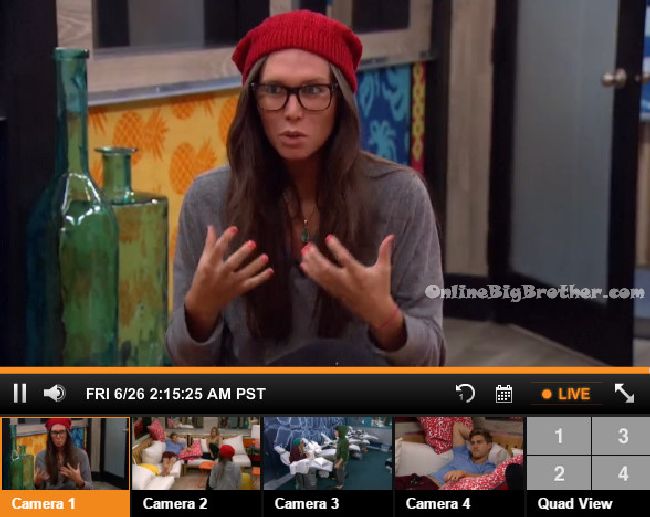 2:25am Jace talks to Austin in the hall to the bedroom. Jace tells him about his conversation with Becky. Austin says I'm glad you worked it out.
In the bedroom – Becky talks to Jackie about how Jace confronted her in the storage room for shhh'ing him all the time.
2:30am – 2:45am In the bedroom – Liz, Austin and Jace are talking. Jace says that she (Audrey) was up there throwing Jason under the bus and the next day she was down there being close to him. Austin says we need to tell Jason that. Austin says we need to pull more numbers in. Jace says Vanessa. Liz questions her. Austin says she's good she saved me. Jace tells Liz that he likes her and would hang out with her in real life. We're very similar .. we talk about the same things, we listen to the same music, we smoke weed. They decide to come up with a lie to tell Audrey to see if it gets out. Austin asks do we bring Becky in? Jace says that would be a really big move. Liz who should we bring in Becky, Johnny Mac and then HoneyCutt (Clay)? Jace says Clay isn't with us he hasn't said any game to me. Austin says I know he's dreamy but.. I know he's carved from honey but.. Jace says he's so dreamy. Jace says Becky said she wanted to hangout with me alone. I'm going to go on a Becky date tomorrow. Austin says I'm going to get a restraining order against Jeff. Austin says a lie we could tell is Honeycutt is in the NFL he got drafted and doesn't want anyone to know because he's making so much money. Liz says we could bring Honeycutt in on it. Austin says no he wouldn't want us spreading that.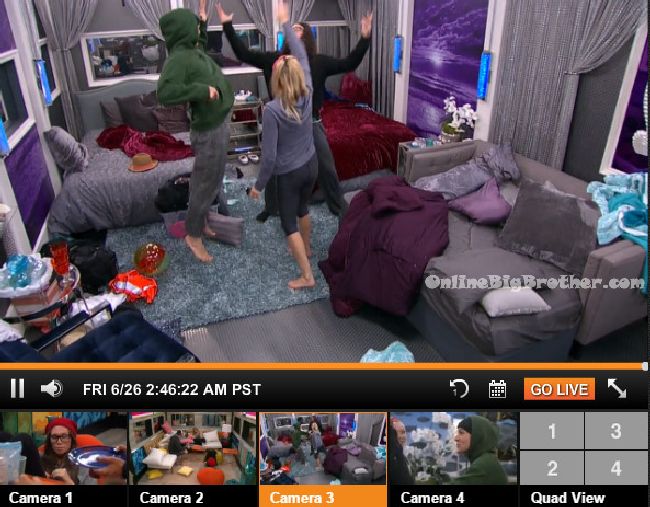 In the havenot room – James tests out the dentist chair beds and says that he would give up the HOH room to sleep in here. He says this is comfortable. I would totally trade! This is like a Cadillac for me. Jace tells James I have some very interesting theories about what is going on in this house right now and I want to talk to you later. James says they're up in my HOH room right now talking and that's weird.
3am Up in the HOH room – Jeff asks is he feeling awkward tension towards him? For the past few days I've wondered if he's bipolar. Meg laughs. Jeff says no for real. They talk about how Jace is always bouncing off the walls. Jeff says I am just hoping a couple of people that I've put a lot of trust into don't f**k me over. That would really such. I like James, I like Jason, I like all of them.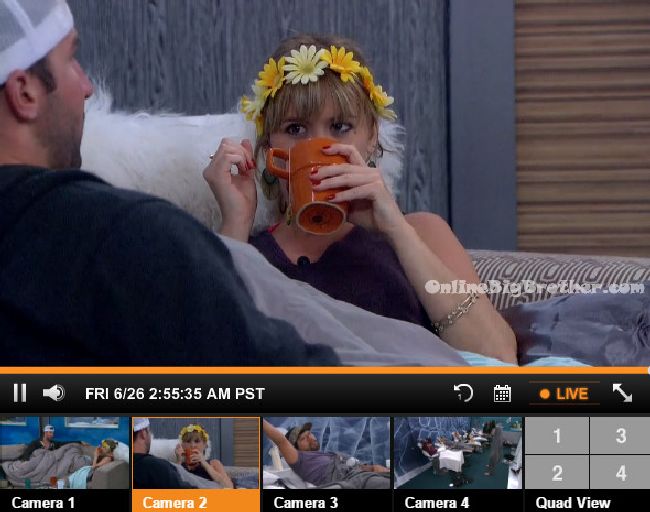 3:15am Up in the HOH room – Jace tells James I think theres a mole. James says the only other person that was in here was Audrey. Jace says she talks to everybody. James says she has her hand in the cookie jar. Jace asks do you trust her? James says he isn't sure. Jace says we could tell her something crazy like Liz is related to Janelle. And if it gets out we know she's the mole! James says how about you plant something that only you know .. and if it comes back then you know. James says it has to happen asap! Jace says I don't want get an x on my back or anyone elses because of it. Jace says give me some time to think about it and I'll figure something out.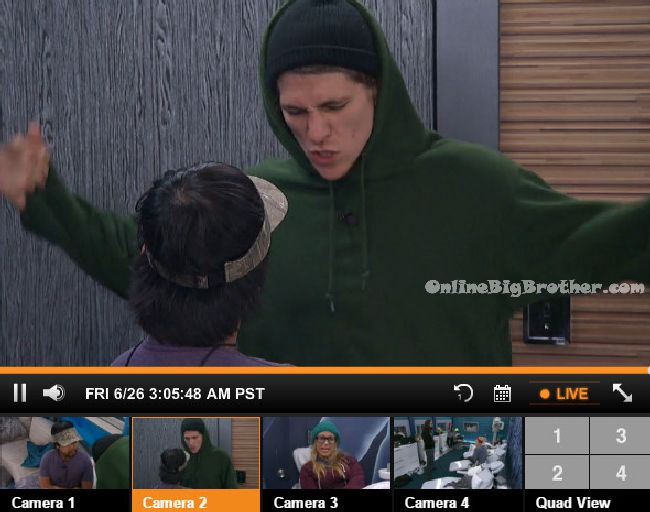 3:20am In the kitchen – James tells DaVonne and Jason that Jace thinks we have a mole in the group. He thinks Audrey is the rat in the group. He's going to plant something to see if it gets back to me. DaVonne tells James to let Jace plant the story and if Audrey does tell James, they will know they can trust her. James says that's smart. Audrey joins them. She asks James if is okay. James says that he (Jace) was just making sure everything was okay.

Austin talks to Jace in the cabana room. Austin tells him that he didn't like how he said you're stressing and so is Austin. I don't want James to think I'm stressing. Jace tells Austin about his talk with James and how he's got something to plant with Audrey to see if it gets back to James. They head to the kitchen and then head to the bedrooms with Liz.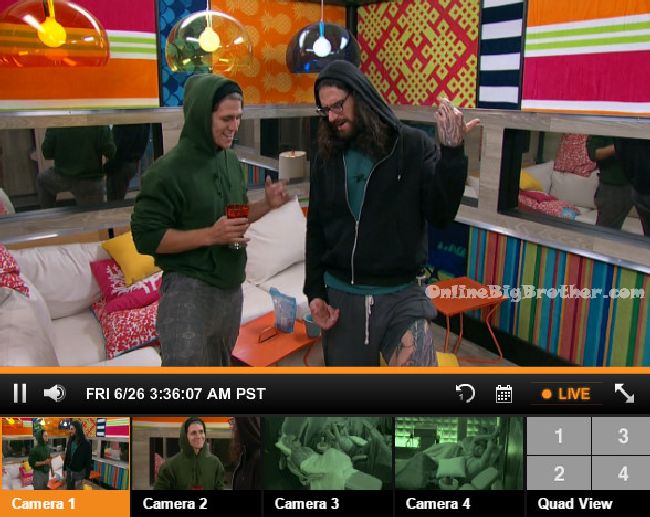 3:40am – 4:20am All of the house guests are getting ready for bed. Jace is annoyed because he doesn't have a bed. He starts to take Jason's bed but Audrey says there's another bed in the other room. Jace says there aren't any other beds. He then goes and checks and finds one and comes back to say sorry he didn't know. Big Brother calls Meg to the diary room. Jeff takes Megs spot in the bed and whispers to Jason. Jeff asks Jason what the f**k is James doing? He is scaring the f**k out of me! Jason says he doesn't know. Jeff says Dude Jace has got to F**King go! Jeff says I almost wish now I was playing in it. Jason says worst case scenario James flips and puts on of you up at least you'll be up next to Steve. Jeff says even Austin being here is a threat. He's going around talking sh*t. Meg comes back and Jeff heads back to his own bed.
Jeff whispers to Clay .. You know Johnny Mac's on our side. I need to talk to Becky tomorrow. They question why James is sleeping in the havenot room too. Jason says its not the worst strategy ever .. he put them in there so he'll sleep in there too. Jeff tells Clay I have complete control over Jackie. Jeff talks about Vanessa not wanting to be here and how she thinks everyone is two faced. She feels like an outsider.. we could reel her in. Jeff says lets work on Jackie, Becky and Vanessa tomorrow.
Clay tells Jeff that Becky has started to play the game. Jeff says "She is not going to like the game when it ends up with a d!ck in her mouth" They continue to whisper and then go to sleep.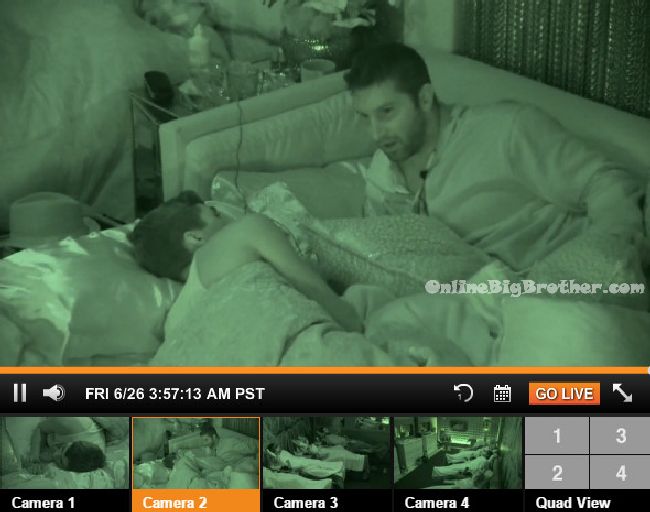 4:20am All the house guests are now sleeping..
9am The house guests are still sleeping..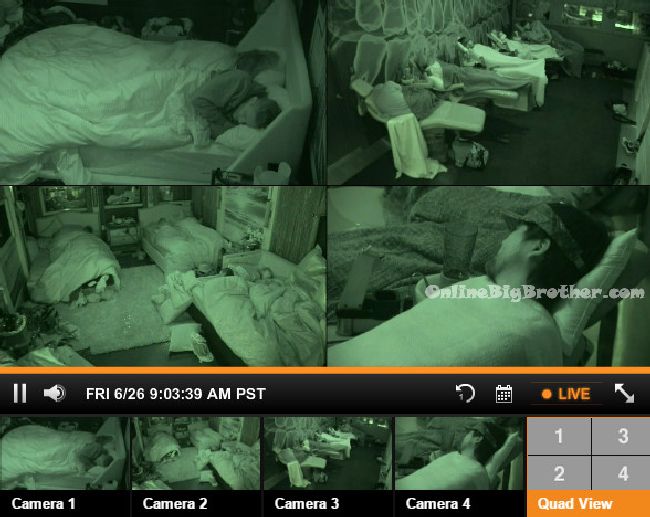 Live Feed subscription gives you CBS All Access thousands of archived shows. Live Shows like Big Brother, all the Big Brother Seasons, and 24/7 coverage of what is happening inside the Big Brother House. Plus there's flashback that lets you go back to any second of the feeds and rewatch what happened. Simon and Dawg will index the season just watch the parts worth watching.
All this for $5.99 a month try it out 1 week free. Support our efforts and get your feeds via a link on this site. Live feed subscritpion Sign up