POV Holder:
JohnnyMac
Next POV
July 11th
POV Used
Yes
POV Ceremony
July 13th
HOH Winner Team 1:
Vanessa
HOH Winner Team 2:
Austin
Nominations 1 :
James & Johnny Mac
Nominations 2:
Jason & Meg
Battle of the Block Winner
Jason and Meg
Next HOH/ Next BOB
July 16th / July17th
Original Nominations:
James & Johnny Mac
Current Nominations:
Jeff & James
Have Nots
No HAve nots this week
TRY the Big Brother 17 Live Feeds FREE for 7 Days!:
Click here to ensure your live feed subscription supports OnlineBigBrother.com at no extra cost to you.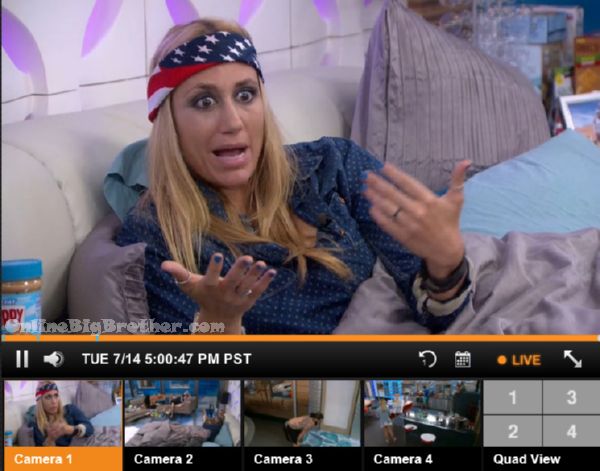 4:58pm HOH JohnnyMac, VAnessa and Clay
VAnessa comments she never sees Jeff, Jason, Meg and James out. Clay says they're sleeping all day.
VAnessa is shocked Jeff isn't campaigning more
Clay – He came to me last night for 45minutes.. I never agreed to anything
Clay brings up Jeff telling him that James is throwing Clay's name under the bus.
JohnnyMac and Vanessa agree there's no class in Jeff saying that.
Vanessa points out that Jeff will say anything when his back is against the wall.
Clay brings up Jeff telling James they needed to break up Clay/Shelli.
Vanessa and Johnnymac are shocked.
Clay says he's played a honest game and he's going to align with people that have played a honest game.
Vanessa says she has facts that Jeff has played a dishonest game. Vanessa adds she not only getting Jeff out for her game she's getting him out for everyone else in the house that he's been dishonest to.
Vanessa says If Jeff doesn't go home that's really bad for her.
Clay says he promises he'll vote out Jeff because she's making a big risk getting jeff out.
They wonder why they are in lockdown. Clay mentions Steve saying if they are building the competition right now it's going to be an endurance competition.
They start talking about the pressure cooker competition on Season 6 (The greatest competition in history of the show) Clay says it went on for a day.
Vanessa – This week is good for my insanity my sanity was slipping before this week
Backyard opens up..
[envira-gallery id="121401″]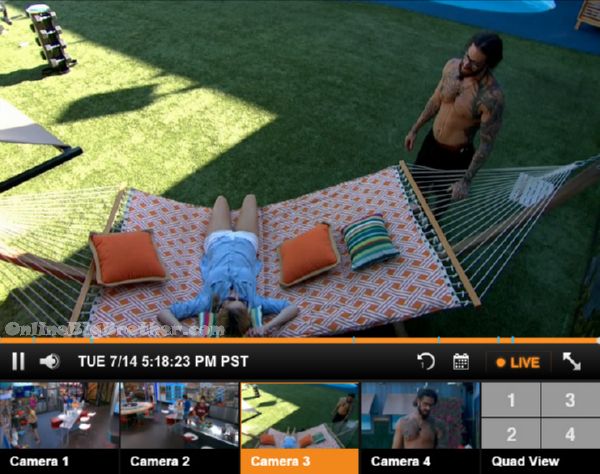 5:17pm Backyard Austin and Liz
Complaining that the other side of the house sleeps all the time.
Austin – has he talked to you yet
Liz – no he's such a pu$$y he's not going to without you
Austin says JohnnyMac is voting for him for sure. He thinks Jeff has his back, he gave Jeff his word and he thinks Jeff is leaving either way
Austin – that's two for him now because of Jackie.. I need to talk to Becky.
Austin – I'm worried Clay and Shelli are lying to us.. I always worry they might flip..
Austin says he's just being paranoid and overly cautious but they should secure Becky
They count the vote possibilities:
Clay/Sheli/Liz/Austin/Steve and Either Meg/Jason
Or
Becky/Meg/Jazon/Steve/Liz/Austin
liz – I can't believe he hasn't talked to me
Austin – It's tuesday he's smart he's going to wait till wednesday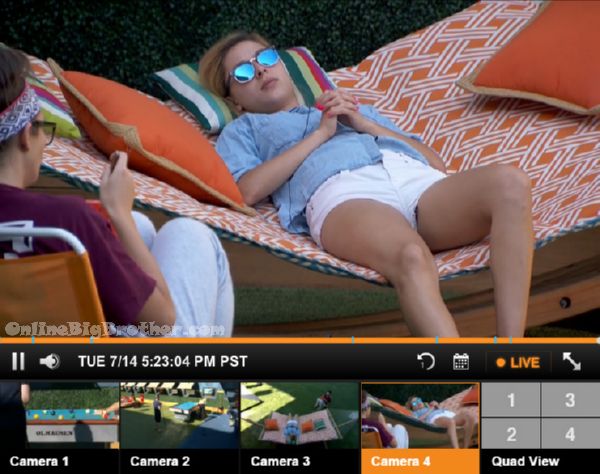 5:21pm Hammock Audrey and Liz (Audrey working out off to the side)
Audrey says none of the nominees have approached her
Liz wonders what james and Jeff are doing ":It could literally go either way:
Audrey thinks Jeff is convinced he's going to stay because he thinks he has Clay and Shelli.
Audrey – At the very least it would be a tie
They count the vote there's not tie this week they need 6 votes.
Audrey – "me, you, Austin, Clay, Shelli, Jason "
Liz – And steve
Audrey – I hope
Audrey – I would be shocked if Jason voted out James..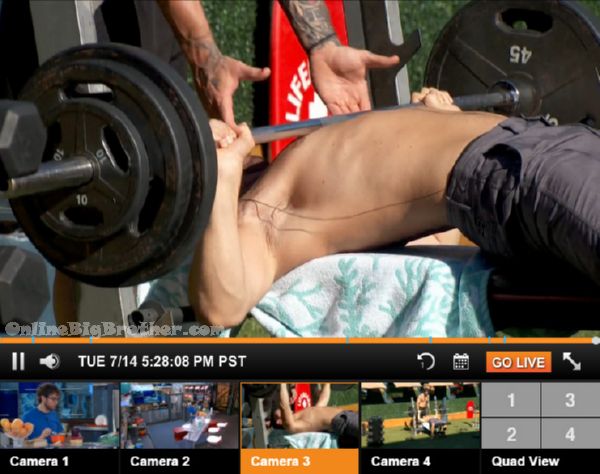 5:27pm Bench press Jeff and Austin
Austin makes a snide comments about Jeff's form, "Bounce it off your chest.. POWER"
Jeff bouncing the weight off his chest to get momentum so he can lift a heavier weight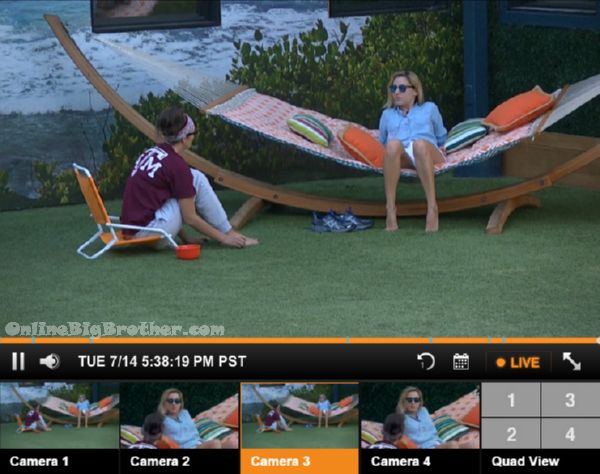 5:36pm Liz and Audrey Hammock (feed jumping cameras a lot)
They have been talking about Jace jumping in the pool with the microphone on the first day. He forgot about the microphone.
Audrey says she not close to Jeff or James. Liz is closer to Jeff but he did her wrong and James hasn't. They wonder when the nominees are goign to talk to them abotu their votes. They seem a bit Pissed it hasn't happened already.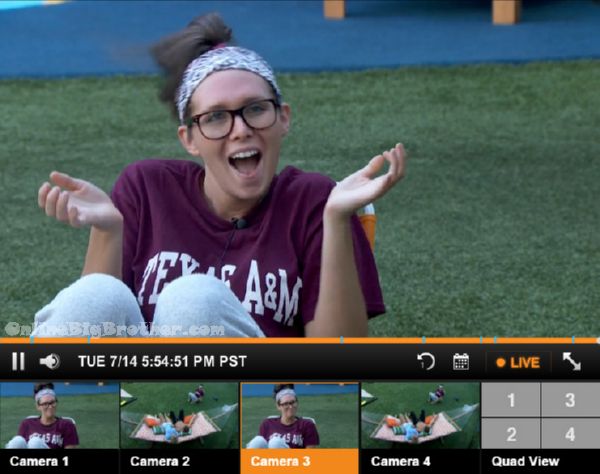 5:45pm Hammock Liz and Clay
liz says Jason thinks Julia comes in next week but she doesn't come in until week 5.
Liz likes flirting with Jeff she calls him a "Cool guy" but he's done her dirty and James hasn't/ Plus Jeff is a bigger threat in the game than James.
They agree the twin paranoia has died down lately. Liz is pissed James and Jeff haven't been begging for a vote yet. She says they should think of her as a HUGE swing vote. (She's not but the nominees don't know that)
Liz says this isn't Jeff's first rodeo he can think fast whereas James is harmless
They agree james is more straight up type person.
Liz brings up Jeff saying her not going up last week was his doing and she owes him a favour now.
Clay – No way..
Tells her to let Shelli know, "She's going to be livid"
Audrey joins them. Clay starts joking around with her and the flirty banter begins.
Audrey is wearing an entire Clay outfit including his underwear..
Audrey – everytime I'm in the shower he stalks me
Audrey – Sorry the guy I date have an IQ over 3
Clay flocks like a bee flocks to Honey but instead of Honey it's vag!nas
Audrey – I'm protective of Shelli I'm worried how she will look on TV with the all american douche bag
They joke that Audrey can sniff Clay and Shelli out. Audrey says she's protecting Shelli.
Audrey says Clays' ex's are probably blasting him right now.
Clay says he only has two ex's and they are both the nicest people they would never say anything mean.
They bring up Clay licking Jeff's armpit with BBQ sauce on it. Austin who's working out comes by "That's not a good pore.. on the human body"
Liz asks if Clay is a butt guy or a boob guy, Clay is a butt guy
Liz leaves.. CHit chat.. Clay called into the Diary room..
[envira-gallery id="121413″]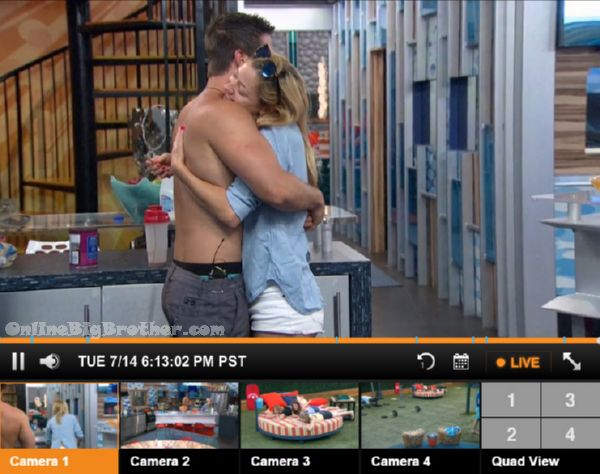 6:10pm Jeff and Liz
Jeff says he's been missing her.
Liz calls Jeff a hoe tells him he doesn't miss her he's cuddling with everyone
Jeff saying she was talking to Clay like they have secrets,. Liz says she never talks to Clay was happy that he sat beside her.
Jeff – Why are you ignoring me
Liz – I'm not ignoring you i'm sad you could go
Jeff – Is he campaigning for someone
liz – no.. I think everyone is torn.. it sucks
Liz – I heard JohnnyMac is voting for you
Jeff – A bunch of people are .. I'm not campaigning..
Jeff says he's just going to people telling them the things he did for them and hope they remember that when the vote comes in
Liz asks where Meg's vote is
Jeff – that's up in the air.
Jeff doesn't want to hear people badmouthing him and James, "that will really upset me":
liz – today was really chill.. but tomorrow the games will begin.. or maybe not I don't know.
Jeff gives her a hug.
Liz – between me and you i'm closer to you.
Liz says he's like the Katy Perry song "Sometimes you're hit sometimes you're cold."
they agree to have a cuddle date later.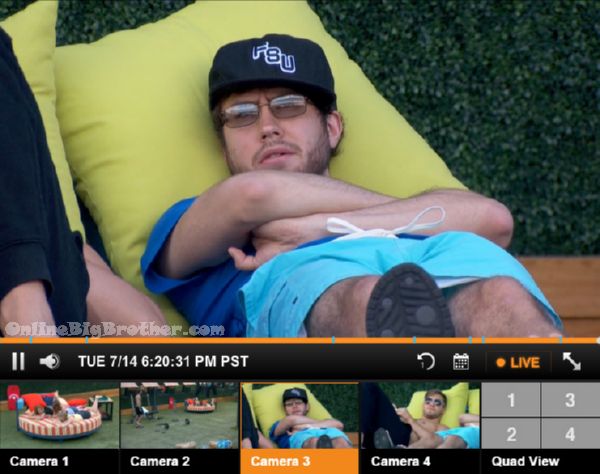 6:16pm Clay and Steve studying
Steve says he feel people are skeptical about him.
Clay says people are skeptical of him because they know he's a smart guys and knows the game inside and out and he has a master plan.
Steve – The vote this week is going to be closer than the last two have been
Clay – it could go either way with me
Steve – I've made no promises to either of them.
Clay asks him who benefits him more being in the game.
Steve says they are about Equal. Points out that Jeff has been saying things about him.
Clay says James is an upfront person but Jeff is a bit more sneaky. Warns that Jeff has the ability to pull people together.
Steve – James has people right now (Jason/Meg)
Clay – game day decision for me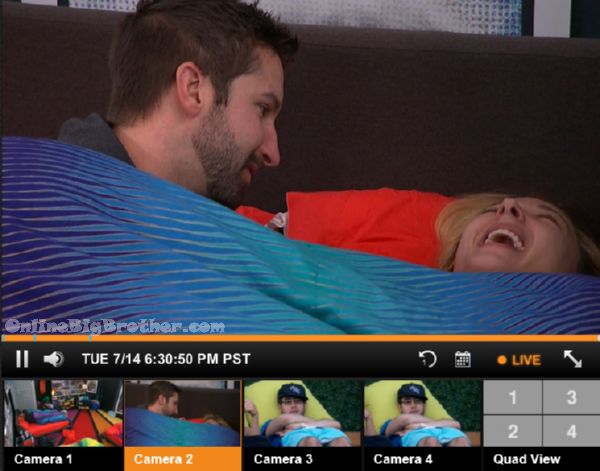 6:27pm Jeff Being greasy with liz (Becky listening in)
They find one of the ornaments being hidden. They suspect someone is trying to mess with them studying
Jeff asking her why she can't trust him
Jeff tells her he knows she has a twin.
Liz denies it.
Jeff – Liz it's f***g true
Liz – that sounds like a great rumour from someone that i's america players that just won 5 thousand dollars.
Jeff continues to say he knows it's true.
Jeff says he has a fraternal twin brother his name is Eric.
Jeff tells her if she doesn't have a twin then she's schizophrenic
(Liz is such a flirt she's cuddling around giggling with Jeff.. I'm grossed out by both of them)
[envira-gallery id="121425″]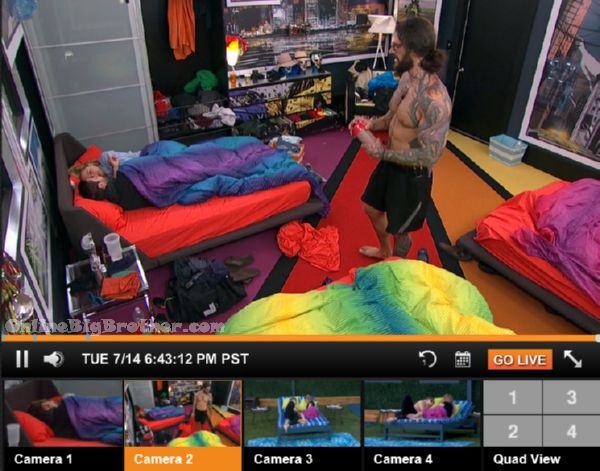 6:44pm Austin walks in looks around and leaves..
Austin – Whats going on here..
Jeff – Me ans liz are just talking
Austin – Oh ya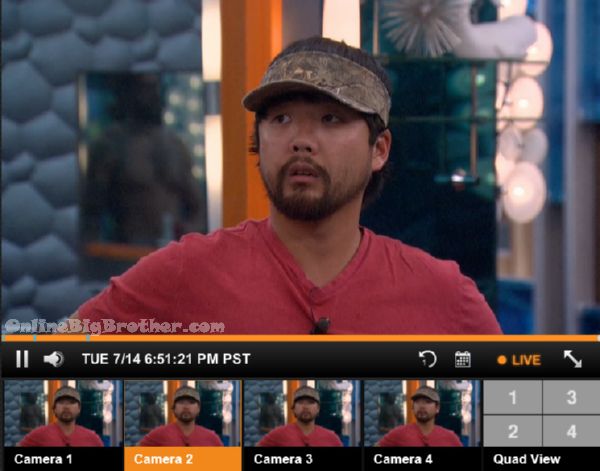 6:48pm Austin and Audrey
Austin pissed about Jeff and liz in the bed.
Austin – "He's attacking Liz right now I'm pissed off.. he's talking to her right now.. I'm so livid I'm trying to hold it in
Austin goes into the bathroom to chat with James.
Austin says Jeff is telling him there's an alliance that will protect him if he keeps Jeff safe. Austin says Jeff is trying to threaten him and he's going to out this alliance during the vote.
Austin – I'm planning on voting for you.. next week no front door no back door ..
James says not front door not backdoor for him, Liz, Vanessa.
Asutin – right now i'm telling you 100% you have my vote
Austin says Jeff is in the bedroom right now campaigning.
Austin hopes he has Jason and meg. James thinks he does have Jason he's not sure about Meg because she's cuddly buddies with Jeff.
James says he has Clay and Shelli votign for him. "Steve says he's voting with house"
Asutin – Yo need one of them meg or Jason .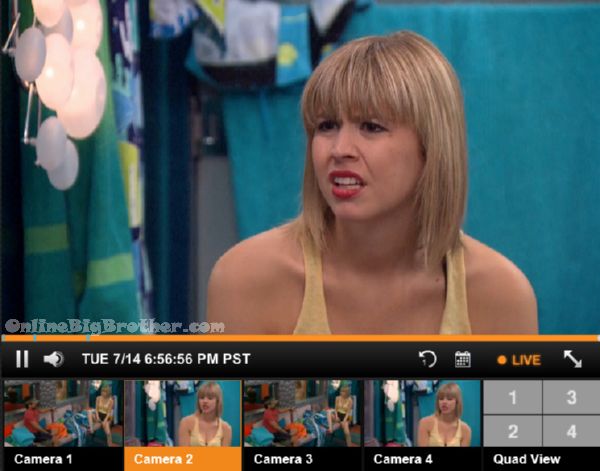 6:53pm James and meg
James says Jeff is super campaigning right now. James brings up Jeff telling Austin that there's an alliance around Jeff.
James says Jeff is throwing him under the bus.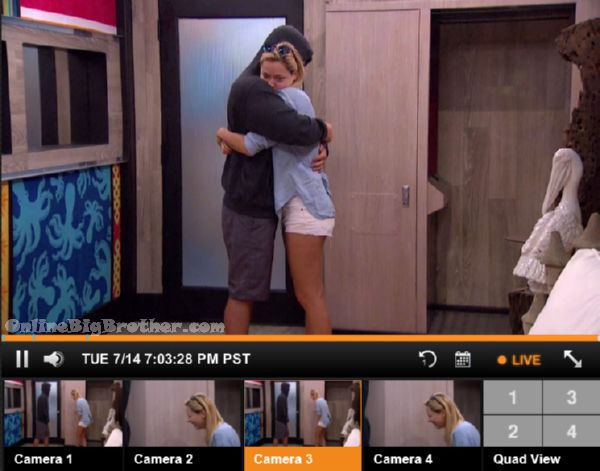 7:01pm Jeff and Liz
Jeff saying there's personality traits and physical cues that can confirms and deny she's got a twin.
Jeff says Austin knows about it he's cool they are goign to have a talk later the three of them.
Jeff says Jackie was telling him they are cute but Austin is always around like the angry dad.
Liz says Austin is so annoying "I don't feel the same way about him"
Liz says it started with her and Jace and Austin was always the third Wheel.
They hug and Liz runs and hides on the hammock..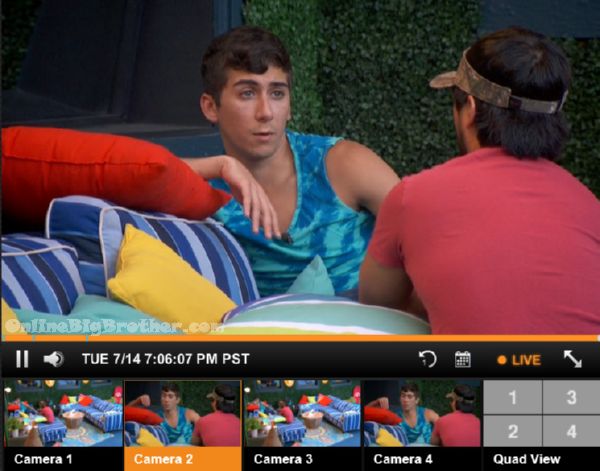 7:06pm James and Jason
James telling him what Austin told him about Jeff.
Jason says it comes down to Shelli and Clay. James needs to talk to them and secure those votes.
Jason brings up Telling Meg that they need to get rid of Jeff this week.
Jason says Jeff is good at campaigning "He can sell water to the ocean"
Jeff comes outside.. Jason whispers something about Jeff smoking all his cigarettes.
Live Feed subscription gives you CBS All Access thousands of archived shows. Live Shows like Big Brother, all the Big Brother Seasons, and 24/7 coverage of what is happening inside the Big Brother House. Plus there's flashback that lets you go back to any second of the feeds and rewatch what happened. Simon and Dawg will index the season just watch the parts worth watching. All this for $5.99 a month try it out 1 week free. Support our efforts and get your feeds via a link on this site. Live feed subscription Sign up
[polldaddy poll=8972565]
Share it YO!!
Tweet