Quick Big Brother Spoilers
Head of Household:  Reilly
Nominees: Corey, Felicia, Kirsten, Jared
POV Players: Cirie is host, Reilly, Bowie, Kirsten, Felicia, Hisam
POV Winner: Hisam
Veto Ceremony: Veto wasn't used
Havenots: Luke, Jared, Corey, Hisam,
Lock your ranks in before midnight
The situation Veto won't be used.
Alliances:
The handful = Reilly, Cameron, Jag, Blue, Matt
Family Style = Reilly, Cameron, Jag, Blue, Matt, Corey, Jared
The Bye Bye Bitches = Felicia, Cirie, Izzy, Mecole, Bowie (Red+Jared+Hisam)
The Brown sugar babes = Jared, Felicia, Cirie, meme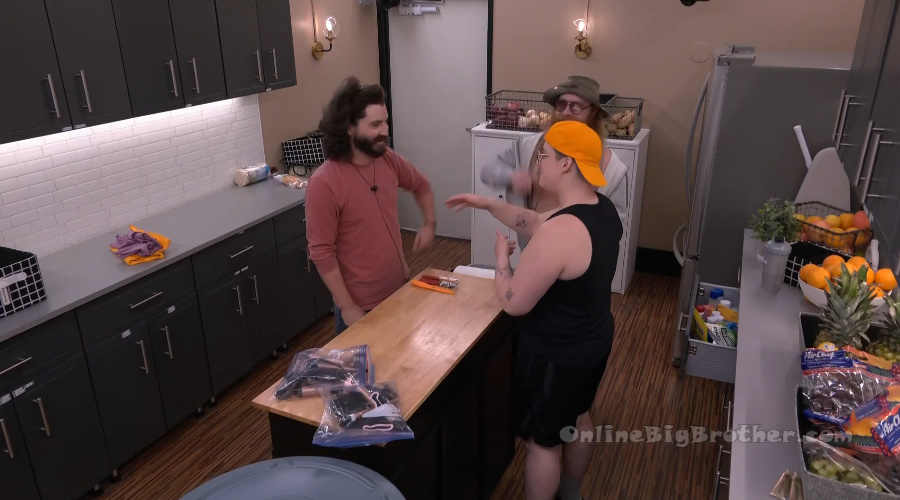 10:03pm Storage Room – Izzy, Cameron and Red.
Izzy – I am just excited that we broke the seal. I was feeling safe so I was getting excited but we don't know each other that well so I didn't want it to come across as being scary. Cameron – just over the course of this evening I have felt the mood shift across this house. Izzy – I just want you to know that I am very excited about this.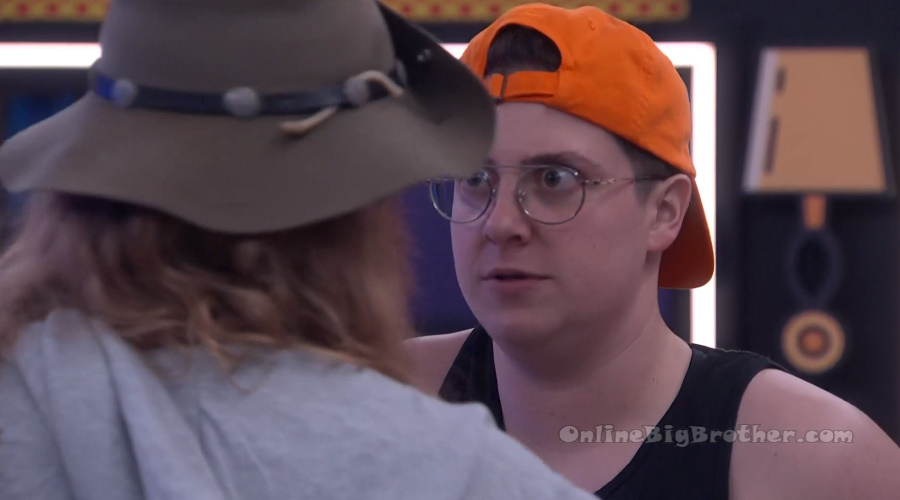 Comic Bedroom – Izzy and Red.
Izzy – you're a professor. He (Cameron) is not a professor. He is your outside (plus 1). Like he is your our number while we do our work. F**k yeah Red! Red – while we get our numbers up. Izzy – exactly! Red – he knows he's in that position. Izzy – F**K yeah! I mean that is a power position, he should like it.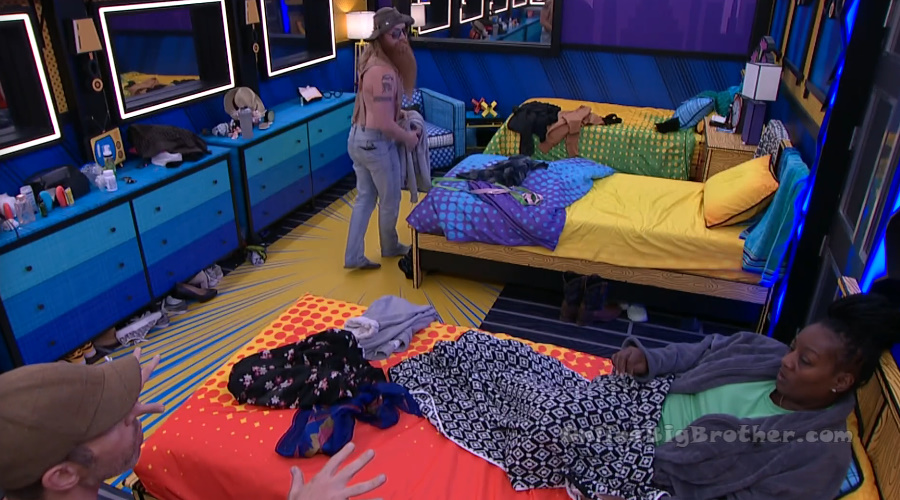 10:15pm – 10:40pm Comic Bedroom – Hisam, Izzy, Cirie and Red.
Hisam – I couldn't believe that they're all like imploding. All of them are just .. crazy! Like crazy sh*t. Like this is crazy! Like I didn't expect this to happen so soon. I thought basically we would get to Thursday, we would win and throw them up and then all this would happen. Izzy – right, but its happening now. Hisam – We want to work with you. Do you need numbers? We got numbers. How many numbers do you need? We got numbers! Okay, its me and I'll bring these two people which is like 10. ..We GET the number game. Izzy – like I can count. Hisam – we're playing the numbers game too, like we're not stupid. The best part of this is that they want to be close. They're so disorganized.. like we'll get several weeks in eliminating them, making ourselves stronger to the point that we will be too strong to go after. Izzy – we're almost there. Red – because we took the time to pick the right people. Hisam – we just need to keep talking. And I think as a rule, no more alliances.. fake alliances… just pure. Like we don't need that. We don't need any real alliances. We don't need fake alliances. We just need to roll as the seven and let them come to us looking for support and safety. And we just keep giving them valuable life lessons. That is what we do. We basically give them the education they needed from the BB Universe. Cirie – BBU .. here is your diploma. Red – they stopped coming to me because I only give them surface. Hisam – after I won the veto .. the one thing that I said to the camera is that they are underestimating older people.. and my side of the house is not going down without a fight. I think they consistently thought because we are old we are not competitors. Because we are old we cannot win this game. Because we are old we are not deserving. And that it would be very easy to basically get us out one by one because we cannot compete with them. MeME joins them. Hisam – I think that we know the next three people what that would be appropriate… But also if someone else was to go home that was not one of those three… that wouldn't be terrible. Cirie – wait .. I don't know the three. Hisam – its Jag, Blue, Reilly.. and Reilly is number one.. and Reilly is the next one (Next to be evicted).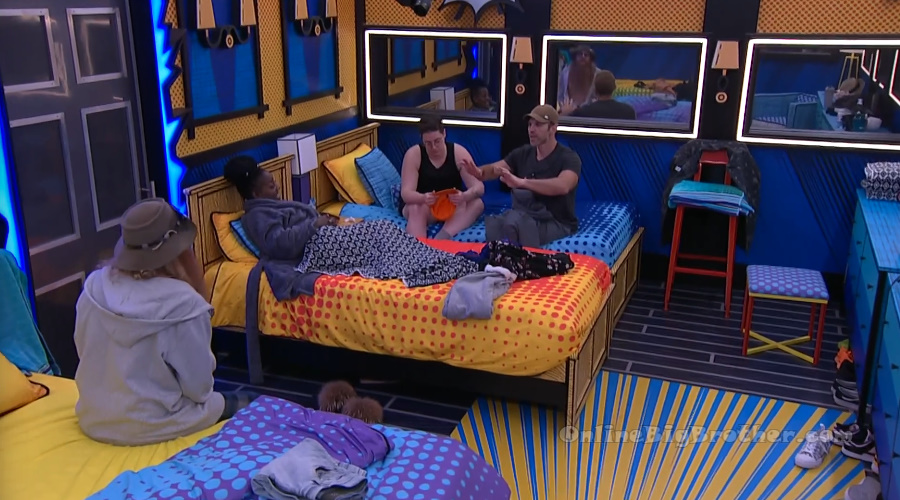 11:40pm Upper Level Backyard. Hisam, Izzy and Kirsten.
Hisam – what I would says to you is that I feel terrible about what happened. Kirsten – you don't have to. Hisam – because like there are to ways of being. You could either be like f**k all these people, I don't give a f**k about their sh*t. I am going to eliminate them. I'm going to cut their throats, I don't care. And there is the other side that is over empathetic, cares. And I am an empathetic person and I am responding to the fact that I care about you as a person. That is real. To me its like just how I feel and I don't bullsh*t people. Kirsten – that is my favourite thing about you. Hisam – I truly respect you. And I truly think you're a phenomenal person regardless of the fact that we had the veto ceremony.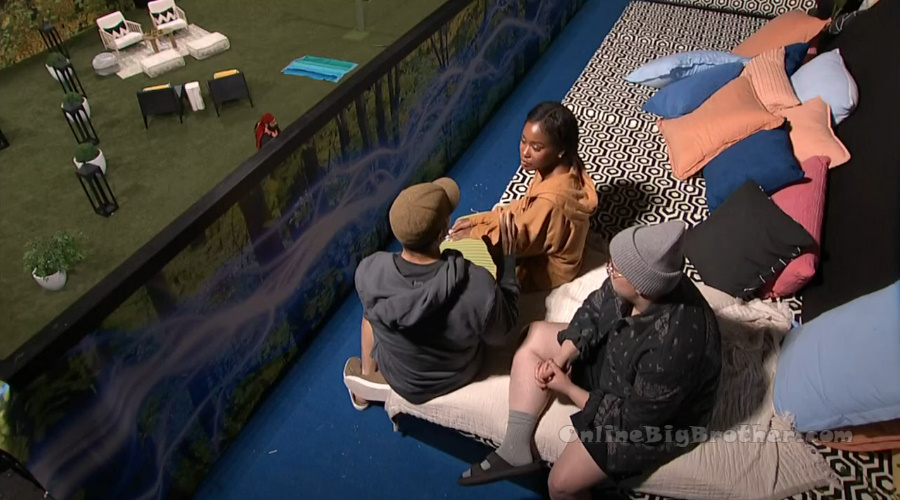 12:20am Backyard Pool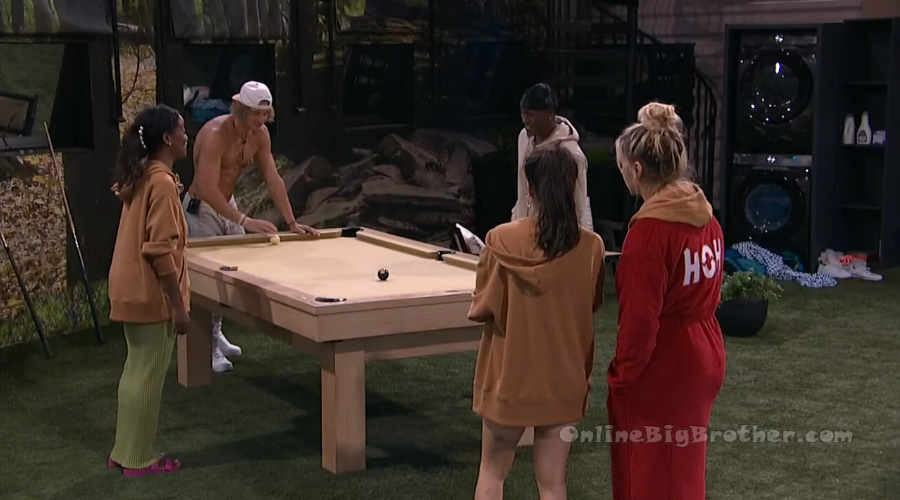 12:55am Hammock – Matt, Reilly and America.
America – I just feel like it is so hard because we never get together.. But they're doing it. Lets f**king do it and get all our information straight because.. Reilly – that is what I am saying. I don't give a f**k if we all get together. Its not a secret. Like sorry, they just did it last night at 2am. They talk about Luke. America – he is always f**king around. Reilly – I don't care, we are being stupid denying it at this point. Izzy was like lets stop being dumb. It was like war leaders meeting together. I didn't know what to say.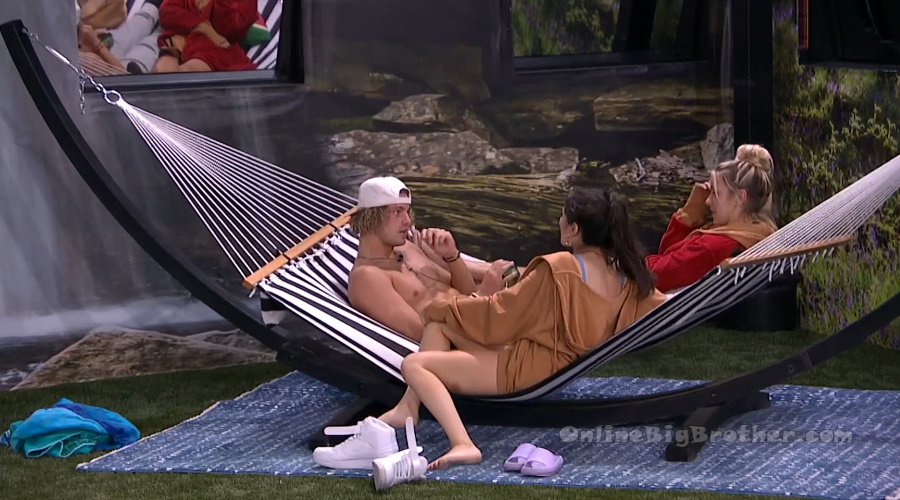 1:20am Storage room – Cirie and MeMe.
Meme – I was sitting outside where Reilly and Blue were sitting and she looked heart broken. Cirie – Red insisted on Cameron. Now they're going to insist on Reilly. Meme – if there are ten of us.. this is bad. This is bad. This was Cameron's idea. He saw what was happening. So who should be the target for next week. Cirie – they haven't said. He literally telling us who we bring in next. Meme – so who are the targets Jag and Blue? Cirie – this is where the sh*t is going to get bla bla. Hisam says we should put up Jag and Blue and then one of them come down, we put Reilly. I want him to tell Cameron that. Be thinking because this isn't going to work. Meme – this isn't going to work. This is the dumbest thing I heard in my life. Cirie leaves. Meme – the whole entire house is an alliance so who do we get out?! Oh god Jesus. You were was to stingy with the common sense.. you needed to disperse it. He didn't even infiltrate our alliance .. you let him in.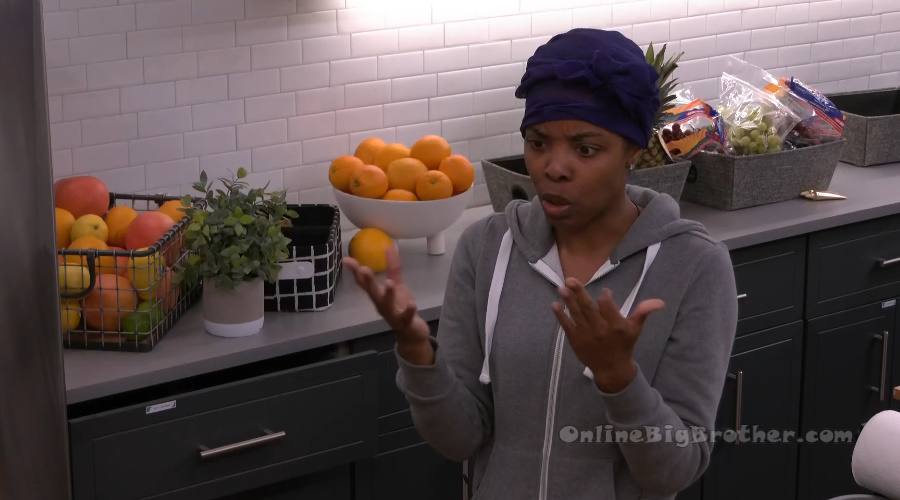 1:45am Backyard – Matt and Jared.
Matt – survival of the fittest. Our team wins we're going to make it to the end, we're going to knock em off. Their team wins, they're going to knock us off .. easy pickings. We have to be so motivated on Thursday. Think motivation, let we got to f**king win this. We have to play it like its our last game. Jared – yeah, yeah it could be ugly. I feel like if they do win, our 8 might get so scared that some people might turn on each other.. and that would be the worst. Then we're f**ked. Matt – I think Bowie and Red could be someone we could convince. I don't think red knows where he wants to be. Jared – Bowie, Red and Luke. Matt – you and me have to do Luke .. we have to get in his head and let him know they're playing him. He was the last person they added. Jared – Luke doesn't trust us. He's been following me. Matt – he used to do that to me but he doesn't do it any more. I don't think he trusts me. We have to start meeting up as a group.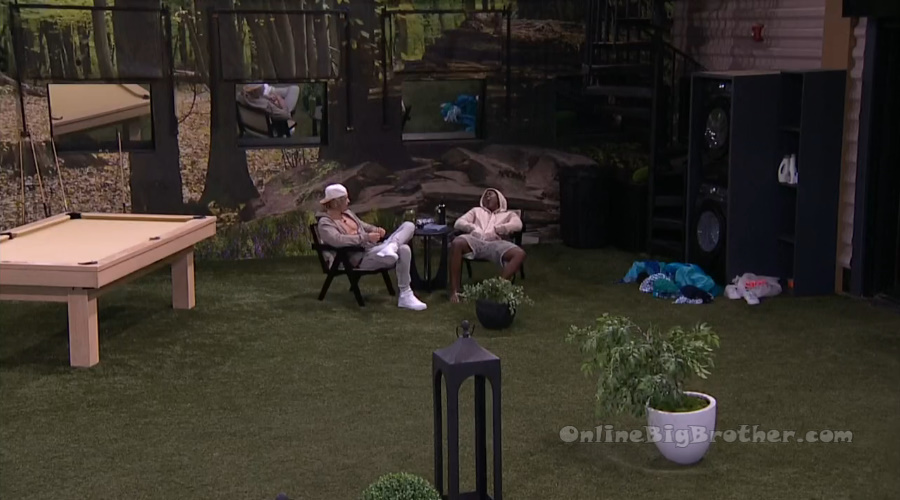 Support the sites efforts
If you enjoy OnlineBigBrother, please consider donating to keep the madness going. Thank You!