POV Holder:
?
Next POV
May 22nd
POV Used
?
POV Ceremony
?
HOH Winner
Sarah
Next HOH
3 part finale is next
Nominations:
Ashleigh & Godfrey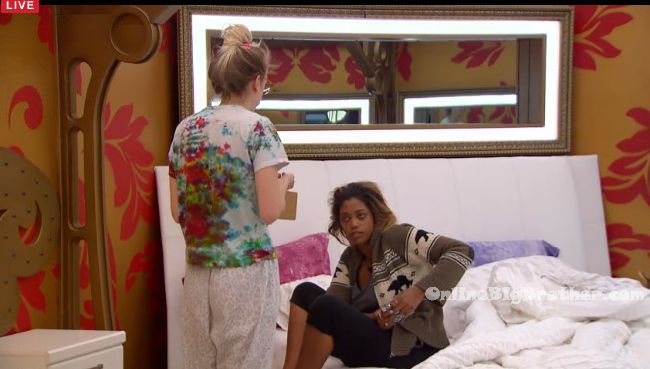 8:25am – 9am Big Brother wakes up the house guests. Sarah gets up and goes to get the new batteries. When she comes back – Britt asks Sarah if she's alright? Sarah says sorry I just don't like it when you get grumpy with me for no reason. Brittnee says no you get really snappy with me. I just said we have to get up. Sarah says you said "you" have to get up. Brittnee says I said we. Sarah says you said you! Brittnee says maybe I meant to say "we" so I apologize. But you don't have to get snappy with me! Sarah says I am sorry but I just feel like I was matching your tone. So I am sorry of you think I am being snappy. Brittnee asks were you laying down with your eyes open? Sarah says yeah exactly because you said you have to get up! Because I know you don't like the rooster. And you were like if we get the rooster I am going to be pissed off! I was lying there with my eyes open. Brittnee says its just a f**king rooster man. Sarah says okay I am sorry for being snappy, I won't say anything. Brittnee says I am sorry for saying you instead of we. Sarah says she was just trying to match her tone. Brittnee says I just need to feel like a human being. I do feel like a human, I am just so tired. I'm just exhausted! That was a really big day yesterday.. but I feel like I got hit by a bus. Sarah says I am really tired too so I am sorry if that is why..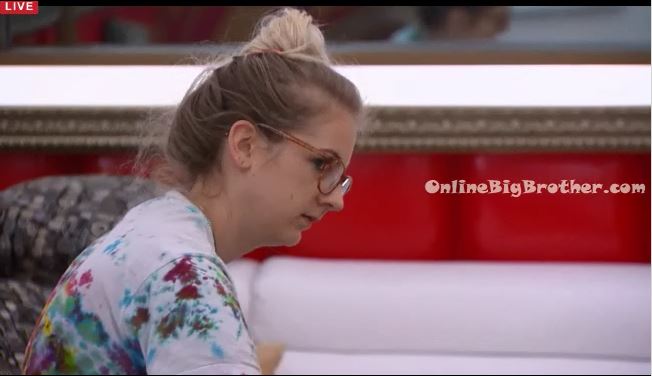 9:15am – 10:10am In the kitchen – Brittnee and Sarah head down stairs and start cleaning the kitchen. The living room tv shows the Power Of Veto competition is Today! Brittnee says did you hear that .. it sounds like a train. She says she heard "Whoooo Whoooo" Sarah says piece it together build a train? Brittnee makes breakfast burritos for everyone. Godfrey tells Sarah and Brittnee that Ash made another pitch to me last night. Keep me and make 20 grand. Britt says she thinks you can't win the 100K. Ash comes back from the diary room. She asks why is there a choo choo train in our backyard? Do we get to ride it? Sarah says whoever gets hit the most by it and can still get up wins.

10:30am The final 4 are laying around the living room chatting about random things. Brittnee says so JP has been there for a month. Sindy has been there for about a month. Ash says yup! Brittnee says crazy!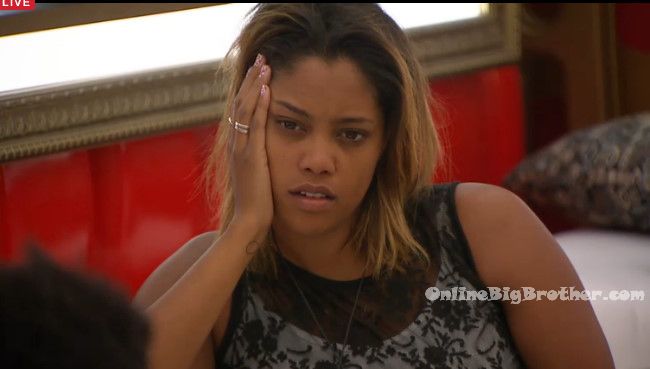 11am – 11:45am UP in the HOH room – Brittnee asks Godfrey ..be honest with me, who do you want to go to the final 2 with? Godfrey says honestly, I would want to go with you. Godfrey says I don't have a good argument against Sarah, or you for that matter. Brittnee says maybe I would have a good argument against you or maybe I wouldn't. Don't sell yourself short. Brittnee says I am not even thinking about going to the end with Ash. Thinking back now I don't think I talked enough game with people. Even thinking about going with Sarah ..thinking back now she did most of the talking. Godfrey says if you go to then end I think you would lose. She was seen as the brains. Godfrey says what Ash is telling me is scaring me about taking Sarah. Godfrey tells Brittnee that Sarah is telling me the same things. Britt asks like what? Godfrey says like all the same things you're saying. I don't know if I can go with Britt. Maybe she really is scared to take you or maybe she knows .. its a tough one. You think she knows she can beat you? Britt says I think so. Godfrey says they (jury) think she (Sarah) is a genius. And perception is reality. Sarah joins them and Brittnee leaves. Sarah talks to God about Ash being the target and how she can't win the veto. Sarah says she (Ash) has 5 votes for sure.
12:10pm – 1:10pm Sarah, Brittnee and Godfrey are up in the HOH room talking about random things. They're now silent and trying to nap.
1:30pm
Big Brother blocks the feeds.
2:40pm Still blocked .. the veto competition is likely happening now ..
4:25pm Still blocked..
5pm Still no feeds…
5:30pm Not back yet..
5:50pm Nothing …
6:25pm Still nothing..
7pm Still blocked
8:57pm Feeds still down
It looks like ONLY 7 out of the 10 JURORS be voting for the winner of #bbcan3 @bigbspoilers pic.twitter.com/InZqdhi80F

— Dawg (@DawgsBigBrother) May 22, 2015
Please consider making a donation. This site is ONLY possible because of your support.
Just 3 Weeks after BBCAN3 is over BB17 starts! And we'll be covering the live feeds round the clock. Get your CBS All Access early and re-watch the past 16 seasons of Big Brother among other shows. CBS All Access INCLUDES the feeds and is ONLY $5.99 per a month.
[polldaddy poll=8882685]