HOH Part 1: Xavier Vs Azah Vs Big D
Part 1 Winner = Xavier
HOH Part 2: Azah Vs Big D
Part 2 Winner = ?
HOH Part 3: ? Vs ?
Part 3 Winner = ?
Big Brother 23 Houseguest Rankings – – RANK THE HOUSEGUESTS –
View the previous day ranks on the – Ranking Grid
Spoilers – BIGD and Azah will be competing in part two of the final HOH today. After controlling every single move this season BIGD is looking for his first win to finish off his resume. Xavier is hoping BIGD wins however the hand full of GNC fat-burning supplemnts BIGD is wanting to take may prevent that. Azah seems to be calm, studying and eating.
8:50 am houseguests getting up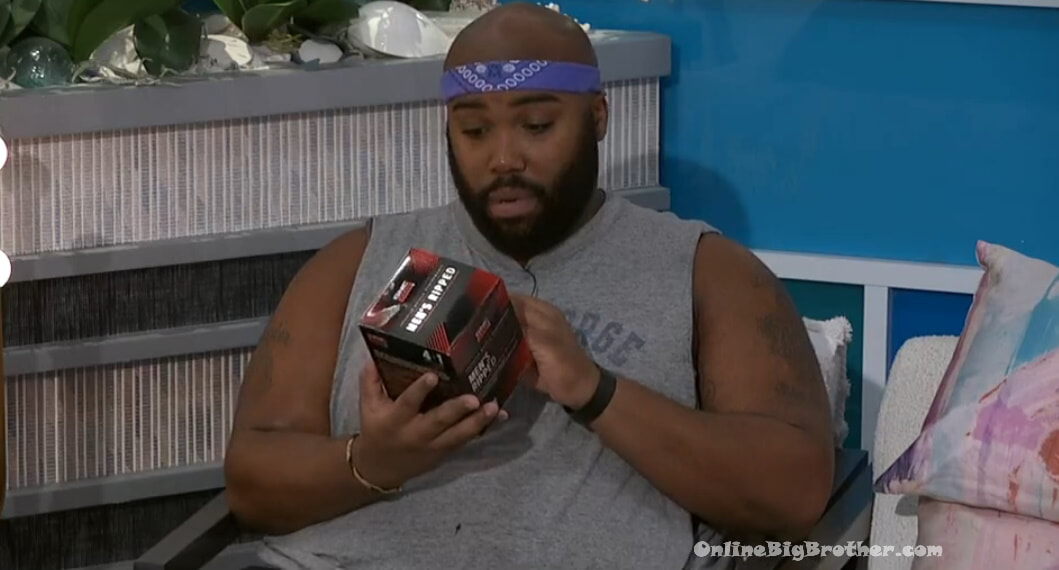 9:18 am
X comes in talking about "the regulators"
DF – wasn't someone already called the regulators
X – Nah the renegades. there's never been any regulators but it's too late we're already named.
BIGD checking out a pack of "men's ripped" supplements.
DF – Ohh okay I'm not going to take this red pill
X – we're up early means there's something going on today
DF – I've taken them one time
X – You're going to take them again?
DF – i'm going to take it today
X- You've only taken them one time and you are going to take them today?
DF – I mean i've taken it before..
X – oh..
DF – I'm just saying i'm taking it today I'm just looking to see what else in it that I probably don't need (Hint all of it)
X – what's making you want to take it?
DF – Umm.. I feel like we have uhh…
X – you just feel like we have what?
DF – do I have to eat with this?
X – every time you ingest a pill you should have something with it..
X – I wouldn't play around with experimenting.. if something you've known you taken below but if it's something like I dunno what is this.. experimenting.
X- the reason why that name works is you've had a military background (Not sure what name they've agreed upon)
DF – I did go to Military school..
X says he's going to work on his "pancake booty"
DF – I'm scared Twitter is putting out pictures of my pancake a$$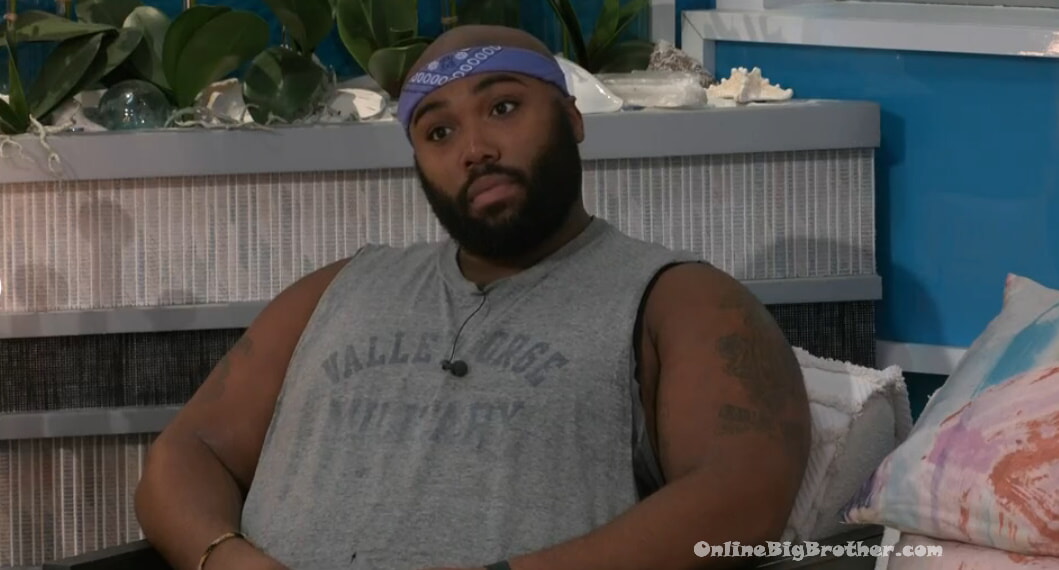 9:46 am
DF – this whole season I've felt like I couldn't win anything.. I need to win
They talk about working out. X complains he can't do legs in the house he'll have to wait until the backyard is open.
DF – I worked out inside that room once.
DF adds it was the week SB was put up. "I was so annoyed.. I was pissed like.. I can't like.. for me I was annoyed I was we're keeping nominations the same like.. stupid.. I don't know why TIffany's not up there.. It was stupid I was mad"
X – that was Claire and you not Claire and Tiffany. That was my thing with Tiffany. Every time when your person is up.. ohh it make sense for everyone to sit next to their person but you haven't sat next to Claire ONCE and CLaire has been on the block twice.. three times actually.
X – everyone sat next to her (Claire) except you (Tiff) so that whole idea that we have to sit next to our person
Feeds cut.. when we're back
DF – I saw right through that I knew the type of person she was I've dealt with people like that.. before. Where they sit there and hug you and take you wallet out your pocket without you knowing
X – TIffany you haven't sat next to your person.. Your person sat on the block 3 times..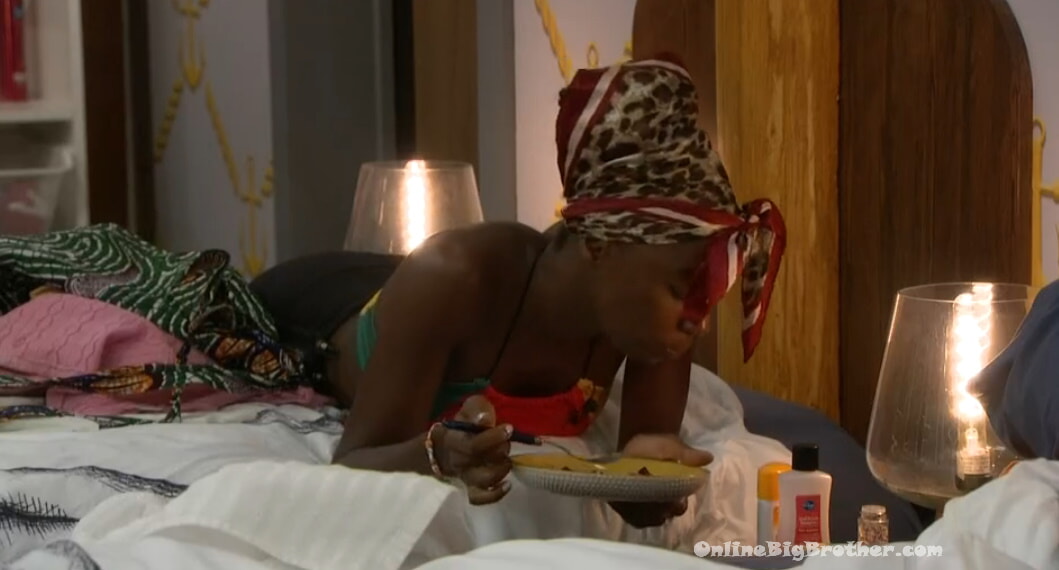 10:26 am Azah eating and studying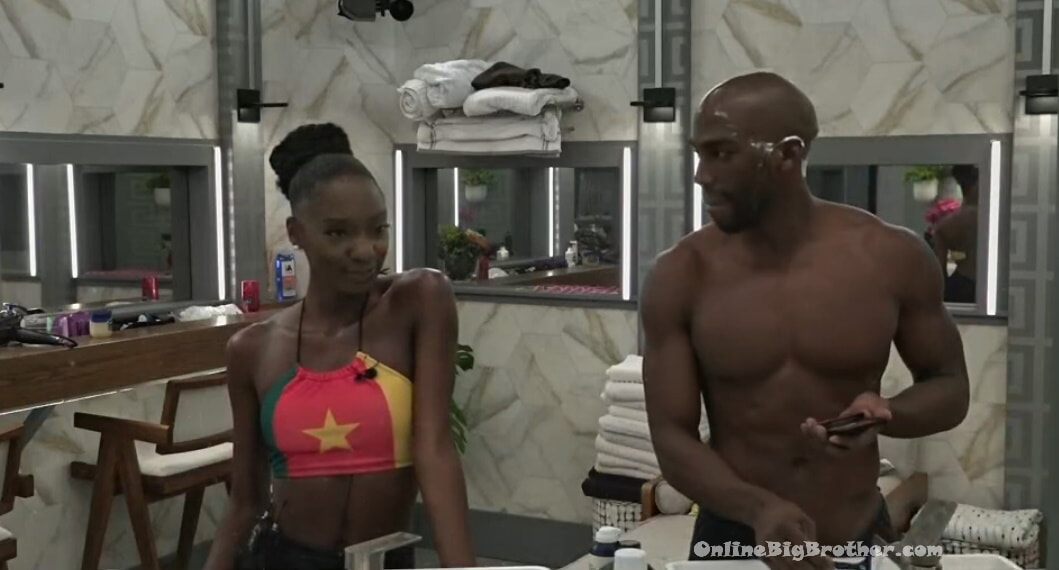 10:54 am X and Azah
Azah asks how is he so good "at that"
X – you got to work it sometimes..
Azah – "How you get that right down pat?"

X – "You got to work it sometimes.. you got to be ready to work it.. "#BB23 pic.twitter.com/w11HIss26U

— OnlineBigBrother.com (@bigbspoilers) September 25, 2021
11:32 am BIGD talking about how the show is better than the live feeds.
DF – I like the edits of the show.. it allows me to see.. it what makes me excited about big brother.. being the camera zoom from one room to another..
DF – I've seen the live feeds one time..
X – I've never seen the live feeds..
DF goes on about not seeing the competitions on the live feeds.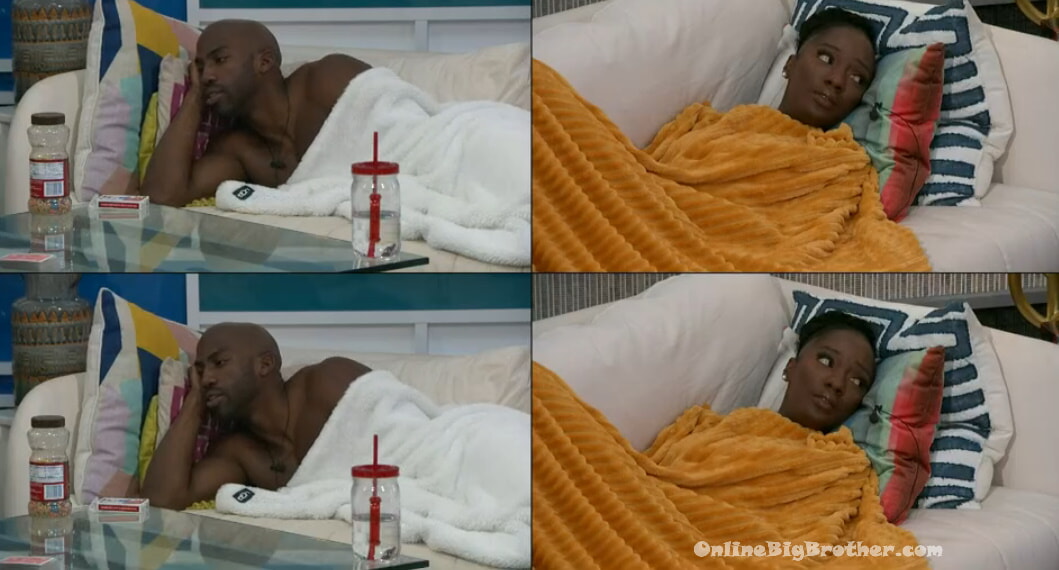 11:39 am
DF – i'm trying to figure out what else will be interesting to find out.. (when they get out)
X – drug use
Azah – drug use?
X – mmmhmmm
Azah – what do you mean?
X – y'all going to find out I be blazing that sh1t 24/7
Azah – ohh
Azah – I feel like everything you've said you've been honest about. I know people are waiting to find out if you still a model bartender.. I believe that
Azah – the only thing I thought htat you might be was like military.. you've might of enlisted.
DF – I'm not going to say he's is but he dibble dabbled in Lawyer stuff.. either we went to school something like that.
X – I am a military lawyer..
DF goes on about X being some sort of lawyer or at least did something in the legal space.
11:57 am feeds on pound puppies
1:00 pm no feeds for you
1:30 pm pound puppies
2:28pm Still blocked..
3:14pm The feeds return – Big D is sleeping. Azah is showering. No word who won Part 2 of 3 HOH.