HOH Part 1: Xavier Vs Azah Vs Big D
Part 1 Winner = Xavier
HOH Part 2: Azah Vs Big D
Part 2 Winner = ?
HOH Part 3: ? Vs ?
Part 3 Winner = ?
Big Brother 23 Houseguest Rankings – – RANK THE HOUSEGUESTS –
View the previous day ranks on the – Ranking Grid
12:08 pm CARDS
1:58 pm
DF – I played an incredible social game where it will go down in history (staying motionless in one spot for 80% of the season = social game win)
DF – all I did was cook, clean, dance and entertain you guys and distract you from seeing me as a threat. At times I even told you guys I'm a threat send me home. You never did.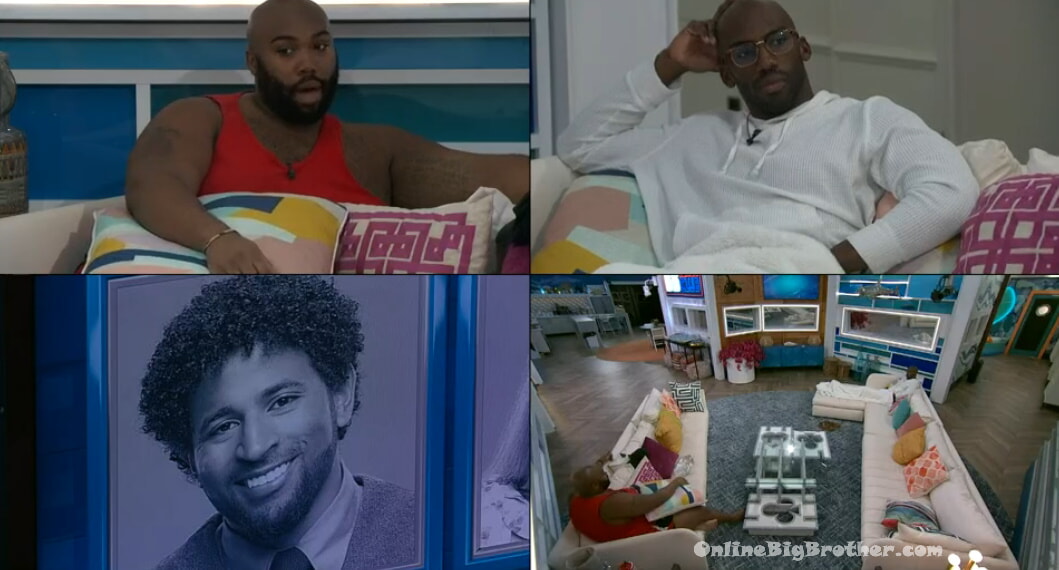 2:00 pm DF and Xavier
X says DF has a chance to win part 2.
DF – if I win part two Azah will be more like Got it
X – she will be happy she already said weeks ago if we win part two its a wrap. at that point, we're enjoying our time in the big brother's house.
X – tomorrow you have to pull out a Dub .. and I think you will.
DF – I think it's more than one round.
X says if DF wins the second part it Solidifies they both get a cheque.
DF – 750K is a very nice number.. but 75K plus the time I was here..
X – and you have a good chance to get America's favorite houseguest.. you will be one of three people
DF doesn't know America will like him after what he did to Kyland.
X – he was belittling you all week and once he got some power you said take your a$$ out the door. America loves sh1t like that. Especially how he reacted. Showing his true colours we glad you sent his a$$ home.
DF hopes Ky will apologize to X.
DF brings up his missing ring that they think Kyland has. He stresses how much the ring means to him. DF says it was the last thing his dad bought him "with his own hard-earned money when I graduated valley forge military academy.. she said this is for you Dennis.. I thought ohh cool. "
DF – I can always get another one I can call the company and get another one.
DF – I got that ring when I was 17
DF – god will judge him not me.
X says it's too soon for him to see Ky again.
They don't want the fandom to "Cyberbully" him (you've never met this fandom)
X – you don't get invited to future cookouts
X – he should who he is. at the end of the day my nephew is very proud of the man their Uncle is. My family is proud of the man I am. One quote that I love. Lions never give energy to the words of a sheep.
X – bro you got got… You felt shitty about it. I am confident about me as a person what I bring. Him sitting there saying ohh what kind of roll model you setting for KOBE.. I'm saying A great one.
X – a great roll model for my nephew and he knows that..
X – he said what he said he knows what he is. I know what I am to my Nephew and to my family that was it..
DF says what Ky said was very disrespectful.
Df lists off all the historic first this season.. ..
DF about Ky – you knew you antagonizing someone especially another black man and showing your a$$ like that you were trying to get a reaction and it's like.. how could you be that selfish when we all said we wouldn't take this personal and even if you did take it personal why did you say something about someone's family? Why not say something nasty about X and kept it moving..
DF – that's my thing I would have loved it for him to call me fake, a b1tch a liar whatever.. I would have loved it. YES I AM
DF – to me as a black man to another black man you don't do that. If I want to come at you I'm coming for YOU ..
feeds cut.. when we're back..
X – with Kobe my concern might be you may.. take me or someone else.. no one can blame you for that. That is literally what he said.. no one can blame you for that cause you are doing what you are doing for your nephew.
X – then I take your a$$ out and all of a sudden you try to say
DF – Ky is the most shystee-est person we talked weeks and weeks about our final 2 about how we are going to make it we love each other we will never cross each other. Literally low and behold he's over here trying to get with you to try and make a deal wand WHATNOT. Talking about the gentlemen and the competitors.. and the batman and superman and all this sh1t.. look I will never regret that move.
DF goes on about this friends back home being excited saying "get that b1tch"
DF – that just shystee. he would not have had those conversations with you if I did not open that door.
Feeds cut.. when we're back
X says week6 people started seeing Ky as a "shady motherf**er"
X – week 6 was the start of jury.. the start when people vote is when you f*** up your social game.
X – he thought he was a master manipulator now he realizes damn I got played .. it hurts. The fact that he got played he doesn't know how to handle that.
X says what happened to Hannah is the same that happened with Ky. they had a chance to win the veto they didn't win. They thought they had the votes they didn't.
X says if they would have told Ky he was going to get evicted they would have had to deal with his "nasty sh1t" all week he would have rather dealt with it for 30 seconds just like they did.
X – I'm glad a person like that isn't going to be the one that is not only representing this season as its winner but representing our community as the first winner.
X – he needed to be gone.. out of the people that remain I would be proud of any one of us won.. I know every single one of us would represent the community.. (Yikes.. Let's get real now DF or Azah winning is a Jordan moment)
X – I would have said the same thing about Hannah too. The two people I was iffy with was Tiff and Kythe fact they are goner now whoever represents this season as the winner I couldn't be happier
X – we had to make sure any of the bad eggs are gone and they're gone.. Hannah, I'm sorry you are a casualty of war I love you.. Tiffany, you know what you were doing and Tiffany owned up to that sh1t I f**ed my game up by winning that second HOH.
X – [tiff said to him] If you vote for me You will have me in this game.. what the F** does that mean? What does that count for? Like you saying I got you in this game like if I can't win sh1t Tiff.. you know what i'm saying.. Tiff I can beat you and sh1t. truth be told I don't necessarily need you if you already got something with Ky and I know Baby Sis i'm more inclined to trust than your a$$ why don't I keep her.

2:33 pm BIGD fueling up for more social game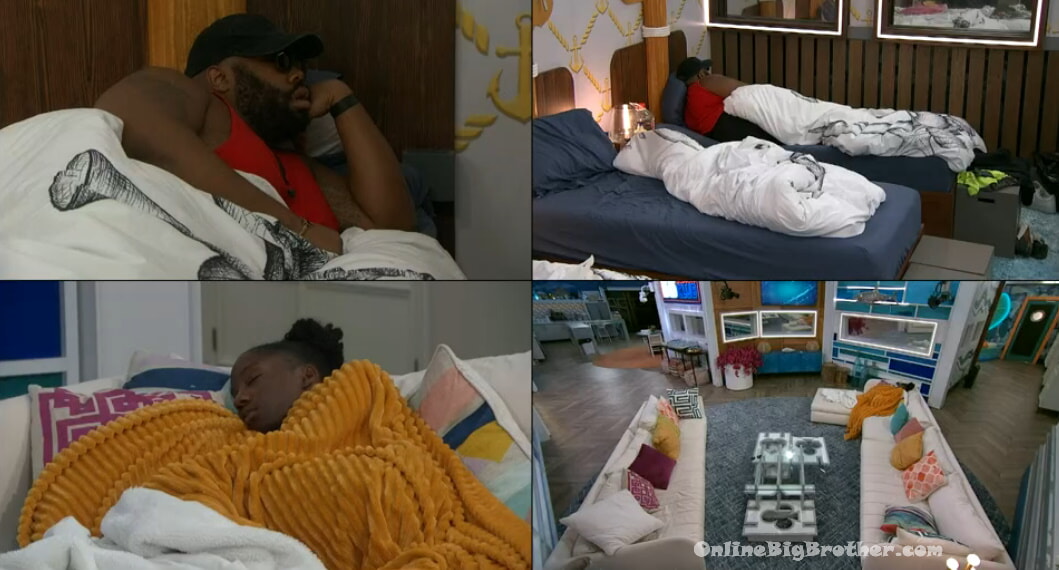 2:45 pm – 4:00 pm Zzzzzz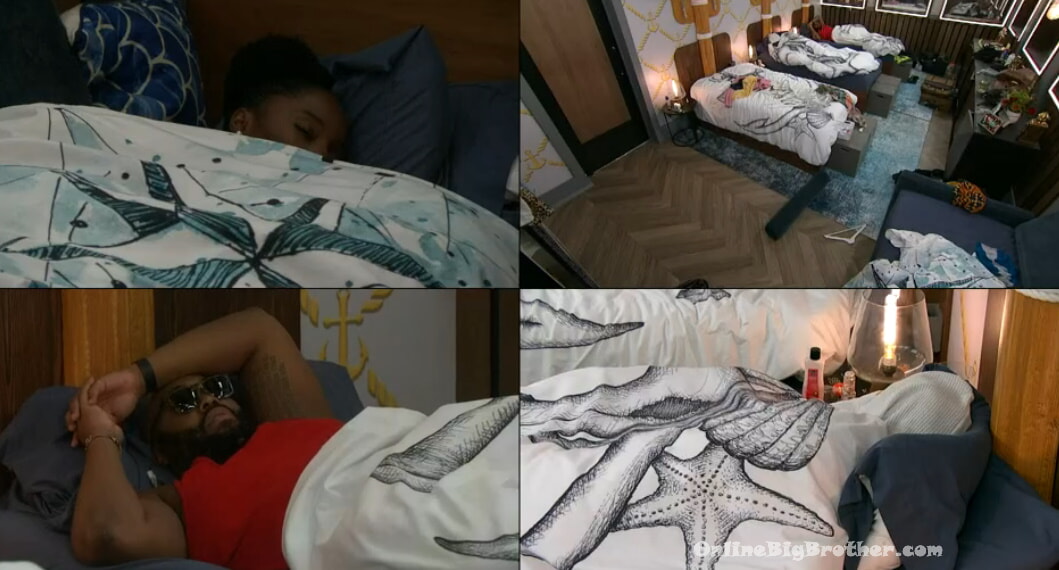 5:20 pm Some would say Zzzzz others would say Incredible social game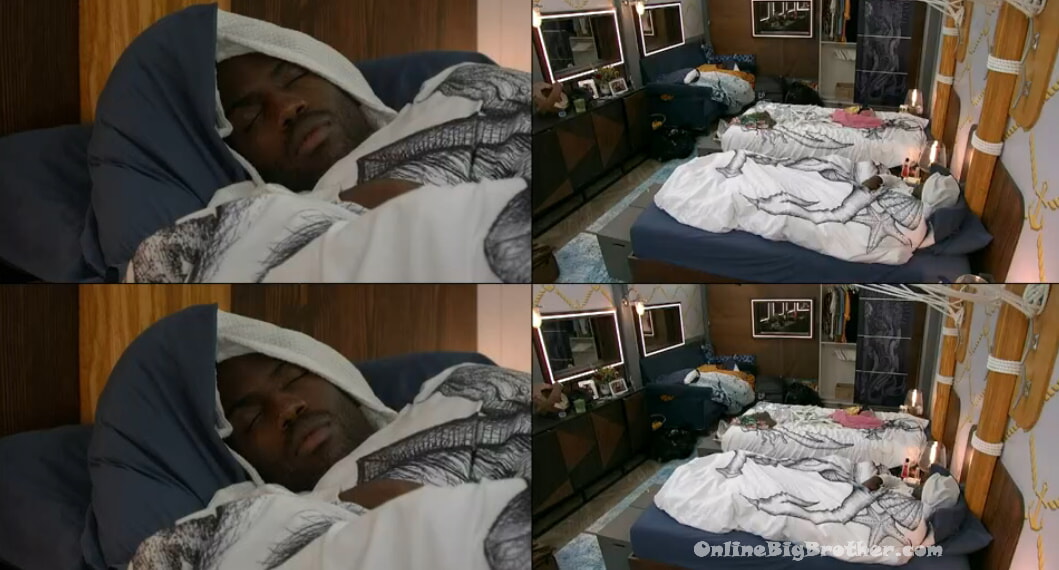 6:26 pm SPOILERS!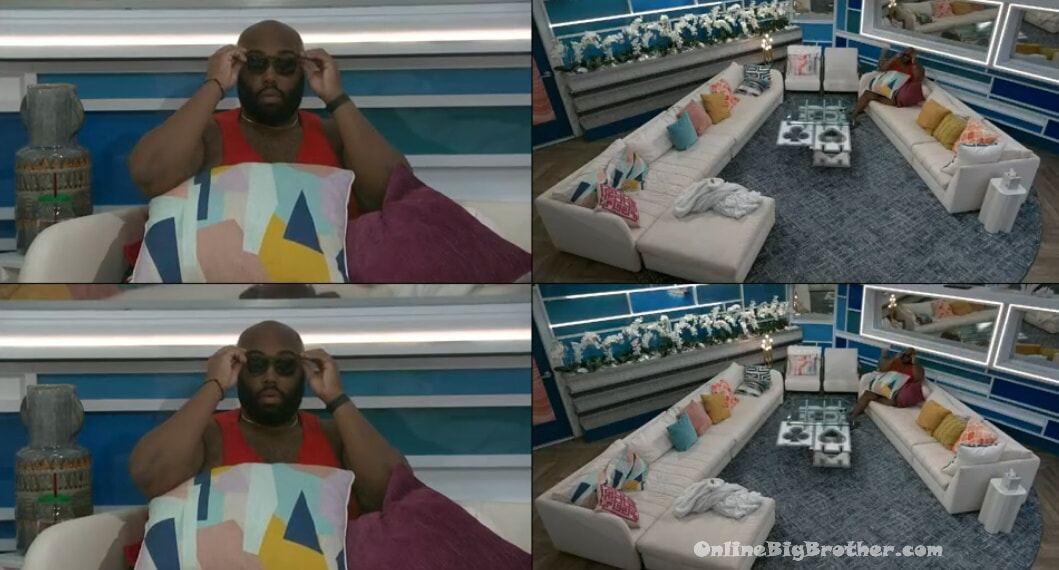 6:38 pm DF and Xavier
I think they're discussing names for their final 2.
X – Freedom chasers
X – I can't believe the creed can't be used but the gentlemen can?
DF – the roots was good. Nobody is making of the roots.. you know..
DF – movement.. the movement.. ummm..
X – thew wave.. the movement..
DF – the mission.. no.. okay..
X – the revolution
DF – the revolution.. it is powerful..
DF – the revolution and the black knights..
DF – black city
X – chioclate city
DF – now we're getting sexual
X – dark city
DF – power city
(jesus H)
DF – big power.. power big, powerful.. can't say black power..
X – the fist?
DF – the fist..
X – rock solid and if you catch it at the wrong time
DF – you get your lights knocked out
They like THE FIST
X – that's the top of the list..
X says htey now have 3, The fist, the revolution and the black knights. Adds that they need to have five..
5pm – 6:30pm Azah and Xavier are sleeping. Big D is in the kitchen.
6:30pm – 7:38pm Bedroom. Xavier and Big D try and think of a final 2 name. Xavier – Something with chess…. The Black Knights. Big D – add it to the pile. Big D – throw out power full words. Xavier – Dream killers! Big D – I was going to say the knockout kings .. but I wasn't a King so it doesn't make sense. I don't want people to be able to make fun of it. The Roots was good because no one is making fun of the roots. Xavier – the revolution. Big D – that is powerful .. lets add it over here. Big Brother blocks the feeds. Xavier – alright hit me with the four? Big D – Black Ops, Blackout, Blood Brothers, The Fist. Xavier – I am not going to lie when you said all of them right now Blood Brothers sounded good. I like the way it sounded. Big D – I feel like its something that's commonly said. Xavier – then its gone! They agree on using The Black Ops. Big D – The Ninjas! Xavier – no we ain't going to be no damn ninjas…. bald black growna$$ men are not going to be the ninjas. The Black Ops. Big D – The Shadow Knights. The Shadows. The Covid-19! The Vaccination! Xavier – The Pandemic! The Flu! Big D – The Toilet Tissue! Xavier – The Squatty Potty. The BB NFTs!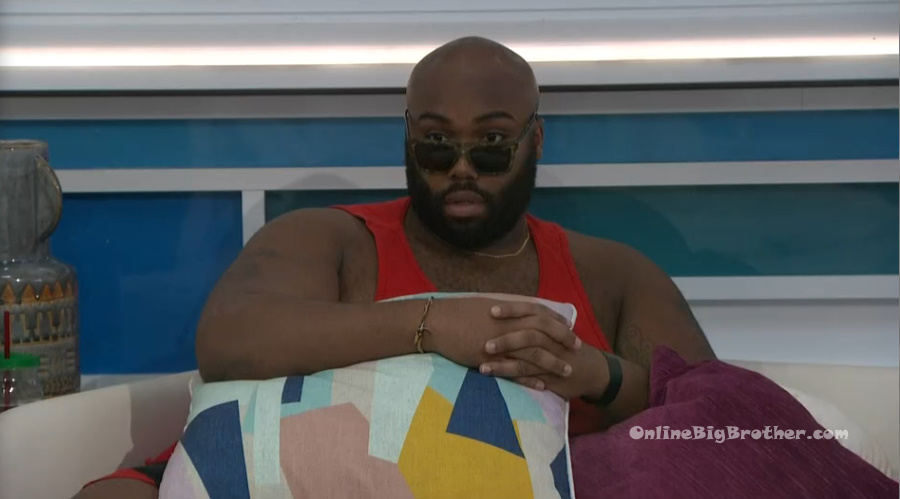 7:43pm Big Brother blocks the feeds.. They likely got to order takeout as a reward for making it to final 3.
8:40pm Still blocked.
9:10pm The feeds return to the final 3 at the kitchen table. They go through each of the other cast members and say one word to describe each of them. They start rehashing / reminiscing about past events of the season.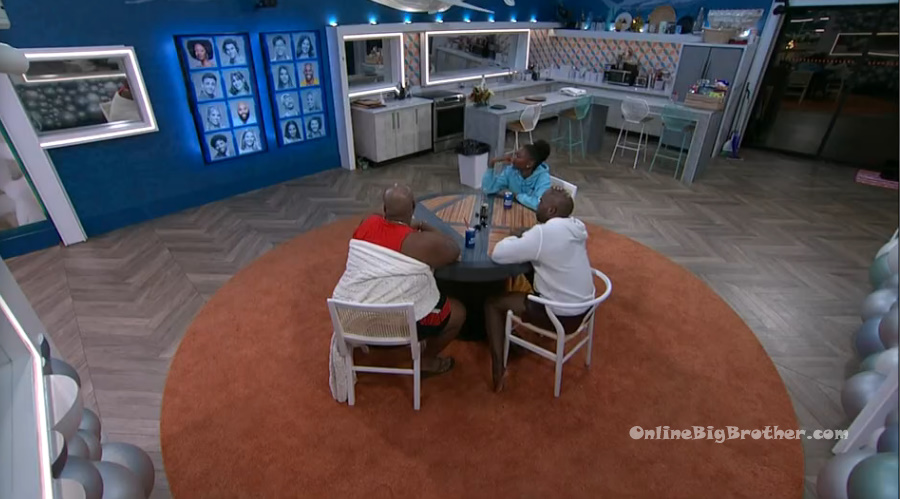 10:20pm – 11:10pm Living room. Xavier about Big D – you're Trader Joes. Big D – I hope when I do get out of here I do get treated like a convenience store. Xavier – you're a trader joes, don't make yourself a 7/11. Big D – I want to be like an In and Out Burger. They talk about dating and dating apps.
12am Bedroom. The final three heading to bed.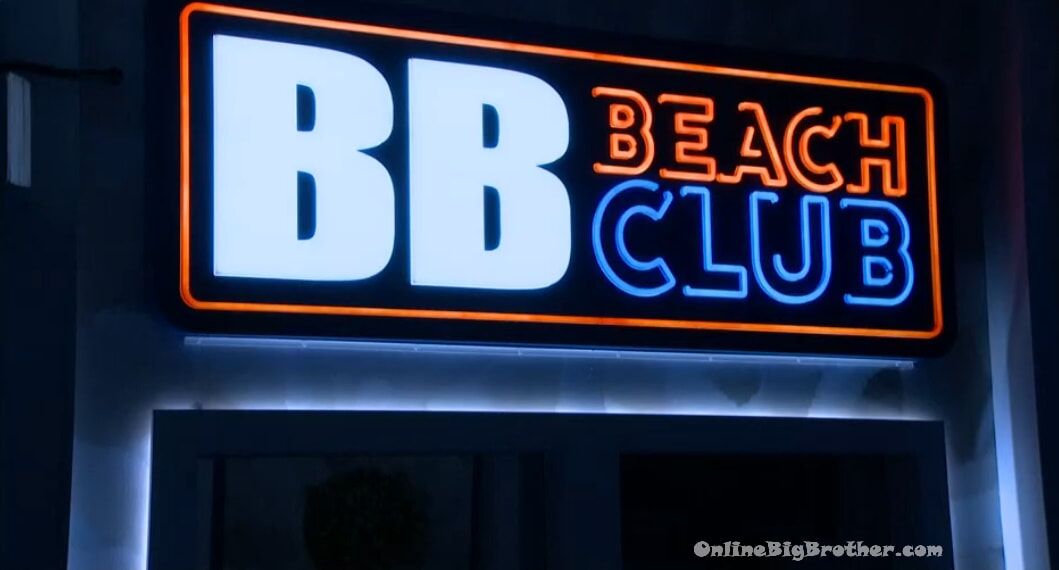 5:00 am Lights out yo
Please consider a donation to keep this site running. Thank you to all those that have contributed 😉