HOH Part 1: Xavier Vs Azah Vs Big D
Part 1 Winner = Xavier
HOH Part 2: Azah Vs Big D
Part 2 Winner = Azah
HOH Part 3: Xavier Vs Azah
Part 3 Winner = ?
Big Brother 23 Houseguest Rankings – – RANK THE HOUSEGUESTS –
View the previous day ranks on the – Ranking Grid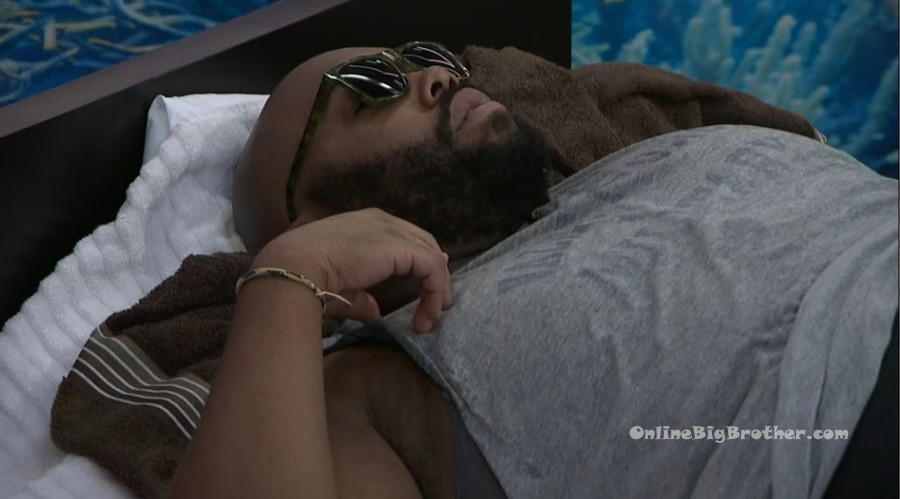 11:57pm – 3:14pm Big Brother blocked the live feeds for Azah and Big D to compete in Part 2 of 3 HOH competition. When the live feeds return Big D is sleeping and Azah is showering.
AZAH WON Part 2 of 3 HOH
On Finale night Xavier will compete against Azah in the Part 3 of 3 HOH. The winner of part 3 will decide who they want to take to the final 2 and who is the final member of the jury.
3:22pm Bedroom. Xavier and Big D.
Xavier – are you alright? Big D – yeah, I'm alright. Xavier – why are you just chilling in here? Big D – my knees hurt man. It sucked. I am just pissed. I hate that I didn't win sh*t this whole season. I couldn't even win against one person. I am just annoyed, that's all because it makes me not feel valuable. It doesn't make me feel like an asset to the team. So that is how I feel. Xavier – you should feel good. If Azah wins the third part she would take you. Either way you are sitting in one of those two chairs so you got that going for you. Big D – but I wanted to win it. You know?! Once they said you sit on top of it and spin around.. I was like how the f**k am I supposed to do that?! This was probably one of my worst performances all season. Now I put more pressure on you when I only had one job. Xavier – either way I knew it was going to be a situation where if I didn't win the final HOH I was going to go home. Big D – I don't want to sit next to Azah in the final. Xavier – at least you are sitting there. Big D – but I can't beat her. (but you think you can beat Xavier!? lol)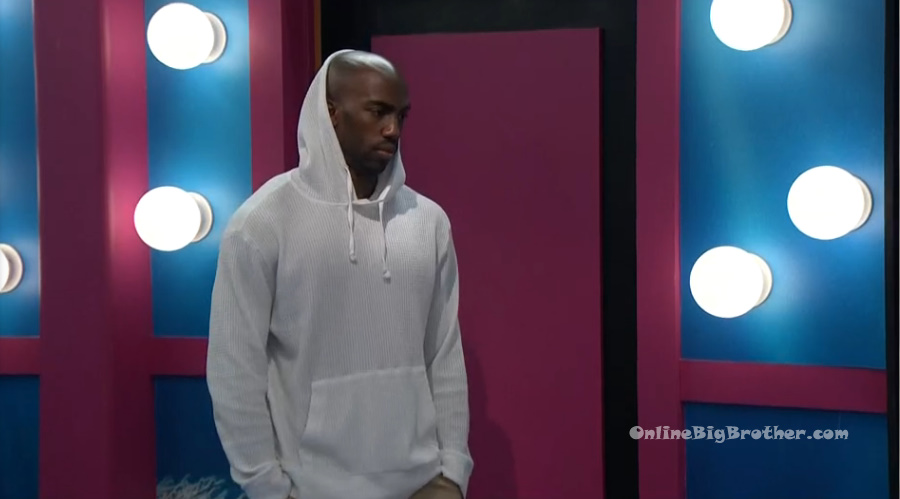 3:30pm – 3:42pm Bedroom – Azah and Big D.
Big D – I just don't know what he's going to do… and what you're going to do. I am just a sitting duck. Like okay, I can't do sh*t! My faith is in two people's hands and I don't know how I am going to .. like I don't know what to do. That is what is frustrating to me. Like I wanted to make it so that I can decide my own fate .. you know?! Like now I am like okay my faith is in two people's hands. And looking at this jury .. I am thinking if I sit next to Azah I lose. If I sit next to X, I have a fighting chance. So I am like damn.. it doesn't even matter. I will be okay. I did the best I can do. Azah – you did well. You did great. Your time was great. Big D – I just feel like I don't deserve to go any further. Azah – you're speaking like Kyland. Big D – I just feel like this could have been something to add to my case. Azah – you can't beat up on yourself. Big D – when you lose ever single comp and you went in trying to win.. I just look f**king stupid! Azah – how are you going to say you look stupid!? You didn't give up. You tried your hardest.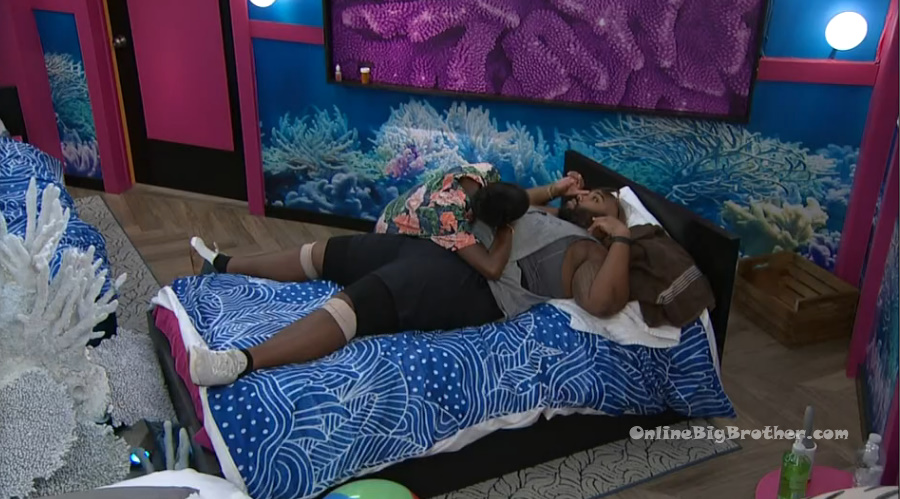 3:56pm Kitchen table .. Xavier and Azah playing Cards..
4pm – 5:40pm Cards, sleeping on the couch and food..
6:20pm Xavier studying the days / events of the season.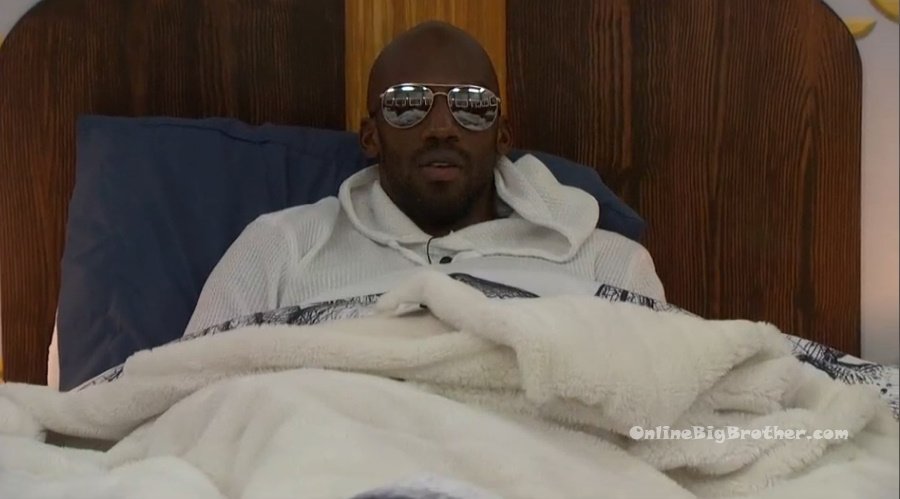 6:56pm Big D talking about the competition to the cameras.
Big D – I have to blame myself. I let get myself be defeated before we even started the competition and that is something I should never have done in the first place and then the competition started and I was in so much pain as the skin on my knees are just melting away.. I just wish I could have performed like Azah and do the competition. It is what it is..
7:11pm
Big Brother blocks the feeds.

7:27pm
Still blocked.
8:30pm Burger time. Xavier – you know what .. I haven't heard a single argument today. Its nice! Azah – we also haven't heard an intellectual discussion today. Xavier – there have been no over explaining … or mansplaining if you will. That is the key one. Azah – yup. Xavier – I thought I had an idea of what mansplaining was but that man took it to a whole other level! (They're talking about Ky)
8:40pm – 9:05pm Xavier, Azah and Big D discuss past events of the season.
9:22pm Living Room – Big D and Xavier.
Big D – I don't know if I should speak my mind. I am going to regret taking her (Azah) this far if she ends up winning because then it makes me feel like F**K because maybe if we had got her out early we wouldn't even be in this position. She don't know we had to hold holy BB, she don't know we were ten steps ahead of them, there is so much that I am just like .. you don't know the work and dedication that we have already put in place for things to happen the way they did and then now… its just hard having these conversations.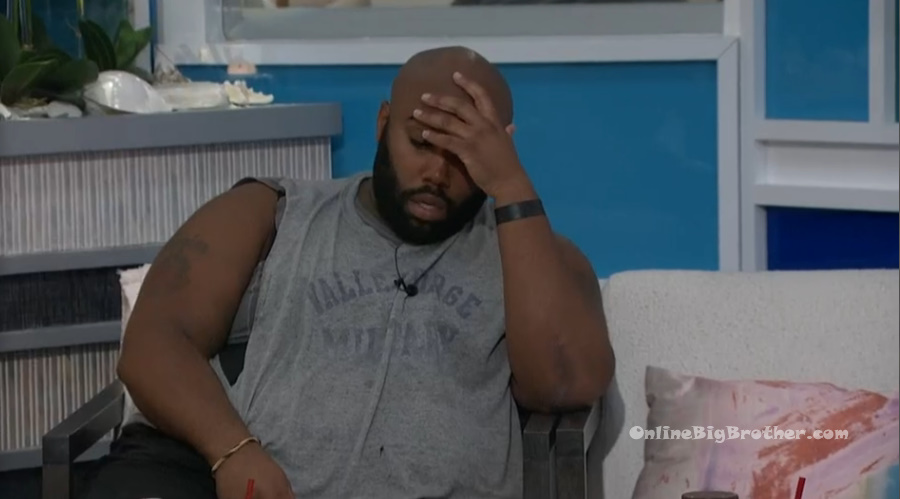 11:40pm – 12am Bathroom. Big D and Xavier.
Xavier – 13 house guests have been evicted rank them for least favourite to most favorite. Big D – Travis, Tiffany, Brent, Claire, Whitney, Christian, SB, DX, Alyssa, Britini, Frenchie, Kyland.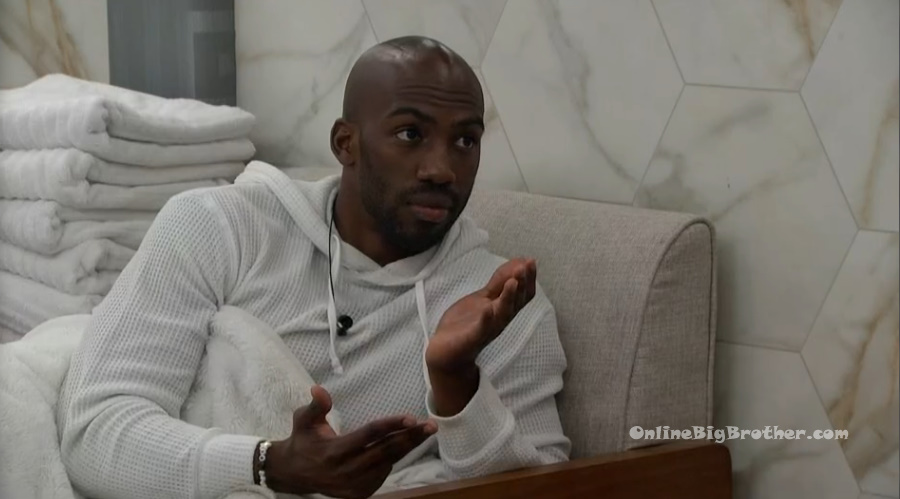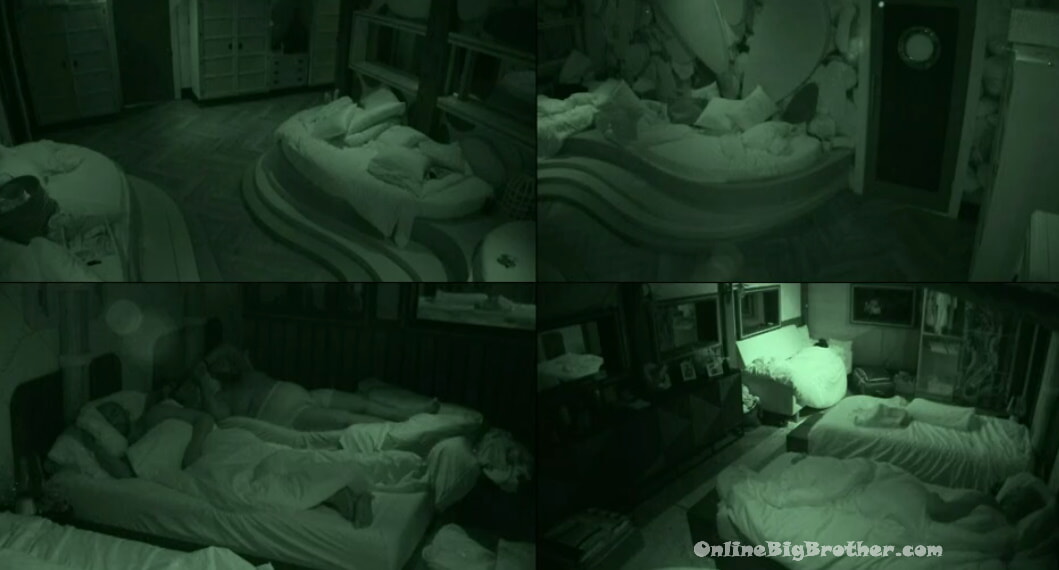 1:00 am zzzzz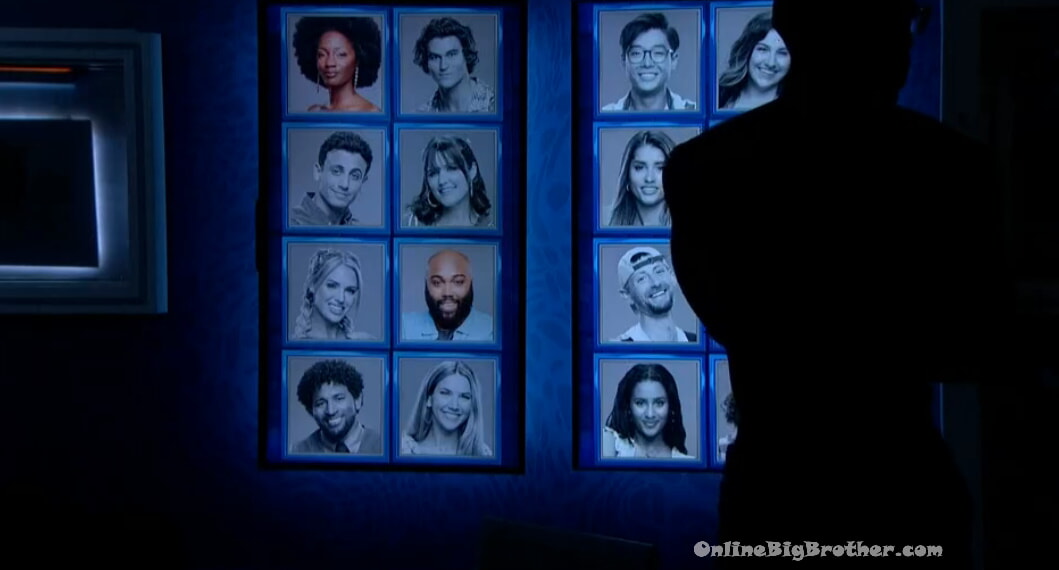 7:48 am X is up
9:14 am zzzzzzz
10:28 am Lights on but still zzzzzz

11:13 am Xavier and BIGD are now up eating breakfast
BIGD says he had bad dreams "Rough night"
BIGD – today is one of those days I wish I could just stay in bed.. \
BIGD now saying he's hurt his knee.
BIGD says he had a dream where X and Tiffany had kids toegther
X – ME AND TIFF?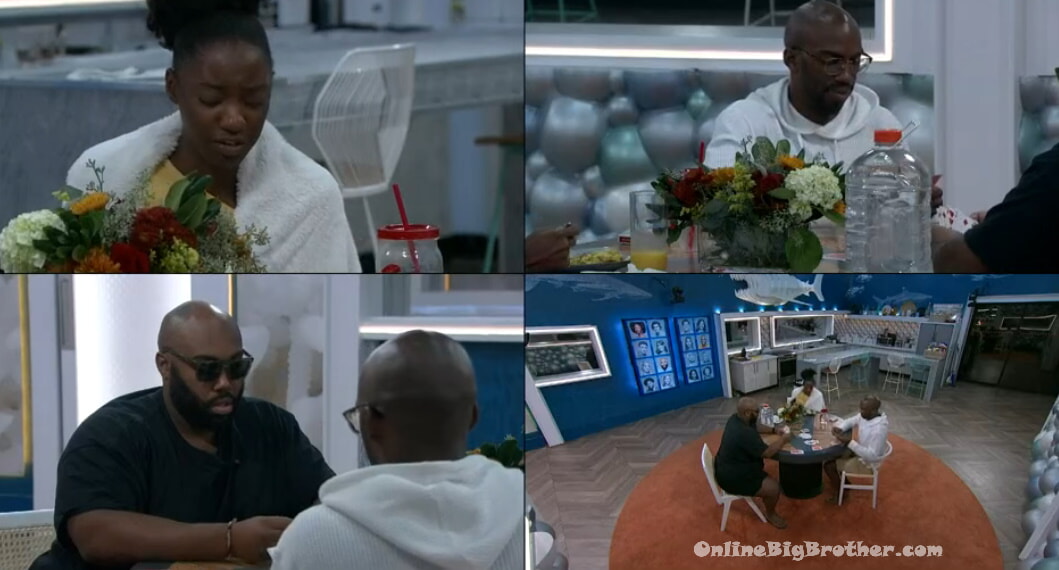 11:35 am Cards and conversations about their body's "natural CLock" going back to normal.
If you've enjoyed our updates this season and want to leave a tip you can do so through PayPal. 😉 Thank you to all of our amazing OBB supporters who have already contributed!