HOH Part 1: Xavier Vs Azah Vs Big D
Part 1 Winner = Xavier
HOH Part 2: Azah Vs Big D
Part 2 Winner = Azah
HOH Part 3: Xavier Vs Azah
Part 3 Winner = ?
Big Brother 23 Houseguest Rankings – – RANK THE HOUSEGUESTS –
View the previous day ranks on the – Ranking Grid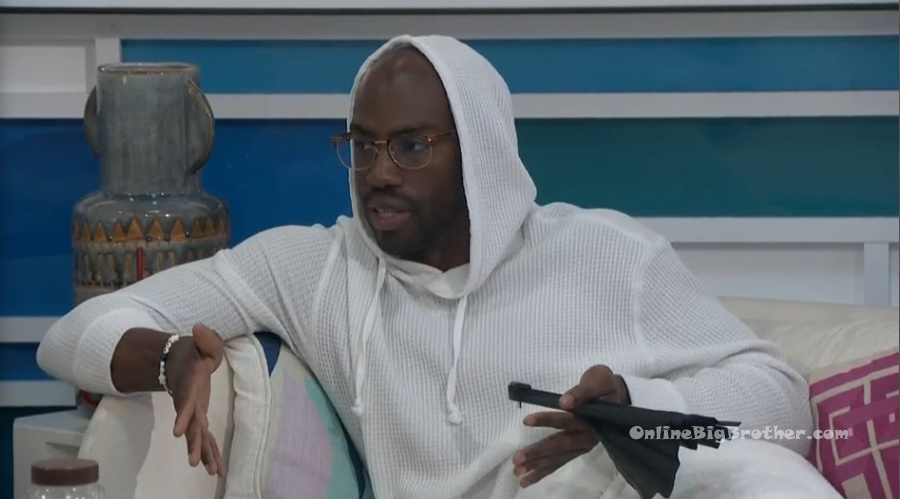 12:55pm Living Room – Xavier and Azah.
Xavier – If there were no deals on the table I don't know who I would take. I do feel a sense of I don't want to go against him but he is also like now telling me you don't owe me anything. So then I am like I can consider all my options then? Because that is a little different then. If before I felt like I had to take him now I can consider everything.. that is a little different. What I feel like he is leading me to believe.. so I am like okay now it is not so cut and dry I guess. Which felt like a difficult decision to be in before because this seems kind of F**Ked! And so even without winning he gets to be like well you know who ever wins is going to pick me. That must be nice! For me its always been like game related so in this game I've tried to be as loyal as I can but if now he is saying by me taking you or him he doesn't feel like I've broken any bond to him then that makes me feel at ease that I can make a decision of my own like of what I want to do. Azah – and from my point of view its been him from the beginning and I won't like from last week it left a little EHHhhh… for me and then turning around and being like well are you going to do this when you're not doing the same thing. Has me like well dang now I want to reconsider. Because I am like BRAH, from the beginning it was always you. I signed up for this knowing it would always be you. And then last week came along and now you're telling me you did this for me when you literally told Kyland I can't beat you, I can beat her. Xavier – but then he didn't beat you. Azah – and now you say this was for you.. but no! At the time you felt like you could beat me and you know you could have beat me. You took the gamble on where you felt you could beat and that's where you thought. I get it and I am very appreciative at the end he turned to me but this was just as much a decision for his game as it was for me. It was an objective decision of yeah I am going to take this person that probably won't take me to final two and also I don't know if I can beat. I am not going to take that person. I am going to go ahead and go with this person instead. And now that the competition happened you're going to go ahead and say well I did this for you. Xavier – I get what you're saying. The perspective has shifted. For me I always knew if I get rid of Kyland I kind of shaft myself from a game perspective. And I knew that would stupidly kind of benefit him and I kept my word that I would do everything I can to get him to the final 2 chairs. I looked at it objectively and I was like if I keep Kyland I am almost guaranteed a spot in the final 2. If I go with the decision that I would prefer to have I am not guaranteed final two. If I lose then I am probably third but I told him I would do everything I can to get him in the final two chairs. So I went with that and I wanted you here more than Kyland. Some times you have to go with your gut.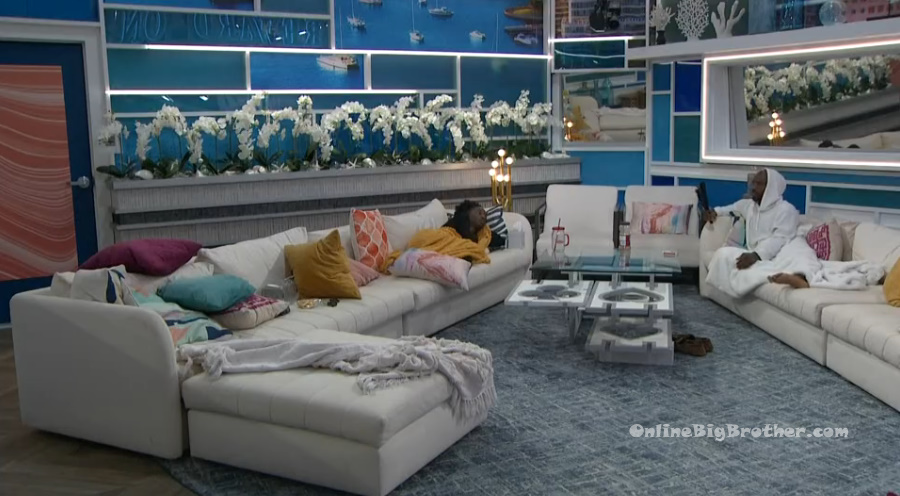 Azah – removing deals and all that do you think its best for you to go with Big D? Xavier – for me it depends on if people will view on things that he has been saying throughout the season. IF they start to take the things that he said seriously.. I think people will be one impressed that he made it to the final 2 without having won anything. Two the fact that even though he did kind of lie, deceive and manipulate but then he also had some transparency in like hey if I've got to vote you out, I am going to vote you out. He did get people together for the cookout and things like that. Like I do think he has a very strong argument and if people take it seriously he has a good shot to win. I also think that you have a very strong argument along similar lines. To every member outside the cookout you didn't necessarily lie to them. If you win part 3, at that point you've won 2 HOHs. That is powerful! And you won when you needed to. Which the only other person that could potentially say that is me. And when you go to personal relationships, you have a lot of personal relationships with people in the jury but so does he. For me I definitely know I am not getting one vote and if the other votes that I thought I had are bitter then I am not getting any of those votes. I wasn't lying when I said I thought I could lose to either one of you just because of how I played the game. Who would I be more proud to see crowned the winner.. that is something I am also factoring in. I would be proud to see either one of you crowned the winner but I don't want people to be like EEHhhh about I want it to be someone that they are like yeah this person played the game. I think Big D played a great social game but you also did and you won when you needed to. For all of his bullsh*t I did agree with the difference between a willingness to do what needs to be done and the ability to do what needs to be done. I would feel comfortable losing to either one of you. Big D joins them.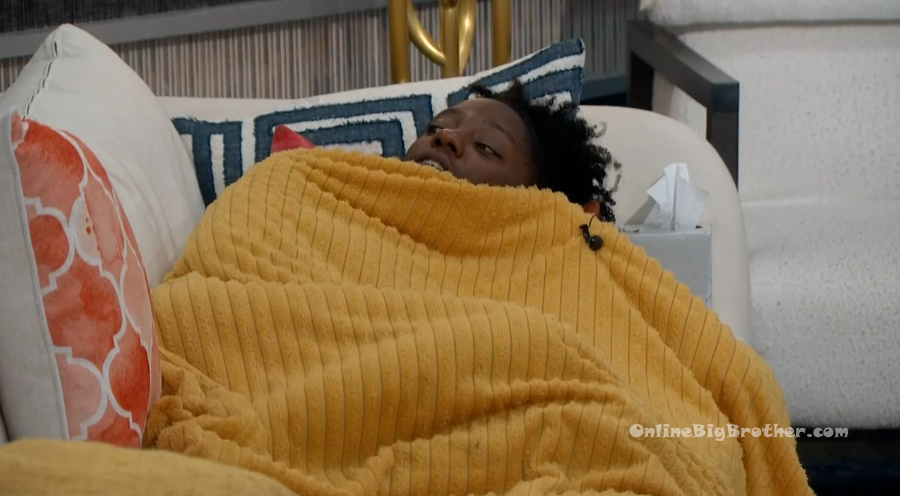 1:37pm – 2:15pm Living room. Xaiver and Big D.
They're talking about what the jury will know and what they won't know. Wondering if they will know about the cookout or not. Xavier – Kyland will be singing! Xavier comments on how Kyland will be bitter. Xavier – I promised someone (Big D) I would take them to the end before you (Ky). Azah joins them.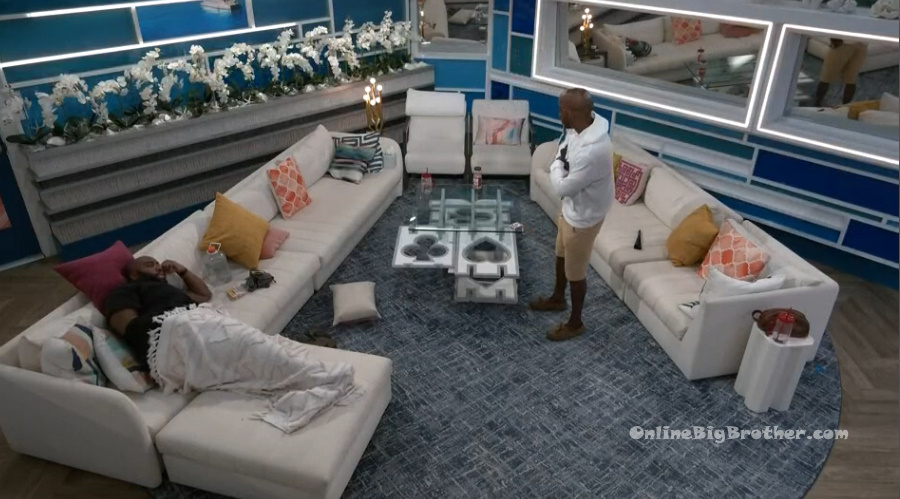 3pm Living room – Azah and Xavier sleeping on the couch.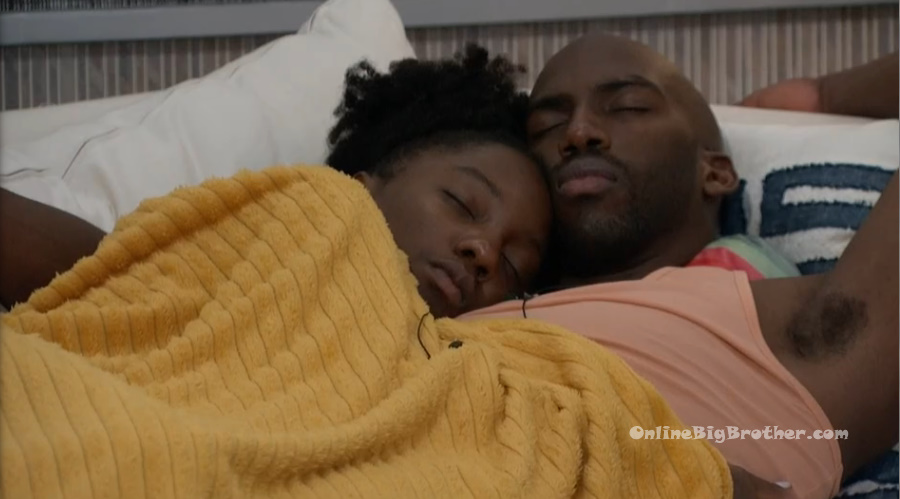 3pm – 3:30pm Bedroom – Big D rehearsing his speech.
Big D – House guests let me first start by saying I came in this house by myself. I made it clear week one that anyone can get it and I owe no one nothing. I had a goal coming into this game that I wanted to be the first African American winner of US Big Brother. And when I walked in this house and I realized there were five other individuals that looked exactly like me I knew if I was going to start an alliance then I was going to start an alliance with those individuals and we took off running from there. Throughout the time I managed the six of us and made sure if there was ever a crack in our alliance that I would make sure it was handled. I was a very good leader and I put things in place not just to protect myself but also to protect them and I will mention since day one I made a final 2 Xavier called the Black Ops and throughout that time me and Xavier made a lot of moves throughout this game to help us get further. Now I was not a comp beast, we all know that! But every competition I walked in I knew I was going to give it my all and never gave up no matter how many times I fell or tripped or cried or anything. I kept going because I wanted to prove to people just because you're a big guy you can do it too. Now knowing that I am not a comp beast, I knew in order to protect myself but also to protect the person that I gave my word to who is Xavier … I made sure to link up with someone it was them my alliance that I felt as though was going to protect him and I. So I linked up with Kyland and I felt as though Kyland was someone that would protect me and him. And I made sure to play my social game very strong with Kyland in order to make sure we both .. me and him made it further. Now my social game was very strong to the point that I knew I couldn't win HOH competitions but what did I do? I made sure whoever was in HOH power that I got close to them and made sure that I gave them actual facts and reasons why anyone outside the six should be on the block. And if someone outside the six was on the block and they were sitting next to a member of the cookout because no matter what we had the numbers. We had allies that would vote our way but each time someone was HOH I made sure to give them actual facts why someone outside the cookout was the main target. And that is how I played my game when it came to each week of losing HOHs. And I gave them actual facts not things that were made up of lies and fairy tales. I actually said things that have been said in order to make sure things go the way accordingly by leaving those seeds and also put things in place so each week if someone came into power they were always looking at someone else as a target. Now people thought that I would not get rid of a big threat or someone I am close to I have made it clear to anyone I am close to I do not owe them anything. And if I got the chance to get power I will show that I am here to play the game and I got rid of my one person that people thought I would never get rid of and that was Kyland when the opportunity came upon. Now I have played a very strong social game and if you guys have respect for that then you will show that. And not even just a social game I have played a competitor game because I have made it clear that anyone can get it at any moment and I also told people in pre-jury and you guys in jury that at any moment you guys should get rid of me because I am a threat and you guys laughed in my face and didn't think I was a threat and low and behold look at me now I am sitting at the end because I put everything place and made sure things went the way they needed to be in order for me to end up at the end. I did not just skate on by. No one just brought me here. I did all the hard work and planning to make sure things get here and I also don't think cookout would have got so far if it wasn't for me putting those individuals together and helping it get that far… so if you actually see the type of game I have played and have respect for the type of game I have played then you will vote for me to win because at the end of the day I have always made it clear what type of game I am playing and I told everyone to their faces. And the reason I should win is because I have played the best game not just socially but also competitively. And what is this game all about?! So remember all those things that I have done and the connections I have made with each and every single one of you guys and I think that this summer if I was not in this house this house would have been pretty boring. SO think about that too!! And as I once said before I go by Derek as known to you guys Big D and on a good day I could be the veterinar… or I can be Gerred so remember all those things..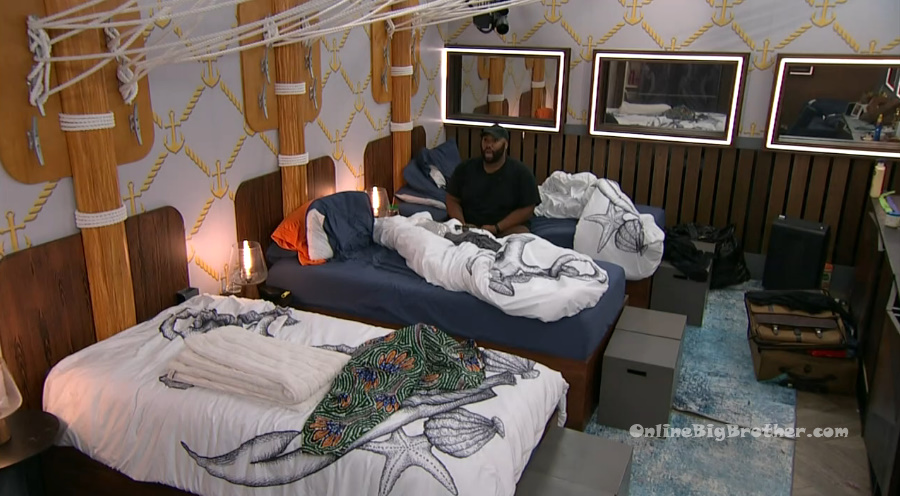 4:05pm Jenga time..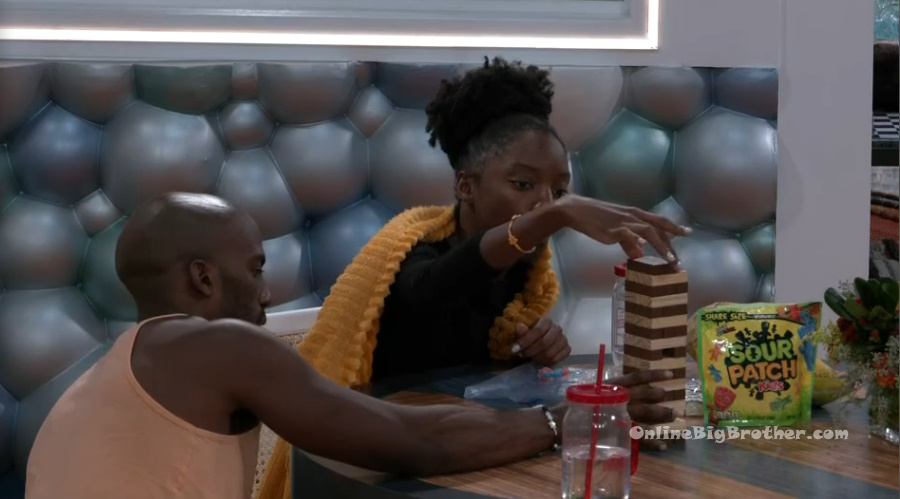 5pm – 5:29pm Xavier and Azah are sleeping on the couch. Big D is in the bedroom continuing to perfect his hour long final 2 speech.
6:40pm Kitchen Table. Big D and Azah eating and talking about what it will be like when they get out. Jobs, living situation, bills, etc.
7pm Living room – Xavier is sleeping. Kitchen – Azah is doing dishes. Bedroom – Big D is talking to the cameras… best moments, saddest moment, most embarrassing moments, etc.
8:10pm – 8:32pm The final 3 chatting about past events of the season and other random things.
8:33pm Big Brother blocks the feeds.
8:42pm Still blocked.
9pm – 9:40pm Xavier and Azah playing cards. After they head to the couch to cuddle.
10:45pm Living room couch. Azah and Xavier.
Xavier – I've had visions sitting next to him and you. And I am fine with either one. Azah – I've had visions only sitting next to him and until recently I've had visions sitting next to you too. So because I mean and that was because of the deal that I knew what I signed up for. I think I would like to know where you're leaning towards. I know that isn't now but when we get closer. Xavier – I think we should all talk on Tuesday.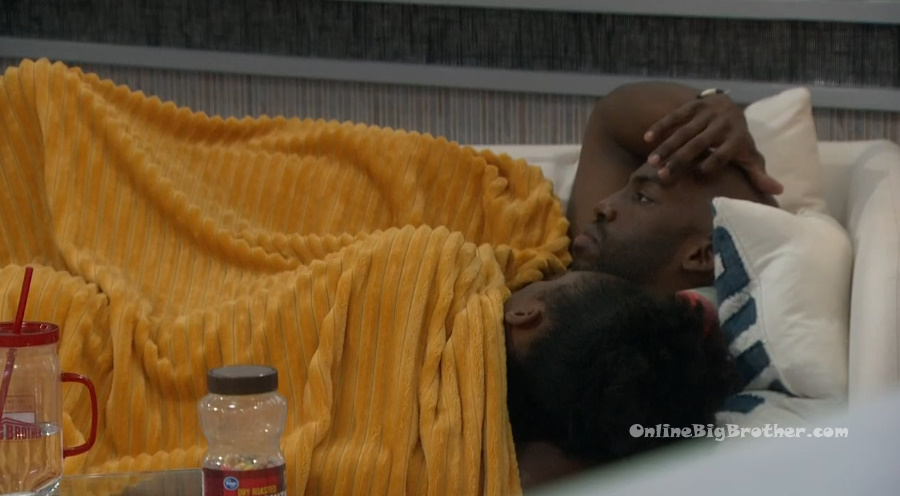 11:20pm Big D playing cards.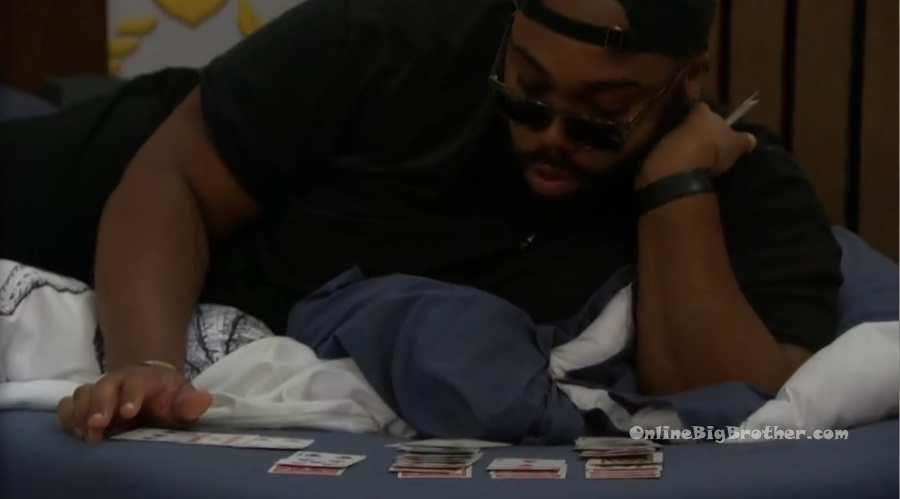 12am – 12:30am Azah asks Big D who he would take if he won. Big D – my opinion doesn't matter. Xavier – if you did win the final HOH who would you take? Big D – If I won I would stick with my original deal and take Xavier. Big D gets annoyed that there is nothing that he can do at this point but wait for them to decide who they want to take.
12:30am – 12:45am Living room. Big D and Xavier.
Big D – I am just over it! I am so over it! I hate getting asked stupid questions. I don't have a say! I don't! I hate getting toyed with. I regret even saying anything. I am giving you the real. I made a deal in the beginning. I would honor that deal because that deal got me to where I am today. I am not that shiest to where I am going to where I would be like you know what f**K that deal let me take my best friend and we can jump down the yellow brick road together. I am just like why!? I am just being honest. I don't expect you to pick me. I am annoyed I have to sit here for three days and wait for someone to win to hope and then have to pray that my relationships and my deals will get me to the end. We have three days left… I lost what do you want me to say!? I don't even know if I am going to sleep tonight .. I am just so irritated. I am not going to say if I would have won that I would pick her. That would be a lie. I wouldn't pick her, I would take you.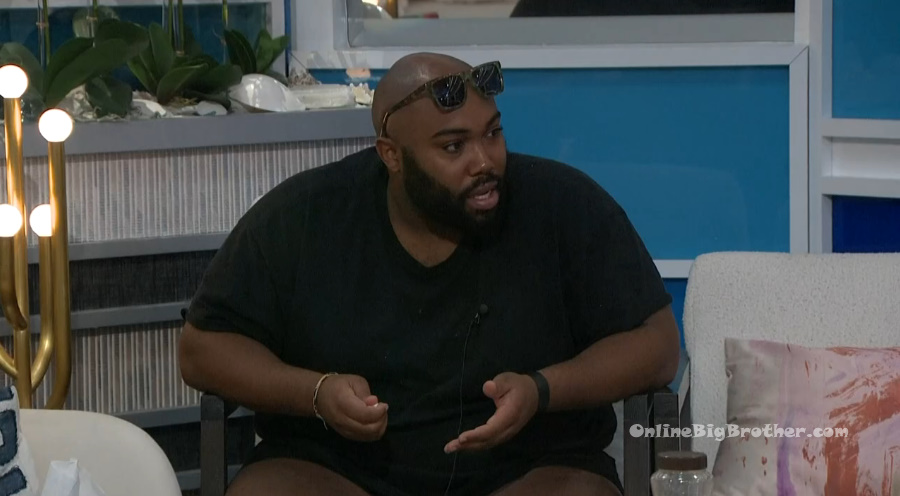 If you've enjoyed our updates this season and want to leave a tip you can do so through PayPal. ;) Thank you to all of our amazing OBB supporters who have already contributed!