Head of Household Winner – Cody
Have nots – Kevin and Enzo
Nominations – Kevin & David
Power of Veto Players are – Cody, Kevin, David, Tyler, Enzo, Nicole
POV Host: – Memphis
Power of Veto holder – Cody
Power of Veto Ceremony –
Live feeds —-> Grab your Live feeds here. Try it free.
Rank the houseguests —-> Big Brother 22 Ranking

11:25 am Wake up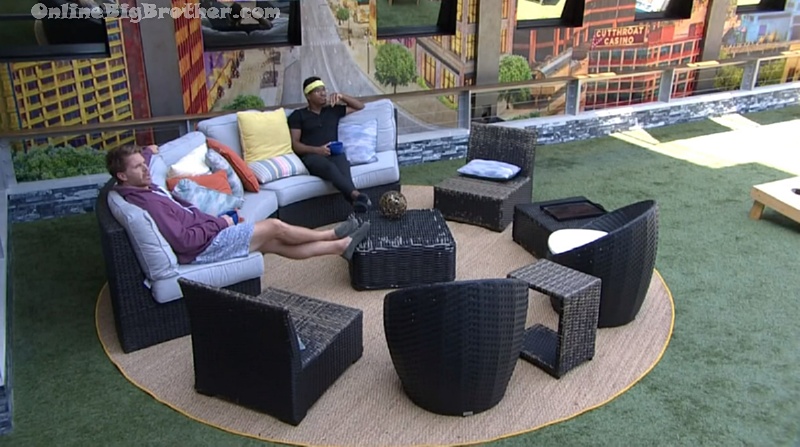 11:48 am Memphis and David Chit chat about entrepreneurship and some of the challenges.
Memphis says when he was younger to get himself to start another project and be motivated he would move into a smaller place a spartan setting that would motivate him on the goal. Says he did it three times.

12:20 pm
New floaties, Christmas running.. chit chat.. breakfast.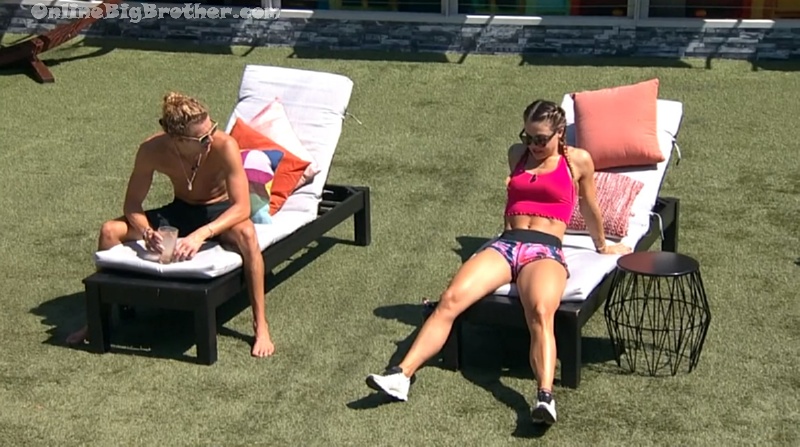 12:44 pm Christmas and Tyler
Christmas – I don't want to campaign for David to stay too much I want him to do his own damage repair.
Tyler – this week Yeah
Christmas – best case scenario is he wins HOH next week.. he'll take the shot we want him to
Tyler – I'm making sure he knows who's gunning for him to go too. If he wants to take what I'm telling him and takes it to Dani whatever
Christmas – what are you telling him
Tyler – Dani, and Nicole are trying to get him to go
Tyler – we got to clip one of them next week. If they win HOH you and me we're going on the block
Christmas – Dani specifically has it out for me
Tyler – and me.. I don't even talk to her.. I don't even try talking to her no more
Christmas – I don't even want to be in the same room as her without somebody else in there.
Tyler – she's so sketchy
Christmas – she already is like David's got to go I'm not voting for him to stay.. he's never getting my vote.. she was like Right Christmas don't you feel the same way? I was like honestly I don't know I gotta talk to Cody see what he wants to do he's HOH.
Christmas – she looked at Memphis and was like but you want him to go right.. he said the same thing I did. She then ran upstairs and told Cody I agree he must go
Tyler of course
Christmas – luckily Memphis was there.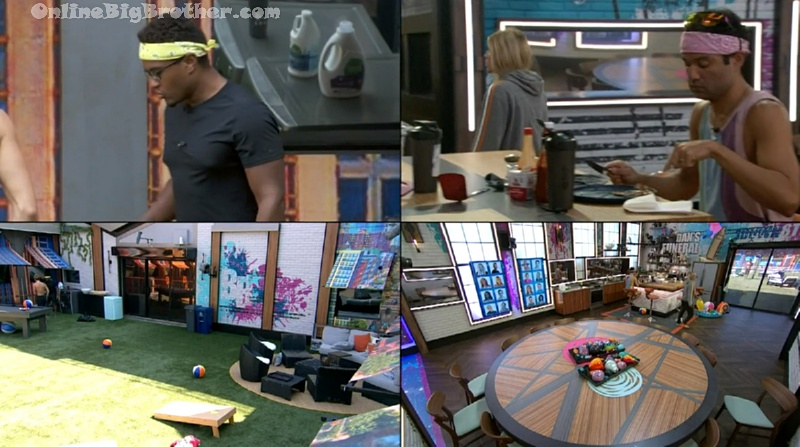 1:44 pm Nothing ever going on.
1:52 pm Kevin
"I got it to work.. if only this was a veto comp.. who can blend a protein shake the best.
1:55 pm chit chat in the pool.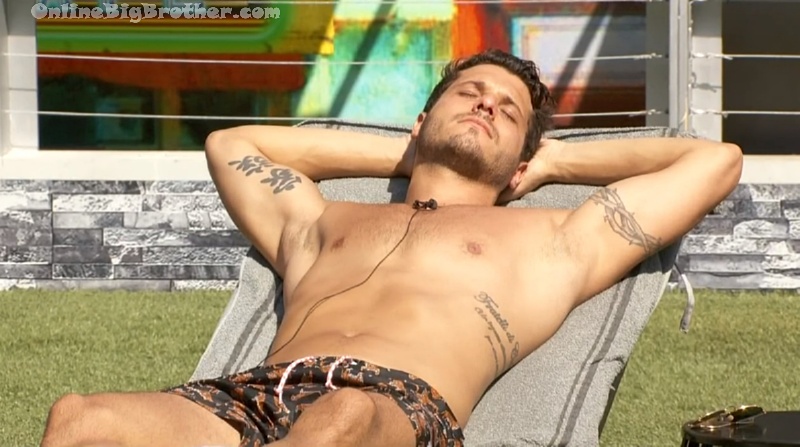 2:29 pm Feeds

2:34 pm Feeds
2:47 pm Enzo and Cody
Enzo saying they are good next week
Cody – Memphis won't
Enzo – he better not YO
Cody – Nicoe won't Dani Won't Tyler won't, David won't the only person that could possibly do it is Christmas, and do you think she will put us up over Dani?
Enzo – she better not YO
Cody – we're going to have to clip Christmas next
Enzo – I'm tired Yo .. She's mad because I played in a comp
Cody says they "clip" Kevin first then "Clip" Christmas
Cody adds it would be nice if they can get Christmas to clip Dani first.
Enzo – I wnat Nicole to win HOH
Cody – she's going after Memphis or Tyler
Enzo – go after Memphis yo. Once Memphis goes you and me can go… (Gestures)
Cody – I would rather her go after Tyl er
Enzo – Tyler isn't coming after us now..
Enzo – Christmas for me right now I don't trust her for sh1t now
Cody – I don't trust Dani
Enzo – her I don't trust her.. I just don't want to put Dani up I want someone else to take care of that
Cody – Tyler, and Christmas will put her up.. David will go after Memphis possibly Dani and then you are me are in a situation where we can chill
Enzo – Of course, next week I'm showing my cards..
They talk about Dani having no idea they are all talking about her. Cody says Kevin going is the only good thing for his game right now.
Enzo just doesn't want the girls to "get cute" next week when they had a chance this week and didn't
Enzo again says he doesn't trust Christmas and the wise guy final 3 he has with her.
Enzo is going to tell Christmas that Dani was trying to get her backdoored.