| | | | |
| --- | --- | --- | --- |
| POV: | ? | Next POV: | Sept 1 |
| POV Used | ? | POV Ceremony | Sept 3 |
| HOH: | Tyler | Next HOH: | Sept 6 |
| Noms: | ? | Have Nots | ? |
Big Brother Spoilers There was a feed leak last night where Production asked Tyler what his nominations will be. He said probably Scottie and Halegih. All conversations this far with his level6 comrades supports this. Haleigh is trying to get Sam up .. LOL
9:26am True to tradition Sam makes up a breakfast tray for the HOH..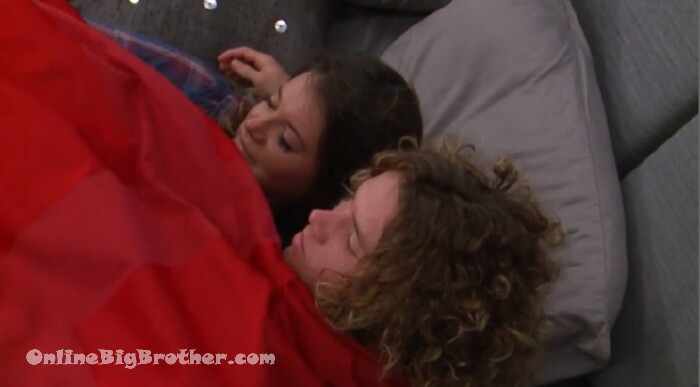 11:09am Angela and Tyler under the covers…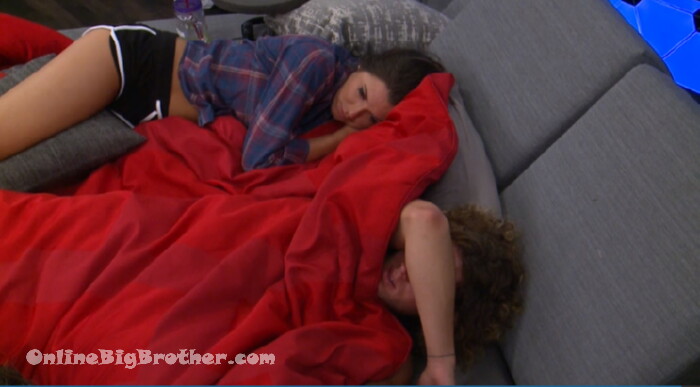 11:19am Brett, Angela and BRett
Brett – Everyone's waking up crawling out of their corners..
Brett – Scottie's been in the DR for awhile..
Brett – have you figured out what the plan was.. Scottie and or are your thinking Scottie backdoor
Tyler – it's pretty much the same scenario as last week
T – Scottie would use the veto on Haleigh if he wasn't up there
T – repeat of last week
B – to keep the least amount of blood on your hands you putting Scottie up instead of someone else even as a pawn.. the reality is if you say SAm you are a pawn she's going to wigg the f* out.
A – she'll freak out
T – SCottie, everyone in here voted you out
Brett – it's an easy explanation there's no blood on your hands..
Tyler- Haleigh put me up
T – remember how halegih told me that SCottie told her he was planning on backdooring me (LOL)
T – Angela?
T – remember when we were talking to Fes and Halegih and they said how Scottie like said he was going to backdoor me or put me up or something..
A – he told FES if he got HOH he was going to put me and Tyler up
T – this is what Haleigh and Fes told us when Fes was HOH (Scottie foutte'd again)
A – Scottie said a alot of sh1t ..
T – they were talking mad sh1t about him, Haleigh was. I can use that
T – if he was smart he wouldn't crawl back to Haleigh
Brett – no shit
A – he thinks that's his only person.. he's clinging to the only person alone on a island right now
Brett – his f*ing speech was him apologizing to Halegih
A – he literally said everything he could .. he threw Sam, Halegih and fes under the bus..
A – he was willing to do and Say anything to get out of it he have to remember that..
T – he said he had a final 2 with halegih
B – he told you that
T – yeah remember by the pool, Kayce, I and Angela .. he was going to use that to get her on the block.. he never did but he still told us that
T – whoever you guys want to vote out I don't care
Brett – I love Scottie
T – I love SCottie to
A – I just don't know what SCottie will do I can't get a read at him
Brett – he would take a shot..
T – yeah
A – the only thing I'm concerned about is two of us going up and Scottie is the one that would do that
T – he doesn't have anything against Sam
A – if Haleigh wins HOH she'll put Sam and someone else up
A – if Sam wins she'll put Haleigh and someone else up..
Brett agrees that why scottie is the better target over halegih Scottie will put two of them up .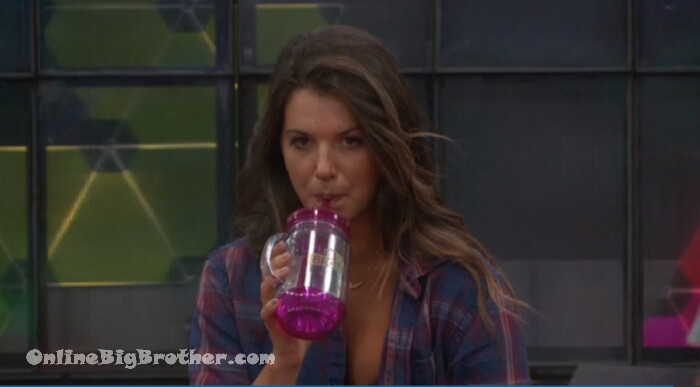 T – it's just way more blood to try and backdoor him
A – we're all playing in the veto.. all of us but one person
Brett – the odds are he's going to play in the veto either way .. he's more likely to play in the veto than not play in the vet o
A – you should put him up so he's nervous and he can't pull haleigh down.. If he pulls her down and Sam goes home we have a issue
Tyler – it's really a repeat of last week..
Brett says Haleigh and Scottie are clearly a pair that where his loyalty is the's not going to deviate from it..
Brett says JC is foaming at the mouth.. "I thought he was going to have a mental breakdown last night"
T – I wouldn't be surprised he comes up here and wants me to put her up
They go on about how JC is freaking out about Sam and being ion the Big BRother house
They talk about JC getting talked to from production
Brett – "he keeps getting yelled at"
Brett – then he goes and does something and I'm like THAT'S WHY
Brett – as much as you are being annoyed they are doing this for you so you don't get in trouble you are aired live. I know you don't give a f* but there's a lot of poeple that f*ing do.. .. they have your best interest when they tell you those things..
They talk about how productions is really keeping a tight leash on JC.
Brett – it was one minute F* this place… finale night I want to crawl in a corner get f*ing drunk and I don't have to talk to a single f*ing person on camera..
Angela – part of me wants to say it's OK but part of me wants to say ..
Angela- go f* yourself JC this is an amazing opportunity go jump off a building
feeds cut..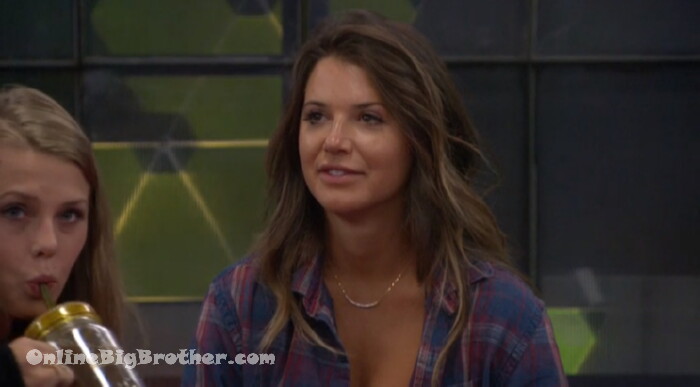 11:35am Angela, Tyler and Haleigh
Haleigh says she feels like she's been in a car accident..
Haleigh complains about Sam cheering for everyone but her during the HOH. Halegih calls her a b1tch.
Angela – I'm, so up and down with her. One day I'm fine with her the next day i'm so irritated
H – it's so nerve racking living with someone so erratic (Try living with me.. lol)
H – so blatantly rude at one time and another time like taking care of you like putting a towel in a dryer to dry you off with
H – she is a character for suyre.. I thin kthe mood changes whenever she acts b1tchy, Rude and Snappy that is who she really is and then she's like f* i need to get it toegether and raigh it in so she tries to over compesentat
A – it's Friday thrtough Monday.. she's decent..
H – once she makes sure she's off the block she's fine after that she can act however she wants
Angela says Sam doesn't like girls around the boys.
They all say how glad they are that SCottie came back
H – anything else would have been dramatic..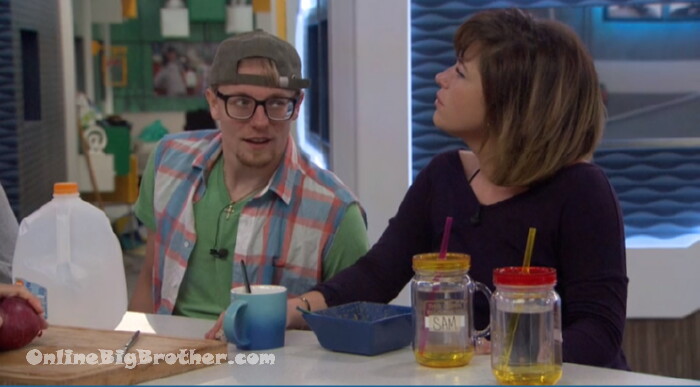 12:13pm Brett, Sam, Scottie and Kaycee
Scottie is telling them for a interview he had to bring a gift that represents himself and Bayeligh/Rockstar said they saw a NYPD badge for Steve.
SCottie – I presented a orange bandanna ..
SCottie – Kaitlyn's was crystals
Sam – what was mine
S – you haven't been evicted yet..
Sam – that's interesting.. he was a mechanic he said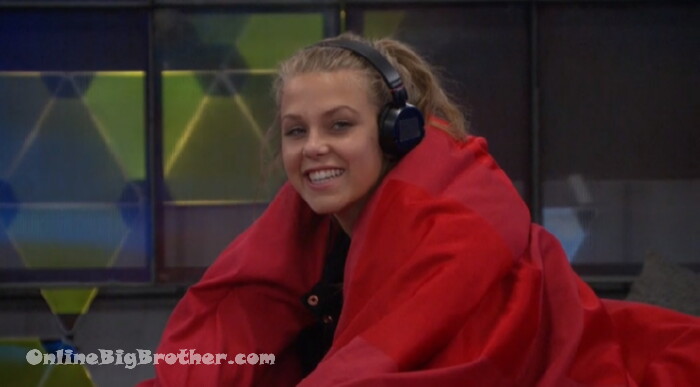 12:22pm HAlegih and Tyler..
Halegih – I told you I saw Marshmallow in concert.. it was sick..
They say they both want to go see one of Rachel's shows in Vegas..
Halegih – there's so much we have to do when we get out of here.. so much.. so what have you decided
T – not a damn thing
H – shutup Tyler
T – I haven't talked to anyone but you guys
H – I don't want to go up but I know you are in a compromising position..
T – I hope people are ok with you not going up and Sam going up
H – who do you put up next to her.. if that is your target Sam I don't think she will go home after me
T – why wouldn't she everyone is pissed at her.
T – hey I voted for you to stay..
H – That's true that's the thing I trust you I want to do something so you can trust me..
T – it was Sam that voted you out? H – she apologized to me
Haleigh says she emotionally doesn't wan tot be on the block for another week
T – I need to talk to everyone.. I need to talk to SCottie.
H – I'm so glad he's back..
T – the biggest sigh of relief ..
H – I did not want Fes to walk back. After his speech what do you say to him. you just walk back into tha have not room
T- he probably would have
H – I am so glad Scottie is back dude.. my little friend.. he started watching Game of Thrones
Tyler keeps saying he wants to talk to everybody before his nominations..
Haleigh asks if he talked to Angela last night
Tyler did and they did talk about nomination's but it was the same thing Sam and a pawn..
H – don't blindside me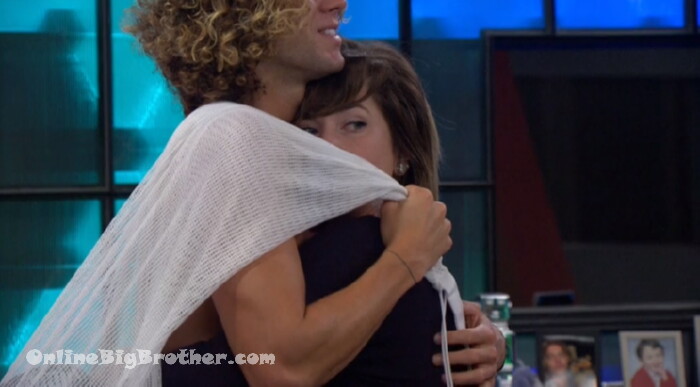 12:50pm Sam and Tyler
Sam I was so proud of Halegih I was so shocked she was still up there
T- she was so solid
Sam – tenacious
t – so solid
Sam – she had a death grip on that f*ing rope I couldn't help being impressed and feeling for her because it was so hard
T – so hard
Sam – it was painful to watch so I was .. trying to cheer her on but you and I both know if it was her I wold be up there..
T – that is what I was thinking too
Sam – I was please don't fall (Tyler)
Sam – I tried to cheer you on a little bit more that her but at the same time..
T – trying to be neutral but f* it..
Sam – that was something to behold I really admire her for doing that straight up
Sam – I couldn't be like… I didn't want to be.. ignore her because it was such an accomplishment..
Sam – your letter was hysterical..
T – she's got a bird..
Sam – his name is Dexter
T – I hate that little bird.. he hates me.. some green little bird.. she chose to write about that stupid bird.. I want to hear about my friends and family..
Sam goes on about how "Thick" Tyler looked when he was younger. Says he looked good.
Sam – no matter what you are my baby,…
They hug..
Sam – whatever you want to happen let me know adn I'll do that..
A easy way to support the site if you are an amazon shopper is to make your purchases through our link. You pay the exact same thing but we get a small % commission. It doesn't cost you anything and helps us out.
Amazon Canada
Amazon USA