| | | | |
| --- | --- | --- | --- |
| POV: | ? | Next POV: | Sept 1 |
| POV Used | ? | POV Ceremony | Sept 3 |
| HOH: | Tyler | Next HOH: | Sept 6 |
| Noms: | ? | Have Nots | ? |
Big Brother Spoilers Via the Diary room leak Tyler says he's thinking about Haleigh and Scottie on the block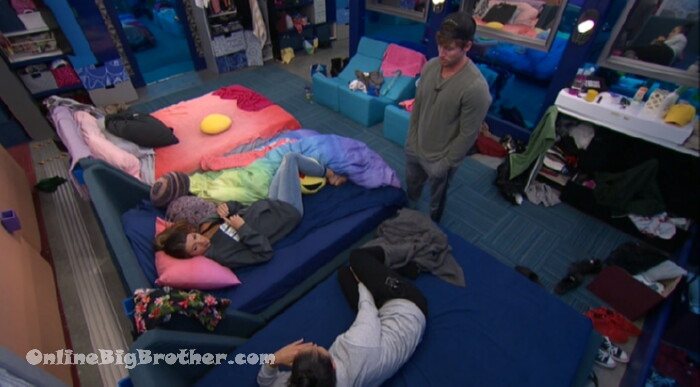 2:10am Brett, Angela and KAycee
Brett is talking about how worried he was that fes was coming back and heard his GBM.
Brett – I was like dude if he walks back in here it will it will be awkward as f*
Angela – i would have been a not very good environment.. caustic environment
Angela – what did you say in your GBM
Brett – you know exactly what I said
Angela – that you would take good care of Haleigh
BRett – I was ruthless..
Angela – good he deserves it .. he's such a piece of sh1t
Brett – like real fu8ing bad
Kaycee – he is a piece of sh1t
Brett – we had a convo. where I told you he looked me in the eyes and said I promise you I won't even put you up as a pawn.
Bret – don't worry I'll keep good care of your girl.. i'll keep her nice and warm..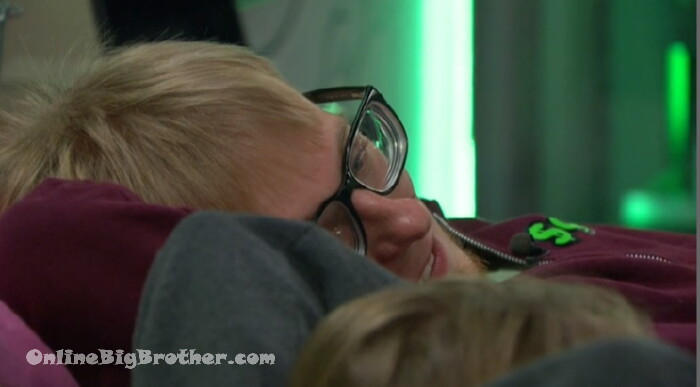 2:20am Haleigh and Scottie
Haleigh says she gave the competition everything she had..
Scottie says before Fes won HOH
Scottie says in the video he looks like a total jackass because when FES won SCotttie was celebrating hardcore
H – I was so made at him.. i'll just have to win this veto
H – I'm tired of going into the DR.. Ok this is my comp I need to win for my game
H 0- I was so close.. F*ing tyler of course he beat me.. it would be weird if he didn't
Scottie- you've beat Tyler.. the OH
H – it was a lame HOH.. What else it ROckstar and Bayelgih say
S – we talked about a lot of stuff..
S – there was soem giant mix up with the creation of the hive..
Scottie explains that how he remembers it happening he was sitting in the hottub, FEs, Haleigh and Rockstar joined him. Rockstar pitched the idea to him and told him to make up a name then Haleigh gave her speech about the solid group thing
Scottie adds that they told him that Haleigh and Fes told them that he was the one that approached them with the plan and just included himself.. (lol)
H – I never told them that
Scotttie – that's what they said..
H – I thought we were all in the same room talking about the HIVE..
Scottie adds that Bayleigh makes it sound like he approached them and said "hey this should happen"
H – that didn't happen..
haleigh – so Sam has been rude to me all week.. I woke up later than Sam everyday and she would remind me how she fed the fish.. passive aggressive..
H – so i woke up early one morning and fed them..
Haleigh says Fes' eviction speech was really bad..
Angela I always knew you were born with a silver spoon in you mouth but I never knew how entitled you are until you told me you drove a range rover and so many guys hit on you that you wear a fake engagement ring.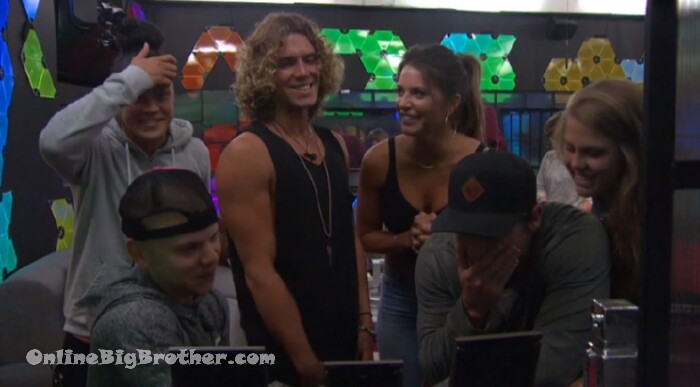 HOH Room time.
2:37am we get a Diary room leak..
Production – do you know what your nominations will be
Tyler – Probably Haleigh and Scottie.
2:41pm Tyler reads out his HOH letter..
HOH Hugs all around.. Tyler tells them that he might lock his HOH door a couple time this time around.
2:51am Tyler and Haleigh
T – are you feeling ok
H – no.. I feel sick to my stomach .. my body hurts..
T – you should have won.. I didn't want to make a deal and then have you..
H – you knew you were fine
T – I knew I was fine..
Haleigh – we talked about this earlier .. it's not me vs you
T – I know.. but it's good that everybody thinks that
Haleigh says she doesn't want to ride the block, "will you tell me before what you are doing"
Tyler- yes .. I'm not going to keep you in the dark about stuff I Don't like doing that .. I don't like how that was last week.
Tyler – I'm just going to do what is best for me..
Angela comes in asks if she can use the shower. Haleigh leaves..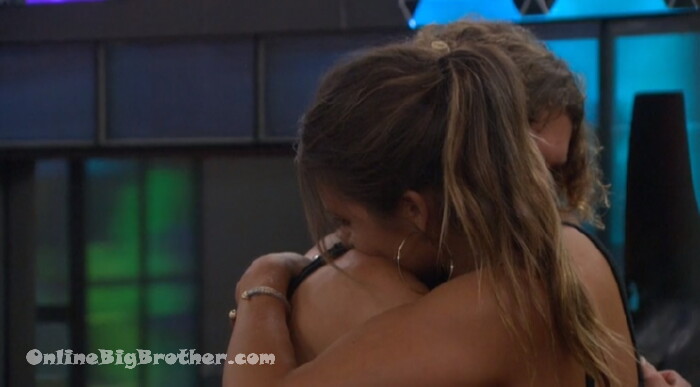 2:54am Tyler and Angela
Angela – i'm so happy..
Angela – this week will be legit deejay vu for last week..
They start complaining about Fes' speech and his comments about Tyler being kept on a Angela's leash
Tyler- it's repeat of last week.. I just don't know who should go
Tyler says he'll talk to everyone tomorrow.
Tyler – when it was Kaycee, Brett, Haleigh and I was like I'm good.. then they both fell
A – can you guys please just win a HOH so we can stop doing this..
Angela says JC is making her mad today it's like he's trying to instigate things.
T – we'll see how he is this week.
T – at least it wasn't a double
A -0 at least it was just Scottie that came back.. if it was Fes..
T – he was so sh1tty why did he make it personal.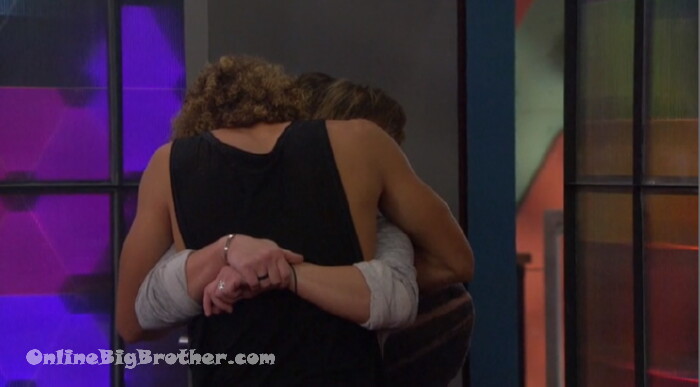 Sam comes in to bring him some water.
Angela quickly jumps into the bathroom turns the water on so Sam
After Sam leaves.. Angela jumps back into the HOH bed.. they wonder how haleigh was doing so good in the HOH .
Tyler – you know how weak his applause was
Angela – I hope everybody hates him and everybody hates him more after that..
Tyler says Sam wakes up right after the music goes off. She goes into the kitchen makes coffee and goes into the bathroom. Says that the window of opportunity to leave the HO is while SAm is in the bathroom, "that's when I left": (During the nights Tyler spent in the HOH with Angela last week)
Tyler says he's tired of people blasting her without even knowing who she is
Angela – Sam apologized for voting haleigh out.. she like I hate it when people put me into their speeches.. they think I will flip and take advantage of me like that..
A – I was like shut the f* up..
Tyler tells her he's going to make sure Sam isn't coming after Angela..
A – i'm curious to know what Scottie is thinking right now
A – it's nice to have Haleigh off our a$$es now.. it was so annoying..
Tyler agrees. says Halegih almost won . Angela says she would have put the two of them up.
T – now she's got Scottie..
A – we replaced Fes with Scottie
Tyler – yeah
A – it's annoying..
T – just don't know who is the bigger threat.. Haleigh or Scottie.. Scottie is probably pissed at Brett.
A – i know
Tyler- you carried yourself really well today when he tried to blast you
A – I shouldn't have said anything.. I shouldn't have let anyone know it bothered me..
Tyler reassures her it didn't seem like it bothered her
Tyler – your eyes look really pretty when you cry.. did I ever tell you that before
Angela says JC has been really weird to her
Tyler says Brett has a crush on Angela and JC has a crush on him..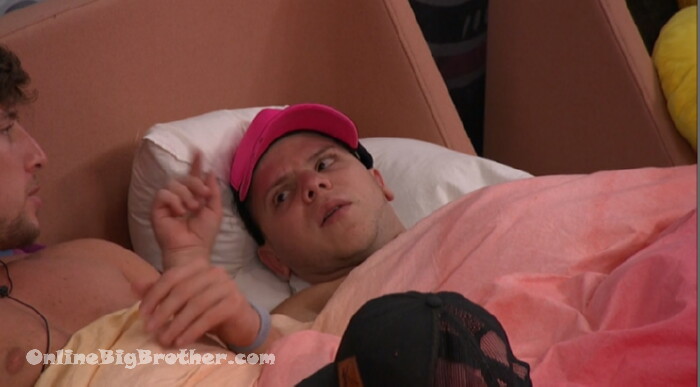 3:20am JC and BRett
They are agreeing they will be fine this week. Saying that some people are winning HOH number 2 and they haven't even one once. JC points out how this is good for them because it keeps the blood of their hands.
JC – why do people come into Big brother Fame and Money..
Brett says if you do conduct yourself well on Big Brother you can use it on a resume. "you know how well I can perform under pressure.. I was in a pressure cooker for 90 days"
Brett says he's going to use Big Brother in job interviews..
Brett – I performed a f*ing speech in front of 6 million people live.. how many people can say that..
B – not many people have that type of thing on their resume..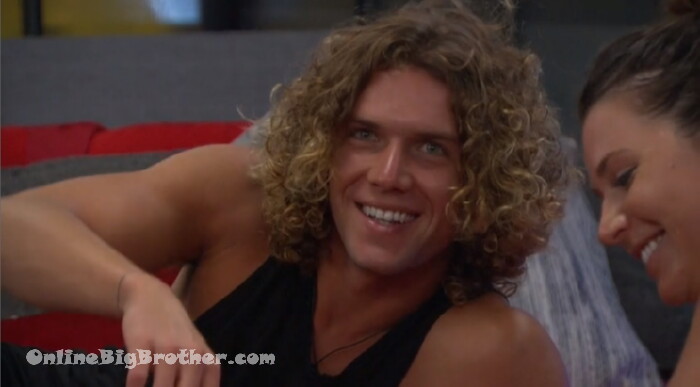 3:33am Talking about how they've won 2 HOH's in a row..
A – and now we're the two biggest targets.
they laugh that they'll keep winning HOH's back 2 back.
They say after this week there's only 3 weeks left..
A – maybe it'll go longer..
T – they did say at least 100 days.. oh well we'll be here for awhile.
They talk about how the 1 way audio to the kitchen doesn't work anymore. Tyler comments how "they" (production) really f*ed up when they had that leak from the HOH to the kitchen and Sam heard. they agree that could have been really bad.
Tyler – when people do stuff to turn us against each other..
A – it backfires
T – yeah it backfires big time..
T – you are the only person I feel like talking to ..
A – same..
JC, Sam, SCottie where teh first three to fall. they wonder if maybe that will be the Have nots.
T – just in case you will have to sleep in here son Friday.. or Saturday..
A – I can't be the first one to sleep up here..
Tyler says JC will probably want to be the first one.
T – he drives me nuts.. actually when he stayed up in the HOH last time he stayed to his own side..
Angela can't tell if Sam likes her or not..
T – I think she doesn't .. she as weird protection thing.. with the guys
They're watching the HOH spycam.. Waiting for Sam to stop cleaning up and go to bed so Angela can duck out.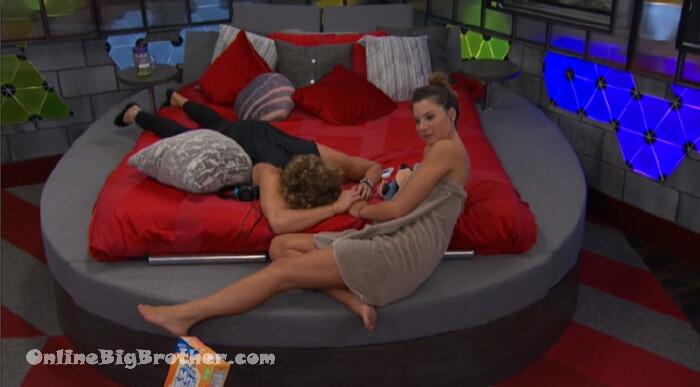 T – I cannot last 28 days without seeing you (if he got evicted)
A- Same, 8 hours is hard enough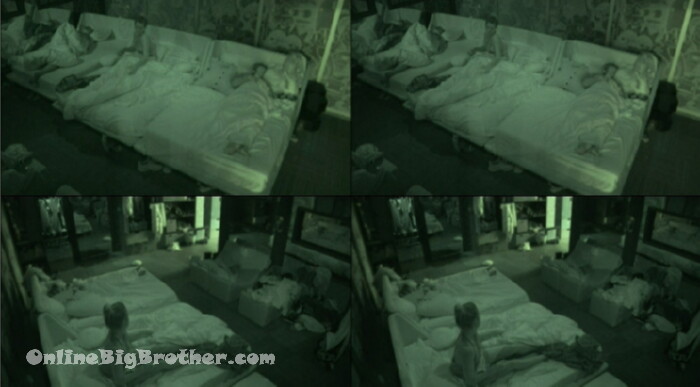 4:54am night night folks..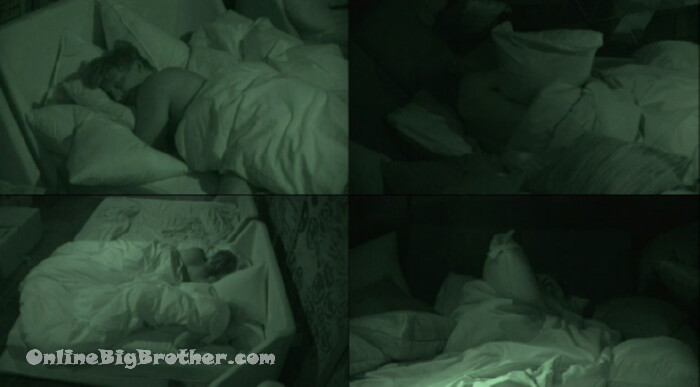 8:25am zzzzzzzz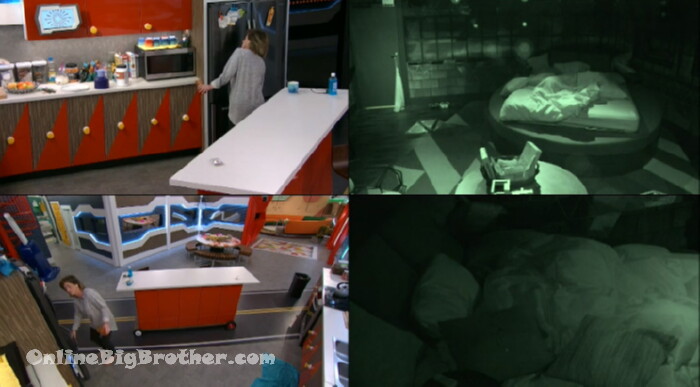 9:20am wakeup…
A easy way to support the site if you are an amazon shopper is to make your purchases through our link. You pay the exact same thing but we get a small % commission. It doesn't cost you anything and helps us out.
Amazon Canada
Amazon USA