Head of Household: Tera
Nominations: BETH Breydon and JED
POwer of Veto Winner: Jed
Power of Veto Ceremony: Jed uses the veto on BETH
Have nots : Beth, Ty, Jed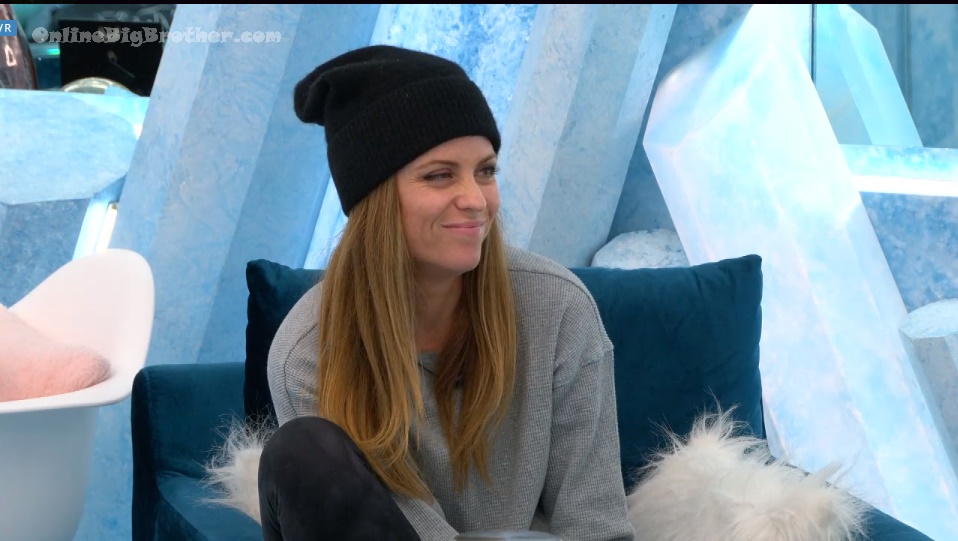 6:20 pm HOH Tera, Keifer and Breydon
Tera – at this point I believe he has no one to be mad at other than himself. He fell for it I'm sorry. He should have taken himself off
Breydon – You had to veto no one else had it you should have used it on yourself
Tera says they have no on to blame but themselves.
Kiefer- you don't know Jed
They talk about Beth's only play is to pin people against other people.
Kiefer – I think I'm going to let Jed know before the tik toks
Breydon – no
They talk about how paranoid Beth has gotten.
The talk about how the trio is going through buckets of slop
Tera says she gives zero f***ks they've all had rough patches in the house.
Tera – this is the first time in 56 days you don't feel secure.. I don't care.
Kiefer says Beth, Jed, and Ty all said bye to him on week 3.
Tera – they were treating you like a sacrificial lamb.. they treated you like sh1t
Kiefer – when you watch back you'll understand..
Tera – when you watch back you'll see how shitty they treated you even Latoya
Kiefer – they were so mad about LT going,.. I was like I stayed ok guys..
Tera – they still say that was their saddest day
Kiefer – then they tried to f**ing backdoor me
Tera – you got out Kyle, you got out Ro
Kiefer – and I convinced them to get rid of Vic
Tera reminds him all those three people were not coming for him
Tera – I don't know why they are so surprised that you MAYBE might not keep Jed.. are you on F*** crack?
6:30 pm Ty and Beth
Ty – on one hand, it's the biggest move ever done. none of us win next to him
Ty – he's not taking me over you
Beth – I have no clue he might take Kiefer. He's the most loyal person in this f***ing house
Ty – I'll have a hard time voting him out makes me sick
Beth says it disgusts her "He's getting the inkling"
Ty says at this point of the game they have to win out. "I have you no matter what"
Beth – you are my number one
Ty – Same
Ty – I don't know how we win the game if he's here.. if he's here we'll make it to the final 3.
Beth – if he's here like Keifer says it'll be a little bit more of a fight
Ty – if you had to vote today what would you do
Beth – I can't answer that question.. I'm right in the middle I don't want to give Tera the satisfaction.. she's way above Keifer she's the biggest target in this house
Ty – she doesn't get the move unless she sits in final 2.. the move only matters if you are there to claim it.
Ty goes on about how this is their move they vote all Tera did was nominated him and let them decide.
Beth – I will just be so mad if we got Jed out and one of us followed him the next week
Ty – I know, we have to bet on ourselves one way or another.
Beth – what would you do right now
Ty – I would keep him..
Beth – why
Ty – Purley emotional
Ty – if we're talking about a purely game point standpoint he's gotta go. We didn't put him in this position.
Ty – did you come here to be a humanitarian or did you come here to win
Beth says Jed will be more pissed off at kiefer than them. BRings up Keifer swearing on his family
Beth – it's just disgusting he took me off the block and I'm voting him out
Beth – who do you put up next week if Jed's gone and you win
Ty – Tera
Beth – BReydon, Keifer, or me?
Ty – not you. Maybe Tera and BReydon. I don't know if I would put up Kief. I think I can beat Keifer in anything physical. I've been known to challenge Keifer on his memory
Beth says she doesn't think Keifer is as good at competitions as he says "He talks a big game"
Ty – I'm not really scared of anybody Tera's my target. Just have to make sure I win ..
Beth keeps saying "THis is disgusting"
Ty – we knew it would come to this
Beth – not Final 6. On a personal level, this whole game we've been saying none of us will get taken out by Tera.
Beth – He knows.. I know he knows..
Ty – what
Beth – that the talks are being had.. I know he knows
Ty – Breydon is dangerous to let's not forget
Ty – anybody that wins will want to take him
Beth – we've all got sh1t now.. (Lines on the resume = sh1t)
Beth – Breydon has been sitting, he's voted with the pack
Ty – he could have a good argument everybody in the jury likes him
Beth – I hope it's not a popularity contest
Beth mentions how the jury must hate her, Vic, Tina
Ty – and if Tera is in there it's not looking good for you
Beth says it's hard to hang out with Jed right now 'I can tell he's stressed as f**"
Beth brings up Jed asking why people aren't hanging out with him why is everyone hanging out with Breydon.
Ty – we can rid to the end
Beth – I know we can it would be an awesome feeling. There is still the chance if you win and say Beth this is the time we cut him.. Or if I win look at Ty say we cut him.
Ty says it will get tough to cut Jed later on.
Beth – this is the worst of the worst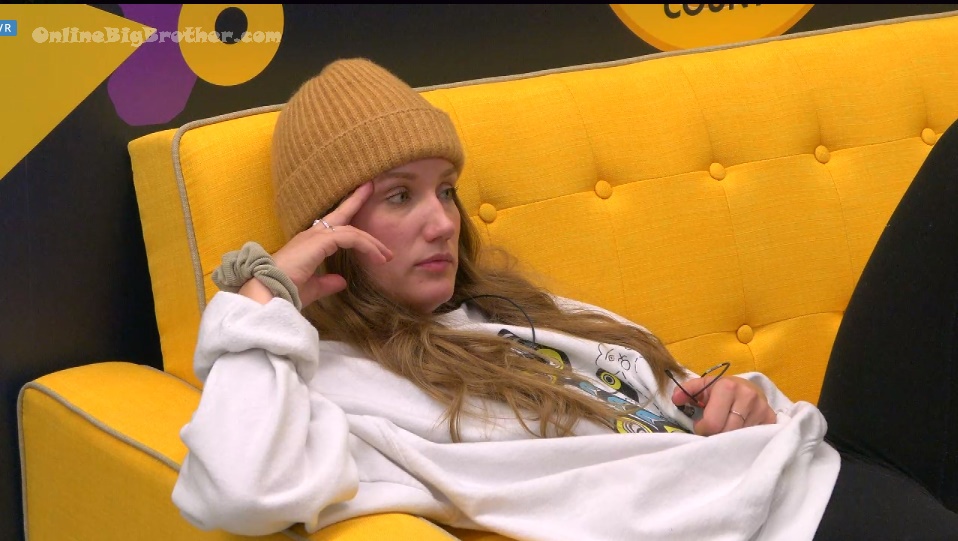 Ty – are you going to be ok?
Beth – if he goes? ohh yeah
Beth – I've been faking it for 53 days I can keep doing it.. it's been me and you babe since the start
Beth – I hope you know I would bring you over him.. I hope you believe me
Ty – for some reason I do. I hope you believe me to the same. It just makes sense
Beth – I don't need to have this showmance sitting in the final 2 bull sh1ty. You know what me and Jed have is because I actually like the guy I'm not using him as a strategy to take me to final 2.
Beth – Kiefer is saying we're either making Jed look like the biggest idiot to Canada or making us three look like the biggest idiots to Canada
Ty – I see where he's coming from
Ty brings up at this point of the game they're on their own to win competitions. Mentions how he has no idea what Keifer will do if he wins HOH.
Beth can't believe Jed did this for them
Ty – he loves us
Beth – he loves us both.. he's the real deal
Ty – he didn't want to lose us both
Beth – no matter what happens Ty I'm not just voting him out without him knowing. We sit down. We tell Jed.. OK.. IF..
Ty – that's fair
Beth – you agree?
Ty – mmmhmmmm
BEth – Kief said we should sleep on it. Just know that Jed is panicking
Ty – I can see it in his face and his body
Ty – Wednesday's episode is going to be crazy. 100 thousand dollar move
Beth – why does he have to be such a good dude..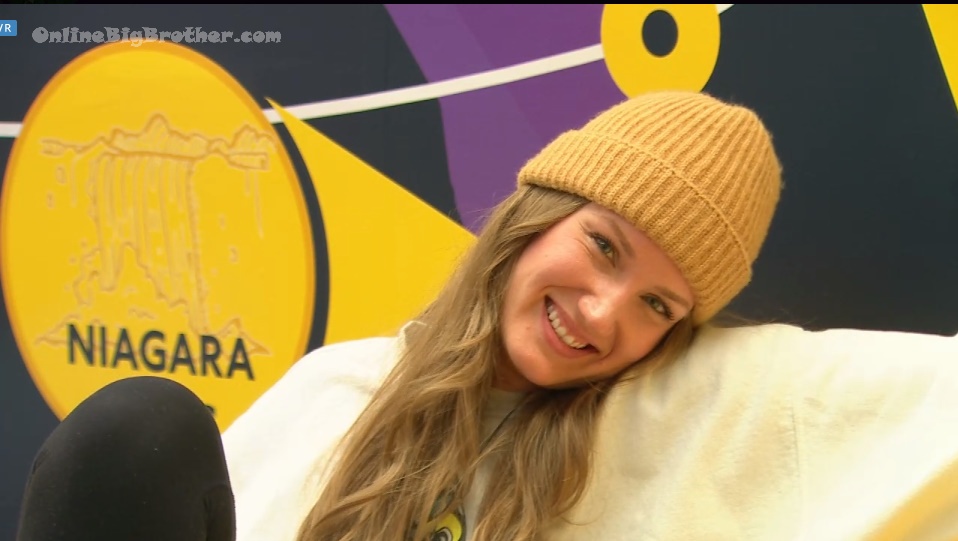 Beth says if she votes Jed out she's embarrassing him in front of the entire country.
Beth says Jed is an emotional player he keeps telling her he didn't come here for the money he doesn't need the 100 thousand he came here to build relationships and an alliance.
BEth and Ty agree they would NEVER have taken someone else off the block.
Beth – we were so solid with him
TY – there's a difference between us and him. He's somewhere different we can't compare
Beth – now we're voting him out it's so gross it's so dirty. do we even deserve the money after that? or do we deserve it more.
Beth says if "the sauce" will make it to final 3 she would "bet her life" on it.
Beth says Kiefer wants the vote to be unaimous
Beth – it's not fair for two people to vote out Jed and one person to vote out BReydion and get that jury vote.. IT's not fair we all do it
Ty – I agree
Beth – this ain't the time for rogue votes
Ty – it's not
Beth – this will be the most emotional move I've ever made. This will be the most emotional thing I've ever done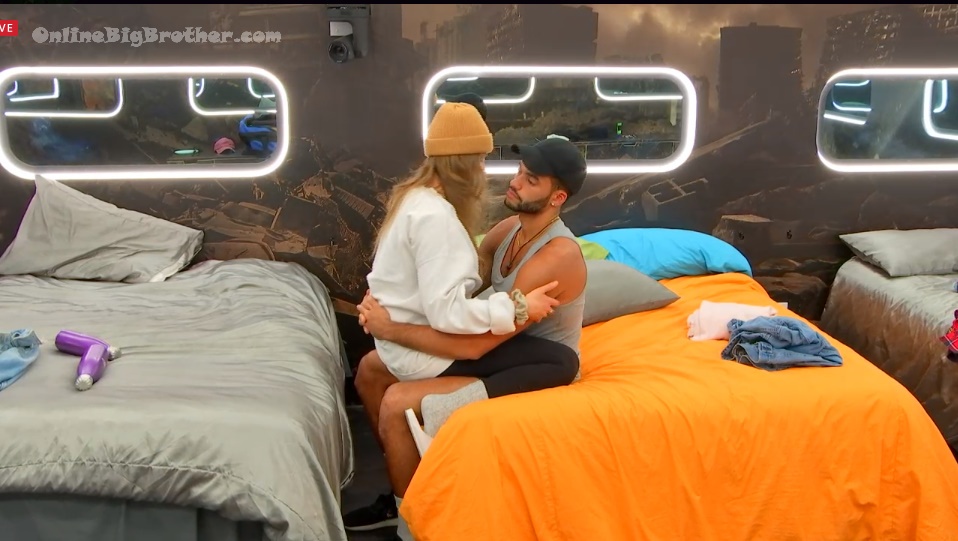 Beth and Jed
Beth – what do you need from me?
Jed – Ummm, you've done so much for me
Jed says tomorrow he'll talk to Ty. "try to play on the emotional side I guess"
Beth – how are you going to tell him you are good for him?
Jed – just show him like.. me giving my loyalty to the squad.. if I win you're not going up. I made this move so you wouldn't go up. I was worried about you going home.. I don't know what Breydon has going on he's probably got something with Tera with Keifer.
Jed – Keifer said he's putting up Tera and Ty you are outnumbered.
Beth – he's struggling though that is what that chat was about..
Jed – as long as you say no you don't feel good about it.
Jed says its slike what happened with Kiefer they were all gung ho about it but later were 'Bro this doesn't feel right"
Jed – I'm hoping the same thing happens
Beth – if you stay all bets are off. It's very clear this isn't a final 4
Jed – I know, it's me and you.
Jed says he's getting sketched out by Ty.
Beth – I can't have just two more nights with you
Jed – I know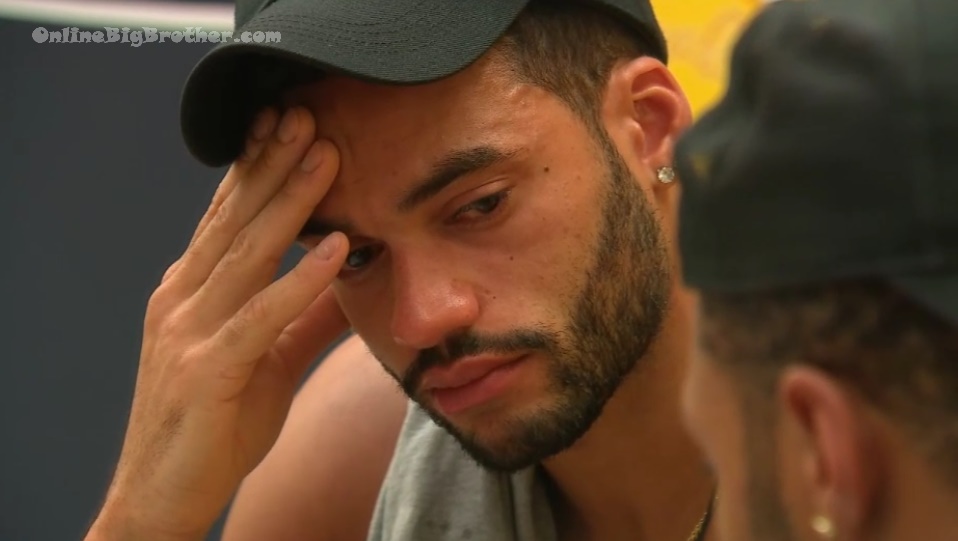 7:40 pm Jed and Ty
Jed – I might get a little emotional here I'm not going to lie .. um I'm worried about Kief so like.. Do you think they will do that sh1t..
Ty – you did it for us I know that. At the end of the day yeah I'm only one vote. I need one of them I believe they will.
Ty – Beth? you used the veto on her
Jed- It's just embarrassing man..
Ty – you used the veto on her to save yus there's nothing to be embarrassed about. I get your paranoia you know how this game is
Jed – I did that for us and for me to go home like that I will never let it down.. I will get roasted for that it's so stupid.
Ty – you did it.. that was our plan all week to only have one of us on the block.. now we have 3 sunsetters voting
Jed – I know
Ty – at the end of the day you made the move for us now it's our turn to return the favor.
Jed – I knew I had to win out.. I will look so f**ed if I went home
Ty – I just talked to Beth
Ty says some people are playing on Beth's insecurities about how this game plays out for her. "people are in her head about it"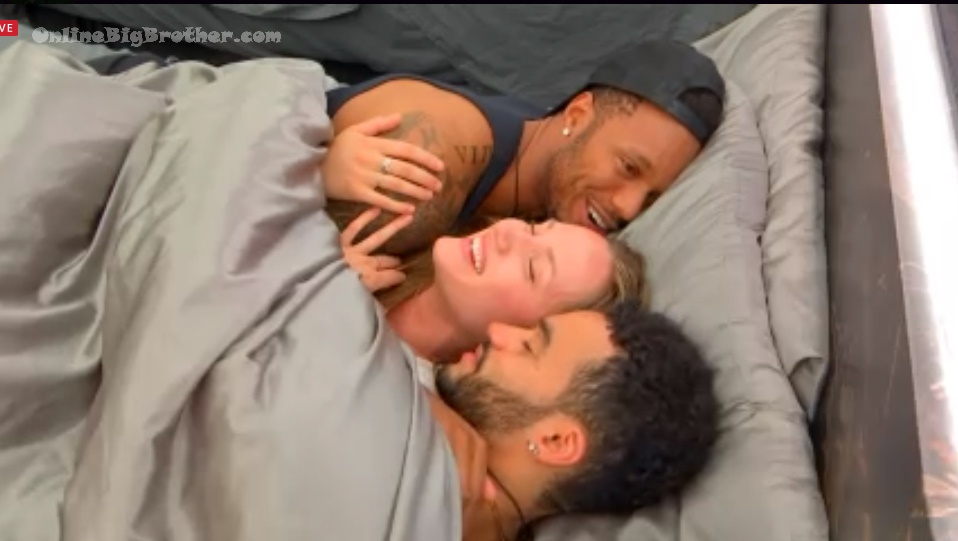 9:08 pm Snuggle time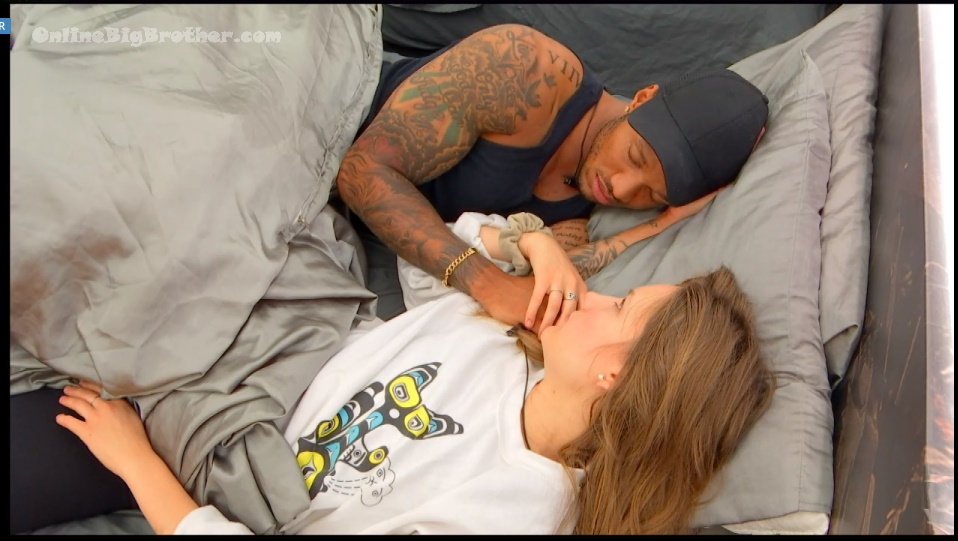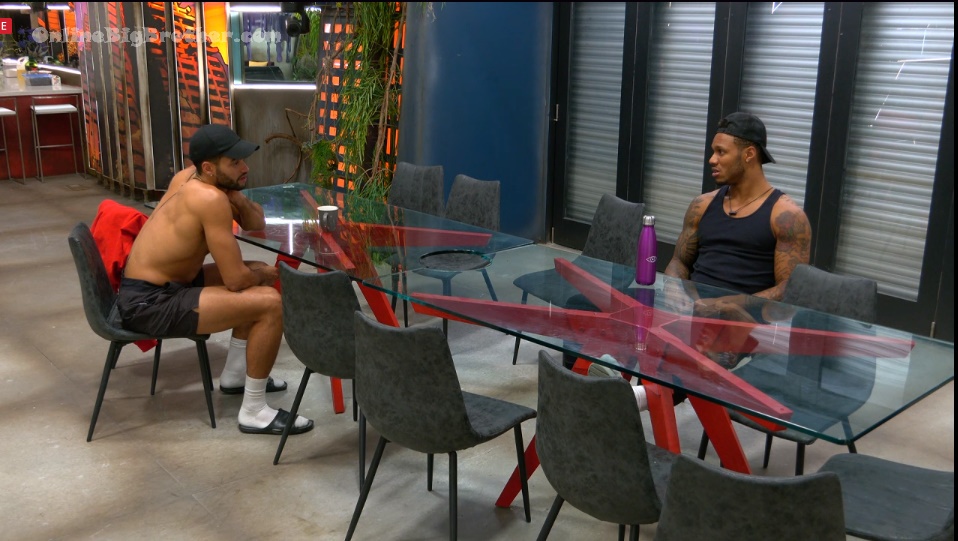 11:20 pm Feeds were off for an hour while they had a pizza party.
Jed and Ty studying days.