Watch the feeds for free from the US using a VPN. We recommend HMA https://www.hidemyass.com/vpn/r16399/
The feeds are essentially..
1) Karen, Demetres and Ika retells
2) Karen bashing Dillon and Kevin
3) Dillon breathing heavy
4) Kevin alone
5) Ika and Demetres kissing/cuddling
As always videos are taking a long time to upload in the morning.
Demetres, Ika and Karen Hot Tub
Ika is telling them about the final 4 Power of Veto. She can't remember what kind of competitions it was.
Demetres – Season 2 it was a board game
Ika – what do you mean
Demetres explains
Karen – I remember that
Karen goes on that Dillon is playing for second and that is what cost him his game.
Karen – his game ends because of that move
Karen – I have no problem sending people to Jury
Ika says Kevin thinks that Karen will be tormented with voting Dillon out
Karen – it's going to be a 2 zero vote and I'll say I love you I'll see you in the Jury next week bye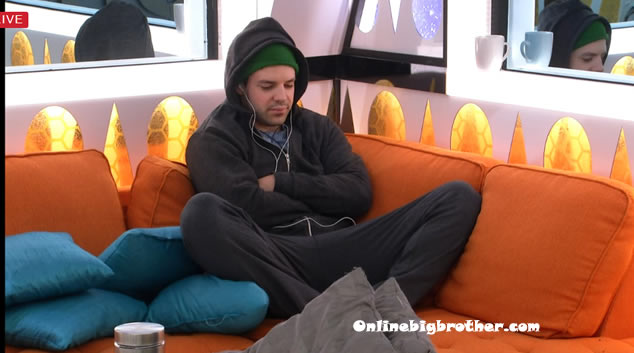 They get a task.. When Big Brother says Rewind they must walk backwards.
Ika – there's 5 people in this house but it's me and you against Kevin
10:34pm Karen tells Dillon he's going to Jury Blames it on Kevin martin.
HOH room – Kevin talking to himself – Yeah me telling Dillon I wasn't going to take him to final 2 was perfect. Hopefully he'll run and tell Karen. If Karen knows my final 2 is her and that 20K means something to her maybe she is "incentivized" to keep Dillon because Ika and Demetres will take each other but I don't know if she thinks like that. So if she knows for sure that I won't take Dillon to the final 2, over the next couple days I will make Dillon's life uncomfortable so that he is so "vendettive" against me so that Karen sees that and keeps him. I'll torture him, I'll make fun of him. I will make Dillon so mad at me that Karen will see that hatred and want to keep him. Because right now if Dillon is listening to the ipod and hanging out with me, Dillon won't keep him. She is that upset against me. Now that Kevin has gone and done this it has put me in this worse position. I have been with them since the very first day in this house. And he
Dillon & Karen in the living room.
Dillon – so be honest with me care bear… who would you rather have out? Just be honest with me. Karen – I came in this house week one and had an alliance with Ika that nobody else has known about and I have never veered from that. After EM (Emily) left, you said I want to be with you. And they had kind of shunned me. His ego wants him and one of them two in the end. I am getting cut fourth position. Dillon – if you think you're being cut why wouldn't you keep me? Karen – because I'm a loyal person and I stand by my word.
[polldaddy poll=9740150]
[polldaddy poll=9740155]