Head of Household: Tera
Nominations: BETH Breydon and JED
POwer of Veto Winner: Jed
Power of Veto Ceremony: Jed uses the veto on BETH
Have nots : Beth, Ty, Jed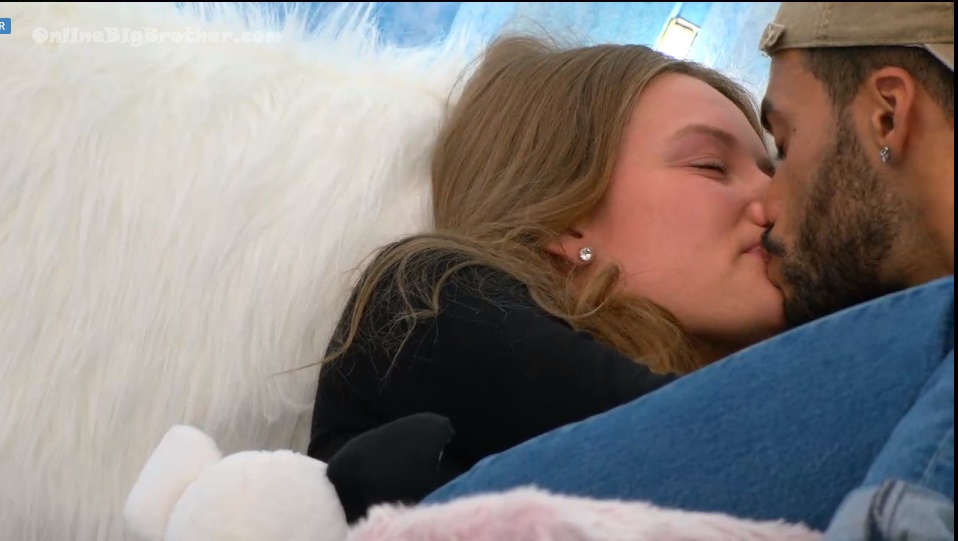 5:00 pm Beth and Jed
Jed – if anyone has to go through this and survive I want it to be me
Beth – you are the best human.. how are you real?
Jed – you've done so much for me this week you didn't have to go out there and campaign for me and tell me what things were going wrong
Jed – if it wasn't for you, I wouldn't be in a position to advocate for myself.
Jed – you deserve to be here
Beth – you do
Jed – we both deserve to be here.. Whatever happens, I want you to be completely confident in yourself and Kill it.
Jed – You've played a sick game so far and we both know that and people at home know that. IF I do go home I will advocate for that. I will be there for you as you were there for me.
Beth – this game is sick
Beth – they are being weird..
Jed -yeah
Beth crying "how am I going to sleep"
Jed – It's ok babe.. it's not over till it's over.
Beth – I'm ok.. I'm done.. I'm done crying
Long pause…
Beth – what's on your mind baby
Jed – I'm just thinking of the game
Beth – I know you're nervous you're just not talking about it
Jed – I am nervous there's not much to do. the balls not in my court anymore
Beth – I did not think you would be here.
Beth almost says I love you they tease about it
Jed – you were about to say it
Beth – I didn't say anything
They laugh.. Feeds cut.
Jed brings up if someone doesn't win anything how can they expect to win the game.
Jed – if you cant' win in the end wouldn't you rather have someone with you? To put you in a position to get there.
Beth – I keep trying to tell them. It's tough for me to hear Kiefer and Ty say my resume is wiped clean if Jed stays.
Jed – it's ridiculous
Beth – it's tough. I don't know if it's worth it. Dirty money
Jed – not to me. I want to know I worked to achieve something. It wasn't always about the money for me.
Beth – this isn't the easy road for them it'll be one of the hardest things they've ever done \
Jed – I was going to play a certain way and put people ahead of myself.
Jed – it sucks you're being taken advantage of for your kindness and loyalty. I don't give up so. I always fight until I'm out the door.
Jed – I'm not going to quit
Long pause….
Beth – I wish I could hide somewhere in this house. I went to the DR to cry for a bit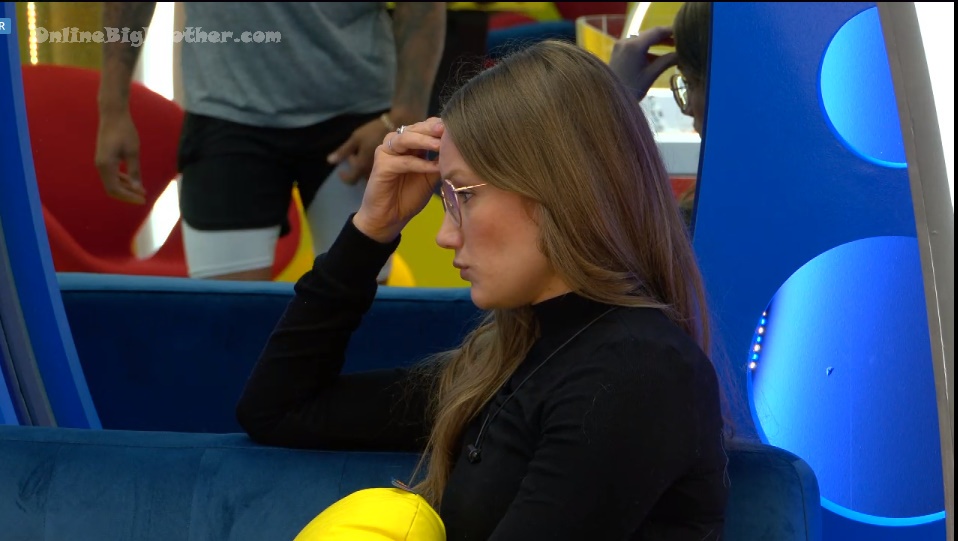 6:30 pm Ty and Beth
Beth says she can't vote out Jed
Beth – I can't stand Tera with everything in my being.. I don't want her to win with this move. I would rather Jed win with his move than Tera with her move.
Ty – I would rather win the game, to be honest
beth – WE're not betting on ourselves.. we always said we would go to Final 4 and fight it out then.. it's not like Jed carried us here that's not the f***ing case..
Ty – what ledge do you want me to talk you off
Beth – you want to get rid of him?> IS that your main thing
Ty – I don't know
Beth says she doesn't trust Breydon and Tera. She doesn't even know what is in Keifer's head.
Ty reminds her she's not the number one target right now
Ty – it's different for you I'm not sleeping next to him
Beth – it's disgusting. Are you and Kief doing it no matter what? I'm not saying anything
Ty – I don't know Beth. I want this to be unanimous
Beth – did Tera and BReydon get into our heads
Ty – They didn't get into our heads this is a reality
Beth – people win without winning competitions.. PAras?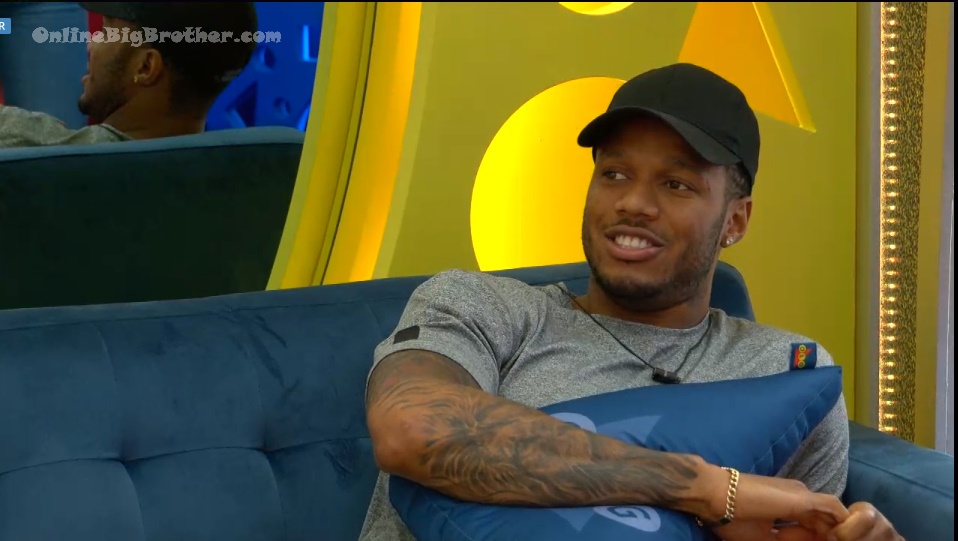 Ty – Breydon hasn't made one decision all game since Latoya. The biggest threat with RBeydion is someone will bring him over us. I don't want to be brought by anybody
Ty – this game is not about comps it's about game
Beth – Apparently f**ing not.. if this game wasn't about comps I would be looked at as a completely different player.
Feeds cut.. When we're back Jed is with them.
they're talking about how slop makes you feel like sh1t.
Ty – you're just irritable.. until that week I was like holy sh1t everything is bothering me
Jed points out how hard it must have been on slop in the early game when you had to be nice to people.
Ty leaves.. Jed says that Kiefer won't be solid to the three. Kiefer has something with Tera and Breydon
Beth – ohh yeah we walked in on them in Expedia
Ty is back with them.
Jed – how do you feel about Kief moving forward.. can you beat him?
Ty – YES.. ohh if I was standing next to him today not a chance
Jed – does he have something with Tera?
Ty – probably, how can he not?
Jed – this move can't be given to her
beth – I'm one week ahead of her we always have been.. I'm worried about her and Keif
Jed – I'm worried about Kief I see how he's wavering.. he swore on his children that he would save me and now I'm seeing him wavering so it's sketchy to me.
Jed says Kief told him and Beth directly that he's putting Ty up next week.
Jed – if you keep me in the game you make it that he has to come get me
Ty – When you are here tomorrow I don't care who's next as long as it's us three.. it's the end game now who cares.. Tera is on a suicide mission it's not like she cares. she has a demeanor now that she doesn't give a F***
Ty – she's putting all or nothing on this move.
Beth disagrees with Ty, "Open you eyes TY nobody is chilling right now"
Beth says Tera thinks she has her.
Ty disagrees "Why did she put you on the block"
BEth – I put her on the block
Ty – she just put you on the block and is trying to send Jed home
Beth – she pout Breydon on the block
Jed says she did this move to try and gain loyalty with Ty if Jed goes home she'll pull Ty in.
Beth calls Tera's move "The weakest move.. Literally… in the entire f**ing game"
Beth is certain Tera has something with Kiefer and she thinks she has something with Beth.
Jed – on all our conversations Kiefer was never an option
Beth – Keifer was never stressed.. he did nothing
Ty says if Jed leaves Tera's Resume is the best in the house "Hands down" (ZOMG?)
Beth thinks Kiefer's resume is better than Tera says Tera was a ghost this entire game and now she made one crazy move.
Beth and Ty argue about what is a big move and what moves should equal jury votes.
Jed says it's embarrassing for this season if Tera gets to the end and wins
Beth – that's a nightmare..
Jed – Imagine her and Breydon in the final 2
They laugh.
Ty – so what did you do all game
Jed – that would be my question
Jed – at the end of the day tomorrow if one of us win HOH we're going to final 4 us three here. It's a one vote week. I'll touch the block again next week.. You win HOH boom we're final 4
Jed – I beg you guys don't give this to Tera
Ty – I'm not giving sh1t to Tera
Jed – she was talking to me today like I'm gone.. Pisses me off I just want her out so bad
Jed – let's sauce it up man.. lets sauce it up
Jed – it's better for you guys that I'm here it's not better for Tera and probably not better for Kief.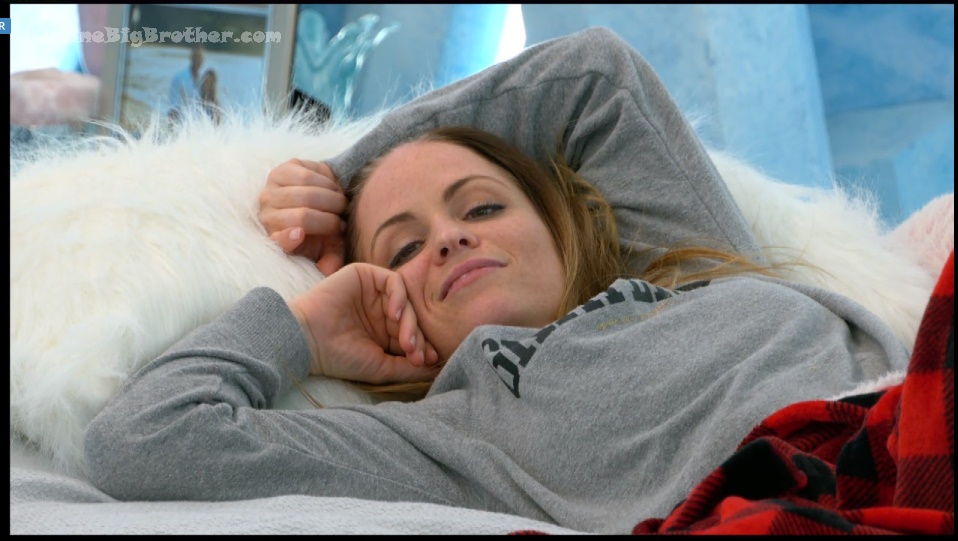 7:00 pm Tera, Kiefer and Breydon
Breydon sings a song – my name is Bethany.. Jed used the veto on me.. now he's sitting in jury ..
Kiefer – it's going to be so dark tonight when we tell him
Breydon – you're going to
K – I imagine we are
Kiefer – I think we're all going to have to tell him cause we're voting .. you're not voting and you're not voting. It's his closest allies in this game that are voting.
Keifer – crazy how he thinks that putting me on the block wasn't a big deal. He's like AHH I see how you felt man. I was liek YEAH it sucks.. he's like It's brutal
Bvreydon – a little different Tera isn't his closest ally in this game
Kiefer – that's what I'm thinking.. Jed you put me on the block I was your closest ally I didn't see it coming and you didn't give me a chance to talk you out of it.
Tera – they told you 20 minutes before
Tera says she's had her mind on one thing this entire game and that is to take a shot at the "Power trio"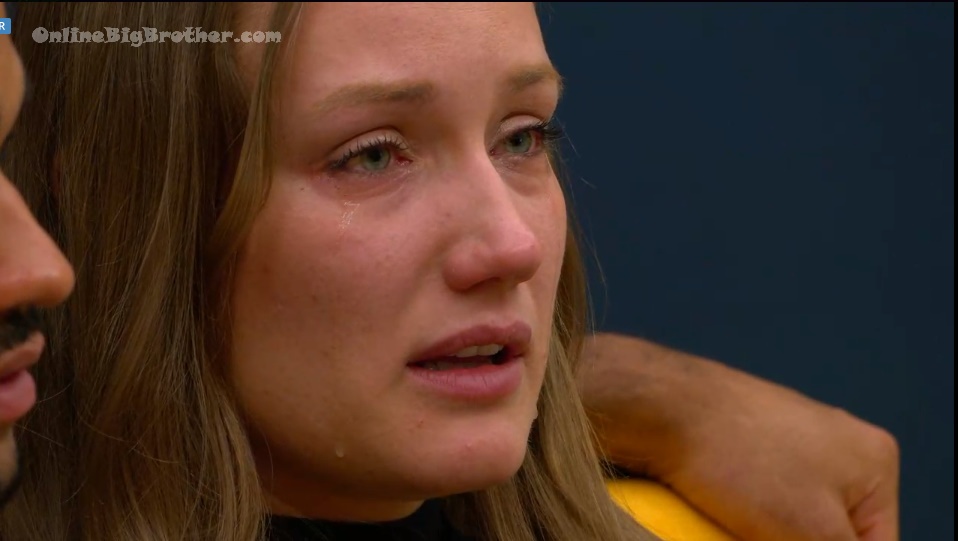 8:30 pm Jed and Beth
Bet tells him she thinks he's going home
Beth crying "You're going to be the most successful person coming out of here JEd.. you will be"
Beth – I feel like this is the dirtiest thing ever..
Jed – it's ok
Beth – No..
Beth – they are afraid if you stay you will go against them.. Kiefer is pissed you put him up last week and told him 25 minutes before
Jed – it's ok.. I f**8ed up I should have saved myself that's my bad. That was the stupidest move.. it's ok..
Beth – we should have thought more about it
Jed – it was ridiculous now that I think about it. It's big brother I should have thought of it. If I hadn't done it they would have been doing this to you
Beth – I go down to the very bottom if I keep you I don't know why but I just do
Jed – it's ok
Beth – I just feel like it's the dirtiest thing in the world
Jed – yeah.. well this is the game I f**ed up .. I was excited about the possibility of us all staying together.
Beth – will you talk to me about this
Jed – Yes, I don't know if I'll talk to them but I will talk to you.
Beth says they weren't going to tell him
Jed – that's f***ed up
Jed – Breydon slides by another week. unreal.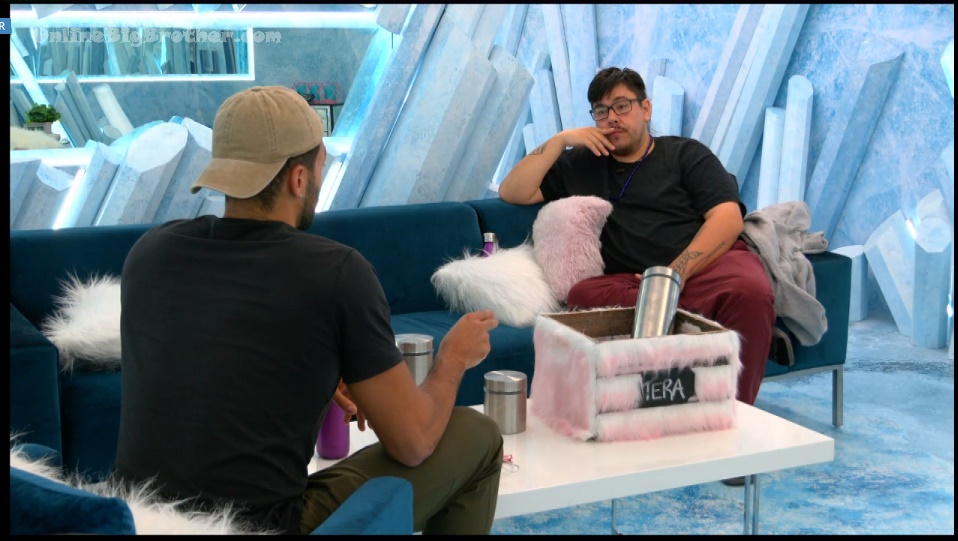 9:00 pm Kiefer and Jedson
Jed apologies for last week. Blames it on Ty says Beth and him wanted him to stay.
Jed warns him about Ty and Breydon. Ty will take Breydon and will cut Kiefer.
Kiefer says you don't put someone up in your own alliance when the house is still full of targets.
Jed – think about your own game man. I know you're smart just don't make any decisions based on someone else. I have one vote and you would be the one for me. If you do I will be forever indebted.
K – I know Jed
Jed – we didn't come here to lose if we have an opportunity to win
K – You should have used the veto on yourself I think Beth would have went home if you did it though
Jed – I said that to her We were getting split up either way.
Kiefer says Ty isn't going to take the best to beat the best he'll take a "Puppy" and win
K – I always trusted Beth and I've always trusted you. Ty was a smooth talker. You were the two I had my full trust in. We can go moving forward.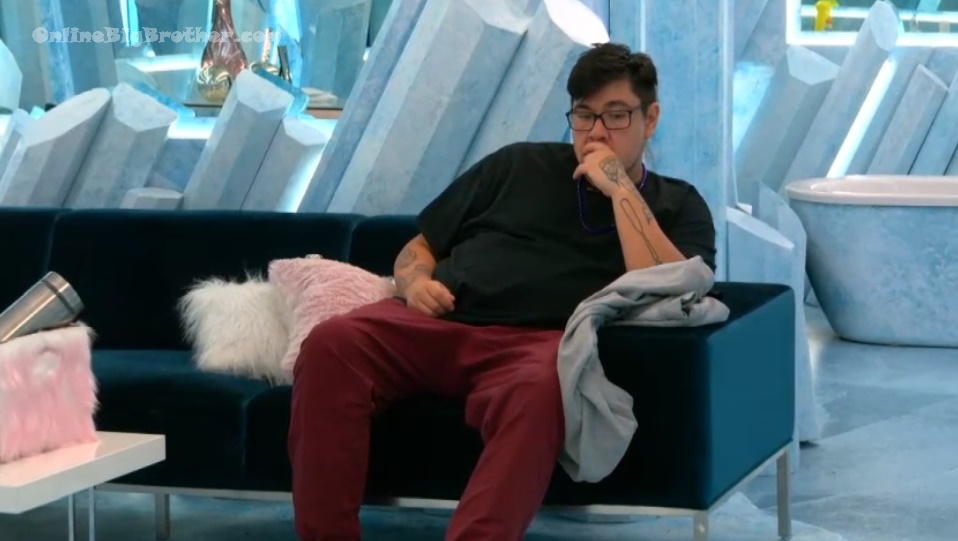 Jed leaves.. BIG sigh from Keifer "Ohh f***"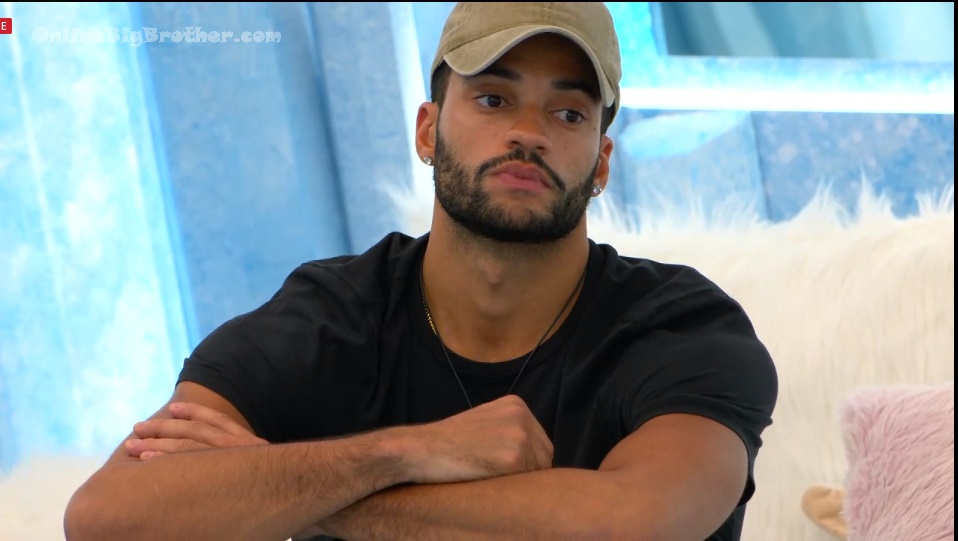 10:00 pm Ty and Jed
Ty says he doesn't know where Beth's heads at and if she's wavering at this point. "I need to talk to Beth tonight with Kief alone again cause I need to know what they are doing"
Ty – if the situation is to vote you out I need to know that is happening at the end of the day I'm only one vote
Jed – what if Beth votes me to stay
Ty – then you have my vote
Jed – I need to talk to us three
Jed says he hasn't really done that many big moves he just took Tina out. He thinks at this point of the game having a strong alliance member in the house is better than weak wild cards.
(Ty pretty much puts blame onto Beth. Beth puts blame onto Ty)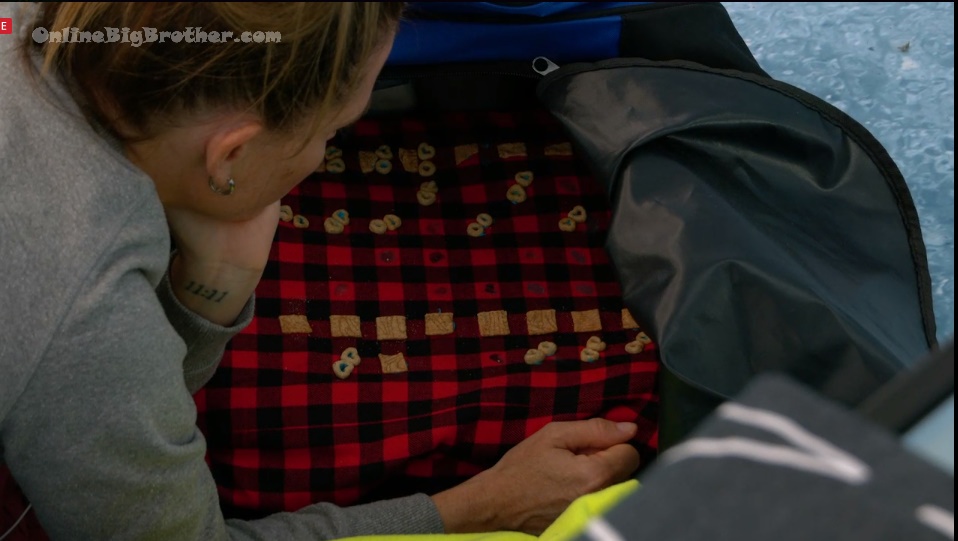 10:40 pm Tera studying in the HOH, Beth studying downstairs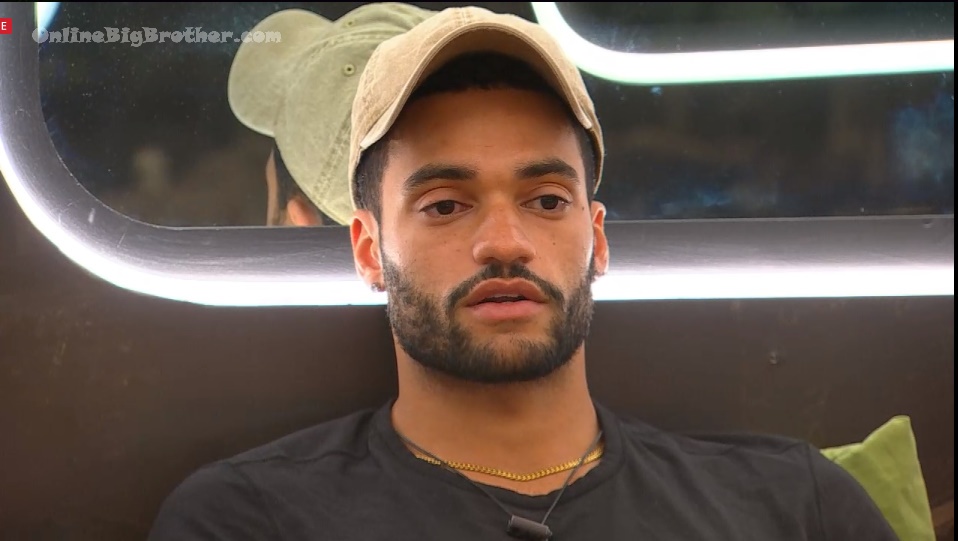 11:30 pm Jed working on Ty and Beth
Jed says they want someone to win this season that represents their season. "WE can be proud to say that person won the game that person played the game" He goes on about Tera and Breydon not deserving to win the season, "trust, Loyalty, riding with your team"
Jed – I chose my team since day one and day two.