Watch the feeds for free from the US using a VPN. We recommend HMA https://www.hidemyass.com/vpn/r16399/
Kevin won the pov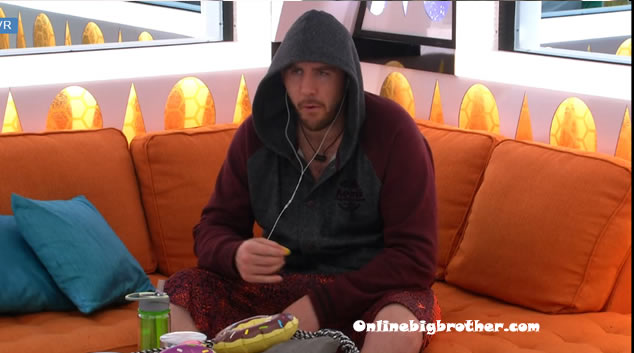 Dillon and Kevin in the HOH
Kevin – Demetres has to go.. He has to go, He's the biggest threat
Kevin – He's going to make a pitch to you if he hasn't already made it to you
Dillon – yeah he's already made it
Kevin – the kid is strong
Kevin – yeah he is big time
Kevin – it sucks man it's a 4 vs 1 situation .. there's no motivation for you guys to keep me if you guys all think I'm going to win"
Dillon – it's kinda true
Kevin says if he knows he can win he'll take Dillon over Karen, "it'll be cooler for the show"
Kevin – I wouldn't want to take Karen after the whole season out relationship
Dillon and I need that money bad
Kevin – Karen does well in her life… just for the story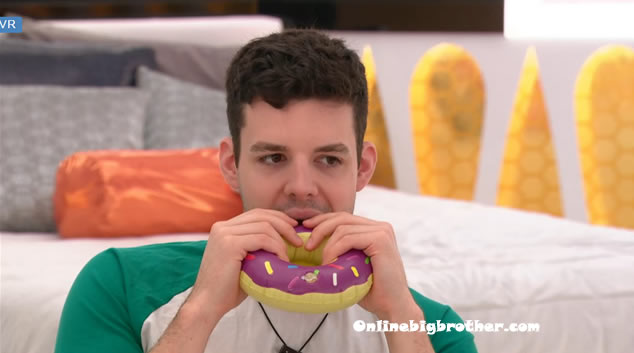 Kevin tells him that Demetres wants to win this game so bad if Ika wins the veto and says she'll use it on Demetres he'll let her.
Dillon isn't sure.
Keivn says if Demetres is in the final 2 he's going to have to vote for him.
Dillon says he's fighting for second place there's not way he'll win against Demetres or Kevin.
Kevin says if Dillon is sitting next to Karen he wins 9-0.
Kevin – I was talking to my stuffed Pig last night he doesn't want to take me either
Kevin – best final 3 is Ika and Karen, that's your path. My Path is to win Final 4 veto
They agree Demetres needs to win today's POV
Kevin – Ika hasn't won a comp..
Dillon – not one
Kevin – she really hasn't been close
Dillon says the only way he can make it to the finals is Demetres goes this week then Kevin and he wins the final 3 HOH.
Kevin – if you have a chance to get rid of me Final 3 you should..
Kevin says Ika made the show so much better "She's stirred up so much sh1t.. if there was a fan favorite she would win for sure.. "
Dillon – me and Ika at this point. (LOL)
Kevin says Big Brother helps his career so much.
Kevin says after he lost the last season he was "Crippled" and was depressed for months. He went to a counselor and they told him he's on national television so the exposure is really the benefit the 100K victory is just icing.
Dillon says his manager said the same thing "get on there and make people love you and we'll use it.. I'm sure they're already selling T shirts a shit.. big country apparel.. Appearances"
They agree this is the most watched season so the exposure will be good for their careers. (nope :( )
Kevin says Ika/Demetres have been a couple since week 2 and they've survived until final 5, says they are incredible players, "Ika stays up every night talking to people convincing people"
They agree getting rid of Jackie last week was "Solid"
Dillon – Dre went from being in the best position to out the door..
Kevin – Ika loved her
Dillon find Kevin's study hole

Demetres and Ika in the red room
Ika says Dillon told her he's going to take her to a club after this. He also said he was a catch.
Ika says Dillon came on to her a bit.
Demetres says Kevin offered Dillon a final 2 deal. Adds that Dillon wasn't buying it.
Demetres – he's pushing an out of house deal.. I just told him no..
Demetres calls Dillon a slim ball for trying to "catch her"
Demetres – take you out to a club f** that
Alone.. pic.twitter.com/wt2YC2PQte

— OnlineBigBrother.com (@bigbspoilers) May 6, 2017
Feeds are great ;) pic.twitter.com/kbnmdRAZ4z

— Simon (@simononlineBB) May 6, 2017
Kevin wants to make sure Demetres leaves this week if he wins the power of veto he'll take down Ika and put up Dillon.
[polldaddy poll=9740150]
[polldaddy poll=9740155]
Share it YO!!
Tweet