HOH: Kyland
HAVENOTS: ?
Nominations: ?
Power of Veto Players: ?
Power of Veto: ?
Power of Veto Ceremony: ?
Big Brother 23 Houseguest Rankings – – RANK THE HOUSEGUESTS –
View the previous day ranks on the – Ranking Grid
Big Brother Spoilers – Fun Times – Tiffany and hannah going up. Tiffany is the Target. Azah likely replacement nomination. Ky and Xavier's final 2 is called "the gentleman"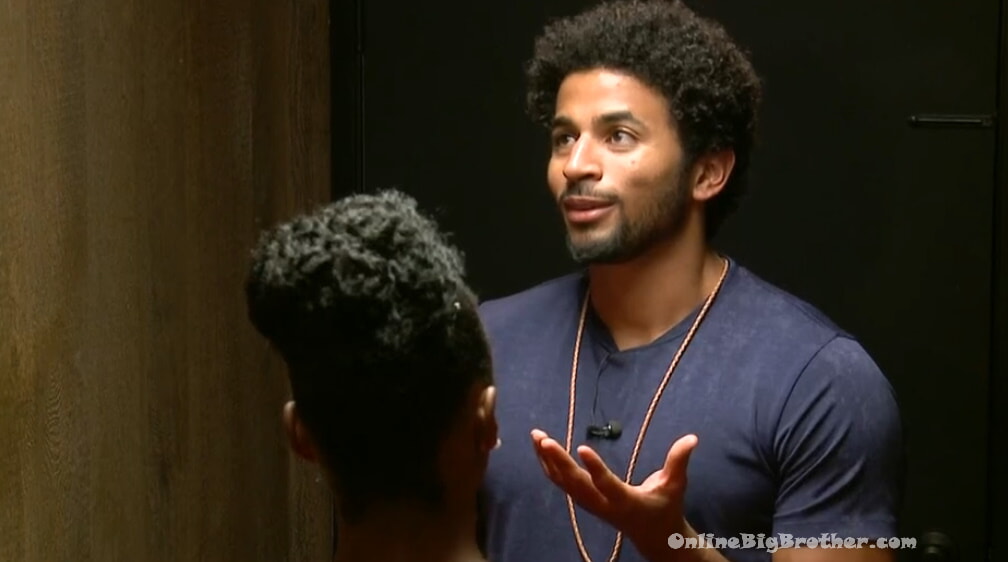 10:50 pm Azah and Kyland
Ky – The short version. I plan on keeping my side of the deal
Azah – I appreciate that a lot
Ky – I would appreciate if it was .. uh.. .I guess.. whatever you … cause I am doing that regardless if there is any way you could extend that to help me get to three I would appreciate that. I know it's a game a lot of things can happen. If you don't feel comfortable saying that I understand.
Ky – if you look at four do you have a preference of the three people that are not me you and Derek?
Azah – umm.. interestingly enough though me and Tiffany have had our differences I respect her and umm. on the other hand I respect Xavier's gameplay this whole time. Umm.. from looking at things in terms of who.. at this point, if I don't win who am I comfortable with winning but.. I feel that those people I would be completely fine I know their stories. With that being said completely understand if you feel different I respect whatever decision you have.
Ky – what I would say is it would be awesome tomorrow you can have your pros and cons for each of those people even just for those two. To share that would be helpful.
Azah says she understands now that they have reached six people will have their different targets. "I am completely respectful of that in no way am I going to push things"
Kyland – this is the happiest I've been all summer. I'm thankful for winning and for five. It'll be rough no matter what
Azah – do you want to put me up?
Ky – I do not
Feeds cut..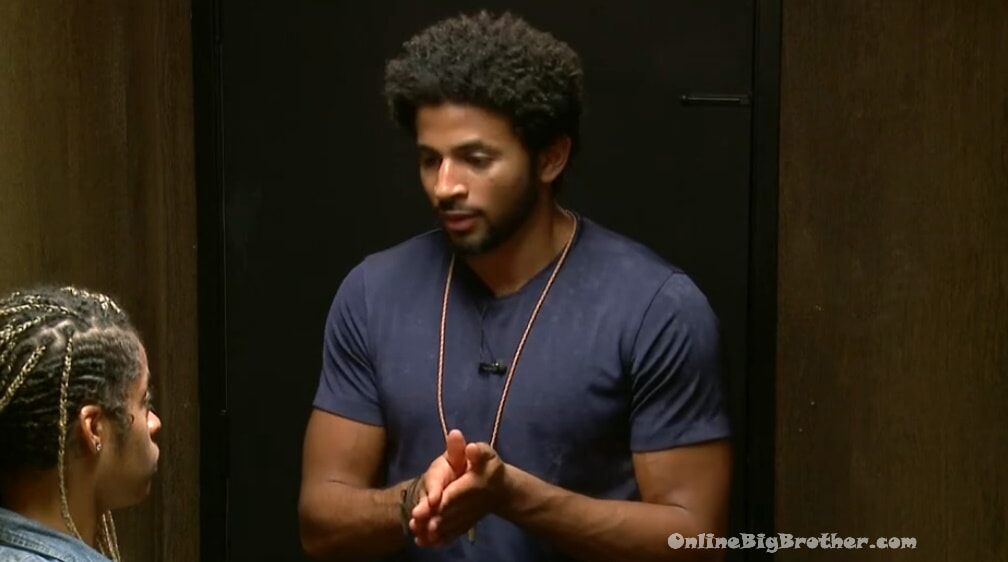 11:15 am Kyland and Tiffany
Kyland says he knows winning this HOH significantly increases the temptation not to take him "for anyone in the house"
Tiff – I would take you
Ky – it's also now.. for tomorrow what would be helpful is the full conversation stuff on the table.. and how you see potential votes with dynamics with people in the house
Tiff – I'm ready
Tiff – I don't have anything bad to tell you I have never done anything against you
Ky – I don't feel that
Tiff – I know how you feel and I understand that. I take accountability for where and what I have had a part in that but I have never done anything against you. I know that you know there have been times where I was disconnected and I owe you an explanation for that.
Ky – as much as you understand my view of things and hopefully figure out resolutions
Tiff says this whole time he was with her "to me" the whole thing with Claire was like the "Britini and Azah thing"
Tiff – we'll talk about it it's really just me in order to establish trust I need to accept accountability
Tiff – we need to have a full transparent conversation about it.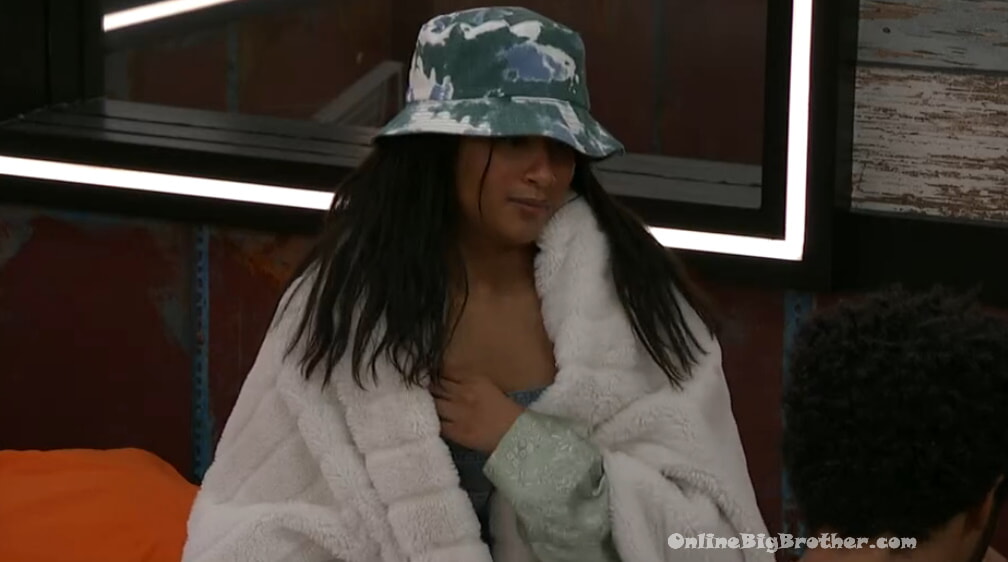 11:32 am Hannah and Kyland
Kyland says he's not promising anything until they have fuller conversations "tomorrow it would be helpful if to have conversations I dunno.. transparency"
Ky – it would be helpful to know what type of umm… sorry.. any sort of uhh.. . the bottom line this is the weird position it's the first one of us. That feels umm.. a recurring theme in the sense of.. first one of us
Ky – I want to have more conversations especially with you and Tiff.
Ky – my priority right now is to get to Final 3.
Ky – there is the potential where a third HOH makes more competitive at the end. It'll change the conversations around how winnable I am aginst the next two.
Hannah – Tiff could also win three HOH's by Finale
Ky – absolutely
Hannah – so can I technically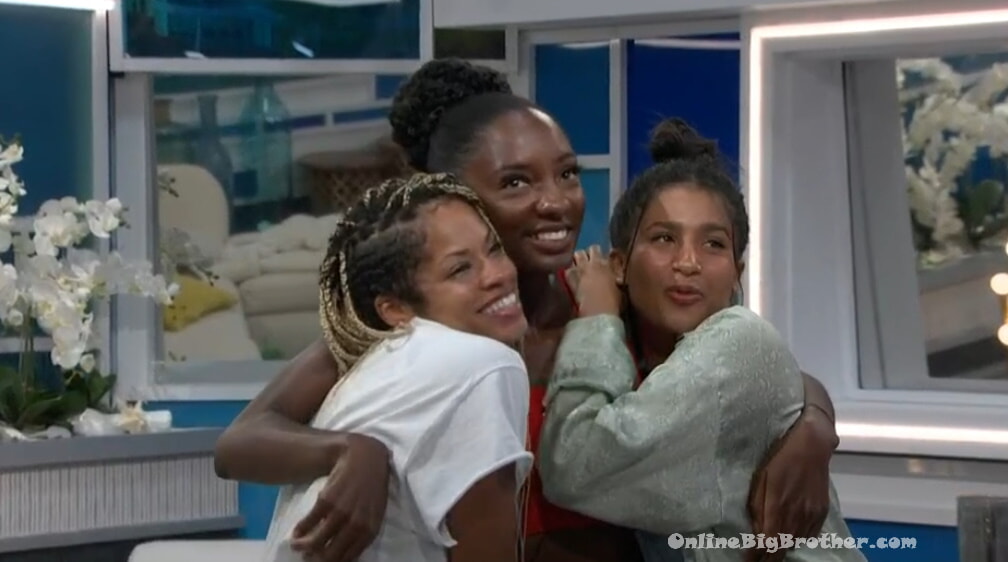 12:09 am The girls of the cookout pose for a picture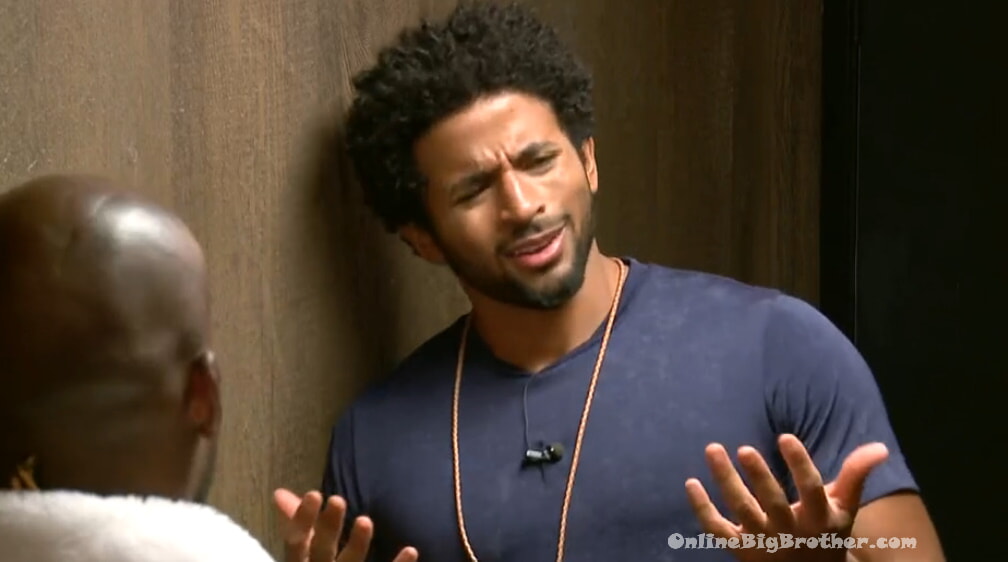 12:10 am Ky and X
Ky – I've looked at scenarios a lot. even if any other reason I change my mind it still wouldn't make sense.. I'm transparent always
Ky at the end of the day it comes down to who I want to sit with at the end.
Ky says it's like week two he's not telling anyone what he's doing.
X says it doesn't matter who won out of them in the 6 they just have to alternate now.
Ky – people know they've done things.. so it's like I told Azah. Hey I don't see a reason for us to target each other. She's done a good job building up a reputation of saying what she means
Ky says he told Azah he understands if him and BIGD are on the block she won't vote for them to stay. He just doesn't want them taking shots at each other.
Ky – she said she was down for 6 and 5 and asked if I have thoughts on a fourth person.. I said I might.
Ky says she told him Tiff and Xavier were her preferences for the 4th person.
Ky – she said nothing about Hannah
Ky – I told Tiff and Hannah. I'm not making any promises just like week 2
Ky – every scenario I look at it would make sense for both of them to go up because Hannah can win this veto. The replacement will probably be Azah. I wouldn't be targeting her. I'm pretty sure she will stay regardless.
Ky – it's a bad scenario for Tiff to win this veto we need to win this
X – we have to win.
Ky says he starts his one on ones tomorrow
X – I'm pretty sure they will all bring up my name
Ky – I don't think D
X – Hannah and Tiff definitely.. Azah is a toss-up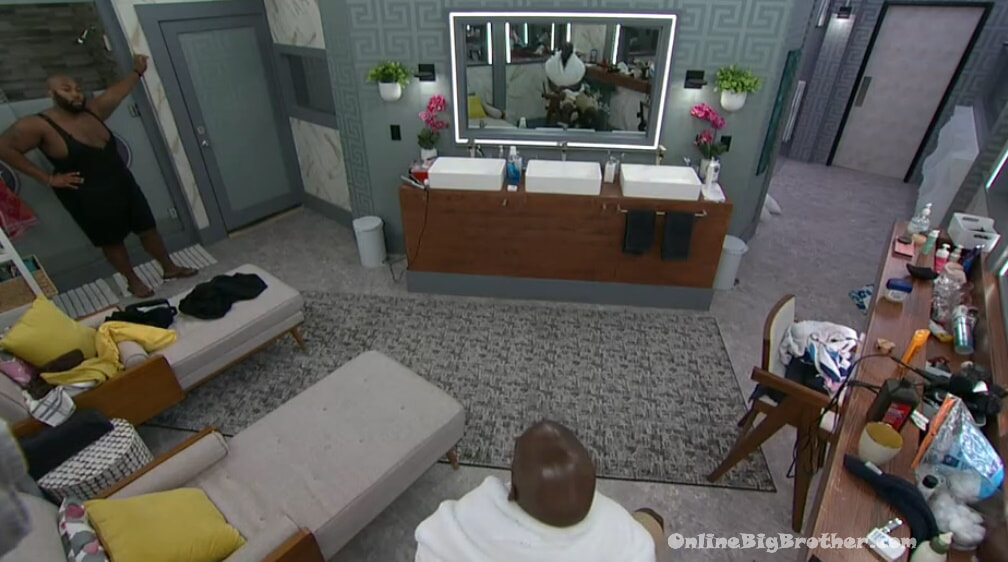 12:20 am BIGD and X
BIGD – is his head in the right place
X – mmmhmmm
BigD – I will stay on top of him and whatnot
BIGD goes on about how close he was to winning the HOH "I was going for the last egg.. I had it"
X – I know you wanted it I'm sorry
BIGD – All I had to do was get the f***Ing egg up the f***Ing ramp fat a$$ and slide it down hit a lever.. I don't know how I can.
X says recently he's been competitive close to the rest of them.
BIGD – lets get to the end so at least I can go home with 50 thousand dollars. I ain't winning that I can't win sh1t.. there's no way.. High jury. what do you have to say?
BIGD – I guess I played uh.. uhh… I guess I played a cooking, cleaning game and entertainment that's all I got for you.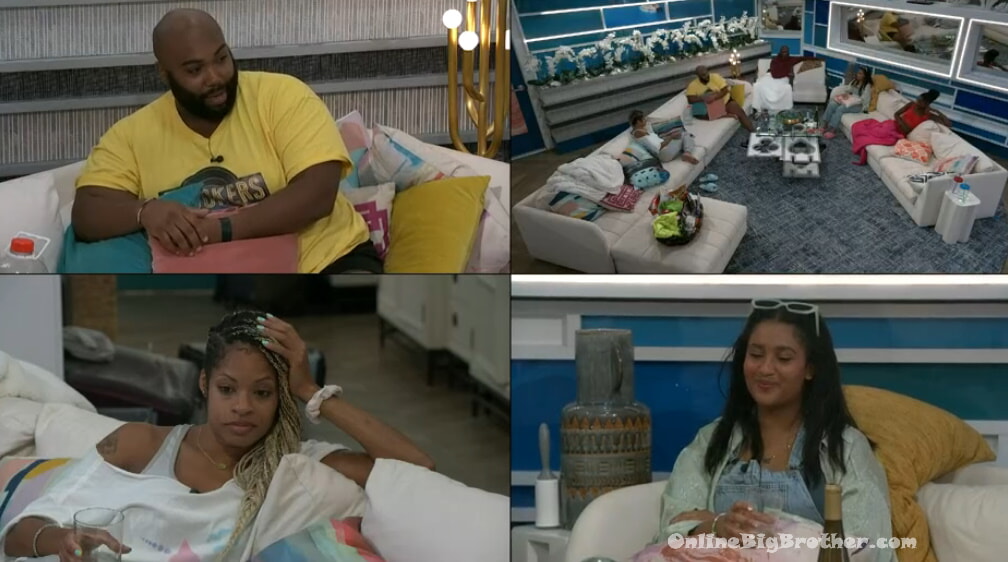 12:30 am – 3:30 am Cookout chit chat
(I guess they are waiting for Ky's HOH room?)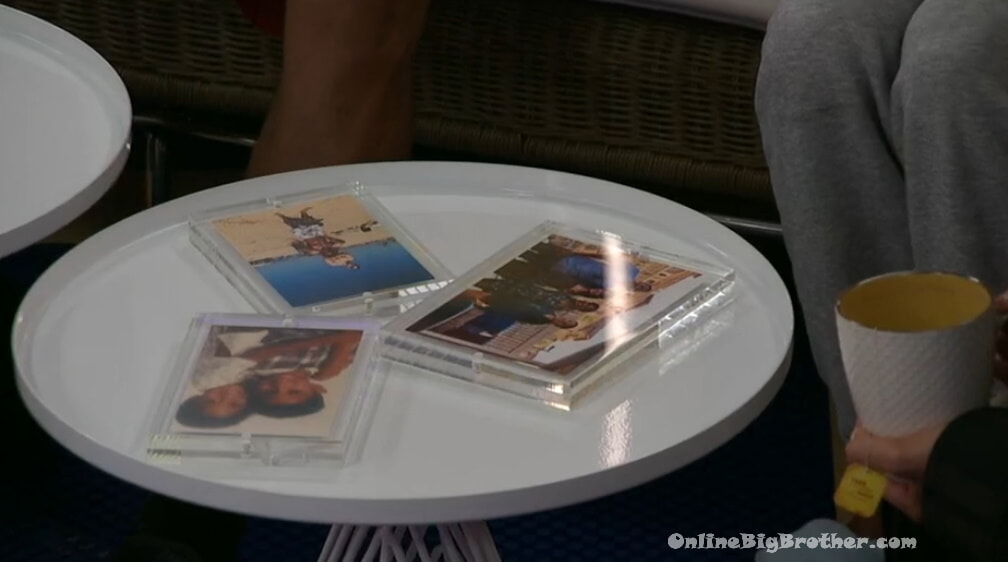 3:40 am Kyland gets his HOH room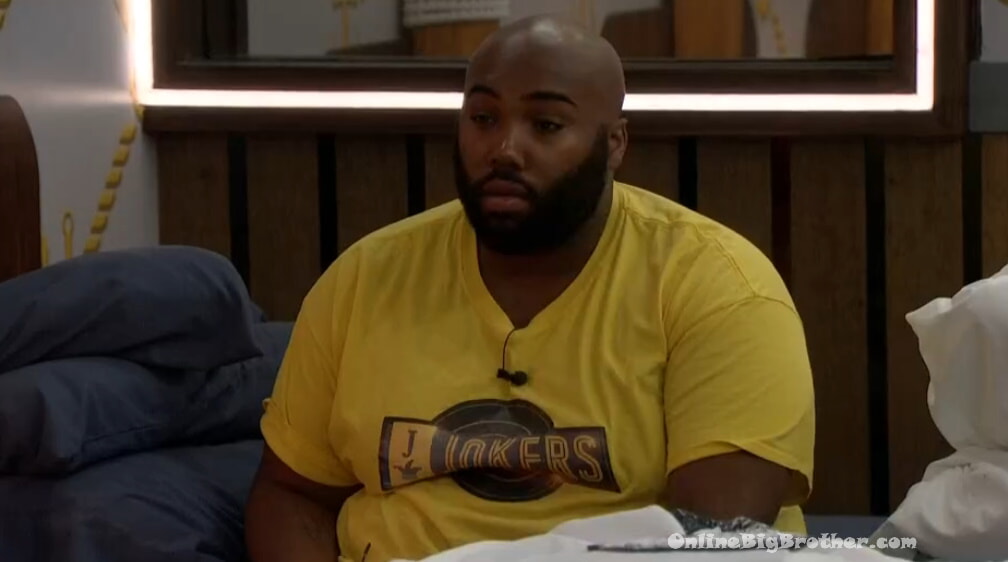 3:50 am Azah and BIGD
They talk about their short talks with Kyland.
DF says if Kyland is smart he'll put up Tiffany.
Hannah joins them. DF continues to feel bad about not winning the HOH.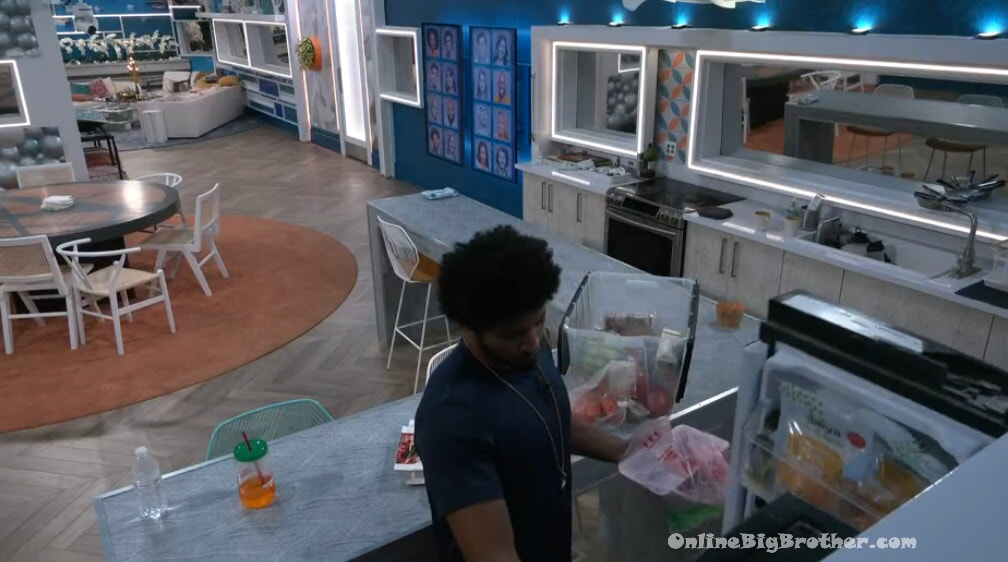 4:17 am Looks like Ky is organizing the fridge.. why not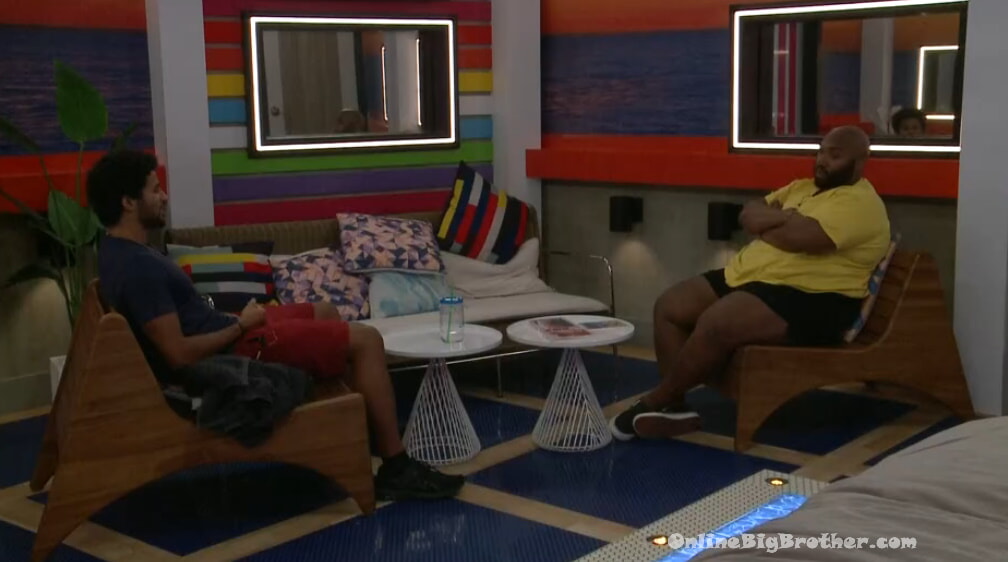 4:35 am DF and Ky
Df saying congratulations. Apologizes how he acted earlier today.
Ky says what is the best for his game is the same that is best for their game.
Ky says this is a repeat of week two, "If you win the veto come after me next week if you don't.. "
DF – I'm proud of you
Ky – I'm proud of us
Ky goes over his conversation with Azah.
They talk about putting Tiff and Hannah up. Ky explains why he wants to put Hannah up with Tiff because he feels she would be good at the BB comics veto. DF agrees putting both of them up is the play.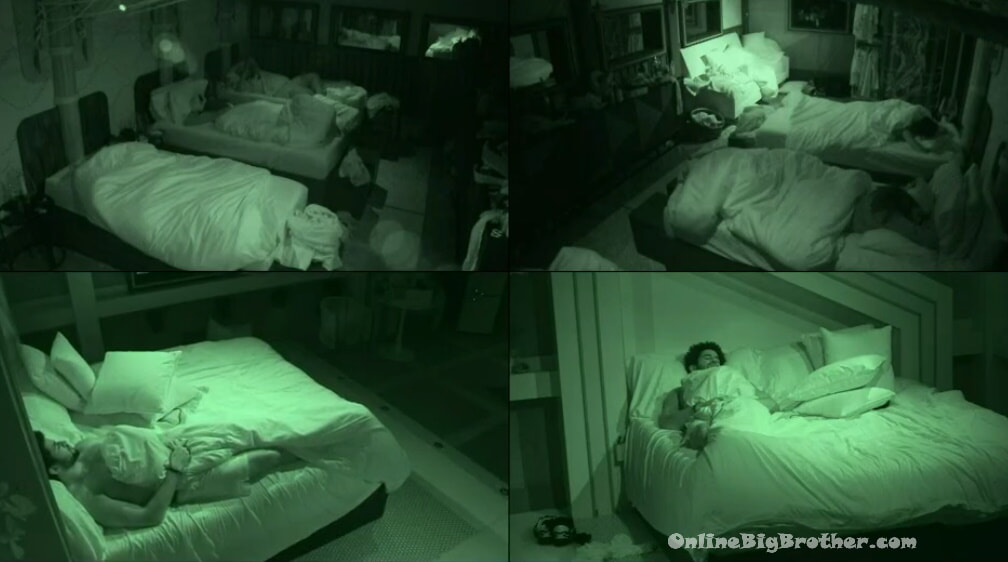 5:03 am zzzzzzzz
8:40 am Houseguests getting woken up.
Please consider a donation to keep the madness going.