HOH: Frenchie
SAFE: Derek F, Britini, Azah
HAVENOTS: Xavier, Christian, Sarah and Alyssa
WILDCARD Competition Winner: Christian
– Christian also saved Xavier
Nominations: Kyland and Alyssa
Power of Veto Players: Kyland, Frenchie, Alyssa, Travis, DerekX, Tiffany | HOST = DerekF
Power of Veto: Derek X
Power of Veto Ceremony:
WILDCARD Winner: the winner will also be safe for the week (just the winner, not the winner's team). With this reward there is risk. If the winning HG chooses to accept safety for the week, it will result in a punishment that may affect them, their team, or the entire house.
Big Brother 23 Houseguest Rankings – RANK THE HOUSEGUESTS –
View the previous day ranks on the – Ranking Grid
Big Brother Spoilers – As of 5am DerekX is adamant he will use the veto. Sounds like it'll be on Kyland and Travis will go up in his place. However Frenchie the GLue did mention throwing a curveball and putting Hannah on the block.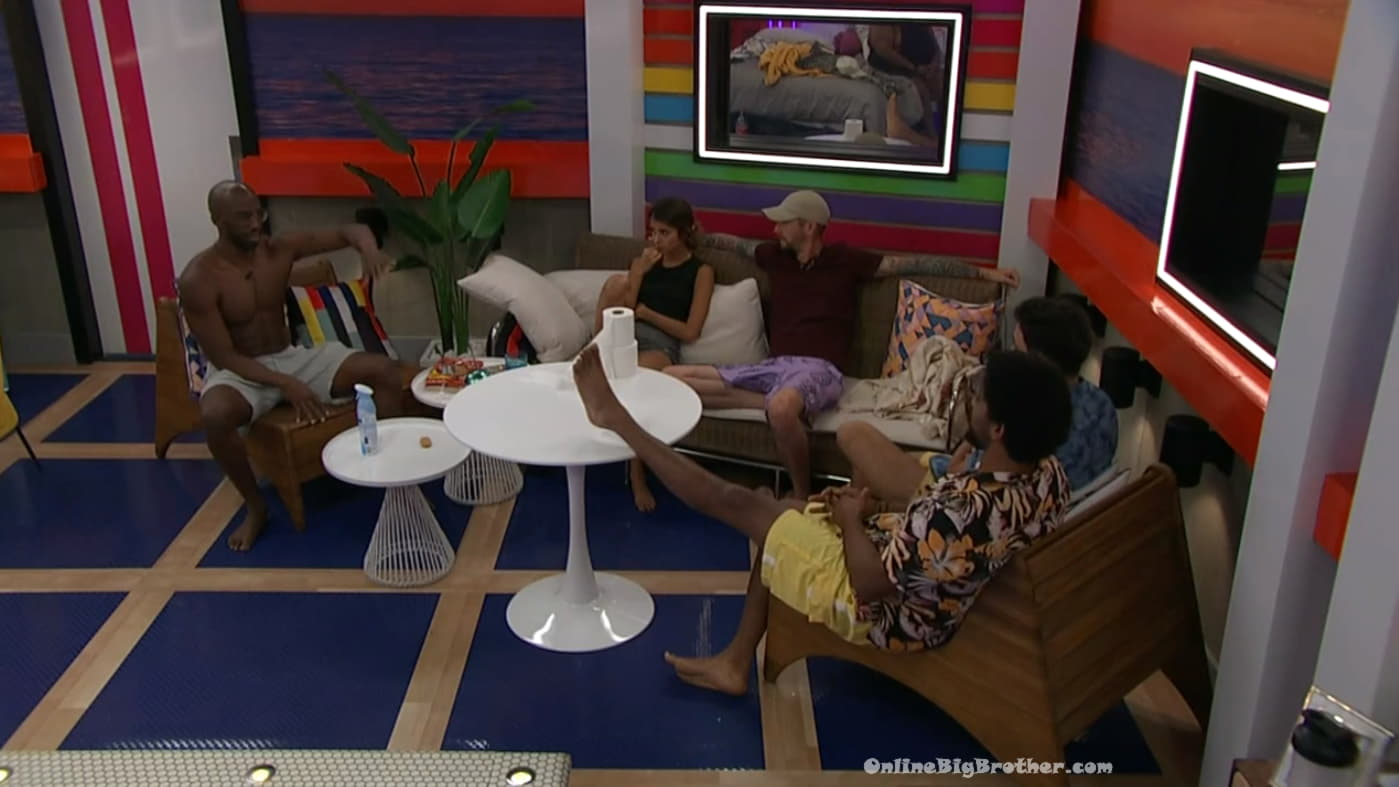 1:29 am Frenchie in the HOH with Alyssa, Xavier, Kyland, Derek
Frenchie – it will be 100% unanimous for Travis
Kyland – I heard I was 100% not going to be on the block
Frenchie – if you want to get….. okay you want to play that game..
Kyland – In all fairness that's the reality
Xavier – everybody relax..
Sarrah Beth knoicks on the door Frenchie needs to talk to her and asks some people to leave says he's pissed.
(THis is what sets Frenchie the clown off)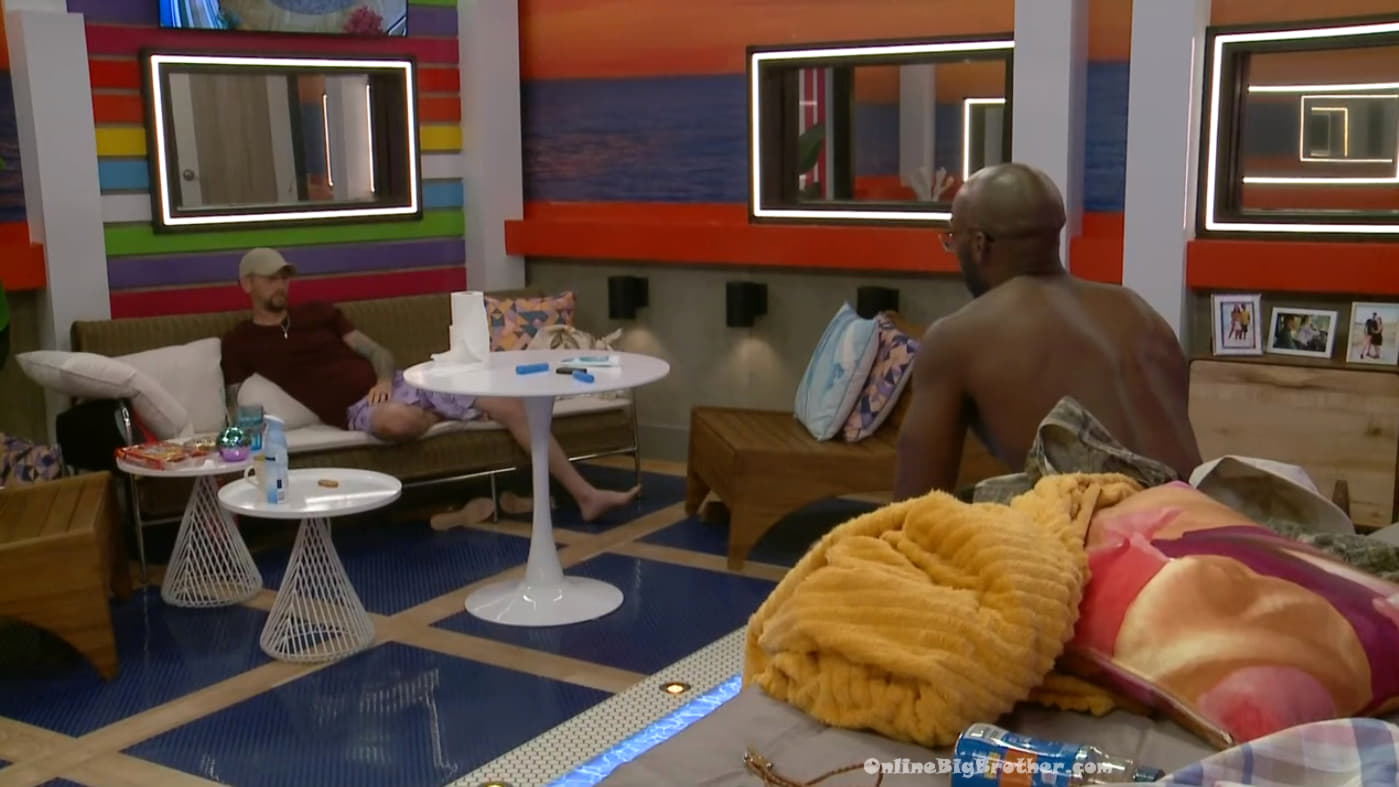 1:44 am Xavier and Frenchie
Frenchie says if people do piss him off he'll do what he did for nominations and throw a curveball "I swear to god"
Xavier – for your game I recommend no curve ball
Frenchie – is that a threat!
Xavier – no.. Frenchie.. this is me C'mon now.. C'mon now.. I just said for your game I don't think it's smart for a curveball.. this is me and you.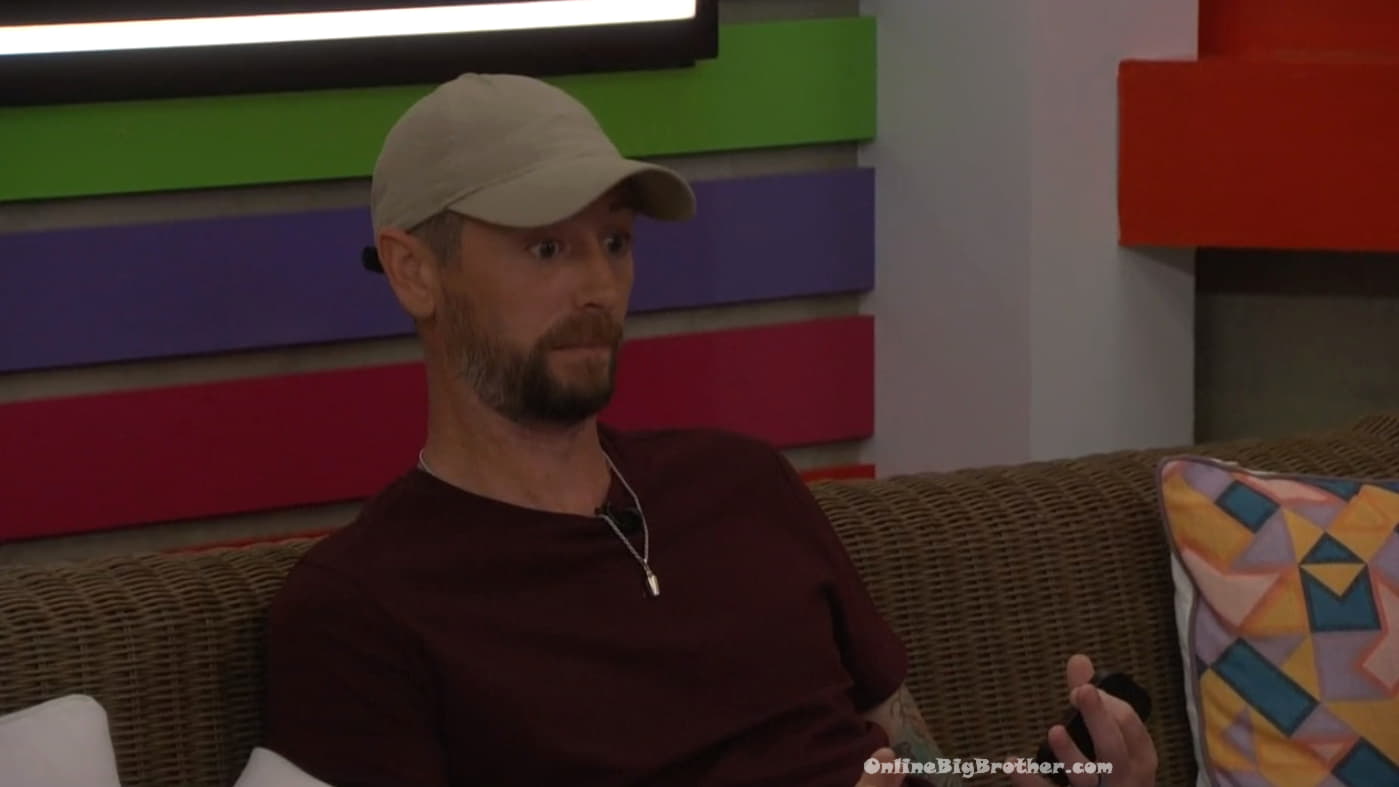 1:47 am Xavier, Brent, DerekX, Kyland and Frenchie
Frenchie "snapped" at Kyland for something "I don't do well with being disrespected that is why I snapped at you. "All I was doing was talking hypotheticals in every different way and I feel like I'm getting threatened with people saying if this doesn't happen"
Frenchie goes on about how he nominated Kyland because he trusts him and he was worried that was going to be a "F**Ed up comp"
Frenchie continues his delusions about if he picked two people on the block he wasn't close to and one of them won a power he would be "F***D"
(About Kyland "snapping back" to Frenchie earlier that set Frenchie off. Frenchie was explaining to the group how Kyland is 100% safe this week if he stays on the block. Kyland's snapback was "Yeah But I heard 100% I wasn't going on to be on the block" )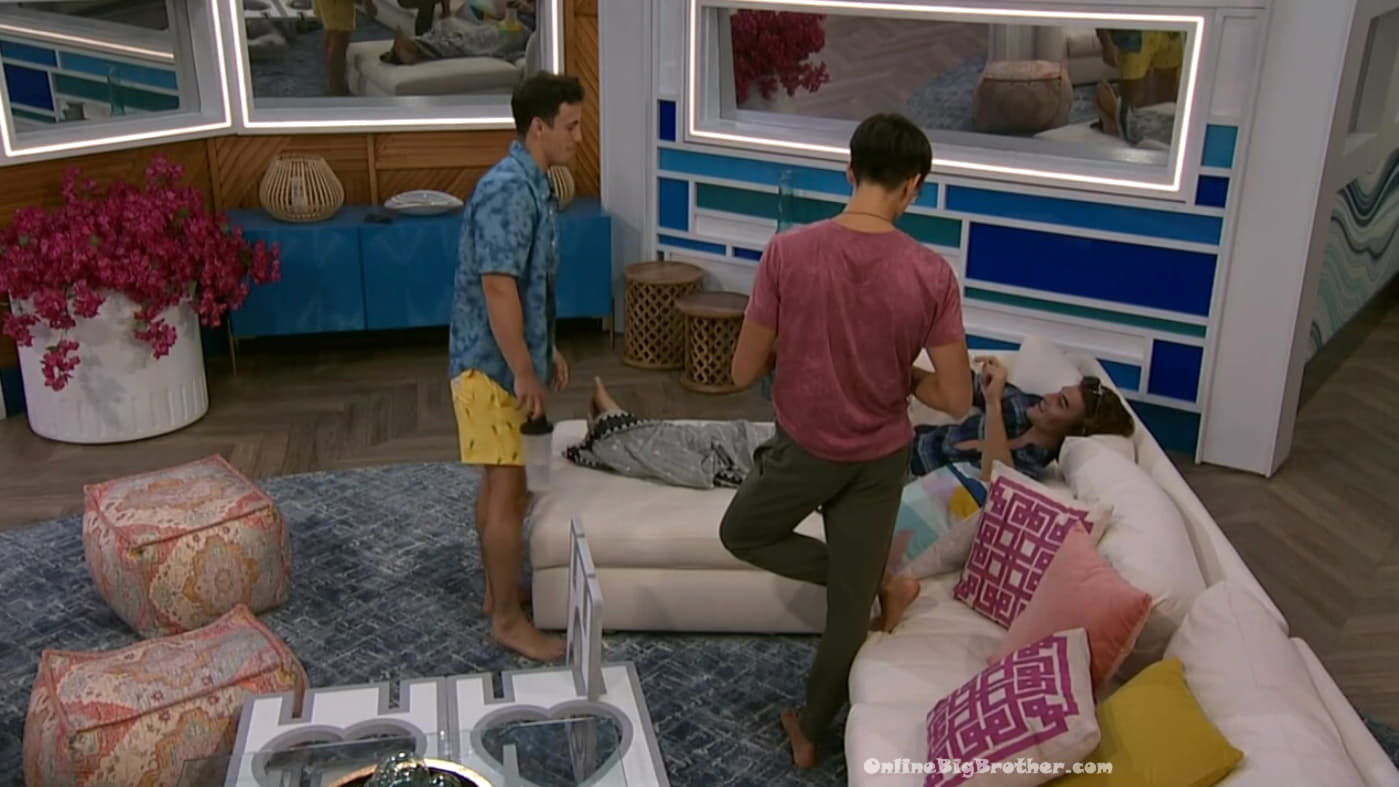 3:30 am Travis, Brent and DerekX
Travis asks if he goes up does he have Brent's vote.
Brent – I would have to go with Frenchie.. I was the target. I can't bite the hand that fed me
Travis – he wouldn't know though
Brent – still I gotta count my blessing.. like legit I was everyone's target but I still like you guys..
Brent – that wildcard comp f***ed everything
Travis asks Brent if he can put a birder in Frenchie ear to put up another girl.. "You're like his number one now"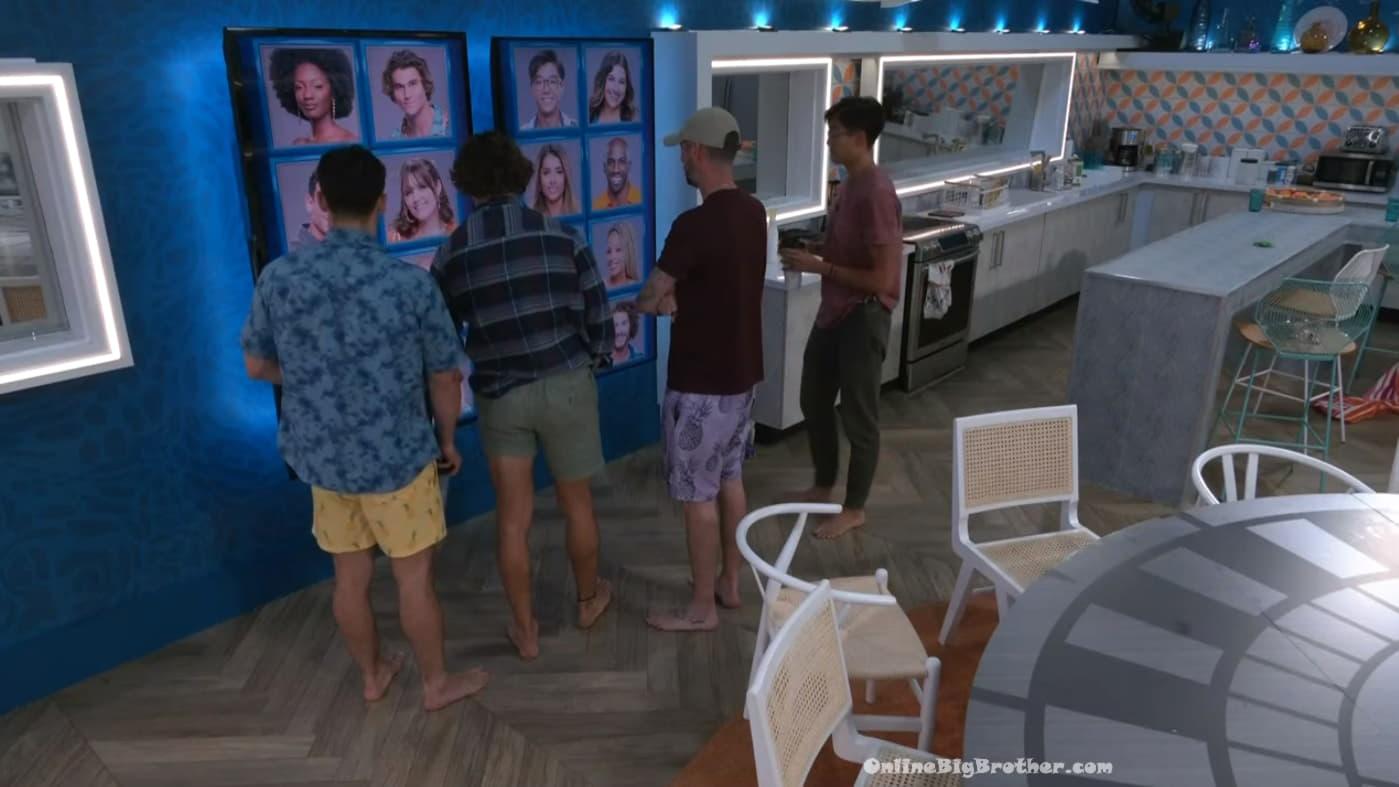 3:45 am Frenchie, DerekX, Travis and BRent
Frenchie – I'm pissed.. who are these people to threaten me like that?
Brent – Who.. what?
Frenchie – they threatened my game if this doesn't happen.. like and F***ing Ky did it to.
Travis – Ky didn't mean that as a threat
Frenchie – the way I took that bro is if you don't do this..
Frenchie – I'm pissed this is not how I wanted my week to go. If I end up getting really pissed off I'm goign to end up throwing a curveball like I did in nominations Shocked the sh1t outta everybody.
They head to the memory wall.
Frenchie – Hannah's available to go up..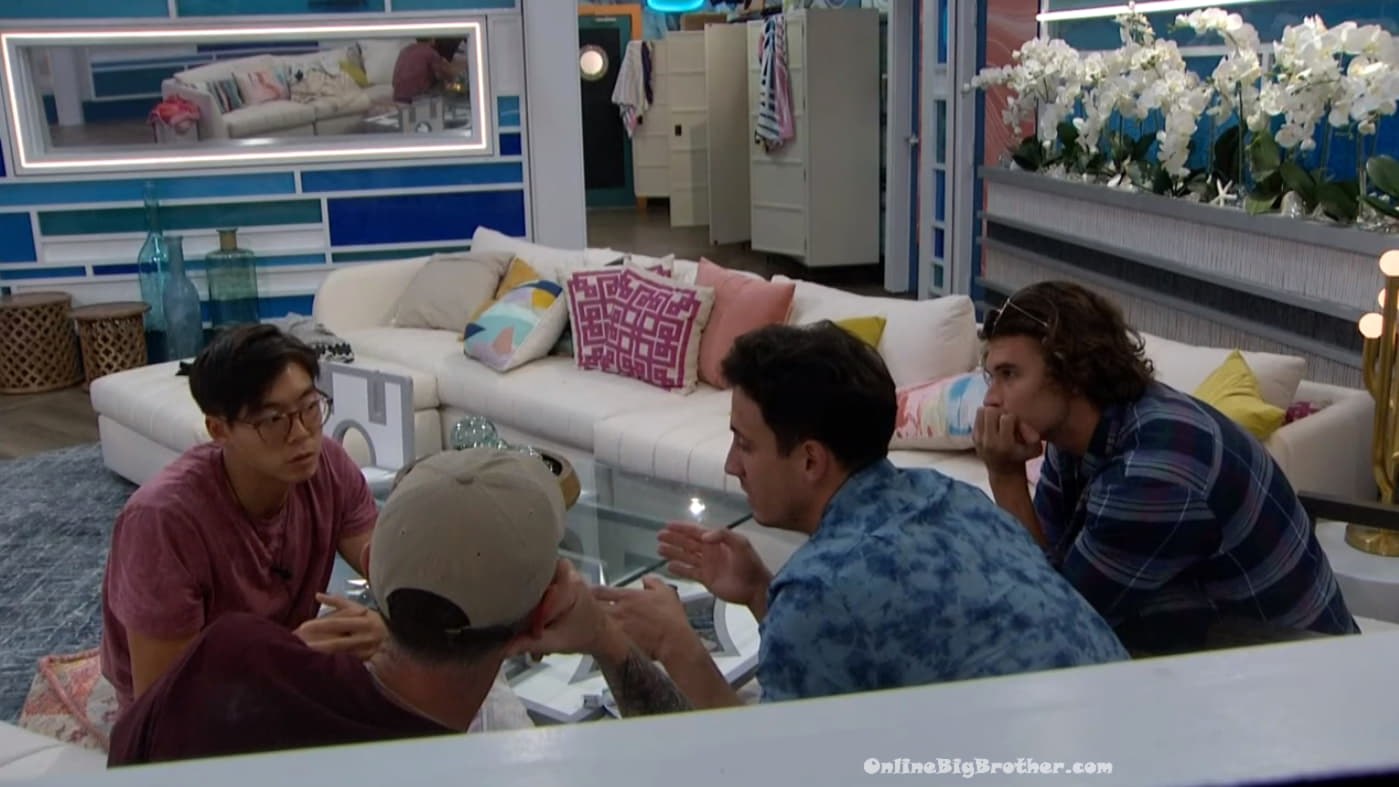 Frenchie – here's my thing at the end of the day I have to do what's best in my game. I'm already feeling like I'm being threaten to put him (Travis ) up
Frenchie – If I threw a curveball like I did in the nominations that would leave me with boom boom and boom and one other that I trust.. that would leave four other people that I trust I would at least have four votes to staty next week.
Brent – you would also have Alyssa and Whitney..
Travis – and Tiffany
BRent – and HAnnah
DerekX – you would have Kyland
Frenchie saying that Kyland is super paranoid.
Brent – why don't we not use the veto..
Frenchie – if we don't use the veto Alyss goes home and I'll be pissed. everyone will vote for Ky to stay
Frenchie – everybody here is thinking about people they like they're not thinking of their game that is what pisses me off .. no one is thinking of their game.
Frenchie – loyalty is key to this game f*** friendship..
Frenchie the glue clown keeps repeating that this is a game for 750 thousand dollars..
Frenchie – I hate the fact this wildcard comp came into play.. you know who scares the sh1t outta me in this game?
Frenchie – I gave Claire my absolute word I promised her on my kids .. I refused to do that.. at the time I promised her on my kids that was before the wildcard competition.
Frenchie – I have promised Hannah sh1t
Frenchie – If I do this I'm pissing off a lot of people.
Frenchie – if I put Hannah up..
Frenchie – if the veto was not used right.. here would be numbers going forward..
Frenchie – Me, Azah, Britni, you, you, you, Claire, Tiffany
Frenchie – Tiffany for sure she's ride or die with me
Frenchie – and Whitney.. there would be 10 against 5 .. after the next HOH it would be 10 against 5 no matter what.
Derekx – If I use it on Kyland what do those numbers look like
Brent – all the females you promised.. He's become a liability.. I can't really trust him. (Kyland)
Frenchie – I said it in front of the room.. that man is about to win 750 thousand dollars and you all will let him and I stand by that.
Brent says if they want to be "fair" leave the nominations the same and let the house decide.
DerekX – it's really bad for my game.. (not using the veto)
Feeds cut…
When we're back Christian has joined them.
DerekX – If I use the veto you will put Travis up
Frenchie – why? that's what everybody wants but I want to think of an alternative
Frenchie – here's the problem with not using the veto. Not using the veto can you secure the votes to evict Kyland.. if it's not 100% the Veto has got to be used.
Frenchie – if you want to solve the problem of Kyland going up use the veto on Alyssa and put another guy up..
DerekX – who would you put up SB?
Frenchie – I'm not putting SB up that's two people on the same team on the block. Do you really f**Ing think people will pick SB over Alyssa.. Alyssa will go home against SB
Frenchie – SaraBeth has friends all over this f**ing house
Frenchie says it's easier to rally votes against Kyland if they take Alyssa down. He's dangerous. He tried to make a final 2 with me. the person you thought was closest to in the house tried to make a final 2 with me. I love him to death but.. Alyssa and I have gotten really close she's like my little sister now.
DerekX suggests he tells the house Frenchie told him not to use the veto
Frenchie – I don't give a f* blame me..
DerekX – I'm telling you guys this now My mind won't change I am using the veto.. My mind is not going to change on this..
Frenchie – ok
Brent – you can put up a girl who do you want to put up
Frenchie – figure it out. I'm sitting on a couch with a bunch of meatheads.
Christian says Alyssa is on his team so if it's Travis and Alyssa on the block he's got to keep Alyssa.
Frenchie the best way to do this to take Alyssa off the block and Ky goes home, "it's more fair"
Travis says Kyland gives massages to all the girls he's got all the girls.
Frenchie and Brent now saying the best play is to use the veto on Alyssa, Travis goes up and Kyland goes home.
They go on about how it's fair doing it this way.
Derek – Can I talk to Kyland first.
Derek and Travis leave..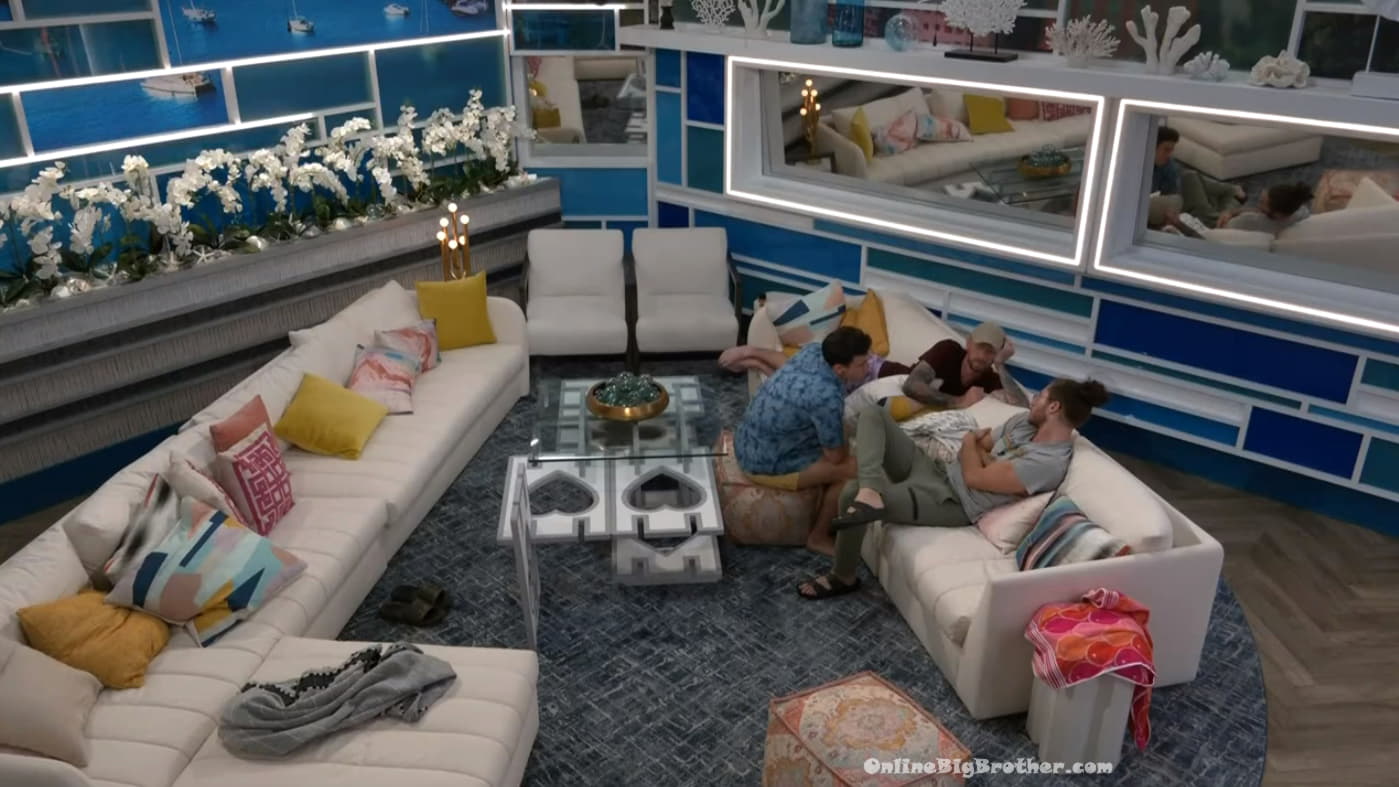 4:45 am BRent, Christian and Frenchie
Brent – this f**s up our whole alliance.. the Kyland thing. He'll tell everyone we had an alliance
Frenchie – I don't care. My main goal in saying that is to get Alyssa off the block.
Brent says Kyland will out the slaughterhouse.. they'll have to restart building it.
Christian – that is a big blowout..
Frenchie – I forgot about that
Christian – our best bet is Travis going home and honestly I would prefer Travis going home.
They go back and forth about what to do. They have big worry that Kyland will blow their games up
Frenchie complains about the number of people that are safe this week with the team's twist, Wildcard, and Veto.
They finally arrive at the conclusion that Derekx should use the veto on Kyland. Travis goes up and he goes home.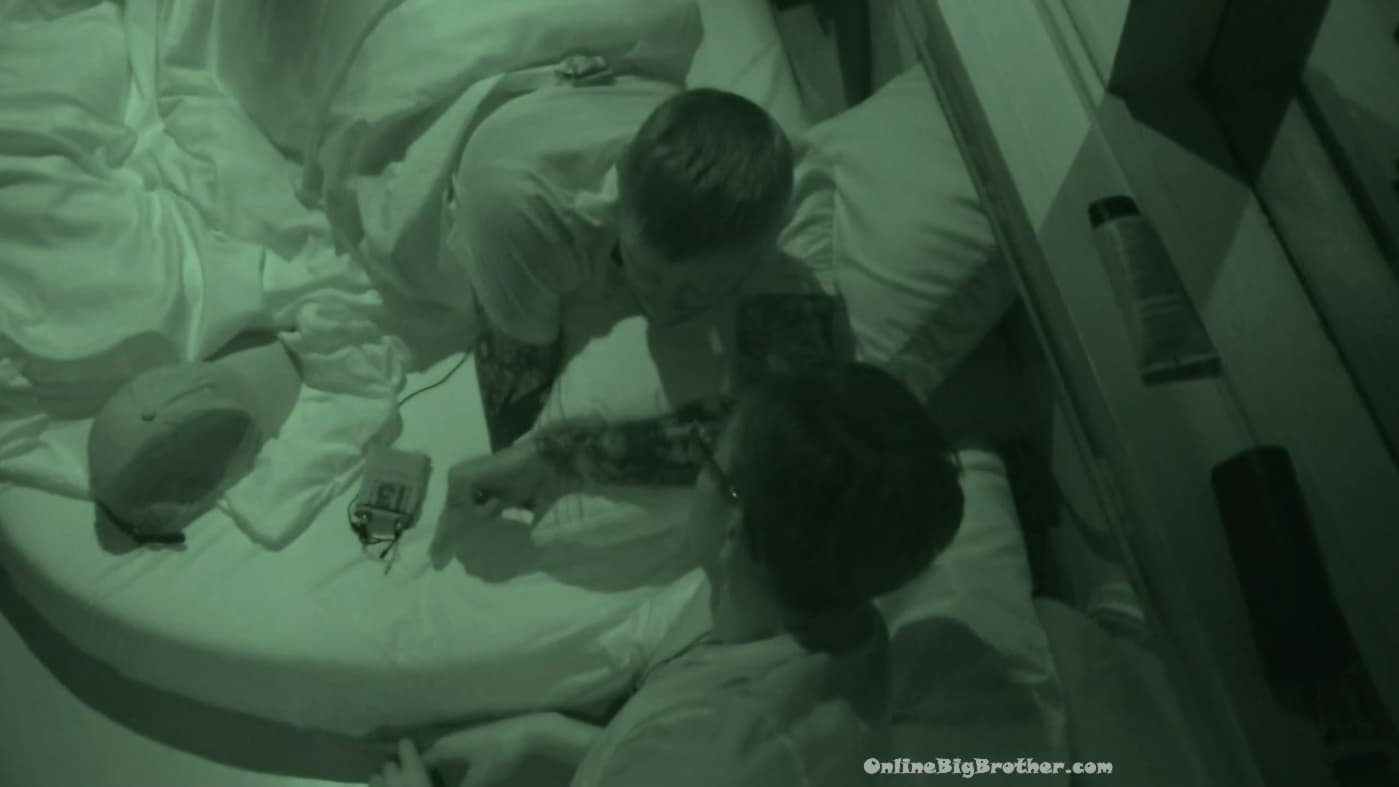 5:04 am A Meth addict and DerekX
Frenchie is trying to talk DerekX into not using the veto on Kyland.
Frenchie – if you ere wanting to make a stud move that is what you will do
Frenchie – I just want ot teach you a little bit about this game. what wins this game is not loyalty is BIG MOVES and jury votes.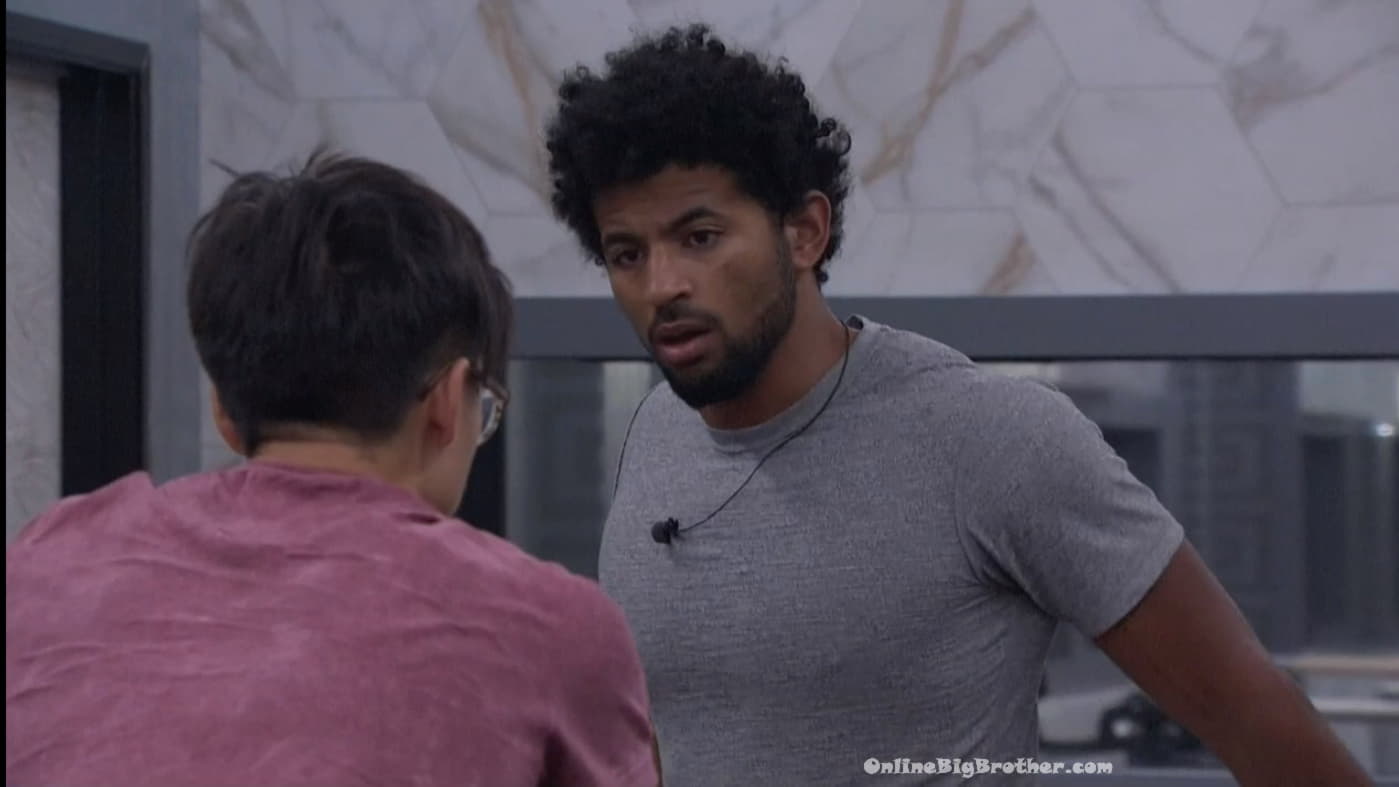 9:00 am DerekX and Kyland
DerekX is giving him an update about what happened last night.
DX – I'm still doing what I told you
DX – Travis was doing a pretty good job of convincing.. basically what we want to do is get him to put up a girl..
DerekX – best-case scenario we keep you and we keep Travis.. I told Travis the best thing is to convince Frenchie to try and nominate a girl..
DX – Frenchie was thinking about this.. we ran through all the girl options.. SB he can't do it.
They head into the Storage room
Derekx – let's chill in here for a minute
Kyland – this is the first place they have to come
They laugh..
DX – Brent was saying I feel like Ky has lied to me a couple of times. He thinks you lied about .. when he asked you if you were working with us at some point and you answered that's not true.
Kyland – you know Frenchie the number one thing is trust
DX – please don't tell Frenchie I stuck my neck out..
DX brings up Frenchie saying that Ky was trying to make a final 2 with him and saying to him "you can't trust this guy"
DX – he thinks you are less trustworthy than I think you are.
Kyland says he thought he had cleared that up with Brent it sucks he's still saying it.
DerekX – this is my strategy when I talk to them.. With Brent and Frenchie. it's better to take on more blame than you should.. With them you have to CRUSH your ego like.. Brent has been shitting on me for the past three days. It's so hard to hear honestly I want to fight on it.. Dude that isn't true.
9:18 am The house is getting up for the day.