POV Holder:
Steve
Next POV
July 3rd
POV Used
Yes
POV Ceremony
June 28th
HOH Winner Team 1:
James
HOH Winner Team 2:
Jason
Nominations 1 :
Steve, Jackie
Nominations 2:
Becky, Johnny mac
Battle of the Block Winner
Becky and Johnny Mac
Next HOH/ Next BOB
July 2nd / ?
Original Nominations:
Becky, Johnny, Steve, Jackie
Current Nominations:
Jace, Jackie
Have Nots
Austin, Da'Vonne, Liz, Vanessa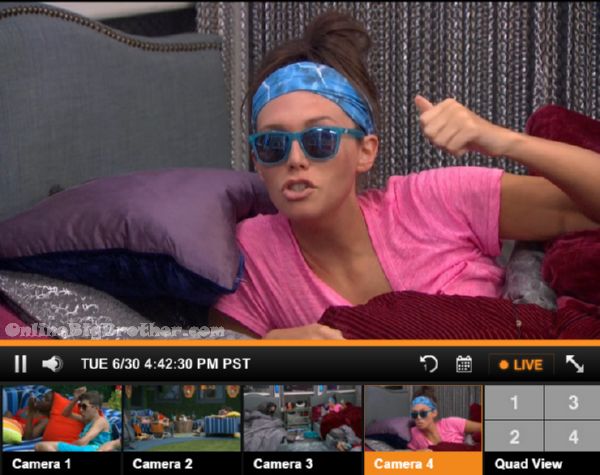 4:41pm Audrey and Jeff
Audrey asks him what did she do to him for him to be pissed. Jeff explains he heard she was throwing his name under the bus, trying to keep Jace and was saying he had an alliance with Meg that was plotting against the group.
Audrey denies says she never did that tells him she's always trusted Clay, Jason and Jeff 100%
Audrey – I've never thrown you under the bus
Audrey tells him this is a personal vendetta against her from DAY, Day was the one spreading these lies about her.
Jeff thinks there has to be some truth in what is going on though it's coming from everyone in the house.
Audrey again says it's because DAY wants her out.
Jeff tells her more people in their group are saying that she's playing the middle not just DAY.
She asks him why would she bring a group together then to just exploit it and separate it. There's still a lot of other people in the game.
Audrey suspects DAY and Jason are trying to collapse the alliance. DAY is close to Liz who is close to Austin and Vanessa.

Austin comes by.
Audrey wants him to say specifically what she's telling him to get him against Jeff.
Austin says he doesn't want to talk about that today they've squashed it.
Audrey asks Jeff what did she tells Austin that pulled them apart
Jeff says it was from other people not Austin.
Audrey – Why isn't anyone wanting to get empirical evidence
Audrey threatens them that she still can win HOH she will base her nominations on who isn't being straight with her.
Jeff leaves.
Austin tells her she needs to stop bringing people aside and talking to them in corners. She needs to start fresh tomorrow building relationships from the bottom.
Austin's still trying to figure out if there is a 8 person alliance in the house, He doesn't think Backdoors happen unless there is a big group. Audrey says there was a group she would like to name them but it will come back to get her.
Audrey tells him she knows for sure either Clay or Sheli will not try and win HOH. She offers him her ring as collateral to build trust. She thinks Clay and Shelli are still trusting her but they are being careful not to damage their own games. She reminds him that JAce's backdoor was planned well in advance and everyone knew about it except for Jace, Liz and Austin.
Audrey tells him she wants to work with him.
Austin – there's a way I still can help you
Austin says the nerd herd alliance is real we're the nerds. Audrey says the group she was in have thrown her under the bus she's willing to let go.
Audrey warns him that DAY and Jason are very close.
Austin – Should I trust clay
Audrey – to be 1 million percent honest I don't know
Austin – I want to so bad
Audrey – I feel like I'm playing who framed roger rabbit
[envira-gallery id="117902″]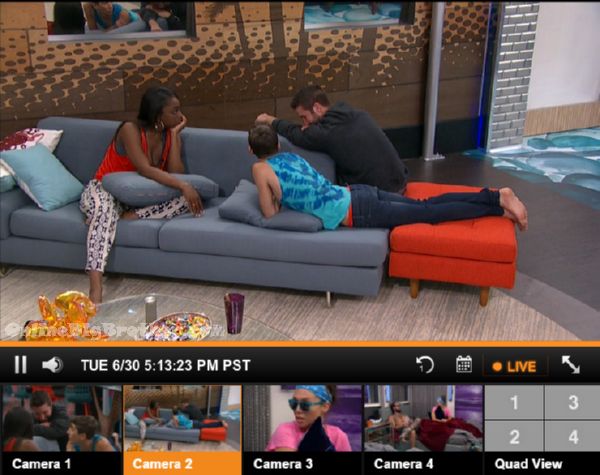 5:13pm Jason, Jeff and DAY
They agree Austin needs to go after Audrey. Jeff says Austin is his arch enemy.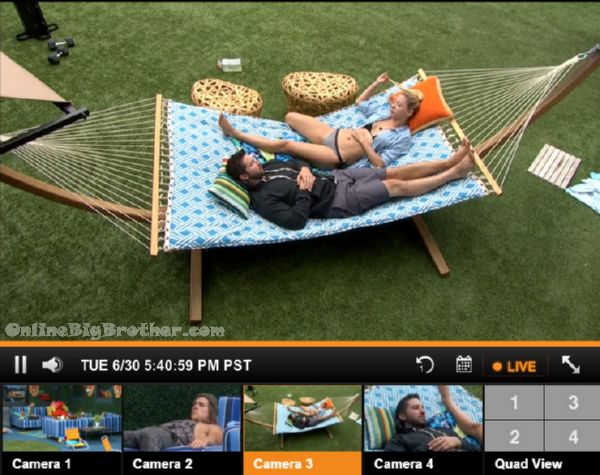 5:40pm Hammock Liz and Jeff
Jeff tells her after Audrey goes Austin is the target. Liz says she'll need to distance herself from Austin than. Jeff says Austin thought he was a little b1tch he didn't realize Jeff had so much pull in the house.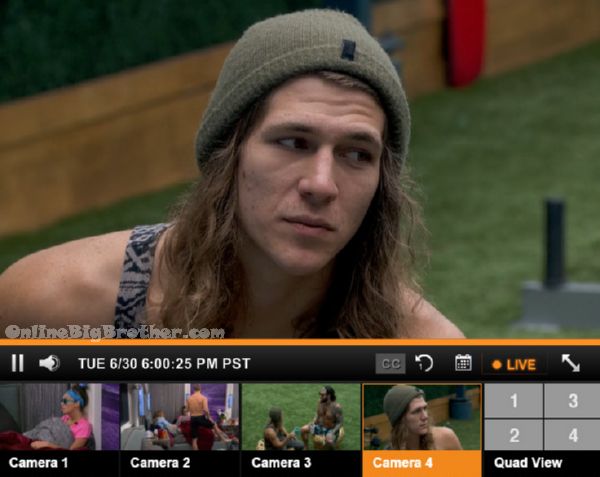 5:52pm Jace and Austin
Austin gives him a debrief of his conversation with Audrey. Says Clay and Shelli are playing both sides and will throw HOH's so they can keep playing that angle.
They go through the numbers, Austin, Liz, Becky, Steve, JohnnyMAC, Vanessa and Audrey
Austin – This is the move this is the underground revolution.. we'll use Audrey to our advantage.
Austin says Becky is alone like Steve, Meg is in with Clay/Shelli. Austin wants Audrey and JAce to organize this meeting adds that Audrey is good at doing that.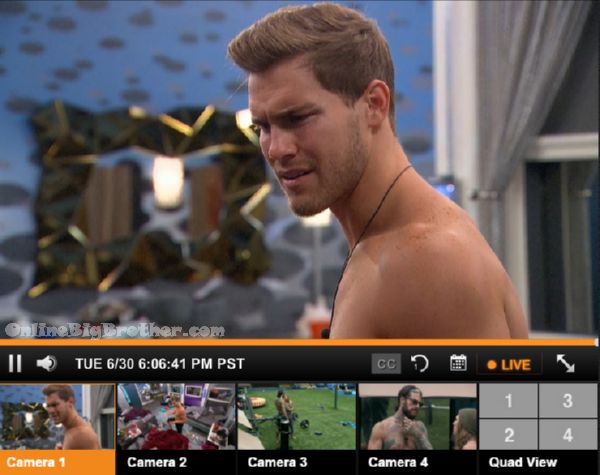 5:57pm Audrey, Shelli, Clay
Audrey thinks the best move for them is to out the 8 person alliance.
Audrey telling them Austin has Liz for sure. She points out that MEG is with Day and Jason not Shelli. Audrey plans to put Meg and DAY/Jason up if she wins the HOH.
Audrey tells them she's already been approached by people to work with them but she won't tell them who.
Clay – if you can't tell me who now I'm out
Clay presses her to tell him, threatens if she doesn't he's done with her.
Audrey won't.
Audrey wants some of them to have a meeting parts of the group they still trust.
Clay doesn't want to be seen talking to her it damages his game
Audrey – why would I work with you
Clay – then don't work with me
Clay says Audrey lied right to his face about Jace
Audrey denies it "He did say that"
Clay – you're lying
Audrey – I swear on my life.. I swear on the bible
Clay – you're word to me is sh1t you've lied to us
Clay is getting heated.. Shelli tells him to cool down.
Audrey says Clay lies too
Clay denies it tells her that his Diary room sessions support her.
Jace comes in says he's given up he's done trying to get votes.
Shelli and Clay do not want her to out the 8 person alliance. Clay says it's a big f**** you to them. Audrey thinks Clay just wants her to lay down and Die. Clay says if she outs their alliance the entire house will see they are playing the middle that includes Audrey.
Clay tells her things are different now between them now that she's lied to him and Shelli.
Audrey brings up two people (DAY and Jason) in their group showed major character flaws
Clay asks her what did she show if Day and Jason showed flaws.
Audrey considered those things small scale in the the grand scheme of the game.
[envira-gallery id="117912″]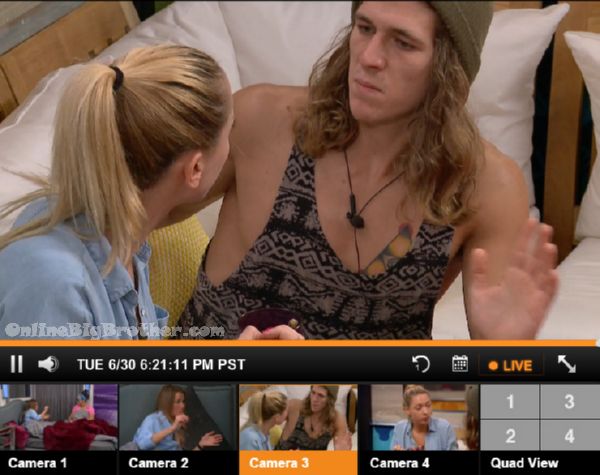 6:23pm Jace and Liz
Jace – I'm taking control of this house this week
JAce explains they are calling a meeting with Audrey, Austin, Becky, Vanessa, Steve, JOHNNYMAC and Liz.
Jace points out those people are not part of the other alliance they are the outsiders
Jace adds that MEG, james, Jason, Clay, Shelli, Jackie were in the other alliance. Audrey was too but now she's out.
Jace says they are going to wait for tomorrow to call the meeting. Mentions that Audrey needs them as much as they mean her.
liz – there's a huge alliance in this house
Jace is going to call the alliance VIVA LA Revolution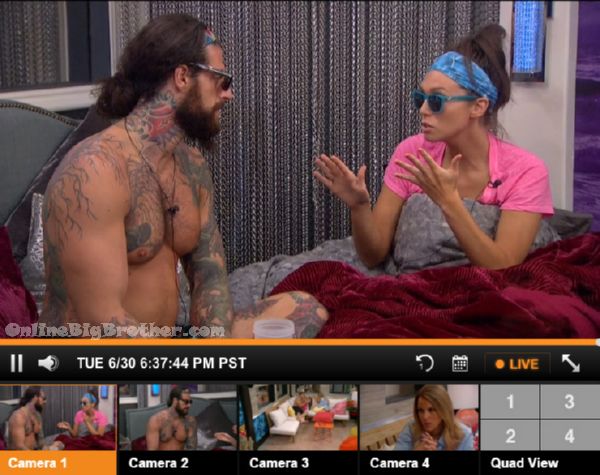 6:32pm Austin and Audrey
Audrey – you can trust Clay
Audrey adds Clay and Shelli are not thinking long term .
Audrey outs the 8 person alliance – Day, Jason, James, Meg, Jeff, Shelli, Clay, Audrey with Jackie on the outside because she was with Jeff.
Austin tells her to save her game have a really good conversation with Jace and Vanessa
"There's enough numbers on the other side"
Audrey – What can JAce do
Austin – he's got a whole plan you're the free agent vote
Audrey – I'm done with you.. I promise you my private loyalty.. I will never nominate, Never backdoor
Audrey says he's the only person to come to her and she will never forget that he gave her an opportunity.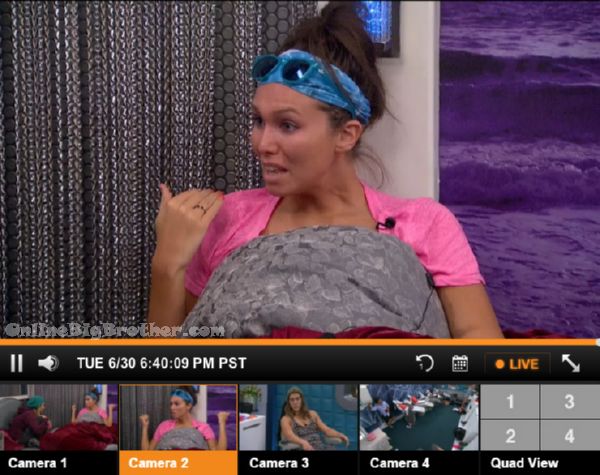 6:40pm Vanessa and Audrey
Audrey crying says she was never coming after Vanessa
Audrey – I swear on my life you can ask Shelli I want nothing to do with the other group I was saying I trusted Vanessa
Audrey says two people have been acting like opportunists after her "DAY and Jason"
Audrey outs the 8 person alliance to Vanessa.. Throws a lot of Mud at DAY.
Audrey says she told her group she had every intention to Backdoor clap and now this happens.
Vanessa asks her abotu the plan to backdoor JAce when was it made. Audrey says it was James plan for a while, Steve was the pawn he was in on it. Vanessa brings up James lying to her about it he told her it was Audrey's plan.
They agree their only chance is to flip the house. Vanessa asks who is targeting her. Audrey says DAy and Jason have been throwing out Vanessa's name.
Audrey explains if the big group was not outed Clay and Shelli would keep throwing the HOH's so they can play both sides.
[envira-gallery id="117920″]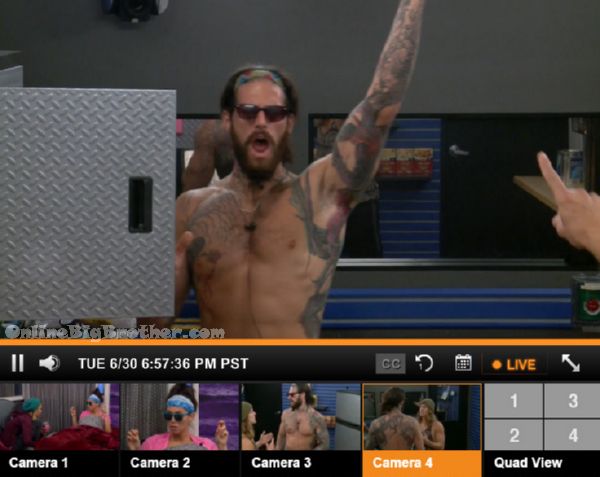 6:58pm Storage room Jace and Austin
Excited about their chances to flip the house. Jace asks how are they going to get Steve and Becky. Austin thinks it will be simple once the big alliance is revealed if they don't do it they are going to get picked off one at a time.
Jace – we're going to pull this off we're the heroes of the season.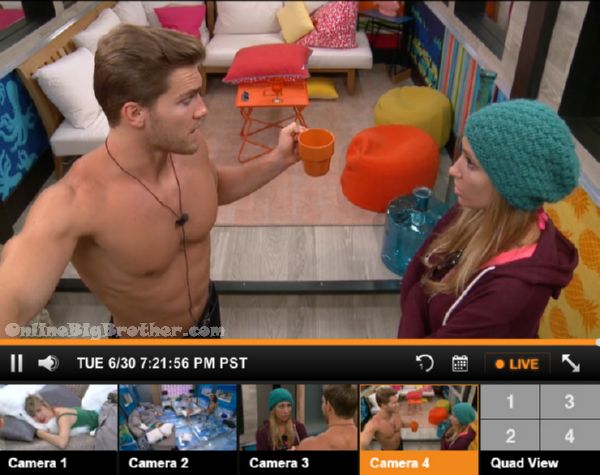 7:22pm Clay and Vanessa
Clay – "There's way more targets than you and Austin"
Clay has no problems picking a John, Steve.
Says the alliance he's in is in shambles it's already crumbling. The target next week is already figured out but the week after that they can work together from both sides.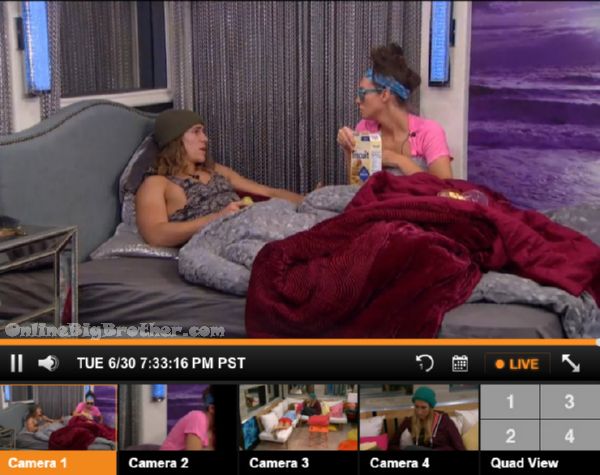 7:24pm Audrey and Jace
Audrey tells him Becky's vote is going to be hard because she's close to Jackie. Audrey tells him the best person for him to get to campaign for him is Vanessa. Audrey goes through how JAce found himself backdoored adds that DAY, James and Jason were the masterminds.
Audrey tells him Shelli and Clay are trustworthy but they are working both sides. He cannot trust Jeff, Jackie, Day, James, Jason or Meg. She thinks JAce's best thing is to exploit DAY she's an emotional player. She recommends he get Vanessa to work people individually.
Jace says he's count the votes if they pull this off they can get, Becky, Steve, Liz, JOHNNYmac, Austin, Audrey and Vanessa
To evict have him the other side has Meg, Shelli, Jeff, Clay, DAY and Jason
Live Feed subscription gives you CBS All Access thousands of archived shows. Live Shows like Big Brother, all the Big Brother Seasons, and 24/7 coverage of what is happening inside the Big Brother House. Plus there's flashback that lets you go back to any second of the feeds and rewatch what happened. Simon and Dawg will index the season just watch the parts worth watching.
All this for $5.99 a month try it out 1 week free. Support our efforts and get your feeds via a link on this site. Live feed subscription Sign up

[polldaddy poll=8954355]
Share it YO!!
Tweet