POV Holder:
Steve
Next POV
July 3rd
POV Used
Yes
POV Ceremony
June 28th
HOH Winner Team 1:
James
HOH Winner Team 2:
Jason

1


Nominations 1 :
Steve, Jackie

1

Nominations 2:
Becky, Johnny mac
Battle of the Block Winner
Becky and Johnny Mac
Next HOH/ Next BOB
July 2nd / ?
Original Nominations:
Becky, Johnny, Steve, Jackie
Current Nominations:
Jace, Jackie
Have Nots
Austin, Da'Vonne, Liz, Vanessa
3:20pm Kitchen Jackie and Jeff
Talking about not talking looking sucscious but talking also looks suspicious. Jeff – It's a lose lose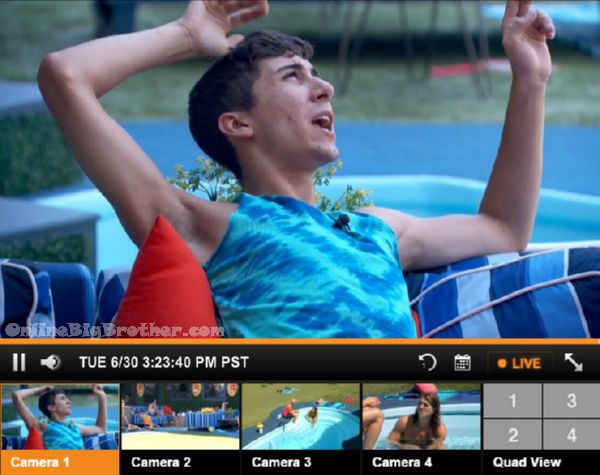 3:24pm BAckyard
jason dad send a plane instead od a banner drop some cigarettes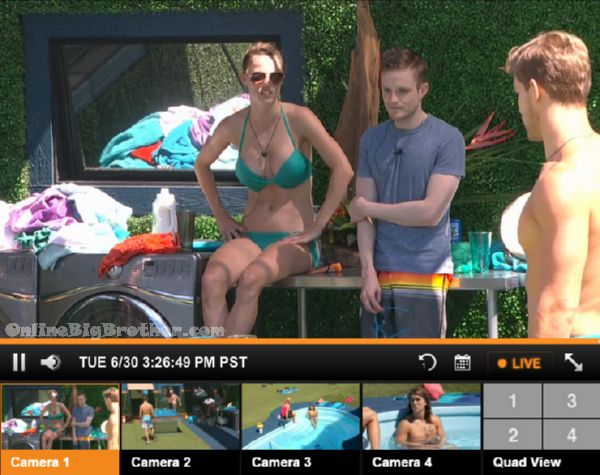 3:28pm Pool table Becky and JOHNNYMAC
Becky telling him about when she lived in Berlin, mentions Hitler died around the corner from her apartment. She brings up a stories about how Germans dissuade neo-nazism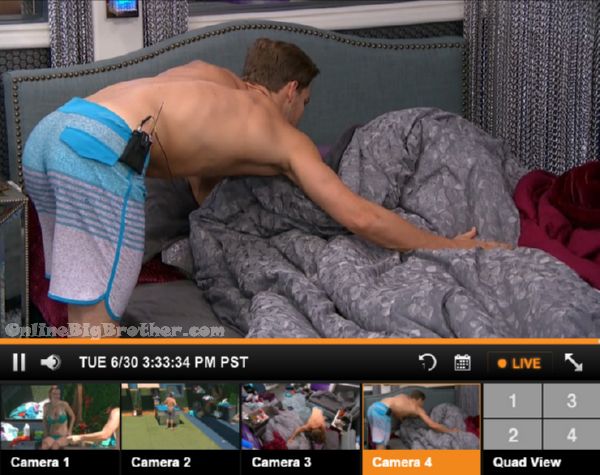 3:34pm Bedroom Audrey and Clay
Clay tells her not to be upset
Audrey cries you believe her
Clay tells her she's got a long time left.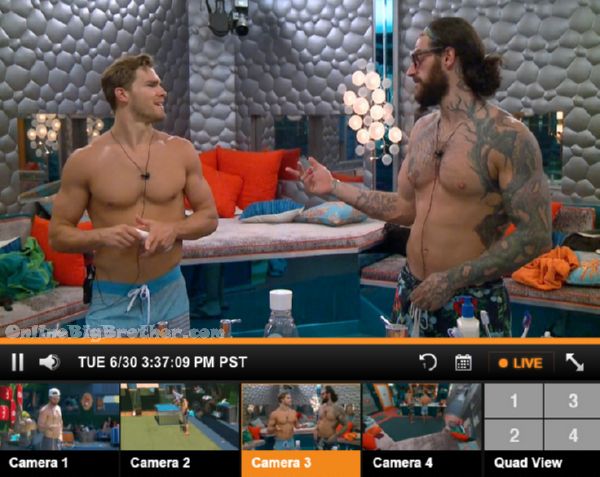 3:37pm Bathroom Austin and Clay
Austin telling Clay that Audrey made up the story about Liz throwing him under the bus.
They are worried about Sleeper cell getting outed by Audrey.
Austin tells him he doesn't think Jace is going to stay right now, adds that it's better for their game that he doesn't.
Clay – We're sitting good right now
Austin brings up Jace telling him he's going to start campaigning hard. Austin hopes he just stays quiet for today.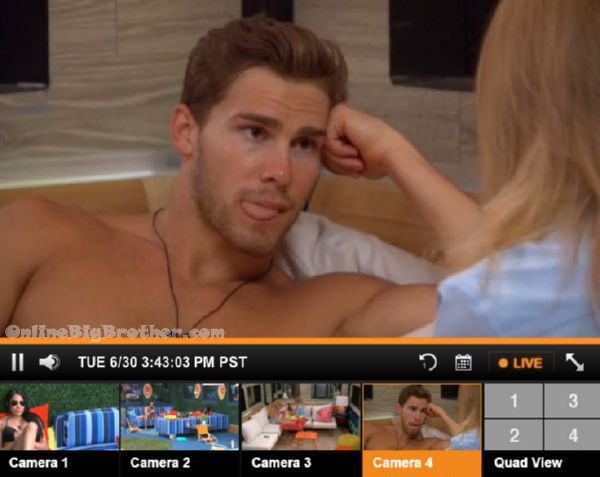 3:41pm Shelli and Clay
Shelli – do we trust DAY or do we trust Audrey
Clay – DAY won't get us too the end.. Audrey is a liability
Shelli – do we trust the things DAY is telling us right now
Clay – the stuff that she said… DAy's not making that up it happened in respect to Audrey.. she lied to my face Audrey.. she's guilty she's very Guilty

Shelli says Audrey played a really good game and now it's blown up in her face, "We love her as a friend but as a Big BRother player we're concerned"
Shelli brings up Audrey telling her a scheme that they could use until later in their game to get Clay to go after Jeff. Shelli told Audrey no she didn't want to do it. Later that day Audrey came up to her and told her she already told clay (To get him against Jeff)
Shelli – I was sooo pissed.. I knew then Audrey was planting seeds between you and I
Shelli – This is why my Alarm is up
Clay – here's the deal I don't think Audrey is never turning on us.. she's playing her game but she's most loyal to us..
Clay – that little scenario you told me she's doing that to everybody.. the fact she's doing that to us means we're expendable
They compare notes and find out Audrey promised them both final 2.
Clay says they don't have a choice, "We can't relocate with Audrey.. way too risky"
Clay – you need to rekindle with Jason
Clay says they are at the bottom of the alliance now
Clay says there's facts Audrey was trying to get them all to fight and she was going to sit in the middle. Adds she was trying to get them against DAY.
Shelli – came on too strong
They are a bit worried about Audrey winning HOH. Clay says that is how Big Brother works the person you don't want to win HOH wins HOH "Even if she wins HOH the whole house is against her"
Clay is trying to cover them in case Audrey does win but if they stick with Audrey it will be the three of them.
Jace comes in "Are you in a 8 person alliance.. there's an underground group trying to get me out.. I need your votes"
Clay – we have been kept in the Dark because of Audrey
Jace – what do I have to do to get your vote
Clay and Shelli say they want him to stay but the house is against him.
JAce tells them he's got more than just 2 votes, claims he has Steve, JOHNNYMAC, Vanessa, Austin and Shelli all he needs is their votes.
Clay – we can't take that risk of not having enough votes.. we're f*** we're out of the game.. we want you to stay
JAce says there's no way people will know where the votes are
Clay disagrees thinks the votes will come out. If Jace can guarantee he's got the votes Clay and Shelli will.
Jace argues with him that the votes are secret..
Jace tells him he's not trying to be a douchebag he's just trying to get some votes. Clay makes it clear it's a individual game flipping the house and it fails will wreck his game.
Jace – I need votes bro
Clay – you have to start at the top bro.. you need James.
Jace uses the angle that Jackie got to play in the BOB plus she's already been on the Amazing Race, He's only been on 5 episodes of Big Brother.
Jace wants to start a revolution. Aske him if he's still working with Jeff, Clay says he doesn't.
JAce – If you want to start a revolution I think of potentially 8 people
Potentially is not good enough for Clay. Jace says he's going to get 8 people in a room and decide to team up.
Clay recommends he talks to James first.
Jace points out that Jackie has b**bs she flaunts around for votes (This works on James/Jeff)
Clay says Jace has a d1ck
Jace leaves..
They talk about getting Audrey out. Clay doesn't plan on doing it himself he's throwing the HOH.
[envira-gallery id="117883″]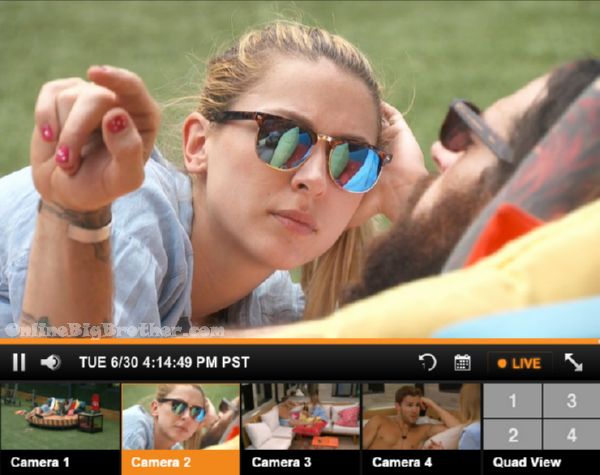 4:12pm Liz and Austin
Austin want to pull Becky closer, he thinks she likes them better than anyone else.
Austin – there's definitely a big alliance that's why they all disappear and we're left out here
Austin – Is Meg that conniving to hide in a 8 person alliance
Austin – Audrey f****g herself is so huge though.. saved us for 1 week
Jace was telling them about the 8 person alliance. Jace is going to out it when he get evicted.
Austin about Clay- He's gotta be the target after Audrey
He thinks they should tell Jeff if he's in the 8 person alliance he showed watch out because Clay is playing both sides of the house
Liz thinks Clay is the ringleader with Jeff.
Austin – He still talks shady with me.. Clay
Austin – there's something bigger at work her but it's all blowing up these people couldn't keep their mouths shut.. you're the first one Audrey you couldn't just hang out a chill.
Austin thinks James likes MEG "He thinks he's got a chance for some reason"
Austin says the only person they can trust is Vanessa.
Austin instructs her to present herself as a floater to Becky and he'll present himself as laid back chill.
(They want to form a group Vanessa, Becky, Austin and Liz with JohnnyMac on the side)
Austin – Jeff has his eye on you he likes you can manipulate that
(Lots of game going on from all sides of the house. A great start for the season)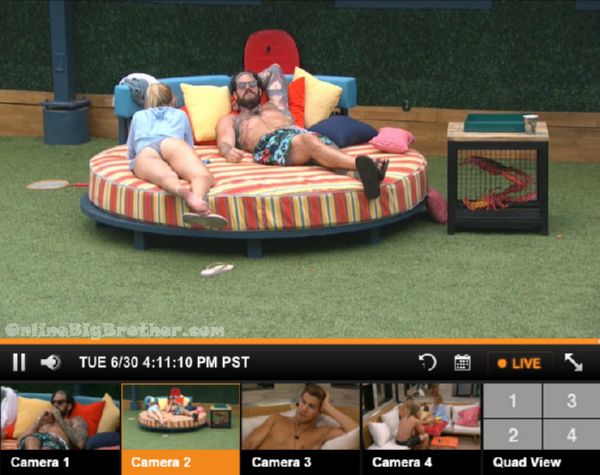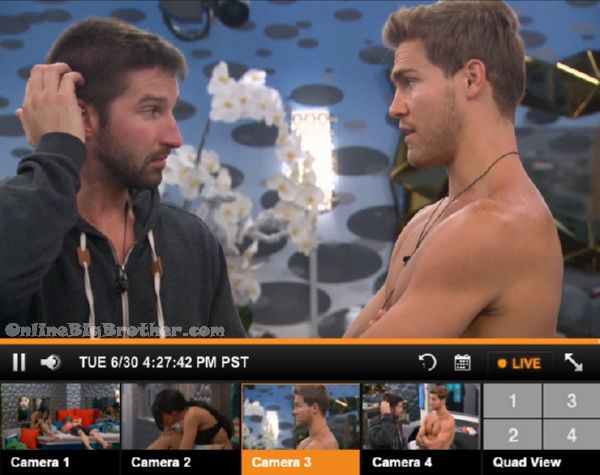 4:28pm Clay and Jeff
Clay telling him it's imperative they keep their 7 together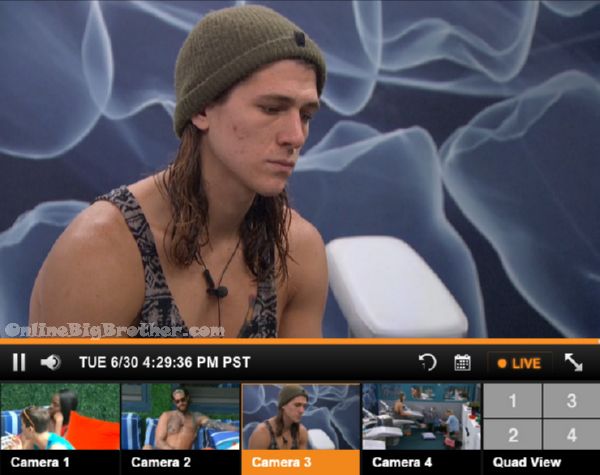 4:30pm JAce and Liz
JAce says nobody wants to vote for him so he's going to call a meeting of 8 people to form a temporary alliance to save him and take out the other side.
Liz says there has to be a 8 person alliance.
Liz says she's been on edge because she knows there is a big Alliance out there and she's not in it. Jace is going to try and flip the house. If he goes out of this game he wants people to say "That kid tried everything" (Bravo)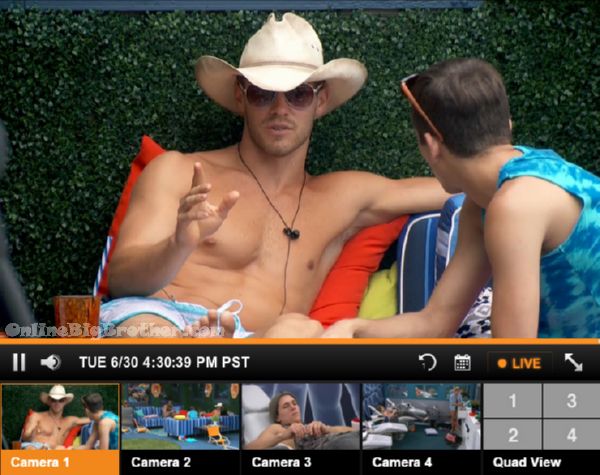 4:31pm Backyard Austin and Clay
Clay telling them about Jace's plan to call 8 people in a room to form an alliance. There's extreme doubt that will work.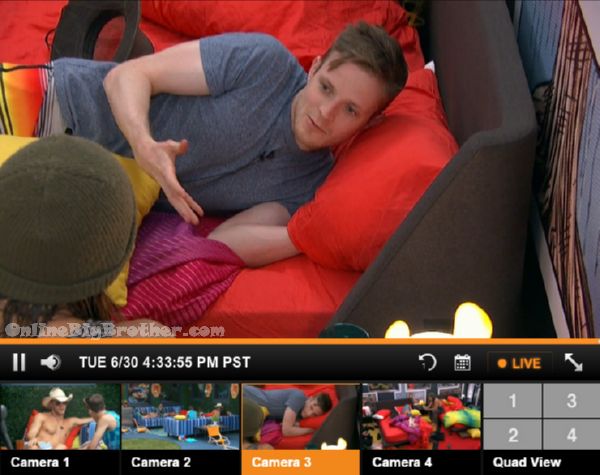 4:34pm JohnnyMAC and JAce
Jace tells him about his plan to form a 8 person alliance. Says he's inviting JohnnyMac.
JohnnyMAc says he'll be there.
Live Feed subscription gives you CBS All Access thousands of archived shows. Live Shows like Big Brother, all the Big Brother Seasons, and 24/7 coverage of what is happening inside the Big Brother House. Plus there's flashback that lets you go back to any second of the feeds and rewatch what happened. Simon and Dawg will index the season just watch the parts worth watching.
All this for $5.99 a month try it out 1 week free. Support our efforts and get your feeds via a link on this site. Live feed subscription Sign up

[polldaddy poll=8954355]