Head of Household: Kiefer
Nominations: Kyle and Ro
The Power of Veto Players are : ??????
POwer of Veto Winner : ??????
Power of Veto Ceremony : ??????
Have nots: Ro, Tina, Tera, Victoria
Big Brother Spoilers – Kief is putting up Ro and Kyle, Telling the house Ro is the target but wants Kyle gone. If Veto is played Austin goes up as a pawn. Classic Big Brother power shift love it.

10:25 am Kief, Jed, Ty
They talk about Kyle saying he's unemployed
Jed – that's a lie there's no way
Kief – I'm telling you he's dangerous and out of everyone he would put you two on the block together.
Jed – I don't think Ro would as much as Kyle would
Kief says he's going to make it apparent to the house he wants Ro gone (but he really wants Kyle). That will give Jed and Ty a chance to pull Ro aside and work with him. Saying to Ro they can get Kief to want him to stay, "We can change this vote because it's going to be you Kief wants you f**Ing gone"
Jed – if one of us wins the POV would it be ideal to leave it or take one of them off
Kief – I say leave it. Again if you want to use it that's on you
Jed – I don't want to do anything you don't want to do
Kief is going to pick Jed to play POV and tell the house he wants Jed to use it so he can put up his real target
Kief – I don't give a F**
Kief is going to mention last week when Kyle and Ro came to him in the pantry.
Kief nom speech – Picture this you just get put on the block you have no power in this game. Five minutes later you're trying to make everybody who just put you on the block dinner and two people come up and try to intimidate and interrogate you and make you feel smaller than you already felt.
Kief – Apologizes mean about as much as promises in this game and then I'll put up Ro, Ro you didn't even apologize you're a piece of sh1t .. no I won't say that.
Kief – Ro you're my target this week and Kyle you are sitting next to him because I feel if you would POV you would take him down and this is to prevent that.
Kief – it's risky and it's a big shot
Jed – one of them will go
Kief – if one of them comes down Austin goes up as a pawn.
They agree Ro and Kyle will go this coming week they have the numbers.
They talk about having to win every week. Kief says that is why the pretty boys worked they won all the compeittions
Kief – I need my Anthony and Dane to do some work… I'm Mark over here looking like danners
Kief – the worst thing that would happen to my game is one of you two (Jed/Ty) to leave..
Kief says to him it's obvious that the three of them are working together but it feels like the house doesn't think that.
Kief says the vote last week was personal
Jed – Vic was jealous we worked with LT and not her
Kief – I think so too
Jed says that Vic tried to work with them multiple times and they never wanted to work with her they wanted to work with LT.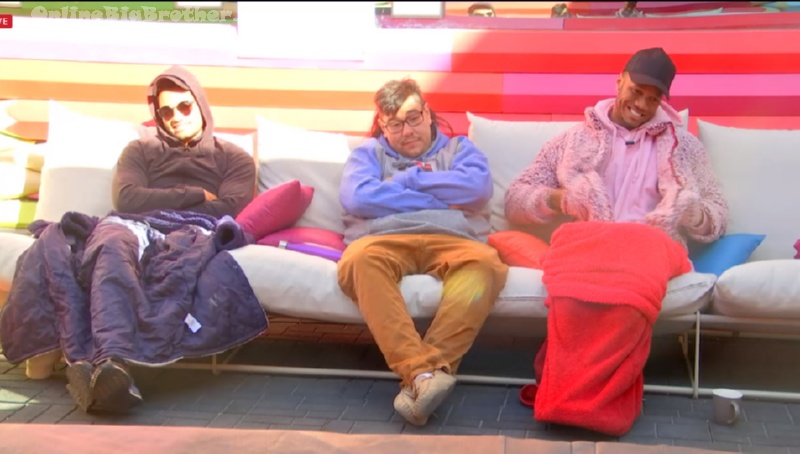 Jed and TY going on about how Vic's HOH was the worst they've ever seen
Jed – worst HOH she pissed everybody off.
Kief – she (Vic) made an emotional move unknowing it would be a HUGE game move.
Kief – she (Vic) didn't know how big it was and how deep it went. I go after a big alliance
Kiefer says Ro/Kyle told him they took last week off because the week before was so emotional. Kief laughs at this.
Kief – it's you two and Beth (people he's sticking with)
Jed – Ride or die
They agree to stick with their sunsetters.
Kief – it will be obvious when I put up two people that voted to keep me.
Jed – they didn't vote for you to stay they voted for LT to go
Kief – I'm still loyal to LT I feel like she would be mad at me if I didn't put her up.
Kief – she wanted them up and if one comes down to backdoor Vic.. If I can send Kyle home LT would be happy
Kief says taking out Vic isn't good for him right now so he won't do that part of LT's plan.
Kief – what a fun game
Jed – it's fun when things are going your way.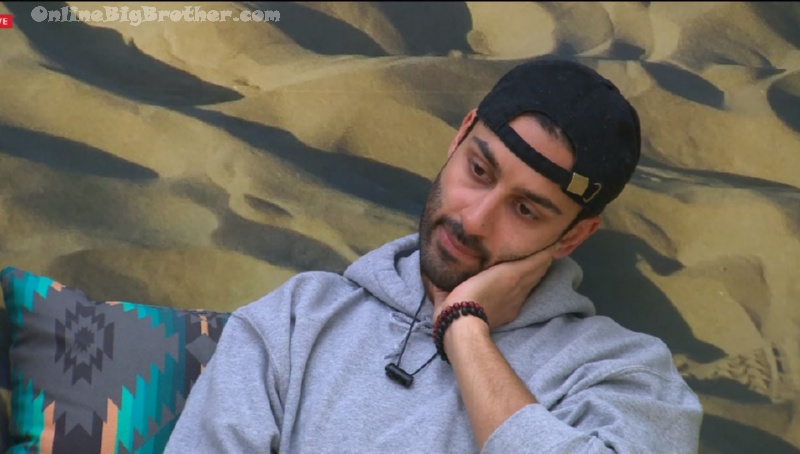 10:53 am Ro and Tina
Ro thinks him and Vic are going up.
11:06 am Stressing that Kiefer has spent so much time this morning with Jed and Ty.
Tera – it's clear they don't like me and I don't liek them
Tera says it doesn't make sense if Kief doesn't put Vic up "she's on her own"
Kyle – she just put him up
Ro says Kief is scared of Jed/Ty and is intimidated by him.
Ro – you need to communicate to him where the numbers are and the vote
Ro – if it's any of us against Vic we should be fine.
Tera – I feel if there's any back door option it'll be Beth not one of the guys (LOL ZOMG)
Kyle doesn't think it will be Tina or himself he thinks Ro and Vic are going up.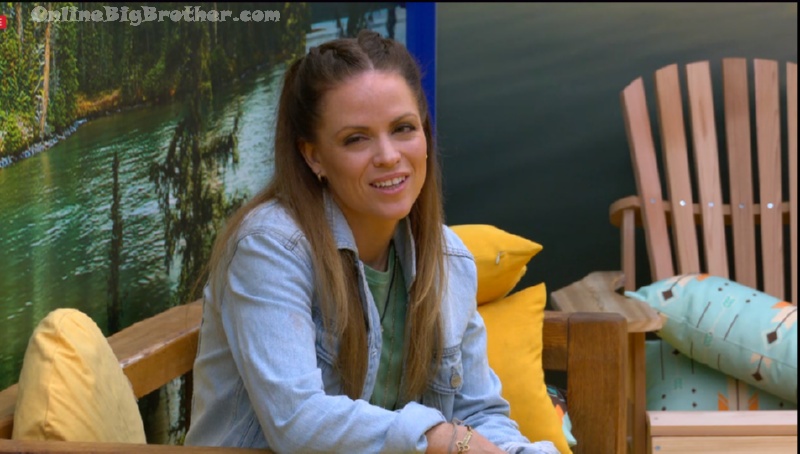 11:26 am Kief, Tina and Tera
Kiefer says he doesn't trust Austin and BVreydon at all.
Tina – it's almost like Austin and Breydon are being swayed by the guys.
Kiefer says Jed/Ty would want to see Austin or Vic to go home, "I'm not putting up Austin and Vic I already told them it's looking like it'll be Kyle and Ro"
Kief plays up feeling good with Tina and Tera because they voted to keep him.
Kief also really plays up Jed and Ty being pissed at Austin and Breydon and wanting them to put up badly.
Kief says all week Austin and Breydon worked hard with the other side to get them to keep Latoya.
Kief – Vic never wavered with me about her actions.
Tera says Kyle, Ro, Breydon and Austin threw Vic under the bus FAST
Kief – Kyle and Ro were going hard
Kief – they pitched to me we're the two votes that saved you.. what do you mean.
Kief – they said if they want the other way Kief would have to go home. That would have gone with anyone.. you're pitch isn't that strong boys.
Tera says Ro is more dangerous
Kief – if Ro goes home best-case scenario
Kief – I'm telling Kyle he's on the block because if he won POV he would take down Ro
Tera – the only people I trust are in here.. 1000%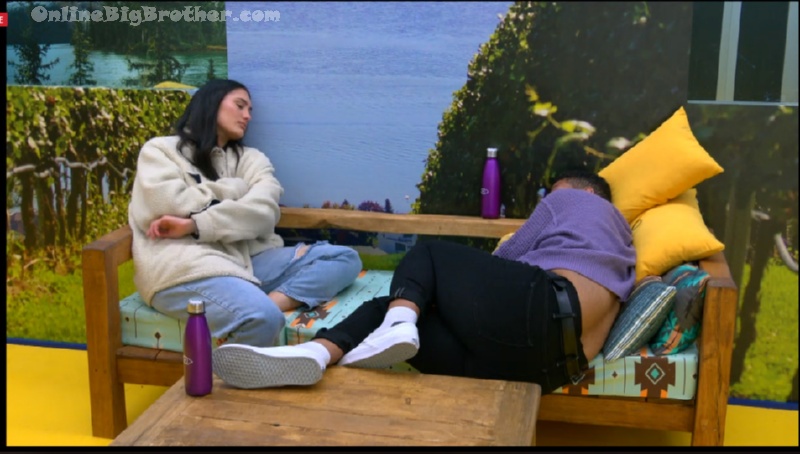 12:15 pm Austin and Breydon
Austin's ideal scenario is Beth, Ty, and Vic gone.
Breydon is on board.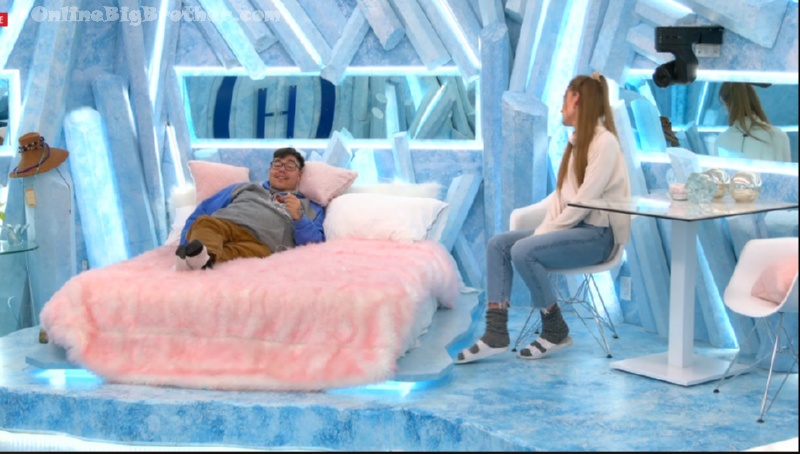 12:44 pm Kief tells Tera he's going to try and pull Tina back in. he doesn't think she's told Tera about the 6.
Beth – it's scramble city down there..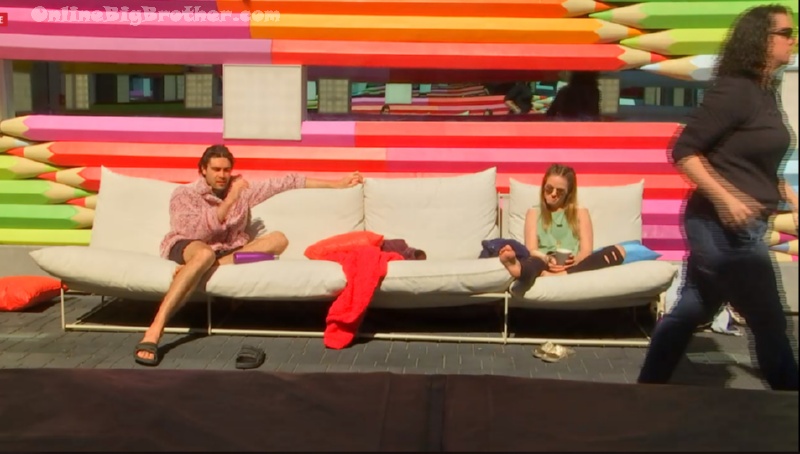 12:58 pm Kyle, Tera and Tina
Kyle – best-case Ro, Vic. Veto happens lets say I get picked I win it. I take Ro down. He's not putting you two up you're the only two he trusts in this game. Probably one of Austin/Breydon as a pawn and we send that person home. (Yikes)
Tera – yeah
Tina – hopefully, you get picked for Veto
Tera – Veto is so random
Tera – we were able to save Ro on the block before we can do it again.
Kyle thinks Ro might be the target.
Tera – low-key target.
Tina called to DR
Kyle – he keeps giving me those cryptic messages.. I don't want to see you go on my HOH..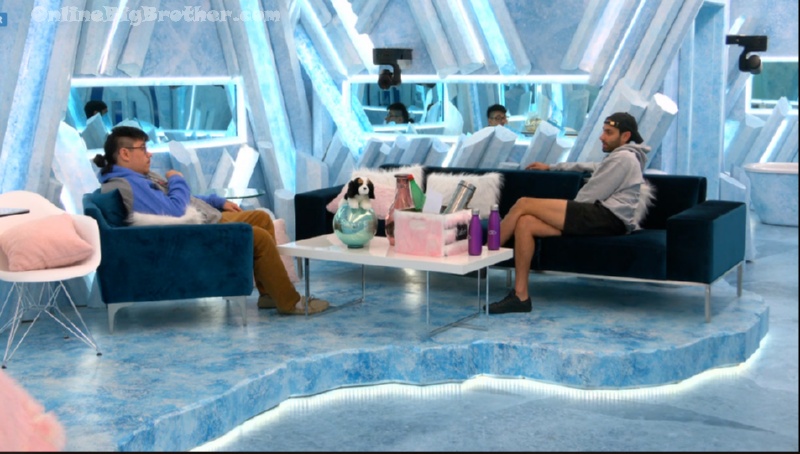 1:16 pm Kiefer and Ro
Kiefer sticks to the script.
Ro explains the reason he and Stu didn't go up to the HOH last night to give out names because the people that do that are only giving out names that are good for their game.
Ro – what's better for me might not be what's better for you and I don't want you to make decisions that are best for me.
Ro apologizes for the pantry incident says he's the type of person that likes to tackle things head-on. He realizes now the way he went about that was not the right way to do it.
Ro says there are people in this house that are not genuine.
Kief says the "6" (that voted to keep him) are imploding right now.
Ro – Stu and I had a reason to keep you here. at the end of the day if Latoya would win HOH we would be on the block (Stu = Kyle)
Kief – nothing is set in stone I'm not opposed to a backdoor in fact I would prefer it that way
Ro – okay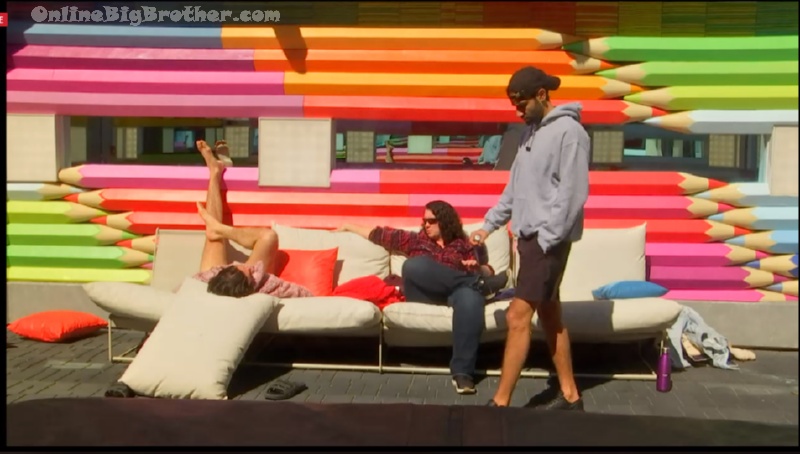 1:28 pm Ro, Kyle, and Tina
Ro gives them a debrief says that Keifer is preferring a backdoor.
Tina is thrilled Kief is taking her to wendy's she's only been on slop a day.
Ro and Kyle seem to Think Tina is going to help their case during the Wendy's meal.
Tera joins them.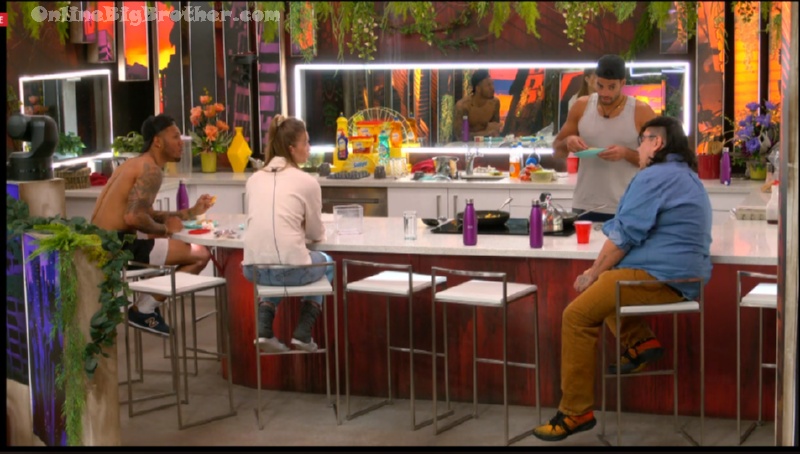 1:30 pm Sunsetter
Kief – Ro and Kyle wanted to make a 5 person alliance with me Tera and Tina.
Kief – they didn't give your names
Kief says both Kyle and Ro claim they're the only players in the house willing to make a big move.
Jed – that's interesting.. good to know
Kief adds Kyle and Ro's pitches were the same.
Kief – it's all good I wanted to let you guys know what's up
They laugh at the pitch to start an alliance on day 21.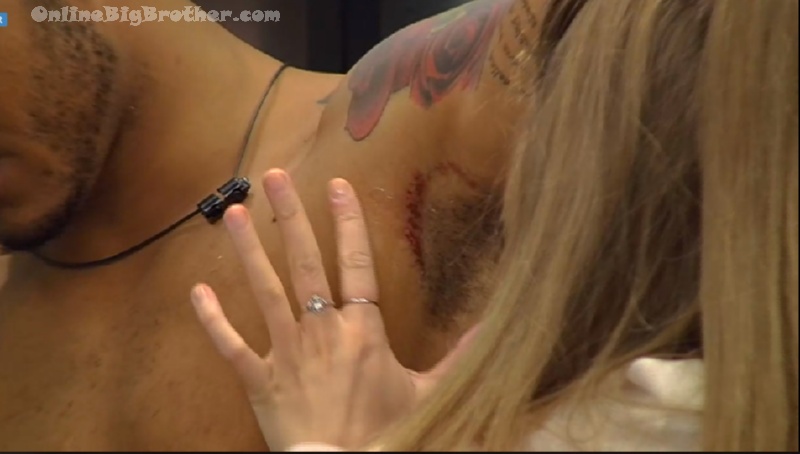 2:40 pm Beth cares for Ty's pit rash.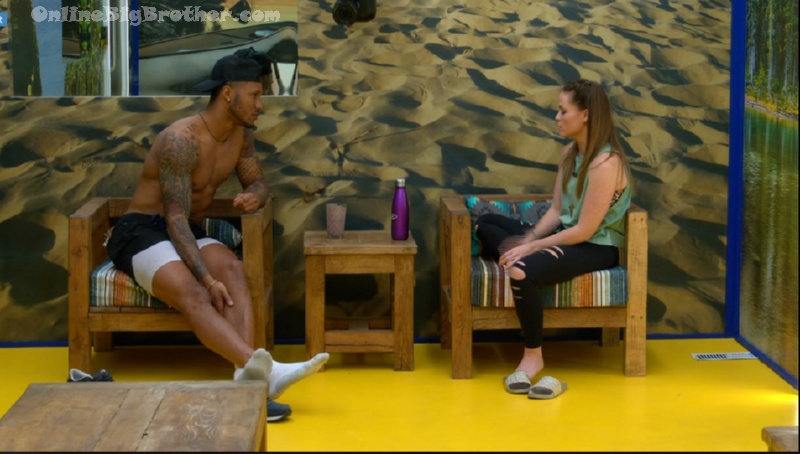 3:30 pm Ty and Tera have been talking for a while. She apologizes to him for lying last week about the Latoya vote. She claims she's a straight shooter. (Like SHelly Moore straight)
6:00 pm Feeds are down most likely for Nominations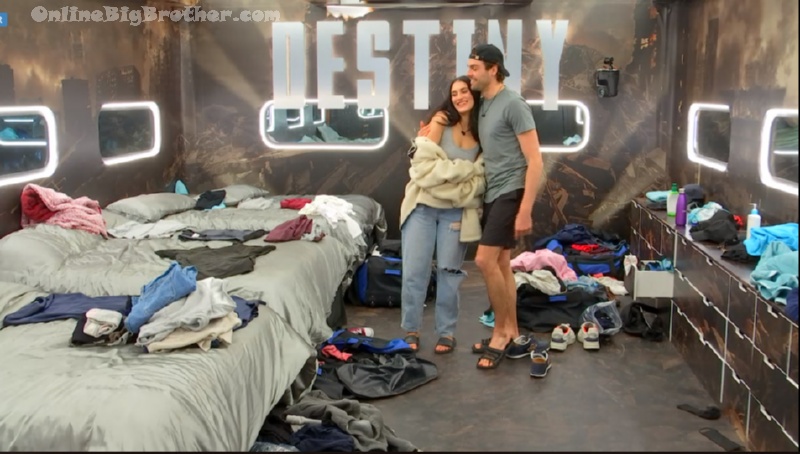 8:00 pm Kyle and Austin
Kyle – Kiefer is really impresionable
Kyle thinks Jed and Ty are pushing Kiefer for them to go up.
Austin says the two people she watches what she says to are Kiefer and Vic.
Kyle – yesterday she (VIC) asked DO you think Austin threw the competition?
Kyle – I was like.. no.. she was like I dunno
Austin – I got an 8 he got a 9 that's not a throw. If it was a throw I would have gotten a 3.
Austin says she didn't throw the HOH. She told Kiefer she threw shallow so maybe Keifer is saying that to Vic.
Austin – apparently today Vic was mad at me and Breydon
Austin – I don't tell her much
Kyle – I didn't know if she was mad at me or having a bad day. I threw her name HARD to the boys because Breydon pretty much with that story forced me.
Austin – it wasn't far from the truth the only part that was f* was it was Latoya all the time
They talk about how long they kept the vote to evict Latoya a secret.
Kyle – 7 people no one let it slip
Kyle – I get the vibe it'll be me and Ro and he wants Ro out because of what happened in the pantry
Kyle asks her if he picks her for veto and she won it would she use it on him?
Austin – I'm so scared. This is the worst-case scenario
Kyle – maybe we could pitch something with Kiefer, Maybe you and Breydon
Austin says she'll get closer to Kiefer after the nominations
Kyle says Kiefer is waiting for someone to come to him with a group.
Austin – he's really chill with Tina and Tera
Kyle – me and Ro are probably going up
Kyle says Kiefer still is bringing up the pantry "I can't believe he's holding such a grudge about that.."
Austin – yeah
They wonder who Kiefer's backdoor is.
Kyle says the backdoor target is either you, The boys, or Beth (Zomg)
Kyle is surprised Kiefer accepted Beth, Jed, and Ty after they were the only ones to vote him out.
Kyle – he's desperate to fit in
Kyle – it's scary if it's you and RO up at the end of the week.
Kyle says Beth, Jed, Ty would vote as a block "I don't know if they want to separate you and Breydon or me and Ro… I wouldn't vote you out
Austin – over Ro
They bring up the scenario where Austin or Breydon win the veto but don't use it because Kiefer threatens to put the other up. (much like Vic did with Jed)
Kyle – at the end of the day Tina is a liability. As of now their vote. Tera was in a room with Ty for an hour today. I have no idea what they talked about.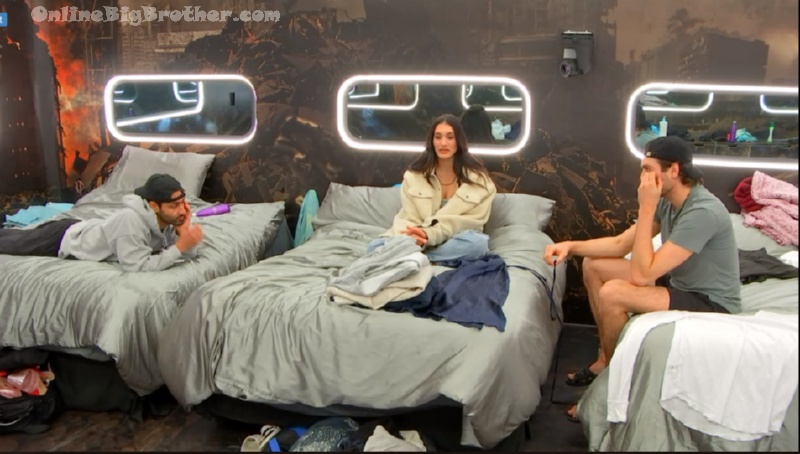 8:35 pm Austin, Kyle, Ro
Kyle – I think he accepts my apology about the whole pantry thing I don't think he accepts his (ro)
Kyle says Kiefer doesn't like the "fakeness" (you can hear Vicotria screaming in the background)
Austin – why is she yelling?
Kyle tells her Kiefer wants to work with the numbers he's waiting for Austin and Breydon to come to him. He adds Kiefer isn't going to work with him and Ro.
Austin – we can't be in the end with a bunch of muscle guys
They talk about worst-case Veto picks: Ty, Jed, Beth
Ro – I just hope it's me and Vic
Kyle – I think it's going to be me and you. I'm pretty sure
They go on about how the side that voted Kiefer out was having shots with him last night.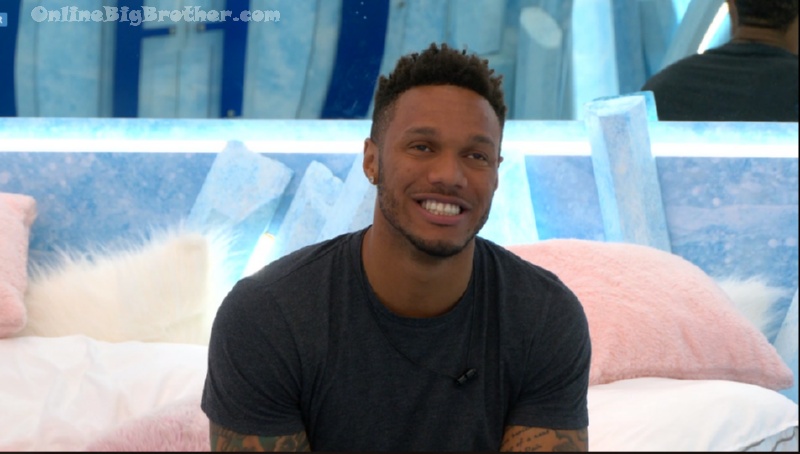 10:15 pm The feeds are back Kiefer, Ty and Jed
They're happy about the nominations telling Keifer he did the right thing.
Ty – this is perfect
Kiefer – I don't care which one goes.. I said Ro only because Kyle has a better chance to win POV
Jed – that was a huge move.
Kiefer says he felt bad for putting Kyle up, "I like Kyle"
Kiefer says Kyle is gunning for his alliance and he knows Kyle would use the veto on Ro and he needs one of them to go.
Kiefer – Austin, Breydon, Terra, and Tina none of us will go up. Maybe Beth but she wouldn't be sitting next to you or Jed.
Kiefer – Tera, and Tina promised me on their lives their vote this week. You and Beth that's all we need.
Ty – if anybody uses the veto but them I don't think they will use it
Keifer – if anybody uses the veto other than them I'll put up their pair.
Kiefer – if one of them come down I'll put up Austin and we have to profusely promise her she's safe.
Kiefer says if Kyle goes Ro will be greatly weakened.
Ty says Ro won't win veto he can barely stand right now.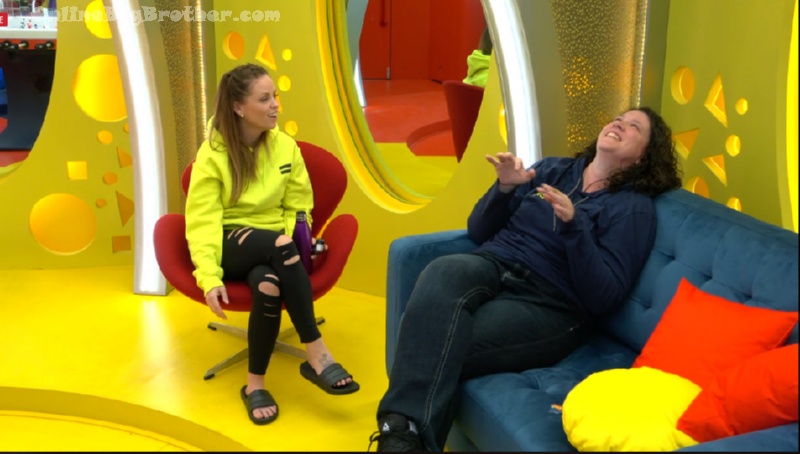 10:40 pm Tera and Tina
Talking about Jed being very clean in the house but Ty is a slob.
They laugh about Beth.
Tera – boob pasties all over the place covered in hair..
Tera – my kids are cleaner
They're generally shocked at how dirty the majority of the houseguests are.
Tera points out how she sticks to the veggie dishes when the "kids" make it. She doesn't trust how they cook it.
10:48 pm Ty, Kiefer, and Beth in the HOH
Agreeing they want Kyle out over Ro this week.
11:09 pm Only 2 feeds showing. Tina and Tera cooking slop burgers.