POV Holder:
Vanessa
POV Competition
Aug 22nd
POV Used
?
POV Ceremony
Aug 24th
HOH
Austin
Next HOH
Aug 27th
Original Nominations:
Steve and Jmac
After POV Nominations:
? and ?
Have Nots
No have nots this week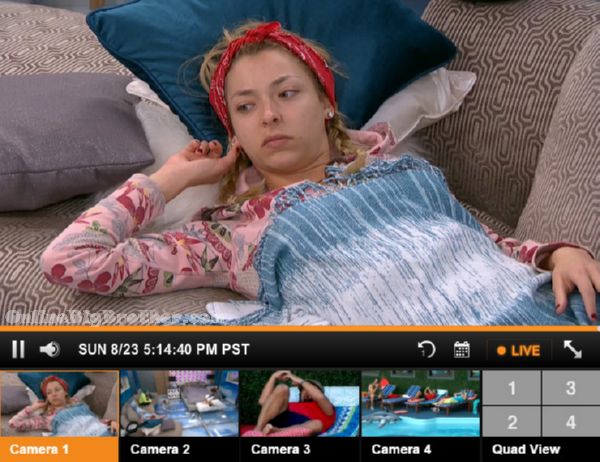 5:01pm HOH Twins, Vanessa, Steve
Vanessa about Meg – I can throw her further than I can trust her
Liz tells Vanessa about all the sh1t becky would spin to try and get Vanessa nominated last week
Liz – She was really good with her words
Vanessa says she would take Becky one any time she had the truth on her side and everything becky had was spun. (LOL)
5:17pm Talking about getting rid of James this week. Even if Jackie comes back in, her and Meg will not be effective in the game.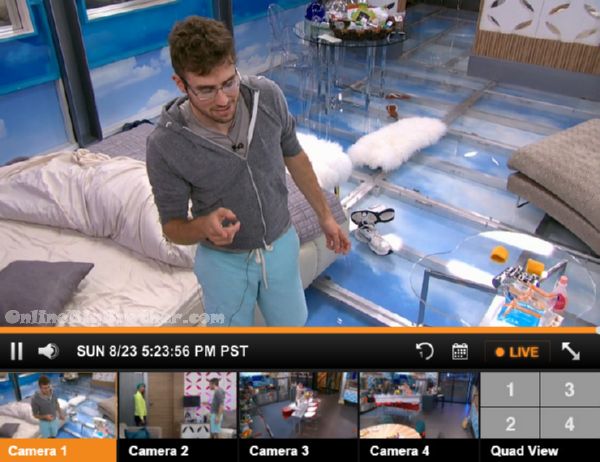 5:23pm Steve and vanessa
Vanessa wants Steve to think about anything that james done wrong to Vanessa.
Steve – he lied to Shelli and Clay on the wall
Vanessa – What am I the integrity police
Steve – You've kinda been that this whole game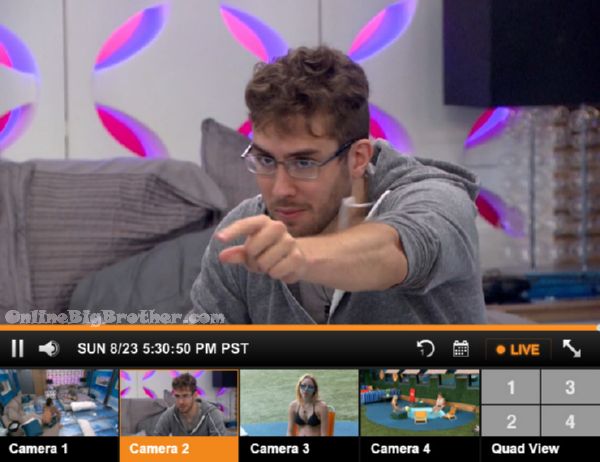 5:25pm Steve and Austin in the HOH
Steve – couple weeks ago.. we made a deal we should not go after each other.. final 2 never came up .. just hey we should work together.
Steve says Jmac made the comment when they were playing chess that they had a final 2 "We never discussed final 2 but what I've learnt is he's been under that impression for a long time"
Steve – Jmac wanted a Me, Clay, Shelli Final 4"
Steve says Jmac was a recruit he just assumed them working together meant final 2
Steve says his HOH proved to him during his HOH that he's more loyal to Austin, "I hope that HOH clears things up"
Steve – I think I can control him..
Steve says if Jmac wins HOH he'll put up the remaining goblin.
Austin says he just needs a reason to put a goblin up
Steve brings up James lying ot Clay and Shelli while on the wall. (James promises Shelli he wouldn't put her and Clay up if she dropped from the wall competitions. She dropped and he put them up)
Steve asks him if he thinks Meg is the bigger threat for James
Austin says he can't put the twins up he's got to put up a goblin. If Vanessa uses the veto on steve, the goblins will think they are the pawns.
Austin – that means the twins need to flip
Austin asks him what will Vanessa's reason putting Steve up? Austin wants it to be a complete surprise for him.
Steve asks him if he thinks people will buy a person going into Veto with plans to use the veto that they haven't talked over with the HOH.
Austin says he can be unsure, "Vanessa is kinda a lone wolf right now"
Steve says Vanessa and Jmac and Vanessa really don't get along.
Steve asks him what is the best thing for Austin next week
Austin names off everyone but James playing in the HOH
Steve tells him he's just answered his question for the week. (NOoo not James)
Steve – we need to prevent a gremlin from winning HOH what helps us with that
Austin – By sending one home this week
Steve – you are right
Steve – your best bet, if Vanessa uses the veto all the attention will be on her..
Steve adds once a goblin goes up it will become apparent why they need to get them out. The twins will have a reason to flip on the goblins.
Austin – this is offense it's time to slaughter and take people out
Steve – your goal is to protect those two girls
Austin – that's my goal
Steve – A goblin is coming back
Austin says the most logical argument is getting James out so it's Meg and a goblin coming back in.
Austin – I feel good about vanessa against she's back in a group
Steve says he's shown Austin during his HOH that he's with them.
[envira-gallery id="130096″]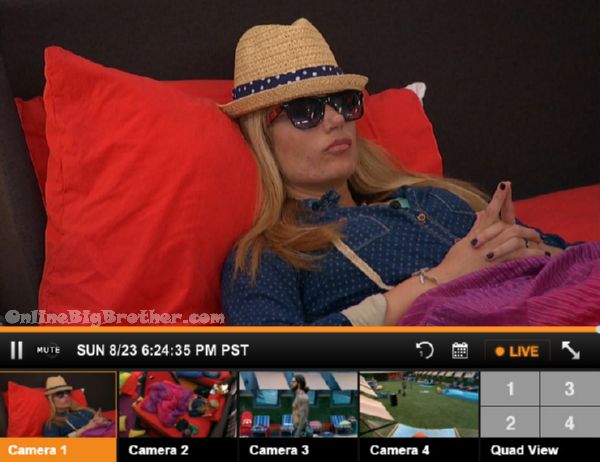 6:23pm Vanessa spent all this time working on her hair and outfit only to crawl back into bed. (She's essentially flipped the house against the goblins)
6:29pm Backyard Collection of house guests chit chat
Liz says the plan for next week is whoever comes back in gets to be a have nots "Sorry not sorry"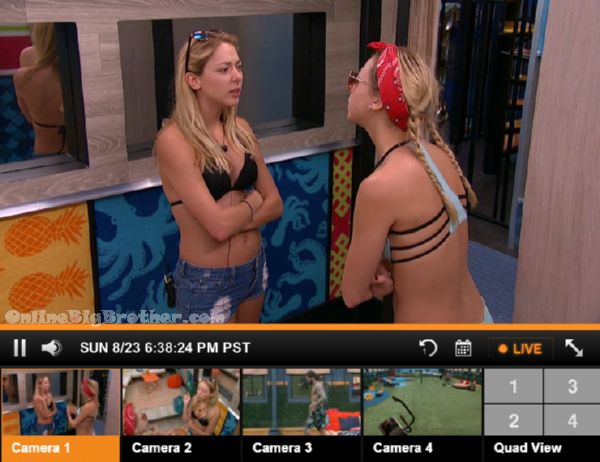 6:37pm Hammock room Liz and JUJU
Talking about Austin coming up to Liz telling her he's doing something special for her tonight and she should put on something nice because it'll be shown. Liz thinks Austin is either going to ask her "out", Propose or make her a cheese cake.
Julia says Liz needs to tell Austin he still has unfinished business back home.
Julia – I think they need to talk it out.
Liz agrees.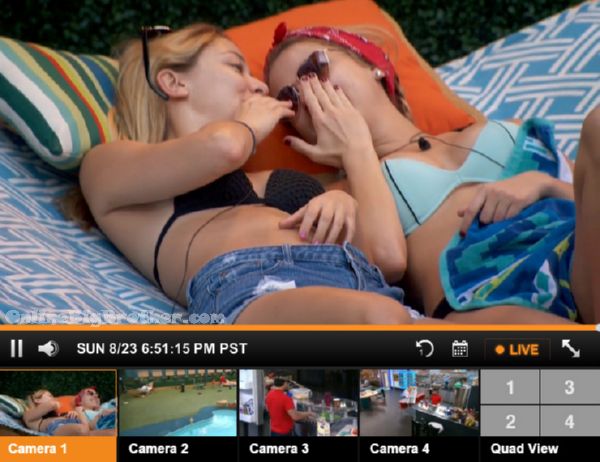 6:44pm Twins trying to figure out what Liz should wear tonight
Julia- you're going on a date you have to be hot as f****
They can't seem to be able to decide what Liz should wear.. lots of bickering.
Julia – You need to pluck your mustache hairs
Liz – do you
Julia – sometimes..
Liz – between me and you he's not a good kisser Ryan was way better
Julia never thought they "made out"
Liz – yeah we make out
Liz says Austin is pretty cute under the glasses and the hair
The twins don't understand why Austin doesn't take their advice at cut off the pony tail
Liz says Austin doesn't know what to do with his lips and Tongue. Again Liz says Ryan and Diego were better kissers.
Julia asks why isn't Austin a good kisser.
Liz – it's something with the tongue it's not like my style
Liz – I'm super attracted to his body..
Julia – but you're more attracted to Ryan
Liz – I'm more attracted to Ryan for sure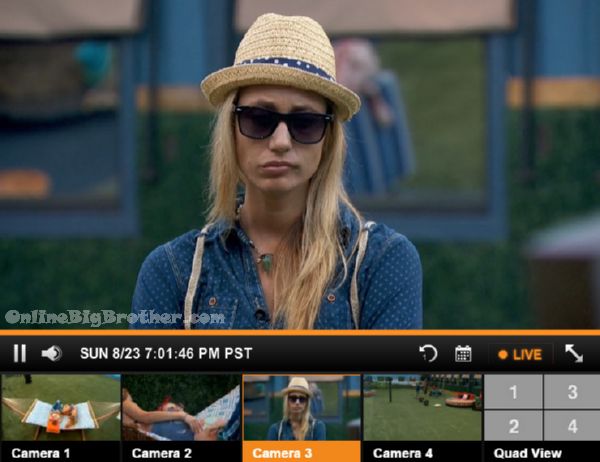 6:58pm Austin and Vanessa
Austin is still thinking about getting rid of Johnnymac this week is the better play. He still need to talk to Johnnymac and james.
Austin is concerned because he's been told Johnnymac told James before the HOH he's throwing it.
Austin – as of right now my feeling is I don't want to put JAmes up but that can chance
you don't think it's a good option to get rid of Meg
Austin – I could do that..
Austin is worried if Jackie comes back that leave JAmes and Jackie in the game which is dangerous.
7:05pm Austin and the twins
Austin – how quickly have we flipped right back, Unless I find out something James is really lying about i'm not going to put up james and Meg and I'm telling Vanessa not to use the veto.
Austin – even with Steve's conspiracy theories I'm not putting James and Meg up
Austin says Steve and JOhnnymac are telling him different Stories about their final 2.
Austin knows Steve is spinning things and bullshitting him, 'Steve does not want to lose Johnnymac"
Austin says he's caught Steve in a lie.
Austin tells the twins if the veto is used and james goes up and is the target it's the twins that will end up flipping on James so if he comes back guess who he's coming after.
Austin – you are doing the dirty work, now Vanessa, Steve and Johnnymac are safe and you're f***d.
Liz – Ohhh I never thought of that
Austin says Steve is fighting hard to keep Johnnymac in.
Julia says Vanessa is assuming a lot of things about Meg crying after the POV.
Austin – liz what's your gut saying you really want to hurt james and Meg
Liz – no, not unless we hear something.. we've never heard anything about them working with John and Steve
Julia – I think the noms need to stay the same
Austin wants to keep the nominations the same.
Austin about Vanessa "She's on our side she's just got a lot of conspiracy theories we need to calm down"
Austin says they are going to have fun with people they like Meg and James.
7:27pm Julia, Vanessa and Austin
Vanessa saying she's fine with Steve leaving this week. Austin would rather Johnnymac. Julia says it's not smart to get James out this week.
Vanessa – that's a reason to get rid of Steve.. We can win the day without Steve and Johnnymac can only win at endurance.
Julia – I think we can beat Steve in days he's not as good as you.
Julia gets called into the Diary room.
Vanessa says there's something going on between James, Steve and Johnnymac there in the kitchen right now scrambling. Austin saying he wants Johnnymac out. Vanessa says the odds are small that evicting James will come back and bit him.
7:33pm Vanessa, Austin and Jmac
Vanessa asking him the Shelli, Clay Steve alliance when was that talked about
Jmac – Audrey days
Vanessa says Clay and Shelli had alliances with everyone in the house. She' just starting to realize it now.
Austin leaves to work out.
Vanessa tells him she cannot use the veto unless she has Austin and the twins blessing.
Vanessa says using the veto or not is Austin's decision not her's if it was her's it would be easy. "I'm only one person and they are only going to look out for their three"
Jmac – I don't think they've come to terms that the three of them won't make it to the end
Jmac – James would have to be really dumb to go after you and Steve when I'm gone next week,, Rwwwlkaiaa
Vanessa – I know right
Jmac wonders why they are believing that.
ALLIANCES:
"Goblins/Gremlins" = James and Meg
"The Generals" = anyone allied with Becky
"SOS" (Students of Sound) = Steve and Vanessa
Rockstars = Steve and Jmac
AUS-Twins = Austin, Julia and Liz
"Austin's Angels" = Austin, Liz, Julia, Vanessa
"Brass Tacks" = Gobins and Austwins
The new "Brass Tacks" = Aus-Twins, Meg, James + Vanessa
"Freaks and Geeks" "The Scamper Squad" = Aus-Twins, Vanessa, Steve
"The new Freaks and Geeks minus Vanessa" = Austin, Liz, Julia, Steve, Johnny Mac
"The Authority" = Austin, Liz, Julia, Steve
[polldaddy poll=9035699]