POV Holder:
Vanessa
POV Competition
Aug 22nd
POV Used
?
POV Ceremony
Aug 24th
HOH
Austin
Next HOH
Aug 27th
Original Nominations:
Steve and Jmac
After POV Nominations:
? and ?
Have Nots
No have nots this week
7:46pm Vanessa and Steve
She asks him who his targets were for double eviction
james says he was throwing that HOH
Vanessa- and Meg
James says Jackie was the one trying to win it.
Vanessa – all I have is my integrity , Austin has the twins
James – You me Austin and Julia that's a good solid group..
Vanessa wonders why Meg is after her.
James doesn't think she is, suggests to Vanessa she talks to her tonight.
James says he's never heard Meg say "Vanessa must go"
8:09pm Vanessa and Steve
Vanessa tells him using the veto is up to Austin. He has to understand that. She doesn't have the votes.
8:19pm Vanessa back to producing crazy
8:30pm Meg and vanessa
Vanessa says it's come up that it's bothered Meg that Vanessa came up to her for a deal during the double eviction
Meg says it didn't bother her, "vanessa that is how you play the game I know that"
Vanesa- you're saying you were not bothered.. I'm confused because a lot of people are saying you were
Vanessa points out everyone has a pair in the house, austin the twins and Meg has James.
Vanessa says she has her integrity and her word that's it.
Meg tells her she hasn't been on her radar this week. "I fought my a$$ off to keep you over Shelli"
They have a laugh about Becky advertising to everyone she's in a "open four person group"
Meg starts to cry because she's a joke in comps.
Vanessa – I don't have a sister, a showmance all I have is my word
Vanessa asks if she thinks there is anything wrong with Vanessa asking for people's word
Meg doesn't think so.
Vanessa says she will put her hand on a bible "I give you my word on my mother, my girlfriend and the Bible" Vanessa had no idea what Steve was going to do during double eviction.
9:02pm Vanessa asks her Steve or Johnnymac
Meg doesn't know
Vanessa says for her personally Johnnymac should go because vanessa knows Becky is coming after her. Vanessa tells her she can talk to her. 'I'm a lot like JAmes if you can talk to him you can talk to me"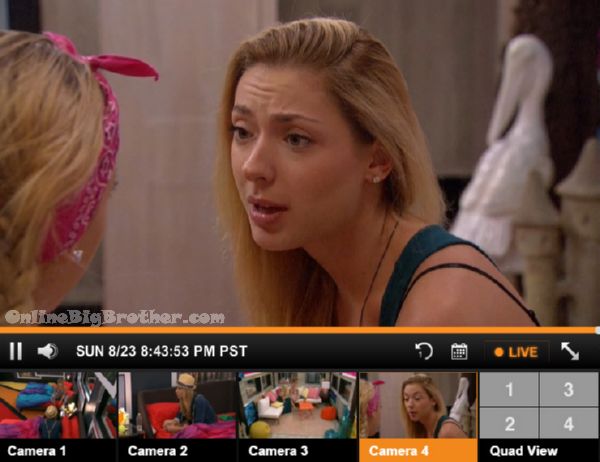 8:42pm Hammock LIz and Julia. Wondering if Austin is going to ask Liz to be his girl friend.
Juli a- the kid is 30 years old he's not going to ask you to be his girlfriend he just want to take the next step
Liz says Vanessa was interrogating James, Now she's interrogating Meg.
Liz is worried Vanessa will throw them under the bus to meg.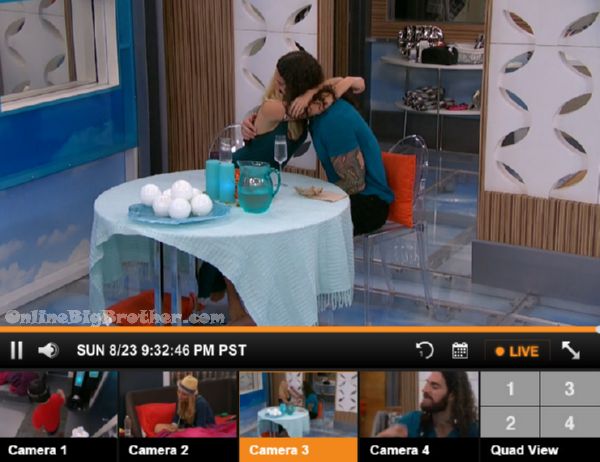 8:54pm HOH date Liz and Austin
Talking about Vanessa approaching James in the parlour room. Austin says he already talked to Vanessa about it.
Austin says if they keep James safe this week they've shown James they're trustworthy. He's gotta keep them safe the following week.
Austin tells her Vanessa and Steve with them in the final 5 they are losing.
They mention how boring Johnnymac is.
Liz wonders why Jmac is screaming in the Diary room.
Austin – I don't think the game means a lot to the guy
based on how things are progressing I think it's appropriate that I ask you for something.. You Can take it the way you want..
Will you be my girl friend..
Liz – ohh this is what you and James were talking about in the kitchen
Austin – maybe
Liz – you have one back at home
Austin – No I do not
Liz thinks Ausitn needs to clear up things with his girlfriend back home first.
Austin didn't want to move forward without a commitment.,.
Austin – I want you to know I am serious about you
Liz – I like you but…
Austin – I thought I should formalize something.. we're spending a lot of time in bed cuddling
Liz – we cuddle only
Austin – and kiss
Liz – to answer your question Yes I will be your girlfriend.. You're so awkward but I love it
[envira-gallery id="130120″]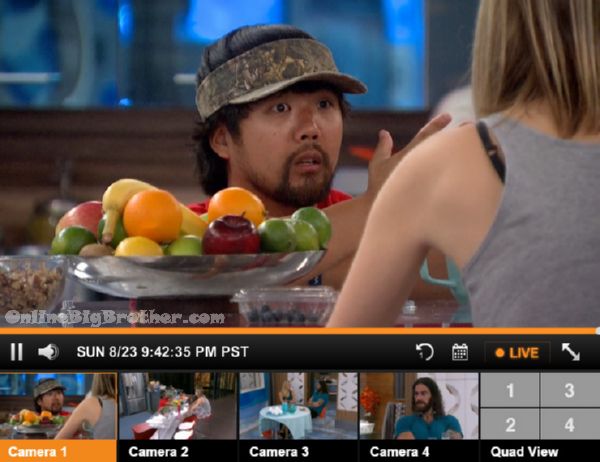 9:40pm Goblins comparing notes about Vanessa's interrogation
James says he's been pressing to Austin that him and meg are with their group they are the final 5.
James says as long as you look Vanessa in the eye and not break eye contact she'll know you are not bullshiting her "She uses all that sh1t.. look her straight in the eyes"
Meg says Vanessa really likes him. Vanessa told her how smart he was and how her and him saw eye to eye.
James – Meg I'm going to have to throw you to the side
Meg – watch what you're saying about my guy
they laugh
Meg – I'm scared of her, I think I did well
James thinks she did tell share their stories match.
James explains this is how Vanessa works she'll talk to one side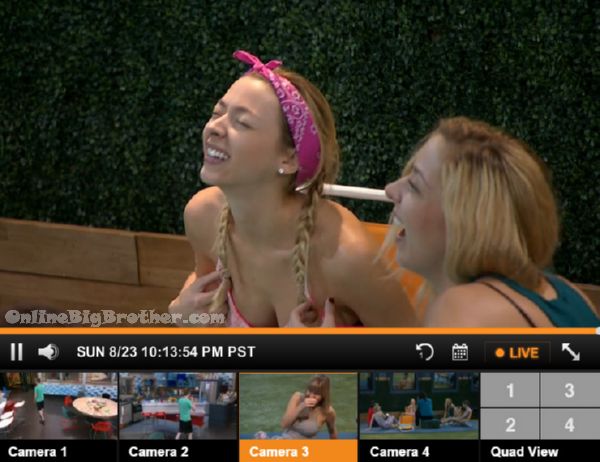 10:00pm Hot tub
Julia tell them they have her blessing it they want to be boyfriend and girlfriend.
10:09pm Julia about the zingbot she looked into his eyes he had brown eyes, "He was hot"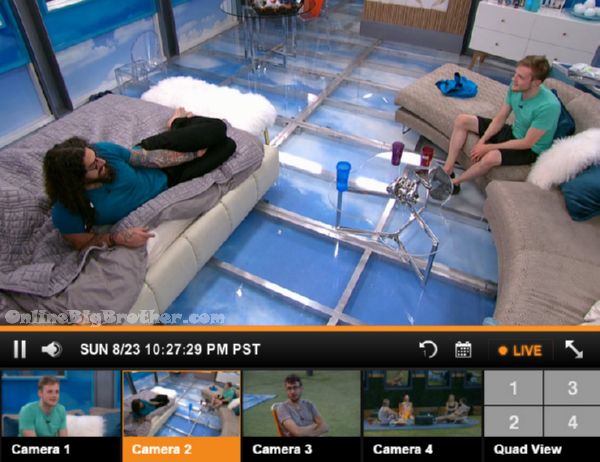 10:24pm Austin telling Johnnymac him and Vanessa have to be on the same page whether or not Veto is used.
Liz comes in.
Jmac says sooner or later someone is going to split up Austin and the twins. if jmac is left in the house and he's the one to make the move on Austin and the twin jmac will do it on their terms.
Jmac says the way Steve talks game with them is different than the ways he talks game to Jmac.
Jmac – if i have a option to be the one to take you three out i'll do it on your terms how you three would do it.
they tell him the goblins stay in their own spot and don't say much. they are just holding out hoping Jackie comes back.
Jmac leaves Austin says jmac had nothing bad to say about James
austin – I'm not worried about james.
austin says if Jackie comes back he thinks Meg and James will protect them from her.
Julia joins them.
Austin says johnnymac told him if he is evicted and comes back he's coming for them.
Liz – I don't get good vibes from johnnymac
liz doesn't like jmac's deal about letting the three of them decide how they would go out.
Julia leaves
liz is pissed at johnnymac is wanting him out more than ever
11:00pm They pull Steve into the HOH. Austin asks him when him and jmac started working together. Steve cannot produce a time says there was no point in time where they agreed to work together.
Austin tell shim he's safe by them.
Vanessa Joins them says that was the longest Diary room session in her life.
Vanessa makes it clear she will not us the veto unless Austin wants her to.
Austin says he needs to talk to JAmes and Meg but right now he doesn't have a smoking gun to get James out. Vanessa and Steve are saying they should take a shot at the goblins.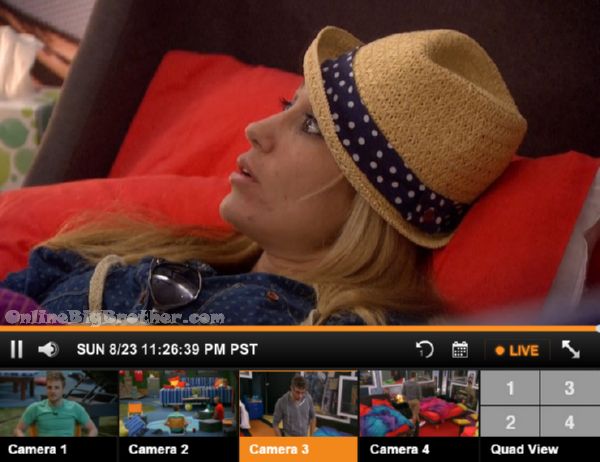 11:25pm Vanessa and Steve
Vanessa says he's giving Austin the "hard sell" Everyone knows Steve wants Jmac to stay. Vanessa says the odds are low James is going up. Steve feels the same way.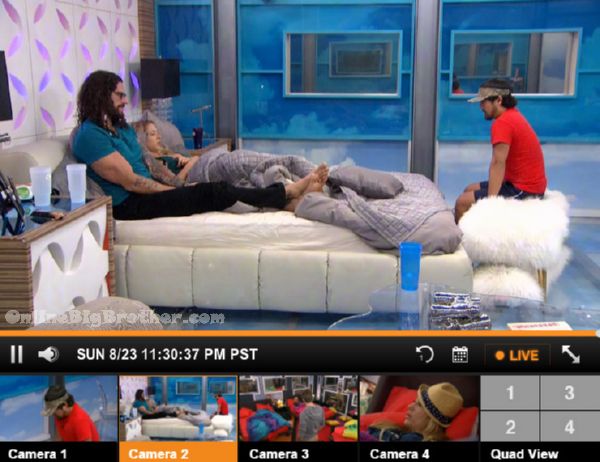 11:31pm James and Austin, Liz
James talks about his conversation with Vanessa.
Austin tells him that Steve and jmac are trying to get James nominated.
11:44pm Austin – Brass tacks to the end
They warn him about Steve 'There's more to him that meets the eye"
11:55pm Meg joins them. Austin say Steve and Jmac's goal is to get Vanessa to use the veto so he will be forced to put one of them up.
ALLIANCES:
"Goblins/Gremlins" = James and Meg
"The Generals" = anyone allied with Becky
"SOS" (Students of Sound) = Steve and Vanessa
Rockstars = Steve and Jmac
AUS-Twins = Austin, Julia and Liz
"Austin's Angels" = Austin, Liz, Julia, Vanessa
"Brass Tacks" = Gobins and Austwins
The new "Brass Tacks" = Aus-Twins, Meg, James + Vanessa
"Freaks and Geeks" "The Scamper Squad" = Aus-Twins, Vanessa, Steve
"The new Freaks and Geeks minus Vanessa" = Austin, Liz, Julia, Steve, Johnny Mac
"The Authority" = Austin, Liz, Julia, Steve
[polldaddy poll=9035699]