POV Holder:
Amanda
Next POV
Aug 31st
POV Used
POV Ceremony
Aug 26th
HOH Winner:
Elissa
Next HOH:
Aug 29th
Original Nominations:
Aaryn and McCrae
Current Nominations:
Last Evicted Houseguest
David, Nick, Jeremy, Kaitlin, Howard, Candice, Jessie. Helen
Have Nots
7:20pm backyard everyone but Elissa and Aaryn
Amanda says there is now way that production is portraying Elissa as the angel jordan of the season
MC – Wanna bet
MC and JUDD say that Amanda is the evil person this season
Amanda- So i'm going to have a lot of people that hate me and a lot of people that really like me
MC – Yup
Amanda – I don't f*** care F** them all
Amanda wonders
Amanda: "The person that came and talked to me I was like.." Feeds cut (Production told Amanda to stop)
Amanda asks Spencer if he feels bad.
Spencer says no
Spencer says 99% of him is wanting to Amanda to keep going but 1% of him feels sorry, "Think about what's it like in her shoes"
Amanda – F** her and her loui vuitton shoes
Amanda and MC are around the hot tub
Spencer asks her why Amanda doesn't drape a condom over Elissa's key. Amand says apparently you are not allowed to mess with the keys.
Amanda tells McCrae she didn't get in trouble she never broke any rules..
7:40pm storage room
Andy tells Aaryn that Elissa was really nice to him when he went up to talk to her. He thinks that is a good sign that he might not go up. Aaryn adds that Elissa was rude to GM.
You can re-watch ever second on the feeds using the flashback feature.. It's just like a DVR and is super easy to use. click this link for a Free Trial —> Subscribe to the Big Brother Live Feeds
7:44pm HOH Elissa Lights off (This is usually against the rules.. I guess Production is giving her a pass tonight)
7:55pm HOH GM and Elissa
GM – Hi sweetie i'm sorry.. I brought up your clothes. Gm adds that she didn't want anyone to mess with Elissa because her underwear was out there.
GM says that everyone downstairs told Amanda to stop it and chill out and she did.
GM says she's not into bullying brings up that she does pageants and she's not into that.
GM says everyone downstairs thinks Amanda is crazy and will look like a idiot on TV.
GM – I was going to say something to her but talking to her is like talking to a brick wall.. If i don't see you for the rest of the night then good night.
8:03pm bathroom Andy and McCrae
MC wants to reform the original 3am (JUDD, Andy, McCrae and Amanda)
Andy doesn't think JUDD will trust Amanda. Andy says he's figured out a plan so that they can keep JUDD on their side if Andy goes up on the block. He wants Spencer and him to play dumb and McCrae will go to JUDD and tell him they were just saying they wanted Andy up because they were trying to keep him off the block. Andy wants MCCrae to tell JUDD that Andy wasn't privy to McCrae and Amanda's true intentions because they wanted him to be legitimately mad.
8:07pm Amanda and Andy
Andy says McCrae and him were talking about what the best way to handle JUDD is. Andy knows if he goes up poopy will tell JUDD everything to make Andy look dishonest.
Andy wants Spencer and him to play dumb. McCrae is going to go up to JUDD and tell him they were faking it to try and not get him nominated. Andy wants both Amanda and McCrae to tell JUDD that Andy never knew about what they were doing. Andy says for amanda and McCrae to tell JUDD that they kept the plan from Andy so he gave them a genuine response.
8:11pm Andy and MC
Andy says he just talked to Amanda and told her the plan they talked about in teh bathroom. McCrae says he thinks JUDD already knows them being mad at Andy was a bluff. McCrae is worried if they go to JUDD and tell him it's going to look shady. MC adds that Andy is still going to have to act pissed off at them.
Andy – really .. you think JUDD knows
MC – Yeah.. I dunno .. I dunno how to play this. What did Amanda say about this
Andy – she thought it was the best plan for you to tell him
MC – I definitely can
Andy adds that whenever he's with JUDD he's like "Amanda and McCrae What the F***"
Andy wishes they never tried to get GM on the block because if it doesn't work they have a huge mess to unravel. MC agrees.
Andy says he thinks he'll stay as long as MC, Amanda and Spencer stay rock solid. Andy also think JUDD will do what Elissa wants. Andy says the vote is going to be 5-0
Spencer joins them and Andy tells him about the plan..
Andy – you just play dumb
Spencer – that's my game.. dumb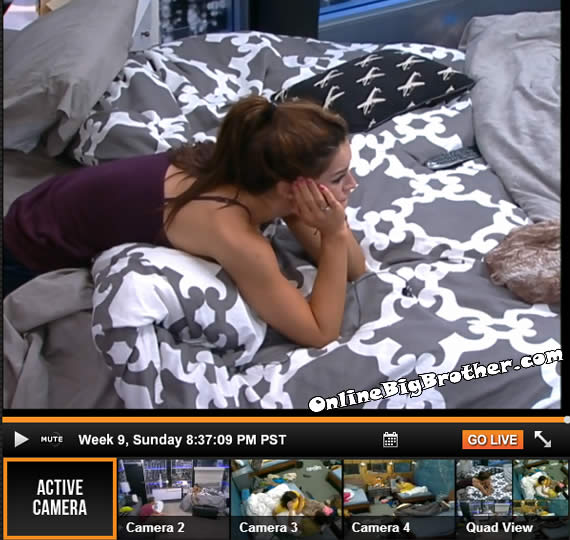 8:31pm HOH JUDD and ELissa
JUDD tells her all the nonsense downstairs is driving them all insane.
JUDD says he doesn't think they will get beer now. Elissa wishes they had wine she could really do with a glass right now.
Elissa tells him she cannot leave the Head of Household room, "They (Production) are out of their mind if they think I can deal with that"
JUDD:' It's just her
E – I don't deserve to be put in this situation… I came here to play this game.. I don't have any respect for Big Brother.. it's crazy
J – it's annoying and psychotic.
J- can you get in trouble if you dump gatorade on someone's head
E – no
J – I'm going to so that if she starts that sh!t with me.
JUDD says that Amanda is reading the rulebook trying to find out what she can get away with. He plans on reading it when she is done
Elissa says she never did anything to deserve this treatment.
E- they are subjecting me to an environment where the people want to beat me up. Why am I here..
JUDD says Spencer, GM, Andy and himself need her to be in this game they are counting on her.
Elissa says she doesn't want to talk to Andy, "I'm not interested"
JUDD mentions how Andy does not talk to Amanda
J – offers to get her something to eat.
E – I'm not going down there for the rest of the week and when I do it's to go home
J – DON'T thats what she wants.. don't give her what she wants.
E – I should have done the show.. I should have known
8:24pm Bedroom McCrae and Amanda talking about what to do if Andy goes up. MC wants to make sure they are still voting out Aaryn Amadna says of course. MC only see two possibility Andy or GM going up.
MC – I Loathe her
A – I hate her
MC – what did they say to you
Amanda whisper in his ear what Production told her. (Sounds like someone higher up in production game down to talk to her)
8:52pm Photo booth open
The players are a bit freaked out because this is not what usually happens. They think something is up becuase they've already done the photo booth pictures for the day.