POV Holder:
Big Meech
POV Competition
July 23rd
POV Used
NO
POV Ceremony
July 25th
HOH
James
Next HOH
July 28th
Original Nominations:
Frank AND Bridgette
After POV Nominations:
Frank AND Bridgette
Have Nots
?
CBS All Access: Live feeds are only $5.99 per month – Try it FREE for 1 WEEK!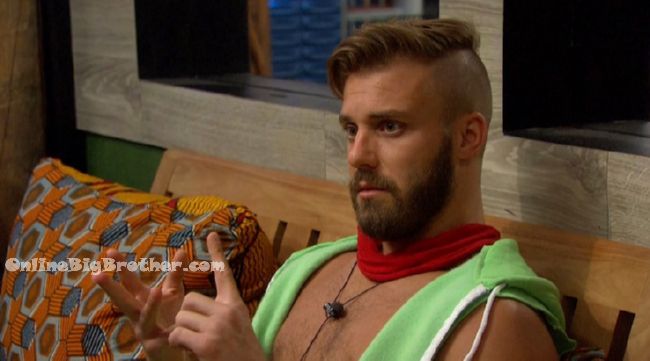 7:55pm Paulie and Victor Safari room
Victor says just between them 4 they are strong as sh1t. (PAule, Paulie, Corey Victor)
Paulie says they need to make sure their 3 play in the Double eviction says those are scary.
Paulie – Someone like Da, Nicole they'll look to make a big move right they're… For me if Paul wants Bridgette gone I'll take.. Bridgette gone
Paulie is trying to tell Victor that Da'Vonne is a better target to get out next week before they go into Double eviction.
Victor – everyone wants BRidgette out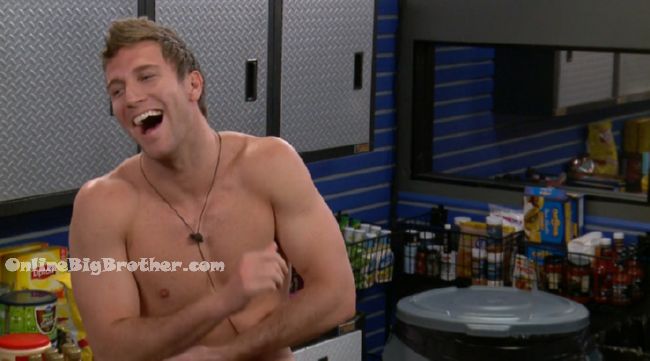 8:00pm Nicole and Corey
Nicole – Da and Bridgette
Corey – Da and Vic .. Vic as a pawn..
Corey – If da wins one of us is going home 10000%
Corey laughs
Nicolle – that's not funny
Nicole – I keep telling Frank he's so good at this game.. He's not good..
Nicole says Frank told her he'll ride to the end with him if they flip the house. Nicole doesn't believe it he'll put them up
Nicole knows Da'Vonne is targeting her, "I'm going to take it like a women"
Corey – why is our name getting thrown around so much
Nicole – cause we're linked to that (Frank)
Nicole – All the girls are after the girls
Corey – except for Da… she's after the guys
Nicole says Z, Paulie, Corey and Paul have her back.
Corey says even Paul wants Da'vonne out.
Nicole – I want [Da'Vonne] gone more than Frank and Bridgette
Nicole is going to make a deal with Bridgette if she wins HOH. Nicole won't put her up if Bridgette doesn't put her up, "Next week's double eviction"
Nicole – Z is glaring at me when I was talking to Frank… you can talk to Frank he's going home.
Nicole says Frank is pissed at what they did to Bridgette last night.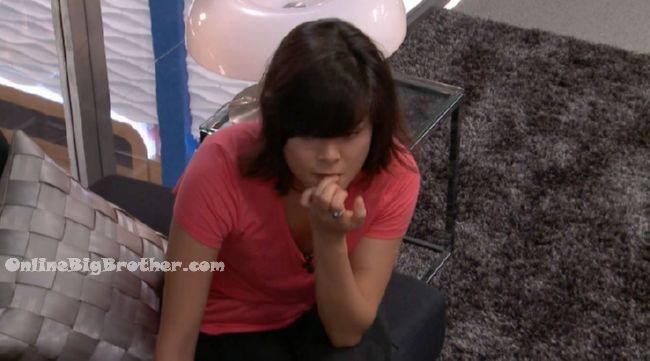 8:08pm Natalie and Bridgette (They are blaming the whole house ostracising Bridgette thing on Frank)
Bridgette is saying that Frank let her feed into the whole mean girls thing..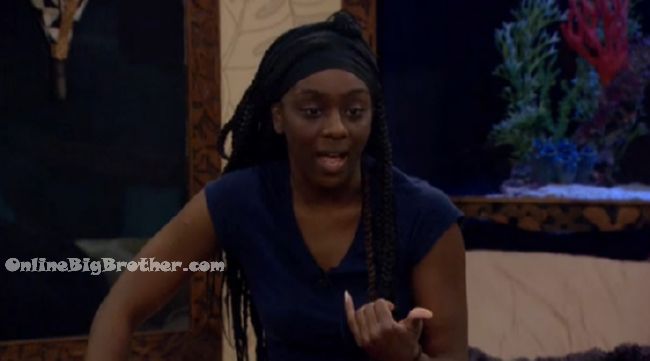 8:09pm HOH Paul, JAmes and Da'Vonne
James is saying that Natalie is trying to find what Bridgette knows
Da'Vonne what if we see Nat talking to Nicole
James – Nat doesn't trust Nicole
Paul – we have 5 votes here and 6 votes with Natalie.. I'm not worried.
They think the vote count is Da, Paul, JAmes, Victor and Zakiyah
They agree Nicole cannot win the HOH
James – OPhh I don't know what she would do
Da – his a$$ can't win
Paul – Corey can't win… I would like to give him the benefit of the doubt he would listen to the boys but i'm not willing to gamble
Paul points out that Corey hasn't come to them with any information. He hasn't come back to them and said anything about Nicole and Frank having "that" conversation. (the frank,bridgette,corey,nicole alliance conv?)
Da'Vonne – there's some sh1t going on
They are worried Paulie is close to Corey they have to pull Paulie back in.
Paul – PAulie's not stupid he's smart and I trust him
Paul says they have to try and win, "You gotta pull it f****g thru.. Kick start this sh1t"
Paul – I'm going to win and stick to my promises to get Bridgette out of the house…
Da'Vonne- I didn't make that promise
Paul – if you win
Da'Vonne – we got options
Da'Vonne wants Nicole and Rico Suave out
Paul – Rico Suave is on our team right now..
Paul says Victor will tell them who his target is.
James warns them to not be surprised if Frank is safe.
They agree they'll know exactly where the votes went and the lines will be drawn in the house.
Da'Vonne brings up what Nicole said about Frank- "If you want to be the best you have to beat the best.. Because apparently he's the best"
Paul – when .. where.. He lost his season
Da – he was the underdog..
Paul thinks that is why Frank moves in on Bridgette and Michelle because he thought he could play on their super-fandom.

8:27pm HOH Da'Vonne and JAmes
Da is pissed "that information got back to Corey"
James- Nicole knows everything
Da – I'm sure
Da'vonne is suspicious about Corey and Nicole being in the storage room fro 20 minutes says when they got out Nicole looked right at her.
Da – corey is all like why is all the attention on my why isn't it on Da
Da brings up Nicole coming to her about the 5 alliance. (2 showmances and Da'vonne) Da'Vonne was never onboard with that alliance she was the 5th wheel. Da'Vonne starts to impersonate Nicole says that is how you know she's lying..
Da'VOnne says last night Nicole was going on about how much she hated Frank today she's downstairs in the kitchen giggling telling jokes.
James says he trusts Natalie 100%, "She's kinda like a Meg to me… I know she's not going to float game on me"
James – if Frank leaves tomorrow night it's going to be smooth sailings.. If he stays we all have problems.
Da'Vonne – I can't believe he made that statement why is the heat on us why isn't the heat on da.. I be chilling.. I've been reading.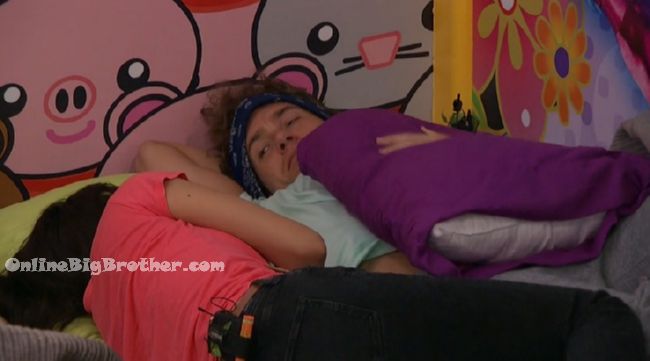 8:35pm Bridgette and Frank
Bridgette – Frank… I don't want you to sleep all day it's not good for you circulation ..
Frank says he's hidden away a couple avocados and some zucchini's they can eat it tonight, "I'm sneaky.. I did it for you so we would have something to cook tonight"
Frank – you're probably going home tomorrow
Bridgette – REALLY
Frank – ya
Bridgette – Really
Frank – i'm just too good at this..
Bridgette – Frank what have you done
Frank – I threw you under the bus.. I said you had a big secret your boyfriend was on the show before and I told them if you make it to Jury your boyfriend comes into the game.. You're not a nurse you're a doctor you don't need the money… I told them you're feet are covered in warts and everyone will get warts from the shower..
They laugh..
Bridgette – What else
Frank – you're not really Filipina you're Japanese.. You know Kung Fu .. Technically you're related to Julie chen but she put you up for adoption..
Bridgette – how did you find out about me I never told you
Frank – i'm good..
They laugh..
Frank – yup I told them all your secret..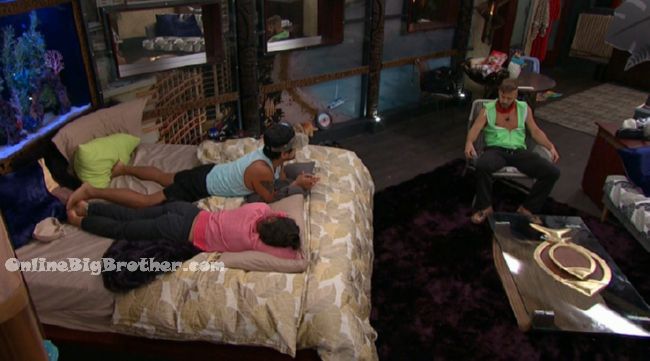 8:48pm HOH Paulie, James and Natalie
James – what's the word man everyone's got paranoia… Franks' campaigning real hard has people on edge.. Paul says he's going to self evict himself..
Paulie – Paul's self evicting if he (Frank) comes back in
Paulie says Frank came to him top flip the votes.
Paulie – He knows Michelle wants Bridgette out more than him.. Corey and Nicole for reasons we've already discussed he thinks he has them.
James says it's bad for everyone's game if Frank stays
Paulie says everyone in the house knows Frank is full of bullshit. Brings up Nicole coming up to him saying if he votes to keep Frank she'll vote that way.
Paulie says if Frank comes back from the ticket Bridgette won't trust him the same.
Natalie says she's very sad and she feels lonely
Paulie thinks Bridgette is playing that up.
Paulie says Frank is a dangerous player.
Paulie more or less is saying Frank is the obvious choice of target this week. Says the need to get as much information out of Bridgette and Frank before they go.
Paulie – get the information than BOOM CLIP THEM.. get the information and BOOOM clip'em .. cause they're a snitch..
Paulie – if I ever was in the government I would be like ya you got immunity then send my assassins after you. (Vote Paulie 2016)
Natalie says Bridgette will not be a threat after Frank leaves.
Paulie – Frank will go him this week, Bridgette will sink back into where she wasn't a threat until she links up with someone that'll make her a threat..
Paulie says Michelle is also playing like this, laying low then when it's game time turns it up and wins.
Natalie – tell me what to do and you know you have my vote
they laugh
Paulie – you're a character
Paulie points out that Da'Vonne is getting closer to Zakiyah.
Paulie leaves..
James says Paulie is the leader of the pack.. he's my leader..
Natalie brings up someone said that Frank told Bridgette Natalie was mad at her for taking the basil leaves.
James- who was the only people that knew about that
Natalie- Nicole, Michelle you and me
James- it was Nicole
Nat – I don't trust Nicole
James – Nicole is a snake in the grass
They start talking about Zakiyah being made that Natalie was doing Paulie's nails.
Natalie – Paulie's my Friends.. apparently I can't have guy Friends.
Natalie says Zakiyah is the most beautiful girl in the house but she's so insecure.
Natalie back to the basil leaves.. says someone told Frank that Natalie ripped the leaves off.
James – that's a lie I did
Natalie about Nicole – She'll talk behind your back she'll be sneaky about thing..
James – I want to put her on the block
Natalie – who is Paulie's next target
James – I think Da.. Victor Bridgette Da maybe even Nicole
Natalie – no one in this house has a backbone..
Natalie – this house is full of flakes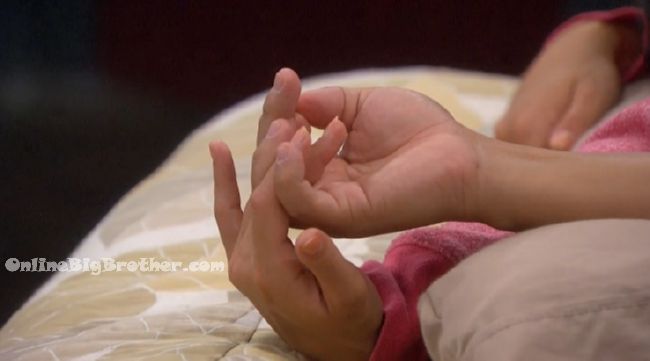 [polldaddy poll=9477458]
[polldaddy poll=9477456]
[polldaddy poll=9477457]