POV Holder:
?
POV Competition
Sept 12th
POV Used
?
POV Ceremony
Sept 14th
HOH
Vanessa
Next HOH
?
Original Nominations:
? and ?
After POV Nominations:
? and ?
7:52pm Vanessa and Austin
Vanessa says it wasn't ideal for her to win "At least we're final 4"
Liz comes in starts to cry about Julia
Vanessa – my body is going to be so sore
Vanessa – that was really hard
Liz – I did 6, 7 with the luxury
Austin – it was hard
Liz says she'll take Vanessa on her trip
Austin doesn't know if they let more than one person leave this deep in the game.
Liz says last year they sent 3 people.
Liz leaves
Vanessa – what did steve think if you win
Austin – think i would keep him safe.. that's what I was telling him
Austin – I'm prepared to do whatever you want
Vanessa asks what the twins would have done
Austin – Steve and Johnny Mac obviously..
Austin – tell me what you want me to do
Vanessa – you'll do whatever I want
Austin – I have to, we've come this far in the game.
Vanessa – you know what I need you to do..
Austin – go on the block vote out Liz ?
Vanessa – no, we'll have to see, I need to confirm some facts.
(Confirm facts means 13 hours of talking about the same conversation that happened week 1 before the feeds were on)
7:59pm Bathroom Vanessa and Liz
Vanessa – Can I ask you something ,.. it's important
Vanessa – What did steve think you were going to do if you won HOH .. Please don't lie to me
Liz explains that She told Steve she wouldn't vote him out if she was HOH and it was a tie breaker
liz – I told him what he wanted to hear.
Liz – he knew I was going to be his front door person
Vanessa asks her if Steve was under the assumption she was going up her and Johnnymac
Vanessa says Austin admitted it
Liz – no way..
8:00pm Vanessa and Steve
Vanessa – please don't lie to me
Vanessa – what do you think Austin would do if he won HOH
Steve – Some combination of me, you and Johnny
Vanesa- think really carefully this is coming down to it right now
Vanessa- did he tell you specifics
Steve – he didn't tell me
Vanessa – did he tell you he would keep you safe
Steve – he just said I wasn't his target..
Vanessa – How about liz
Steve- probably me
Vanessa says Austin and Liz' stories don't line up
Vanessa – Austin lied to me he's my target.. I needed a reason and I have it now..
8:06pm Bathroom Vanessa and Austin
Vanes as- i put a lot of faith in people.. My instinct are good some of the things don't sit right with me.. I'll explain it to you guys.. exactly
Van – who did Johnnymac think you were putting up
Austin says he was just telling Johnnymac and Steve they were safe he was going to put them both up
Austin – I had to say what I have to say
Vanessa- incentives
Austin – Vanessa , you're not mad at me please
Vanessa- i'm upset with Liz.. she put her word on her sister she wouldn't vote for me if she's a tie breaker
Austin stresses she's just telling Steve what she needed to say
Vanessa- she made a deal with him
Austin – I told her to say whatever she needs to say.. she was going to go back on the deal
Austin – we're telling them whatever we need to say to those f****ers so it's us three plus one of them to final 4.
Austin says as long as two of them were off the block they can keep them safe if JOhnnymac/Steve won the HOH
Austin – I'm never going against you and you know that.. when push comes to shove I won't do that and you know it.
Vanessa- why are you so concerned with Steve winning the final POV.. what if I win the final POV
Austin – I want you to win it
Austin stressing that none of them are making it to the end with Steve and Johnnymac in the house
Vanessa- incentives incentives
Austin says Nominations are tomorrow.
8:15pm Comic room Vanessa and John
Vanessa- can I ask you a question
Jmac – Austin said He wouldn't put me up .. I made a deal with him I would put him and Steve up
Vanessa – you made a deal with him
Jmac- well not really a deal said I couldn't win with Vanessa and Steve..
Jmac says Austin asked him if he had a deal with Vanessa, "I said NO"
Vanessa says Austin made a deal with everyone to not put them up "They've been doing that the whole f****g game"
Vanessa – did he bring it up or you
Jamc – you told me to you said I had to make a deal with Austin
Vanessa – I did
Austin – it wasn't a out right deal I said I have to take out Steve and vanessa.
Vanessa – who can you go to the end with
Vanessa says she can't throw a comp she can't do it she's too paranoid and competitive.
Johnnymac says he never talks targets with Steve.
Vanessa – I wonder who Steve thought….
Johnnymac says if Austin and Liz won they would put me and Steve up
Vanessa says she's paranoid they would put her up.
Vanesas – you willing to go against Steve
Johnnymac – I can't win.. with you they hate you .. they like Steve. (hate her in the jury)
Vanessa saying she doesn't feel good about the way liz was "Saying" it to her
8:26pm Storage room Vanessa and Liz
Liz says Steve is bugging out
Vanessa – I would too
liz goes over the deal she made with Steve, "Obviously I said everything I could to stay in the game.. It was by no means sketchy and Sneaky.. if I won HOH I would have put up Steve and Johnny Mac"
Vanessa – I would have been the replacement nominee and you promised Steve if it was a tiebreacker
liz – I would have never of done that though.. she sent home my twin
Liz – he made me swear on my family and he went back on it..
Vanesa- they're all these conflicting deals out there
Austin joins them says Steve was forcing a deal threatening the vote what is Liz supposed to do say no
Austin – people say a lot of things at this point but the loyalties are here.. for me at least
Vanessa – Ok, I never made any conflicting deals
liz – I never made a conflicting deal he said he would flip the vote
Austin – I made no deal
Austin says he shook on final 4 with Johnnymac they never talked about nominations. It was going to be them three and Johnnymac
Austin goes over his handshake with jmac again
Vanessa- he said you both were saying you would put Steve and me up
Austin – I never f***g said that that is not true at all .. I swear that is not true
Vanessa – I'm going to go on my gut with this..
Austin – I'm telling you it's not true..
Vanessa – earlier today they're way too much whispering going on.. they're things that didn't add up for me
Vanessa says she's looking at the incentives and Austin was putting her and Steve up
Austin – the problem with that is I never doubted you, I thought you were playing with me to get to final 3 that was my incentive,
Austin goes on about them being on the same side with the same final 3 goals.
Austin – I can't trust johnymac and Steve why would I take them to
Austin the real incentive is Steve and Johnny Mac taking each other to final 3..
Liz starts to cry says she had to tell Steve whatever
Vanessa goes back to the deal Liz made
For the hundredth time liz explains the deal
Austin – I never gave one name to those f****kers
Austin – "I have no problem breaking sh1t with any of those guys.. I cannot believe those names came out of his f***g mouth"
Vanessa – "I'm just confused that's all…"
Liz leaves says she's always had Vanessa's back from the beginning
Austin – talk to me
Vanessa – I'm not in a winnable situation
Vanessa says she's going to have to turn her back on someone that has kept her safe.
Austin – I don't want you doubting me at this point
Vanessa – you did play very well..
Austin – Steve broke up Twinstin and I got Johnnymac out of the house
Vanessa asks what he would have done in Steve's shoes. Austin says Steve could have honored scamper.
Austin – he told me he thought he was the 5th wheel in the thing.. which he was..
Austin – there's only 5 people left 4 of us are intertwined but there's different levels of loyalty
Vanessa asks if he has a final 2 with anyone other than liz
Austin – I don't have a final 2 with Liz we never talked about that
Vanessa doesn't believe it asks him if he's got a final 2 with anyone other than liz
Austin says no way his only deal is with Vanessa.
Austin – Hopefully after the show she'll realized if we get to final 3 and I drop out why
Austin I hope you can sift through the bullshit
Vanessa – i can I'm a smart girl
Austin – good cause I'm not bullshitting you
Vanessa – the best thing is putting up one of each pair
Austin – I'm not goign against you and I'm fighting for you next week
Vanessa – i'm goign to final 4 with one pair
Austin – go with the pair that has been working with you
Vanessa – right well there is that
Austin – we've done this dance so many times i'm not going after you .. it's not happening.. it's not of all people Steve and Johnnymac you let them.. F****G
Vanessa – that's the thing.. I don't know what i'm going to do
Vanessa – I'm going to tell you what I'm going to do I'm looking at incentives
Austin explain again his real incentive with Vanessa is they are making it to final 3.
Vanessa – when we made that agreement there was no showmance.. then the showmance came to your advantage and my disadvantage.
Vanessa says the logical thing for Austin is to take Liz not her.
Vanessa- it's not as simple as the people I've been working with all along, when we made that there was no showmance.
Vanessa – I've also been working with Steve this whole time, I'm not working with Johnny that's for damn sure
Austin – we'll I've been working with Steve this whole time.
Vanessa – if you were me what would you do
Austin – I would put Steve and johnnymac up and trust me.. you really thinks Steve and johnnymac are working for you because in final 4 i'm working for you
Vanessa says Austin has no incentives to win the Veto in final 4.
Austin – I still could play for the win if I wanted to protect both of you
Austin – If you put me and Liz up what are you saying.. am I the target
Vanessa – wold you throw Veto regardless of who is on the block
Austin – yes.. i will do that 100% if that's what you need me to do, it's real
Vanessa starts brings up deals Austin made week 1
Vanessa – Steve is acting so comfortable.. that didn't sit right with me
[envira-gallery id="133068″]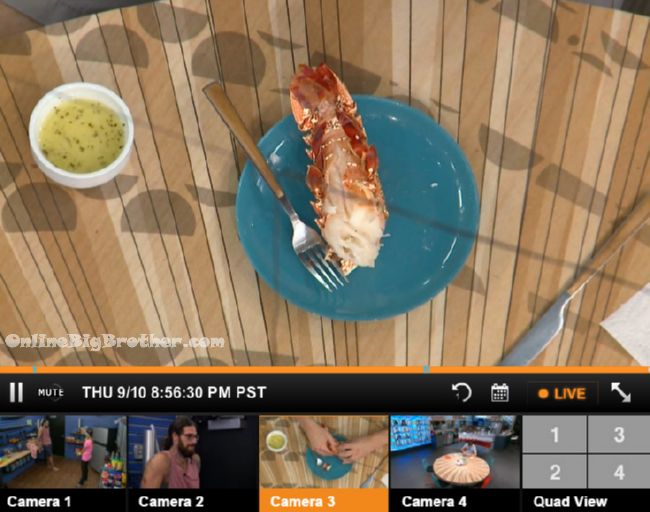 8:58pm Steve eats his lobster
If you've enjoyed the spoilers please consider a donation using the drop down box below. Simon and I work 24/7 all season long to keep you updated on everything that happens inside the Big Brother house.
[polldaddy poll=9063299]