POV Holder:
?
POV Competition
Aug 15th
POV Used
?
POV Ceremony
Aug 10th
HOH
?
Next HOH
Aug 17th
Original Nominations:
? and ?
After POV Nominations:
? and ?
Have Nots
?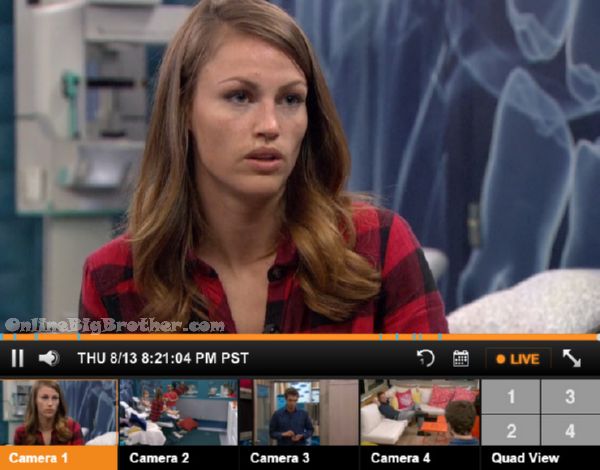 8:10pm Have nots James and Becky
James says there's one group that hasn't lost any members Austin and the twins. Adds Austin's got all theses minions in the house and he must be throwing competitions.
Becky – If it's physical you and I, cats in the bag if it's logical we're f***D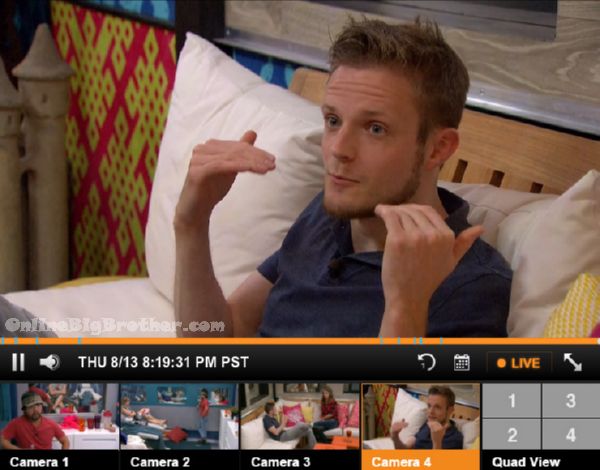 8:16pm Jmac and Becky
Jmac says Steve is with the whole other side of the house
Jmac – If I won I was going to put up Meg and Liz to force the veto to be used.
Becky – Vanessa is really dangerous
Becky starts bringing up Austin as a dangerous person in the game she believes he's throwing all these competitions.
Jmac – Vanessa trusts me a lot for some reason I don't know if we can use that
Becky says they need to pull in Meg and James and go after the other side (The Generals)
Jmac – we can pull in Steve
Jmac says Steve's move was a "Fan boy move"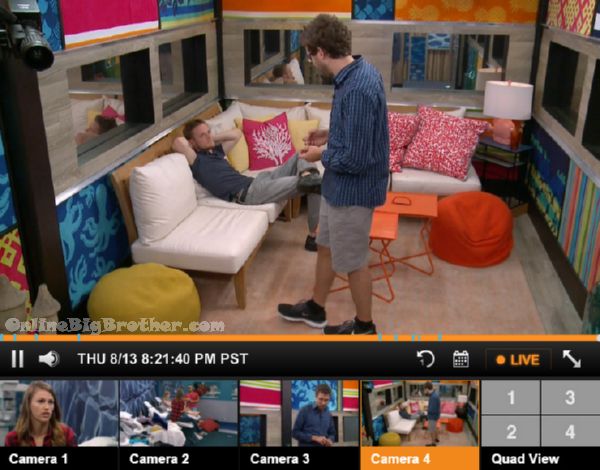 8:21pm Hammock room
Steve – I have people gunning me like nobody's business right now I did what I had to do
Jmac – Yup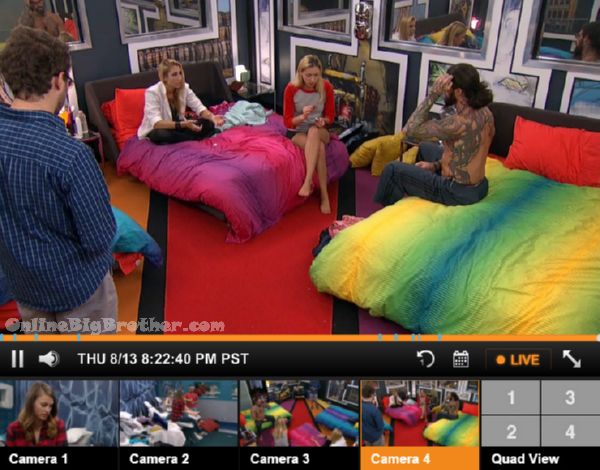 8:22pm Vanessa, Austin, Julia, Liz and Steve
They've been studying for the last hour..
8:23pm Have nots Goblins and Becky
Meg is shocked that Vanessa tried to make a deal with her during the double eviction.
Becky calls her a b1tch
James – This is Big Brother you can bounce Checks
Meg – I gotta keep calm with Steve man I want to bite his head off
Becky – we're out numbered don't
Becky thinks Vanessa is giving Steve a lot of attention that is why he's so influenced by her. Becky thinks Steve is the type of person that responds to attention
Becky leaves the last two goblins start scheming to get Austin and the twins out.
Becky comes back – "I'm having a F******G bad day everybody wants my friends out"
Meg – Every week every single week, Why are they taking my peeps (She thinks they're making a montage of her every week saying that)
Jmac comes in
Meg – Who is the most dangerous on that side
Jmac – Vanessa
Becky – she doesn't need numbers she creates them
Becky goes on about how dangerous Vanessa is. "She creates paranoia in your environment, Make you feel someone is against you and then she offers her a helping hand"
Becky – She did it to Austin, Shelli and Clay, She creates paranoia in your environment and that's what she's doing to Steve.
Becky – she's the puppeteer
The goblins + Jmac and Becky agree to be as sweet as possible to Steve
Becky tells them they can win they have the stronger players the other side is going to be scared.
James – powerhouses
Becky says the fans like them more everyone is cheering for them.
Meg tells Jmac there's no hard feelings with him not using the veto.
Becky starts talking about forming up a solid group of four to include Johnnymac. "WE're well rounded.. the four of us"
Becky says Jmac can "Perform magic" on Steve to get him to vote their way.
Becky says if they win HOH they need to put up Vanessa and Austin if POV is used Liz goes up. "We got to get them out"
8:39pm Vanessa, Julia, Austin, Steve and Liz
Austin to Steve – welcome to making an important decision
Steve says he's never had to make a hard decision like that .
Steve says he feels empty.
They go back to studying
8:48pm Have nots Becky, Meg and Steve
Steve "I wasn't prepared to win HOH I didn't have Noms decided"
Steve – Jackie was the one person that was distinct from mer it made me worried that she was coming after me
Steve says he put Meg up with her because he knew then he would have the votes to get Jackie out
Meg – Jackie of all people in this house had no intention putting you up never..
They tell Steve Jackie's main target has always been Austin she never was targeting Steve. Meg warns him whoever told him Jackie was coming after him is lying to him.
Steve – Ummhmmm immhmmmm (most of the time)
Meg wishes Steve would have talked to them.
Steve tells them Vanessa told him Jackie was coming after him.
Meg – To be very frank and bold with you I believe you were set up to be my next target
Becky says the other side is using Steve "Who do you think we will all come after"
Steve – You think I was set up
Meg – Who do you think I will go after
Steve- Are you kidding me
Becky says they all know Steve didn't come up with the HOH nomination himself it was someone else influencing him.
Becky says they want to take those people out because they did the same thing to them.
Meg tells Steve not to worry Jackie will be coming back in.
Steve worries Jackie will come after him.
Meg doesn't think so tells him Jackie knows who they need to get out she knows what happened to Steve.
Steve – This sucks.. they are using me and I f****D you
Steve- I f** you over and did the opposite what I told you I would do
Meg – we've all made mistakes, Everything happen for a reason
Becky – that's OK
James joins them.
James tells Steve this group right here we'll protect you.
(The goblins and Becky are really pushing Steve to join their team)
[envira-gallery id="128198″]
9:19pm Feeds cut for second HOH
ALLIANCES:
Goblins/Gremlins = Jackie, James and Meg
Generals = anyone allied with Becky
SOS = Steve and Vaenssa
Rockstars = Steve and Jmac
? = Becky, Shelli, Jmac, Steve
Freaks n Geeks = Austin, Twins, Steve, Vanessa
AUS-Twins = Austin, Julia and Liz
"Brass Tacks"  Gobins and Austwins
[polldaddy poll=9025485]
Share it YO!!
Tweet