Power of Veto Ceremony results
Maddy used the veto. Sheldon put Minh-ly up as the replacement.
Jamar Lee Removed From 'Big Brother Canada'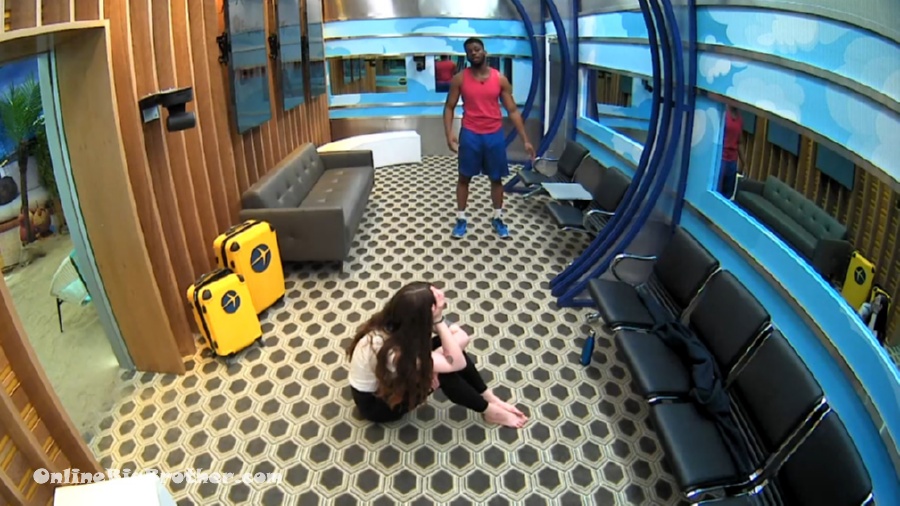 10:50 am Brooke and Sheldon
Brooke mentions how Minh is ignoring her.
Sheldon says all they have to do today is act sad. "You feel sorry that Minh is stirring up all this stuff"
Sheldon – I'm sorry.
Brooke – man if … if Minh can pull off the votes like holy f** I would be so impressed and terrified
Sheldon – yeah
Brooke – I doubt she will but if she does. Colour me impressed.
Sheldon – it's going to get Ugly
Brooke brings up not being worried about JL. Whatever they tell JL gets to Maddie and Ri. She's more worried about what the girls will do with the information than what JL will do.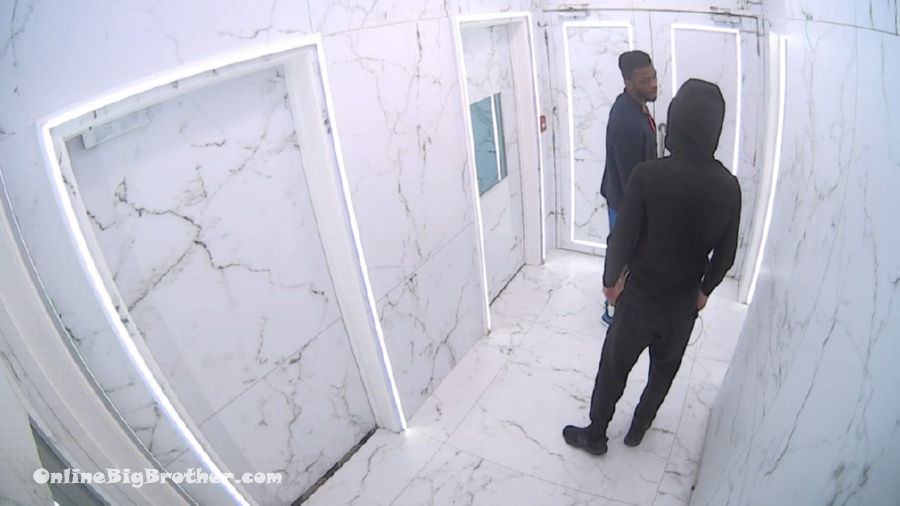 10:54 am Sheldon and Jamar
On Sheldon's way out of the Expedia room, Jamar is on the way in and almost bumps into him.
Sheldon – hey are we straight? Are we good
Jamar – yeah
Sheldon says people think he's upset.
Jamar – I'm not pissed at you it just sucks
Sheldon – I hear ya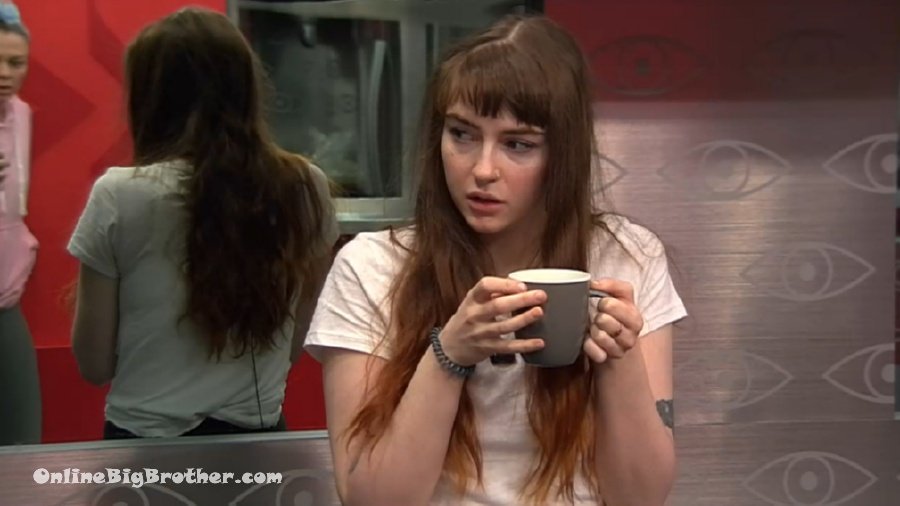 11:00 am Sue and Brooke
Sue talking about Jamar going nuts saying that if anybody else in our five and doesn't put up Chris and Kyle he's going to go Solo.
Brooke – honestly what I'm going to do. I'm just going to tell him Shells already told Minh she's going up that's just what is going to happen this week.
Brooke is going to tell Jamar if she wins HOH she will put up Kyle and Chris. "I'm going to placate him so he doesn't lose his flipped mind then if I win next week. I'm putting up Jamar" (She told Sheldon she plans on not winning HOH)
Sue – the 6 is the most important to me
Sue says that Chris needs to go soon he's a threat.
Brooke – F*** yeah Chris has got to go
Sue – Chris is a HUGE player I see Jamar's point
Brooke – JAmar's gut feeling is right
Brooke says Chris isn't a problem for them right now Chris in the game will make it easier for them. Eventually, they'll need to cut him, "two-three weeks maybe"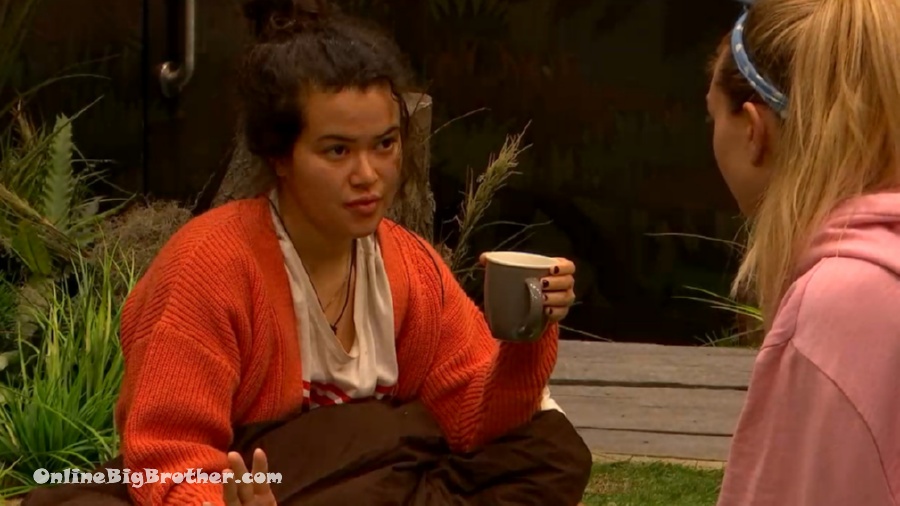 11:00 am Maddy and Minh
Maddy says she knows Minh is going up "Rianne told me I don't know how she found out"
Minh – He told me last night. He said I'm not changing my mind I suggest you spend your time campaigning.
Minh – I don't expect your vote
Maddy – I was thinking about it. It's hard for me because I really like both of you
Minh – I know Rianne is your number one she's your girl. But at the same time, you came to me after you said Minh-ly I really want to work with you the house wouldn't expect it. I think the house now knows we're cool
Maddy says the only reason they are close to JL is because of Mike.
Maddy says if Minh has the numbers She'll vote her way
Minh thinks she can get the numbers.
Minh says she's a strong female that can be a powerful ally in this game, "You know me I'm not a pu$$y"
Minh points out that Brooke and Sheldon are very close. Brooke is intimidated by her.
Minh says Sheldon is playing a "pu$$y game"
Maddy – yeah I said that in the DR
Minh – I'm a shield and I'm not afraid to make BIG moves.
Maddy – if you can get the votes Then. I'll do it. I'll be honest if Rianne has the majority I'll go with her.
Minh counts her potential voters. Carol, Vanessa, Jamar, Chris, Kyle, Hira
Minh says Hira is closer to RI on a personal level but he might be closer to Minh on a Game level.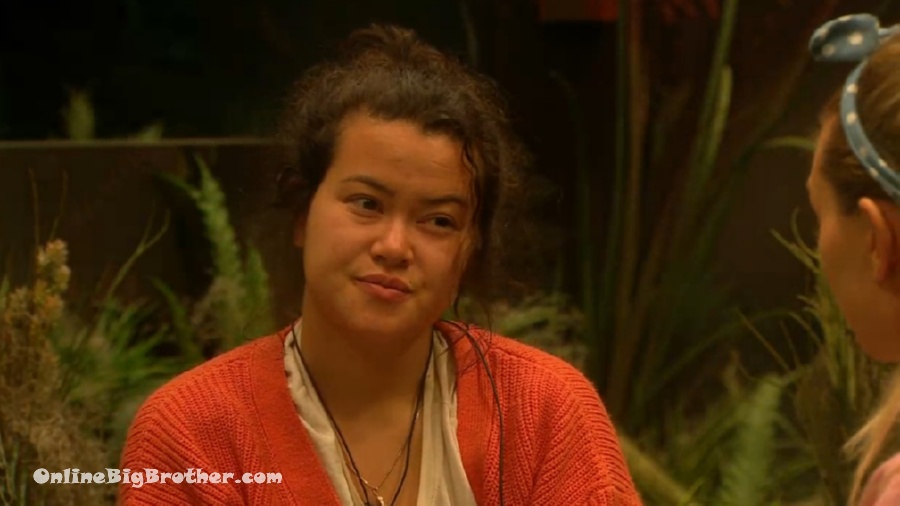 Minh – If everybody is like f***ing Sheldon kissing certain people's a$$es that person is going to win.
Minh – I'm brave. I don't care for Drama I don't care to make waves I can live with Conflict if it means what's best.. you know what I mean (HAHAHA)
Minh says Brooke is controlling this HOH and Sue is very close to Brooke now. Minh brings up Sue telling Vanessa to throw the Veto competition.
Minh says Brooke is also trying to get close to Kyle.
Maddy says Kyle is a tough one to read sometimes.
Minh – Maddy you know. You've been f*ed by him
Maddy – I want to be the one to get him out so bad (Kyle)
Minh – I have such a master plan. Please keep me just keep me.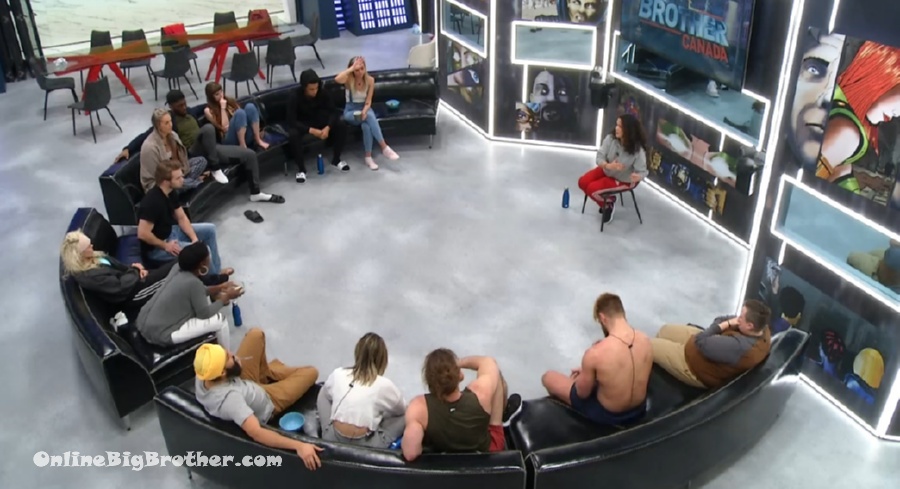 4:00 pm House Meeting
Minh – Ok, Basically last night I had a conversation with Sheldon, one on one. Sheldon said to me he's been hearing in this house that I've told multiple people there is a 5 person alliance with Sheldon in it.
Kyle – WHo else is in it
Minh – wait
Minh – the reason I am here today is because I want to get to the bottom of who is spreading rumors and who is creating lies and who is making me out to be the scapegoat.
Minh – If I was lying I wouldn't be sitting here open for discussion. I've been told I created rumors there was a 5 person alliance with Sheldon in it.
Minh – it doesn't make any f***ing sense.
Minh – Brooke came to me today and said Minh-Ly why are you telling people I told you to throw the competition.
Minh – I was told by yo Vanessa that Brooke came to you and said to throw the comp and both of us looked at each other and said what the f** that doesn't make any sense
Minh – I thought we had a great relationship Vanessa however it's come to my attention that someone has poisoned you against me. IN this game it's divide and conquer
Minh – If you keep me in this house I will go after the number one threat in this house because I am not afraid
Minh says they need to balance out the house and have more than one "Predator" if you have just one predator left in the house it'll be just like "Pac man"
Sue mentions that Minh told her she has never said to anyone to watch out for Sue, 'I want to clear the air. Hira has she ever said to watch out for me"
They laugh because it's true
Kyle now bringing up a three-person alliance Minh had with Kyle and Chris
Kyle – if you had this three-person alliance why did you go to Vanessa the closest person to me in this house and told her you were going to backdoor me next week. And went to everybody to throw the HOH competition
Minh – I never did
Minh asks everybody if she told them to throw the HOH.
Everyone says no or doesn't answer.
Minh – that is how rumors start in the house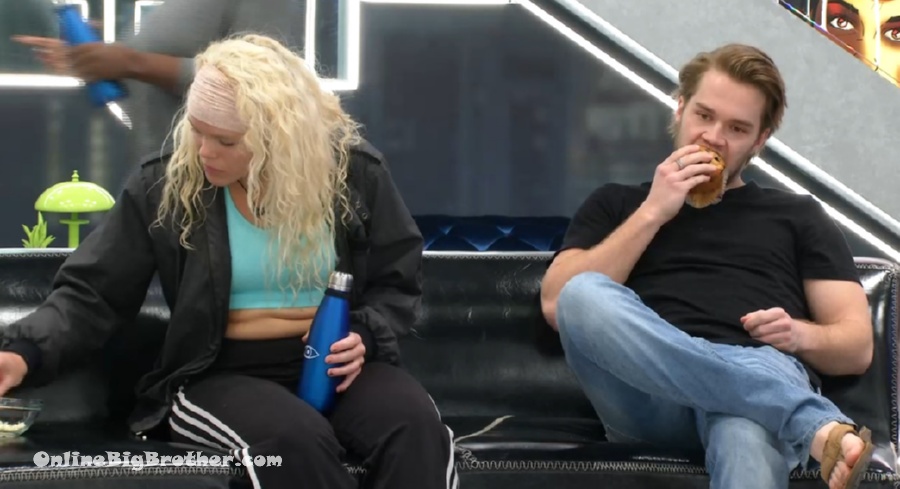 Minh warns them all that Kyle will win this game.
JL – This pitch seems really familiar from last week with a guy named Mike. He said he was going after Chris going after Kyle. The difference was Mike was honest and he didn't spread rumors around. So I don't know why we would keep you over him
Jamar – he didn't spread rumours right.
Jamar asks Kyle "Mike told me that you were going to put me up and on slop
Kyle – Nope I never said up just slop
Jamar – ok so you only said slop
Maddy – it's been brought to my attention you were a big part of last week with Mike being gone. You told me you were very surprised it was Mikle going up and not you. Did you know that
Minh – I was working with Chris and Kyle and we wanted the four out. The goal of that week was to knock you guys out
Maddy – did you lie to me
Minh – yes at some point I didn't know what the truth was.
Minh says she was surprised "that wasn't an act I thought I was going to go home"
Vanessa says she was playing Minh last week
Jamar – Vanessa you playing me
Vanessa – yes, I'm playing the game I'm sorry
Jamar – so when you come into the room and say I like you I want to work with you that's all lies.. Be honest?
VAenssa – I do like you and if we could work together I would like to but you are outing yourself very badly in this situation.
Jamar brings up Vanessa pulling him to the side saying she doesn't want to be attached to Kyle anymore, "You said that you don't want to be in his pocket"
Vanessa – the story I had to spin to you is the same as Minh
Jamar – everything you said to me is a lie you don't want to go against Kyle
Vanessa – we're together, Yes
Minh calls Kyle a liar 1 thousand percent.
Jamar – this is fake f*ing sh1t don't come lying to me it's disrespectful. lines pretty f*ing clear bro
Jamar getting pissed "Fake sh1t bro goddamn.. put we're playing a game right a f**ing game."
Jamar to Chris – you always say I'm your boy.. I'm your boy. you lying to me you playing me to?
Chris – I said I liked you man. WE're boys man..
Jamar – what about when you say you want to work with me you lying about that to?
Chris – Jamar we're at the pool table you bring up us working together. I like you sure
Jamar starts yelling at Maddy (Vanessa I think) "Playing the victim sh1t.. Crocodile tears"
Kyle – why are you trying to intimidate people
Jamar denies he does says he's not getting into the girl's face.
VAnessa calls him out for being ridiculous
Jamar – I can say whatever the f* I want. Someone, please make me shut up.. please.
Jamar – I'm being played that's not respect. I was f***ing played and I have the right to be upset.
Minh's final pitch is that she'll go after Kyle, Vanessa and shady people
Jamar gets up – Muscles don't do nothing bro they do nothing in here and they don't do anything outside. You feeling me
Jamar – you feeling me
Kyle laughs "Ohh scary"
4:32 pm – Jamar to Kyle "when you have a f**ing .45 in your F****g face .. Pu$$y a$$ N$$$" (Yikes)
Kyle says nobody in this house is scared of him he's not the one running around being a tough guy
Jamar – shut the f*** up hommie
Jamar apologizes to Vanessa for getting heated. Says he would never hit someone in the house.
Kyle – It's the psychological intimidation
Minh – that's just the way he talks
Kyle – but that the way she (Nessa) takes it should she not feel that way
Jamar brings up Kyle saying he made the whole house feel uncomfortable, "I asked the house and that's not true"
Jamar – we already know you lost that one
Kyle laughs
Jamar – with your goofy a$$ bro. You're a goofy a$$
Jamar warns the house about Kyel and Vanessa say they're playing everyone, "It's all a lie"
Jamar again says Vanessa came into his room saying she doesn't want to be in Kyle's pocket attached to him "Looks she just admitted she's playing me so whatever she's saying to you, you , you, you everybody they're playing you"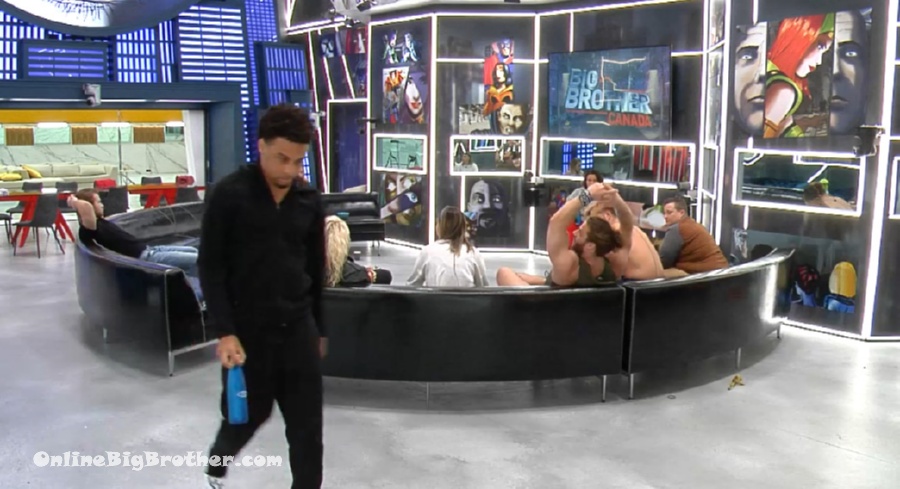 Jamar – we're in here FAM if we were out here we already know what would happen… BOOM… Muscles don't help you in here muscles don't help you outside of here all that weight training just to get POPPED
Kyle – Jamar, you actually can get kicked out of this game for saying that
Kyle – you just told me I'm going to get Shot he just said "POW" what does that mean
Jamar – people do gunshots in big brother all the time .. POW POW POW POW
Jamar gets called into the Diary room
Kyle – he can't be talking like that.
Carol – you can't say you are going to POP somebody when they get out of the house.
"I'm going to placate him so he doesn't lose his flipped mind then if I win next week. I'm putting up Jamar"
Vanessa says Minh told her if she was Sue's boyfriend she would break up with her in a heartbeat.
Minh – Are you serious that's disgusting
Vanessa – because she's flirting with all the guys this and that
Minh claims it was a lie.
Sue says Minh has lost her vote calls her a liar.
5:40 pm Feeds are down.
9:40 pm Feeds down.
11:08 pm Feeds still down.
2:25am The live feeds are still blocked..
Tuesday 17th @ 11:44 am Still down yo
Feeds return at 3:30 pm on Tuesday. Jamar has been removed from the game for the above threats.
Official statement from BBCAN
Insight Productions has made the difficult decision to remove a houseguest as a result of behaviour which occurred that was a breach of the Big Brother house rules.

We at Global and Insight Productions take the rules of this competition seriously and with respect to all houseguests past and present, the confines of the Big Brother house can be trying, sometimes leading to a clash of opinions and emotions in an isolated environment. We handle these situations with care and caution, protecting the well-being of our houseguests and ensuring the integrity of this long-standing production.

"I take full responsibility for my actions – I lost my cool and that's not okay. I've always stood behind what I believe in and I'm sorry if I let people down," said Jamar Lee. "I want to thank everyone for their love and support, it really means a lot…this isn't the last of me! You feel me?"