Maddy will use the veto on herself Sheldon will put Minh up as the replacement. He plans on telling everyone beforehand including Minh. She will go insane.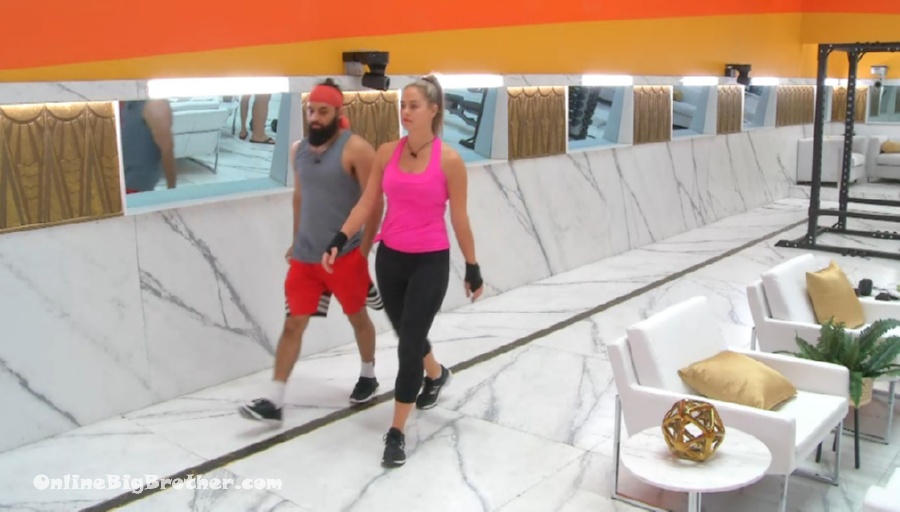 10:45 am Ri and Hira
Hira helping Ri come up with strategies to move the target off her.
Hira – Work on Brooke a lot
Hira also suggests for her to really press that she's after "those three" Kyle, chirs, ?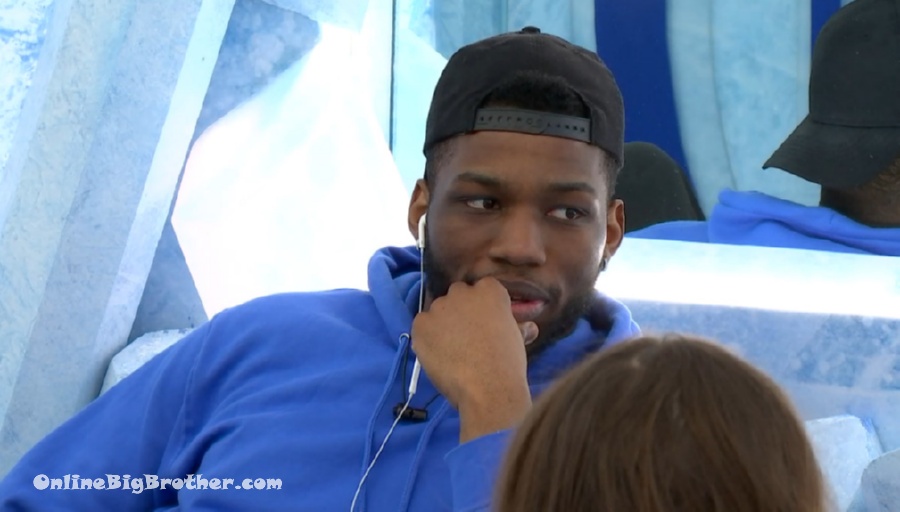 11:48 am Sheldon, Brooke, and Carol
Sheldon says he hasn't had any conversations cause the day's just started.
Carol – depends if you want to make a BIG move or a safe move. How much to you want RI to go home?
Sheldon – that's what I'm trying to decide in my head
Sheldon explains that the type of HOH he won showed him he's nobody's target. He thinks it's not a time to make a big move.
CArol says Minh will go home over Ri "how bad do you want Ri to go home"
Carol about Minh "She adds a toxic element to the house"
Sheldon – 100 percent. she's the most contagious person in here
Carol – she's with everybody but she's not with anybody.. do you know what I mean. I 1000 percent believe she will go home over Ri
Carol – I think we can bring Ri and Maddy not into the 6 but at least have them be loyal where Minh is not loyal to anyone but Minh. It would take a toxic level out of the house.
Carol – Minh's a great girl she's just playing so hard so fast.
Carol – obviously you can put Chris or Kyle and they go home over Ri. But I don't think you want to go that route that's too much blood on your hands.
Noon Sheldon and Brooke
Sheldon talking about what he's going to tell Angie.
Sheldon – I think I'm going to backdoor Minh should have been done last week
Sheldon brings up how he'll relate nobody putting their balls in his tube so he wins HOH to doing what the entire house wants and backdooring Minh.
Sheldon – I don't want this girl to stay longer than me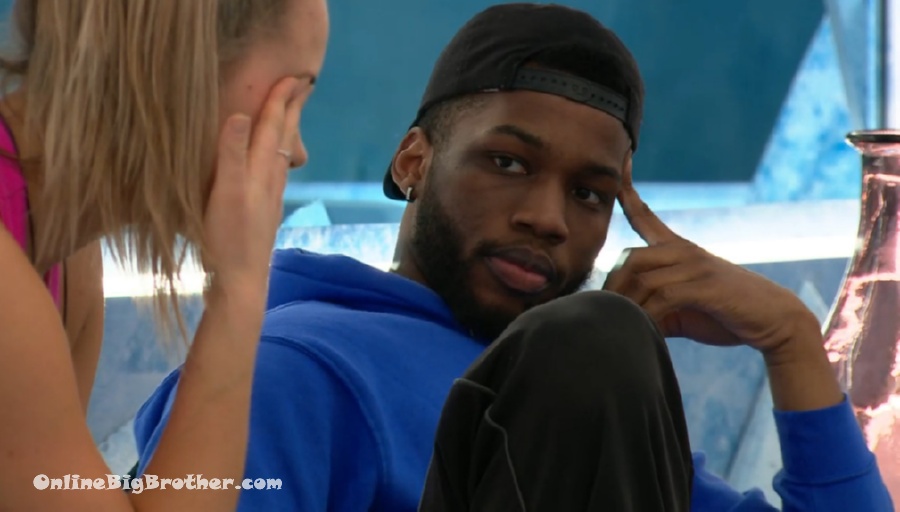 12:04 pm Sheldon and RI RI
Sheldon goes over his speech about putting Minh up.
Sheldon says he doesn't want her to go this week. He's going to put someone up that has a good chance of being evicted over Ri.
Sheldon about Minh – "I think she needs to actually go now"
Ri – are you going to talk to Minh
Sheldon – I'm not going to blindside her. I did tell her I wasn't putting her up. I meant the nominations but she took it as in general. I will feel bad going back on my word. If there's anybody that deserves to have someone go back on their word to it's her. This person has recently said a lot of lies and buzz about me.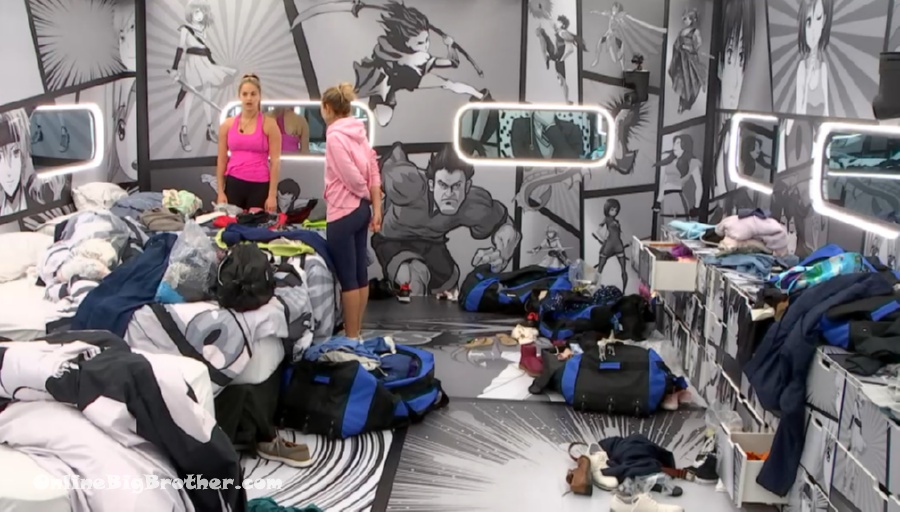 12:21 pm Ri and Maddy
Ri fills her in on the talk with Sheldon
Ri – I said moving forward I want to work with you not against you. I tried to tell him I know that regardless of who won HOH I know that this would have been the move that was made.
Ri – I stroked his Ego
Maddy – yeah you have to stroke ego. I hate that
Ri – I made him feel really safe. I'm so worried that Minh is going to drag my name through the ringer (For sure)
Maddy – what can she say that's so bad though?
Ri – I've been complaining to Chris about her. That's what I'm worried about
Maddy – Minh's going up
Ri starts talking if they won HOH next week they could bring Carol and Vanessa and say they want to work together. Put Chris up with Vanessa as a pawn.
Ri – If noms stay the same vote Chris out if they don't do a backdoor
Maddy – If Chris pulls himself down I would backdoor Kyle so hard BOOM
They talk about how Sheldon's target was Ri's all along "At this point that doesn't help me". Maddy says they told her they want her to stay because she's the weaker player
Maddy – Ugh.. I don't want to hear that
Ri – your expendable at any time.. thanks, guys
Maddy – I Hate it that mikes gone but it might be better in the long run
Next's weeks HOH plan. Maddy – "If Chris pulls himself down I would backdoor Kyle so hard BOOM" #BBCAN8 pic.twitter.com/zOdrJ4bZKQ

— OnlineBigBrother.com (@bigbspoilers) March 15, 2020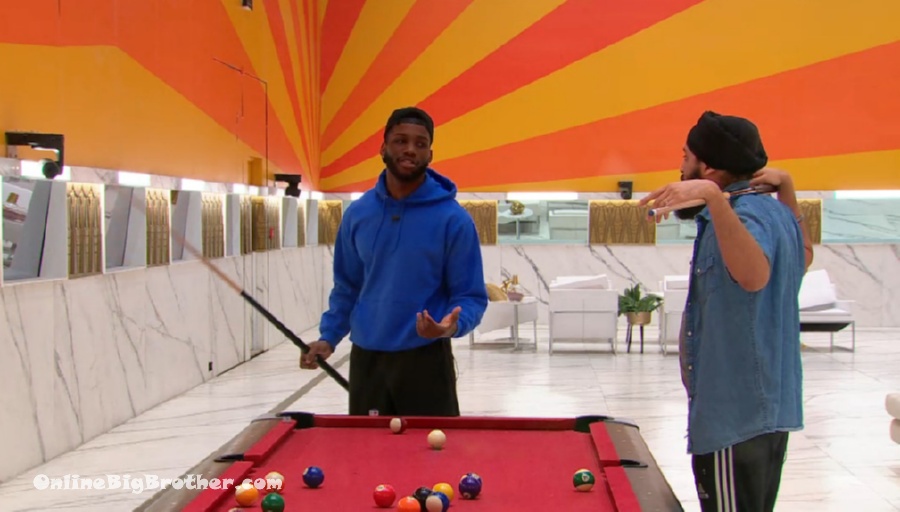 1:04 pm Hira and Sheldon
Sheldon says he's telling everyone in the house first that Minh is going up before he tells Minh
Sheldon – she's going to go crazy she's going bat sh1t crazy. It's going to be fun to watch I'm going to prepare everybody
Hira – as much as I would love Chris gone I think he's a HUGE threat we'll take out chances
Sheldon – we have the numbers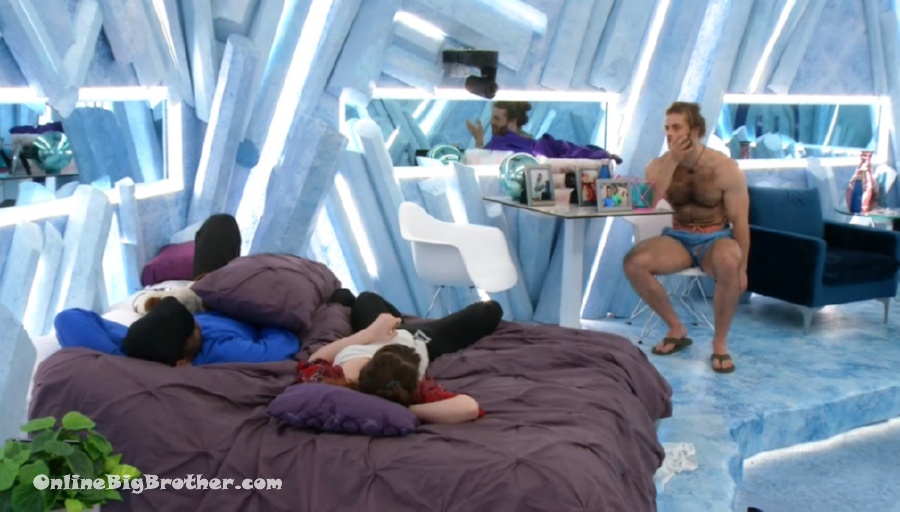 1:51 pm Sheldon, Gorilla, Brooke
Sheldon brings up how paranoid Hira is and "gung-ho" in getting Kyle and Chirs out
Sheldon thinks Hira was trying to persuade him to put Kyle up.
Kyl e- Ohh Hira god bless him. He's like 2 steps behind
Sheldon – yeah yeah there's like right there but two steps behind
Sheldon wants the next two evictees to be Jams and Hira.
Sheldon – imagine Minh, Jams, Hira in a row Holy sh1t bro! I can J@CK OFF to the idea of that (huh wtf)
Kyle – I'm going to j@ck off
Brooke and Sheldon laugh
They bring up taking Jamar and Hira out on a double.
Sheldon – I would enjoy it
Brooke says they shouldn't get JL out before Chris
Kyle – I agree
Sheldon – I agree
Sheldon – man Jams on the block guaranteed going home I Kinda see him self evicting
they laugh
Brooke- 100 percent
Sheldon says imagine if Jamar was on the block for a whole week while on slop, "He would lose his mind"
Kyle – if it was me that put him up
Sheldon – he's either going to get kicked out for fighting or he's self evicting.. (Ohh shit)
Brooke – kicked out for fighting
Sheldon says he's "So confident" that Jamar will either get kicked out for fighting or self evict if he's on slop and nominated.
Kyle – why would he fight me.. honestly (for the feed watchers)
Sheldon says Jamar is "Special in his won way"
Sheldon – if you put him up. He starts losing his shit and pulls up on you he says something to you pop off he swings
Kyle – no ..
Sheldon – no sorry not pop off do anything but cower he'll fight you
The houseguests were told about the coronavirus. The feeds were down for a whole chunk.
10:49 pm Kyle eats a hamburger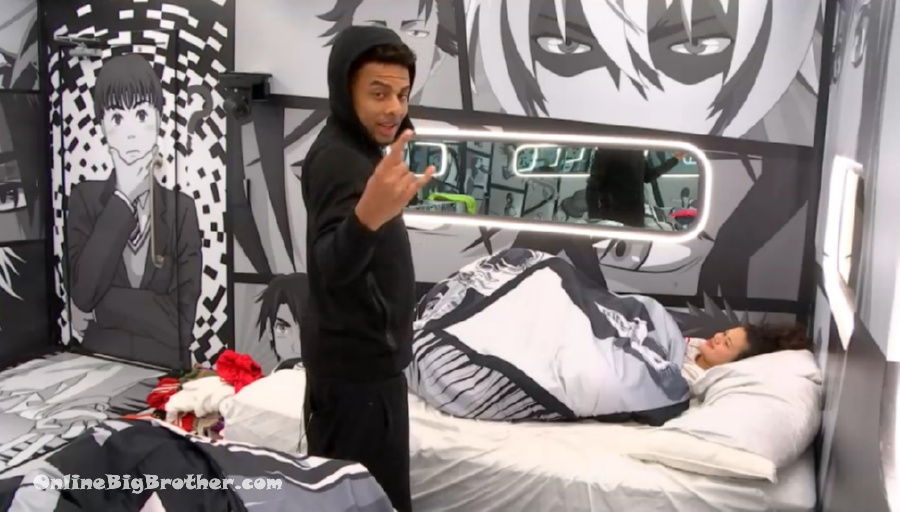 10:58 pm Jamar and Minh
Minh – what do you want can't you see I'm m@sterb@ting
Jamar laughs "The cameras are all looking at you
Jamar – were you actually
Minh – NO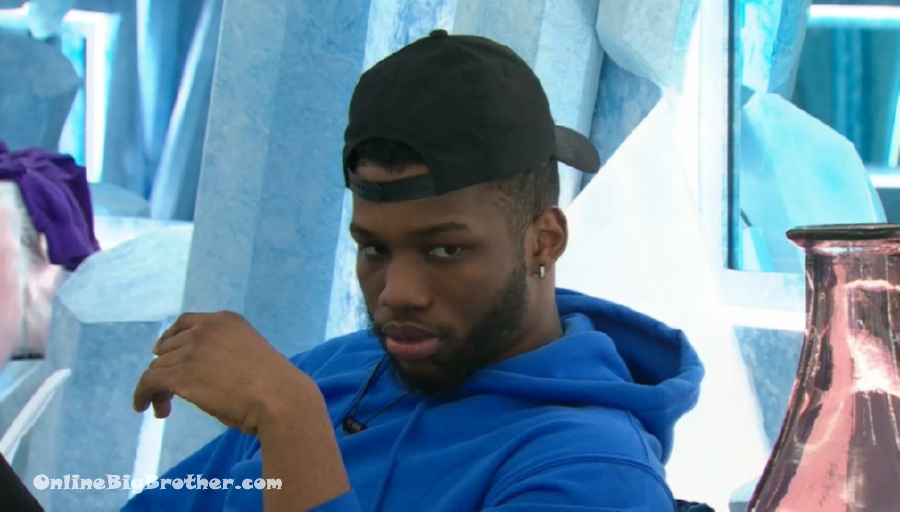 Midnight JL and Sheldon
JL says MAddy and Rianne will be in an interesting spot for the rest of the game.
Sheldon says these two girls surviving this week is huge for them
JL – It's good for me to
JL says he's the third guy in that group (with Maddy and Ri)
JL – it's great Split up them first then get out JL.. right …
JL – it's great for me
Sheldon – yeah