POV Holder:
Paulie
POV Competition
July 30th
POV Used
?
POV Ceremony
Aug 1st
HOH
Paul
Next HOH
Aug 4th
Original Nominations:
Bridgette AND Paulie
After POV Nominations:
? AND ?
Have Nots
Natalie, Paulie, Corey, Zakiyah
CBS All Access: Live feeds are only $5.99 per month – Try it FREE for 1 WEEK!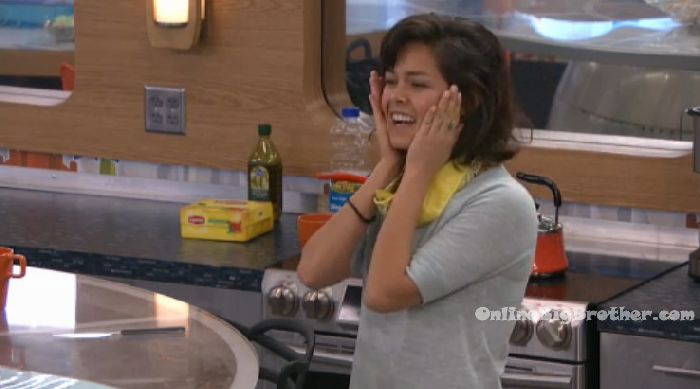 12:15am In the kitchen – Bridgette tells Michelle I totally fan girled. Its Frank Eudy. Michelle says me too, I was like I have a little crush on him. Bridgette says oh no, I'm sorry. I think we also bonded because we have a loved one at home, you know?! Everyone started coupling up and we were both missing someone from home. We're both secret hermits, you know and kind of shared that in common. Michelle says its just me being jealous Like fricken jealous ex-girlfriend. Bridgette says Frank never said anything bad about you. I thought you were always cool and I was surprised we didn't get along.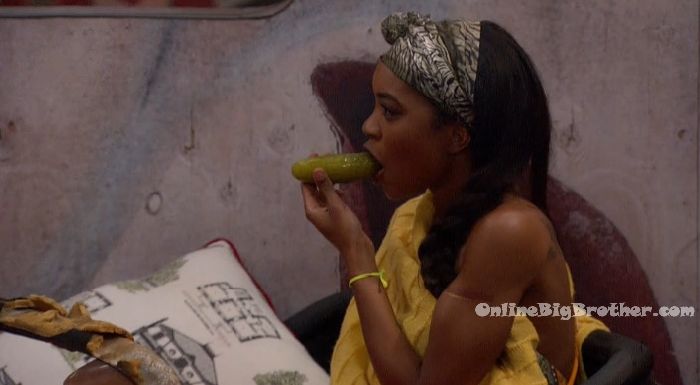 12:35am Havenot room – Michelle says I'll cuddle exe (Vic) if someone gives me $100. Nicole and Corey say I'll give you $50 each. Paulie joins them and brings Z a pickle. Michelle tells him she'll cuddle exe if someone gives her $100. Nicole says she already has $50 from me and Corey. If anyone gives me $500 I'll kiss Corey. Corey asks $500.. wow?! Nicole asks okay are you cuddling him or not?! Michelle says I'll think about. I just wanted to see if you would. Corey says I'm going to lay out a saucer of milk and a cigar.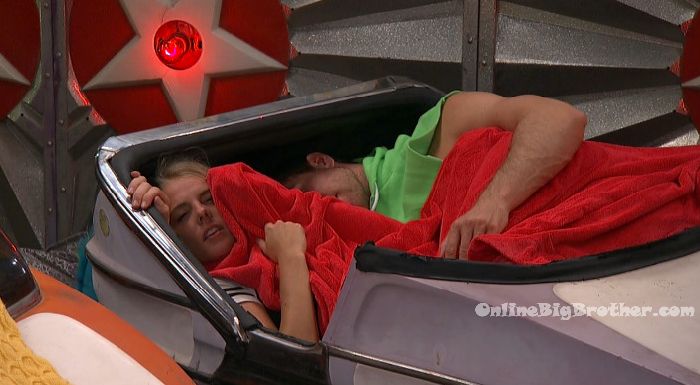 1:10am – 2am In the kitchen – Nicole, Corey, Z, paul, Bridgette, Paulie and Vic are trying to make each other laugh. Paul and Natalie are trying to see who will laugh first by exchanging phrases. Natalie keeps loosing because she laughs at her own. Paul says I'm going to adopt a child and teach him to punch you in the face. Nicole goes up against Paul but can't think of anything. She asks Paulie for help. Paulie whispers to her and then turns to Paul and says BONER! Paul doesn't laugh. Paulie and Vic go up against each other. Paulie says I think so deeply about your pectoral muscles bouncing on my face. Paulie and Paul try to make each other laugh. Paul says you don't have to call Paris you can get inside me for free. Paul says when you birthed they meant to call you Paul but you Dad stubbed his toe and called you Paul-IE!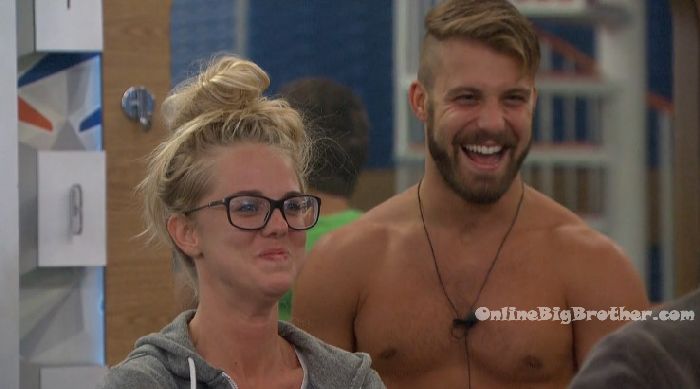 2:25am – 3:40am James, Paulie and Paul are in the backyard.
Paulie says that Z and Michelle will be pissed if Da goes out this week. Corey and Nicole want her gone, I want her gone. Paul says we would just need to repeat this whole process just to get her out so why not do it now. Paulie agrees. James says Da knows she's going up. She said she was going to have to fight for votes. Paulie says get Da out, then Bridgette next. Paulie says I'm going to plant it in Bridgette head that the girls are going to try and use her. Paul says if we sleep on Nicole she will turn around and make a move. She's here to play. Eventually she's going to take shots at strong players not weaker players. She is that biggest threat out of all the girls. If you don't take a shot when you have the opportunity you won't get that opportunity again. Paulie says take out Da and Z and then maybe go after her. Paulie says if homie (Victor) doesn't win any of the next few HOHs, we clip him because he serves no purpose.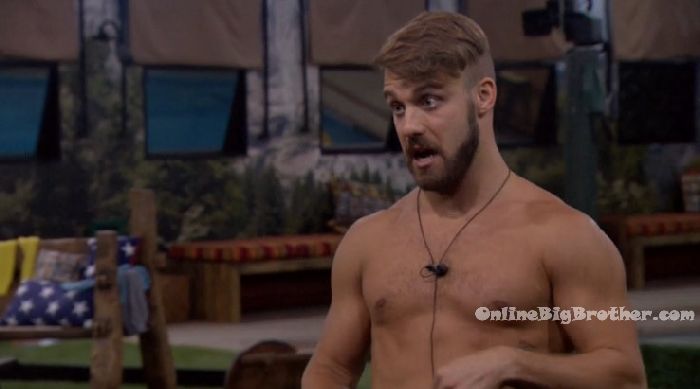 4:40am – 5:45am HOH room
Paulie, Paul, Z and James. Paulie tells James if you ever get the chance to take out Vic you should say I stole your girl and now I'm stealing your place in the game. The conversation turns to talking about the opportunities they'll get after they get out. James says that he was offered one gig with a club but turned it down and then 5 months later asked them about it. He says they said the window has passed but if you get on again we would love to have you do it. James says when he got out he had 3 pages of things to do a day.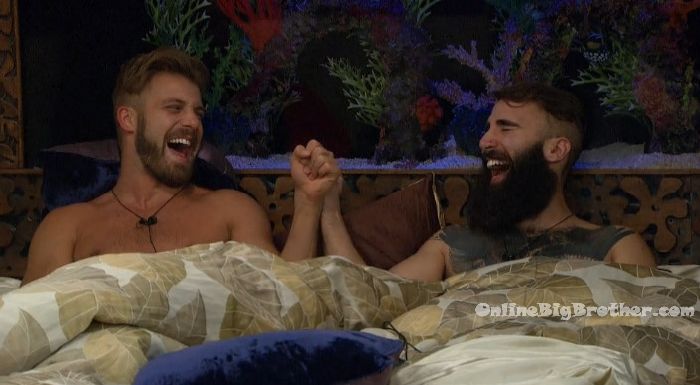 [polldaddy poll=9486231]
[polldaddy poll=9485811]
[polldaddy poll=9485817]