POV Holder:
McCrae
Next POV
Aug 31st
POV Used
YES
POV Ceremony
Sep 2nd
HOH Winner:
GM
Next HOH:
Sept 5th
Original Nominations:
Amanda and McCrae
Current Nominations:
Amanda/Spencer
Last Evicted Houseguest
Aaryn
Have Nots
8:20pm ELissa and Amanda
Amanda says from here on in she will never keep anything from Elissa. Tells her that she tried very hard to get ELissa put up as the replacement nomination.
Amanda tells her she always liked Elissa, "I wanted to take you as far as I could.. but when you put him I went crazy'
E- 'I put him up strategically'
A – so were you trying to backdoor me'
E – no.. I didn't even think of it until you said something'
A – 'i'm telling you.. you can trust Andy'
ELissa says what Amanda did was the tackiest thing she has ever seen and she is surprised that everyone else in the house watched and laughed
E – 'we're not 16.. it's disgusting.. I don't give a crap about what anyone says in here'
A – "i was way out of line.. it was uncalled for there was no excuse for it.. I don't know what happened to me..I wish it never happened"
E – 'If I wasn't me ummhm.. who obviously like.. I've had people say mean things before.. Like most people in my position.. You know.. LIke I feel people look at thing that they are envious of and want to rip them apart'
E – "And that's fine I feel like God has given me everything.. ummhmmm in my personal life I have everything except having a little girl. uuhmm.. everything I ever wanted.. I mean like I feel like he has given me and that includes my husband"
E – 'I have the best most amazing man.. and I love him so much I respect him so much.. There's not something someone can say about me that's going to make me devalue my life'
Elissa – 'I have work hard for the things I have and my husband has I feel very blessed.. My Heart is happy'
Amanda – 'Do you accept my apology'
Elissa – 'Yes I accept.. totally'
Elissa is glad it's her because she thinks that the things Amanda said would have really hurt her sister.
Amanda explains that the plan last week was to have her terrorise Elissa so much she would be shaken. Andy was then going to use that opportunity to get close to her in the hopes she would never put him up. Amanda doesn't want to watch the episode that showed her terrorizing Elissa, she thinks her parents will be embarrassed.
Amanda says she never trusted Spencer since day one. Elissa agrees, she feels the same.
Amanda tells her Andy has way too many friends in Jury. She doesn't trust Spencer, JUDD or GM for sh!t. She only trusts Elissa, Andy and McCrae.
You can re-watch ever second on the feeds using the flashback feature.. It's just like a DVR and is super easy to use. click this link for a Free Trial —> Subscribe to the Big Brother Live Feeds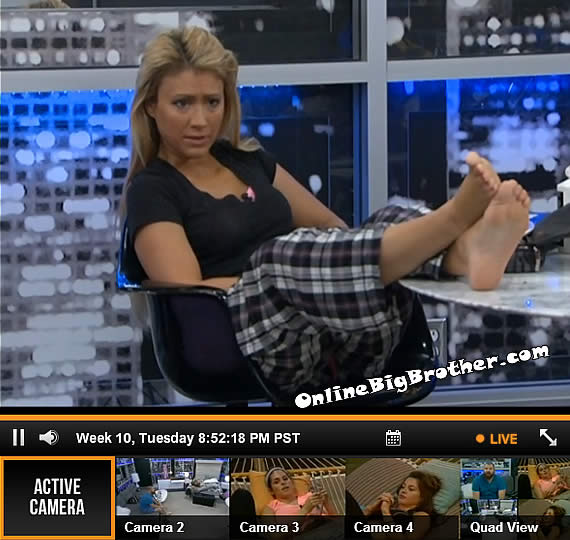 8:49pm HOH Andy, Spencer, GM
They are have noticed how Amanda and Elissa are so close now.
They all agree ELissa looks nothing like her pictures. GM points out her cheeks, lips and eyes all look different.
Andy – 'And she claims she's never had any plastic surgery on her face'
Spencer – 'when she gets exterminated I'm not going hug her'
GM – 'how are they laying on the hammock being besties again'
GM tells them while she was sleeping Elissa went through her drawers.
Andy – 'oh my god.. she's f*** crazy'
S – 'I have not met anyone in my entire life as crazy as she is'
A – 'I don't know anything about her'
S – 'her personality changes every day'
JUDD rolls in..
A – 'Amanda and Elissa are BFFs now'
JUDD – 'ya.. I don't care about going in there and talking to them anymore'
GM – 'Andy was right about the ring she had three now she has two'
A – "No I saw the ring Amanda showed me'
GM – 'What a idiot can't wait until Amanda walks out with it'
JUDD – 'they are flaunting they are together'
GM says Amanda has Elissa's and McCrae's vote and she thinks she has Andy's.
Andy says the look on Amanda's face when the vote is 2/2.
JUDD – 'I dunno.. .ELissa is all like I LOVE women I love Women so much.. oh my god than marry one'
GM – 'After this Thursday.. I'm going to be so nasty to that b!tch she's going to wish Amanda is back in the house making fun of her cause I'm going to rip her a new a$$hol$"
Spencer – 'she'll just have it surgically sewn up.
Andy tells them if Elissa wins HOH and it's a double they have to go to her immediately and tell her McCrae wants to form a guys alliance to get the girls out of the house. They will then offer Elissa a deal to work with them if McCrae goes up. Andy mentions that a exterminator has to go up, doesn't matter who it is.
Gm – 'Worst case she wins HOH'
S – 'Thats a scary place to be'
Andy – 'if McCrae wins the HOH we'll have to play up the fact that Elissa flipped and not me'
Spencer – 'If the ring is brought up it's a fake.. just tell him it's a fake.. how does that sounds JUDD'
JUDD – 'Good to me'
Spencer thinks the next HOH will be a quiz and McCrae is decent at those.
Andy tells them they need to completely blind side McCrae and Elissa.
Andy – 'what are you thinking JDUD'
JUDD – 'I'm just so frustrated with Last night.. I'm done'
GM – 'They just think we are scum f*** stupid poor people'
Andy – 'I can't wait for thursday'
Andy – "think about how many awesome moments it's going to be.. Amanda thinks it's 3 to 1 it's going to be a tie and Ginamarie is going to break the tie'
JUDD – ' I wish we could fast forward to it'
Spencer – 'I 100% trust you all and it's the exterminators for me… I don't mind not getting to final 2 just as long as I knew I ran with a solid honest crew'
GM – 'I'm f**** with that bro'
Specner says when the votes come in Amanda is going to sh!t in her pants and he can hardly wait.
Andy – 'and she's leaving with the Elissa's wedding ring.. and my organ shirt.. oh well it's a casualty'
S – 'wouldn't you rather run with this crew make it to final 4 then be lap boys to those mother F*****'
A – 'YES'
GM – 'JUDD came back for a reason and we aligned for a reason We're real American people..Not psychos.. them two b!tches are f*** nuts.' GM says McCrae is somewhat normal
Andy – 'I cannot imagine working on a deal with them three over the three of you'
Gm says the exterminators are legit, the name is secure their alliance is written in stone.
GM – 'we're real people not crazy people'
GM calls Amanda a baby,
JUDD – 'she's a c***, W***, B*** I f**** hate her'
GM -'She a wh*** she was showing her t!t$ around'
JUDD – 'I hate her I hate ELissa and most of all I Hate ghosts'
Gm- 'Whats ghosts' (JUDD moves his head around like a ghost.. I think he means production)
JUDD -'i like mc don't hate mccrae'
All the exterminators agree if they can get rid of Elissa and Amanda in one night it'll go down in history.
Spencer says all the fans must be sick and tired of Amanda running the show. GM says Aaryn is the one that is going to look stupid for following Amanda.
Specner says as a person he really liked Aaryn and Howard.
GM and Specner leave. Andy says this thursday will be so rewarding.
JUDD – 'unless the ghosts give her a power'
Andy – 'They won't.. we got this'
9:38pm Backyard Everyone but GM, Andy and Elissa.
Amadna brings up that GM has been acting weird around her.
Gm and Andy join them and they start talking about the rules of checkers.
10:02pm Random chat Everyone but JUDD
Amanda is reading the bible. .. they decide to play shout out's and f**** yous
Andy talks about the documentary "King of Kong" (It's recommended)
10:20
The most immature person is votes as Jeremy
The worst game player is David
Best laugh .. they are undecided.. Andy says Howard.
Amanda says Candice was the best fighter.
ELissa asks who cries the most
Spencer – Helen or Andy
Andy agrees.
GM – best accent
MC says Spencer, Amanda says JUDD or GM.
Amanda asks 'Most level headed'
Elissa says she is. nobody agrees but only JUDD disagree.
JUDD – 'No not at all'
Spencer- 'who is the most bat sht crazy'
Elissa – 'Amanda or Aaryn'
Amanda – 'I'll take that one'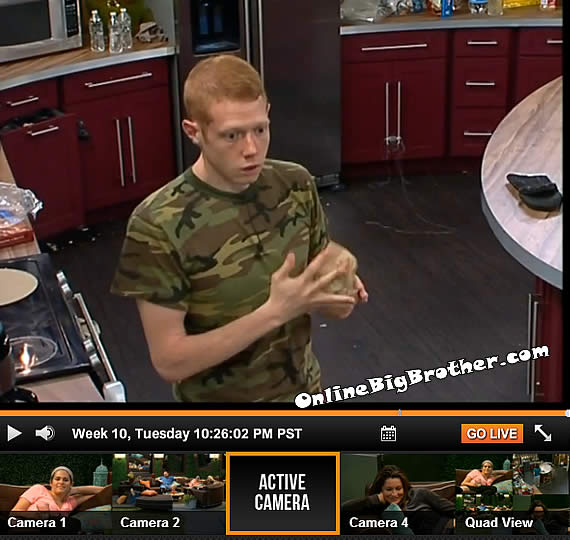 10:25pm Kitchen
MC – 'So What are you thinking'
Andy – 'I fell good.. I'm just feeling putting my fate in the hands of ELissa freaks me the f*** out… if i'm being honest with you.'
MC – 'It's easier for me becuase everyone expects me to vote.. you know..'
MC explains that they have to be ready just in case shit goes south and ELissa doesn't vote for Amanda. MC says the plan is Amanda gets pissed off at Andy and they all blame the vote on Elissa.
Andy – 'Ya Amanda gets pissed at me I blame everything on Elissa'
Spencer rolls in.
Andy – 'Elissa just claimed she was the most level headed what the F** is up with that'
(McCrae thinks he has Andy's vote but is worried about Elissa's. If the vote is 2/2 Amanda will say when she leaves that the 2nd vote came from Elissa not Andy and it's because of Andy she is going home.)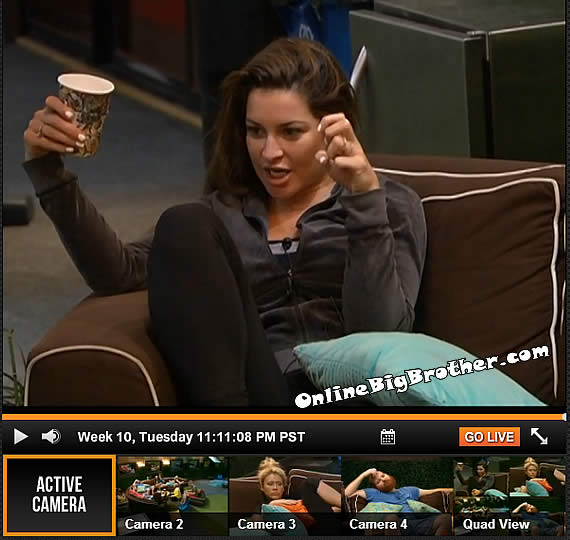 11pm Backyard everyone
McCrae saying each players catch phrase
David – 'Bro or dude
Hoard – 'I see things, I hear thinks, I know things"
Nick = 'Riboflavin or NAR'
Jeremy's = 'ma dude or flabbergasted'
Candice = 'Boo or Keeping it real'
Kaitlin = "Get your sh!t together or You're all going to learn today'
JUDD = "you wanna get stuff popping'
Helen – 'If you don't do this you're going home next week'
Jessie – 'OK .. OK'
Aaryn – 'I'm not a racist.. no her's was the cat thing' (The cat thing is Aaryn showing her claws.. see iamge)
Amanda – 'I figured it out'
Spencers – 'F*** head.. or you all know my friend larry'
Andy – 'Bye.. OOooKK .. or Opps'
GM – ' Check yourself.. cockroaches… shady lane'
Elsisa – 'I don't even think about you'
McCrae – 'I dunno'
11:33pm Backyard Everyone
Chatting about the royal families. Everyone in teh backyard except for Elissa and Amanda feel that the super wealthy got where they are by being cutthroat. Nobody really feels sorry for the problems of wealthy people. They think that the charity events that wealthy people partake in is more a social thing if anything for the rich. ELissa disagrees and so does Amanda. (Amanda is now Elissa's BFF.. it's pretty funny to watch)
Elissa is saying that powerful successful people what a good woman that have good hearts that will donate their time to charity.
11:41pm Elissa and Amanda kitchen
Elissa complaining about the other people in the house always taking bad about successful people.
Elissa – 'It's so annoying.. I'm like you are not successful because you are a horrible person.. thats why'
Amanda – 'Everyone I know that is really successful has worked really hard'
Elissa – 'Oh my gosh.." Elissa syas she has some friends that are very wealthy and they only have like 5 friends because they cannot trust anyone people will always use them for their money.
Elissa – 'They don't want to make friends they don't want to flaunt their money.. '
Amanda – 'you and I both have friends that are super uber wealthy'
Elissa – 'It's annoying.. oh because you are a bad person you want to Judge someone that is successful"
GM joins them..
(Not sure who the bad people are))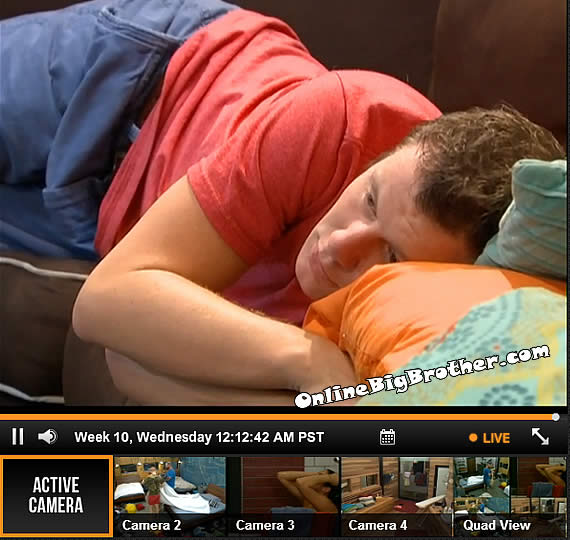 12:17am Backyard Bros
JUDD about Elissa "you are so much better than Obama and Michele.. we f*** get it you have all the money"
JUDD – 'Is it me'
MC – 'No.. it was like that last week'
Andy – what are you talking about
JUDD – 'I'm sick of hearing how rich you (Elissa) are.. you're better than obama I get it'
Spencer rolls in
JUDD – 'if I hear successful people one more time i'm going to jump in the pool and never come out'
(Doesn't sound like any of them is caring for Elissa right now)
Spencer brings up that Elissa's husband bought a ice rink that seats 5 thousands people. JUDD doesn't believe it. MC confirms thats what he heard.
If you like the spoilers on this site please consider a donation it helps us pay for the costs of keeping the spoilers flowing.
[polldaddy poll=7369039]
[polldaddy poll=7368019]
Share it YO!!
Tweet