POV Holder:
McCrae
Next POV
Aug 31st
POV Used
YES
POV Ceremony
Sep 2nd
HOH Winner:
GM
Next HOH:
Sept 5th
Original Nominations:
Amanda and McCrae
Current Nominations:
Amanda/Spencer
Last Evicted Houseguest
Aaryn
Have Nots
6:18pm Backyard The boys are running (Sh1ts getting real)
6:50pm Backyard
JUDD gives a shout out to Big Brother 6 and & Howie Gordon. Andy digs out dead dragonfly from the pool. JUDD fights it and punches it's Wing off..
(Elissa and GM are sleeping in the HOH everyone else lingering around chilling in the backyard)
7:08pm Backyard Andy, Spencer and Amanda
Andy is talking about his education how he was into marketing but switched to media and communication. He talks about his undergrad assignments and how he knew in the classes of 500 the TA's never really read his papers he just had to structurally do what they asked and he would get a A. Andy adds that he would never read the books only take random quotes out if and right around that.
Spencer can vaguely remember his last year in college. He remembers the girl he was with at the time did most of this homework.
Andy tells a story about taking a marketing class and only getting a 88 on a project while this other girl handed in junk and got 97. He was super pissed at this happening
Spencer – 'Dude it's amazing how much you love school and how much I hated it'
7:15pm Backyard Andy and Spencer
Spencer says if McCrae wins HOH they approach him with a boys alliance and tell him to put up GM and Elissa and we'll vote ELissa out. If Elissa get it's they approach ELissa tell her McCrae is trying to start a boys alliance. Andy that works, she's going to be freaked out.
Spencer asks if it's best they put both McCrae and Elissa up. Andy thinks it is, says that way they cannot save each other. Andy explains if they can get rid of Elissa the following HOH is it's 4 against 1.
Spencer – 'It's about to play the F*** game now.. we're f** hardcore.. We're loyal. we're going to kick a$$ raise hell.. exterminate'
Andy – 'don't let this freak you out.. this just shows how confident I am in what we have.. My odds would be better if I flipped with all of them"
Andy explains Spencer would be gone, GM can't play in the next HOH and that would only leave JUDD pissed at him.
Andy – 'this is showing you how loyal I am .. No way in hell.. I feel like I would be on my deathbed and that would be my biggest regret in life… if I formed a final 4 with Elissa, Amanda and McCrae and took out you"
Spencer – 'Chances are you go fourth'
Andy – 'I would never forgive myself'
Spencer – 'Dude.. Dude… I can totally see you winning this mother F****…you would go further than any gay man in Big Brother History.. I would be proud to be in the final 2 with you'
Andy – Same
Spencer and Andy argue about who would win in the final 2. Andy tells Spencer played a great game, 'You had to fight your way back from the moving company.. that's impressive Spencer'
Spencer says the reason he volunteered to go on the block was to safe Andy the stress. HE knew Andy needed a break being on the block.
Spencer says he doesn't want to come out of this looking like a lawon because he volunteered to go up.
Andy says he would live the rest of his life in regret if he got out Spencer out and kept Amanda.
Andy says they are solid as a rock there is no way in hell Spencer is leaving this week, JUDD and Gm
Spencer- Us working together has been the best thing for my game'
Andy – 'same'
7:46pm Backyard JUDD and MC
MC says once Amanda goes he cannot trust anyone.
JUDD – 'Don't trust anybody.. don't even trust me.. I feel in this game it's bad to trust people'
MC – 'if you are up there I vote you out.. you talk to Andy at all'
JUDD – 'I just don't want to talk Game about next week in front of Amanda… it kinda a slap in the face'
JUDD – 'People get worried when we talk'
MC – 'People will think we will pick up where we left off.. I think we should'
JUDD says McCrae has a better chance to win if he's against JUDD because people will use coming back into the game against JUDD'
JUDD says that Elissa thinks the boys are teaming up. Elissa wanted it to be all girls this season but she should have stepped it up.
McCrae says Elissa was way too personal in the game
JUDD – 'She needs to chill out'
MC – 'Ya yup.. I think we're all on the same page who we want out next week'
JUDD – 'I haven't heard your name thrown around very much'
MC – 'YYYayyuppp'
MC says everyone is going after Elissa. JUDD says he's trying to figure out what is in her head. JUDD adds that Elissa keeps telling him that she feels he's working with the guys.
JUDD says he likes Elissa but she does things that irritates him all the time.
Spencer rolls in
JUDD thinks Candice was attractive. Spencer doesn't think so one bit.
JUDD says Kaitlin was the best looking girl in the house, he can't wait to find out about her family. (Her father was involved in some major white collar crime.. stock market crime stuff)
Spencer – 'she had that classic pretty face.. a rocking body.. she's the type of person that would look great well into her 40's'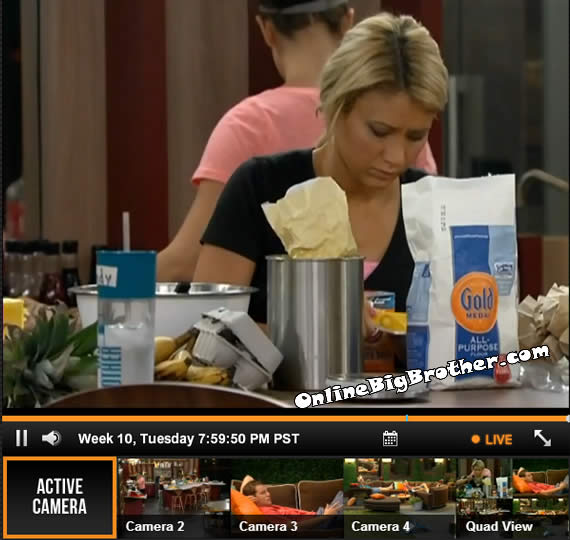 8:01pm Girls baking/Cleaning/cooking
Elissa and Amanda are doing most the talking .. just chit chat stuff. GM is concentrating on her baking.
(Elissa and Amanda are really being very friendly to each other)
If you like the spoilers on this site please consider a donation it helps us pay for the costs of keeping the spoilers flowing.
[polldaddy poll=7369039]
[polldaddy poll=7368019]
Share it YO!!
Tweet