POV Holder:
McCrae
Next POV
Aug 31st
POV Used
YES
POV Ceremony
Sep 2nd
HOH Winner:
GM
Next HOH:
Sept 5th
Original Nominations:
Amanda and McCrae
Current Nominations:
Amanda/Spencer
Last Evicted Houseguest
Aaryn
Have Nots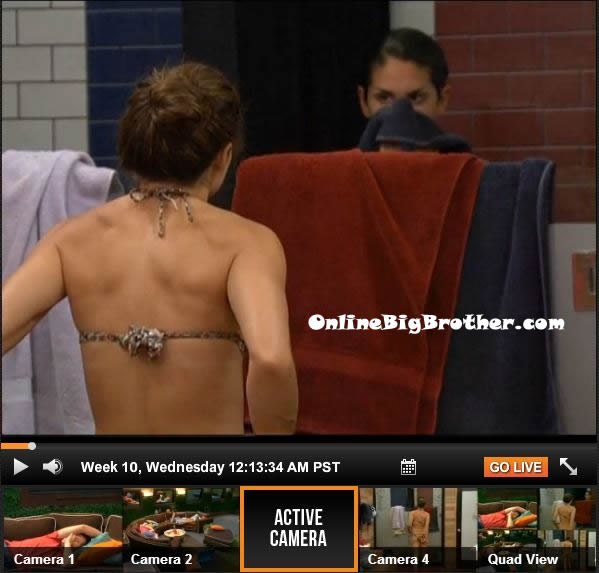 12:20am Spencer, McCrae, Andy and Judd are sitting on the backyard couch talking about random things. Meanwhile in the bathroom – Amanda is showering while talking to Elissa. Amanda says you would think that they would make the shower so that you couldn't see anyone's private parts. Elissa says I just don't want my boobs or anything like that being on the internet because I am a mom and haven't done anything to deserve anything like that. Amanda whispers to Elissa has Ginamarie reiterated again like thank you or anything like that? Elissa says no, just earlier. Amanda says she is acting super weird. McCrae talks to Elissa in the bathroom. McCrae asks Elissa if they are both still good. Elissa says yeah of course. McCrae says if this happens.. Elissa says it is going to be crazy. McCrae says it will be awesome. He says that Amanda's theory of Judd and Spencer working together to blame both sides was right. Elissa says he's not playing me. McCrae says f**k no. McCrae says don't be surprised when the vote comes out. Elissa says that Judd is doing the exact same thing he did before he left. He was talking game with me and now he's not. Elissa says you think I came on big brother and you are going to manipulate me, no frigging way. McCrae says not any more. Elissa heads to bed.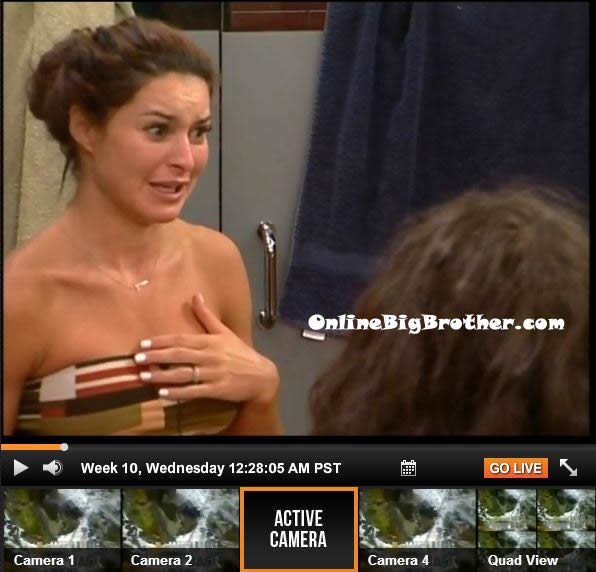 1am Amanda, McCrae and Spencer play pool. When they finish their game Spencer joins Andy, Gina and Judd by the hammock. Amanda and McCrae are sitting on the backyard couch now alone. Amanda tells McCrae that Andy is 100% down, I showed him the ring and he is down. McCrae says it just seems too good to be true. Amanda says that worst that will happen is that I will go but I really think that she is going to do it. McCrae says he does too but wonders about Andy. She says Andy gave me his organ shirt, his favourite f**king shirt. McCrae says yeah but he has to imagine that me and you go on the block and you come down how does he expect to beat one of us? Amanda asks who would put him up as a replacement. We just need to get past this next week. McCrae says this is going to be so awesome if it does happen. They both hope it does. They talk about how it would be amazing for it to be a double eviction and for Ginamarie to go out on it. Amanda says Andy loves his organ shirt I don't think he would f**K me after last week. McCrae agrees and says that Andy knows this is the way to get Elissa off his back for once. Amanda and McCrae get ready for bed. In bed they talk about how Gina could have walked away from this week with no targets and now she will have 4. Amanda says this is the best game move for Elissa. Amanda says oh my god if this works, my heard will drop out of my a$$ during the live show. It will be like the biggest shocker. McCrae says we will reassure Elissa that it will be me, her and Amanda. McCrae questions whether the rings Elissa gave her are real. Amanda gets them out and shows McCrae the carbon dot on the diamond and the 14K stamp on the inside. McCrae asks can't you just fake all that? Amanda says no these are real. McCrae says well you know what you have to do if she doesn't vote that way. Right? Amanda says yeah. McCrae asks how much is it worth? Amanda says probably about $4000, $5000.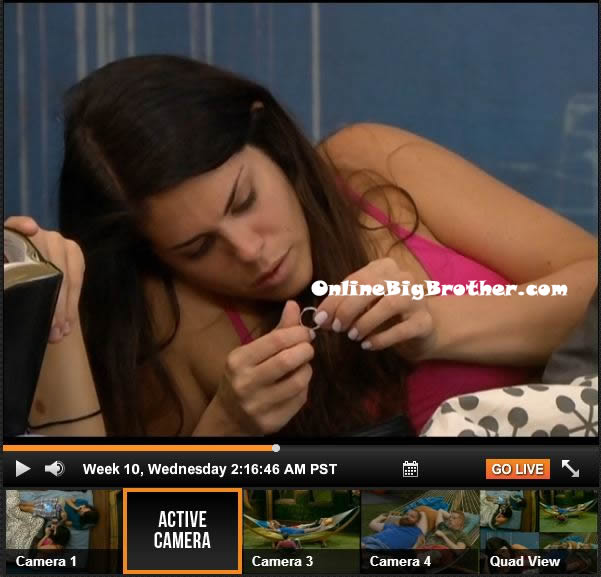 2:20am – 3:40am Out in the hammock – Spencer, Judd and Andy talk about how McCrae and Amanda have had $ex everywhere in the house, even the photo booth. Spencer says Amanda said McCrae's McSemen is all over the house. Gina asks does production know about this? They talk about how once they get down to 5 people and the POV is down we will reveal the exterminators to the 5th person. They talk about random things and Gina heads to bed. Judd tells Spencer and Andy that he is worried about going out on the double eviction again. He says it would be so embarrassing to go out twice during a double eviction. Andy says there is no f**King way he is going out. Judd says he will raise hell. Spencer talks about how pu$$y whipped McCrae is. Spencer says after this Thursday you and Andy are going to look good. Andy says that he is glad that he can finally pound it in and make that move to evict Amanda.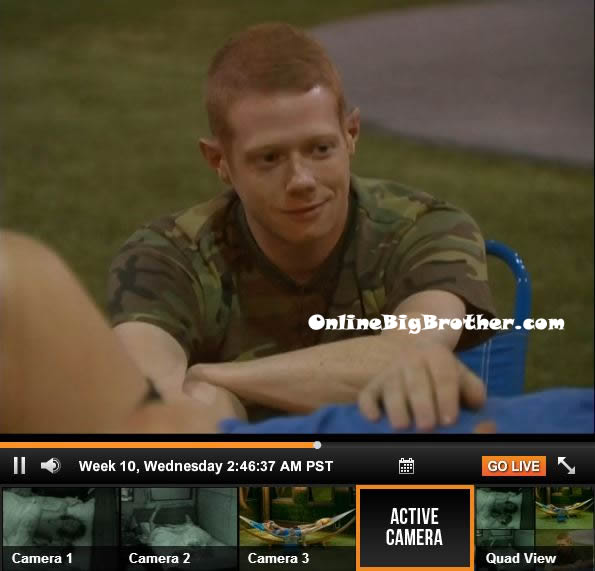 4:30am – 5:30am Amanda and Judd talk in the hammock. Amanda questions why Judd won't vote to keep her. Judd says that he can't because she and McCrae are a couple that makes them one person. Amanda tells Judd that Spencer is a big liar. Judd says we're all big liars. He says except Elissa. He says that she is not a good liar. Amanda talks to Judd about how there is too much downtime. She says that she could have been asleep four hours ago if she would have got her f**king medication. Amanda talks about how it would be good to keep her around for the double eviction. Judd says his vote isn't locked in yet. Judd and Amanda talk about the past events of the house. Amanda says I just don't think if I go this week people will go after Spencer. People will go after you and Ginamarie. Judd says that he made that deal with McCrae and won't put him up. Amanda says that it's annoying that people want to work with McCrae and are making deals like I am gone. Amanda says I am like a suicide bomber right now, I am already dead at this point. Amanda tells Judd that Andy is on board with keeping her. Judd says we will talk more about it tomorrow. Amanda heads to bed.
Big Brother 15 Live Feeds: FREE 2 DAY TRIAL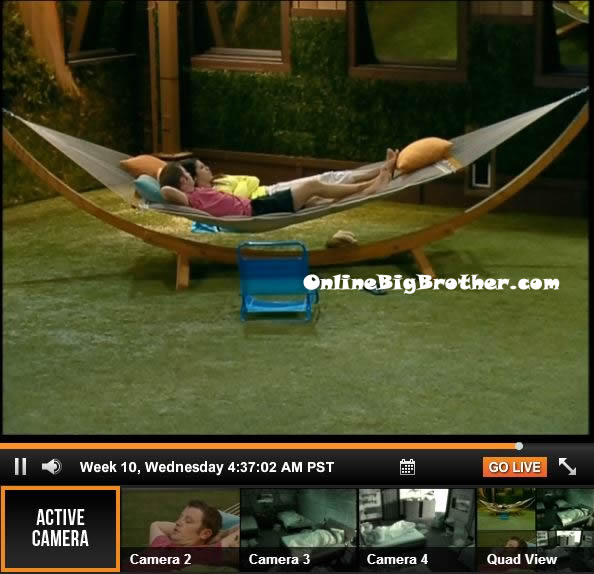 5:45am All the house guests are sleeping..
10:25am Still sleeping..
Please consider donating. Simon and I work 24/7 all season long to bring you all the live feed updates and spoilers. ANY amount is greatly appreciated, your donations go directly to paying the server and bandwidth fees needed to run this site.
Use the Big Brother Live Feeds to FLASHBACK to SEE what they can't show you on TV:
BB15 N!p Sl!ps / N*des
Share it YO!!
Tweet