POV Holder:
Next POV
Sept 7th
POV Used
POV Ceremony
Sept 9th
HOH Winner:
Spencer
Next HOH:
Sept 12th
Original Nominations:
Gm and McCrae
Current Nominations:
Last Evicted Houseguest
Aaryn, Amanda, Elissa
Have Nots
6:52pm Living room Spencer and McCrae

McCrae says he keeps telling GM that he is the target in the hopes that she doesn't fight hard for the veto.
McCrae adds that he's been telling her if he comes off the block she will have his vote.
Spencer tells him he doesn't want them to know how close they are, "This is a huge part of this.. it's just a f***ing Ruse"
Spencer – "I'm going to go back up there" (HOH)
McCrae says he knows he has to win Veto.
Spencer – "Thats veto baby.. ya ya ya I understand"
McCrae – "Ya"
Spencer – "ya dude it's all good it's all good.. once you are all un-cuffed dude we'll talk a bit more"
MC – "Ya yup"
6:55pm HOH The boys of the exterminators
Spencer fills them in on his conversation with McCrae. Spencer tells JUDD if he is up against GM he will vote you out.
JUDD – 'I'm going to win that veto tomorrow'
Spencer – "we have 4 people playing in it we are all capable of winning it"
Andy – "GM is such a beast"
JUDD "I'm afraid she's going to hurt herself with that rope"
Andy points out that if it was them three in the final 3 they all are in a level playing field.
They all agree that GM will win against them all if she makes it to final 2
Spencer – "She did a good job .. She was on the losing end most of the game"
S – "Theres nothing that will make be happier than knocking this last road bump out of the game and getting to final 4"
JUDD says he knew Elissa was Rachel's sister right away, he remembers seeing her during the Big Brother 12 finale (I assume he saw images on the internet) . JUDD adds that he texted his friend that Rachel's sister was way hotter than Rachel.
JUDD says after candice fell off the hot dog she told him that she thinks Elissa is Rachel's sister and he laughed at her told her no way they look totally different.
Andy – Yet again Candice knows what's up but no one listens.. how would candice had known that"
JUDD – MMHMU MUMG MUMMGUMDSKKLxx"
Andy says they can all agree that Elissa has had plastic surgery on her face, he would bet his 500K winnings on it.
7:30PM HOh Everyone
Drill sergeant tells JUDD to do 100 Jumping jacks
Andy points out that JUDD has a apple in his hands.
JUDD finishes
JUDD – "100 is outrageous"
Production calls him into the Diary room.
JUDD – "Let me catch my breath"
JUDD leaves.
GM says she doesn't like the drill sergeant.
Spencer starts joking around tells production to give give JUDD squats. He tells the "Drill sergeant" that JUDD has been telling everyone that he sucks.
7:34pm
As JUDD heads to the Diary room
The drill sergeant yells out "Give me 15 Push ups"
Andy jokes says "The show is going to be cancelled now because Elissa is not here"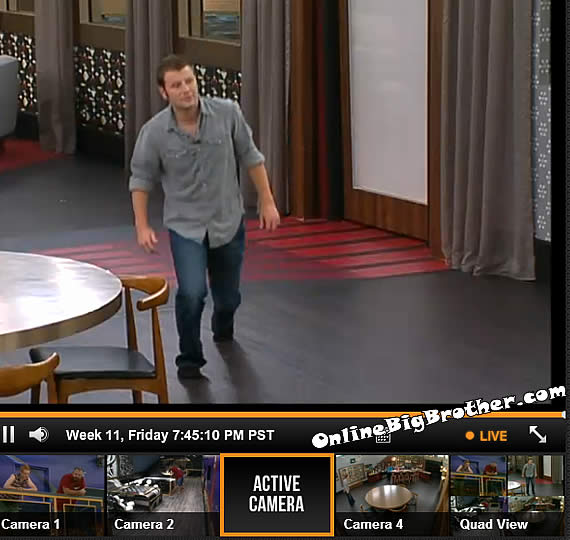 Drill sergeant Yells out for JUDD to do 15 lunges..
7:52PM HOH JUDD and Spencer
JUDD says Howard is probably cussing them out right now because they've finally formed a solid group.
Spencer says what happened to Howard was his own damn fault he acted too shady
JUDD says he liked Howard but never trusted him.
JUDD bets that Elissa is probably not even in the jury house she's in some Hotel. Spencer agrees.
JUDD tells him he told Elissa that he would use the veto on her but he never intended on using it.
Spencer laughs says Eliss was worried yesterday about the double eviction and JUDD kept was telling her she was alright.
JUDD – "I'm glad that trash bomb Amanda is gone"
JUDD says he's more excited that Amanda is gone over ELissa. The two people Spencer wanted out was Amanda and Elissa and they got them out in one night.
JUDD doesn't think he's prepared to go back to work he'll need two weeks to decompress.
Spencer – "I'm supposed to go back to work Oct 1st"
JUDD – "sh!t you are probably hoping this wraps up soon"
Spencer says he's going to try and get his unpaid leave of absence extended for a couple week. Spencer tells him to look around for railroad jobs in his area.
Spencer – "railroad jobs are easy as f*** dude"
JUDD – "I thought riding a bike would be easier than running… f** that.. have you rode a bike lately.. It's f*** hard"
They start talking about the double eviction and how they both thought for a second that Amanda had gotten to GM.
Spencer -"did you look at Amanda face at all"
JUDD say she did she had those watery eyes she looked pi$$ed.
Spencer- "I bet when it came up a tie she must have thought ohh I wish I hadn't gotten in Ginamarie's face last night"
JUDD- "GM ripped her a new one.. she can't touch GM"
Spencer – "GM is a master shit talker"
JUDD – "when she got in her face I was like ohh wait what are you doing she will mop the floor with you"
Spencer – "GM is so f*** feisty"
JUDD – ":she could take 2 or 3 teeth out with one punch"
JUDD – "I wish we had a dog in here"
8:17pm
Drill sergeant yells out 17 squats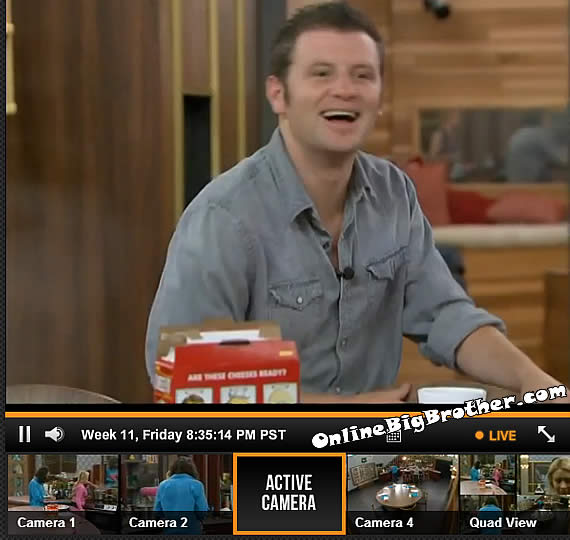 JUDD says when Elissa asks you a question in the final two just say "Whatever ELissa see you never"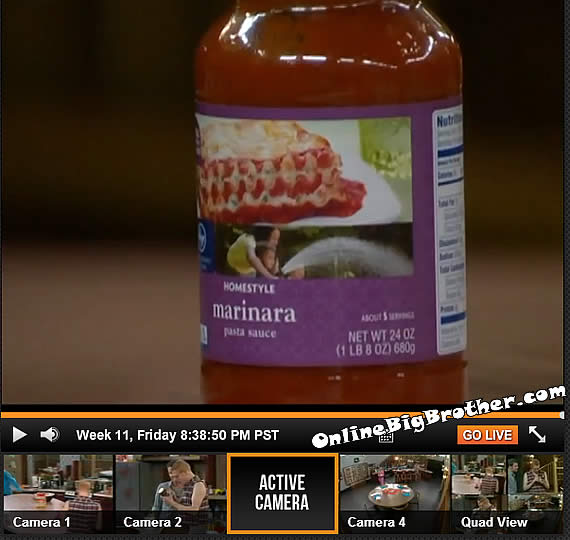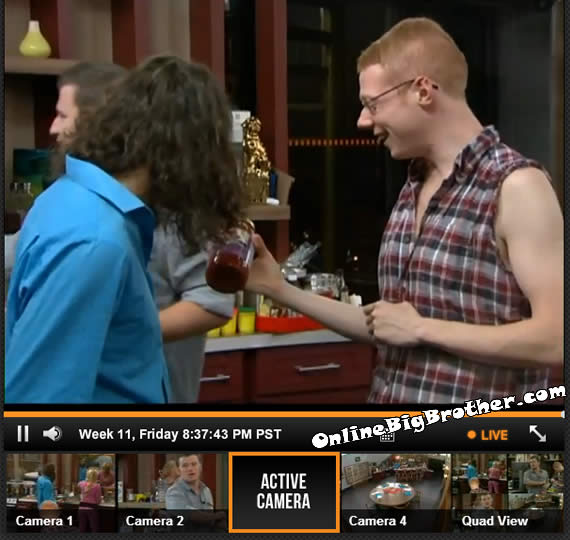 8:40pm Kitchen everyone
Andy points out the marinara sauce bottle has two children and a lady watering the lawn
he shows it around everyone laughs
JUDD – "What a ignorant marketing scheme"
They all laugh. Andy points out that the people on the jar were bi racial.
If you liked that marinara sauce spoiler above please consider a donation
[polldaddy poll=7375044]
Share it YO!!
Tweet