POV Holder:
?
POV Competition
Aug 13th
POV Used
?
POV Ceremony
Aug 15th
HOH
Victor
Next HOH
Aug 11th
Original Nomi1nations:
Paulie AND Corey
After POV Nominations:
? AND ?
Have Nots
?
Watch the next week of the feeds for FREE – 1 week Trial!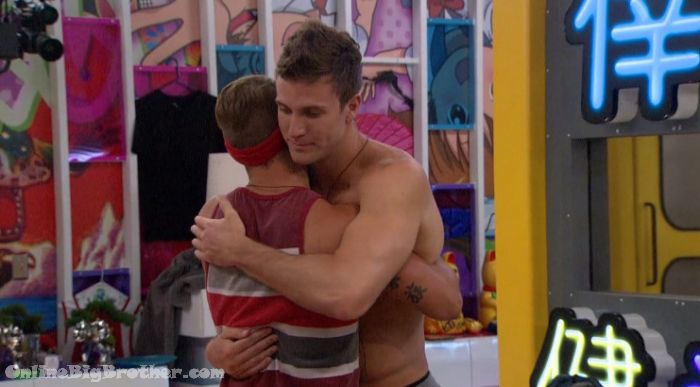 12:47am Paulie and Corey Tokyo room
Paulie says the only thing I've been asking the guys is if one of them win the veto give them a chance and stick Michelle up so they might have a fighting chance. Then the guys can team up and rid to the end.
Paulie – everyone thinks they blew my game up but my game was literally be loyal to the guys that came back to bite me I relied on that loyalty
Corey – I told Vic.. like Dude what has James ever done for us.. I'm like not working with that guy
Paulie – I told James straight up you boned 2 people that would have been loyal to the end
Corey – ya
Paulie – we were your ride or die guys
Paulie – If I go you better not be the next person out
Corey – I won't be, Me and Nicole, we have to do some work man… If you stay you better win this thing
Paulie – They put us here because they know we have a good chance
Corey – they know.. That's why they put us here.. Corey and Paulie giving them the 500 000 dollars split them up..
Paulie – Michelle .. she did some damage man
Paulie – Hopefully I win and we can get Michelle up and flip the house get her out. WE're in here and we can do some damage.
Paulie – I'm keeping it together that's why I have to talk you are my only support system.. Cody and Derrick had a support system
Corey – It's almost like we did too good for too long.. Dude we got everybody out.
Paulie – Too good for too long
Paulie is claiming that he was loyal to the guys all along, "We were 2 guys trusting in their loyalty and we got boned"
Corey – we got boned
Paulie – we literally had everybody in every direction
Corey – we got boned
Paulie – I trusted the guys should have taken Zakiyah down.. The boys reassured us
Corey says Victor has been preaching the guys alliance for a couple weeks.
Paulie – It's big brother
Corey – Dude I don't want any of them to win bro.. Makes me mad
PAulie – our social game is pretty good and we have 8 wins between the 2 of us..
Paulie says Paul and Vic only have 6 wins between them.
Paulie – We've played in bigger games than this.. We have to do what we have to do.
Paulie says they were responsible for clearing out 8 people in the house and if it wasn't for James they would have gone all the way.
Paulie- Cody and Derrick they don't hang out with specific people .. after this I'll probably just hang out with Z and Nicole and you
Paulie – marksman aren't done until they are both outta the house.
They hug it out..
1:04am Paulie and Michelle Bathroom
Paulie – even after you said you blew up my game I wasn't coming after you ever.. Hats off
Paulie – I felt attacked on a moral basis
Paulie explains he's squashed everything with Natalie wand will squash everything with Bridgette when he sees her next
Meech – When I decided to blow up your game I saw you winning 500K and I saw you playing Derrick's game, you were about to send my butt home.
Paulie saying he was always loyal to the guys the alliances with Meech was a front. Paulie was threatened by her brain.
Paulie said he went up to the people that were responsible yesterday, "you guys betrayed me stabbed me in the back that's cool.. "
Paulie – seeing Zakiyah leave I actually was crushed a little bit
Paulie – Natalie did what she did randomly because Zakiyah
PAulie – did Michelle and BRidgette convince her to do that.. Go to Zakiyah
Michelle says it was her that went to James and asked him to use the care package.
Michelle tells him his downfall was he had the entire house trust him but he didn't realize the people would cross reference what he was saying. It took almost 2 months but eventually people got talking.
Paulie is claiming the only reason he put up Victor the second week because that is what the house wanted. Paulie says his plan all along was to have aan alliance so strong that they won all the competition like Cody and Derrick. Paulie mentions that during season 16 the group was Frankie, Derrick, Cody, Caleb and Victoria. With the exception of Victoria those 4 guys won most the competitions. That is what Paulie was trying to form with James, Victor, Corey and Paul .
Michelle – you know how me and Bridgette bonded .. it was over getting you out..
Michelle says she loves Bridgette she was the person with ehr that last week when paulie's side was trying to get Michelle out and were shunning her.
Paulie says Bridgette was a 'Little gamer"
Paulie – she was playing all sides she was not loyal..
Michelle – why was she targeting you
Paulie – If I was on a different seasons I would have been good.. It's a different season with the call outs..
Paulie says him and Derrick have a lot in common more than people think, Derrick was better at being under the radar.
Paulie says Paul was with him in all the deals.
Michelle – what was your alliance name..
Paulie – the executives.. Paul and I came up with the idea to make it a joke.
Michelle says Wednesday night when they were all in the HOH room it was Zakiyah that came down and Got Natalie to go defend herself. Paulei is shocked says that it was Zakiyah that told everyone in the HOH there was a stampede of people coming up.
Michelle says she wanted to work with Paulie and she thought she was but then that vote went down.
Paulie now saying that Zakiyah was putting things in his head about Michelle. She told him that Michelle was her ride or die girl and Michelle was close to Da'Vonne.
Paulie is claiming that Christine got booed because CBS purposely filled the audience with people that were against "what that was"
Michelle – best of luck tomorrow.. I mean that .. it's a game
Paulie knows it's just a game
Michelle asks him to please call her out on flipping the house and blowing his game up. Paulie doesn't want to initially but finally says if he's still on the block Thursday he'll do it.
Paulie says Victor was going to put up Michelle and natalie and they were all going to do "Strength and honour"
Michelle says it looks like a 'Nazi thing"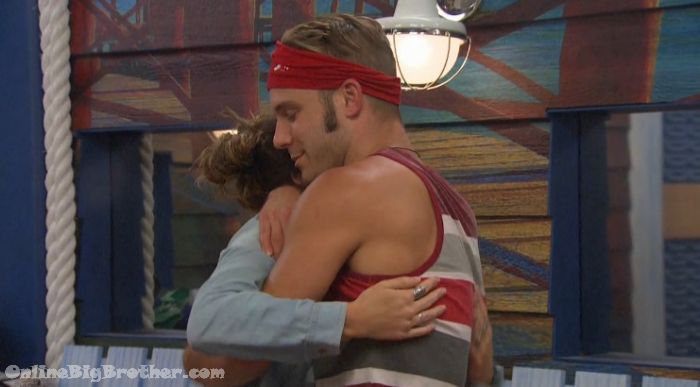 they hug it out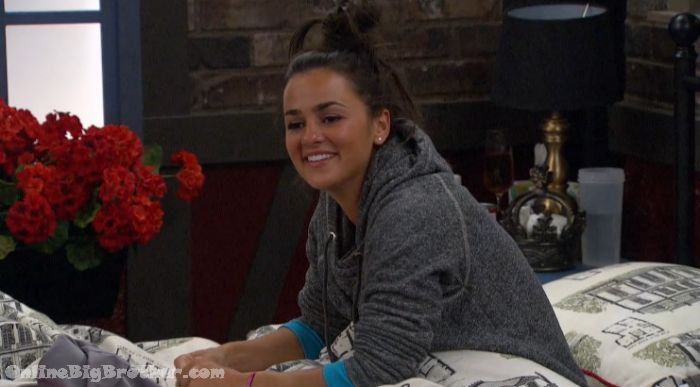 1:53am London room Natalie and Paul
Paul – Tall Blowj is getting on my nerves but short blowj has got to go ..
Paul – from what i've heard from the butt of the conversation Meech hasn't told him anything.. She hasn't thrown any of us under the bus..
Paul – we have to talk to her make sure she doesn't feed into this blowj
Paul- Meech is talking back.. We'll grill her when she comes in here
Natalie – don't worry she's good
Paul says Paulie pitched to him and Victor if he stays he's not going after any of them. Paulie was trying to get Michelle nominated and re start the guys alliance.
Paul- I'm like ya you're high
Natalie – so he's goign after his own group..
Paul – what are you gong to do go after yourself.
Natalie says the original alliance was Corey, Nicole, Cory and Paulie it's all exposed now
Paul – Vic trust you a lot along with James
Natalie says she won't make any final 4 deals because that's not what she does. He has her word that she will be loyal to Victor, Michelle and James.
Natalie is loyal until they get those fu**ers out Corey, Nicole and Paulie, "We have the numbers we're goign to crush them.. one week at a time"
Paul is on board.
Paul – you don't have to question me and Vic it's her.. (Michelle)
Natalie – she's fine. I've been friends with her since the beginning she trusts me.. we're good don't worry, I'll keep tabs on her..
Paul mentions the other day Paulie going around saying Natalie was dumb had no idea how to play the game.
Paul – When he was saying nobody talks game to you because you don't know anything I was literally this is the girl f*** you in the a$$ with your eyes closed right now
Paul – "He was like .. You don't know anything about the game.. I'm like literally she's boning you dry right now you have no idea.. "
Natalie – put Natalie on the block it'll be hilarious.. hilarious..
Paul – he (paulie) said that .. dude that's f**d up I said that.. dude that's f***D up
Nat – you promise he said that
Paul – I swear to god .. I said it's f***d up and he said you're right but it will be hilarious..
Paul tells her how pissed Zakiyah and Nicole were when Natalie got that care package.
Paul – We just need to make sure we win
Natalie – I'm going in hot
Paul – the POV Corey is going hard.. So is Paulie.. Vic is going to go hard..
Natalie – I know we all are.. I hope it's sewing.. Cause I'm good at it Vic is good at it
Paul – Dude makes himself a pillow when he's 4
They laugh, agreeing Victor is a good guy.
Paul brings up Victor talking to Paulie when Paulie was trying to get the guys back together and stay off the block. – "Ya I understand Loyalty but you backdoored me" (ahaha)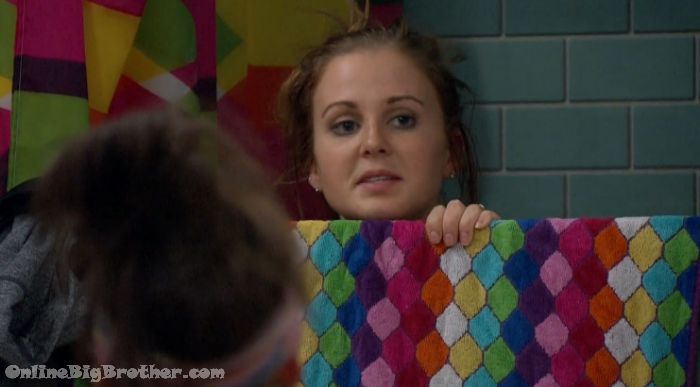 2:20am Michelle and Natalie Bathroom
Natalie tells Michelle not to give Paulie any information
Michelle says Paulie is trying to get the guys against her by saying she manipulated them into keeping her. That's how he's trying to get her up on the block.
Meech – Apparently people are concerned about my mental health
Natalie – he's trying to get into your head he knows your triggers.. He did this with me . He tries to manipulate me but he doesn't make sense..
Natalie – we have the numbers we're fine don't sweat anything.
Who would have ever guessed it you me victor and Paul working together..
Natalie – you are the most amazing super fan ever you are blowing shit up
Natalie – he's trying to get into your head he wants you to use the veto
Michelle says she wouldn't use it on Paulie.
Natalie – I haven't had my period in 2 months
Michelle – It's stress.. Or weight fluctuations
Natalie says she's gained a lot of weight. She's not pregnant because she's been abstinence
2:36am Natalie and Michelle
Natalie says the guys are worried they will buy into paulie's bull shit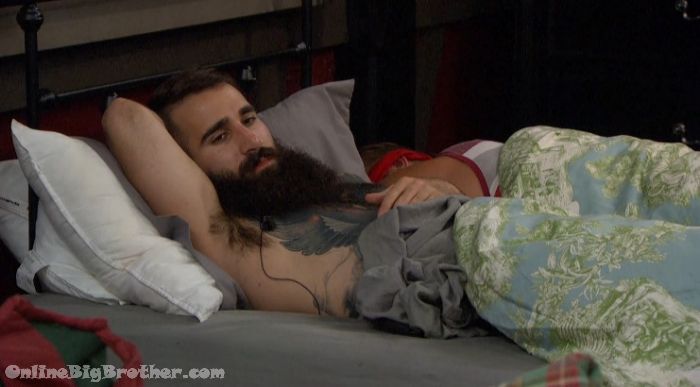 2:38am Paulie, Paul, James and Natalie in the London room
Paulie is sleeping in the London room claims that he's having trouble sleeping since Zakiyah left. he's really preventing a meeting from happening.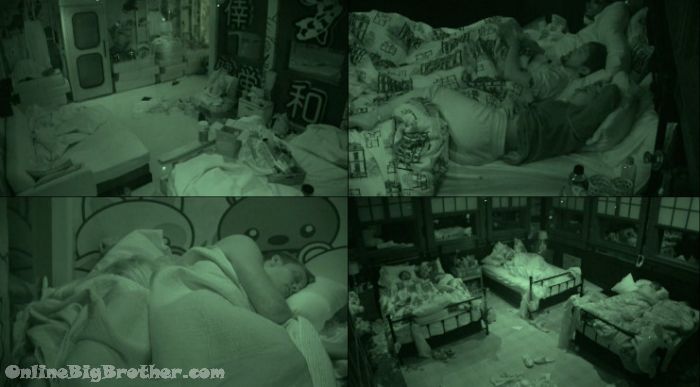 3:24am Zzzzzzzz
"CO-HOH"
WEEK 4 – August 14th to August 19th
This winner automatically becomes Co-HOH, sharing all HOH perks and responsibilities for the duration of the week, including choosing 1 of the 2 nominees.
[polldaddy poll=9496376]