HOH: Sarah Beth
HAVENOTS:
Nominations: BIGD and Claire
Power of Veto Players:
Power of Veto:
Power of Veto Ceremony:
Big Brother 23 Houseguest Rankings – – RANK THE HOUSEGUESTS –
View the previous day ranks on the – Ranking Grid
Big Brother Spoilers – Sounds like Sb will nominate Claire and BIGD. The target sounds to be DX but it's still too murky with the roulette power and all.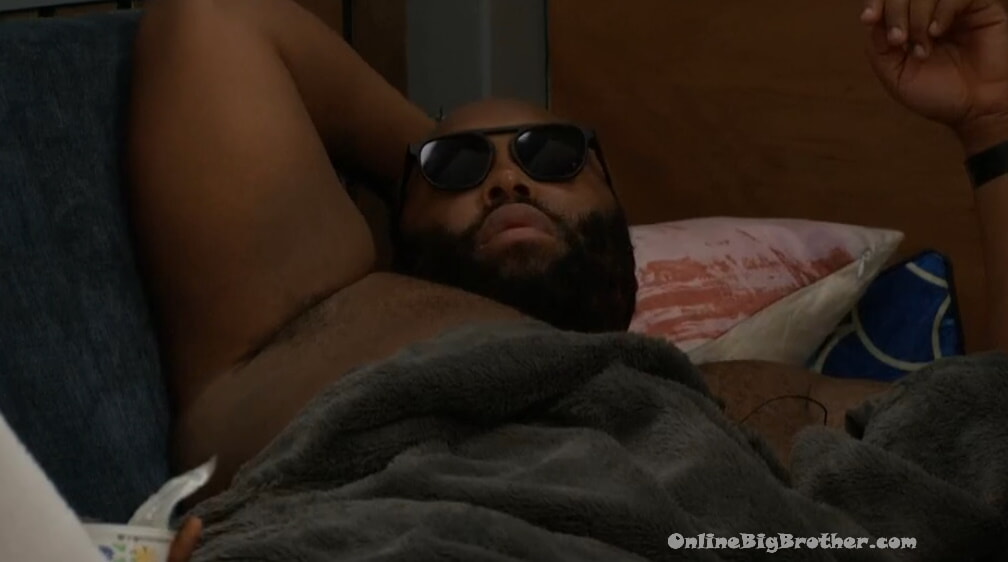 8:07 am BIGD and Azah
BIGD – I know for a fake I be nominated today
BIGD – at the end of the day SB will go with her GUT and her conversations with Kyland.
BIGD says his one-on-one with SB was filled with alot of dead air.
BIGD she'll pick me, Tiffany or Me and Claire or me and you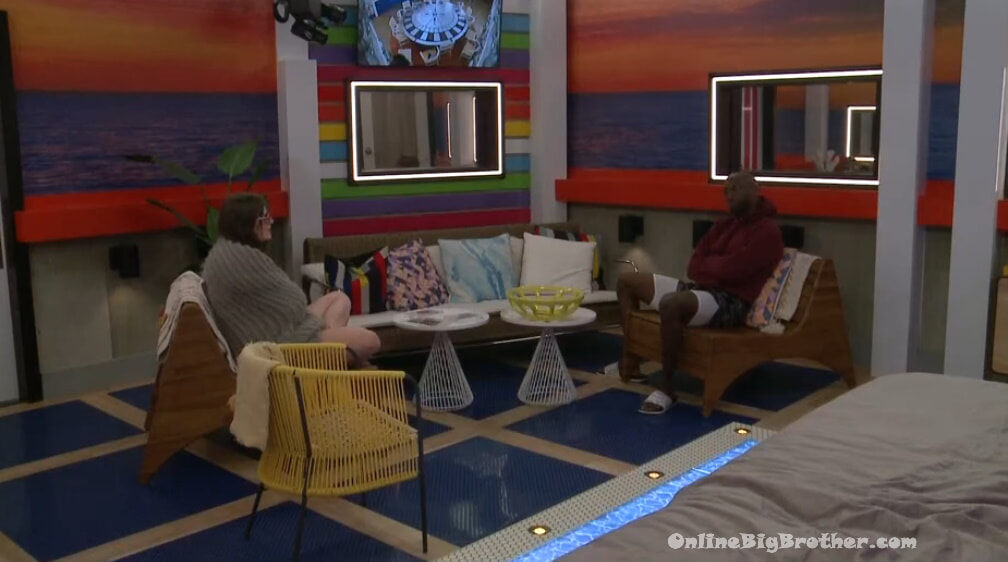 8:31 am Sb and X
SB – Ky was a proponent of putting him up
X – keep going I want to know how that makes sense.
SB summarises Kylands thinks people will take him off after winning the roulette. SB says she's not confident people will do that
SB – I'm not going to do that
Sb – I'm actually thinking, As much as it sucks I might do the same noms that happened last week.
X says Claire was thinking about keeping Brit over BIGD. X says the week before there were conversations with Claire about flipping the vote to evict SB (Too bad sb doesn't know the truth)
X – you feel good with Hannah if Hannah goes home you have Baby D coming for you.. touching Hannah isn't smart. Going after babyD at least initially is setting yourself up to have a replacement nominee.
Sb thinks that there will be 5 people playing for the power. She says both nominations are on her radar she's fine with whoever goes down.
X says BIGD and Claire as nominations is the smartest play.
X says she would only have to worry about Tiff and Azah coming after her
Sb says she's not certain Tiffany will come after her. She believes Tiffany isn't as close to Claire as she thought. Kyland said that Tiff told him Claire was trying to flip the vote last week.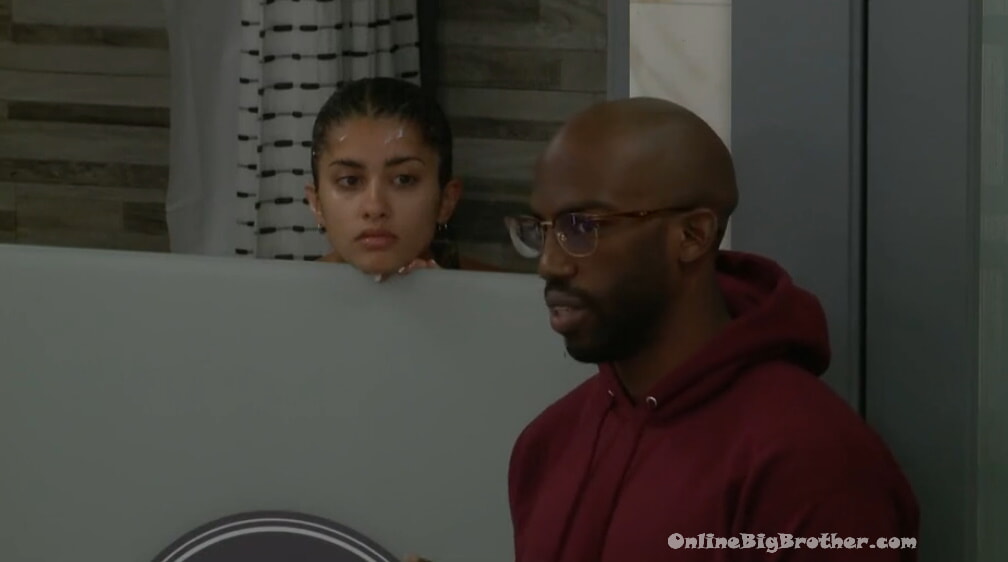 8:51 am X and Alyssa
X tells her Sb is looking to nominate BIGD and Claire. she's leaving the target up to chance.
X adds that SB is leaving BabyD as a backdoor option. X says Sb wants Hannah to play in the roulette if Hannah plays that's great it means BAByD will have zero incentive to play in the veto.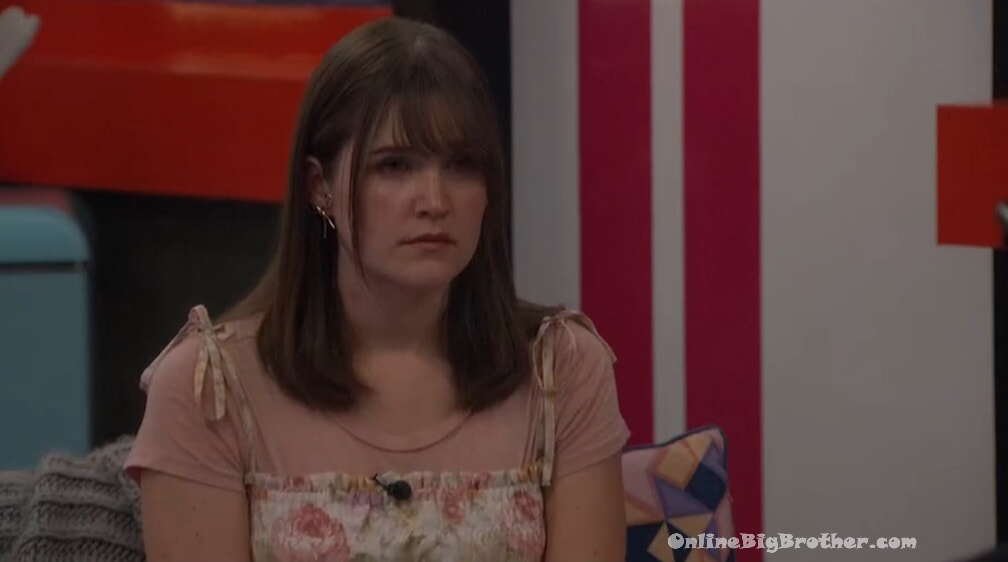 9:30 am SB and BIGD
Sb says she hardly slept she has a lot of things to consider "I'm not going to beat around the bush but I'm thinking of using you as a pawn this week. My target this week NOT you NOT Azah. If you are able to come off in the roulette.. Especially if it's Azah who takes you off both of you are safe. Neither of you are my targets."
SB – I want the power to be used this week that is one of my priorities
DF – that's fine
Df says there was talk about a vote flip last week because people are scared of what he can do
DF – I'm mentally checked out when I feel like I am being picked on I think it's bullshit..
DF says when DX was HOH people were trying to take SB out. "Jokers are pawns but we're not coming after you"
SB says she's playing this HOH differently because of the roulette she wouldn't put them up otherwise.
DF – the jokers are the punching bag now I am the punching bag.. there's no powers I can use to flip sh1t I feel like I am stuck in the corner.. I'm tired of it.
DF – Because I am a big dude nothing is playing to my strengths for being a big dude.. I already cursed them out because I'm like is how it'll be all season you aren't going to make everyone else feel weak and I feel strong? (sorry no low rep high weight comps)
Df – I arpecaite the heads up.. I respect you. I'm not upset with you it is what it is. It's a game so..
Sb says Azah could get enough money to stay she's not sitting beside DF he'll be sitting beside the same person he sat beside last week.
feeds cut..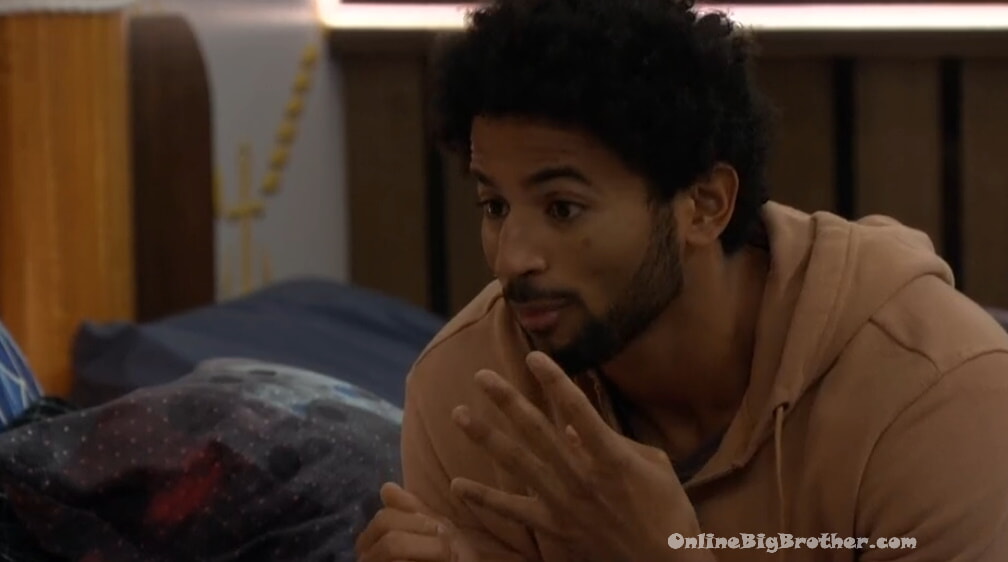 9:39 am Kyland and Azah
Kyland says when he started talking to SB last night she had 4 people with 3 of them being Cookout now she has 4 people with only one of them being cookout
Ky – I was working..
Ky says some of the reasons SB had to take out members of the cookout was because of conversations she had with other members of the cookout.
Ky says he's planted seeds so if there will be two Cokouts nominated one of them will be him.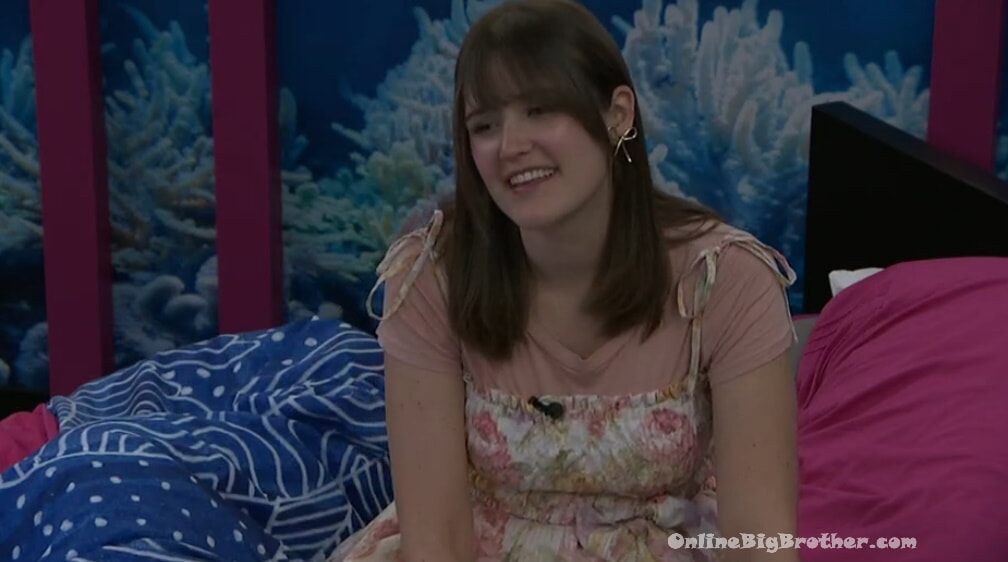 9:47 am Claire and SB (Feeds flip to this conversation near the end of it)
Claire- I feel like if I go up it's kinda beneficial because I can't spin the wheel so I definitely see the benefits in that and I'm open to it for sure. I say talk to Tiffany about how much money she has.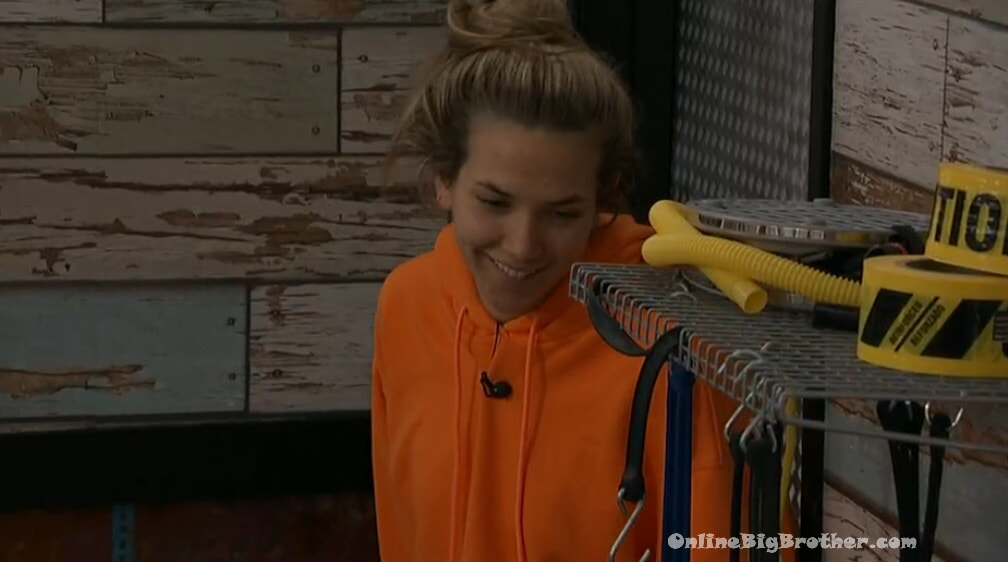 9:50 am Claire wakes DX up
Claire – DX .. Sorry I woke yo up I found out I'm on the block
DX – what are people doing down there
Claire – that wasn't a joke
Claire – SB wants me to go on the block so Tiffany can spin to protect me.. I told her Tiffany doesn't have the money
Clair e- she says Hanah and Alyssa will spin..
DX – or I'll take you off
Clair e- ok thanks.. I'm not that worried
DX – you're in a good spot the person goes on the block
Claire- for sure as long as someone plays. (roulette)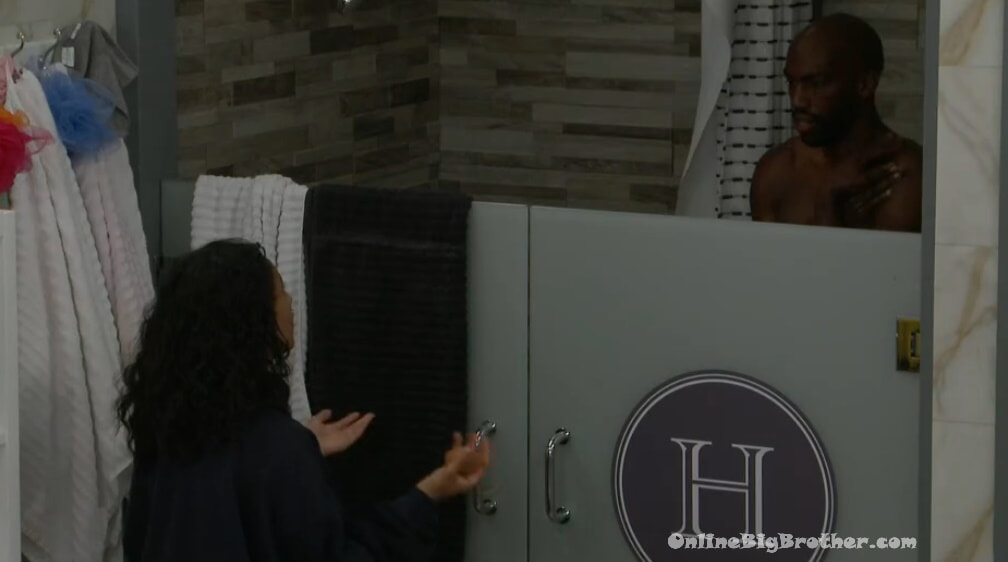 9:55 am Hannah and X
Hannah says she'll spin and throw it because everyone will expect her to take Claire off. If she wins and Spins another cookout member will go up.
Hannah – why isn't she putting up Ky and BIGD?
X says Kyland is her closest Ally.. "You have to see it from her perspective"
10:02 am Feeds cut to pound puppies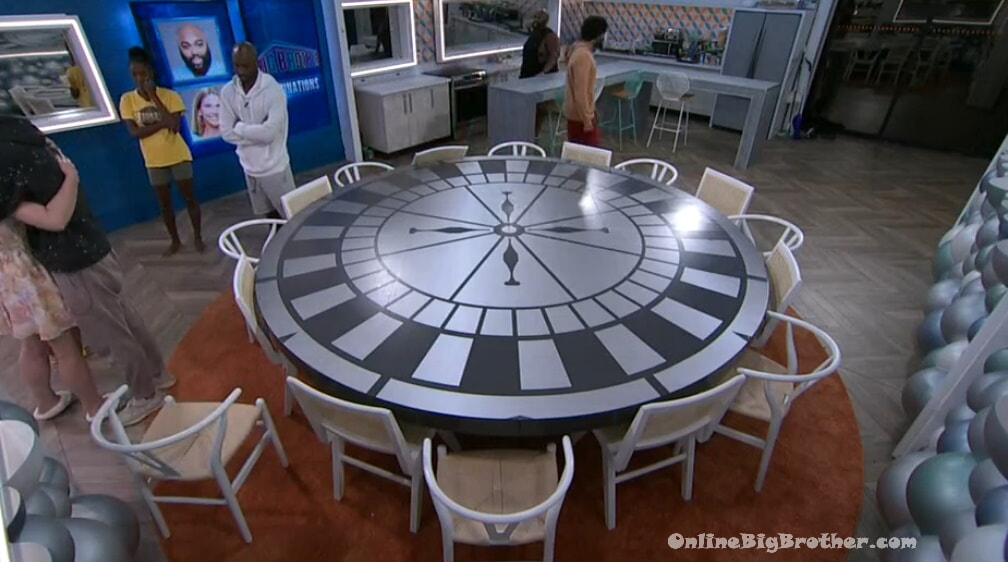 11:05 am feeds return Claire and BIGD nominated