HOH: Sarah Beth
HAVENOTS:
Nominations: BIGD and Claire
Power of Veto Players:
Power of Veto:
Power of Veto Ceremony:
Big Brother 23 Houseguest Rankings – – RANK THE HOUSEGUESTS –
View the previous day ranks on the – Ranking Grid
Big Brother Spoilers – Hard to say what will happen with the roulette feels like DX or Claire are the targets. Good times.
11:08 am DX and SB
Sb Says Hannah and Alyssa have said they are willing to play and take off who she wants. Sb thinks Tiff has enough money to play and take Claire off.
SB – there's a good chance it will be used. it's up to you to play or save the money.. If the roulette is used I can't control who goes up.
DX – what would you say I should do? I feel the value of us winning coin of destiny next week if we don't like who is HOH.. I could go home this week
SB says the wheel scares her. she hates the idea of something random
SB – if I had the money I would end up playing (in the wheel comp)
SB says if Kyland goes up Kyland stays.
DX – I think BIGD wouldn't have the votes to stay. Me, Hannah, Tiff, Claire that's four
11:17 am Sb and Claire
Sb says there is a lot of chances of Claire coming off the block before the veto.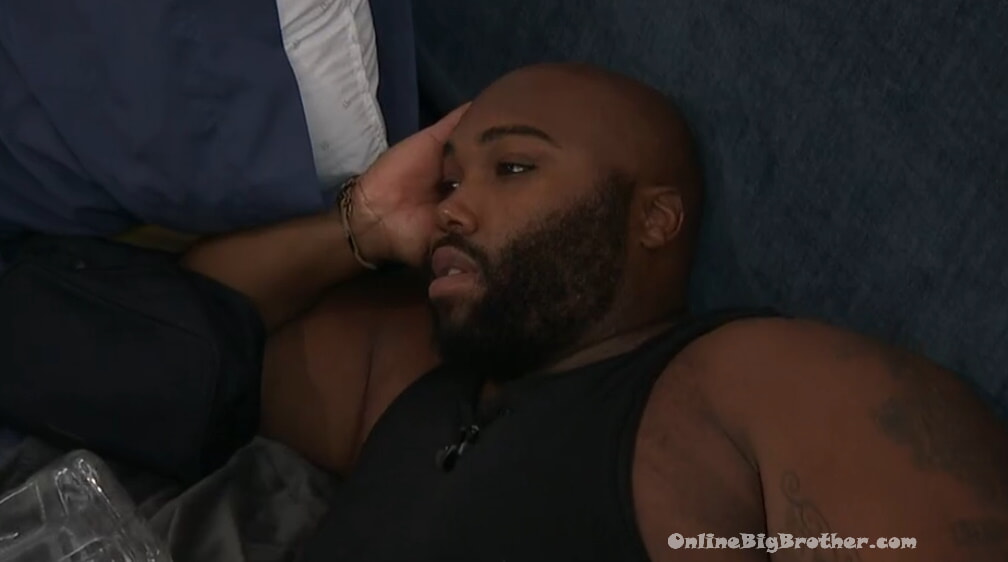 11:30 am DF and Azah
Azah giving BIGD a pep talk (he's on the block and can't bench press his way to a power.)
DF – I don't mind being on the block the problem is I need to win sh1t I need to win HOH then put me on the block
Azah – Look what happened when brit won that Veto. We have to play a different type of game here. Brit won one veto and she became a target. It's some types of games we have to play.
Azah – what's kept me in this house is the fact I'm not a threat. There are people that got to the end and WON without winning any competitions. The greatest player of all time never won a comp. DR Will never won a comp. You got enZo who created the brigade got to final 3 two times never won a comp his first time (Yeah but he also left the couch more than once every other day)
Azah – we all have things we are good for. you have muscle in this alliance.
Azah says the best thing DF did was mobilize all of them if it wasn't for them they would have been picked off longtime ago. "You are the person that had that Idea and ambition that is enough you can sit back and trust the process"
Azah – we have four nominations before it's just the six. Do you think anyone is going to DROP YOU when it gets to the six?
Azah says the only person he has a beef with is tiffany. Nobody is going to drop him in the 6. "trust the process and Chillout"
Azah – if Alyssa plays she's pulling you off. If I win I'll pull you off.. if X plays he's pulling you off..
Azah says the only people that are pulling Claire off is DX and if he does he doesn't have the money for next week.
Azah – Tiff isn't going to play for her [claire] Tiff told everyone she doesn't have the money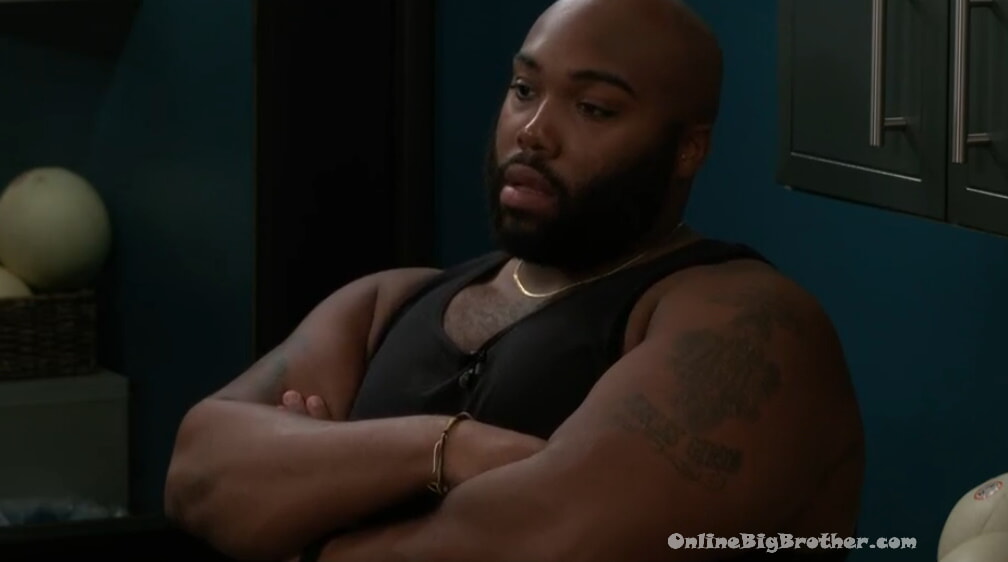 11:41 am DF and X
DF is irritated he's on the block "I'm on the block constantly.. I'm on the block once again this is stupid"
DF says he wanted to come in like a bad b1tch and leave like a bad b1tch
DF- Nothing is playing to my strengths at all
X – what are your strength outside strength itself
DF – that in general.. (LOL)
DF – I can't play in any comps I get the short end of the stick
DF – everyone else has nothing to worry about. everyone walks around here chill smiling..  I'm over here getting like pawn.. which is fine Brit when through it COOL now I'm going through it cool.. I don't get it maybe I'm missing something I just don't get it.
DF – when I win everybody's f***ed and I'm going to say that.
X – you can't blow up unless you have the power I'm sorry..
X – if it makes you feel better.. You think I like throwing all these  competition
DF – besides the balance beam
X – we know I f**ed up on that on. I like winning sh1t I'm a competitor but with this I cant' go win everything. We have to set aside our pride.
X – when you get in power blow the f** up
Df – I feel like I'm never going to get the opportunity I'm so beat where I'm trying to keep myself here but myself is like send me the f** home.. You don't make any comps for someone strong I'm the strongest f**ing person in this whole house and there's no f***ing comps built for me.
DF – the one person I hate the most put me on the block.. I had to sit there it's fine it's just a game.. ohh it's alright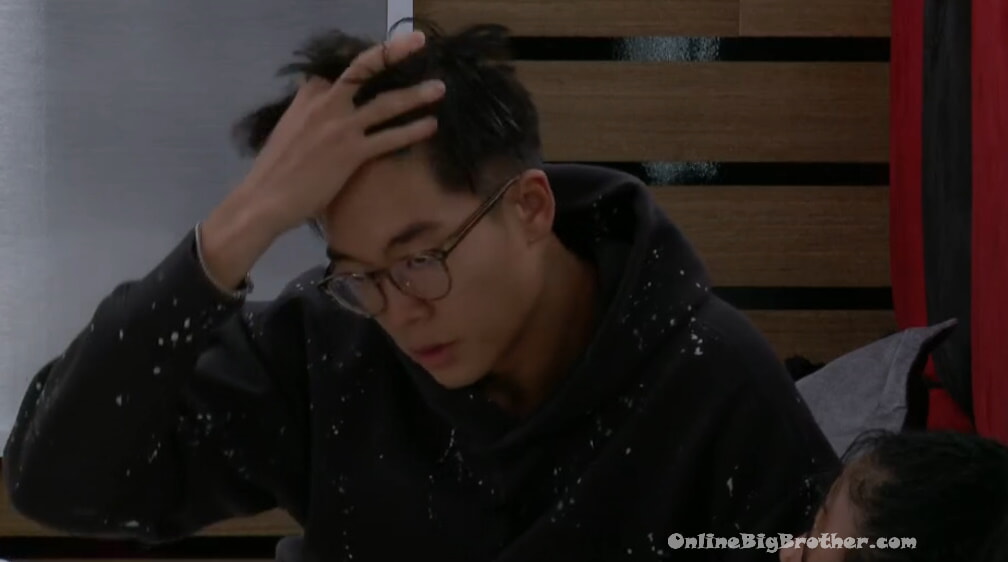 11:46 am Hannah and DX
DX – you spinning the wheel
Hannah- I think I might be on her radar..
DX – she's asking you to spin the wheel that means you're not on her radar
Hannah says she's not asking her.
DX says the vibe that he and X are getting from SB is Alyssa and Hannah are going to play.
DX – she wants someone to play
DX – she wants someone to play yesterday when I talked to I thought that someone was me now today she's like it's up to you if anything I should be more concerned.. yesterday she was saying I should now it's up to me so if I don't play I'm not safe.
Hannah – are you a target
DX – not right now she will consider it
hannah – and piss off kyland
DX – I don't think it will piss off Kyland that much she will only do it if Kyland is onboard.
Hannah – I don't see why he would be at least week 2
DX – the target is probably BIGD if I'm on the block with bigD what will happen
Hannah says her, Claire and Tiff will keep DX but Azah will evict him.
DX might try to convince Azah if he still has his BB BUcks and wins the power he will keep her safe.
Hannah goes on about SB wants her gone or won't be sad if she left.
Hannah – Kyland and I are the least close. I don't have that relationship with Ky like you don't with X. I've been trying to build it with Ky
DX – I swear to god if you guys send me to Jury with Brinti I will f**ing haunt you. (LOL)
Dx – we're the only two people in jury for a week I will haunt all of you
Hannah – if they send you to jury I won't be too far behind you
DX says it might not be the worst thing for him to go up because of the roulette wheel. He gets to play in veto. He likes his chance to win Veto against Sb and BIGD then get backdoored.
DX – I was talking to X just now we were trying to decide. he's not spending his money either. Both of us are saying we're not going to play in the roulette wheel and if we get houseguest choice we'll pick each other.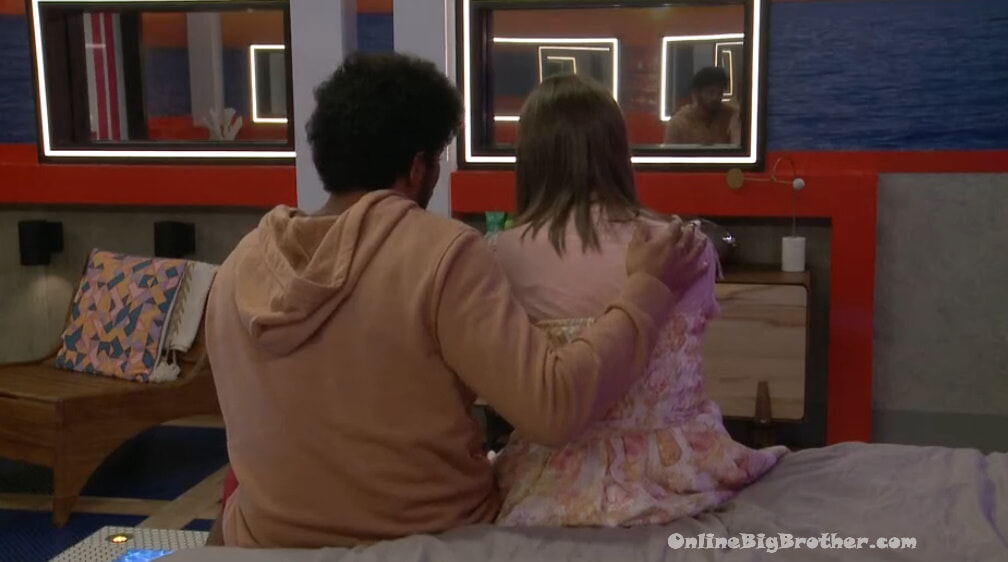 NOON
Comparing notes…
Kyland – ** Words ** Words**
Sb – I never said to her she wasn't my target but I indicated I wanted her to come down. Worst comes to worst maybe she does come down and I reassess from there.
Kyland – ** Words ** Words**
Kyland – ** Words ** words**
Sb – thanks
Kyland – ** Words ** words**
Sb – of course it's though.. do you really think I'm so heartless
Kyland – ** Words ** words**
Sb mmhmm
Kyland – ** Words ** words**
Sb – mmhmmm
Kyland – ** Words ** words**
Sb – I would agree
Kyland – ** Words ** words**
Sb – yeah you remember that when I betray you
Kyland – ** Words ** words**
SB – I wouldn't do that
Kyland – ** Words ** words**
Sb – how mad would you be?
Kyland – ** Words ** words**
Sb – same I would be with you. let me tell you
Kyland – ** Words ** words**
Sb – let me tell you
Kyland – ** Words ** words**
Sb – ok
Kyland – ** Words ** words**
Sb – ok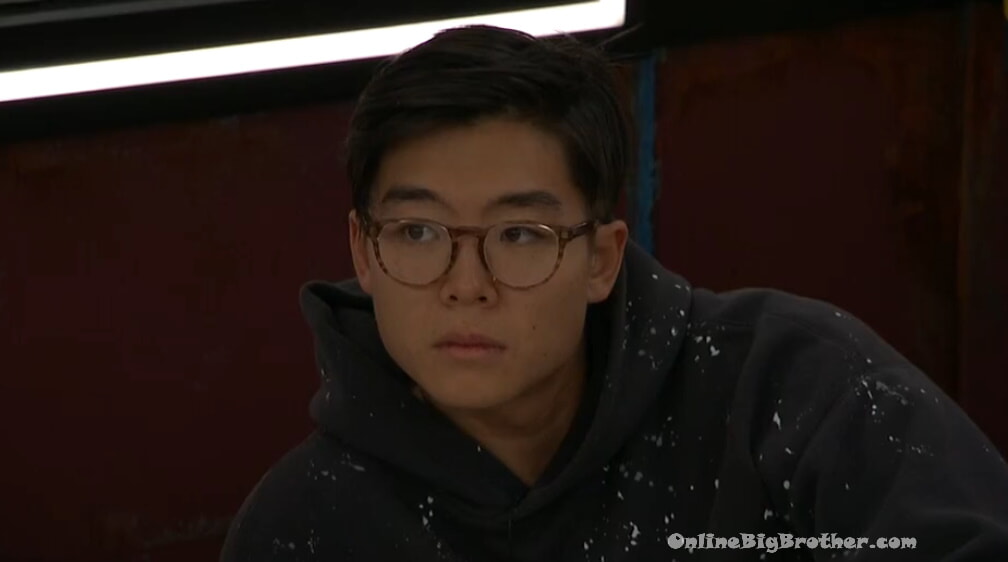 12:09 pm DX and Kyland
DX – she couldn't come up with a more original Nominations.. it worked for Kyland so give it a shot
DX – she wouldn't put you up?
Ky – it's getting harder and harder who we can trust. She doesn't want to do anything that could be considered cocky and Flashy.. I get it.. and risky.
Ky – she said she had reason to not trust anyone in the house besides me.. and she is worried about doing anything that would make too big of a splash.. which I get. what I would share on .. the thing I would share beyond that would be that like I said I'm getting more and more close to that. but it was.. things were said to me that I don't know whether or not it made me feel more distrust towards anyone. but when. as far as the conclusion when they say… it did raise trust they ended with.. basically making me feel like we're in the situation. talking to you and you told me the truth. on my metric of trust that is the best indicator, I can hope for. (fun times)
Ky – umm so that is as far as my role in the conversation it went to that extent.. and after Id say that's where I landed and where she landed on the flash move thing she said I would be.. me being her I. For lack of better word, she said she would be to concerned, to nervous, to scared to have to. basically, we had a different answers to, do you believe that uhh anyone in the house would take you down if I put you up?
Ky – and I said. and we had different answers mine being as much as you don't believe I do hers was different hers was uncertainty and hopeful that not making a big splash and people following through and just seeing what people do given the option (Fun)
Ky – it was a wild long conversation in general though not even related to anything that was said in particular.. honestly just exhausting and mentally exhausting to talk about all..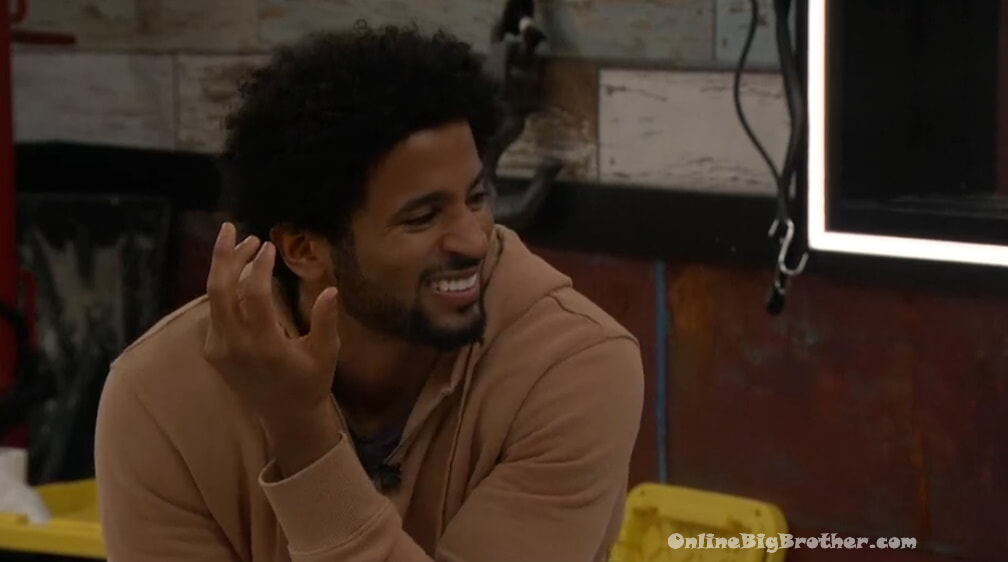 feeds cut.. (I'm trying to capture a sample word for word so people that don't have the feeds get to see what all the fun is about)
When we're back he's talking about SB not wanting to make a flashy move.
KY – the last three months went by really fast
DX – bro.. dude it's almost September
Ky – that's where she is coming from and she's also coming from the. Basically, she's also coming from. I feel comfortable saying she's coming from whatever else she expressed I don't want to speak on her behalf more than I already said. (WTF)
DX says when he talked to her yesterday it seemed like she wanted him to play and today things change she says it's up to him.
Dx – if you view that shift from my perspective it's like something changed over the night. it does reflect that maybe she doesn't trust me
KY – The.. I think what I said in terms of. the difference of.. has distrust be built? I want to see what people do given their own you know freedom to do what they want.. in terms of and something like. I think from her perspective it's like if there could be one person that could make it real easy to follow through.. hey I'll use it.. I'll follow through. Like is that as easy I don't know? I think it's like much more of a matter of seeing what people do given the freedom.. to make their own decisions. As opposed to.. I think that also she is using this opportunity to see that with a variety of people.. Hey this is what I'll do and since she still has the leverage of. After this competition, there's still veto.
DX called into the DR
DX – what the HECK
DX says he let her take the money during his HOH so she could rebuild trust. He understands where she's coming from he put her up and never gave her a heads up. There's plenty of people that will use the roulette on Claire. He wants to save the money for the coin of destiny.
Dx comments on how the DR doesn't want them talking he races to the DR.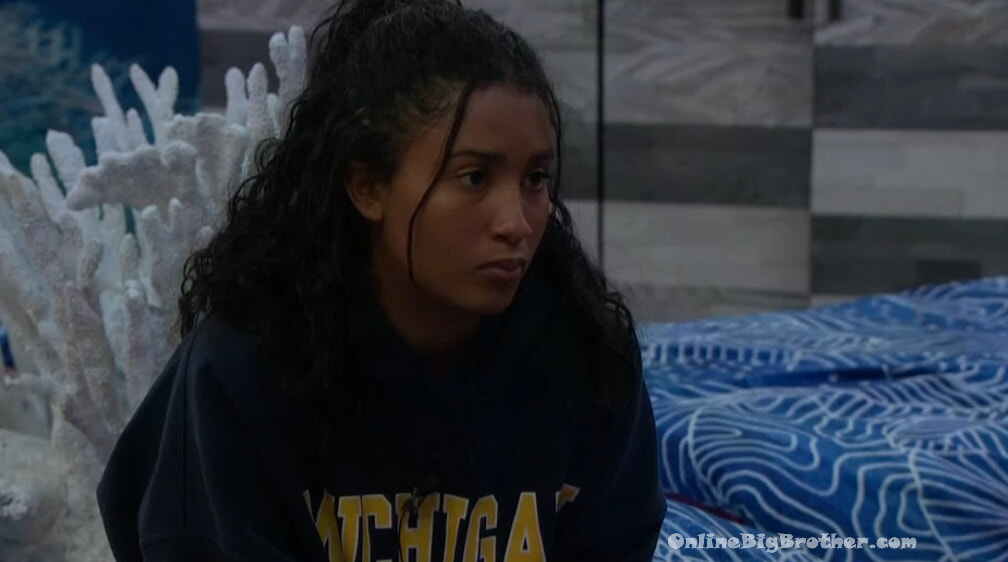 12:23 pm Hannah and Claire
Hannah says if she just gets 50 she's playing but what should she do if she gets 100
Claire says they should wait to see what DX gets.
Hannah – would it be the worst thing in the world if no one plays?
Hannah – our ultimate goal is two of us not on the block come Thursday.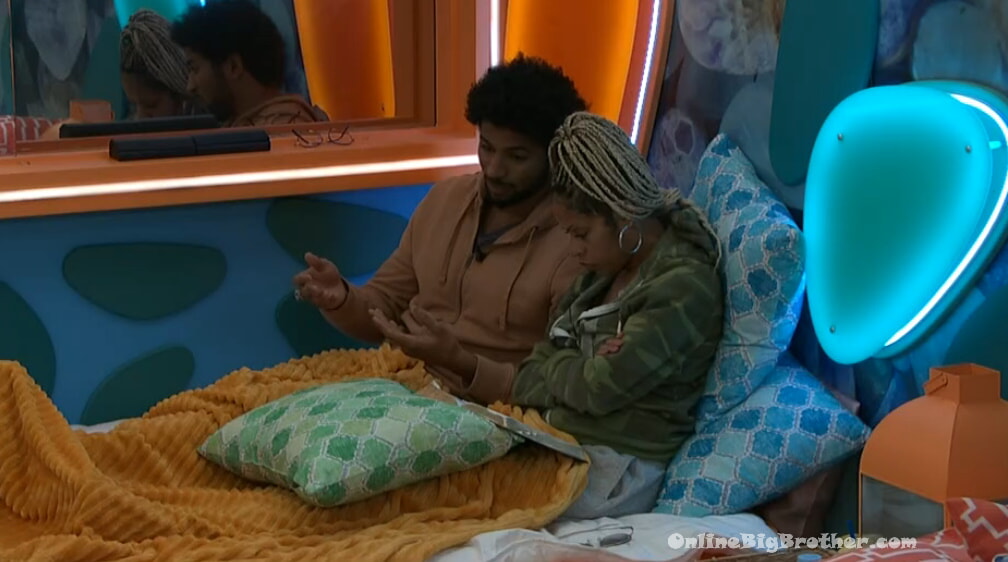 12:30 pm Kyland and Tiff
Kyland saying when he started talking to SB last night there were 4 possible targets 3 of which were cookouts. After he took a blow torch to her brain for 4 hours it changed to 4 targets 1 of which is a cookout. The only reason it's X is because she doesn't trust his partner Alyssa.
Kyland says SB is expecting DF to come down
Tiff – is Claire her target
Kyland – no she has four targets.. Claire, Alyssa, X, DX
Kyland – She stayed out of my HOH and I've been completely in hers and she's been welcoming to it and open and receptive to things I say.
Ky says if there was anyone else outside of the 6 he feels he could have talked her out of targeting X and target that person. (fun times)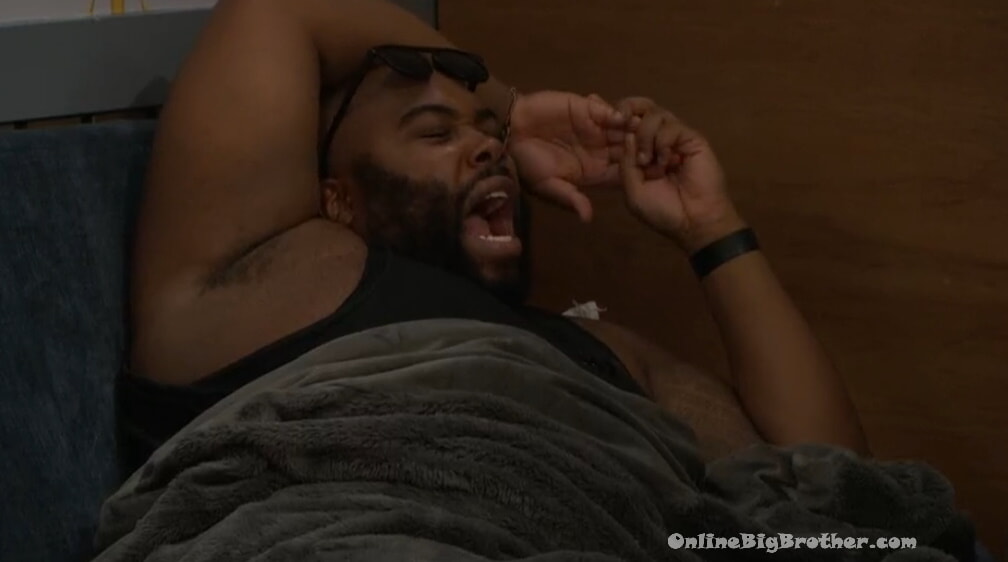 12:50 pm DF and Azah in their spots.
DF – I'm thinking east coast style no one is up to watch us at 10 pm at night..
12:55 pm Feeds cut to pound kitties
2:57 pm No feeds
4:13 pm No Feeds
Please consider a donation to keep the madness going. BIG thanks to the people that have already chipped in.