HOH: Sarah Beth
HAVENOTS:
Nominations:
Power of Veto Players:
Power of Veto:
Power of Veto Ceremony:
Big Brother 23 Houseguest Rankings – – RANK THE HOUSEGUESTS –
View the previous day ranks on the – Ranking Grid
Big Brother Spoilers – Sounds like Sb will nominate Claire and BIGD. The target sounds to be DX but it's still too murky.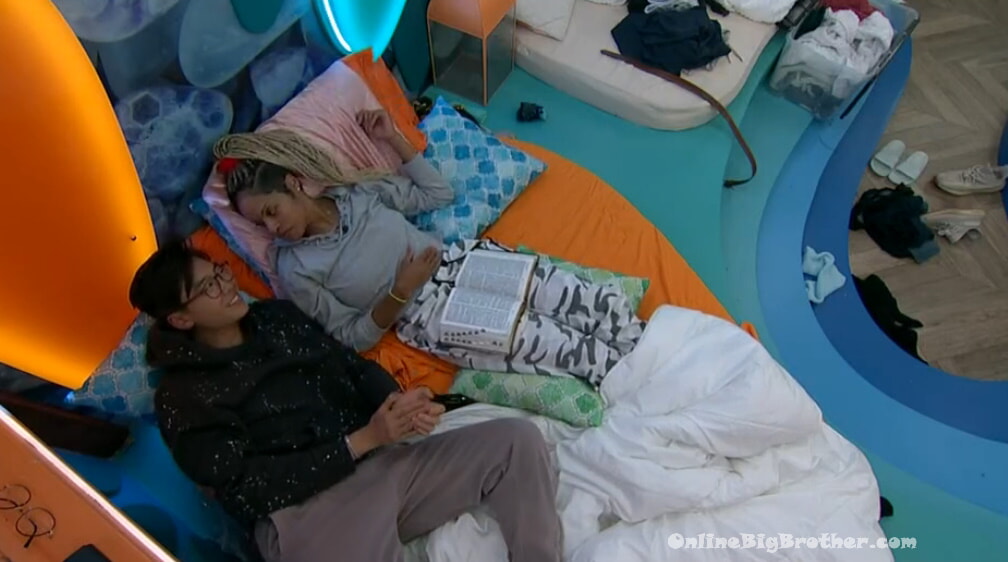 1:30 am Tiffany and DerekX
Tiff – whats the plan DX
Dx says he's letting SB naturally work through her options if Tiff and Hannah push Alyssa Sb might start asking where they got that from.
DX – We need to stay off her radar.. I'm not saying anything
DX – I think I'll probably play. She told me she will put up someone that is the target and someone that is the pawn. I'll take down the pawn.
DX – she doesn't want to put up Kyland but Kyland wants to go up
Tiff – Kylands wants to go up so he can be safe. I almost want to go up so I can be safe
DX – it's the better position to be in especially since I am playing
Tiff – you and BIGD are the only ones that can play and it's balancing..
DX – If I play I'll win
Tiff – what if she nominates me and CLaire.. you play who do you pull off
DX – we'll talk later
Tiff – if Ky goes up Claire and Ky he'll pull himself off with Veto. that is why he wants to go up. what if it's me and Ky in the beginning.
DX – SB will really pressure me to use it on Ky but I am already safe for the week
Tiff – if you play yeah you're already safe.
DX – I don't think she's targeting you
Tif f- whos her target?
DX – Azah or BIGD. Sb might be scared to take a shot. She'll want to put up someone that doesn't have money maybe Claire
Tiff – I screwed up I told her I don't have money
Dx says it'll be Claire and Kyland or Azah and BIGD. He'll play takedown Kyland
Tiff -what if it's me and Kyland
DX – there's no way
Tiff – worst case you play take him down then play veto and take me down (how about you win veto)
DX – I don't think you're on her radar.
Tiff – I don't know where her heads at that scares me..
Tiff – I don't want you backdoored so you have to win that roulette or win Veto
Tiff says she's worried about being on the block with Hannah she thinks that's a bigger chance than her and Claire going up.
DX doesn't think SB is looking at Hannah or Tiff.
DX – she knows if she puts up Hannah I'm coming for her she doesn't know if she puts you up I'm coming for her
Tiff says she started this game with Ky she feels close to Ky
DX – if I win 100 dollars I might not want to play the whee;
Tiff – if you don't play the wheel you might not be here next week.
Tiff – I don't want her to have on her resume she got you out she don't deserve that. IF you go out you needs to go out by someone that was a threat to you
DX says if he gets 100 it'll be a tough decision for him if he gets 50 it'll be easy
Tiff says if America gives her 100 she'll play roulette for herself
DX says X, Hannah, and himself are the only people that are guaranteed to be able to afford the roulette this week. (It costs 124)
Tiff doesn't think X wor Hannah will play they will save their money.
Tiff suggests he can say he played the roulette but didn't score. the house will think he spent his money. "then you'll still have your money to have the coup d'etat"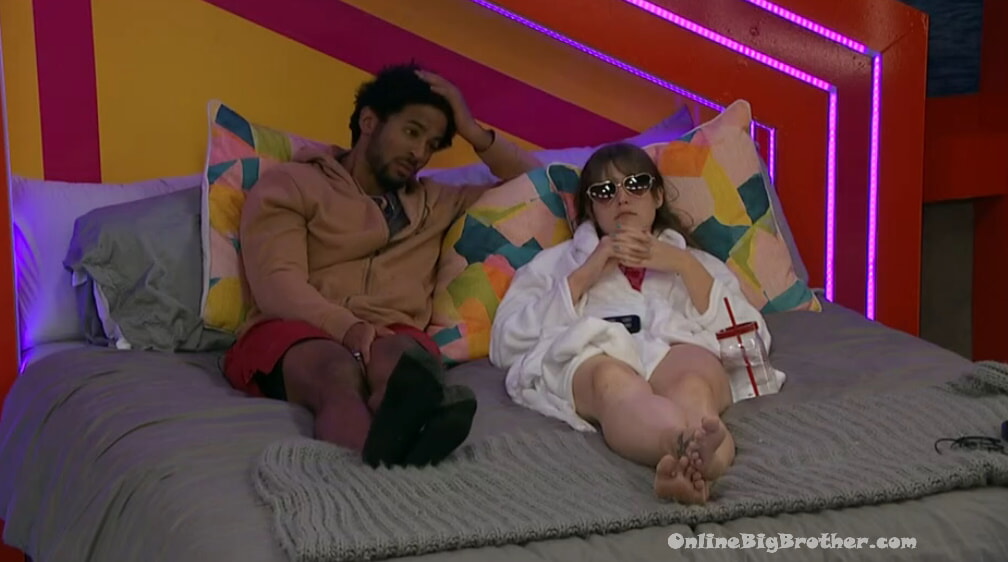 2:00 am – 3:00 am SB and Ky
Looking through pictures of Sarah Beth's pictures.
Sb – If I win HOH again they'll give me a picture of my other cat.. it's the most gorgeous cat ever

Ky brings up how there's a lot of variables this week with all the powers so there's not the wrong play for her "things can happen this week that we never account for. Don't put that sort of pressure on yourself to make the right decision"
Ky says it's very possible if he hadn't won the HOH last week she would have gone home. "You are more than capable you have my support"
SB – let's get down to business. I don't know what I'm going to do
Ky mentions people were worried about the Brit vote flipping
Ky says he saw Claire and DX gathering people for one on ones "I believe they mentioned Alyssa as well I didn't see her with them"
Ky Says DX was "super upfront" about having conversations with people about switching the vote whereas Claire denies having any conversations with people about it.
SB – did DX say he had them with Claire
Ky – he did no I just saw them talking multiple times
Ky says Alyssa told him that DX was just exploring options whereas Claire was trying to sell her on keeping Britini.
Ky adds Britini's targets were Sb and Kyland.
Ky brings up Tiffany telling him "Claire hasn't turned on you"
Ky – she (Tiff) was like I want to work with both of you
Ky adds Tiff told him that Claire was saying yes to him in the HOH but was having conversations downstairs that weren't aligned with what he wanted
Ky – that means a lot to me she wasn't expressing I should go after Claire she just wanted me to be aware of it
Sb – how certain are you that their pitch was Britini is going after Kyland not us so they should keep Britini? as opposed to what Claire has been voicing her concerns about BIUGD for like 2 weeks now. He's going to be the ultimate pawn people are going to take him all the way to the end. nobody has any clue what he will do he'll be erratic and terrible HOH if he were to win she's been on the train. It wasn't surprised me that Claire would see this shot and want to take him out
Sb – why did BABYD tell you he wantted BIGD gone
Ky – he said there's a chance to campaign against Brit there's no chance to campaign against BIGD in his position
Ky – this week doesn't have to be a big shot at all. Because of the power and the nature of that the two people don't have to be targets.. they can be lots of different thing
Ky – she (? ALyssa) is the only person weirdly that has a logical reason to be loyal to you than any other person in the house.
Ky explains that bonds formed early in this game are stronger than ones formed late.
Ky – There are few things in this game that would surprise me as much as X turning on you or Alyssa
SB – you really think he would
Ky – he'll turn on me before he turns on you
Ky says X breaking his loyalty is not in his "persona"
Ky – Alyssa is an island since Christian left and X is the opposite of an island.
Ky – babyD has expressed a lot of loyalty in terms of being willing of having difficult conversations
Ky – Do I expect him turning on me? no will he turn on us? I expect that before he turns on me
Sb – that's how I felt about he royal flush it was too soon then he did it. When I see BabyD I see someone on the cups of freaking out all the time. He's very worried about himself He doesn't fully trust anybody and that's probably because nobody should fully trust him.
Ky – he ended up here because he's a fan of survivor
Ky – backstab actually gains you vote in survivor where they lose you votes here.
Ky says Babyd is closer to Claire than to him "Claire is closer to Tiffany than she is to me"
Ky – she might be closer to you it's your HOIH I want her to be close to you
Ky – I have the least confidence in my ability to protect us one of them will come after me first one of them will come after you first.
Ky – I want to be supportive of you and right now Azah is in the same situation with you as she is with Babyd. BIGD I feel both of us can beat him.
Ky says he would rather Claire or Hannah take the shot at DX than the two of them.
Sb – this is what I think every single person on that wall other than you would put me up and I would not be surprised at any of them. I don't think I can trust any of those people. Me and you are on every single person's radar
Ky – I agree.
SB – I can't trust anyone that's not what I need to do in this HOH I have not doubt every single one will take a shot What I can do in my HOH is get rid of someone that is more of a threat to me. Azah I can beat her. BIGD I can beat him. Claire and Tiffany, I think I can beat them. Hannah, I can beat them. The people that Scare me are BabyD, Alyssa, and X (kraken)
Sb – Which one goes I don't know I can think of a narrative for why I would go after each one of them at the end of the week. right now I don't have to choose. I just need to pick my initial nominees so it sets me up so I have those options for a backdoor after the veto.
Ky – I love it and support it I agree with everything you said.
SB – Alyssa if she gets the money will probably play it and it has nothing to do about loyalty to me
SB – BIGD says he's not playing because he doesn't have the money. I don't know if I'm gullible I almost believed him .. I don't know
Sb – Claire doesn't have the money to play it no matter what.
SB – babyD is saying he might play it he might save it.
SB – X is on the fence if she should play it or save it.
SB – I feel X was for the flip
Sb says in her one on one with DX he said Both Alyssa and Christian didn't trust both of them.
Sb – he told me all kinds of things when I was on the block he really didn't want me to trust Alyssa..
Sb says she doesn't trust DX or Alyssa. "I have more distrust than trust"
Sb – I don't want to settle on a target yet.
Ky – who do you think Maximizes the number of players.
SB – If I put BIGD up and not Azah if BIGD can play he'll play if Azah can play she'll play too.. if they can
SB – I believe Hannah that she will play I believe her that doesn't mean she's safe from the block. I think she has the money
SB – Claire's not playing no matter what. Tiffany will play I don't know if she has the money.
Sb – Maybe I put Hannah and BIGD on the block both of them will play top save themselves Azah will play to try and save BIGD. Alyssa said she will play if I ask her to. the only thing that concerns me is if Alyssa wins. If Alyssa wins one of my options for a backdoor goes out the window.
Sb – I don't want to give BabyD a chance to save himself. I'm prioritizing having options.
SB – for me priority number one is getting a target out Priority number two is getting the power out. I would rather the power not used and getting target out than the other way around
Ky says only one person will win the game to spin the roulette
Ky talks..
Sb – What are you saying I lost you there? Put up babyD and Alyssa?
Ky says he's suggesting she puts up 2 of the four strong duos.
Sb – I don't feel good about it I feel like babyD if he's up he'll play and win and be safe for the rest of the week. Now he's pissed he was up
Sb says DX is coming after her under every scenario if she puts him up.
Ky continues to push the target onto DX says he's the highest threat for them. "DX has 100 and he'll probably get another 100 I need him to spend money this week or be gone this week.. If he spends his money I only have to beat him once next week"
Sb says DX will win the power if he plays this week he'll win. It's a terrible idea to put him up first.
Sb says maybe Alyssa and X are smart enough in this game to see it's better for them to work with her. Sb adds that Alyssa listens to X so even if Alyssa is thinking of coming after her SB believes X will "reign her in"
Sb – I don't know maybe X wants to come after me and is really good at hiding it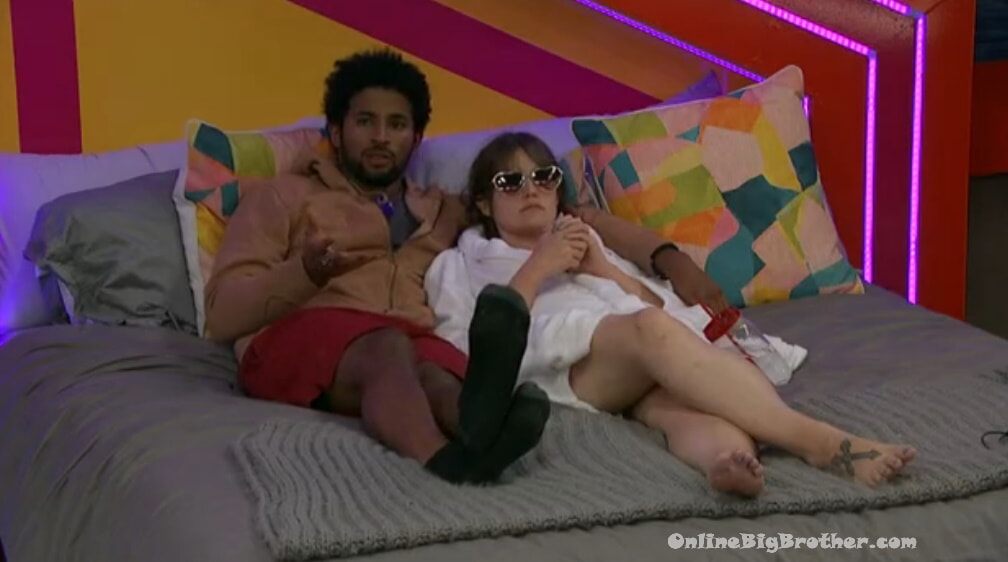 3:00 am – 4:00 am Sb and KY part 2 (Ohh hurray the Kyland nightmare continues into this week)
Sb – what would really suck if I put TIFF up and she doesn't have the money to play and nobody else plays.. then that power will be up for grabs next week. I feel like Hanna will play Hannah told me she will play I do believe her. hat is one benefit of keeping her off the block
Sb says Hannah told her she will take off who SB wants.
Sb says this is a tough week I don't trust anybody.
Sb says by keeping Tiff and Claire off the block there's still a chance to use this week to help them trust her.
Ky – I think that tiffany is willing to work with both of us and Claire is only willing to work with you
Sb – if DX was gone Claire will be much more willing to work with you
Ky – Claire will be the fastest person to put you and I up
Ky doesn't think Claire will care who goes.
Kyland brings up putting Alyssa and Hannah up.
Sb – Alyssa is not stupid especially if she goes up against Hannah she's going to think why are you putting me up against someone that can definitely afford to play. We all know Hannah got 75 or 100
Ky – we want her to play and win. (alyssa)
Sb – If I was Alyssa in that situation it would smell so fishy
Sb points out that the odds are Alyssa and X will be here next week so why ruin her relationship with them.
Ky – I don't think it does. I think if we ask they'll be open to it
SB – I don't think so at all
Ky – who said they are open to it? (going up to allow for the roulette to be played)
SB – the only people that said are Tiffany and Hannah
Sb suggests they pull DX in and ask if he was working with Claire last week to flip the vote.
Ky says he didn't hear Claire's name from DX
SB – where did you get Claire's name?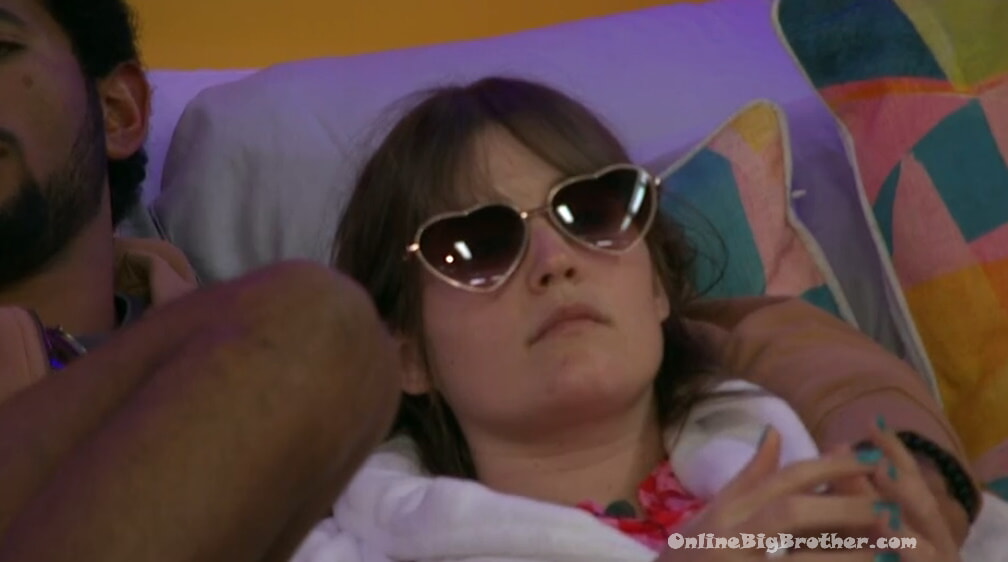 Ky – from everybody else in the house. every person on that board said one of our two names implied or directly
SB – they said that was her reasoning to want Britini to stay
Ky – yeah using that same logic Hey I don't understand Ky's move ..
Ky says everyone in the house said Claire was campaigning and mentioned either his name or Sb's name directly or indirectly in the conversation.
Sb – why didn't they bring that up to me in their one on ones
Ky – same reason they didn't bring it up to me in their one on ones it's the game we're playing
Sb – yeah but don't people want to save themselves?
Sb – I'll throw anyone under the bus if it gets me off the radar.
Ky says the reason he didn't put DX up last week is it would have spread so much distrust at that point he hadn't acted against him in any capacity.
Ky – since we're all working in duos that instability it would case it would make it harder for us to pay the strategic game we want to play at this stage.
Sb – I am fortunate because I have a reason to get rid of any of these people I'm not worried about have who I target coming up with a reason
Ky – I'm not worried about coming up with a reason I'm worried about impact. It's about impact.. what's going to make the ground we have to transverse more steady
Ky says if he put DX up last week people would be suspicious of why he did it after DX did nothing to him. He adds that people would not want to work with Kyland anymore they wouldn't trust him.
Kyland says this week it'll be pretty tough to avoid lines being drawn
Sb – I'm not worried about hat
Ky – that's what I'm saying I'm down to draw f***ing lines
SB – I just don't know what lines to draw
Ky – we don't have to know
Ky – "you have more of issues with Alyssa than I do with DX"
Ky says the only time that Alyssa was working with people that weren't for them was when Christian was on the block
SB – that's not true if she really wanted to flip the vote against me if I was up against BIGD if that's true then she has never been on my side. She's been lying to me since week three.
Ky – what are the odds
Sb – it's likely
Ky – no.. what are the odds babyD Is doing something also..
SB says she trust DX and ALyssa equally "which is not at all"
Sb – I would be not surprised at all if they put us both up
Sb – I have to be open and flexible which won I want out.. I can only get one of them out.
Sb – I just don't want to overcomplicate it. I just need to figure out who I want to nominate that gives me the most chances who I want to get out
Ky – who does that now
Sb – I'll just say who I don't want to put up. You. I think it's a terrible idea to put up BABYD, I think it's a terrible idea to put up Alyssa and X there's no way I can sell it to them. I know you think I can but I can't they will see right through that
Sb – I could put up Tiffany, Hannah, or Claire. Or BIGD and Azah
Ky – if we put BIGD and Azah it would be bad that is the one thing I took away this week the moral side of it was a bigger deal
SB – you kept everyone in the dark.
Sb argues if she tells them she has a plan there won't be as much drama from the nominees.
Ky says he told BIGD and Claire abou the plan so it's not true.
SB – then they are both lying..
Sb says both BIGD and Claire told her they had no idea "BIGD said he was shocked he as up"
Ky – BIGD is saying that because I told him
Sb mentions again nobody told her that Claire used he rin pitches to get BIGD out.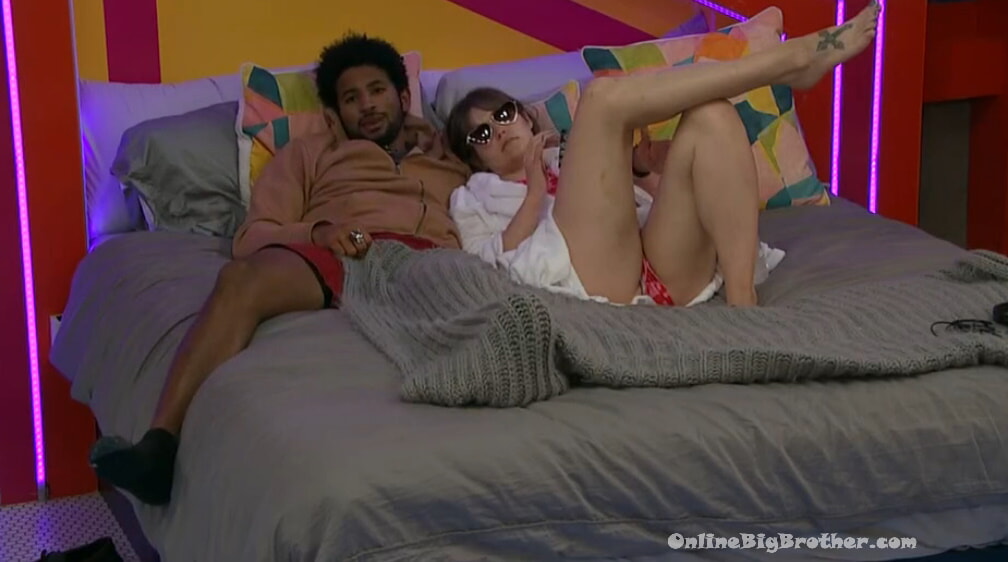 Sb – why wouldn't nobody literally say that to me not even Alyssa or X.. like C'mon I'm HOH I'm looking for a target"
Ky – **Words** people are pointing at targets. Claire's no one's target **Words**
Sb – nobody pointed me at anybody.. that's not true Alyssa threw Tiffany under the bus and X threw Claire and babyD under the bus they're the only two.
Sb – What if I put up Claire and BIGD?
They laugh
SB – hear me out. I tell Azah play it take BIGD down both of you are safe. I'll tell BIGD play if you can.
Sb – I tell Claire I know you can't play but Hannah can play Alyssa and Tiffany all COULD play
Ky – and DX
Sb – all would be willing to take you down if they won. I could really sell her Tiffany. Tiffany is able to win that challenge because she's athletic and she will probably have the money. Both of you are safe for coming up on the roulette
Sb – I Tell Hannah play I tell DX it's up to you if you want to play or not. I play X it's up to you and I ask Alyssa to play
SB – if Claire gets upset..
Ky – what's she going to do about it
Sb – it's not like I'm going to turn her into an enemy
They talk in circles about swapping DF out with Hannah but SB settles on BIGD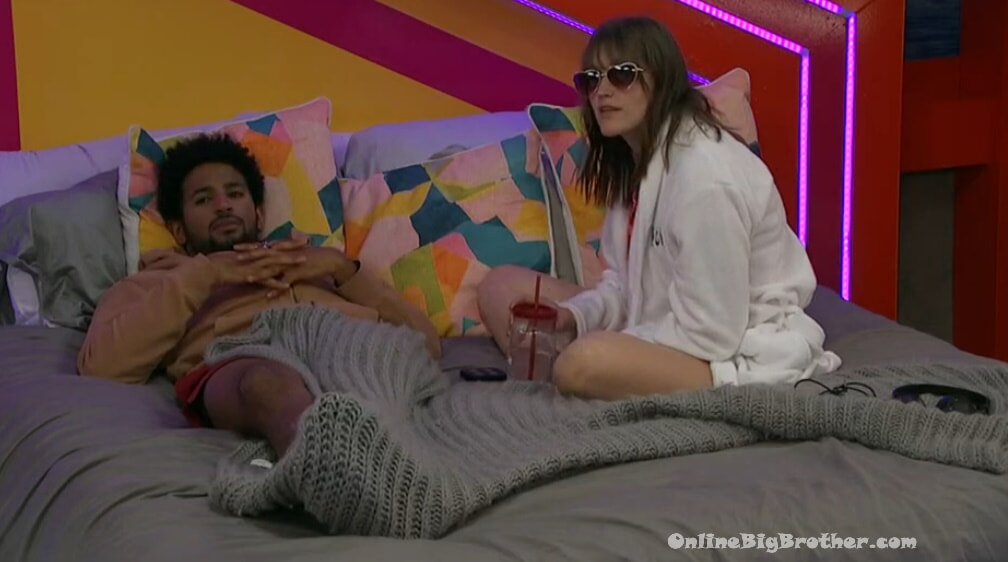 4:00 am – 5:00 am Sb and Ky
Sb – babyD did seem open to the plan of putting you up and then playing and taking you off. Do I 100% trust him NO. I think he's a player that likes Flashy moves he would be BEYOND himself if he was able to get me to put you up and then not take you down
Sb – Kyland if you are on the block you are going home
Ky – not if I'm up there with Claire
SB – Tiffany is not going to keep you over Claire
Ky – fair points
Sb – DX won't vote for you over Claire
They continue to talk about putting Ky up to prevent the roulette spin from putting him up as a replacement.
They go over all the people they can ask to play in roulette and save Ky. Sb says she'll talk to everyone eligible and see if she feels good about it.
Ky – I am feeling more and more good about it (him going up)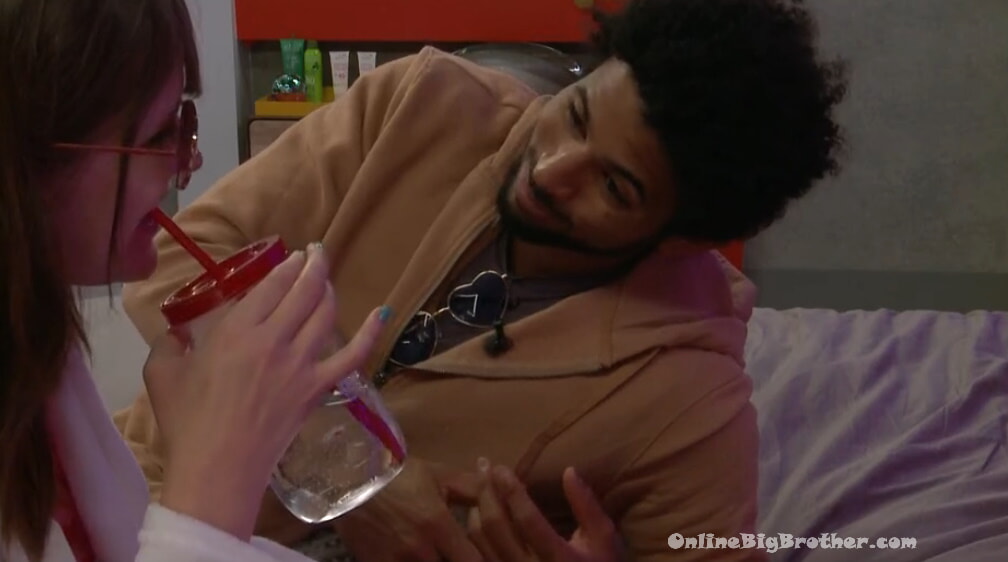 5:00 am – 5:55 am
Kyland – I think DX will play it and take me down but then he's off the board
Sb – then I can't backdoor him
Ky – You would have to go for a king.. ahh.. I would rather you take him out this week.
Ky – he would play it and he would win and take me down. Which is great for me but bad for the targets
Ky – he's the one that is the most immediate threat
Sb now I'm scared even if I want to get him out this week I don't have the votes.
They talk about Votes and what she is going to say to everyone about her nominations. Sounds like it'll be Claire and BIGD still.
Ky points out that he won't have to wear the jackass costume this week so he won't be as hot as will be able to think better.
Ky – that is the plan it's solid. It doesn't involve putting me up. You don't have to think about it as hard because the roulette will change everything anyways.. it's a safe plan We have stuff we can say to people.
Ky – please remember if you wake up and are like F*** putting up Kylan dis best because X Y Z you have my support
Ky – not only do you have my support that is my idea Sb – I'm not doing that.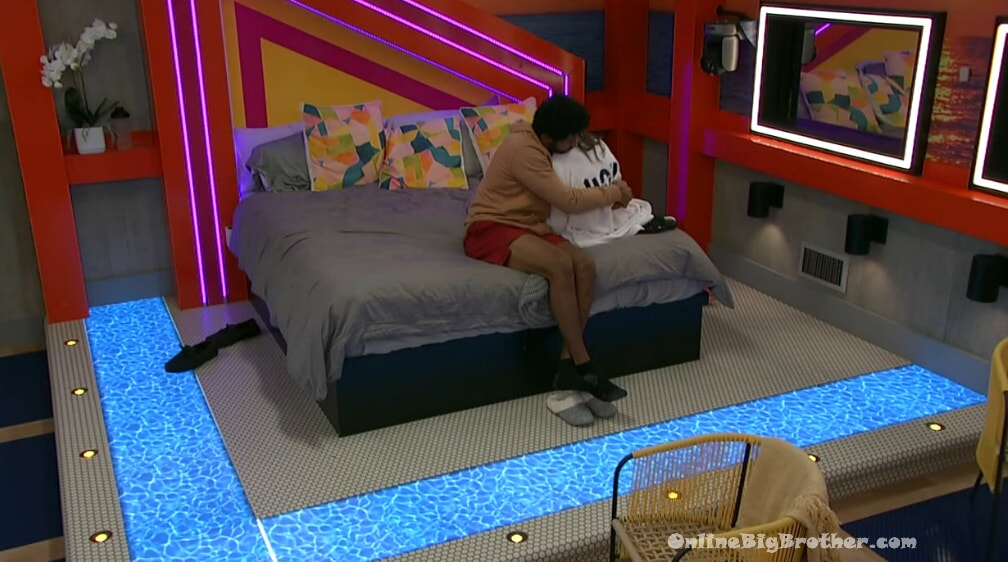 5:58 am
live feeds fun conversation over.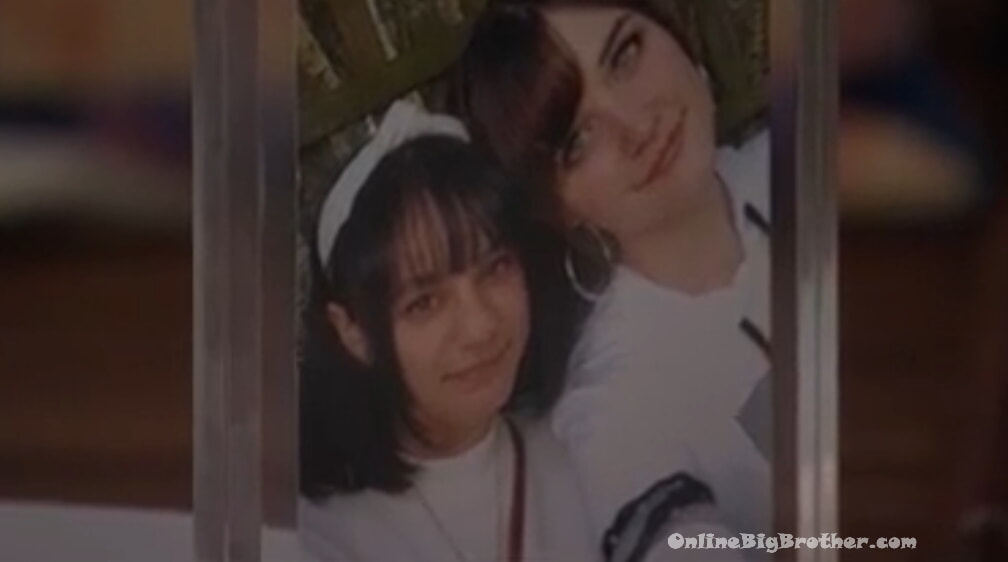 Shelly and Sarah Beth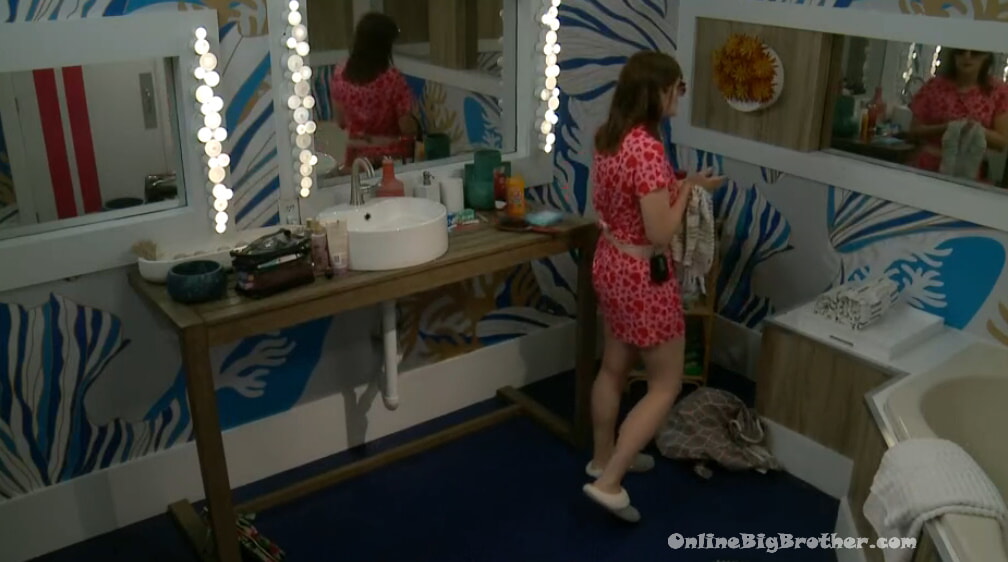 6:00 am Sb practicing what she will say to Claire and BIGD.
"I do think there are people in this house that will play and take you down I know Tiffany will take you down. I know then that you and Tiffany will be safe. Unfortunately, I can't do it the other way around because you don't have the money to play"
"I've had several people tell me that they will play and if they win they will take down who I want"
"babyD said he would consider it, Hannah said she would do it, Alyssa said she would do it. So I have several; people that will take you down."
"Tiffany has a good shot at winning this if it's a balancing challenge"
6:30 am Zzzzzzzzz
Please consider a donation to keep the madness going. BIG thanks to the people that have already chipped in.