POV Holder:
?
POV Competition
Sept 5th
POV Used
?
POV Ceremony
Sept 7th
HOH
STEVE
Next HOH
Sept 10th
Original Nominations:
Austin and liz
After POV Nominations:
? and ?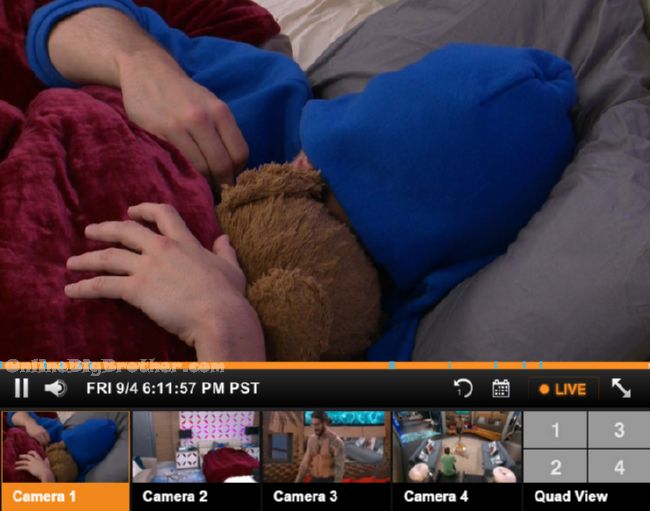 6:00pm Steve in the HOH
Talking to himself saying the only person that cannot win the POV is Julia. If Austin or Liz win it it'll be fine. Steve is now questioning if he did the right thing putting Austin and Liz up he's thinking the twins maybe were a better play.
Steve – ohh F*** if I had put the twins up and Austin had won and Saved Liz Vanessa would have gone up it would have been Julia and Vanessa..
Steve now deciding both scenarios are "Hairy"
Steve – Julia is the weakest competitor
Steve doesn't think Julia will beat all of them in the veto.
Steve – I'm also really nervous that John is throwing HOH because he's a twist
6:21pm Austin and Jmac working out
Jmac doing body squats #BB17 @DawgsBigBrother pic.twitter.com/2XRjYufgvQ

— OnlineBigBrother.com (@bigbspoilers) September 5, 2015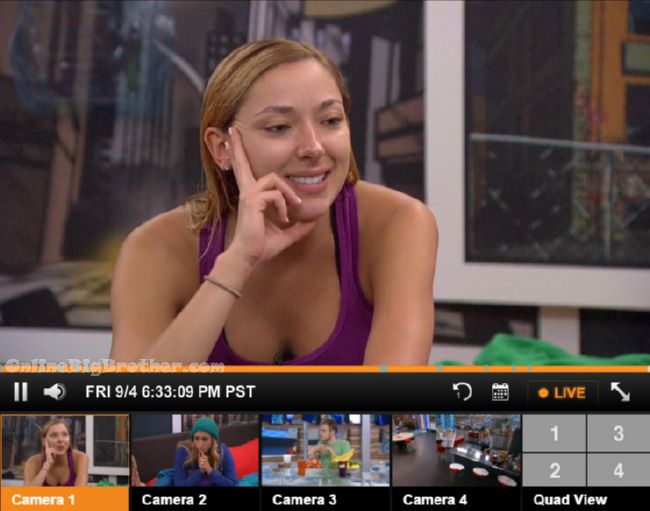 6:31pm LIz and Vanessa
Vanessa says she wanted them to play pot ball tonight because it will be good for them.
Liz says she is heart broken, Brings up when Julia and Meg were on the block.
Steve asked the twins to swear on their family they wouldn't put him up. She honoured that by not putting Steve up when she won during the double.
Liz – he went behind our back.. I feel so betrayed by him it was so low.. I can't get over it.. why would he make me swear on my family when he was putting us up
Liz – I feel so betrayed there's no words to describe it if he knew I was his target
Vanessa- I'm going to play devil's advocate.. he was going into what he thought was a 7 person situation.. he couldn't have foreseen being down to 6 people with you 3 in that 6.
Vanessa – he's not being easily he doesn't feel good about it at all.. he feels terrible he likes you guys..

Vanesa – I'll to you this.. it's ain't over until it's over.
Liz – I'm in the shitest situation.. if I win Vanessa he's going to put up Julia.. And if Julia wins tomorrow and takes me down he's putting you up
Liz – you think he's putting up Jmac, Hell no
Vanessa – he told Austin you're the target
Liz – Austin, Liz, Julia I'm the glue that binds them.. Julia is closer to you than with Austin
Julia joins them.
Vanessa says Austin's worst case scenario is if Liz wins it because Julia goes up now he's the bigger target.
Vanessa – he's going to fight for it hard.. don't you dare not fight for that veto
Vanessa – if you win it you don't necessarily have to use it all you need is my vote, you have her vote (Julia)
Vanessa – I believe it it comes down to Austin and I it's better for you two to keep me
She warns them they will continue to be the biggest target in the house until Austin leaves.
Liz – I came into this season wanting a girl to win so bad
Jmac and Austin roll in
[envira-gallery id="132197″]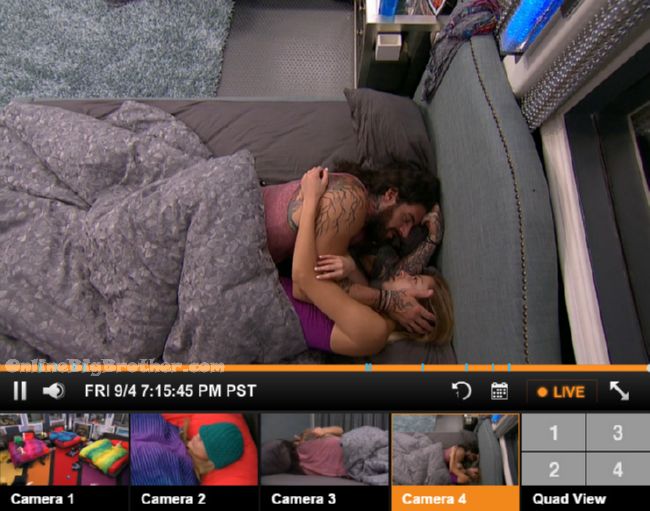 7:09pm Liz and Austin kissing
Austin – thanks for being here with me
Liz – Thanks for being on the block with me
Liz crying
Austin – I'm going to take care of you so you never cry again.. you should only smile.. never cry again
Austin says the Jury kinda sounds fun with James running around they're now, "No filter.. running around totally losing it.. "
Austin says James should have come to them the week Meg was going and make a HUGE deal
Austin says the reason James didn't make it was because he was going to put them up.
Austin – you're not in a showmance together until you are on the block together.
Austin – we get taken out of the game it will be really boring to watch
Liz – no one will watch it
Liz – Now I know how Clelli felt, and they got separated right before Jury
Austin – that's why they were so desperate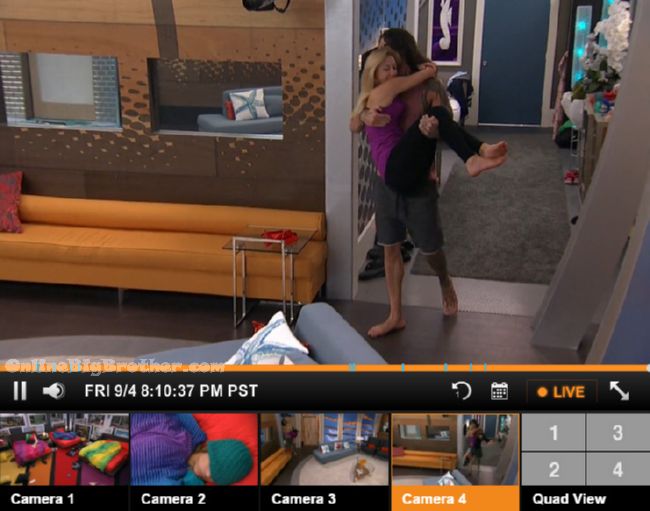 7:55pm Kissing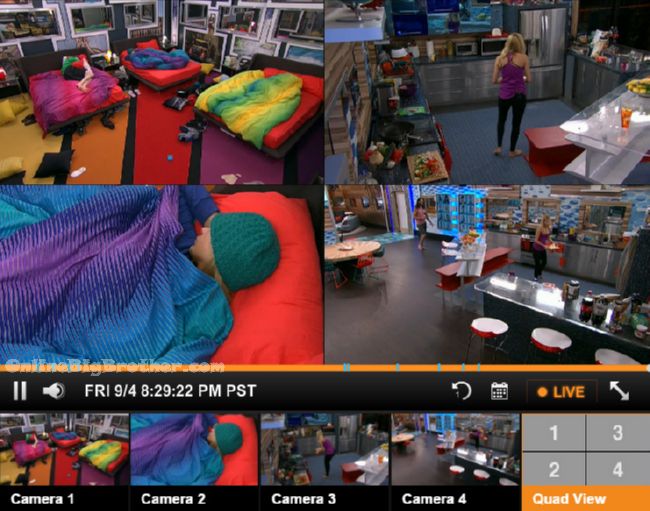 8:30pm Austin and LIz making food everyone else sleeping.
8:54pm Austin, Vanessa and Liz
making turkey burgers. Vanessa asks if Austin is going to be friends with jace after the show. Austin will as long as Jace is up for it. He doesn't think there will be a issue now that Austin is with Liz. (Liz and Jace had a early "thing", I always thought it was more Julia/Jace)
9:06pm Everyone but Steve and Julia milling around the kitchen eating turkey burgers talking about "Audrey Hospice" and how players who were leaving would go into "Audrey Hospice" mode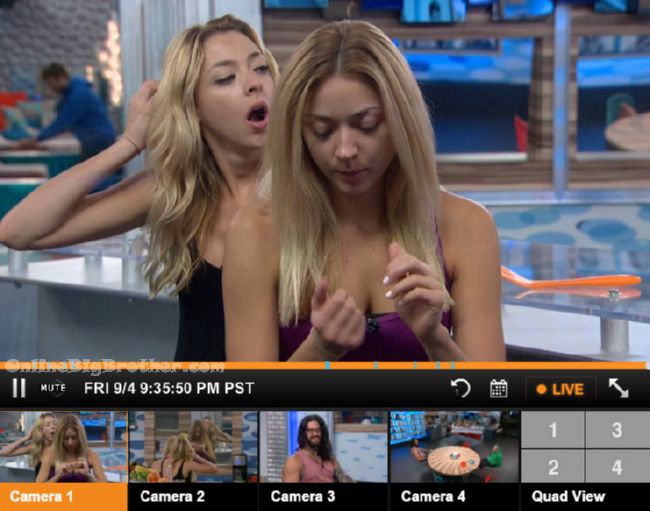 9:38pm Chit chat in the kitchen.
They all agree Guardians of the galaxy was awesome and was totally unexpected.
Steve tells them he got a frozen lobster tail, "I said I loved shell fish"
Jmac tells them about his xbox name it's Ghetto blaster but spelled "Ghetto b1aster" everyone says "Why do you call yourself ghetto lobster"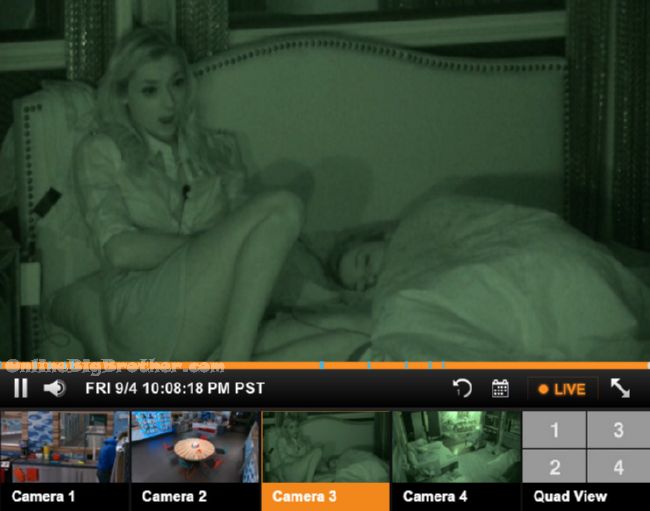 10:07pm bedroom Twins
Agreeing they made a mistake not taking Steve out last week.
Julia – hurts because it's from Steve, You suck that's it you f****g suck..
Julia tells LIz if it's up to them in the final throw the POV to her so they are both safe.
Liz says Vanessa is going to play for her life, "She could play the veto"
they agree Vanessa won't use the veto
Julia – I have a feeling it's that black box (Comp)
10:22pm bedroom Chit chat Austin, Liz, Julia and Steve
Vanessa asks who do they think they will be friends with out of who is in Jury.
Julia – Shelli
Austin – James
LIz – Meg
10:36pm bedroom Julia and Steve
Steve explaining why he left Mechanical engineering at cornell and went to music school.
Steve says he has a nice singing voice "It's not amazing"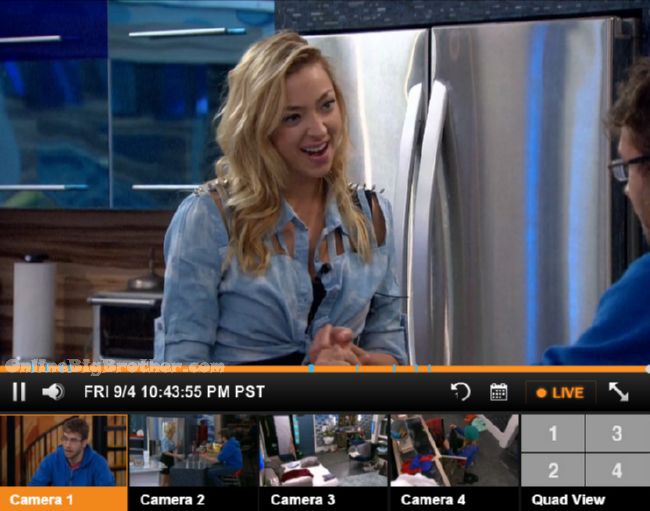 10:47pm Kitchen Steve and Julia chatting
Julia says she's seen some of season 5, all of Season 10, 13, 15,16.
[envira-gallery id="132216″]
11:15pm Austin impersonating Audrey
Austin pulling off a flawless Audrey #BB17 @DawgsBigBrother pic.twitter.com/oH4CSJnjDm

— OnlineBigBrother.com (@bigbspoilers) September 5, 2015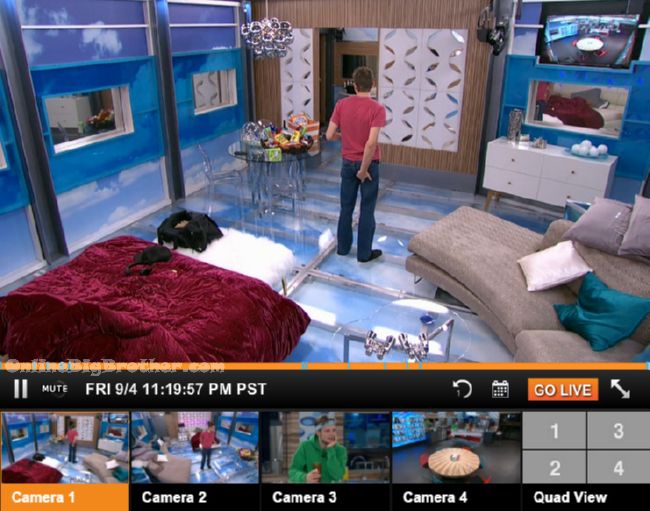 11:20pm He's Digging his HOH
11:52pm Steve taking a shower in the HOH room. Austin Jmac chit chatting.. Everyone else sleeping.
12:10am Steve making a mess in the bathroom. He got in and out of the bubble bath walking all around the HOH room.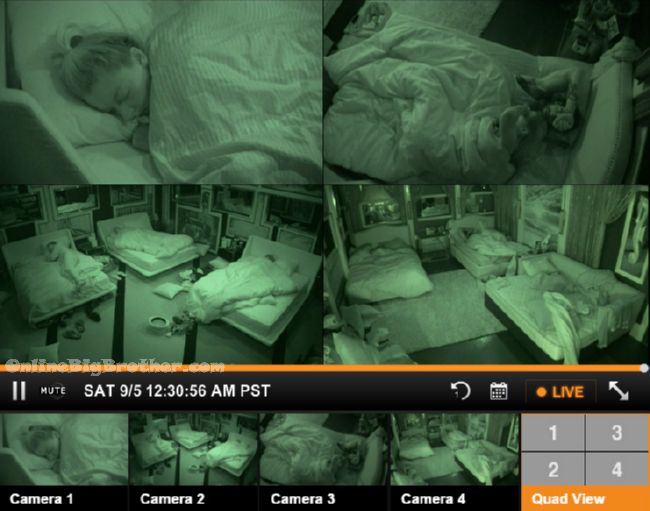 12:26AM Liz and Austin
Liz is crying.
6:00am Sleeping
9:50am Big Brother wakes up the house guests..
If you've enjoyed the spoilers please consider a donation using the drop down box below. Simon and I work 24/7 all season long to keep you updated on everything that happens inside the Big Brother house.
[polldaddy poll=9059938]