HOH: Tiffany
HAVENOTS: BIGD, Alyssa and Claire
Nominations: Alyssa Claire and Xavier
Power of Veto Players: Xavier, Alyssa, Tiffany, Hannah, Azah, BIGD | Host : Claire
Power of Veto: Alyssa
Power of Veto Ceremony: Alyssa used the power of veto on herself. Claire was nominated in her place.
Big Brother 23 Houseguest Rankings – – RANK THE HOUSEGUESTS –
View the previous day ranks on the – Ranking Grid
Big Brother Spoilers – Claire going to be evicted.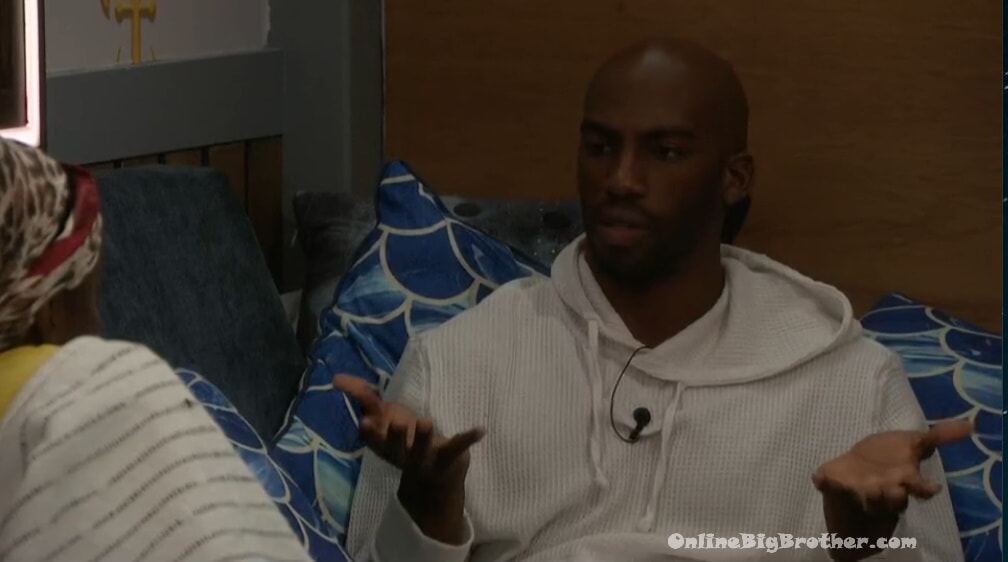 1:58 pm Azah and X
Talking about who should talk to the jury about the cookout
X – everyone should come to a consensus
X goes on about having no empathy for Tiffany having to take out her person "You did it to yourself. it's like they have a cut on their foot and they keep dropping the knife on their foot.. I'm sorry you are in pain but at the same time you are cutting yourself."
Azah – if Tiff had dropped do you think Kyland would have thrown it to me?
X – I'm not sure.. I would have hoped but I don't know
Azah – if Kyland had dropped do you think tiffany would have thrown it to me?
X – My gut reaction would say yes but seeing how this week played out I don't know either. the reservations I have for Kyland are the same for Tiffany. time and again this week she's shown she'll do what is best for her.
X doesn't know if either would have dropped. "It's unfortunate because I didn't hesitate"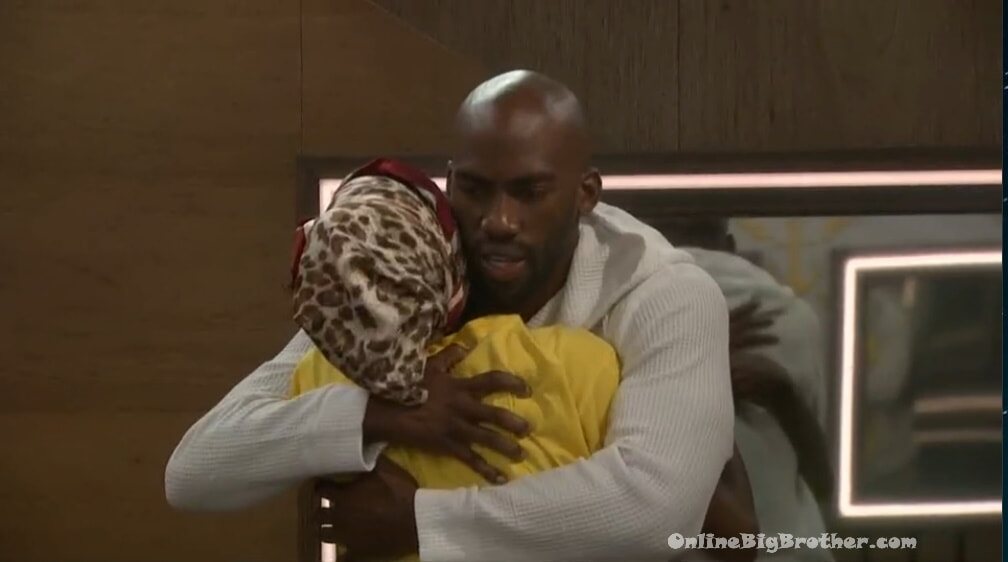 They HUG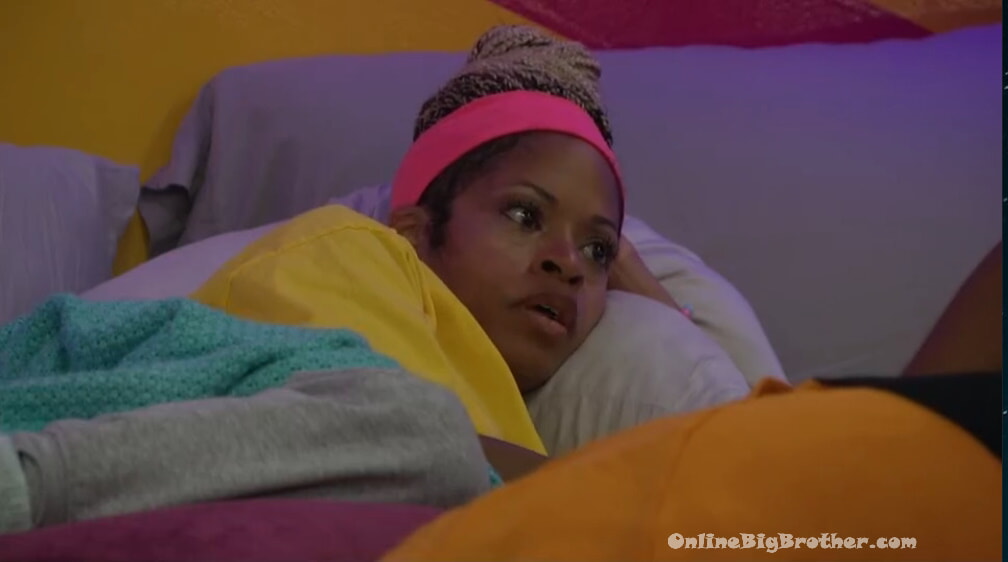 2:36 pm Tiff and Ky
Tiff – there's several reason I've wondered if you and him.. not bonding. Had a desire to move forward. A couple of things. He is a competitor you want to go to the end with a competitor. He's a man and there are women in the jury and I think the guys are afraid the women won't vote for a man.
Ky says it's DerekF that is talking about the guy thing, "Nicole is the only female to ever beat a guy. That's not a legitimate concern."
Tiff – Girls don't even like girls we can even work together in this house. There are girls' votes in jury I won't have.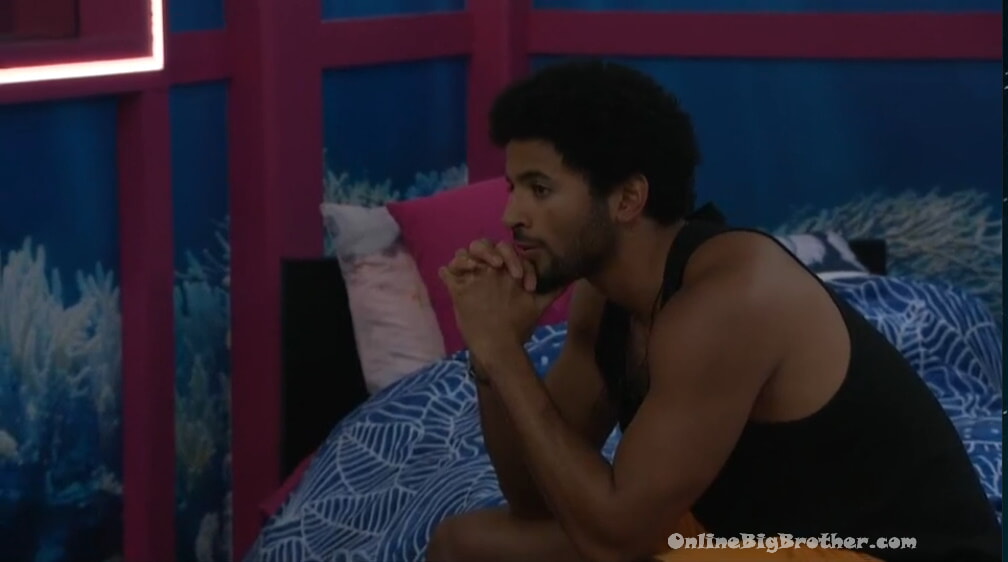 2:40 pm X and Kyland
X – if you take me out it's you and BIGD against the girls. Alyssa will try to get in good with Tiff and Claire if she hasn't already.
X – if they win HOH I'm gone, You are next and they won't have trouble getting BIGD out
Ky – does she really think you are not staying?
X – she's playing it up.
Df comes in tells them that Azah is close in the other room (so they should keep their voices down). "Azah says she's good to go with whatever the group decides but she says TIFF and Hannah are the ones to do it. But we can't"
KY – wait Tiff and Hannah
X – I'll break it down..
DF leaves..
X – right now it seems like Hannah and Tiff are debating whether or not to tell Claire in their goodbye message what the deal is or give her a significant indication what the deal is.
Ky – makes sense
Ky doesn't think they can stop people from doing it anyway. HE's going to be under the assumption that 1 or 2 people are going to tell the jury about the cookout. "There's nothing we can say to Tiff and Hannah so they wouldn't do it"
X – Tiff is going to do what she is going to do.. might be F*** it..
X says in the event Tiff and Hannah didn't say anything and they did when Tiff/Hannah make it to jury and find out "they'll feel some kinda way"
X – how much do we trust Tiff to keep her word?
X says if Hannah says she won't say anything she probably won't
Ky – IF Claire goes out on Tiff's HOH he'll trust Azah and Hannah.
X – YOu [Tiff] talked to Alyssa 2 minutes before to get Alyssa to use the veto on me so you didn't have to put up Claire. You were covering up your own a$$. I see what you are doing I'm not stupid. We continue to do things for her benefit but she's not willing to sit on the Chair as a nominee in the double. Maybe I'm misinterpreting things not seeing the whole picture
Ky – I think we are seeing the whole picture
X – how long do we continue to benefit someone else's game?
X – If AHnnah wins it'll be me and Alyssa.. I've sat next to my person and someone else's person. there are two people that haven't sat next to anybody.
Ky says he could push Hannah towards Azah but not Tiff
X – their interests line up
Ky – her and Azah?
X says the three girls' interests align.
Ky – Hannah and Tiff are getting Azah ..what! at this stage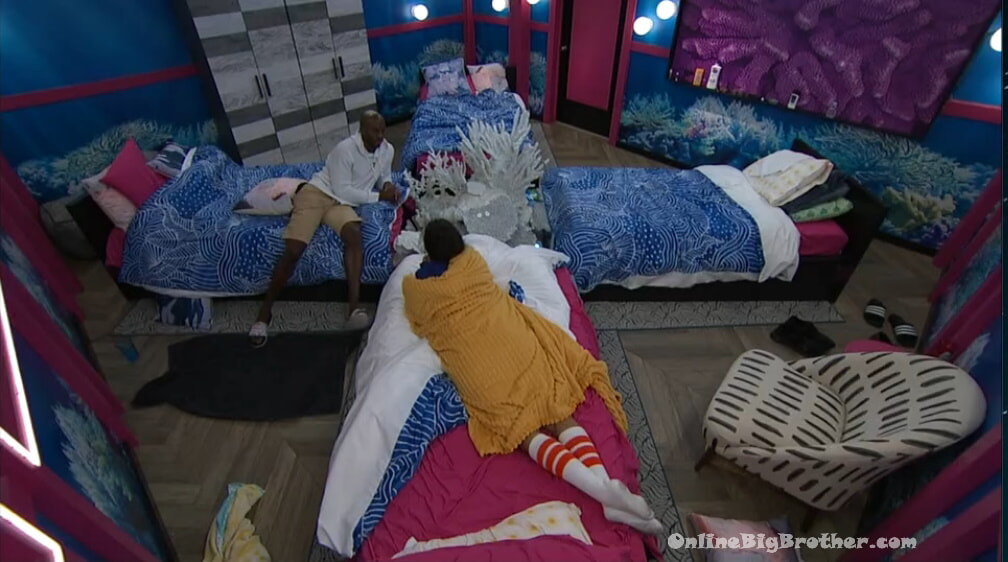 3:18 pm Xavier and Hannah
Hannah says Tiff and Ky have been spending a lot more time together.
X says they've been talking more because they sleep in the same room he's not sure if he can trust KY. Xavier points out that three times this week Tiff has come down and grabbed Ky at night to talk to him in the HOH.
Hannah says she was told to leave the HOH so Tiff could talk to Ky.
Hannah says at 6 X will stay regardless of who he's up against.
Hannah – how many votes to stay? .. 2
X – if I'm up against Azah BIGD is torn.
Hannah – Tiff would be the swing vote.
Hananh says she would nominate Alyssa and X if Veto is played Ky goes up and goes home.
Hannah says make it clear to Tiff he has no more ill feelings towards her "So she backs off Ky.. I don't think she's pointing Ky in your direction she's trying to keep Ky close so he doesn't come after her.. truth is if you two had something you would be unstoppable"
Hannah doesn't see why the two guys would want to take each other to final 2 that would be stupid.
Hannah says Tiff will choose her over Ky if they are going final 3 with Ky. She Thins Ky would put her up if he wins at 6.
Hannah – they (Ky/Tiff) are just trying to increase their grip on each other
Hannah – if Ky tries to target you at six you have the votes to stay if he tries to target you at 5 he would need just 1 vote so maybe he'll hold off for another week.
Hannah – Ky is the type of player that thinks long-term he's solely thinking about who he can sit next to and have it be a respectable win. If he sits next to you you'll win if he sits next to Tiff I think it will be a toss-up. If he won against Tiff that would be respectable. If he sat next to Azah he would win but it wouldn't be respectable.
Hannah adds Ky probably doesn't think beating her is a respectable win
Hannah – Alyssa won more comps than you have but Alyssa will never be perceived as a stronger competitor. She's younger, She's a woman, She's into fashion.
X talks about putting Kyland up with BIGD to ensure Ky goes.
X – BIGD might do Ky and Tiff.. I don't think he'll look at either of us.
Hannah says Azah and BIGD say their ideal final four include X and Hannah.
Hannah says Tiff will want to get rid of BIGD first then Azah.
Hannah asks him after Kyland goes who would he put up?
X – BIGD if he made it to the final 2.
Hanna – you would want to take the three women to final 4 with you?
X – that is also dangerous.. maybe Azah before BIGD.. Honestly, I'm not so. there are two women in jury I have a better relationship with. Alyssa and SB.
X – I'm not fearful to take a woman to the final 2.
X says Ky will have DX and Sarah Beth's vote.
Hanna – if you sit next to BIGD in final 2 I think people will view that as a slap in the face to the game. BIGD would win it'll be another Josh situation.
X says DX gave him a "weak hug" he doesn't think he has DX's vote against Ky, Tiff, or Hannah.
X says Azah played an honest game and she never won anything what would happen if she got to the end she would win. HE asks who else has done that?
Hannah – Jordan.. and she won
Hannah says Claire and Alyssa aren't "well equipped" to tell the jury about the cookout "Our narrative and our Story. it's not fair for them to take on that burden"
X says the first Cookout member to go to Jury should do it.
Hannah now saying she doesn't want BIG or Azah to win the final 7 HOH because of Alyssa comes down she's going up against TIFF.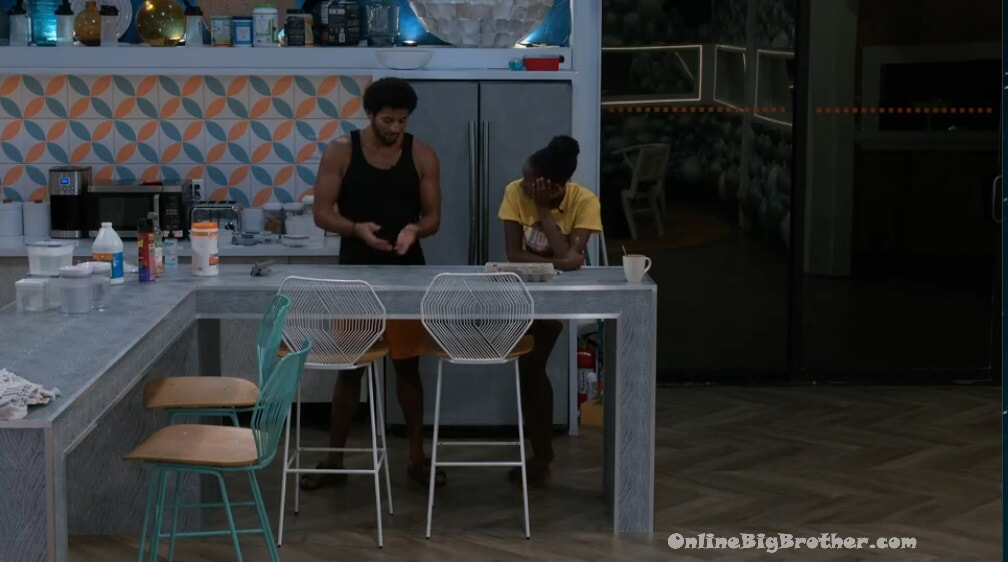 4:30 pm Azah and Kyland
They're talking about the vote and telling the Jury about the cookout.
Azah would rather it be 3-4
Ky – if it's 4-1 or 3-2 she's still going on Tiff's HOH. She already has some insight no matter what it'll be discussed. The more we have to impact that discussion it will benefit us.
Azah says DF doesn't want to tell Claire he feels Britini will be hurt that they told Claire and not her.
Azah – I don't feel that way.
They move to the yacht room. Azah says BIGD is being delusional thinking Claire is after him. She asks him if she's Delusional Ky is coming after her.
Ky says yes. they laugh
Ky says he doesn't know who he can go with when they hit 6 because getting to six has always been the priority
Kyland says the person he spent the most time with because of logistical factors is "dangerously inconsistent"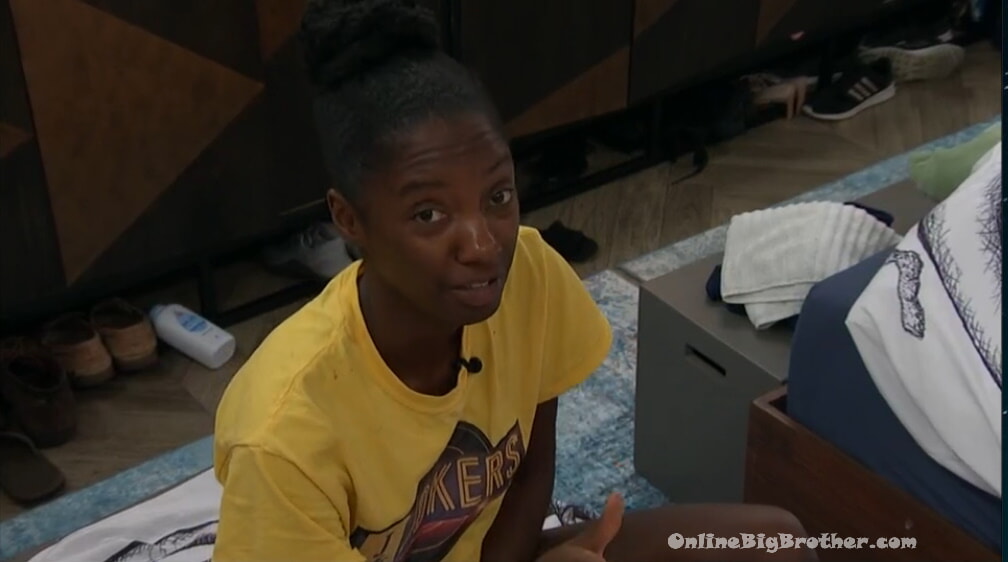 5:05 pm Azah to the camera
"I'm either in a very good position or my game is about to get messed up. Tiffany has approached me about a final 2, Hannah hasn't. Kyland approached me about a final 3 with BIGD. I feel like I'm pretty covered everywhere.. at least I think"
"This conversation changes nothing between me and Kyland"
"make me feel better that he's not coming for me"
Azah says her theory why people in the cookout have come to her about a final 3 is because her and BIGD are a duo but not a strong duo. The only competition they won was BIGD's prize money. "people feel at the final 2 they can beat us we don't have much on our resume"
"I think people can see we are completely loyal to each other and it's genuine. Two votes is very powerful from this point on"
Aazah says they need to figure out how to win this game. "With me not being able to win comps if I decide to take that stand and strike someone in the six I need to be able to cover myself after"
Azah says she feels like she' has trust and loyalty with X, Hannah, and Tiff. She mentions being in a final 3 with Xavier and BIGD as well.
Azah says the reason she wants to work with X isn't because she "thinks he's fine or hot"
Azah – I was not.. when I wasn't viewed to be part of strategic conversations and when other people in the six were in great places in the house I wasn't .. I approached him with the final 3 and he accepted. I approached Tiffany and she declined. BIGD told me I'm with you
Azah – my number 1 is BIGD. I thought it was going to be Tiffany after walking in the house
Azah says DF is a "True Friend"
Azah – tiffany is someone I love her.. I love the girl. I've made some mistakes with her. I have put people outside of her in the cookout. I believed them over her which is wrong.
Azah doesn't want to touch Tiffany if she wins during the double. "some decisions she has made has put her in the line of fire"
Azah – it's so difficult to lie in this house because you can't run anywhere.
Azah – Kyland and Xavier are two sides of the same coin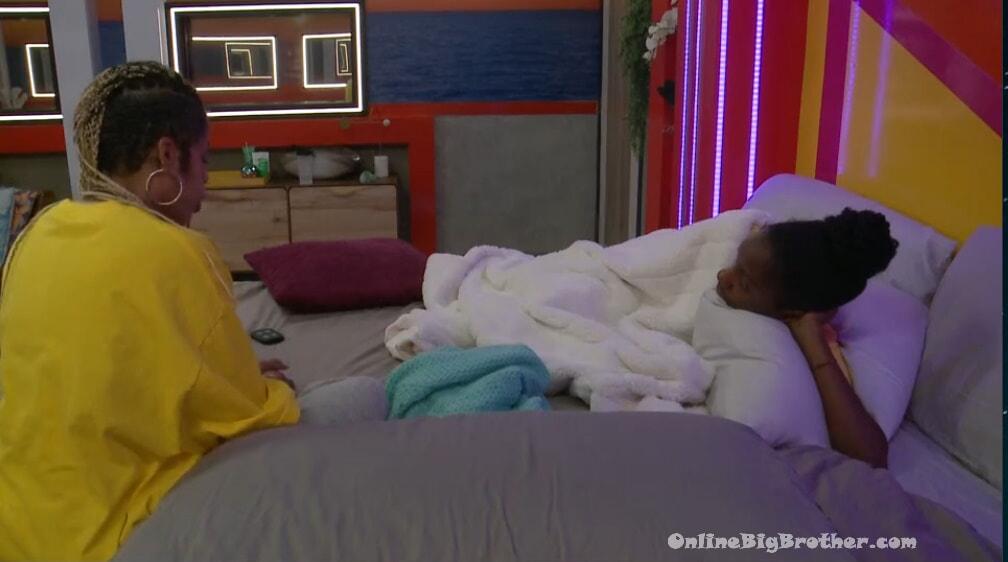 5:38 pm Tiff and Azah
They talk about telling Claire about the cookout.
Tiff – being 90% honest with Claire this week was the best thing I could have done.
Tiff says claire asked her if she was in an alliance with them and she said no "that could hurt me"
Azah says she wants Kyland to go
Tiff – who do you think will win this game.
Azah – it's between you Kyalnd and X.. to be honest, you being with anyone in the six you winning..
Azah – you win over X with your friends. You have Brit, DX, Claire, and you have me you win the game.
Tiff says X will try and take her out FAST. if she can't take X out he'll win.
Feds flip to BIGD sorting Pillows talking about making pancake tomorrow. When we're back to this conversation Tiff is saying X would have won every single competition he played in.
Tiff – X's strategy is for us to never see his potential..
Tiff – X has only lost one competition
Tiff – I don't stand a chance against X I don't know who the real X is.
Tiff – I know who is coming after me. X, DF and Ky.. I can't beat X. If given the opportunity X will put me on the block. Ky might put me on the block but I also might win veto.
Tiff says X is a great guy and she likes him but in this game, he has the ability to beat her in everything.
Tiff – the six is here so he can win 750K
Tiff says Azah is set up perfectly. BIGD is the one in danger nobody wants to take BIGD to the end "BIGD sits next to anybody BIGD wins"
Tiff goes on about how much she kept the 6 together. She didn't put in all this work to have them cut her at 6.
Azah says she needs learn to throw competition from X brings up her performance in OTEV.
Tiff impersonates her. they have a good laugh.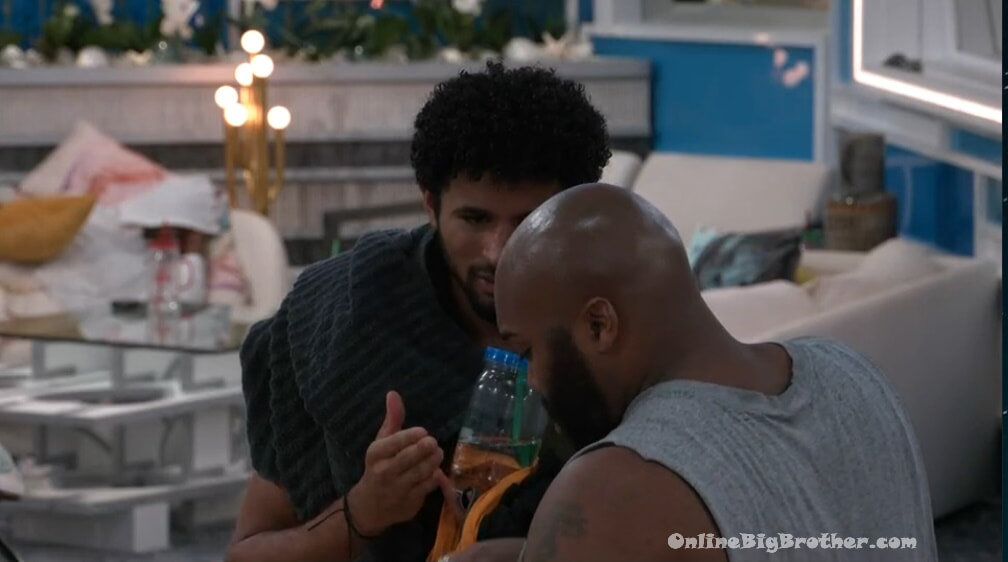 5:50 pm Kyland and BIGD
Kyland going over his conversation with Azah
Kyland – the only name I didn't mention was X where is she with him?
Df – she's very close to him
They move to the coral room. (hard to hear)
They start talking about telling Claire about the cookout..


6:40 pm Tiffany saying she wants the cookout to make it to 6 more than winning. Her putting =u Claire is proof of that. Tiff adds that if X was in her shoes she doesn't think he would have done the same. Azah agrees.
Tiff says if it's a double it'll be fast they have to be ready for it. She goes on about how you have to get your fears, emotions and anxieties out of the way. Tiff says the competition are easy they just have to move fast don't overthink it.