HOH: Tiffany
HAVENOTS: BIGD, Alyssa and Claire
Nominations: Alyssa Claire and Xavier
Power of Veto Players: Xavier, Alyssa, Tiffany, Hannah, Azah, BIGD | Host : Claire
Power of Veto: Alyssa
Power of Veto Ceremony: Alyssa used the power of veto on herself. Claire was nominated in her place.
Big Brother 23 Houseguest Rankings – – RANK THE HOUSEGUESTS –
View the previous day ranks on the – Ranking Grid
Big Brother Spoilers – Claire is going to be evicted.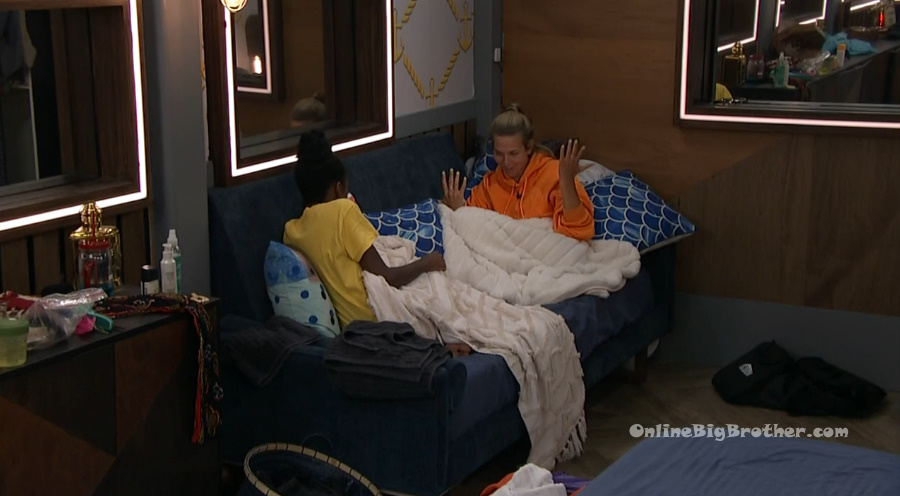 7:12pm Bedroom. Azah and Claire.
Claire – Hopefully I am able to eat and it also makes me nervous if I do stay for the double but that is its own thing. I feel like my one on ones today… my one on one with Alyssa was interesting ..ah because she basically stopped me from pitching which was curious. But it is what it is. With Derek I thought it went okay .. and he said that he is undecided and that he doesn't know. He is going to sleep on it and make up his mind when he walks in tomorrow. So I mean that is better than what I thought it was going to be. So that is how those went. My one with Chaddha, I think went well. And then KY wanted to do one on ones with everyone (WTF NO!!!) Azah laughs. Claire – and then wanted to talk to me last. So I have no idea what that is about! Azah – he did have a one on one with me today. That is funny so he is meeting with everyone. Claire – When he said he wanted to do one on ones I said I don't think you should! He was like I am going to do it. I just need to figure out where people are. I am like okay I am a little worried about that but good luck! Have fun. So I still have to talk to Kyland tonight. So who knows, he is an odd duck! And I talked to Tiffany but she is always somewhat paranoid. Claire – how was your day? How were your one on ones? Azah – I did have one on ones.. Kyland said that if I .. should I tell you this? Claire – you can tell me if you want, do what you want to do. Azah – Kyland said if I kept you, Hannah, Tiff link up and be together and I (KY) will be the odd one out. And what I've been observing is that I would be the odd one out. So its figuring out which odd one out I would be. Claire – I think that is interesting. Azah – because I would be the bottom of a threesome either way. Claire – I see a situation where Ky flips on me and tries to take me out. If X stays, I think there is potential for X, Tiff and Ky … and Alyssa to all link up. Where as if X goes Tiffany would want a shot to be taken at Ky. I do agree, I see a potential with this four, me and Chaddha… but I think a shot will be taken at Tiff and myself before shots are taken at someone else. I think I am more incentivized to keep you in this game, than X is incentivized. I think he has way more opportunities to win vetos. What are your concerns? Azah – they're not exactly concerns.. just a lot of thought and when I say I am thinking its not to push off or delay. I really have to figure out what I am going to do. I know no matter what decision I make will drastically impact the game. Azah – okay .. please allow me some time. Claire – okay, I'll let you think. They hug and Claire leaves.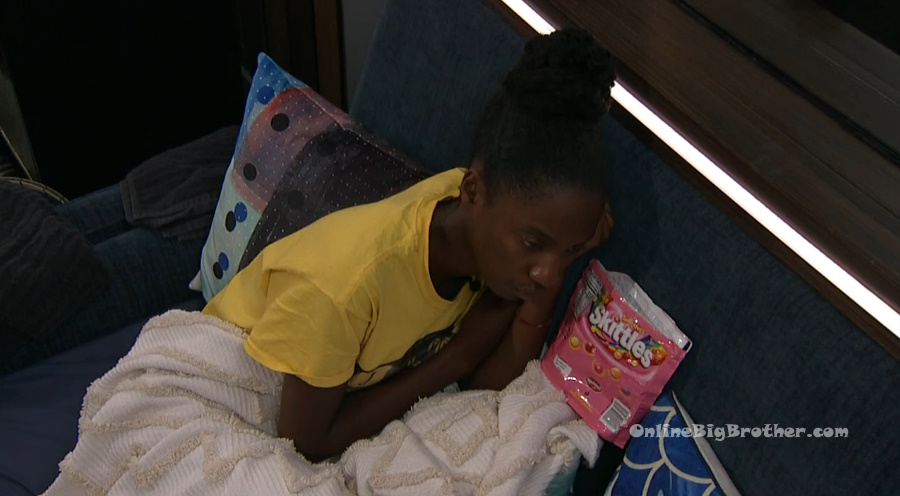 7:50pm Havenot room. Kyland and Hannah.
They're talking about how they really want to know what Xavier actually does for a living and how they think he is older than what he's said he is. I don't even care about his occupation, I just want to know how old he is because I was staring at his face today and he looked significantly older than he did a couple days ago. (He is 27) They move onto wondering how old Tiffany is. Kyland – I could see Tiff being 38. (She's 40) Not that she looks that old.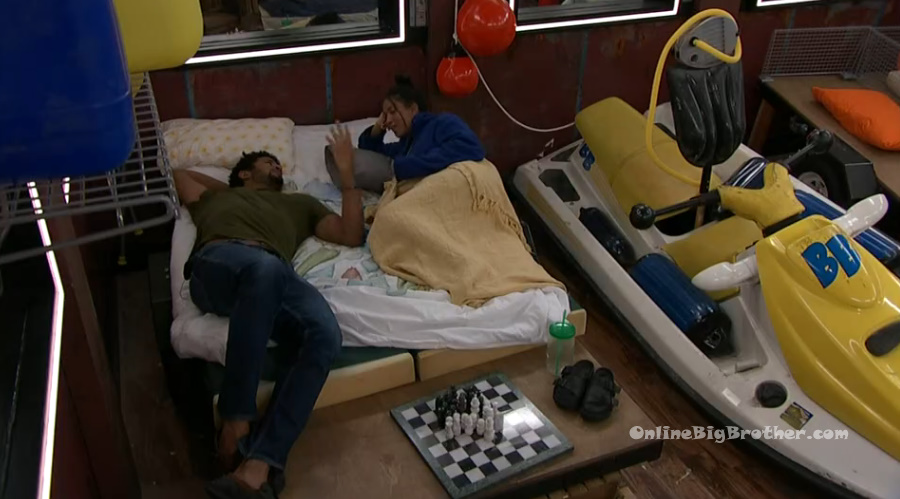 8pm Bedroom. Claire and Tiffany.
Claire – AHHHh..Sometimes I just want to grab Azah and shake her and say this is Big Brother! You're playing for almost a million dollars. How are you not going to make the move when you can make the move! Tiff – Mmmhhmmm.. a million freaking dollars! Claire – I was like so many people are watching and wishing the were us .. how can you not make the move when you have it!? How can you just be passive!? How can you not want to do it! Tiffany – maybe tomorrow won't be a double.. maybe it will be.. Claire – it is not a battle back. It doesn't make sense with the weeks. They don't have enough tv episodes. What's so annoying is I have to try and get both their (Azah and Ky's) votes. Tiff – I am wondering what she (Alyssa) has with Big D and Azah. Its interesting that no one has talked to me about it. Claire – yeah, that doesn't mean good things for you. If I go you have to fight. You have to do whatever you have to do to win. Tiff – I don't have anybody in this house. Claire – Chaddha. Tiff – Chaddha wants to win. Claire – but she is loyal. Tiff – Chaddha is the person I would trust after you.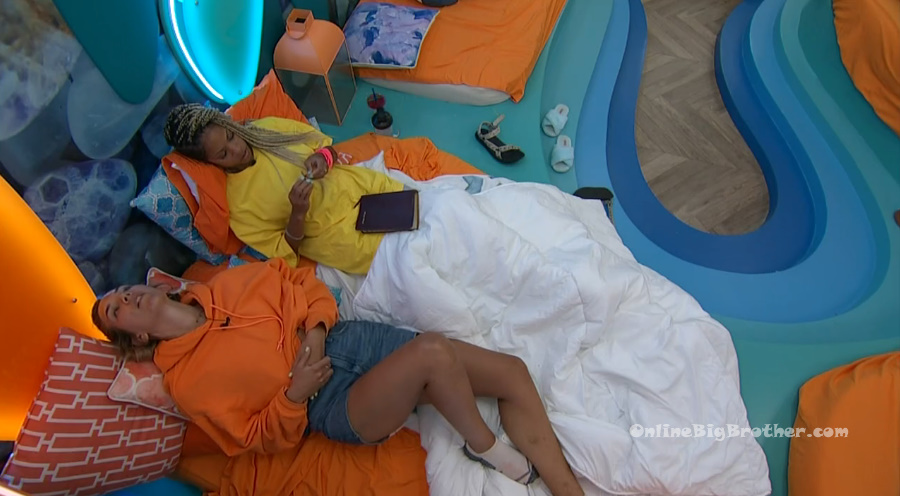 8:20pm HOH room. Xavier and Tiffany.
Xavier – I just wanted to catch up. I just wanted to talk to see if you still feel comfortable with me and I still feel comfortable with you. Tiff – I don't feel comfortable with anybody in this house. Xavier – why is that? Tiff – It means I just don't. Its not starting to be still fun for me anymore. So you tell me if I should or I shouldn't. Xavier – I don't think that you would be ..like are you worried about me? Tiff – I don't feel comfortable with anybody. So I don't know if I should feel that way or I shouldn't. Nobody has talked to me about anything.. so that is interesting in itself. No one has anything to say to me especially. Everyone is having meetings and talking and you're the first person to talk to me and its 9pm at night.. so no I don't feel comfortable with anybody. Xavier – I didn't know that was the case. I am trying to do my own block thing. Tiff – I understand that but people on the block still do talk. Xavier – I was trying to find a time when Alyssa wasn't near me. Right after Alyssa knocks on the door (lol). Xavier – in the event that tomorrow is a double .. from my understanding the only people that are looking to win are Big D, Chaddha and Azah. Ky doesn't really seem like he is budging on going for it. I tried to get him to understand that someone in our alliance has to win in order to ensure that she doesn't. I know that if Chaddha wins she is probably going to put up me and Alyssa. When it comes to the six I am still in the position that I've been in .. that hasn't shifted. Like I said after the veto meeting I didn't feel like we needed to talk because we didn't have shifted opinions. Tiff – okay, I respect that. Thank you. Xavier – any frustrations I had with this week I got over them like I did week one. If I was to go with the six I would be looking at Ky and Big D. Because if nominations stayed the same and Big D did was off the block he probably would be a vote for Ky. I hope you feel comfortable. I don't feel uneasy. Xavier leaves. Tiff rolls her eyes – Its hard not to believe someone who appears so trustworthy. Trustworthy or not, I don't know his potential. I don't want to have to compete on a superwoman level to beat him. I don't want to keep him around just hoping that he will keep me around. I do trust him. He may very well be telling me the truth.. which builds trust. But I know he does not need me in this game.
8:25pm – 9:13pm Havenot room. Claire and Kyland.
Claire – I feel that multiple people are still up in the air which is not good because you've already said goodbye messages. Ky – I haven't done my goodbye message. Claire – I don't see any scenario where you and Alyssa work together. They talk out various scenarios.. Claire –
9:24pm HOH Room. Tiffany and Hannah.
Tiffany – I am going to say that he didn't have to even verbally say it out of his mouth. I know that is what he wanted. Hannah – a big I told you so moment. Tiff – yes, we are all humans in this house. Everybody wanted a told you so moment. I told him so too.. I told him what I was going to do. And I did it. And I will be in a better position with Claire than he will be with.. god dang it what is her name?! Tiff – Alyssa. Hannah – yes. Tiff – so for me none of them got to evict her, put her on the block or nominate her. So its a win, win for me.
10:25pm – 11:04pm HOH room. Tiffany and Claire.
Claire is crying – I am just going. Tiff – he's (KY) working with X? Claire – I don't think he is working with X but there are more rounds to manoeuvre over there. In a shocking way I really don't think he is working with X. I think he is trying to optimize the next two weeks and he thinks that X will find this to be an olive branch and will go after you and Chaddha instead of.. Xavier opens the HOH room door and says that he's looking for his water bottle. Tiff gives it to him. Claire – so f**king nosey. Tiff – yeah he is. He is suspicious of me. That means he has everybody in this house. What does he think he is going to take everybody? Claire – I don't know, I think they think they can manoeuvre eventually. Tiff – he is coming for me. Claire – yes, he is. Of course he is. Tiff – nobody asked me for a one on one today. Claire – yeah, they're all coming for you. Tiff – I think the guys have a final 3. Claire – I think that is part of it. Like guys stick together. DO you think there are any odds I get Alyssa? Maybe Big D? DO you think there is anyone I can make my enemy so that people keep me? What can I blow up? Tiff – blow up someone so that you become a target so that you stay? Claire – yup. A unanimous vote should never exist in big brother. It should never be good for everyone for someone to go. I think I could get Azah's vote but I don't have that third vote. How do I get Big D to keep me? Tiff – tell him you might as well give X the money right now. Claire – I can tell him that no one will respect his game. Claire leaves to go eat. Claire comments on how she thinks she will need to stage a fight with her.
11:43pm Azah working on her cheat sheet…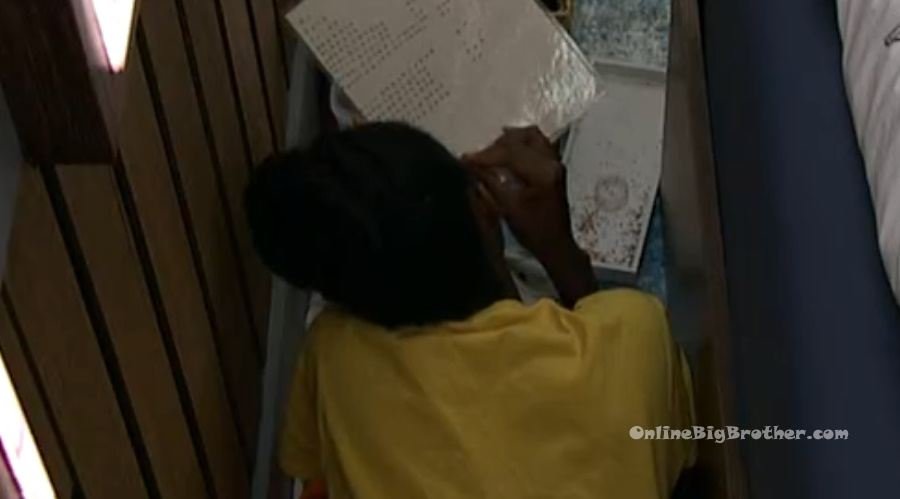 12am – 12:50am The house guests are chatting and eating..
1:05am Living room. Alyssa, Big D, Azah and Xavier.
Big D – I need a cocktail! Xavier – You need the first part of that. Alyssa – I need a cocktail alright. I need a cocktail, hold the tail!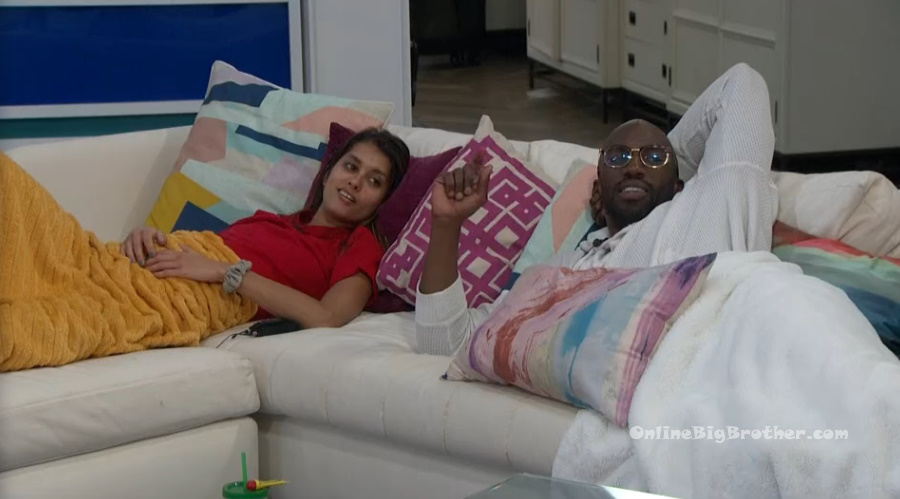 1:18am HOH room. Ky and Tiffany.
Tiffany – she (Claire) came in and said that she didn't have Ky's vote. Ky – I think it is kind of a little bit of a reminder like……………………………………….. I think it feels like since ……………………………….. It does kind of feel like we are the second to last people and only you and me have had to have difficult conversations. Ky –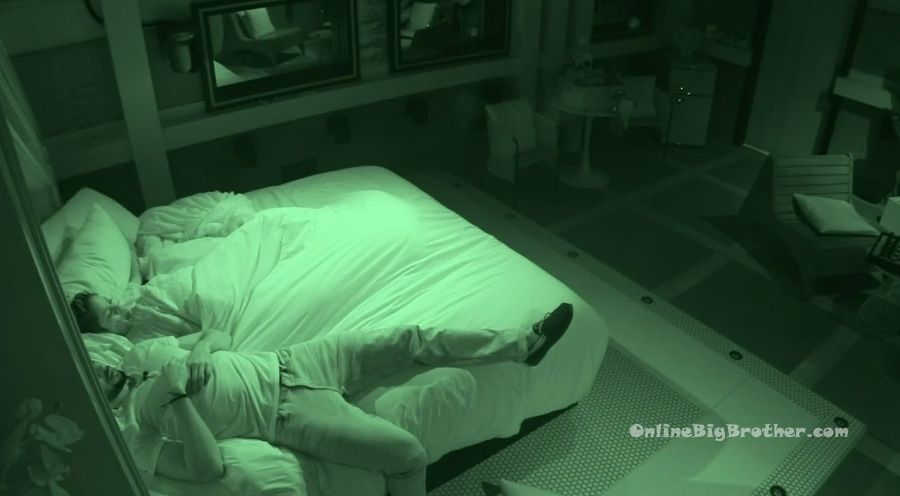 1:35am – 2am Bathroom. Hannah and Claire.
Hannah – I just wanted to check in with you to see how it is going? Claire – it is not looking good. Ky is voting me out. Hannah – he said that? Claire – yup. Hannah – oh.. okay! Claire – my pitch, my thing .. I have to get Big D. I have to get Azah. I don't necessarily have Azah. I have to pitch Big D and convince him that he has no shot with X. He has the way better shot with me and that X will never be incentivized to take him to the end. And if he doesn't take this shot, he doesn't win this game. People will just see him as being dragged. X and Alyssa will win out in every single comp. With me he has a chance to win. I don't f**king know my memory. I don't know any of the days. I was out first in the BB NFT and I really f**king studied that. If he is going to win comps he is going to have to take me. Hannah – okay, so similar pitch to Azha. Claire – and I could have a fight with Tiff. I need Big D to think that I would go after Tiff or that I am an island. Hannah – I don't trust her anymore, she is my target. Claire – I have no loyalty with her. She doesn't care if I go out. Hannah – the point is if X gets to the end he wins. Claire – I will pitch to Big D and have and stage a fight with Tiff in the morning. Hannah – I think after the first lock down you have a fight with Tiff. Claire plans being snippy with Tiff in the morning. Hannah – I think the fight with Tiff will help because Big D sees us three (Hannah, Claire, Tiff) being thick as thieves. Right now he sees it better going with the duo (X & Alyssa) versus the trio (Hannah, Claire, Tiff). Hannah – what do I do if I win? Claire – what do you think I do? Blow up Ky's game? Hannah – you could blow up Ky's game. Claire – I could blow up X's game in my speech. Like if you don't vote to evict X, he is getting my vote and I am going to make sure everyone else in the jury votes for him too. And also Alyssa .. you're playing a Holly game. And then I sit down. Hannah – oh that is good! That is so good.
6:30 am Zzzzzzzz
Tip Jar ;) Without your support this site and these spoilers wouldn't be possible.
Please consider a donation to keep the madness going.