Quick Big Brother Spoilers
Head of Household:  Hisam
Nominees: Reilly & Cameron
POV Players: Reilly, Cameron, Hisam, America, Matt, Blue
POV Winner: Hisam
Veto Ceremony: veto was not used.
Havenots: 
Lock your ranks in before midnight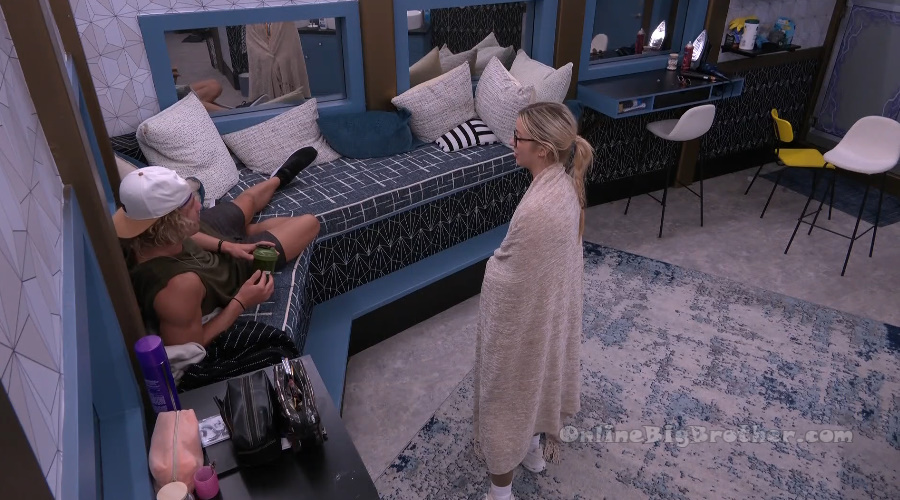 7pm Bathroom – Matt and Reilly.
Matt – you good? Reilly – This could go one way or another. Its going to go one way or another. I don't see them leaning a certain way. I think they're right in the middle. Matt – you just have to keep playing it.. keep talking to them, keep talking to them. Keep it fresh, you know? Keep them assured. Reilly – ahh..I don't feel good about this. Matt – I think I'll talk to Cory. I'll be like what are you telling them. Reilly – I don't think you need to say you're doing a bad job. Matt – I wouldn't do that. Reilly – I just think he is being really reserved about this. I think they just want to feel safe that everyone is going to do this. That everyone is on the same page. I know I have to talk to Red, Meme and Bowie. I just don't know what to say. I know I have to talk to Meme for sure. Matt – just keep fighting and then we'll get past HOH tomorrow and then you can just sit back and relax.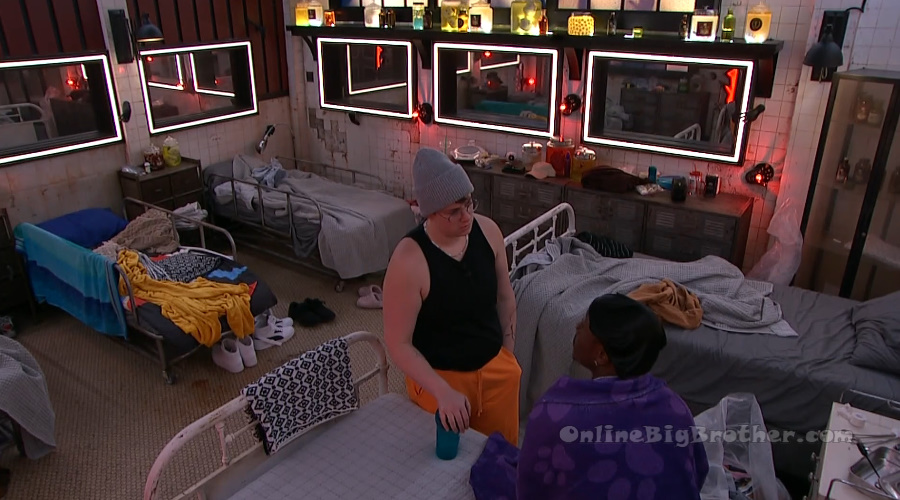 Bedroom – Izzy and Jared.
Jared – Cory is getting nervous because of the way that Reilly keeps coming back. She keeps saying I don't know why they don't trust Cory. Izzy – I already talked to Cory since then. Izzy – we can't keep going back and forth because they're going nuts and we don't want to cause any rifts and I want Cory and America to feel solid. I don't want to put them in more positions. jared – America is a good actor. She is f**king good! Izzy – I know. So what we were thinking was tonight being like look we have talked to Cory and we've talked to America and they've said that they're good. We just won't even use those words.. we'll be like they've told us that they're solid. We want to sleep on it, we'll tell you tomorrow. Like a solid answer. Jared – but ya'll still want to vote Reilly? Izzy – YES! Honestly the more conversations she has with me, the more I am like this is not the way to go. First of all she is calling Cirie and I the deciders of the house which I don't like. Jared – that sh*t I don't like. I think the biggest deciders here are Red and Bowie. Izzy – the fact that she is saying that .. I know I am next on her list. So that is one thing that I don't like. The second thing I don't like is we agree Hisam is the target next week but what happens after that and she keeps going like well I want it to be collaborative. I want us to just being in a room together holding hands and working together. What to like stand in a group and be like .. we choose Jared. Like that is not how this works. Stop cutting the sh*t! That scares me because of how much they were skirting around it the first week that made me feel unease. So I don't trust it so I think this is the way to go.. do you still agree? Jared – yeah I agree. Cory brought up so real good points. Izzy – for keeping her? Jared – no, voting her out. Izzy – I think in the idea world (eviction order) Reilly, Hisam, Cameron, Jag and Red. Jared – yeah I agree. Then Bowie and then Blue.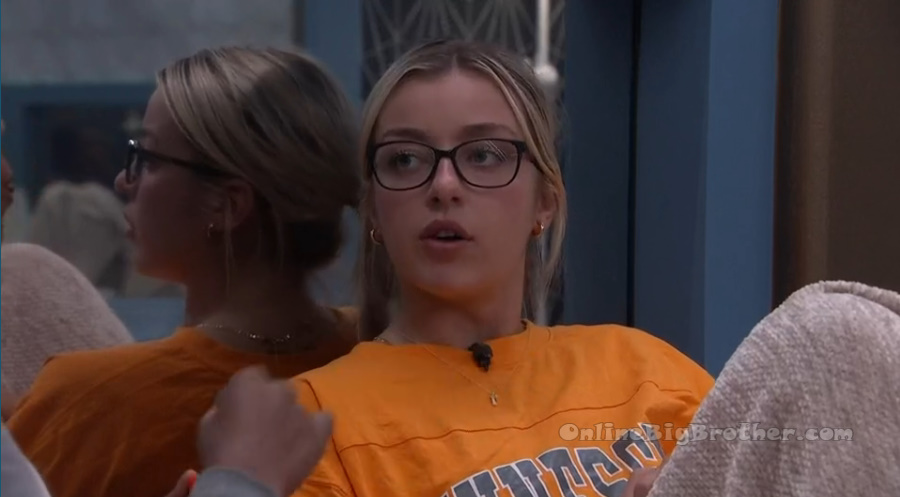 Bathroom – Reilly and Meme.
Meme – I feel like I am still in a place of like up in limbo because I feel like there a lot of conversations that are happening around me that I am not necessarily apart of so I don't know what the hell is happening and what people are thinking. I talked to Jag and he was like people are a little undecided and they're wanting to be apart of the house vote. So I kind of feel like that is where I am but I don't know what the house vote is. Reilly – right. Basically I've been having conversations with everybody. I've talked with Cirie, Felicia, Izzy, this is my second time talking to you. I still have to talk to Red and Bowie. I know where Red's vote is going to go. Him and Cameron are boys so I get that. Meme – do you feel good about those conversations that you've had. Reilly – I feel really good and they're probably going to talk to you about it too. Basically I love Cam and I am not going to campaign against him. What I will say is right now I am in a place where I am clearly someone's target and they're clearly mine. And I am kind of a human shield when it comes to everyone else and him. And I don't know, like after his speech the other day I was really rubbed the wrong way and right now my only focus is that. I am not looking to be in any more hot water. I feel like the last couple weeks I have been just like drowning. All I am focused on is that. I don't want to target anyone else. I want to lay low. I want to collaborate. I just want to be apart of the house and not be in any more hot water. I don't know what relationship you have with Cam. Do you have a relationship with Cam? Meme – ah I don't have a relationship with Cam. I haven't talked game with him this week. I haven't spoken with him at all so I don't know how he feels and the vote is tomorrow. We're friendly. Like I don't dislike him. Reilly – think about when you're making your decision. And I would never force anyone either way. Think about long term, who do you think will help you, take care of you and want a friendship with you. I want to protect people and I just want you to know that Hisam is not the all mighty king of the world. There are more people out here that can play in comps and win and protect and help strategize .. and pull people further into the game. And having those relationships outside of your main group is super important. When I say something to someone I mean it. Meme – 100%. Reilly – I can assure you that you are not even close to what I am going for. I am focusing on one thing and one thing only and after that I am sitting back and I am not dipping my toes into any hot water. I am done! I have had 2 weeks of hell. Hisam is bossing people around and being a dictator. Meme – has he talked to you after the speech. Reilly – yeah he apologized after the speech. He was like I f**Ked up. That was too far. I am sorry. Meme – yeah that was a little mean. Reilly – if I was a 45 year old man I would probably not publicly embarrass a 24 year old in front of the country, you know?! Meme – yeah. Reilly – and when I look at him I don't see him wanting what is best for everybody. He is doing what is best for Hisam. And that is bullying people into making his own game move and that's what that speech was to me. Forget about what he said about me, I was thinking about how he addressed you guys. If you guys don't vote with me and evict Reilly, then you're f**Ked so vote with me. You guys deserve to make your own decisions. I am not coming for anyone but Hisam. Meme – I am not upset with you or have any ill will or feelings about you. Reilly – thank you. Meme – whatever picture is being painted, I don't see that in you. Through the conversations you've had do you think you have 8 (votes)? Reilly – yes. Meme – okay, okay. I am not closed off to the idea. Let me talk to people.
7:50pm – 8:15pm Bedroom – Izzy, Jag and Blue.
Jag – how are things with people on your side. Cirie joins them and then Reilly. Jag – how are things with people on your side. Cirie – I think they're lying. The only person that has come to me and said I don't want to go against the house and would like Reilly to stay .. is Cory. No one else has given me anything straight up. And I am like ya'll see what is going on.. who would you rather be in this house with if you was outside this game .. who would you spend time with? Cirie points to Reilly. Jag – are you talking about America? Cirie – I haven't talked to America. Jag – because I am fully confident that we have the votes on our side. Cirie – I don't know. I think ya'll are going to be surprised. I think it might be 5 to something. Then the whole hunt is going to be like who were they?? I know they're counting on you (Blue) voting for her. I know they're counting on you (Jag) voting for her. As a matter a fact I even heard that ya'll two might not want to go against the house. It might be a tactic to keep us inline but I heard that so when they're putting that sh*t out there. Who wants to be on the wrong side of the vote? And that is what the problem is because I had everyone in line yesterday and then something happened to change that. I heard that ya'll two didn't want to be on the wrong side of the vote which makes sense why everything changed if they're spreading that around. You know what the problem is .. I am going to keep it a buck with ya'll. The f**king problem is also ya'll making it like "WE" "Us Two" (Cirie and Izzy) have the deciding factor. Izzy – which we don't! Cirie – if it was up to me I would never had you (Reilly) on the block. You got on the block because of Hisam's rule. Now its making it mad hot because they're like oh you're the head.. you're the head. I AIN'T THE HEAD OF SH*T! Blue – Something that we need to do is come at this strategically. What we need to do is when we're having conversations we need to strategically come up with a plan .. state our opinions, state our facts.. but ultimately we need them to come to the decision themselves. Cirie – I can't keep pushing it. Blue – hopefully with our stats, with our passion, with our reasoning its decision to us. The only thing we can do is make them feel comfortable that we are voting this way. And hopefully with our security they feel confident enough.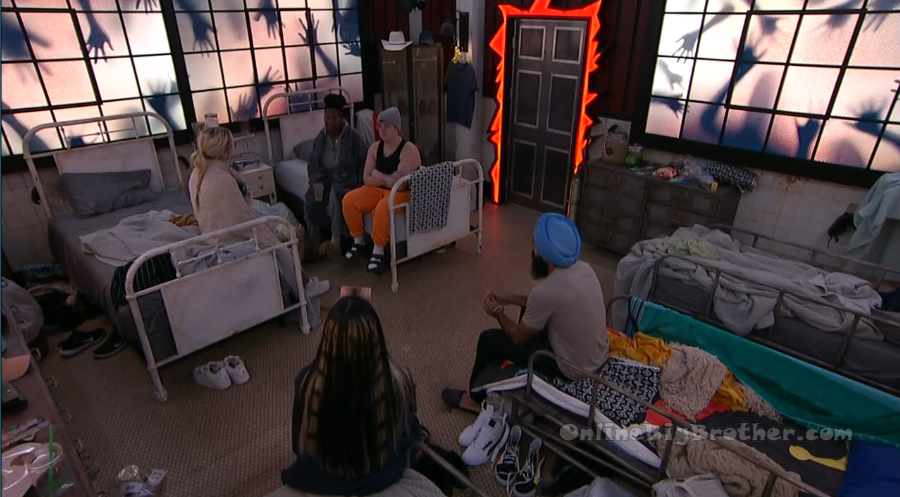 8:20pm Bedroom – After Izzy and Cirie leave. Jag and Blue talk to Reilly.
Blue – first and foremost I think we have this. We've got to talk to individual people at the same time. And MISS GIRL (Reilly) I need to address you. You need to be careful with what you say. Seriously! Jag – the whole thing about saying they're the heads of it (Izzy and Cirie) came from you accidently saying it. Reilly – I told them to their face that they have the most influence. Jag – America.. Blue – America said it to me too. Reilly – America said what? Blue – that you said that they were the heads. Reilly – I just said that they had the most influence. Blue – BUT that is what I am saying BRO! Jag – that's why they're so sketched out. Blue – that is something you have to keep to your heart. Jag – we all understand it but just don't say it. Blue – we know what that means but to them on the outside it means something completely different. And also what we need to be really careful about when we're talking to these people is something that we need to address .. this is what America told me . I think people are nervous about what is going to happen next. What you're going to do. So what we need to reiterate is that there is a handful of floaters that we are going to try and take out before anything else. I think you also need to drop the for the house situation because it sounds like Hisam where you're trying to make alliances with everyone. All you need to say is that you want to get the floaters out first.
8:40pm Living room – Blue and America.
Blue – Reilly needs to stop saying that they're the leaders and whatever. So people have gotten wind of that, so Cameron has been following them. Cameron has been following them all day. America – Yeah, I've seen that. Tailing them. Blue – And because people in the house are starting to know they're freaking out because now they … they're put in a sticky situation. Their the ones in the house trying to convince everyone .. Cirie got all the thumbs up. America – yeah I heard that. Blue – and they came to us freaking out because they don't want to be in the middle of that. They're put in a tough situation where if the house does flip they're being targeted. They're also doing Reilly a big favour and doing us a big favour. They cannot keep going beyond, beyond, beyond.. because then they'll get figured out right? So with that being said.. we all need .. we need to pick up the slack .. we need to start having the conversations they're having for them. It makes sense that we're advocating for Reilly because she is our girl. So we got to do that. You have to talk to Cirie because she doesn't know where you're at. And I think its important you talk to Meme.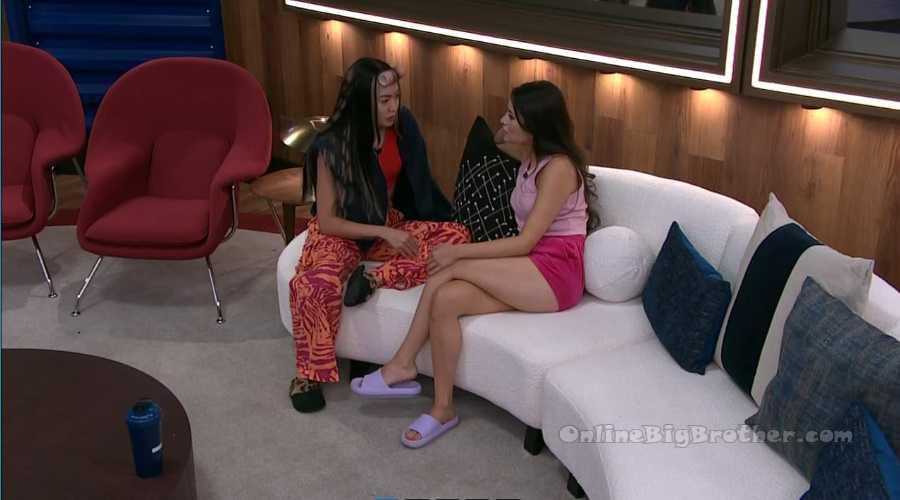 9:13pm Comic Bedroom – Red and Cameron.
Red – Two groups that they're thinking about putting up next week to Cirie.. Cameron – They're talking .. when you say they .. you mean Reilly, Jag, Blue, Matt, America? Red nods. Red – Mine and Bowie's name came up for possibilities.. just from Reilly. Cameron – how dumb. How f**king dumb! Red – also yours and Hisam. Shes just like Cam is just in it for himself. Cameron – who? Red – apparently that is Reilly's pitch to Cirie. Cameron – in it for myself for what? Red – just that you're not on their side. Cameron – oh well nice try. Red – and you're beside her so I don't think its personal. Cameron – I don't take it personal. Red – so if we have four votes then we know our next two weeks of targets. Cameron – that's what I said. Red – the writing will be on the wall.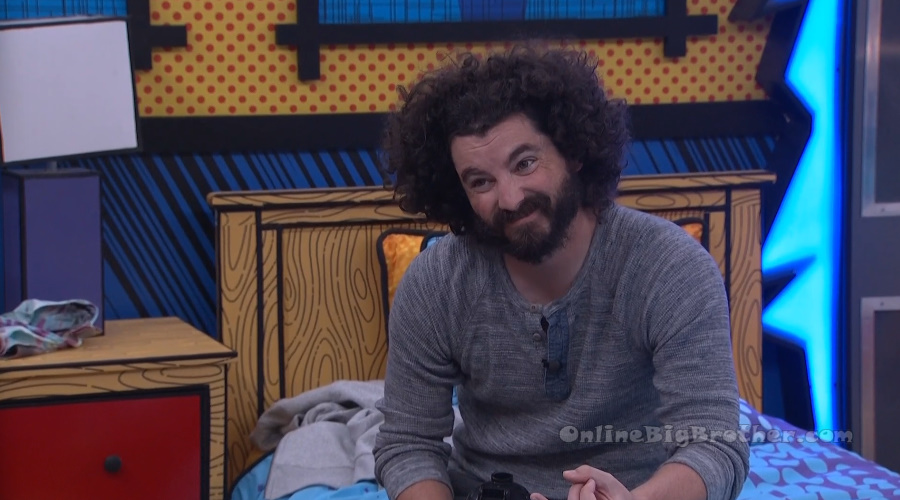 9:34pm Bathroom – Izzy and Meme.
Izzy – I hate that we can't prepare.. that was going to be the case especially if she was staying which I think is even scarier. SO I think they want to backdoor Hisam. Meme – who would they put on the block though? Izzy – I think Bowie and Red. Which is not great for us .. but it ain't us. Meme – yeah. Izzy – In terms of worst case scenario .. not that bad. Don't you think? Meme – yeah, yeah, yeah. Izzy – I think every week, Thursday is going to be the worst day of the week. Meme – hell yeah. Izzy – because someone is going home and new power is established. Meme – MMmmhhmm. I am not mad if a Cory or a Jared (win HOH). Izzy – me neither. Meme – so are people still planning to throw it? Izzy – I don't know I haven't heard people talking about it. I am going for it. Meme – hell I am not going to not go for it. That don't make no sense but if Cory or Jared are close.. Izzy – I kind of want to prove something. I just don't want to be the first 4 out.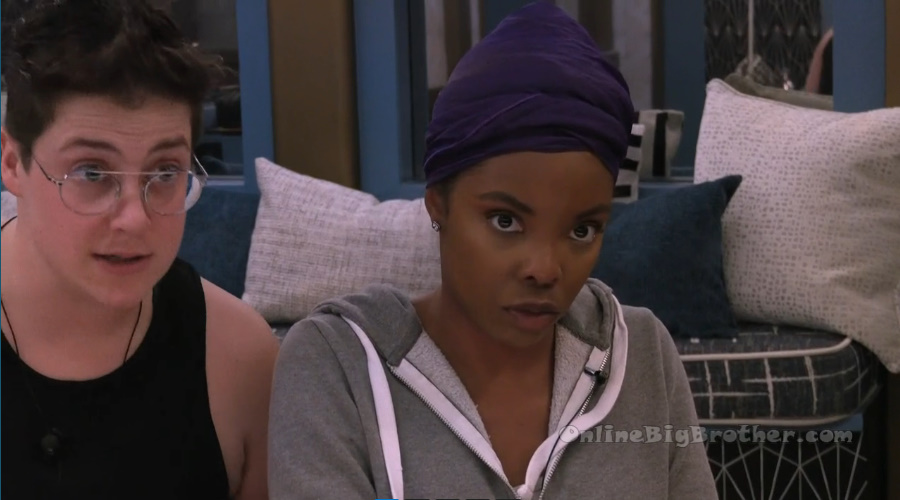 10:05pm Bedroom – Jag and Reilly.
Jag – you can use any information that's ever been said and there have been names thrown out .. do you get what I am saying? Reilly – maybe.. are you talking about..? Jag – no, no, I'm talking about if tomorrow they say we don't have the votes. And everything has gone to sh*t and you're like I'm going and your back is against the wall and you really want to stay in the house. I think looking at everyone .. if you can't get Izzy, and you can't get Cirie, and you can't get Felicia, and you won't be able to get Meme and you won't be able to get Red. The only person left is Bowie and what information do you have? Reilly – that everyone thinks she's a floater? Jag – all I am saying I don't think it is smart to say now because we want them with us and to move forward right!? I am not saying say this but when you're put in this position and tomorrow especially .. you have to .. and obviously if you want to stay this is your choice because ultimately this is going to be your conscience and you're playing this game however you want to play it. And I am not going to tell you how to play it but you can use any information that has ever been given to you if your back is against the wall and you're trying to stay. And you have information. Reilly – I know. Jag – I don't know if it would work and that is the one piece of information that could help you. It would send the house in a frenzy in a sh*t show. There are repercussions that will happen but.. Reilly – but I'll be here. Jag – that is what I am saying .. do you have anything on Cameron. Do you know anything? Start thinking of every other possibility that can help you stay. What promises can you make to one person that if you're here they're better off? Maybe its Meme, Maybe its Felicia, Maybe its Red. Probably not Red. Everyone wants to do well in this game. Everyone is an opportunist.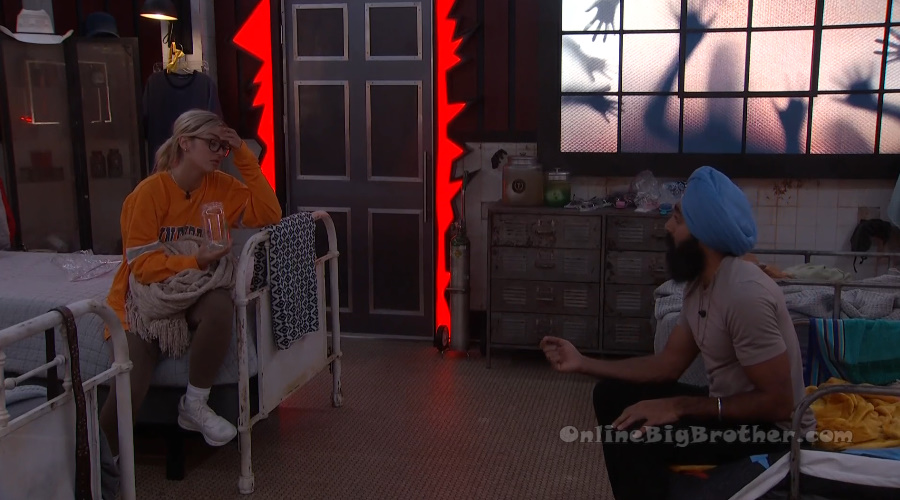 10:30pm Bathroom – America and Blue.
America – I just don't want us to vote 6-6, have Hisam be the tie breaker and then be like okay .. and then they be like okay there is this group and there is that group. It makes it so much easier to target our side. Or to target sides. Blue – yeah it does make sense but I am voting Reilly regardless. If its 6-6, we tried our best, the other side knows that we kept our word.. I don't want them to be like oh see we don't trust them. You know what I mean so like either way. I am making my vote Reilly.

10:38pm Bedroom – Reilly, Matt and Cameron.
Reilly pretending to cry – this is just so sh*tty! Its just that you smell so bad and its making me emotional. Reilly – do me a favour? Shut your mouth when you're talking to me.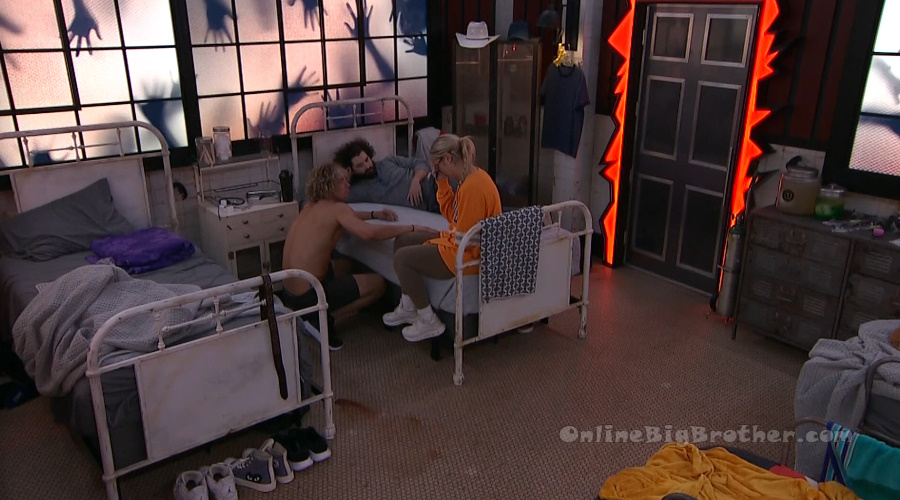 11:37pm Reilly packing.
11:55pm Storage room – Hisam and Cirie.
Hisam help Cirie remember the order of the competitions so far. Hisam – all of these competitions are designed for some people to excel at them and other people wont. For example Matt will not do well at an endurance comp. He won't, he will come down. He has already told me he is not an endurance person. The person that will be complicated, that will be America. Cory has already told me that if it is a 3 vote he will go after the three people on the other side. Easy! No blood on his hands and continues to work with us. Cirie – we are set up good. If we just get this HOH. We would be set up perfect. Hisam – then we literally have the next few weeks (motions bye bye with his hands). And then next week I am back in the game again. Cirie – and then we get that one and then its done! We got this. They hug.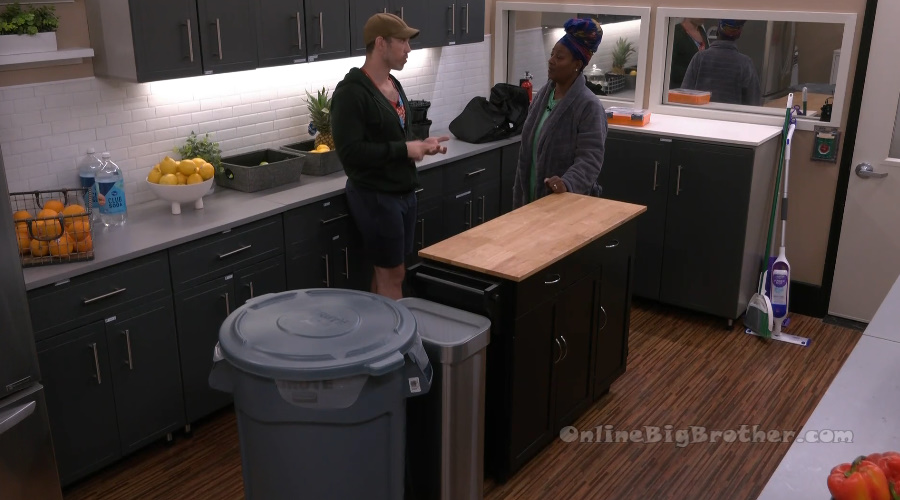 1:15am – 2am Bathroom – Jag, Reilly and Matt.
Reilly – I am so scared, I don't want to go. Jag – I know. I know you're scared. You've made it through worse. You're strong. You will make it through this. Reilly – there isn't one f**king day in this house that I am not fighting for my life. Jag – you're going to make it through. Jag helps her with her speech. Jared joins and talks with Reilly and Matt about how to move forward. Reilly – well tomorrow I am just going to have to do what I can. Jared – tomorrow is the best day to do it. Tomorrow people will be open because people are going to be emotional tomorrow. And two as crazy as it sounds people have less time to think. Reilly – I f**king hate this. I have literally been fighting for my life the last two weeks. Jared – you probably should have known being the first HOH .. what comes with this sh*t. Reilly – I didn't even want to win the first HOH. I'm just competitive with myself. But dude if I survive this sh*t what a story that will be.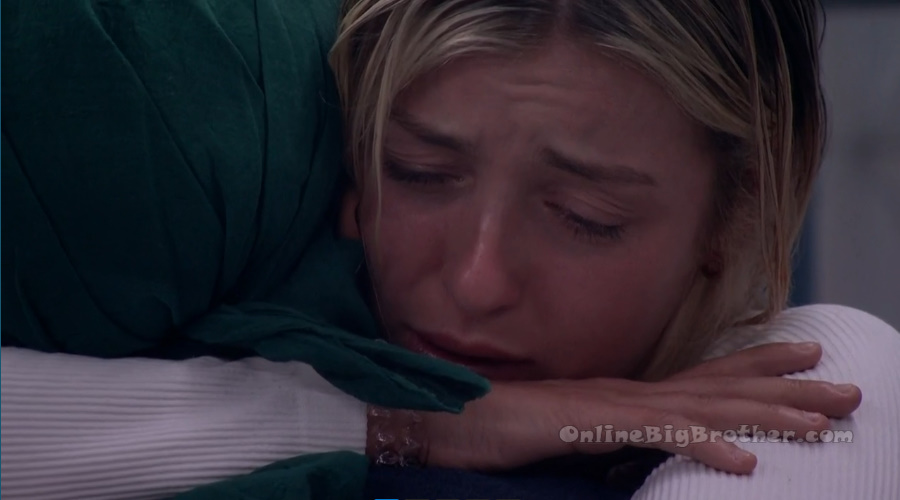 Drop a TIP to show your support! Any amount is greatly appreciated!
If you enjoy OnlineBigBrother, please consider donating to keep the madness going. Thank You!