Quick Big Brother Spoilers
Head of Household:  Hisam
Nominees: Reilly & Cameron
POV Players: Reilly, Cameron, Hisam, America, Matt, Blue
POV Winner: Hisam
Veto Ceremony: veto was not used.
Havenots: 
Lock your ranks in before midnight
The situation Looks like the flip is over.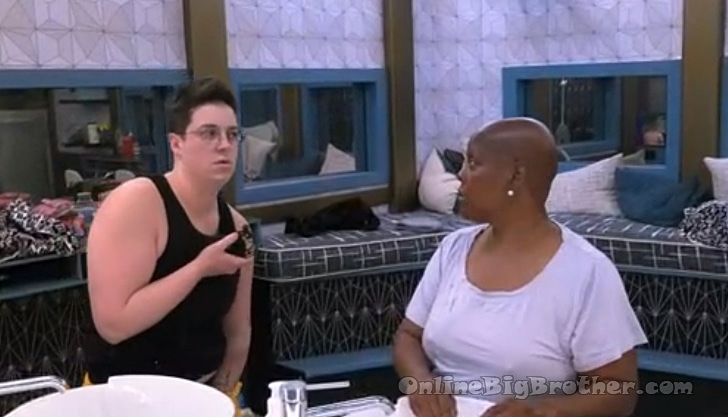 8:05 am Izzy and Felicia
Izzy – I think she's got to go
Felicia agrees. "I'm back and forth back and forth.. "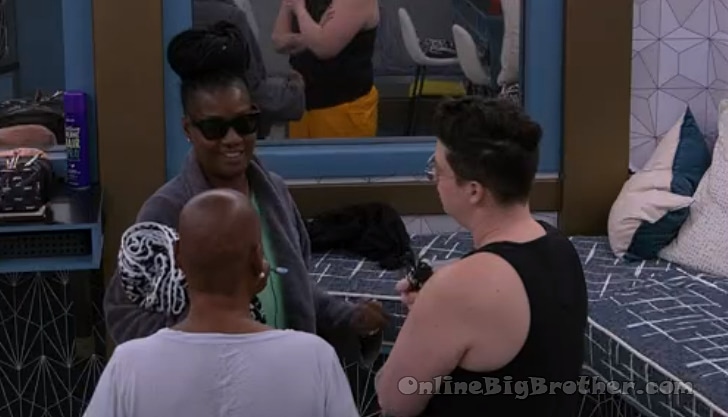 Cerie comes in.
Felicia – their suitcases are in there already.
Felicia wonders if the eviction will be a day early.
Cerie – when I think about it now again it's like IZzy was saying..
Felicia – we have to take this opportunity right now.
Cerie – it's two birds with one stone.. Reilly goes and now EVERYONE is after Hisam. Even Cameron.
Felicia says she liked REilly but she's got to go.
Cerie – I like her but she did paint herself into this corner.
Felicia – I think it's best because it breaks up that group that followers her.
Cerie – the only way Hisam will relax enough so we can get him. If he sees we switched on him he's going to try and get everything he can.
Felicia says if they get rid of Reilly HIsam will be calm and relaxed next week so they can get him. "Blindside his a$$ and take him out"
Cerie – everybody will be out to get him
They both seem to think everyone will backdoor Hisam.
Felicia – Jag is going to be devastated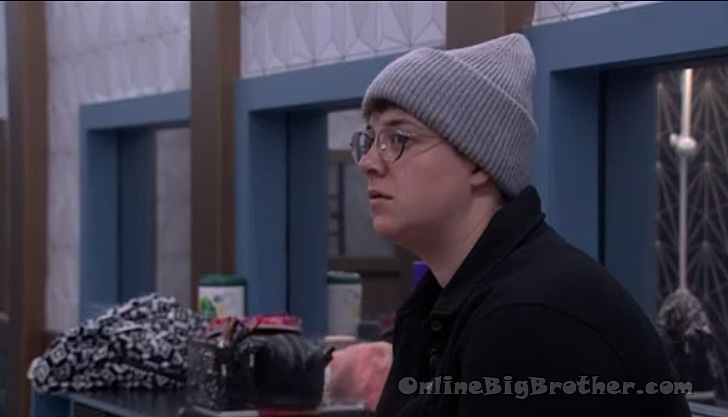 8:22 am Izzy and Cerie
Izzy – I can't sit 5 seconds on any couch without someone coming and talking to me. I'm not even kidding
Izzy goes on to describe a time yesterday when she tried to go to the bathroom and had 3 different groups of houseguests talk to her before making it.
Izzy – my chat with Jared was good.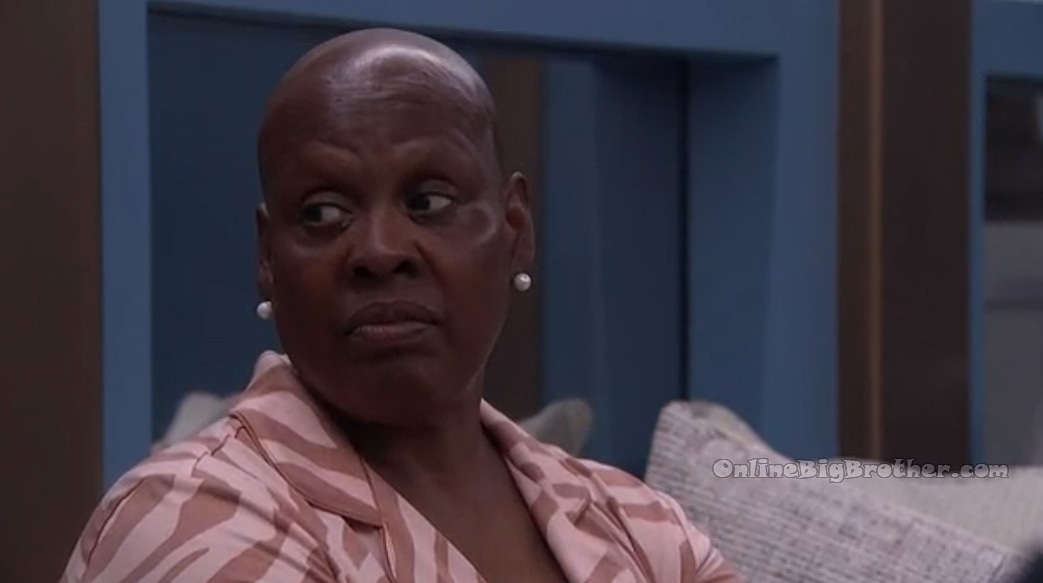 9:00 am Felicia, Izzy and Cerie
Felicia says she's wouldn't be surprised if it was Jag behind Reilly's strategies.
Felicia – He's a Corey intellectual for real
Cerie – I don't know if he's up there with Corey but he could be
Cerie – Corey, Hisam, Red… Don't sleep on Red
They talk about having to get Red out.
Felicia – You can get the whole house to get REd out they have no alliance with him
Cerie – All he has is Cameron and maybe Bowie
Felicia – you get Cameron gone the only one you have to mess with is Bowie
Cerie – there's so many steps to that we still need to get rid of Hisam.
Izzy – And Cameron
Felicia warns "We have to be careful getting rid of to many on our side before we start taking out their side. If we're not Smart, we get, Hisam, Cameron then Red we're delineating our side (I heard her say delineating but I don't think that is the correct word)
Felicia – we need their help to get out the Jareds and the Blues. If we get too many of our side gone we can't get rid of the Jared's and the Blues
Cerie – Jag and Blue
Felicia – Yeah Jag and Blue
Felicia goes on about getting rid of the other side. They agree the order should be HIsam, Jag then Cameron.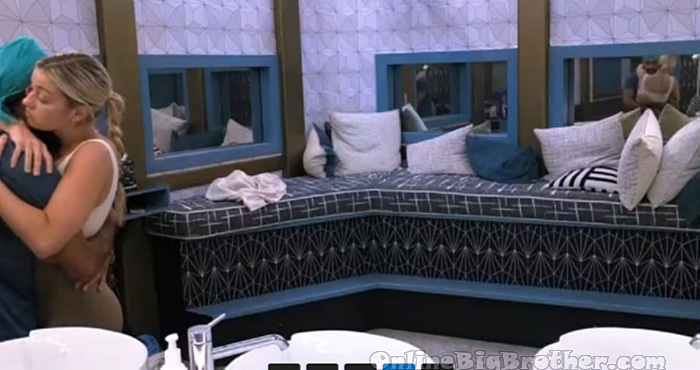 11:22 am Jag, Blue and Reilly
Jag – give me the 10 second update on what is poppin.
Reilly – I need to talk to Izzy, Cerie and Felicia. Jared and I want to talk to them as well because they really really trust Jared. I haven't even talked to REd and Bowie yet. I'll do that today.
Reilly – Jared said they are scared that once Hisam is gone I will run back to you guys and pick them off
Reilly – I have one goal that is it.,after that I am with what the community wants. If they think I want to shake up another week in this house. The past two weeks I've been in hot water. Do they think I want to do that again?
Reilly – I am a loyal soldier even if it's a sinking ship
Blue – there's other floaters around.
Reilly says Cameron is going to work with Hisam. If they want to get rid of Hisam next week she needs to stay.
Blue leaves. Reilly and Jag have a hug.
Jag – Just keep talking to people. I'm going to do the same.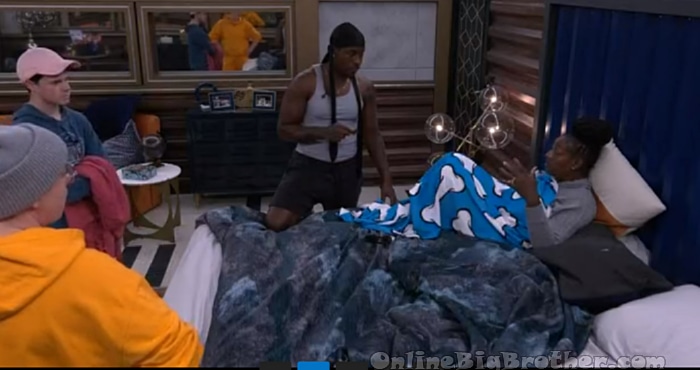 11:44 am Corey, Cerie and Izzy
orey says Reilly isn't the most trustworthy person of all time but she is reliable.
Corey – She'll do a normal thing. Eventually she'll have to jump ship from us and she will.
Jared joins them.
Cerie – we're not flip flopping today (lies)
Cerie – Reilly's out. WE're just chilling until after she goes.
Corey – Will you tell REilly?
Cerie- I'll say Everyone's hearing.. I'm not sure where they are hearing it from that Jag and Blue are going to stay on the right side of the numbers. They were on board but now it's flipped back.. WE tried but I don't know where everyone stands right now
Core warns if she says that she will go talk to Jag and Blue and there will be a shit show.
Cerie – I'll just say everything is up in the air. (LOL.. what a messy week)
Cerie – everyone is telling me they don't know I don't know if they are lying to me but they are saying they don't know.
Izzy goes on about not trusting Blue. Jag told her to talk to her and when she did Blue had nothing for her.
Jared – we keep Reilly she will target Hisam which is a pro. Reilly is more likely to go after a floater like Bowie and Red than one of us..
Jared – I will give two pros and two cons for each
Jared – A con for Reilly is she has the conglomerate that she will do whatever it is she says. Two, Reilly has a high potential of not including us in her crew when it's time.
Izzy – can I add one more con
Jared – no
Jared explains she will get a chance to add her pros and cons.
Jared – Cameron, Pro. He doesn't have a home. He'll be the most loyal between the two of them. Point two Cameron can win Comps.
Jared – Con, I don't know how likely Cameron will put up a floater next week. that leaves someone like us is a potential.
Jared – Like what you are saying with reilly I think there's a higher percentage of him flipping and working with Hisam.
Corey agrees. "100 percent"
Corey – I agree with the pros of that. Cam I THINK will target Hisam. Reilly I KNOW will target Hisam. Cameron has proven to be a much shifter person and a much better player than Reilly.
Corey – the good thing about Cameron at any point he wins HOH, Jag was sh1t talking him all week.. Blue was sh1t talking..
Matt joins them.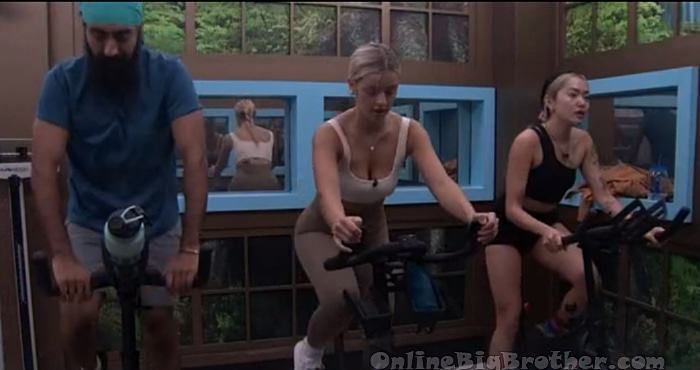 11:51 am Quick work out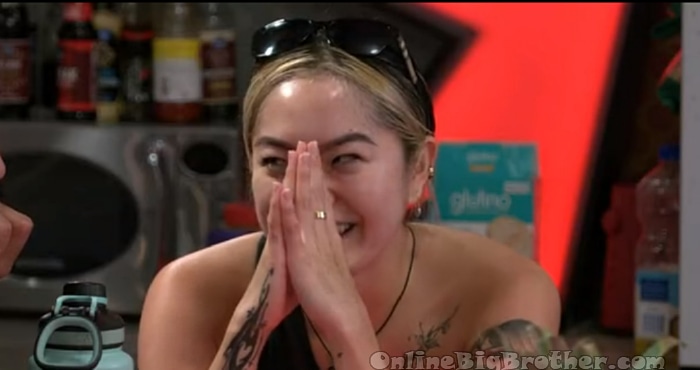 12:22 pm Blue and Jag
They're talking about Jared
Blue – At the end of the day he's playing a very strategic game.
Jag – I want to keep this in my back pocket.
Blue – the way he's playing both side of the house
Jag – He's playing like Cam but not spilling everyone's game.
Blue – If I have a shot to take him out not early ion the game because he is a strong asset.. I want to be the one that takes him out
She laughs.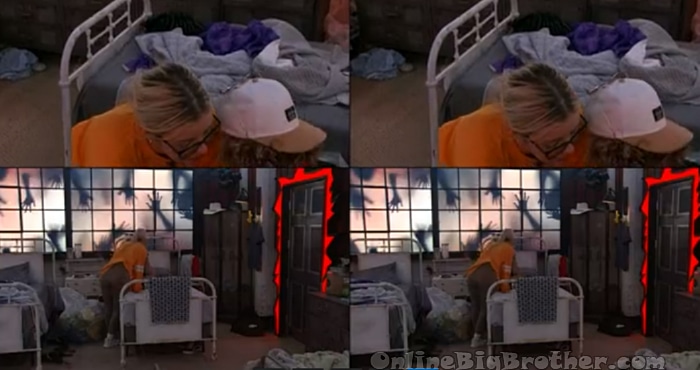 1:48 pm Reilly and Matt
Reilly – I'm not even going to try and be nice to Hisam any more.. He's not who he says he is.
1:50 pm Reilly, Jag and Blue
Reilly – everyone is on sounds on board with it but it will only take one person to be like.. Heay I'm voting Reilly to stay do it with me
Reilly says she talked to Felicia this morning and she's literally on board
Jag – we need her to tell the others.
Reilly – we need Cerie as well
Reilly – MEME will be a tough nut to crack.
Blue – I don't think so
Reilly – We don't really talk.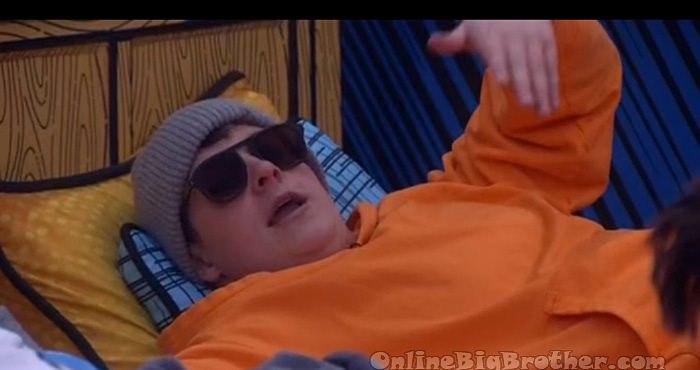 3:10 pm Izzy, Cerie and Bowie
Izzy about Jag/Reilly etc "They're failing.. I love it"
Cerie – I don't
Izzy – What?
Bowie – It's mostly..
Cerie – Hisam is pissed off
Bowie – Why
Cerie – people are saying I'm keeping Reilly
Bowie – there you go.. Isn't this a Janelle quote? Bye Bye bitches. won't that be problematic?
Cerie – why would it be problematic?
Bowie – It's already been used
Cerie – not the name did she name the group.
Izzy doesn't know if that is Janelle. She thinks it's Rachel then says "if it was Rachel it would be floaters grab a life vest"
Bowie – Is bitches not a curse?
Cerie – it is definitely a curse. It just became ok. When I was growing up you couldn't say bitches now anything goes (A better time) … Yeah b1tches is definitely a curse.
They talk about just getting through the night and spending the entire next day inside the comic room so they can avoid Reilly's side.
Izzy asks the time. Cerie says 3. Izzy sighs says they have 7 more hours
Cerie – Like a full shift
They start talking about the Netherlands region twist. Bowie thinks that tomorrow morning she will be called in to send another person to the Neanderthals' region
Cerie asks her to null her vote or send her to Neather region. Adds that they don't need the votes this week.