POV Holder:
McCrae
Next POV
?
POV Used
POV Ceremony
Sept 9th
HOH Winner:
Spencer
Next HOH:
Sept 11th*
Original Nominations:
Gm and McCrae
Current Nominations:
Last Evicted Houseguest
Aaryn, Amanda, Elissa
Have Nots
3:05pm HOH McCrae, Spencer and Andy
Andy tells them if they plan on voting JUDD out they will have to blindside him. They keep telling McCrae how dangerous JUDD. Spencer points out that JUDD has been acting super sketchy and that is what hes worried about.
McCrae tells them he's on board for anything, McCrae heads downstairs to get some wine.
Spencer to Andy- 'good seed you planted'
Spencer – "If McCrae wins HOH he's putting me on the block against whoever stays' They both agree GM's toe and knee are in such bad condition it will wipe her from being a contender in future competitions. THey are confident they can beat her. They both want JUDD gone.
3:08pm HOH JUDD
JUDD – "i'm going home I know it"
Andy tells him he is not going home don't be silly.
Andy – 'The best method when you are on the block is not to freak out at all.. don't freak out JUDD'
Andy – 'You have to just trust people'
JUDD thinks Spencer and Andy were trying to tire him out last night by telling the drill sergeant to keep giving him exercises.
Andy and Spencer tell him they were just doing it because they thought it was funny.
JUDD – 'my whole body is like sore'
Andy – 'I'm telling you JUDD I don't want you to go anywhere'
JUDD – 'I can't keep it together. I'm going to b!tch and complain.. I can't help it'
Andy – 'I want you to know you are OK I want Fun JUDD around'
JUDD – 'I'm not mad… I just think yesterday was a gimmick'
Andy says the Diary room told him to ask the drill sergeant to give JUDD exercises last night. Spencer says they did the same thing to him. JUDD mentions every time he came into the room the guys were telling the drill sergeant for more exercises.. Feeds flip to the kitchen.
3:16pm portioning out the wine
3:30 HOH Everyone but JUDD
GM says JUDD quit the POV competition because he knew he wouldn't have been able to win it. Andy doesn't think it was that difficult a puzzle. McCrae was glad JUDD did it means fewer people to compete against. GM thinks JUDD showed bad sportsmanship today during the competition.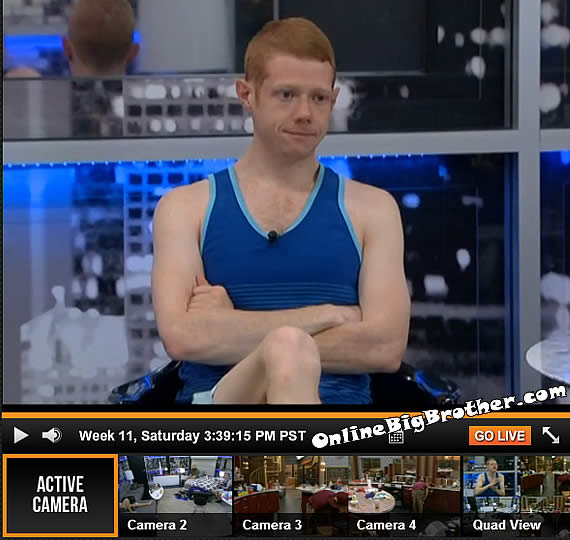 3:35pm HOH Andy, GM and Spencer
They plan on deny the exterminators if JUDD tells McCrae. Andy has been bringing up to McCrae that JUDD has made up alliances out of thin air before.
Spencer – 'This is grasshoppers 2.0'
GM says JUDD got a second chance so she doesn't feel as bad for him.
Andy – "he had 14 days off'
Spencer – "He went from 10th place to 5th.. you gotta be proud of that but two of those weeks he wasn't here'
Andy wants to blindside JUDD this week because if he knows he's going home he's going to raise hell all week. GM agrees
Spencer – 'Better for peace in the house and to prevent him from spilling the beans about the exterminators"
If you liked that picture of Spencer in a skin tight super hero costume please consider a donation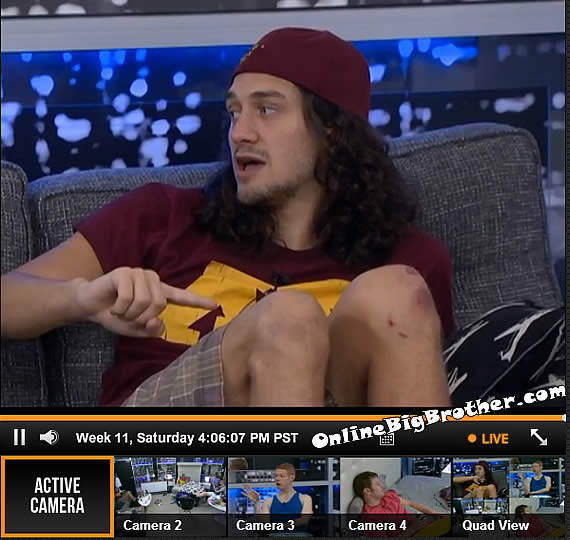 3:59pm HOH Everyone but Spencer
They are talking about the Westboro baptist church and how horrible people they are.
JUDD – 'They are hateful people"
Andy tells them about the two documentaries we watched about the church Movie two (There's more on YouTube)
JUDD says he's a liberal republican but he wouldn't vote strictly based on party he would look at what they stand for first. JUDD says he votes based on economic policy not social policy.
JUDD says Amanda voted for Mitt Romney. McCrae thinks the problem with the US political system is it's locked in two parties.
GM and JUDD both point out they're knees are cut up. GM's are the worst. Andy thinks it had to do with how they were harnessed because his knees are fine.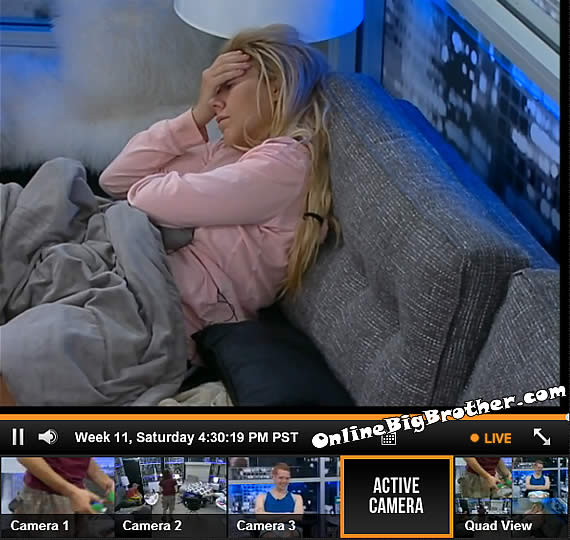 4:11pm JUDD, GM and Andy HOH
JUDD apologizes for losing his cool earlier today he's really pissed he lost the veto he really wanted on of them to win it. GM reminds him that she is on the block to she's just as pissed.
McCrae joins them. MCcrea says he felt Ian didn't like him in the beginning but during the competition he liked him. McCrae points out that he never made eye contact with him. GM thinks Ian was probably being talked to in his ear (Production)
JUDD – 'he was cheering you on during the comp'.. he was nervous he wanted you to win'
MC agrees says Ian was cheering him on during the POV competition
GM – 'Thanks Ian go f*** yourself to"
4:34pm Doctor is here to see GM's knee. She thinks she'll be getting stitches.
4:35pm McCrae and JUDD
McCrae – "If me or you win the HOH that's awesome because we'll have the numbers.. no matter what we get to go to the final 3′
JUDD says he doesn't think McCrae would have gone home anyways but good for him for winning the veto. JUDD is scared he's going up he knows Andy and Spencer Will never put each other up.
McCrae – "I want to keep you over GM.. I'm scared he's going to want to keep her.. he said he's close to GM but he's also close to you'
MC says moving forward he wants JUDD to stay and he's going to try and talk them into keeping him. He thinks having JUDD in the house benefits him a lot more than having GM.
Share it YO!!
Tweet