POV Holder:
McCRAE
Next POV
Sept 7th
POV Used
POV Ceremony
Sept 9th
HOH Winner:
Spencer
Next HOH:
Sept 5th
Original Nominations:
McCrae and Ginamarie
Current Nominations:
Last Evicted Houseguest
Aaryn, Amanda, Elissa
Have Nots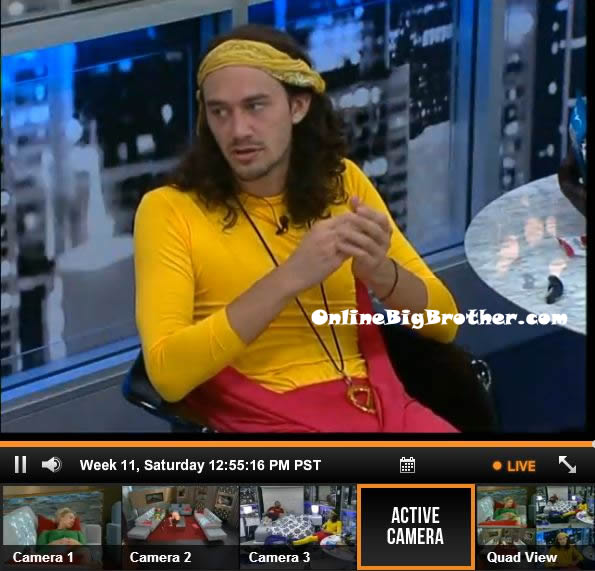 Big Brother 15 Live Feeds: FREE 2 DAY TRIAL
10:55am – 12:55pm The Big Brother 15 live feeds were blocked for the Power Of Veto competition. All of the 5 remaining house guests (Judd, Andy, Spencer, Ginamarie and McCrae) competed to win the Veto. When the Live Feeds return we learn that McCrae WON the POV!
1pm Up in the HOH room – Spencer and McCrae are up in the HOH room talking. Spencer tells McCrae that he doesn't really want to get involved in it on who to keep. He says that they are probably going to try and campaign to you. McCrae says that Judd already started campaigning to me. Spencer says yeah that's why I called you up here. I want you and Andy to come to a consensus. I will go with whatever you two decide. McCrae says final fucking 4! Spencer says that Ginamarie and Judd could blow up this week. Andy joins them. Spencer tells Andy that he wants McCrae and him to decide who goes home this week. Andy says that there are so many pros and cons to keeping both. Andy asks why was Judd so pissed when you won? McCrae says that he said he would so that it wouldn't look suspicious. McCrae says I am going to tell them both I am keeping them. The can compare stories and it will be the same for each. Spencer says we could keep it all guys like we talked about or.. Andy says Ginamarie is all broken. Spencer says yeah but she doesn't give up! Andy says which one could we beat easier. McCrae says it comes down to who could win the before/after HOH competition coming up because they would send one of us home.
Judd fingering the camera after losing the veto comp:

Big Brother 15 Live Feeds FREE TRIAL: FLASHBACK FEATURE
1:10pm Judd joins Andy, Spencer and McCrae in the HOH room. Just before Judd comes into the room Spencer asks so what are we talking about when Judd comes in. McCrae says the competition. They talk about the POV competition. IAN TERRY the winner of Big Brother 14 hosted the competition. Spencer and Judd comment how they could tell Ian liked McCrae. Judd says he didn't like me much. When ever I talked to him he didn't really care to talk to me. Andy and McCrae head down to comfort Ginamarie who is crying. Judd talks to Spencer and says he doesn't want to go home. Spencer tells Judd that he doesn't want him to go anywhere. You need to talk to Andy and McCrae and convince them they need to keep you. Judd asks so there is no way you would consider putting up Andy? Spencer says I would consider it. Judd says that Ginamarie and I wouldn't vote out Andy. Judd says that he is really worried that if I go up they would scheme up a plan to get rid of me because Ginamarie is so beat up. Spencer says you have weaknesses to play up too ..like how you get over heated in comps like today and the Zingbot one.

1:15pm – 1:20pm
Andy and McCrae are in the bedroom talking. Andy says that Ginamarie has been in the dark most of the game. Andy says that he thinks Judd could win the game. McCrae says one of us needs to win HOH because if we don't the other one will be going home if we don't win the veto. Andy says I would much rather it was us in the end. I would rather go against a formidable opponent. McCrae agrees and says if you take Spencer people will think you are trying to take the easy way out. Andy asks so do we tell Judd or Gina ..or do we keep them in the dark? If we tell them, they could blow up. Andy says I really want to see how broken Ginamarie is. Andy and McCrae head to the kitchen where Judd and Spencer are. Andy comments that Ginamarie is going to need stitches. McCrae says I am still so excited about meeting Ian.
Big Brother 15 Live Feeds: FREE 2 DAY TRIAL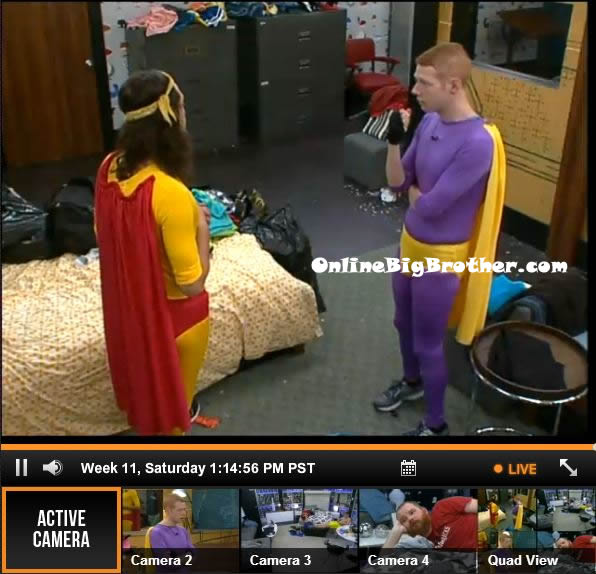 1:20pm In the kitchen – Judd, Andy and Spencer are standing around. Spencer asks Andy why he doesn't change out of the costume. Andy says because I look pretty. Judd says I don't want to go home! Andy says you're not Judd. McCrae comes back down from getting his water bottle from the HOH room. McCrae and Spencer comment on how Gina win need stiches. Spencer asks what if they tell her she can't play any more? McCrae says they won't, the next competitions aren't physical.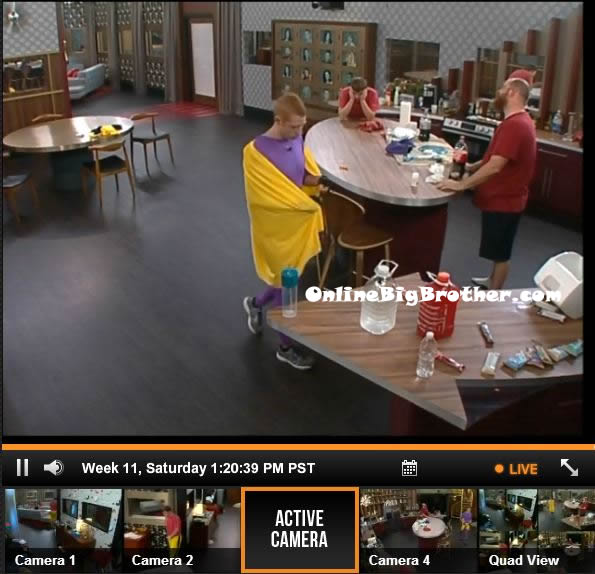 1:30pm Up in the HOH room – Andy talks to Spencer. Andy says my gut is to keep Ginamarie over Judd. She is broken. Spencer says but she doesn't give up! Andy says but I think Judd will get sneaky and cut one of us. Spencer says I think Judd does want to stay with the exterminators. Spencer says I just don't want one of them to spill the beans about the exterminators. Andy says maybe once we figure out who to keep we sit McCrae down and tell him. Spencer says we would just need to down play it. Judd could be down there right now telling him. I don't think Gina would spill it in a million years. Andy says he thinks Judd will beat us in the end. Spencer says Ginamarie could too. Andy says McCrae is such a good competitor I am scared to be in the final 4 with him now. Andy says that's why if we are honest with him I think he would stay faithful to us. Spencer says that is why I think we need to cut Judd. Spencer says final four strategy is over, it's down to who we can beat. Spencer comments it could be good to send Ginamarie to jury for Amanda. Andy says I am scared if we don't tell McCrae about the exterminators, then someone else will. Spencer says I just think it would make our alliance look pu$$y. Spencer says Judd knows his dates better than Ginamaire. Andy says he does, Ginamarie has to count on her hands. Spencer says I don't want it to be a situation next week with you and me on the block and Ginamarie to decide who goes. Andy says us telling McCrae first about the exterminators will make him trust us more. Spencer says how do we explain him being on the block. Andy says McCrae just can't win the next HOH. Spencer says yeah in a perfect world I would want you to win HOH and Veto. Spencer asks what should I tell Judd. Andy says just tell him he is safe no matter what. Andy and Spencer head downstairs.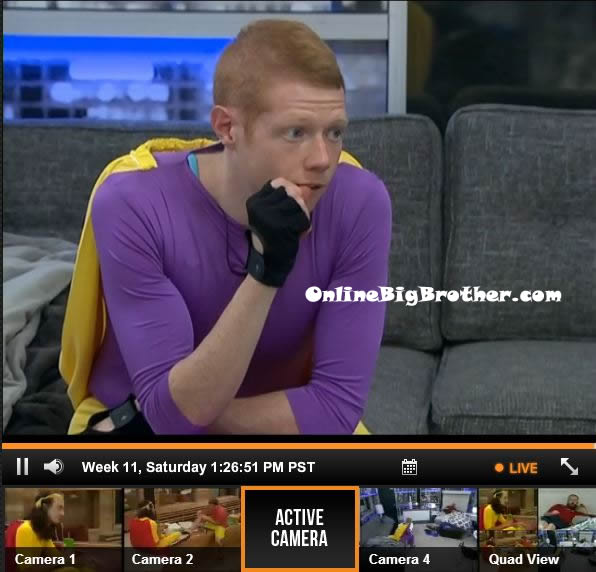 In the bathroom – McCrae and Judd are talking about past events of the season. McCrae tells Judd that he honestly thought it was the end of his game when he had to vote out Judd. McCrae heads to the bedroom to change. Spencer comes down and pulls Judd into the lounge room. Spencer tells Judd – Andy said he would vote to keep you if you went up.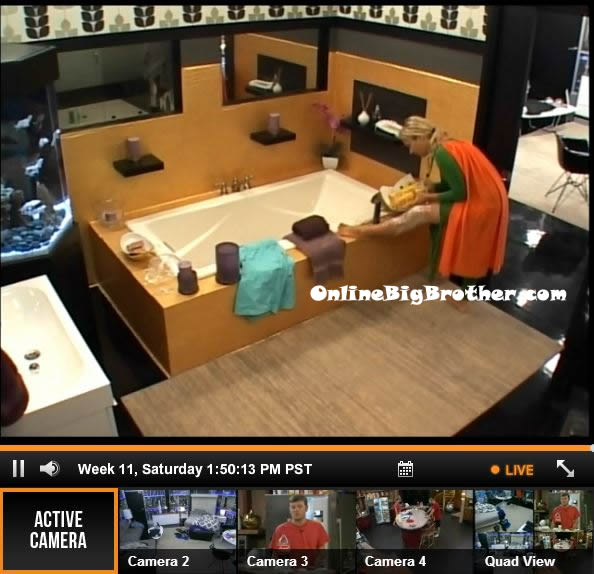 1:50pm Ginamarie comes out of the diary room hobbling. Andy helps her up to the HOH room. Andy leaves her at the door and goes back down stairs. Andy goes down to the kitchen and tells them that he is so over Ginamaire – I know she is faking it! Ginamarie thinks he is still there and says thanks Andy, I didn't know who else to call. She then looks around and says oh no ones here. Ginamarie goes out of the HOH room and asks for the saran wrap. Spencer brings it up and Ginamarie goes into the bathroom to saran her bandaged up leg so she can take a shower.
In the kitchen Spencer tells Judd that this is the perfect time to cut Ginamarie. Andy said he will keep you. Judd says I want McCrae gone though!! I want him gone!! Judd says I wanted to cuss Ian out before it started! Spencer says Ian just roots for the underdog. Andy talks to Judd in the kitchen. Judd says that he didn't understand the puzzle and even tried to copy McCrae's but still couldn't get it.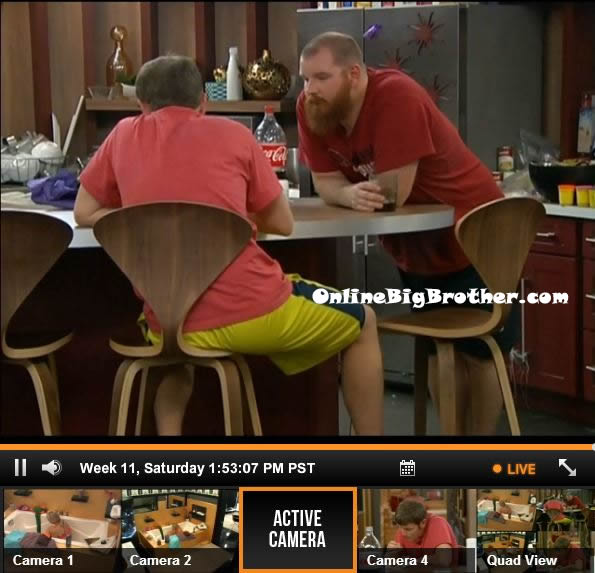 1:55pm – 2:15pm In the rainbow room – Andy tells Judd that he is being 100% honest with him when he says he want to keep him. Andy says but I know that Gina will 100% take me to the final two. If we keep you and you will get rid of McCrae right? Judd says yes, that has been my mission. Judd says McCrae said he would keep me but I think he would definitely vote me out. Andy disagrees. Judd says I just have a feeling I am going home. Andy says I just need to know that you will vote him out. Judd says yes! I talked so much sh*t about him. I want revenge on him. When he sees this season he is going to hate me for all the sh*t I talked about him. Andy says I newly trust you but I've had trust in Gina for a long time. Judd says I will give you my bear shirt. Andy says you don't need to do that. Judd says if we can't beat McCrae next week, we don't deserve to be here. Andy tells Judd that the exterminators secret can not get out. If Ginamarie knows she is going home I don't want her to be pissed and say something. Judd agrees and says we have to keep her from saying anything.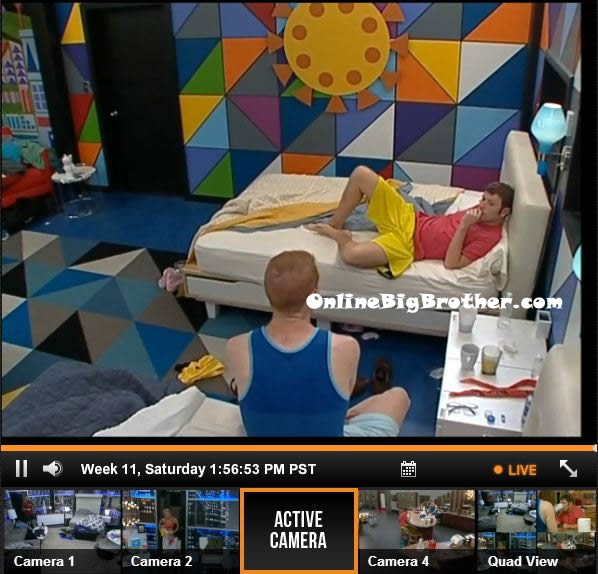 2pm – 2:15pm Up in the HOH room – Gina is crying about ever since she lost Nick she's had no one to fully trust. She tells Spencer that he is her new Nick. Spencer says we both have a good shot at this. Spencer says I love Andy and I like Judd. Gina comments that Judd was helping McCrae in the veto. She says Judd told McCrae one of his pieces was upside down. Spencer says he wants Judd to get called into the diary room so that I can tell him if Judd tells McCrae about the exterminators we will just deny it all. I think we should just tell Judd he is safe all week just so he doesn't spill the beans. Then he will go out shocked and we can just deny anything if he says anything about it. Spencer tells Gina she is good at competitions which scares him if she isn't with him. Spencer tells Gina that she could win this. Gina cries and says I just want to go home with something. Spencer says don't worry I wont tell anyone about our conversation. Spencer tells Gina that he will tell Judd he wants McCrae and Andy to decide who goes. Spencer says I am not some bullsh*t deal maker, this is solid to the end. Gina and Spencer shake hands. Gina heads downstairs to rest.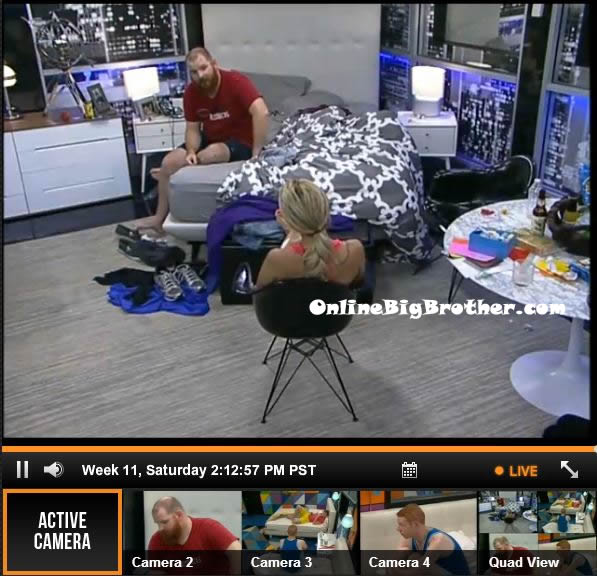 2:20pm – 2:30pm In the rainbow room – Judd, Andy and Gina talk about the Veto. Gina says the exterminators really messed up today. Andy puts his costume and cape back on for a diary room session. Judd says I am not putting mine back on, over my dead body! I don't care.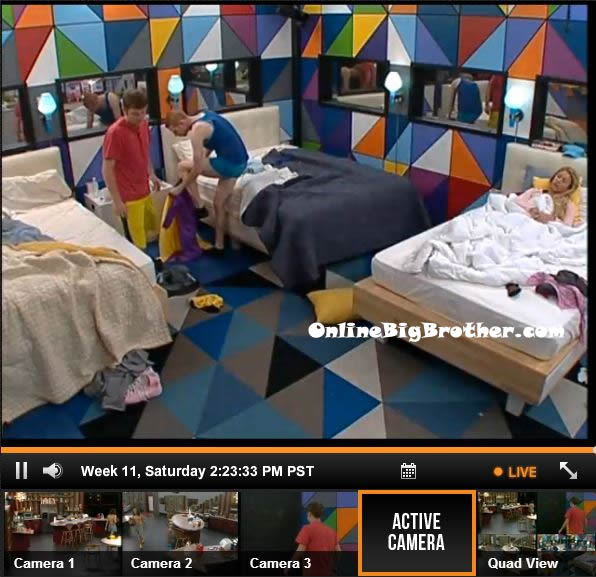 2:30pm – 2:40pm McCrae heads up to the HOH room to take a shower. McCrae says Judd is already campaigning to me. I don't want to tell him anything because I know he will use it against me. Spencer says you know if Judd knows he is going him he will be making deals and lies. McCrae agrees. Spencer says our guy alliance (Spencer, McCrae and Andy) is the best final three. McCrae agrees. McCrae says Andy and I were talking and if its Judd going home we can't tell him anything but if it's Ginamarie we could tell her. Spencer and McCrae say they will talk more later. Spencer goes down and talks to Judd in the living room. He tells Judd if he goes up he needs to just stay calm and cool. Spencer says that GM is broken and messed up. The worst thing you can do is freak out. Judd says yeah. Spencer leaves. Spencer comes back and tells if McCrae doesnt want to keep you.. you've got to make sure Andy does. Judd complains again about not wanting to put the suit back on. (He's being a big baby.) Judd says maybe I will get a penalty nom. I don't care I am not putting it on. Spencer says I don't think they would go that far. Spencer heads back up to the HOH room to listen to his cd.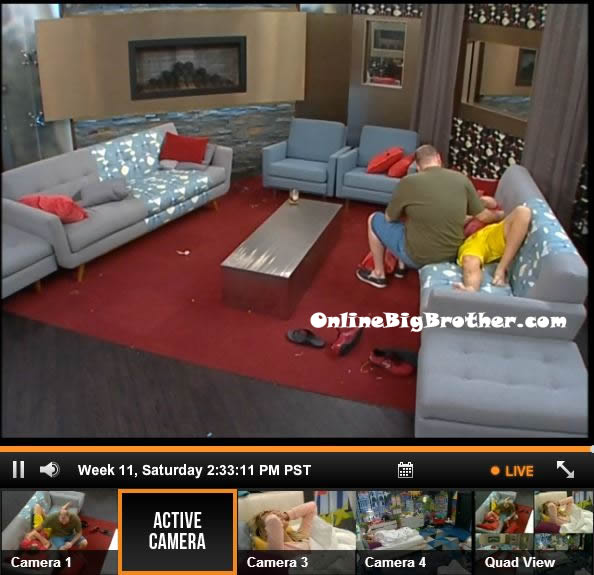 2:50pm – 2:55pm Judd head up to the HOH room to talk with Spencer. They talk about Judd and Ginamarie's injuries. Spencer complains that Gina has had a broken toe for a week and they haven't done anything about it and now they say she needs stiches but they aren't giving her them. He says I don't understand why they can't just bring in a doctor to give them to her. Big Brother switches the cameras to downstairs. Spencer tells Judd again to just be cool this week. Andy joins them. They talk about Judd and Gina's injuries. Andy and Spencer ask how they even got hurt. Spencer says he couldn't even touch his toes where Gina hit her knees. Judd leaves the room in a huff and says he is going to bed. Spencer and Andy talk about denying the exterminators alliance if Judd spills it to McCrae. Andy tells Spencer about his conversation with Judd how he told Judd he would keep him over Gina. Spencer says this is where I am at. I think I want to keep Gina. Andy says you know where I am at because Gina is a vote for me so I want to make sure you are okay with it because you are HOH.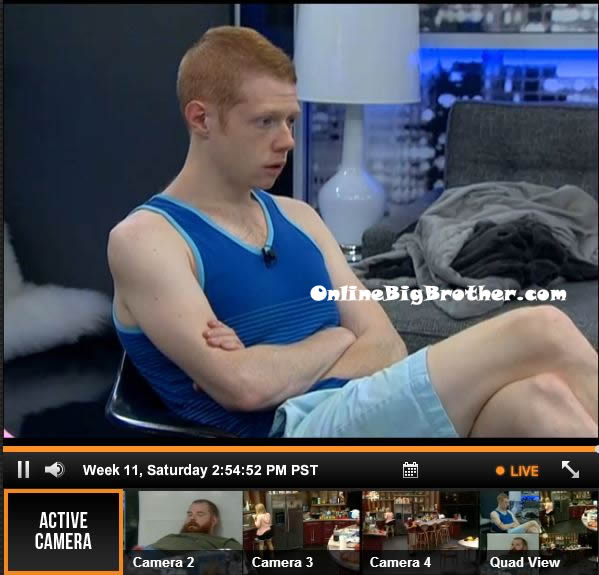 Please consider donating. Simon and I work 24/7 all season long to bring you all the live feed updates and spoilers. ANY amount is greatly appreciated, your donations go directly to paying the server and bandwidth fees needed to run this site.
[polldaddy poll=7375044]
Use the Big Brother Live Feeds to FLASHBACK to SEE what they can't show you on TV:
BB15 N!p Sl!ps / N*des
Share it YO!!
Tweet