Head of Household Winner – Jackson
Have note are:
Nominations are:
Power of Veto Players are:
Power of Veto holder:
Power of Veto Ceremony:
Grab your live feeds —-> BB21 Live Feeds Subscription Link
Rank your houseguests —-> Big Brother 21 Ranking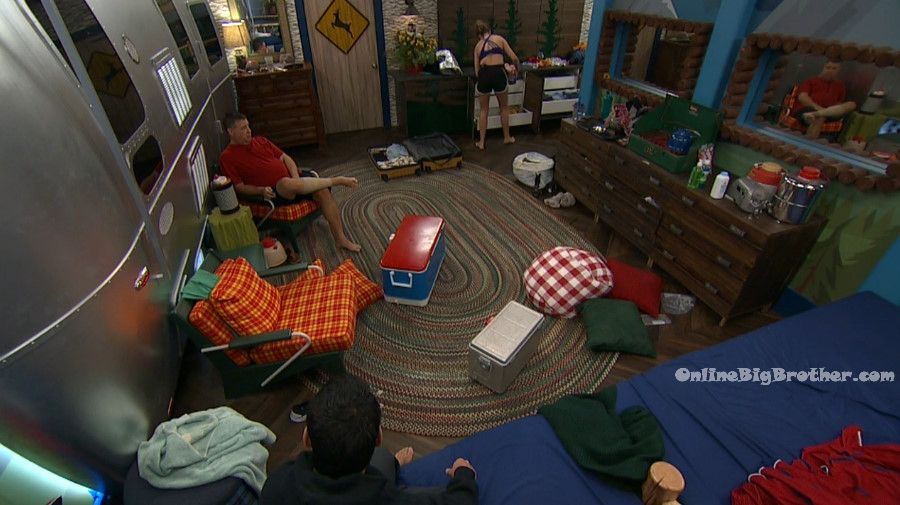 8:10pm Bedroom. Cliff, Tommy and Christie.
Cliff – coming in here the idea of doing the slip & slide and the wall competition is not something that I would be good at but still fun to do. Tommy and Christie agree. Christie – it was really cool and I feel lucky that we got to do it. And I feel so lucky that I'm still here. Cliff – Final seven! Christie – I know, so nuts that we're still here. Can you even believe it? Can you f**king believe it. Cliff – nine people are gone and someone could come back. For all we know Jack or Nick could come through this door but at least for now we are final seven! Christie – I really don't think there will be a battle back. I really didn't want to break Nick's heart but I really don't think there will be one. Cliff – to do a battle back you have to do a double at some point and I just feel like we're getting down to it. Tommy – down to it.. like we have a month left. Cliff – and I don't picture them doing a battle back right at the end. Holly joins them. She says that the smoke where she was sitting was making her really light headed. I think what it was doing was it was triggering my asthma. Cliff – I really tried to hang on but when it started leaning .. it was just too much weight to hold on.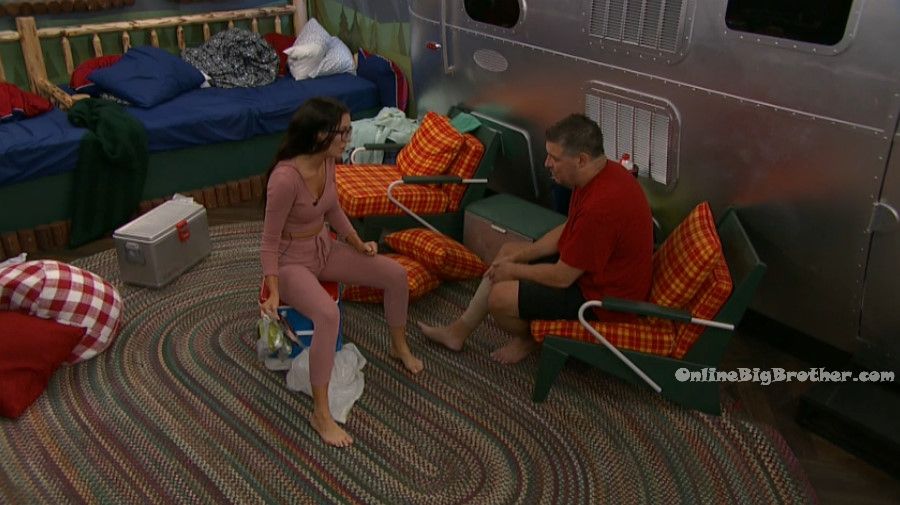 Holly and Cliff in the bedroom.
Cliff – I just hoped she (Nicole) could hang on a little more and they could work out a deal or something. It would have helped all of us and she wanted it so bag. Holly – and it would have been amazing redemption. She had to say goodbye to Nick. Cliff – aww.. it would have been perfect and she looked alright up there. Holly – I wanted to say stuff to her but ..I wanted to be like do not let go but you know.. Cliff – short term I think he (Jackson) had to win it. Holly – I know. Cliff – he had to win it and I would think that next week might not be physical. Hopefully you and me could do something. We had good intentions but its not my challenge. Holly agrees. Holly – honestly Jess held out longer than I expected her to. And you held on longer than I expected you to. Like that was f**king hard! Cliff – Michie is just a beast! He was worried about winning another one. Holly – I know. And what he said was that he doesn't know how many more physical comps there will be so he has to take them when he can. Cliff – that was designed for someone like Tommy.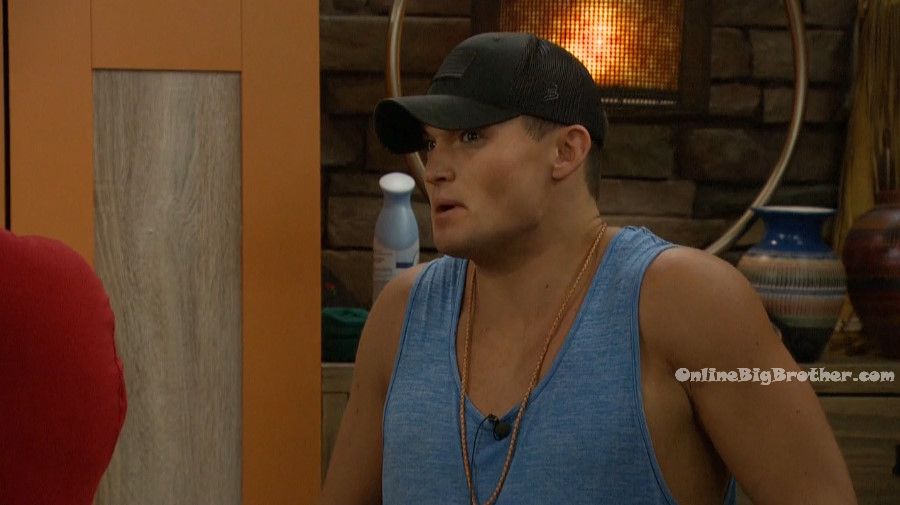 Bedroom. Cliff and Jackson.
Cliff – I don't think you had a choice. Jackson – I didn't. Cliff – it would be too easy for him (Tommy) and Christie to work together. Jackson – exactly. I made a final four with you, Nicole and Holly and if anyone is coming after y'all .. they're coming after me indirectly and that will jeopardize my game going forward. And although Tommy might not have put me up .. the uncertainty is to great. I know that one of us four would have seen the block at minimum! Cliff – it would have been Nicole and then some combination of you, Holly or Me. Jackson – I just couldn't risk it but I am scared going forward. Cliff – I really thought Nicole was going to hold on. It would have been perfect. And then all of us would have been in the HOH next week. Jackson – I didn't know when they would have another physical comp.. I figured if this was physical, next weeks would be mental .. and I am the least good at the mental. But there is going to be blow back with whoever stays. And I am scared for Holly and I. We have just won back to back to back HOH's. Cliff – oh I know. I get it. Jackson – that's our fourth week up there.. and that looks like sh*T! SH*T! But we're at the point in the game where we have no choice. Cliff – and all I can tell you is that I've got your back when it comes to the votes and stuff like that. And if it is mental ..its my turn to contribute. Jackson – I am trying to convince myself that I haven't completely screwed my game up. Cliff – but if it wasn't the blow back it would be the possibility of going up. Jackson – look at how many people we have to choose from.. FOUR?! FIVE?! Cliff – oh I know. And regardless if you won it or not its not like people aren't going to be looking at you as the biggest competitive threat out here already .. so you didn't do any damage. Jackson – this is the fifth competition I've won in a row and I am terrified. Cliff – I know but it will look so good in that final pitch. Jackson – yeah .. if I make it there!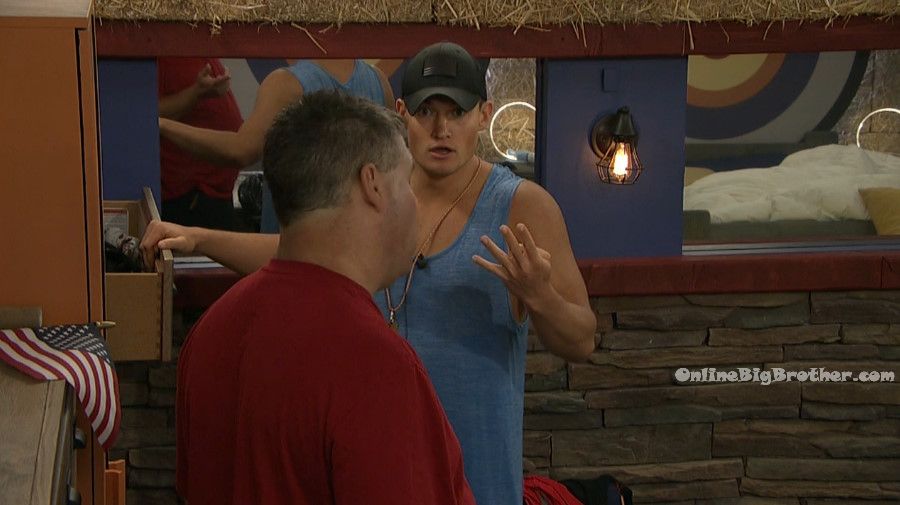 8:37pm Jackson and Cliff in the boat room.
Jackson – so I am thinking Christie and Jess (nominations). Cliff – but who is your target? Jackson – Jess. Jackson – she has made it clear that she is going after guys and she would ultimately do better in an mental comp than Christie. Cliff – oh we've seen that. Jackson – she scares me. I mean we need both of them gone. Going into next week Holly and I both struggle in an mental comp. And would I rather have us go against Christie or Jess? Jess has made it clear that she is going after guys. It will be me and you on the block. Cliff – I know it will. Jackson – 1000%! With Christie there is some uncertainty of who she would put up… Maybe it would be Holly and you or Me. We don't know .. but with Jess.. Cliff – and her (Jess) chance of winning a veto would be less if its BB comics. Jackson – Jess won't put up Tommy. I don't want to get rid of Tommy because then Jess will 100% put us up. Jackson – and I think I can spin it with Christie that she will be a pawn. I would rather Jess go before Christie. Cliff – I have no idea where Jess's head is at. I know it would be guys she would put up. Cliff – at what point do you tell Christie she is a pawn? Jackson – I just told her. The sooner I tell her the more it looks like she is a pawn. The less it looks like I am trying to blindside her. The less vengeance she will have to come after us. The less effort she will put into a veto. Cliff – and you only need two vetos this week. You tell her Holly has her and I have her back. Jackson – Jess and Christie together scares me. They are both mental threats and they are both going to come after us. Cliff – Christie made it clear that she is a free agent and that y'all are threats.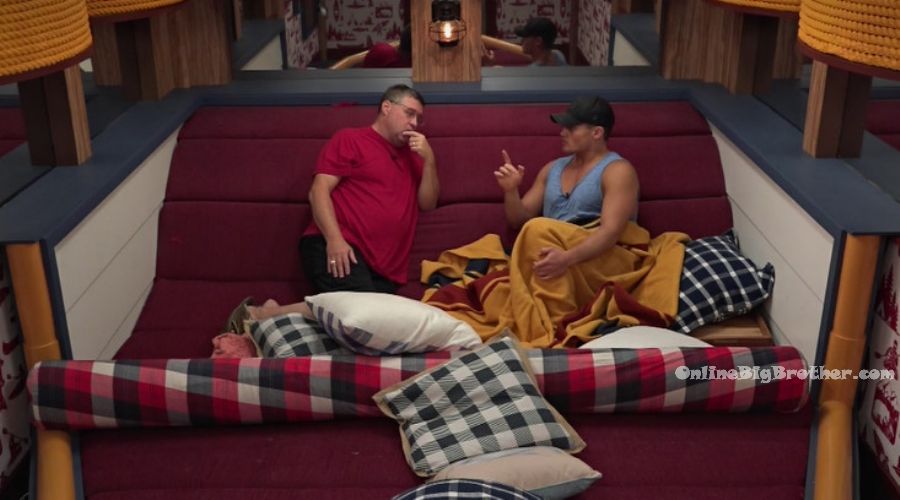 9pm – 10:30pm The house guests are in the kitchen eating and chatting about the HOH competition. Jackson, Jess, Nicole, Christie and Cliff head to the bathroom and chat more about the veto and other things.
10:50pm – 11pm Storage room. Jackson and Holly.
Holly – I think we are going to be okay .. we just have to be careful. Jackson – we have got to get Jess out. Holly – we have to say as few words as possible. I don't think it is a bad thing that you won it. Jackson – we have to win this veto. WE HAVE TO WIN THIS VETO! We also only need two votes. Holly – we f**king made it to six! I can't believe it. Jackson – I can't believe we made it! Holly – I really wish I could have played in this one… just to kick your a## again! Jackson laughs.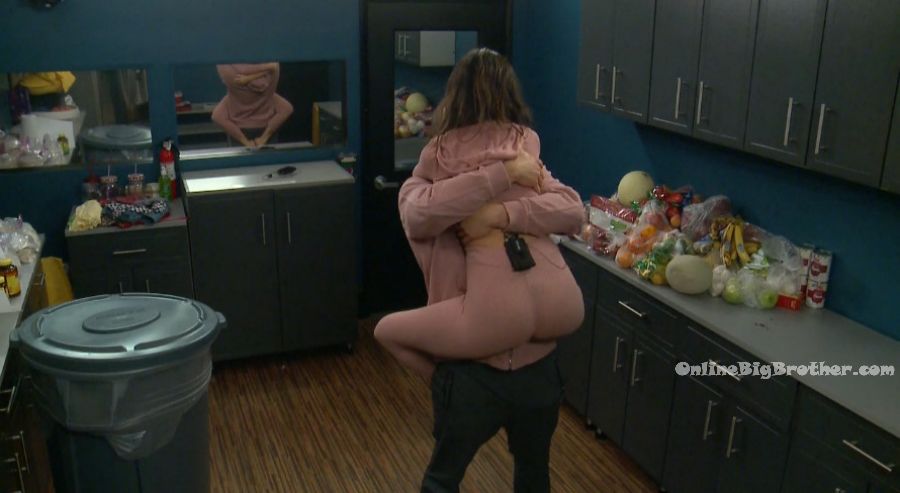 11:45pm – 12:10am Jackson comes out of the diary room and asks who wants to see my HOH room?! All the house guests head up to the HOH room and check out Jackson's HOH photos. He got a watermelon hat. His HOH letter is from his mom. They gave him 5 large and 5 mini watermelons. I guess they decided to load me up because after the last HOH they realized I was still requesting more. They're so good to us. Christie – ten frickin watermelons.. Holly – and they'll all be gone by the end of the week.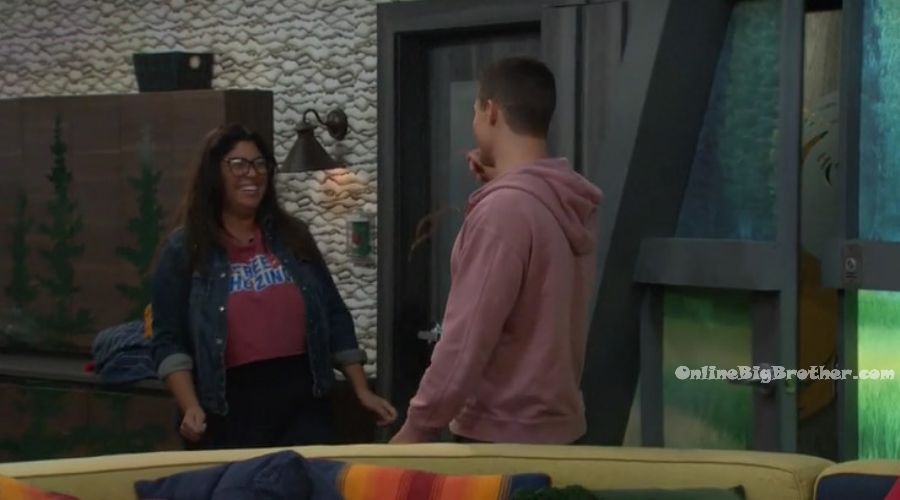 If you've enjoyed our live feed updates this season, please consider donating.
Simon and I work 24/7 all season long to keep you updated on everything that happens inside the house. Any amount is greatly appreciated! Your donations go directly to paying the fees required to run this site.