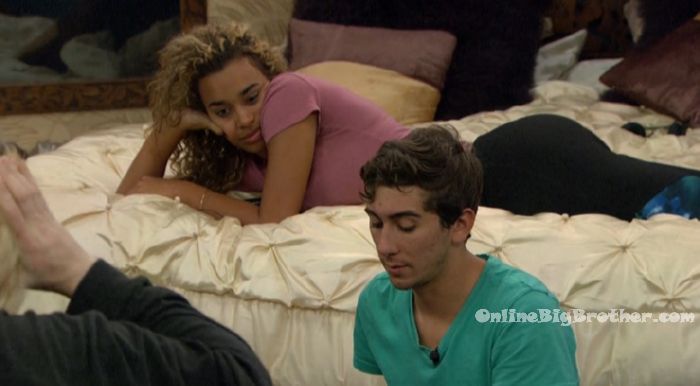 8:15pm Justin, Jason, Danielle and Kryssie are in the HOH room. Jason is using candy to show them who he should nominate and why. Me and Shelby are not voting. She (Shelby) is nominating Whitney and I am nominating Danielle. One of them is America's nom and it stays as that 3. But there is no way it would stay as that three.. everyone would use the veto this week. If Danielle comes down and we chuck up Alex .. then we have 3 for sure that are going to vote out Alex. So if we take Whitney down then Shelby would put up Justin. Whitney will not vote Justin out. She would vote America's person out. Kryssie will vote that way as well. And they will vote Justin out. America's will probably side with that way (America's nom). If Alex is America's nom and she takes herself down .. then we're f**ked. But if one of us is America's nom .. if Kryssie is America's nom and Kryssie wins the veto she can take down Danielle. Back door Alex. Then it comes down to if I beat Shelby in the veto or not. Justin – you've got to beat her. Jason – I will. Justin eats the Jason candy. They all head down stairs.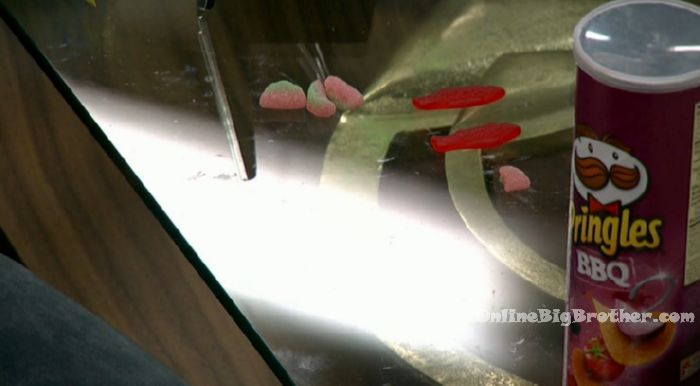 9pm – 10pmThe house guests are playing BB melon bowling. If it breaks on your turn .. you clean it up.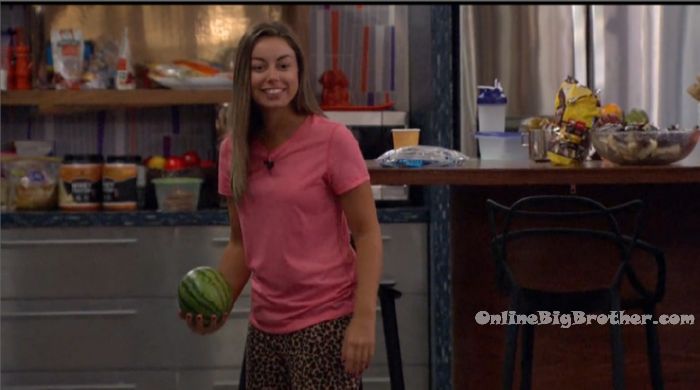 Watch the BBOTT Live Feeds FREE for 1 WEEK!
Click here for your: FREE Trial!

11:20pm – 11:50pm HOH room – Alex and Shelby. Alex – say by some miracle we do get Danielle out this week and then on the double we get out another person with a care package that leaves 2 people and 2 care packages left. Shelby – I know. Alex – oh you've already thought of it. The odds of that happening are pretty slim. America just can't put up me or Morgan and our odds go way higher. Than if we're up against people who are seemingly loved by America. Shelby – seemingly how!? Alex – Whitney and Scott keep telling me Kryssie is loved by America. Shelby – and so does Kryssie and she got the sh*ttiest care package. Alex – true. Shelby – and they probably didn't make her a havenot till then because they knew she would quit the game. America just puts up whoever will be interesting at the time. Alex – I'm just going to assume it will be me or Morgan. Shelby – well if that happens I will be playing for you in the veto. And I would rather take you down than have to put someone else up and piss people off on the other side going into a double eviction. Alex – what would be interesting is what would Jason do .. would he take Whitney down? Shelby – then I would get to pick a replacement. Alex – oh yeah. Then he would take down Danielle. Shelby – I bet he would like to leave Whitney up there .. just in case. Then he would put up me or Morgan .. and one of us would go home. Alex – if Kryssie is America's nom… even if Whitney won they pulled Whitney down .. Kryssie would not be going home. It would probably be a consensus of Danielle. Shelby – if we got Danielle out and Whitney won HOH .. do you think she would put up me and Jason? Alex – no I don't think she would touch you. Shelby – it might be Morgan. Alex – It might be me. Shelby – she's a threat but she's also our ally. Alex – I would like to keep Whitney around a lot longer. Shelby – yeah final 6 .. final 4. Alex heads to bed.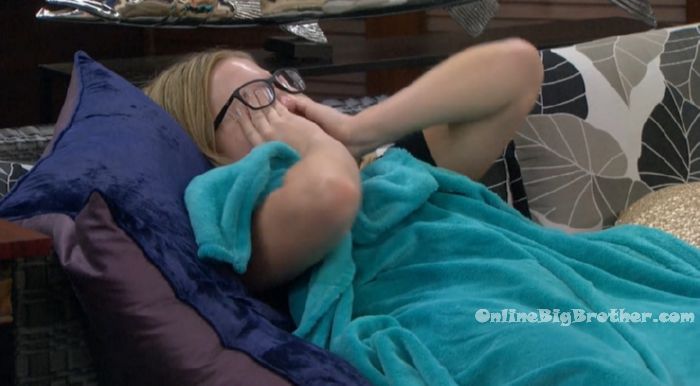 12am – 12:40am HOH room – Shelby alone dancing around listening to her HOH music.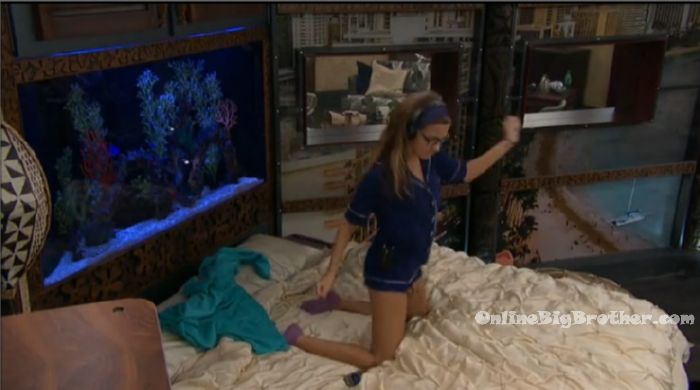 12:40am All the house guests are sleeping.
Show your support by making a donation.