HOH: Derek X
HAVENOTS: Christian, Xavier, Alyssa
Nominations: Britini and Sarah
Power of Veto Players: Sarah Beth, Britini, DX, Claire, KY, Alyssa | HOST: Hannah
Power of Veto:
Power of Veto Ceremony:
FYI – Teams are done, Wildcard comps are done, Twist next week with Fan involvement
Big Brother 23 Houseguest Rankings – – RANK THE HOUSEGUESTS –
View the previous day ranks on the – Ranking Grid
Big Brother Spoilers – DX's plan is to backdoor Christian. He has told both Sarah Beth and Britini his plans.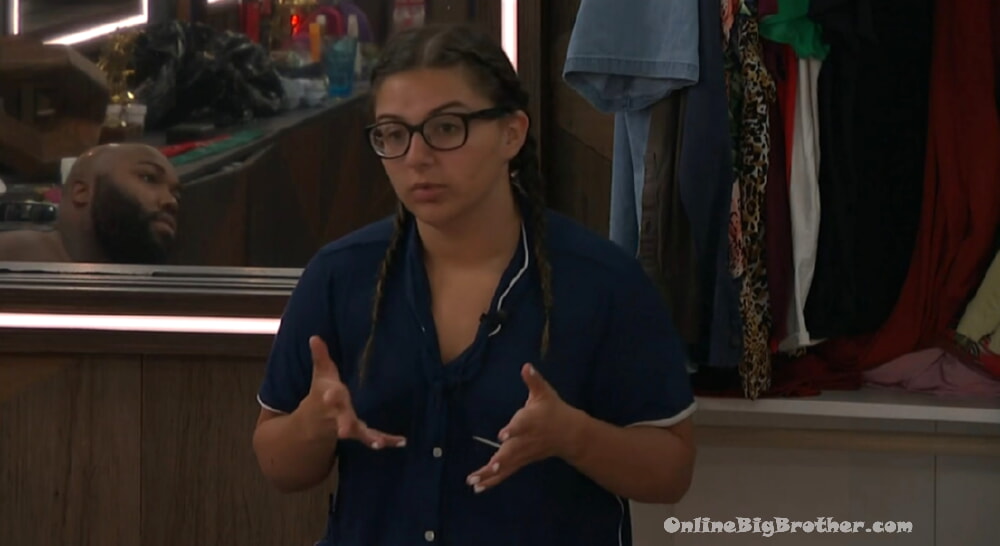 8:17 am Brit talking to the camera saying she will pick Azah to play in veto if she draws the houseguest pick chip.
DF and Azah are also in the room.
Brit talks about her conversation with KY
"Apparently he finds Sarah Beth and myself the two people he wants to work with in this house. He said that he feels closer to Sarah Beth and he feels like this is an attack personal to him Because he thought they were cool. He's really up.."
She turns up the sarcasm "So he's been having a really rough day"
"He's having a really rough day heres the thing.. Two of his closest allies are on the block and he wants to save one of us being SB so that someone else goes next to me and I don't go home. How thoughtful is that"
She starts impersonating Ky
"Also Britini I've always shot it straight with you and I told you I really do want to work with you in this game I'm just not using the veto on you but I really want to work with you in this game. and Like I know you told me YOu would never come after me for one week and I believed you.. I just want someone to use the veto I want you in this house but I feel so personally attacked I don't even know I can trust DerekX .."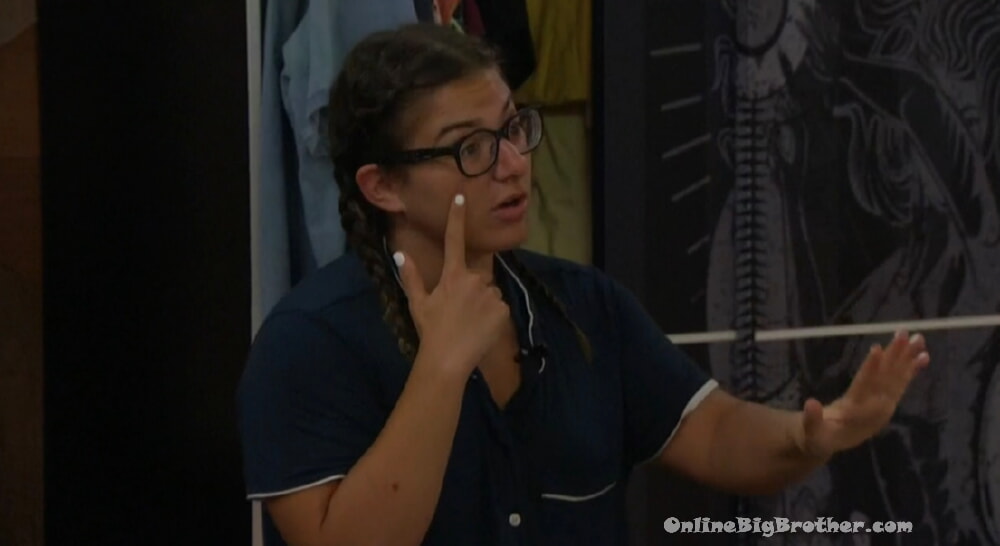 Still impersonating "I thought someone else was going to happen and it didn't"
Brit – I'm sorry Kyland I know it's a hard day for you I know it's been such a hard day (points to tears – see image).. Gosh.. it's been so hard..
(LOL)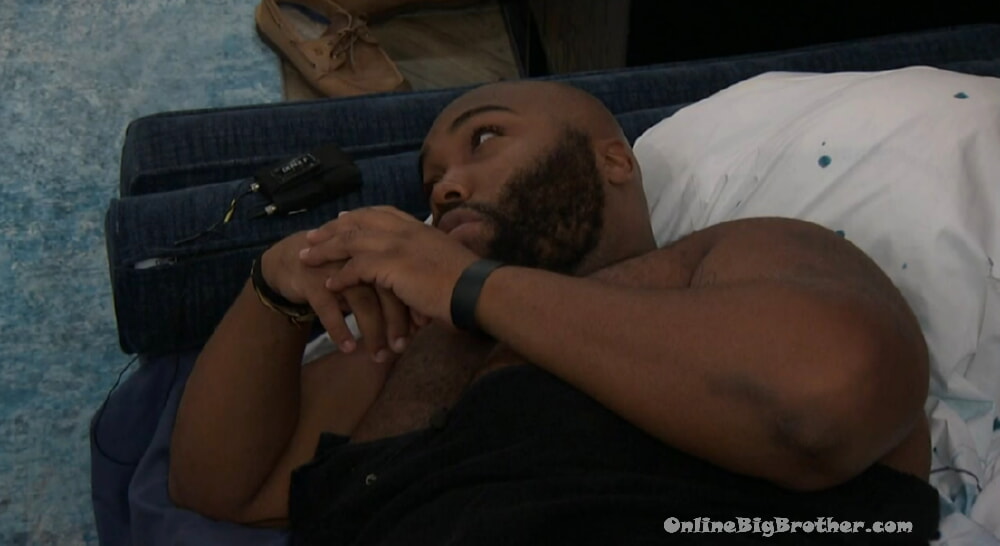 8:40 am Azah and DF
Azah – Kyland isn't acting that he's sad those tears are real
DF – he's an emotional person but at the end of the day he knows
Azah – we all know. you knew with Frenchie right. You wanted him to stay longer. People want to keep them longer
DF – of course. I'm just making it clear at the end of the if we don't take her out now there's a possibility he's going to have to do it himself.
DF – I don't want to take out Brit you don't want to take out Brit I want someone else to. I don't want to be the one, it would f**ing kill me
DF points out if two girls win they can put Christian and DerekX on the block anytime. "While Christian is here DerekX is here to take him out in these comps"
Azah says if she goes up against Hannah she's getting evicted. DF doesn't think so he sees her staying over Hannah.
DF says DX might have a backdoor plan.
DF – If SB stays she's going to put up Hannah and possibly DerekX
Azah – yeah that would be scary unfortunately DX got to go that means us against that Duo. We lost DereX against Christian and Alyssa.. DAmn it'll be a blood bath
DF – I just said if SB stays. Alyssa goes home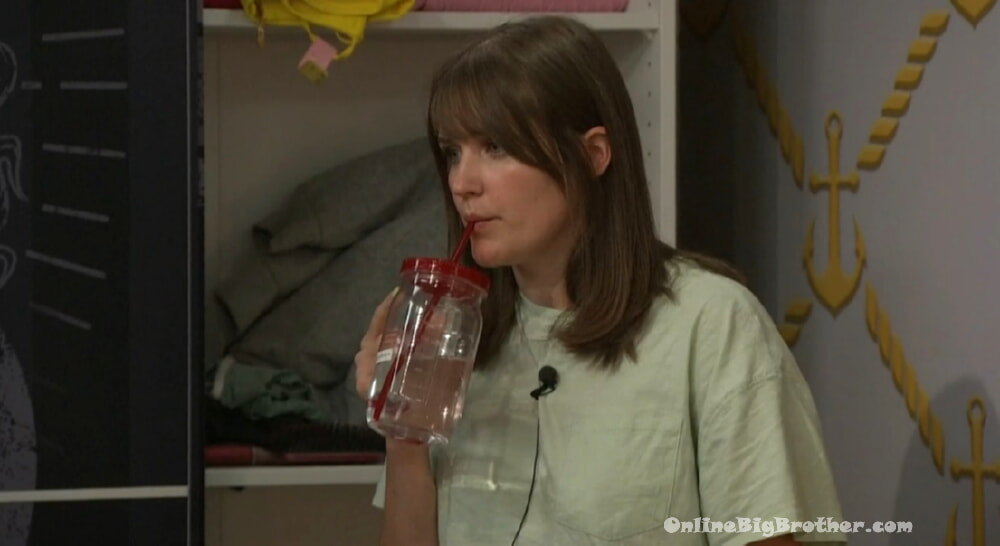 9:21 am Sarah Beth and DF
Sarah Beth brings up something he said on the couch with Alyssa and X.
DF – they thought they were getting backdoored.. I said no matter what one of you will lose a teammate.. NOT SB.. one of you guys.. I
DF – If I win a Veto I'm taking Britini down
Sarah Beth – If Britini comes down you or Azah are going up and I will have to fight like hell to stay.
Sarah Beth says she's over 90% sure the reason she's on the block is because DX and Hannah are so close.
Sarah Beth – If Britini comes down he's not putting a king beside me. he wants to send me home. My ideal would be all three of the jokers and me staying I want to come down off the block so a King goes up and Britni will stay
DF – OKay okay I will think about that .. I never said Sarah Beth is going home bullshit.. maybe one of the other b1tches said that my a$$ didn't say that.
DF – something happened that made you go on the block
Sarah Beth says her Ideal is for her and the jokers to make it all to Jury the only way that can happen is if she comes down.
DF tells her he wants a "Heavy Hitter" taken out this week.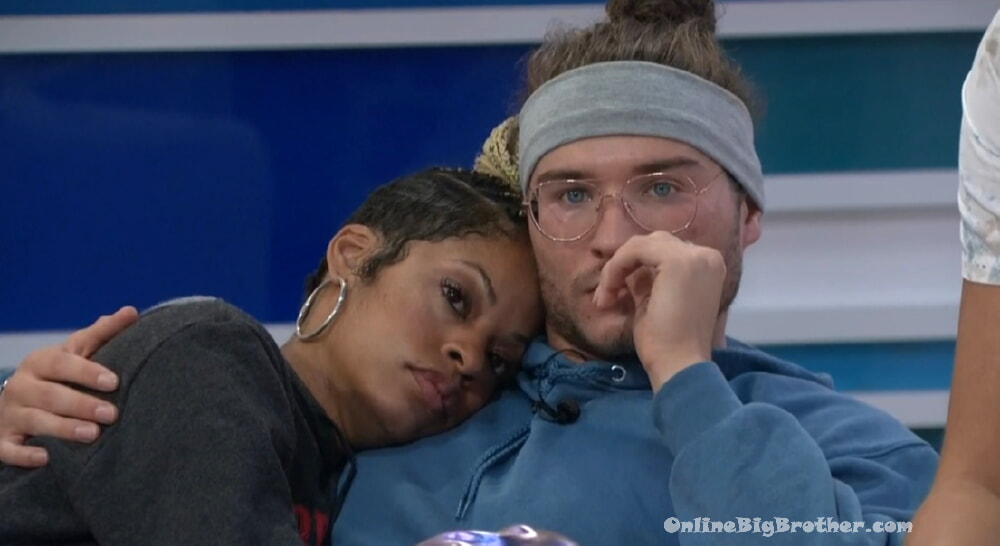 Feeds return the players for the Power of Veto are Sarah Beth, Britini, DX, Claire, KY, ALyssa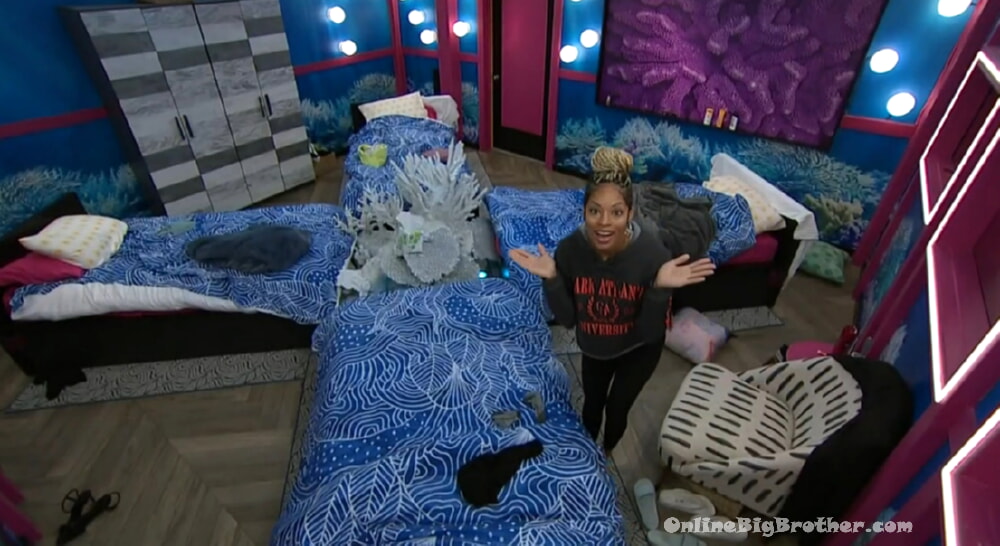 9:55 am Tiffany talks to the camera
Tiffany – HI AMERICA.. Ohh you are on me.. Hi America I realize I never say good morning
Tiffany – If this goes according to plan and it should. My six should be all set to make it to the other side of Jury. All of us will be here until October.
Tiffany – I am not opposed to SB going home. I would love for nominations to be the same. I know for DerekX's game he wants Christian out because that's his biggest target.
Tiffany – for my game I would like to see Sarah Beth go.. I can get her next week. She is so slick and conniving. You know she told DerekX that she was not interested in coming after me or Hannah and she told him her next three evictions and we have nothing to worry about it's not me, Claire or Hannah. He believed it.
Tiffany – He looked into her pretty little eyes.. She's telling the truth and I can tell
Tiffany – if she is that conniving and manipulative to get him to believe her after 5 minutes of a conversation and I have been by his side for the last 27 days.. DerekX are you kidding me..
Tiffany – she's coming after someone in the 6 cause who else will she put up ? She has to go BYE BYE
Tiffany – As long as anybody other than one of the 6 goes home and I still need Britini. Brit will never put up any of the 6 she loves us. Britini is someone I need to stay in this game.
Tiffany – Bye America
(These are turning a bit cringe. She's so jealous of SB and KY being close it's been fascinating seeing her act like this)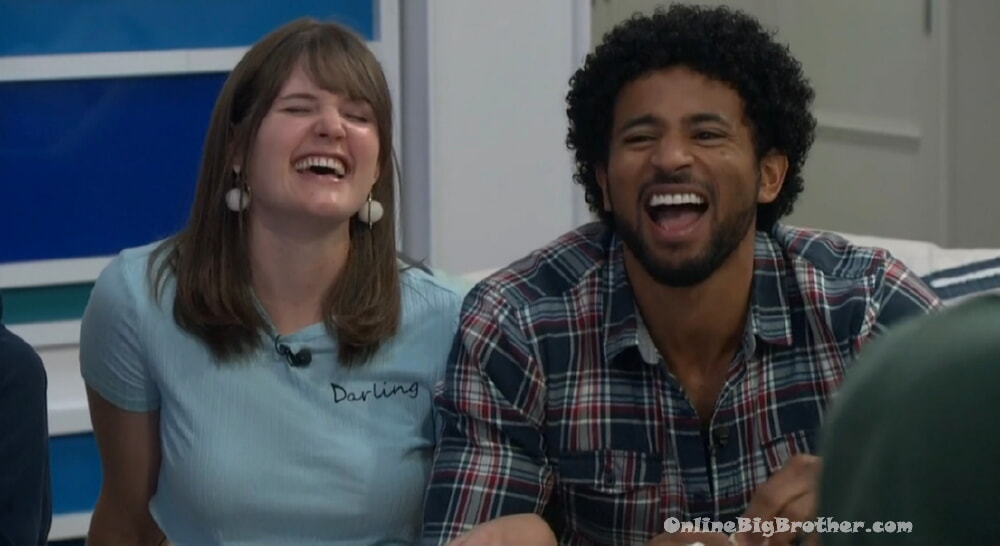 10:06 am chti chat..
10:10 am Kyland and Sarah Beth
Sarah Beth – I pretty much told that if Britini comes down they're going up
Sarah Beth – I tried to look SUPER happy when I pulled Claire's name to get them even more paranoid. BIGD's face looked Awfule he looked so freaked out. When we get the costumes I'm going to talk to Britini.
Ky recommends after they get "All dressed" pull her aside.
Sarah Beth – they'll give me time they know its game.
Ky – make sure you talk to Alyssa
Sarah Beth – Or I can just beat her
Ky says it might be something where they do end up the two of them. "Have her to be ready to give it to you"
Sarah Beth – I think I can convince her in the moment.

10:15 am DX to camera
"America do you hate me? Ohh god I just have to ahh man I don't know. I feel like this is what I have to do. Briinti is onboard with the blindside and she knows. She's not telling anyone. SB is also onboard with the blindside but the problem is if I win this veto I have no idea how I am going to use it. I want to throw this to Kyland. Ohh god I feel so bad. This show brings out the worst in you."
DX says if Ky gets to make the choice the nominee left on the block will
DX – it's good for my game to build up other COMP beasts so I want Kyland to win more, X to win more. ONce Christian is out I will be the biggest target in this house.
DX – I really hope KYLAND wins this veto. If Alyssa wins we just have to make sure no one talks. (Fat chance)
DX – I will lose my friendship forever if she uses veto on Britni or Sarah Beth and I put up Christian I am losing her friendship forever.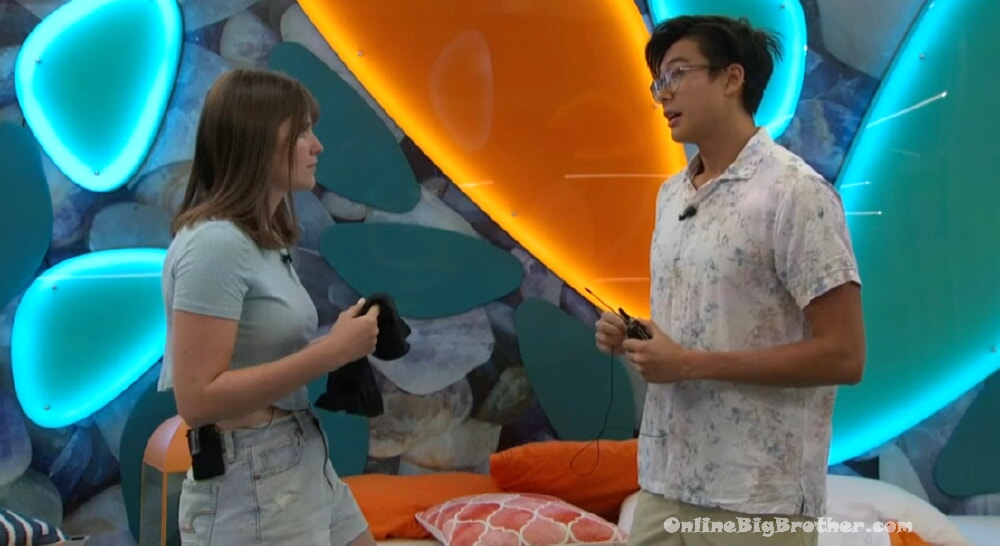 10:23 am Sarah Beth and DX
DX – that was a perfect draw
Sarah Beth – that went well Alyssa is still down to use it on me
DX – if Alyssa wins we're going to have to play it super cool other than that I think that was the perfect draw
Sarah Beth – I am so relieved
DX – I am throwing this comp ..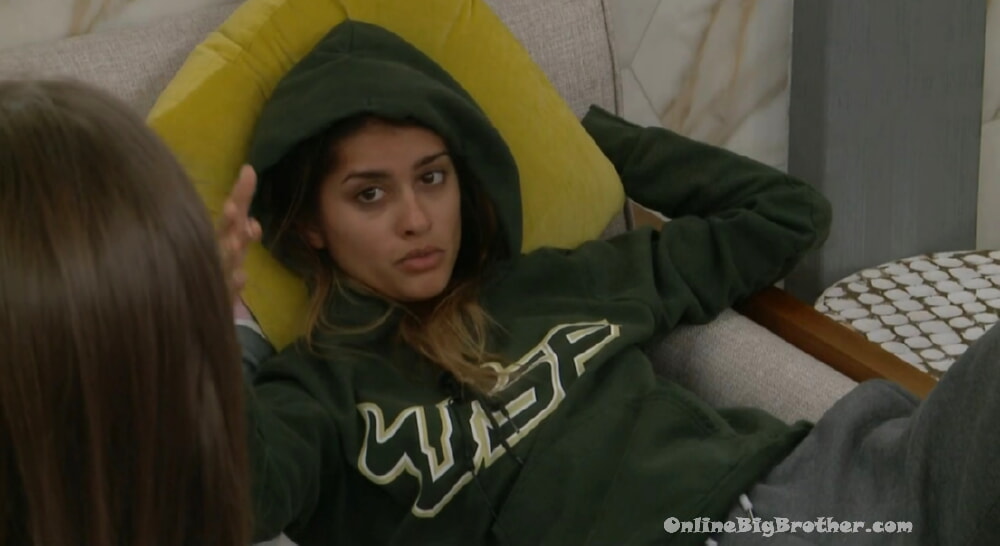 10:25 am Sarah Beth and Alyssa
Sarah Beth says the BB gods smiled on her today.
Claire joins them "that was a good draw"
Alyssa – If Britni goes up another one goes up (Joker)
Sarah Beth – She has a one in 6 chance.
10:31 am Alyssa and Christian
Christian – do not give up and don't make any promises
Alyssa – I just talked to SB and said I'm really want to go for it. Just know I will take you off
Christian – that's the promise I was referring to not taking..
Alyssa- I thought we all agreed to that.. you said it too.
Christian – in the moment ..
Alyssa – are you worried
Christian says yes
Alyssa – he's not putting you up
Christian – I'm not the only one worried..
Alyssa – shows worried X
Christian – no
Alyssa – I already told her I would use it. I don't have to
Christian – If I go up I go home
Alyssa – if you don't want me to I won't use it. I just want to win something
Christian – I wasn't worried until Tiffany and Claire were .. I'm like why are you worried. It was more Tiff Claire was in the room. Tiff's like can I talk to you later?
Christian – She [Tiff] is like I don't want Alyssa to use it. I don't think she knows anything I think she's just worried.
Alyssa says if she wins she'll tell SB there's a worry Christian will go up so she can't use it.
Christian says he was worried initially but after talking to DX he felt better. "I'm looking too much into this body language bullsh1t"
Alyssa – he can't lie
Christian says DX never looked at him the entire time they talked together he looked at X and ALyssa though.
Christian – all tiff said was I don't want her to use it and then she said we'll talk later.
Christian – if SB is cool with taking a shot at DX next week and we have the numbers for her to stay I think it's best for her to stay up and we take out Britin. He's gone next week. He's gotta go next week.
Alyssa – I want to know what TIFF thinks. I feel like she should talk to me about it.
Christian – she said to not tell you before. she wants you to be focussed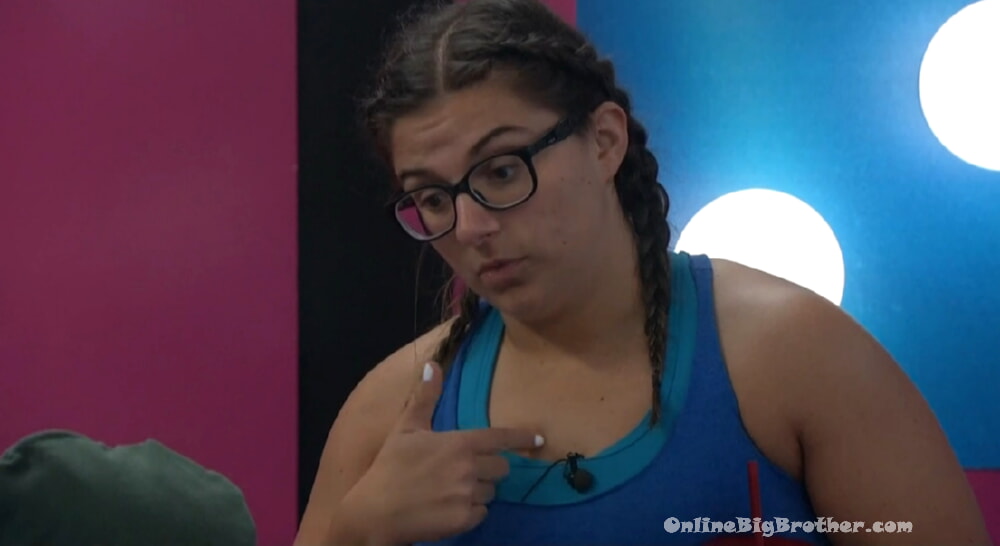 10:49 am Brit and Alyssa
Alyssa tells her she's worried DX will put up Christian as the renom so if she wins she's keeping nominations the same.
Brit – Ky is using is on SB
Alyssa – I don't think Claire will use it
Brit – Claire said she would use it on me
Alyssa – wow
Brit explains that Claire would have to get DX's approval before using it on Brit.
Alyssa thinks that DX won't use the veto he wants to keep noms the same "Why would he want more blood on his hands"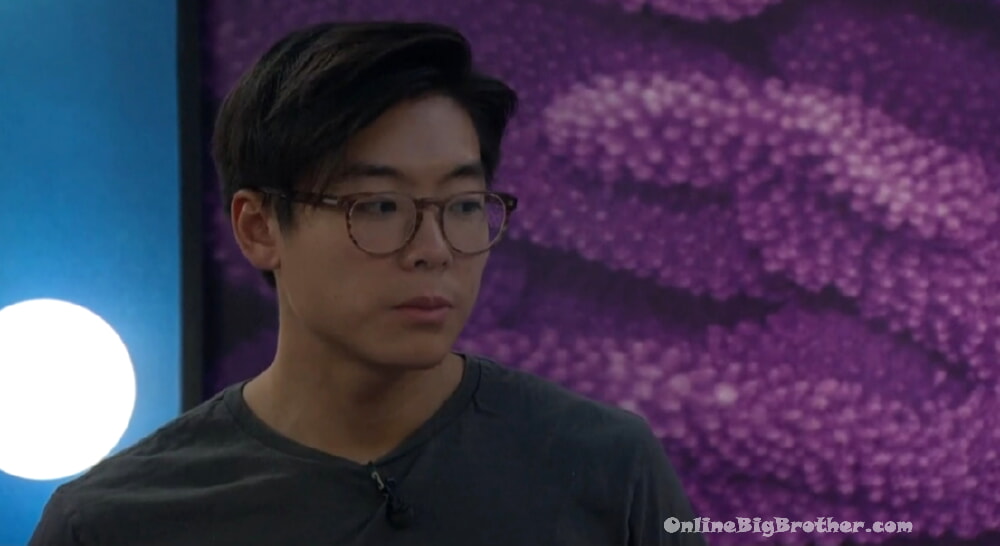 11:07 am DX, Claire, Tiff
DX asks if it's best for him to throw the veto to Alyssa.
Claire – potentially
Claire mentions that Christian and Alyssa want to take out Ky/SB
DX – do you guys want Christian to go up this week?
Tiff – I don't like how Sb came to you and convinced you.. that shows she's very manipulative.
Tiff – she is coming for you and coming for Hannah
DX – Sb is more likely to take a shot but Christian is WAY more likely to win a comp
Tiff says she's still wondering who is better to take out SB or Christian
DX – OHH REALLY? if I get the shot I have to take it
Clair e- yes yes 100%
Tiff – as scared as he is right now he could be changing his focus if he gets the shot he will take it
DX – if they are this scared they never really believed in the royal flush
Tiff – you have to take your shot kiddo
DX – I'm pretty sure I have to take the shot this is the last one before Jury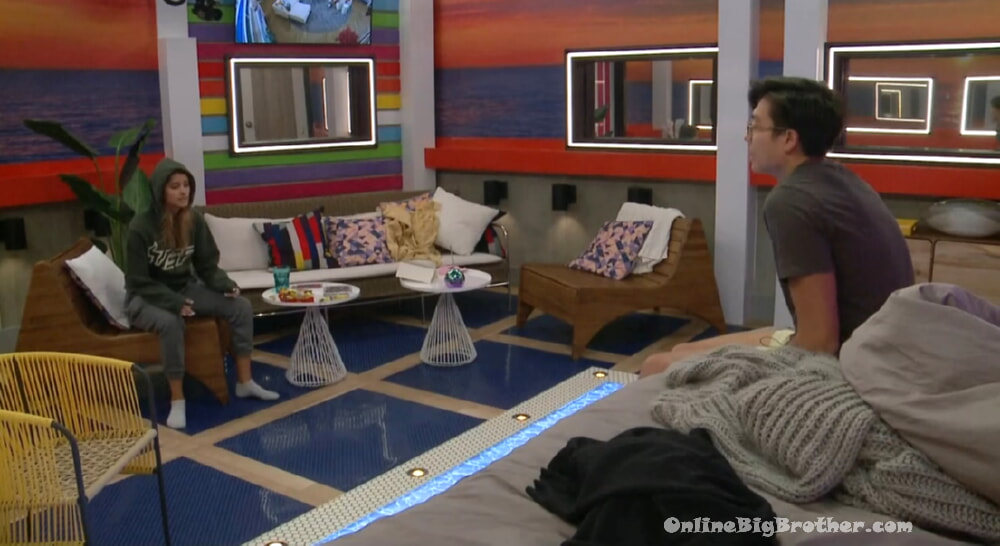 11:23 am DX and Alyssa
Alyssa – what's best for our game if I won it?
DX – Putting up BIGD is going to suck it has to be done
Alyssa – just for me to feel better. there's no plan to backdoor Christian?
DX – there's no plan to backdoor Christian. I was thinking SB but I'm solid on Brit
Alyssa says she would hate winning the veto using it on SB then DX puts up Christian.
DX says he knows that and he knows if he does it he losses her vote in the jury.
DX – I'm going to throw this comp I don't want another comp win
Alyssa- unless it's Brit
DX – yes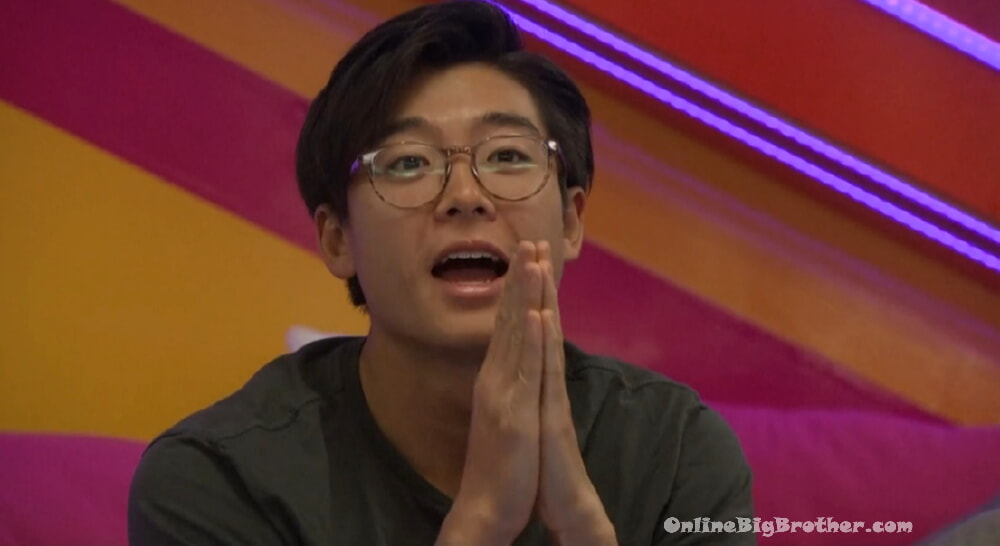 Alyssa leaves..
DX to camera "I really hope Alyssa does not win this veto.. OH MY GOD she's going to kill me if she uses it on SB and I put up Christian.. I can't throw it to Alyssa"
DX – no, I'm going to win this repair my relationship with SB. Me, SB, and KY can have our own thing
DX – I'm still good with Claire and Tiffany we have our own thing. Kyland is on the outskirts of that. I think over time honestly. X might take out Kyland because he's close to SB. Kyland might take out Alyssa or X.. I don't know what is going on.
DX – why did I only watch two seasons of this show this is so hard.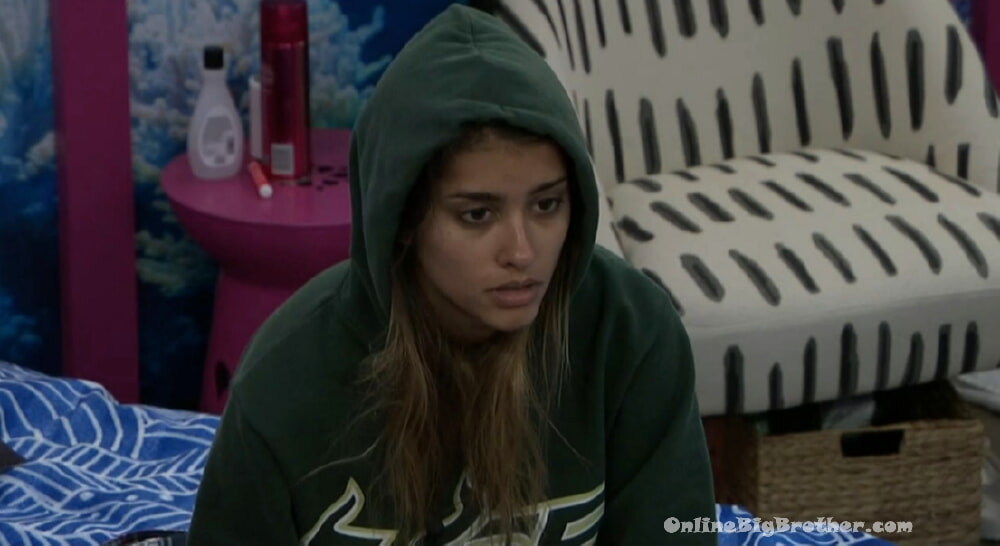 11:30 am Alyssa and Tiffany
Alyssa says DX told her his target is brit and BIGD would be the replacement nomination. Alyssa asks her if she thinks there's a plan to backdoor Christian. Tiffany says she's not concerned about a backdoor plan.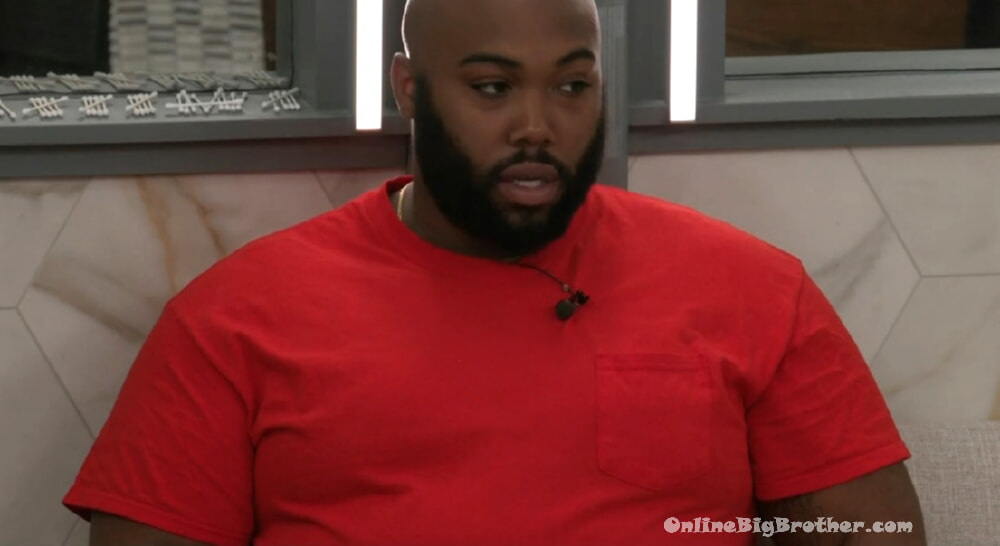 11:38 am DF, Hannah and X
DF out of breath "I wish we don't have to watch this comp today"
Hannah – you hope we don't have to?
X – I think we will
DF – I don't want to
Hannah – why?
DF – I would rather listen to music and sleep in the HOH room.
Hannah – we're in a competition we're here to compete
DF – I'm exhausted.