HOH: Derek X
HAVENOTS: Christian, Xavier, Alyssa
Nominations: Britini and Sarah
Power of Veto Players:
Power of Veto:
Power of Veto Ceremony:
FYI – Teams are done, Wildcard comps are done, Twist next week with Fan involvement
Big Brother 23 Houseguest Rankings – – RANK THE HOUSEGUESTS –
View the previous day ranks on the – Ranking Grid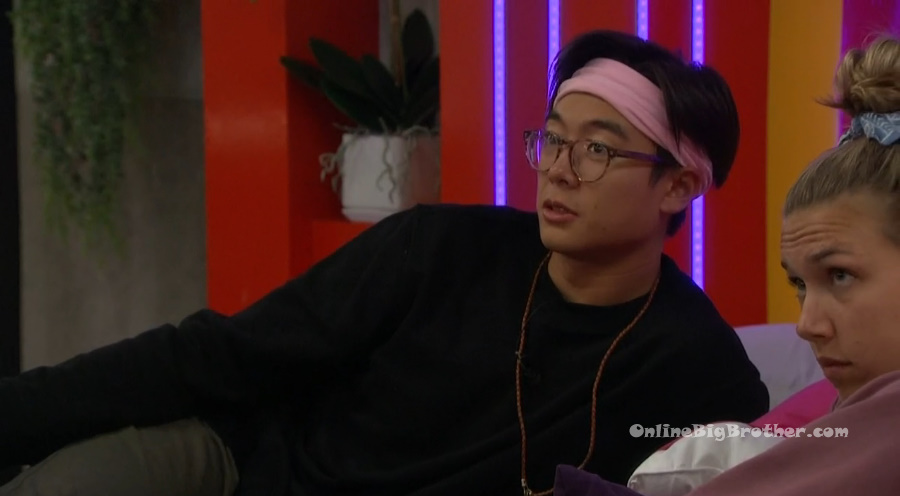 7:43pm HOH room. Tiffany, Derek X, Claire and Hannah.
Tiffany – Tell me what y'all think? Derek – wait what do you mean? Tiffany – I don't no nothing. I am offended. You haven't talked to me in 24 hours. Derek – I'm scared to talk to anyone. Tiffany – I'm scared you're going to put me on the block. Derek – Good! Okay ..Christian! Obviously I want to backdoor Christian ..so basically right now I think I have set it up so that if either of them draw HG choice, Christian will not be selected. Okay so basically the Kings are sold that Britini is the target. I am telling them that all the queens are all on the same page that Britini is the target. Tiffany – and that you had to put a king up to keep the house happy with the Jokers. Derek – exactly. That's all that really matters. I think Christian knows though. Claire – he will be suspicious until after veto. I think Alyssa is sold that she is not on. SB is nervous but she thinks she has the votes so it doesn't matter. Tiffany – why is Ky in here crying for 37 minutes at a time? Claire – yeah Britini is mad at Ky. Derek – Brit is mad at Ky? Tiffany – yeah because every time she's done talking to you he runs in here and locks you in the room for an hour and seven minutes. Claire – I think she will be fine. I think she was just annoyed that Ky was so upset for Sb and not upset for her at all. Derek – yeah. Tiff – Okay fine! I came all the way up here for nothing! Derek – if we can actually get Christian out this week, the path looks very, very good! Tiff – Oh the kings don't know anything about that. Derek shakes his head no. Tiff – okay. How is your relationship with X? Derek – I don't know that is going to be the biggest question mark for me. Everything else I feel okay with. I know Alyssa is going to be pissed but I am not too worried about that. X I would actually feel threatened by. Tiff – so SB is not coming for Hannah. And she is not coming for me. She is not coming for Claire. She is not coming for you. Hannah – how convenient… sorry. Tiff – she is not coming for you. Go on Frenchie with a big heart. Claire – look this week is going to play out how this week is going to play out.. Tiff – oh yes, I am fine with her (SB) staying. I just wanted to understand the dynamics. Derek – yeah. Claire – and if she stays we have to keep playing with her. Tiff – yeah.. for how long. I am just going to be mad as hell if she (SB) wins and me and Hannah go up on the block together.. because I don't know why taking out a joker would benefit her over taking out me or Hannah. Hannah leaves.
Derek – okay I am telling you guys this.. do not tell Hannah ..and do not tell anyone else outside of this room. Sb knows there is a backdoor. Ky knows there is a backdoor. I had to tell SB so that she would calm down and also I needed her to not pick Christian for the veto. She is cool with it. That is why I had Ky in here for like 2 hours.. because I had to make sure he was on board with it. He fully bought it. He is on board with the worst case scenario .. if SB is on he already knows she is going home. He is on board. I think he honestly doesn't want to hurt her feelings. Tiff – what about X? I think if you tell Ky then X will know.. so you might as well tell X yourself. You don't want to? Derek – no. Claire – I mean maybe you can tell him after the veto is won. Derek – I can't because right now X is incentivized to keep Christian. Claire – yeah for sure. Derek – Ky has no incentive to keep Christian. Claire – Can SB know that we know? Derek – no. Tiff – we don't know anything. I like that. Derek – you don't know that Ky knows. You don't know that SB knows. All they know is that I was going to tell you guys that Brit is the target. Brit said my name. In the one on ones people said Brit's name and of all the jokers Brit was the highest on my list. I am closer to Azah and Big D is not a threat to me. Tiff – good game ..I like it. You did a really good job at the ceremony. Derek – I wish I had kept my speech more vague. Claire – everyone gets mad at the speech. What is SB thinking?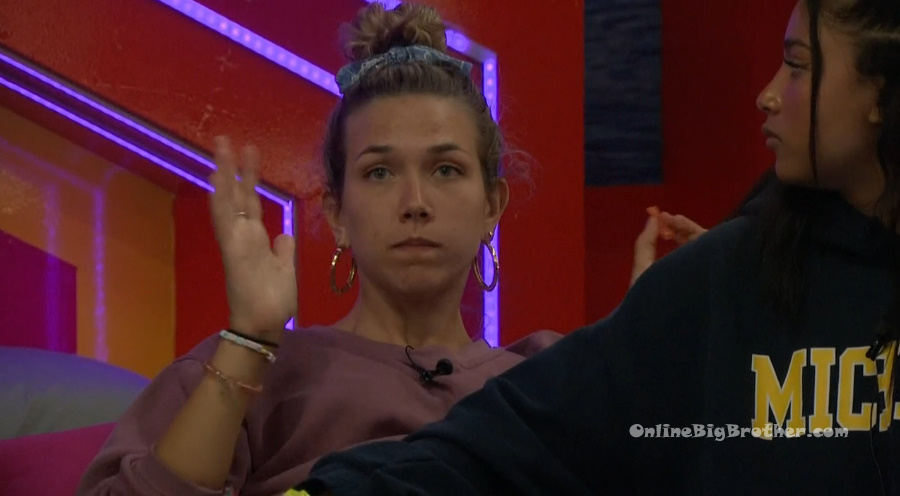 Derek – She (SB) said I don't get why you think I was targeting you. I never said I was coming for you or the queens, I was never coming for Hannah. It was also way more sincere. Claire – you can't forget that she literally told me your name two days ago. Tiff – and she literally yelled at me and Claire. Derek – what was the context? Claire – me and her were sitting up, it felt out of the blue because we hadn't talked game in a week or two .. she was like look I am not sure if the other kings are going to want to make a shot against DX but one of us have to take a shot. He is the biggest threat amongst us and she was like everyone else wants to like Christian will want to keep him. X will want to keep him. Alyssa would want to keep him. Tiff – and don't forget she does acting… voice acting .. but she is still an actress. And don't forget she spent a whole hour in there with the kings before she came in here. She was groomed and prepped on how to handle this meeting with you. If Ky hadn't barged in here you probably could have talked to her before she got prepped so well but he monopolized that time and gave her time to get her story and script together. Claire – she literally told me it two days ago. Tiff – she is a HUGE fan of the game and she came in the door playing the game. SB has been playing the game since the very beginning. She is very tight with her words and who she talks to. Derek – obviously I believe she said my name but why didn't she tell Ky. Tiff – why would she tell him. She is a girl and she trust her. Derek – SB feels good with the queens.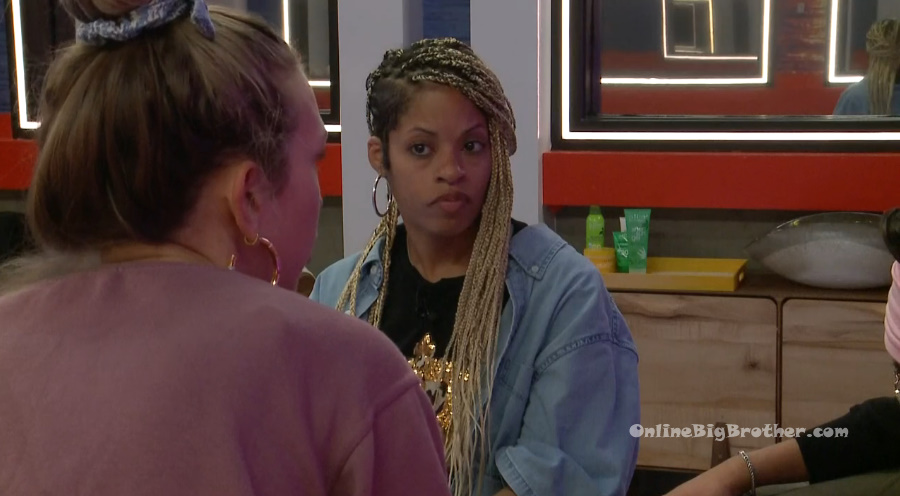 8:23pm HOH room – Brit and Derek X.
Brit – everyone is buying it hook and sinker. They fist bump. Derek – I think we are doing a really good job. Derek – you need to stop singing though. Brit – oh .. I will. Everyone has been seeing me pissed as sh*t. Don't you worry. Everyone has been asking me if I am okay. I just sing because that is my release and then I get back to it. You are never going to believe the conversation I just had with Ky. Derek – good or bad? Brit – BAD! Derek – what did he say? Brit – So I am chopping onions and I keep getting corrected on how I am not chopping them small enough but that is fine .. that is beyond the point. So then he starts going how are you feeling about this week? And I was like Ky how do you think I am feeling?! This is my third time up on the block and he goes well have you started thinking about the veto? And I was like besides the fact that I need to win the veto no Ky. And he goes.. have you thought about people using the veto or not using the veto? And I was like Ky what are you talking about? And he goes you have to think about do you want people to use the veto on you, do you want the veto to be used, or do you want the veto not to be used? And I was like Ky the first one! I was like I obviously want the veto used on me. And he was like what if that can't happen? Because I know a lot of people that are going to be gunning for it and playing for it and what if it doesn't get used on you. He goes is it better for the veto to be used or not be used? And I was like what the hell!??! Derek – I am so confused. Brit – and he goes I am really motivated and I really want to win the veto. And I was like I am guessing you're taking SB down? And he goes yeah absolutely. Derek – what the f**k. So what the is verbatim what he said? Brit – yeah. Derek – that is out of character for Ky. That is antagonizing almost. Brit – yeah. He doesn't really do stuff.. like I don't know.. Brit – he acts different with SB. That is a different guy.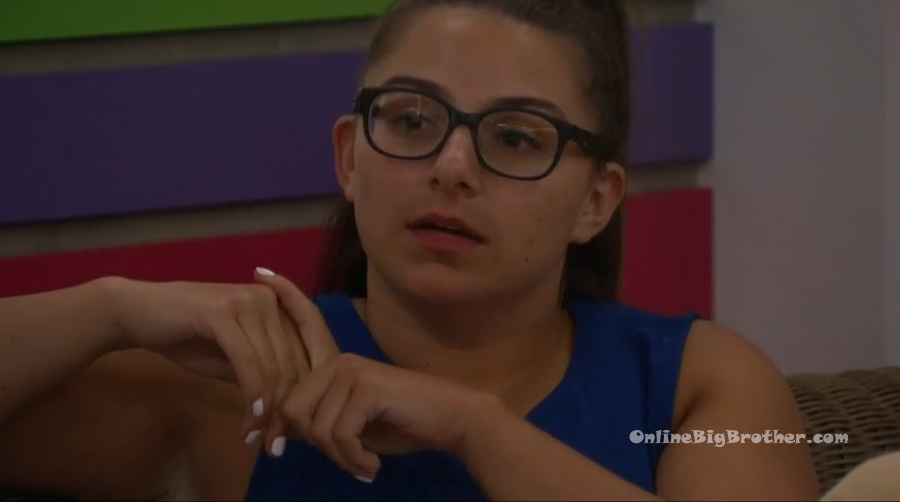 8:47pm Chess room. Christian and Brit.
Christian – you do what you think is best for you to stay because that benefits me. Brit – okay. Let me ask you the question, if your name gets pulled and you win it are you using it or keeping things the same? Christian – I am using it. You put up someone from my team without any warning that you were going to do it. I hope he doesn't put up another person from my team. So if I am playing and I win he is expecting me to use it. And then he doesn't know about me and you working together. I have to use it. It doesn't benefit me because you're not even going to jury. This person won't even be going to jury. Brit – I know. Here is the thing.. everyone loves SB .. why the hell am I up against SB? Like I am nervous.. every other time its been a pawn scenario .. this is not that. Christian – right. Brit – I need my perfect line up for this comp tomorrow. Christian – I am going to bed at f**king 10 o'clock. I am resting.. No f**king games tomorrow. Brit – I am just so surprised Ky had that conversation with me. Christian – I think Ky is in on all this SH*T! Ky is PISSING ME OFF! PISSING ME OFF! I can't stand KY right now!! Brit – he literally asked me if I would rather the veto be used.. Christian – he asked Alyssa the same f**King thing! They start studying the days / events of the season.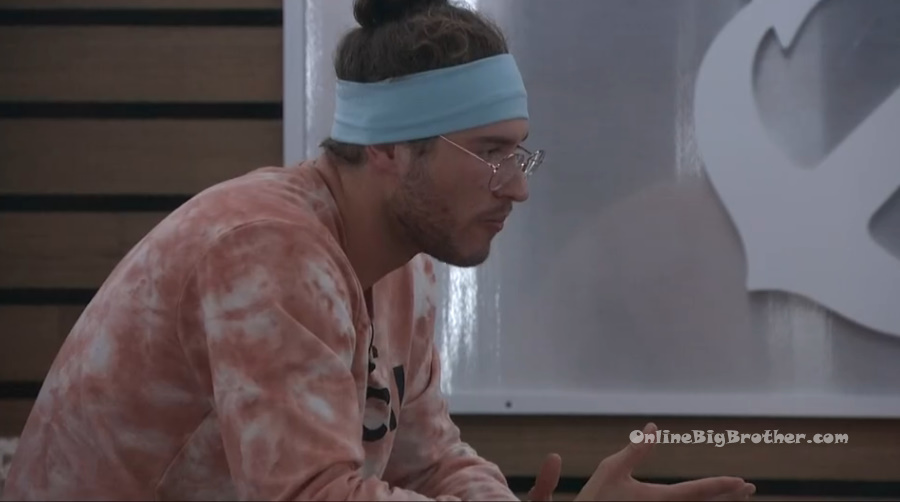 9:27pm Living room – Christian and Alyssa.
Alyssa – what did she (Brit) say? Christian – she would pick Azah. She was saying how badly Azah wanted to play. And I said its important to not pick someone because they want to play but someone who is mostly likely to play. We went over the days together just to make her feel more comfortable about picking me. She said she is going to sleep on it. She asked who SB is going to pick if she gets HG choice and I said X because he proved himself in a memory comp already.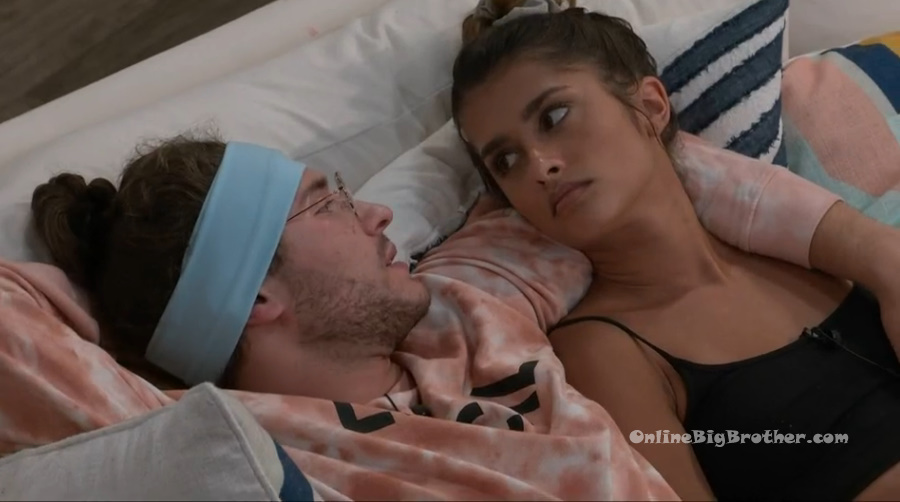 9:40pm Living room – Xavier and Sarah.
Sarah – I am thinking I would pick Ky because he is really really good at memory and I feel good with memory and puzzle. Xavier – okay. That works. Sarah – and I feel like he will take me down. Xavier – yeah he would take you down. That works, cool! Sarah – if he does anything sketchy though, let me know. Xavier – if he does we're coming for his a$$! Right Christian? Christian – I am already coming .. I am already down! Xavier – see what happens .. two attack dogs ready to go.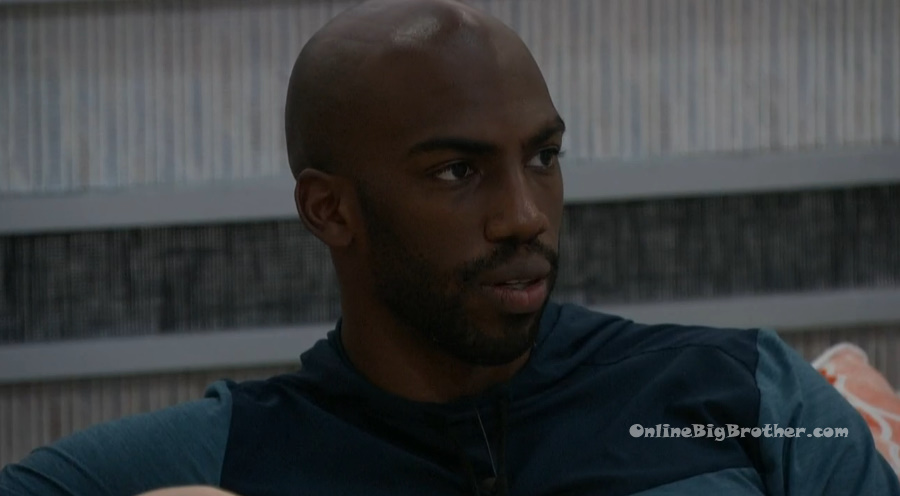 9:42pm Kyland and Claire bring out a cake for Tiffany. When they come out all the house guests sing happy birthday.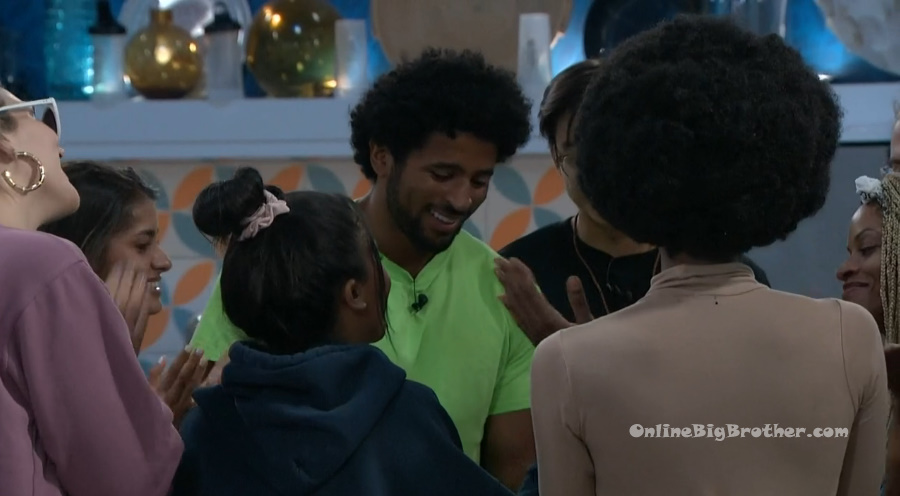 9:45pm Bathroom. Sarah, Xavier and Christian.
Sarah – I might try to convince her (Brit) to throw it to me. Christian – BRITINI? Xavier – I doubt that. Christian – how could you convince her to do that? Sarah – If I tell her that I have the votes to stay .. which I do. And I tell her that I have the votes to stay against you and teammates… If you come down Azah or Big D are just going to go up and whoever is sitting by me is just going to go home on Thursday but if I come off the block I am Derek's target … he is going to put up someone close to me.. which means one of you and if y'all are on the block they stay safe. Xavier – I see what you're saying.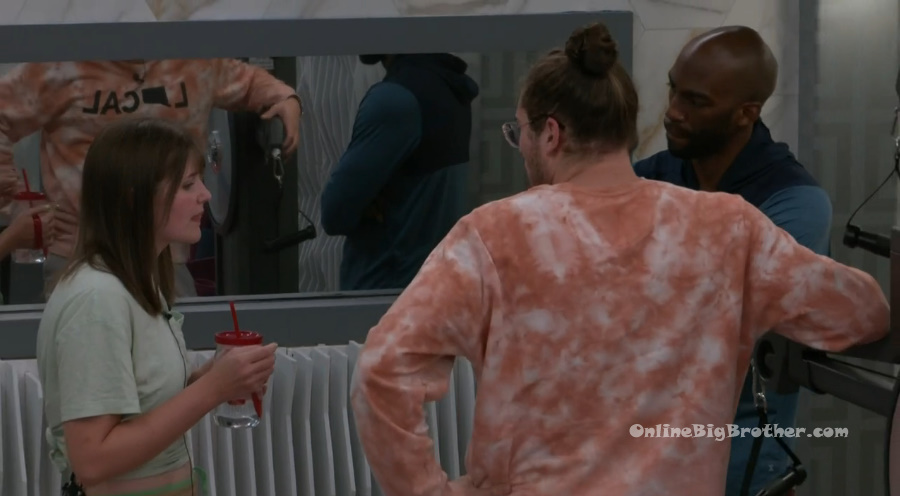 10:05pm HOH room. Tiffany, Sarah, Xavier, Claire, Christian, Derek X. (Alyssa is in the Gym, Ky is in the diary room)
They planned earlier to use Alyssa to distract Hannah (with cycling) so the Royal Flush could have a meeting without Hannah thinking anything was up. Derek – so basically I talked to everyone about what is going down this week and no matter what happens with the veto we will have the votes to control what .. who goes home this week. Right now the plan is to take Britini out and everyone is on board, even Hannah is on board. The only people that would be voting against it would be the jokers. Sarah – so you told Hannah that Brit is the target? Derek – yeah. Everyone is on the same page… Ky knows, Alyssa knows… I do feel bad though because I was not aware that we weren't going to reveal the Flush this week. Xavier – we can postpone it another week. Claire – the votes will reveal it anyways with the exception of two jokers up there. I think now might be a little early but we could start thinking about next week and what that looks like. Sarah tells them about her plan to try to get Brit to throw the comp. They don't believe that Brit would actually throw it. Sarah – if you don't think she would throw it, then I won't do it. Xavier and Ky – it doesn't hurt to try it.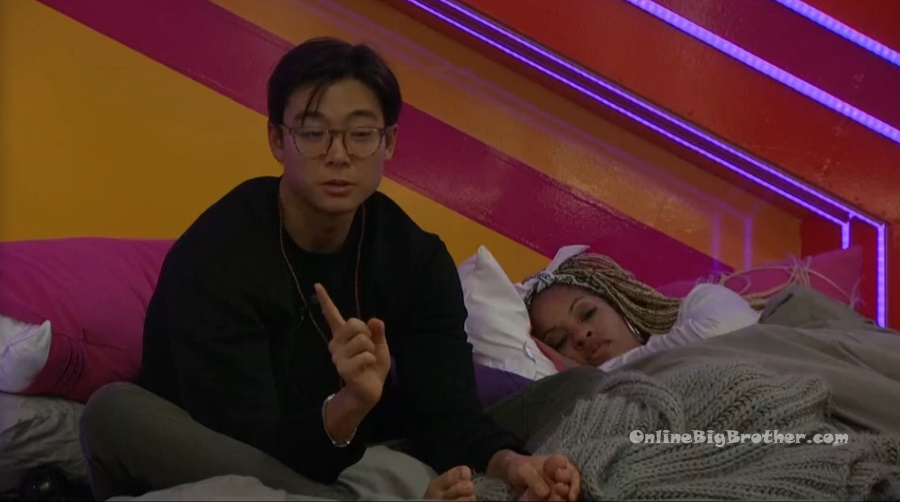 10:34pm HOH room. Sarah and Derek X.
Sarah – I think the kings have any idea. Derek – no idea. Sarah – the fact that you genuinely didn't know about .. I think that completely convinced them. Because now they feel like it was just a mistake.. that you thought this would be smart. They get it. They aren't mad. They just want Brit to go home. They actually came to me and said we really think this is going to be a mental comp and none of us are feeling great about it.. and I was like why don't I pick Ky? Derek – what?! Sarah – that literally fell into my lap. She just can't win it. I will try to get her frazzled. I appreciate you being honest about your plan. Derek – I am sorry I couldn't tell you sooner. Sarah – its okay. They talk about what the veto comp might be.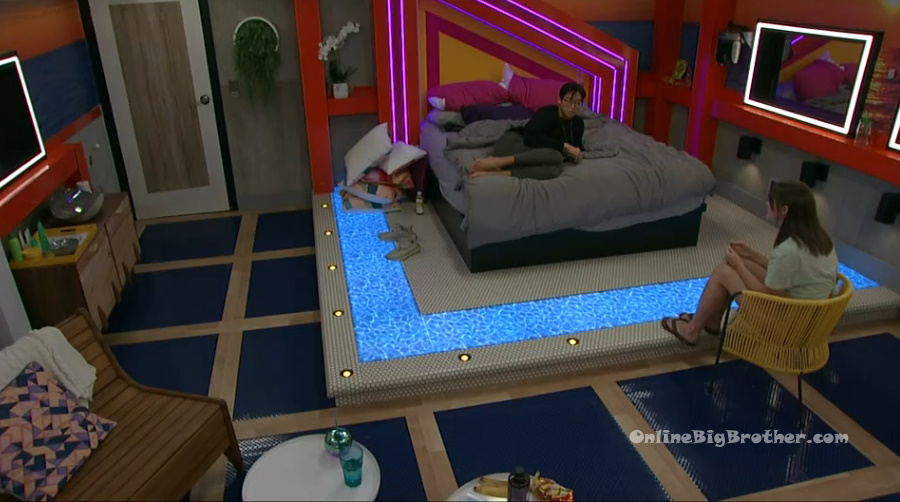 10:55pm Havenot room showmancing..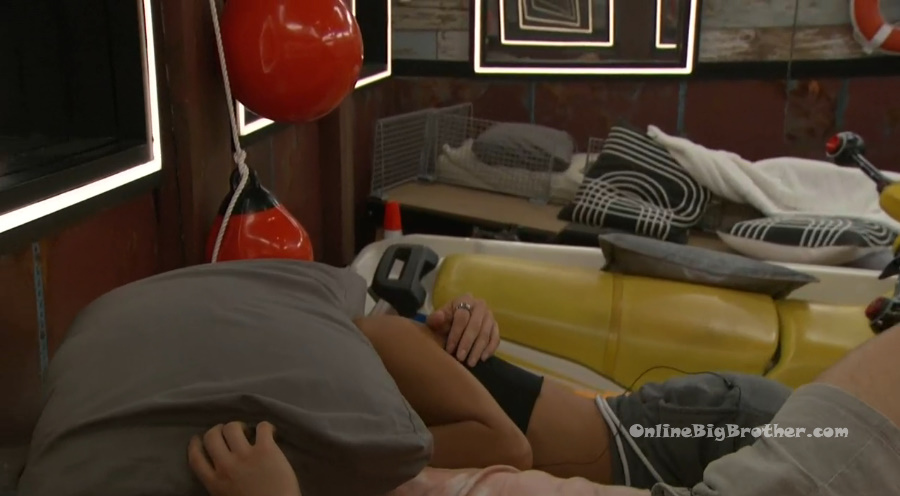 11:40am – 11:55pm HOH room. Derek X and Alyssa.
Derek – I felt really sad afterward, as soon as I had done it I regretted it and just felt sad when I turned the key. It just felt so wrong … I was like this can't be the right thing to do right now. Alyssa – oh like you second guessed it? Derek – exactly. Alyssa – I could tell in your face. I feel bad that we did not communicate that we were not showing our cards yet… not knowing that you made the right decision. But now that you know its something that we all fine with and we realize it. Its not like SB is leaving and you said if Brit or SB comes off another Joker is going up.. and from the talks I've had everyone believes you. The conversation turns to talking about the HOH comp.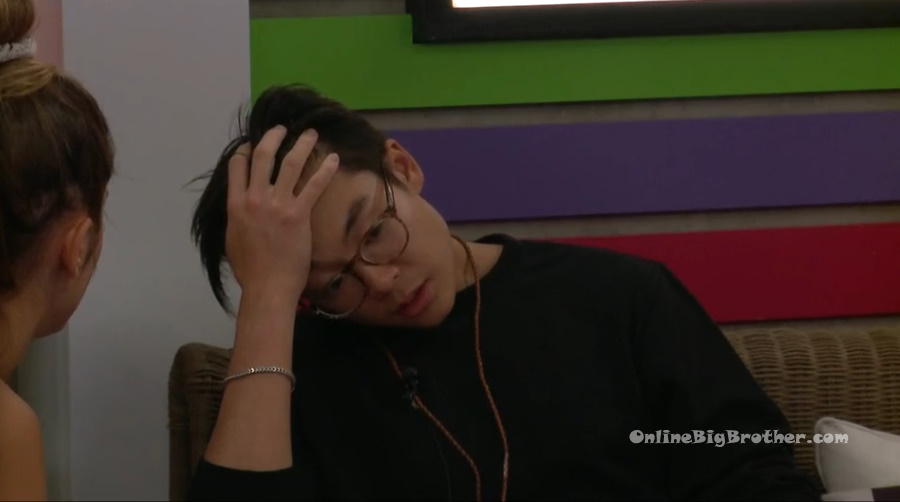 6:37 am Houseguests sleeping.
Show your support 🙂 Without your support this site and these spoilers wouldn't be possible.
Please consider a donation to keep the madness going.