Watch the feeds for free from the US using a VPN. We recommend HMA https://www.hidemyass.com/vpn/r16399/
They had a party last night with alcohol.. so Big Brother Canada blocked the feeds all night.
Demetres used the Power of Veto in himself and Kevin nominated Jackie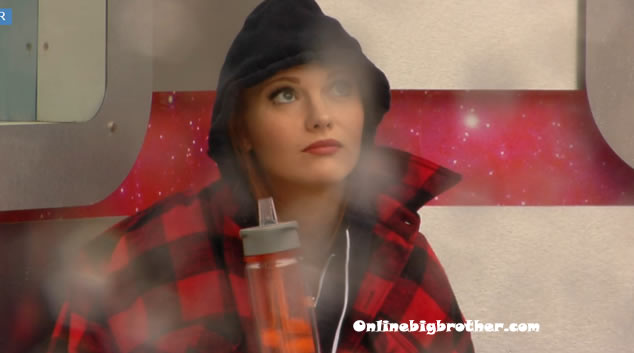 Ika and Demetres middle of the night
Ika talking about a conversation she had with Dre during the party. She told her if Ika left the house that Demetres can be on her side. Demetres says if Jackie wins the HOH she will put Kevin up. He's not sure it's worth working on Kevin because he doesn't have a vote. Kevin can influence Wiliam though.
Ika says it's still early in the week.. he gets to drive the car (with the jury member) tomorrow.

Dillon and Demetres Hot Tub Area
Demetres – trying to f***g think of a F***G speech.. I don't care I'll just wing it.. speeches are dumb
Demetres asks Dillon if he's talked to Kevin does he know who's going up.
Dillon – I htink jackie
Demetres – I think it's Jackie.. which is sweet..
Demetres says the two smartest people in the house are Jackie and Kevin. He suspects the next HOH to be mental so If Jackie is evicted and Kevin can't play it opens it up for them.
Dillon – yup
Demetres goes on that they have a shot at taking out Jackie before the double..
Dillon – I would rather get rid of the weaker players the one that haven't done anything
Dillon talks about being a little bit hung over.
Kevin and Demetres Outside
Kevin says Jackie is upset that she'll be the replacement nomination.
Demetres – if she goes and anyone if Ika or me win it'll be a repeat of this week.. which is lame..
Demetres says if Ika stays the three of them need to sit down and figure something out.
Kevin says even if she goes he feels like the 2 of them have already squashed their beef.
Demetres – we all think we're the 3 most deserving players to win
Kevin agrees.
Demetres says if they don't do something the other players will out number them and take them out.
Kevin – hypothetically if Ika goes home it's either me or you as the target
Demetres says the POV he just won was a fluke, "I was not supposed to win that comp"
Kevin says as soon as he names the replacement nominee the rest of the house will drop him because he doesn't have a vote holds no more power.
Ika comes by.. more or less tells them to stick together.
Kevin says William will pick Dre to the end even after Bruno left William never came to Kevin and offered him a deal. Kevin stresses noone in the house will take Kevin or Demetres to the end they'll have to do it themselves.
Demetres says even if it's just the two of them they'll have to win some timely comps. Kevin points out Bruno and Him gave the exact same pitch to Demetres and Ika last week.
Kevin – honestly .. if Ika stays it's good for my game it's bad for William, Dre, Dillon.. it's bad for those people
Dillon walks by says he got wasted last night.
Dillon and Kevin Pool table
Kevin tells him about Jackie being pissed she's the replacement nomination. They laugh that Karen thought she was the replacement even though Kevin reminded her hundreds of times yesterday.
Kevin – She has to be the most paranoid houseguest
Dillon – of all time
Kevin tells him if Ika goes they can rally Demetres and form up 3 bros. Pointing out between the three of them they've won 9 competitions.
Kevin – if we can come together the three of us can truck it to the end.. they're going to take us out we're the biggest threats.
Dre and Ika Red Room
Dre says she's going to tell Demetres to use the Veto on Ika..
Ika laughs says he's using it on himself
Dre – "I'm scared"
Ika – why
Dre – we'll go to work it's fine
Ika – Jackie's going to push hard..
Dre claims that William hasn't given her any information he told her he's waiting for a target from Kevin. Kevin isn't saying anything. Dre is getting a bad vibe from the house that Ika doesn't have the votes.
Ika – I have 2 votes I just need 1 more to stay.
Dre says Bruno, Dillon and Kevin compared notes about what Ika was saying. Adds that she suspects those three had made some deal that is why Dillon wasn't put up.
11:45am Ika and Demetres
Demetres says if he wins HOH he'll put up Karen and Dre, if Veto is used on Dre he'll put up Dillon and Dillon goes.
Demetres – I'm not scared of Karen
Ika points out that leaves Dre in the game and they know William will use the veto on Dre.
Demetres says he can tell Dre is trying to play him. Says that she tried to talk him into using the veto on Ika. He can't believe she thinks he's that stupid.
Ika says Dre has her back not Demetres.
Demetres thinks Dre wants to keep Ika. They need to get William's vote for Ika to stay. "If Kevin is legit.. if Dre works on Will and Kevin works on Will"
Demetres says nobody wants him here, even Kevin.
Demetres says Dre is still hung up on them not telling Dre bout "the 6" alliance.
Demetres – get the f** over it that was 4 weeks ago
Demetres – you know when you start feeling comfortable in this house that's when you're probably going to get F***d
Demetres – I hope she feels pretty comfortable
Ika thinks Dre does because she feels she's covered by everyone
Demetres – If Kevin wanted you out he would have not put Jackie up
12:15pm Ika and Dre Poolside
Ika says Demetres calls Dillon the new version of Jackie. Ika goes on about how Dillon is "ruthless"
1:00pm Dre and Dillon White Couch
Sounds like Dre and Dillon are on the fence about Ika now.
William, Kevin and Dillon
Talking about what a threat Jackie is and how it's not going to be a easy vote.
Dillon and Karen Poolside Part 1


Kevin Ika and Demetres Have nots

Dre and Dillon
Dillon says Ika and Demetres made a deal with Kevin so he's safe next week.
Dre – wait what
Dillon – I feel that Ika and Demetres made a deal with Kevin so he's safe next week
Dre – Kevin's not voting though
Dillon – I know that
Dre – who are they going after
Dillon – who else do they have to go after
Dre – If no one is going after no one we can stop playing
Dillon says he saw Ika and Kevin Laughing and smiling in the bathroom. He also saw them "High Five"
Dillon – I feel like we're getting played.. after that.. Kevin is trying to make a deal with me so I don't put him up so he's safe..
Dre and Dillon.
Dillon – Ika and Demetres made a deal with Kevin so that he's safe next week. Dre – wait, what?! Dillon – I feel that Ika and Demetres made a deal with Kevin so that he's safe next week. Dre – really?! Kevin is not voting though. Dillon – I know that. Dre – so who are they going after? Dillon – who else do they have to go after. Dre – if no one is going after no one, then we can just stop playing. Dillon – that's kind of my point. Dre – why would they make a deal instead of just coming and talking to you? Dillon – I don't know.. because I'm a bigger threat than Kevin? Dre – why do you feel they made a deal? Did you see them talking? Dillon – yeah, I saw Ika and Kevin smiling and laughing in the bathroom and then they high five'd. They were like yeah, yeah … and then they high five'd. And then when Ika came out and she saw me her eyes were like this (wide open / surprised). Just like you said if no one is going after anybody and everyone has deals … who the heck is getting put on the block? Dre – that means if they high five'd .. does that mean that William is voting to keep Ika? Because I spoke with William and he said he doesn't know.. he's trying to weigh the option and he wants to make sure whoever stays is not going after Kevin basically… or him obviously. Dillon – right.. and last week if they won they were putting Kevin and William up and now they're high fiving in the bathroom. So who else is there me and Karen? Dillon – I just feel like we're getting played. Kevin is trying to make a deal with me so that I don't put him up. So he's safe. So who the f**k is going to put who up. Dre – the thing is everybody freaking lies. They make a deal, its not a true deal. Kevin made a deal with them apparently to keep them safe and he put them on the block. What does that tell you!? That deals don't mean sh*t. Dre – okay this is what's going to happen. If Ika is not playing me she is going to come and tell me she made a deal with Kevin. Dillon – Huh… why!? Dre – because that would mean the deal is fake and that she just wants to stay she can do whatever. Dillon – and if she doesn't tell you? Dre – it means that it might be an actual deal. She has until Wednesday to tell me. Dillon – thirty minutes ago I wanted to keep Ika. Its paranoia, you know.
Ika & Demetres.
Ika – your parents don't like me. Maybe they don't like me. All they do is yell at you and get upset. Demetres – you don't strike me as the type of person that cares what other people think. Ika – I care about what your parents think. Demetres – yeah but this is coming from people that don't know my parents. Ika – yeah but I think you're kind of lying too. Demetres – I'm not lying. Ika – I don't think you think you're lying. You did make that face when you came over here. Demetres – it was a joke, I shouldn't have done it. She just called me whipped and nice. You know how much I care? About that much. Ika – yeah but I do care about what the people in your life think about me and I mean I do stress you out. I do yell at you. Demetres – you don't yell. Ika – I don't but I do get upset. Demetres – I'm trying to think of the word …. like I know that you have my back and that you would fight for me no matter what. Ika – like loyal. Demetres – I feel like there's a bigger, stronger, better word. Ika – I am a nice person. Demetres – these people do just remember all the bad things and not remember the good things.
Demetres & Dillon.
Demetres tells Dillon about how Karen is hording all of the dental floss in her bag. He says he went and checked and she had 3 of them in there. Dillon – yeah that's going to be a hard one for me. Demetres – what's that? Dillon – Hard to put Karen on the block or anything like that. Demetres – oh yeah. Dillon – I can't be HOH when that happens. Demetres – yup. Yeah this game is tough but she's you know .. someone that you want to take before all these people. Like keep her around. Dillon – yeah she's final five. Demetres – oh yeah. No, I agree. Dillon – but then on that HOH, I'm throwing it. Demetres – yeah, we should have the votes to keep her. F**k and then next week I know I'm going to end up on the block. I just have a feeling. Dillon – its Dre and William. I mean Karen and William. Me, Dre, Ika. Demetres – I just have a bad feeling about it. Kevin's can't compete, I keep forgetting about that. I'll take those odds. Those are better odds than I've had all season.
[polldaddy poll=9734567]
[polldaddy poll=9734569]